How To Find The Perfect Name For Your Business
Finding the perfect name for a business is one of the most frustrating tasks you're challenged with when launching a new business. Because you immediately realize that all the good names are already taken or someone has already registered the domain names for your perfect business name.
Thankfully, there are now easier ways to find a great business name, like using business name generator tools, that allows you to find a great name without having to spend days looking for inspiration or paying someone hundreds of dollars.
If you're stuck in a creative block trying to find a business name, then this post is for you. We'll help you pick a catchy name for your small business, startup, or even your blog in a few easy steps.
Let's get started.
5 Tips To Find An Effective Business Name
How do you make your business name sound unique? Will it help you stand out from the crowd? Will customers find it easier to remember? Would it be a suitable name in case you wanted to expand your business into other areas?
All these questions can make the process of naming a business seem like a herculean task. But, you can make things much easier by doing some research on your business industry.
1. Think About Your Brand Identity
One of the first things you should do before start searching a business name is to get a better understanding of your business and how you plan on creating a brand identity for your business.
What kind of products are you selling?
How will you approach and engage with your customers?
What kind of advertising will you use to promote your business?
Are you a startup targeting international audiences or small retail store targeting local customers?
This will help you understand what kind of name would be most suitable for your business.
2. Spy On Your Competitors
Following trends is not a good way to name a brand that you want to last a long time. To better understand how to name a lasting business, you can always turn to your successful competitors to see how they've named their business.
Do some background research on your competitors and see how they're using the brand name to promote the business, how their customers are using the brand name in social media, and how it differs from other less-successful brand names.
3. It Should Be Simple, But Sound Catchy
A business name should also be simple and easy to remember. Whenever a customer sees your logo, they should be immediately reminded of your business name. It's the same reason how anyone can recognize a brand by even looking at an app icon on a smartphone.
4. Research For Keywords
You can also use a keyword research tool like Google Keyword Planner to find keywords related to your industry to quickly come up with effective business names.
The tool will also help you check the popularity of the keywords and how many people are searching for the keywords every month. This is a great strategy you can use to find a name for a startup or a blog.
5. Use A Name Generator Tool
Once you figure out the basics and have a list of potential keywords, you can use an online name generator tool to easily find the perfect combination of words and characters to create the ideal business name.
What Is Business Name Generator?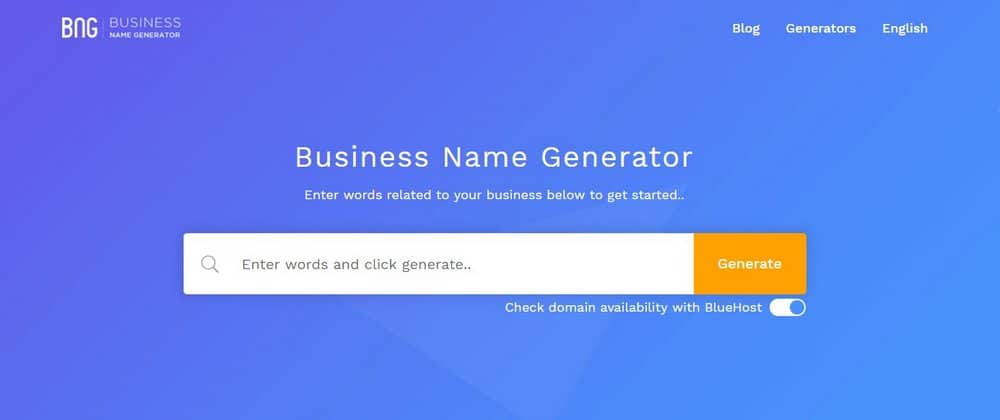 Business Name Generator is an advanced yet easy to use online name generator tool you can use to quickly find catchy and creative names for your business. The tool is very beginner-friendly, but it uses an advanced AI (artificial intelligence) algorithm that generates names based on keywords related to specific industries.
The tool is completely free to use and it works with 6 different languages. You can also use it to check the availability of domain names for each business names, which will help save you a lot of extra work.
How To Use Business Name Generator
Business Name Generator works 100% online. You don't even have to signup with an account to use it. You can simply jump in and start searching. Here's how it works.
Step 1: Enter Your Keywords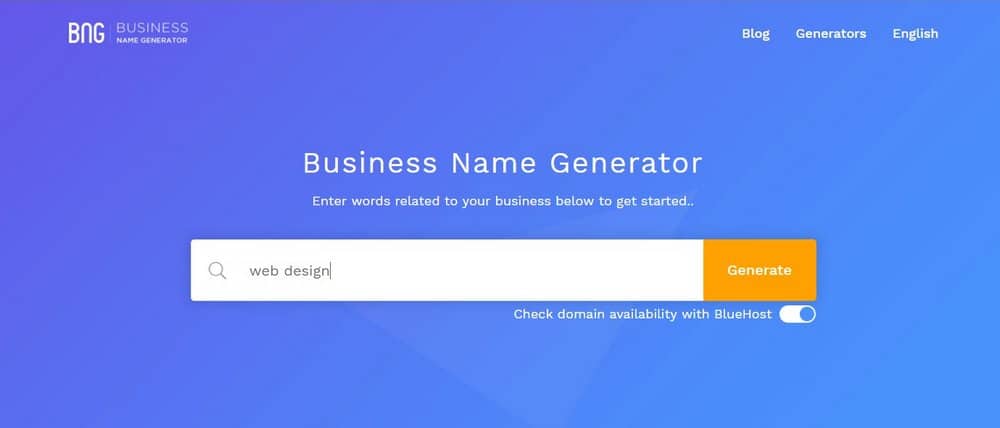 First, load the Business Name Generator tool. Then enter a couple of keywords related to your industry. For more effective results, enter the keywords that you researched using Google Keyword Tool.
If you want to check the domain name availability for business names, tick the button that says check domain availability with Bluehost.
Step 2: Filter Your Search By Industry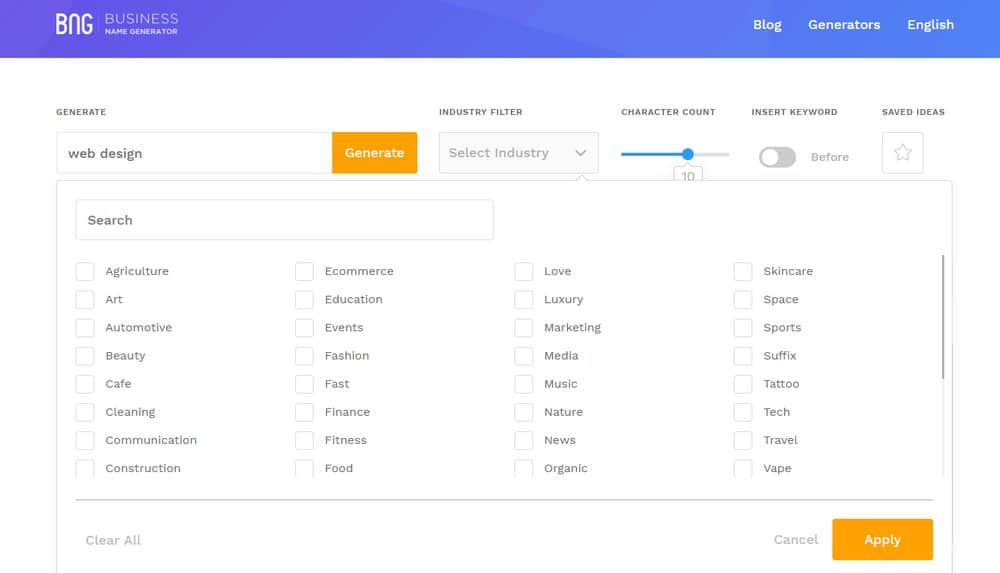 Once you click on the search button, you will receive a massive list full of great business names.
You can now use the configuration tools to curate names based on different aspects. For example, you can curate names by selecting an industry. This will generate names that are specific to an industry.
Step 3: Choose Character Count & Keyword Position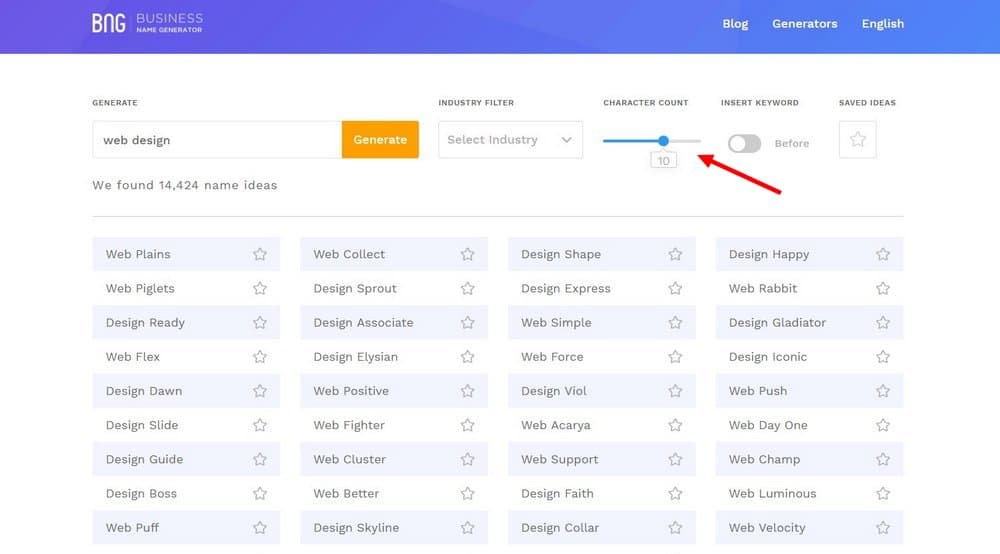 You can also choose the length of the business name with the character count slider and choose whether you want the keyword to appear at the beginning or the end of the name.
Step 4: Check For Domain Availability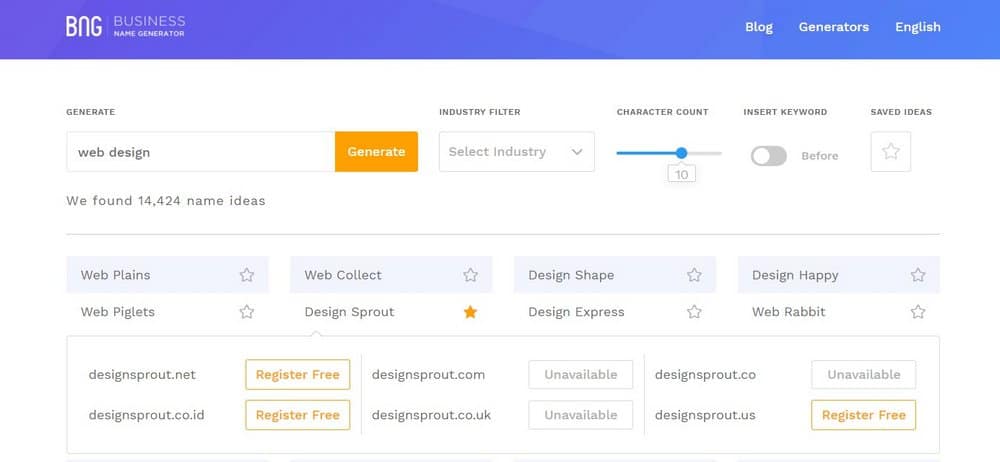 If you see a business name you like, be sure to click on that star button to save it for later to create a list of potential business names to choose from. Also, clicking on the business name will show you whether the domain name is available. And, if it isn't available, the tool will offer a few alternatives as well.
In Conclusion
While your business name is an important part that will remain with your business forever, you shouldn't let the process of naming it to overwhelm you with the responsibility.
Using a tool like Business Name Generator may feel like cheating but it's actually a great way to find names without much effort. A simple search will show you how easy it is to find a great business name using a generator tool.