How To Add A Contact Form In WordPress + 8 Best Contact Form Plugins
A contact form is a must-have feature for every website as it creates a direct line of communication between you and your audience. And it's especially important for businesses for connecting with customers as well.
Setting up a contact page on your website with a contact form is much easier on WordPress. All you need is a contact form plugin and you can get it done with just a few clicks.
In this post, we'll show you how to add a contact form in WordPress using a plugin. Don't worry, you don't need any coding or web design skills for this task.
But first, let's find the right contact form plugin for your website.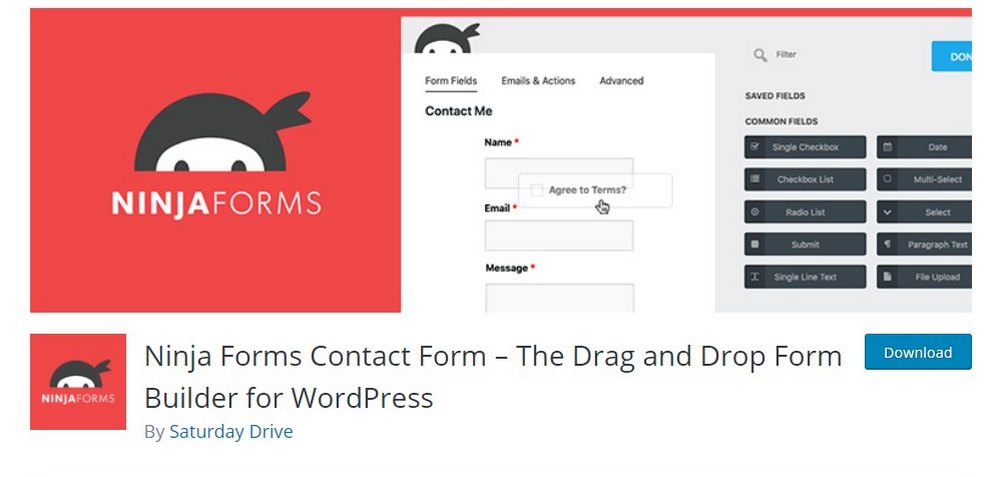 Ninja Forms is a popular form-building plugin that can be used to create various types of forms, including contact forms. The plugin is free to use and it comes with an easy-to-use drag and drop editor for creating forms.
Ninja Forms is very easy to setup and it lets you add custom form fields to design a contact form to fit your business. It includes 27 different field types and you can use the plugin to create as many forms as you want.
Main Features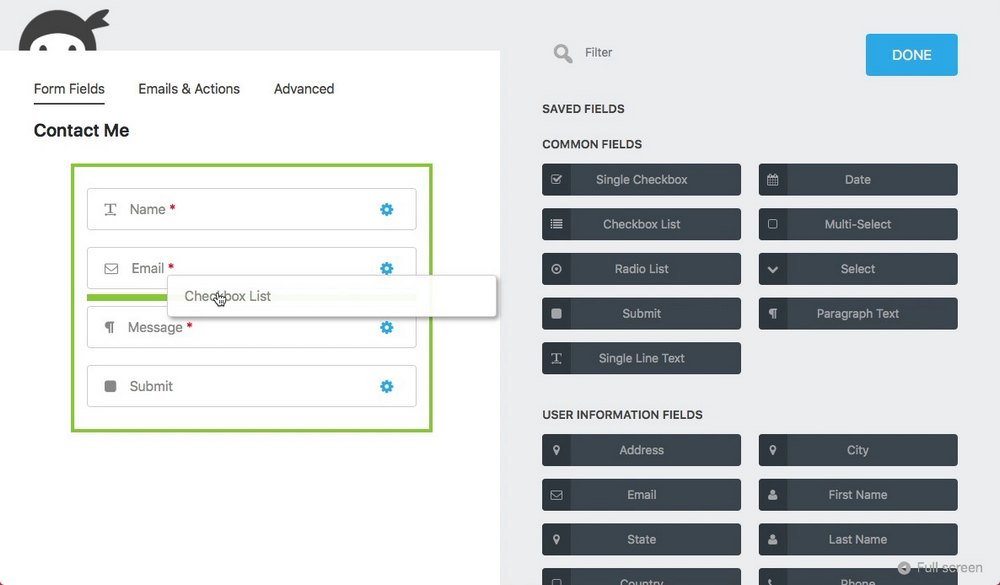 Easily design custom contact forms using drag and drop editor
Choose from 27 different form field types
Supports Akismet and Google reCaptcha for spam protection
Create unlimited forms and form submissions
Premium add-ons for adding additional features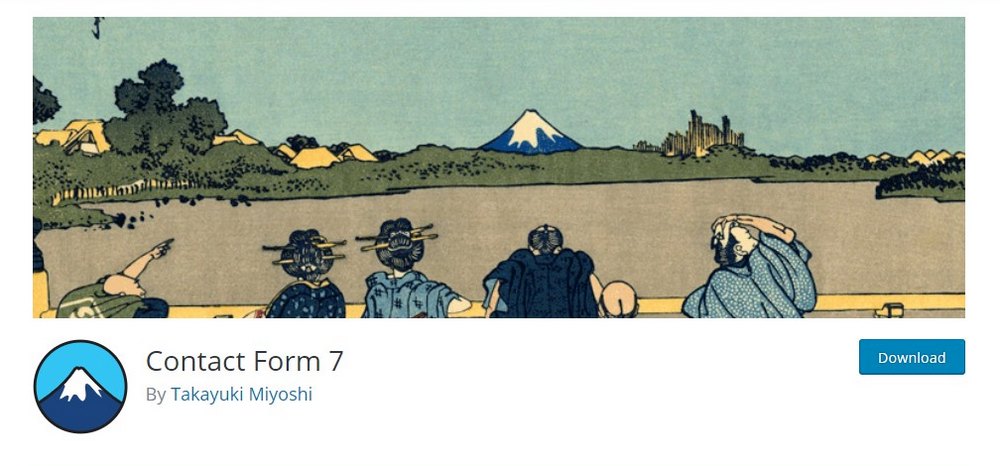 With more than 5 million active installs, Contact Form 7 is one of the most popular contact form plugins available on WordPress. Mainly due to the fact that it's commonly used by WordPress themes for adding contact forms by default.
Check your Plugins page. Chances are your theme might be using Contact Form 7 to create contact forms. Adding a contact form with Contact Form 7 only involves a few steps. It uses a simple template and you have very little control over it. But it gets the job done.
Main Features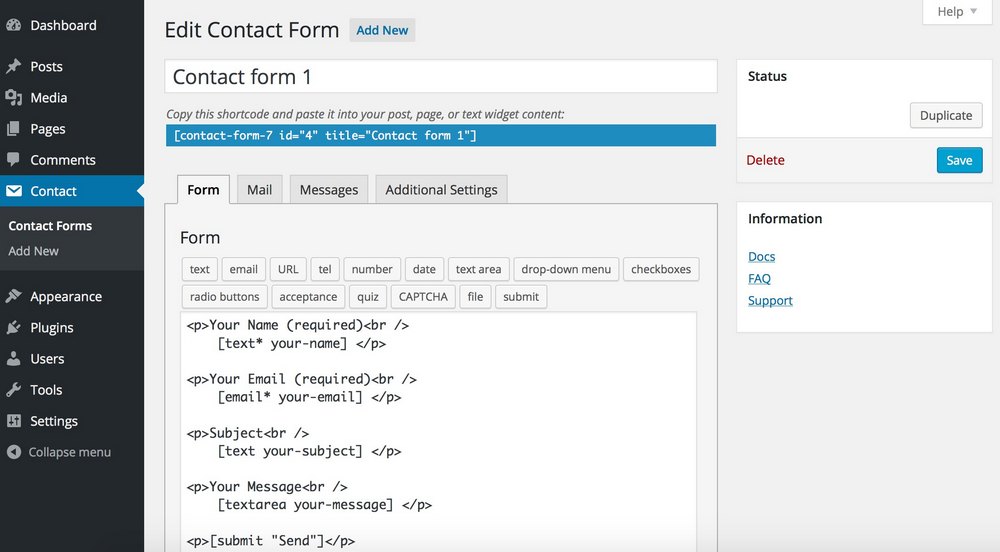 Create a basic contact form that blends well with your theme design
Embed your form anywhere using shortcodes
Defends against spam with reCAPTCHA and Akismet
Completely free to use the plugin however you like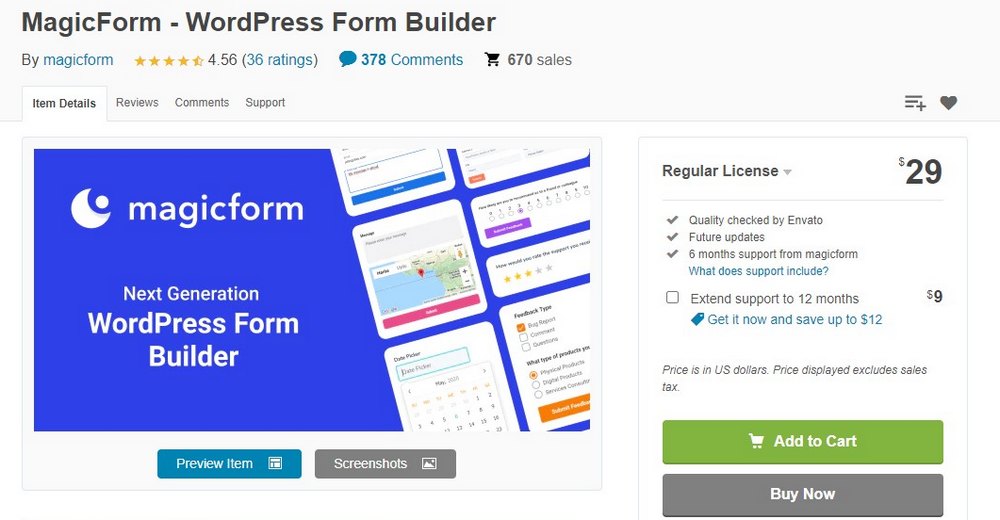 Websites need various types of forms, like payment forms, login forms, survey forms, and more. It's ideal to have just one plugin that can handle all these forms than having to install multiple plugins.
MagicForm is a multipurpose form-building plugin that's capable of creating contact forms and all those other types of forms. You can even integrate it with PayPal and MailChimp to create advanced forms for your website.
Main Features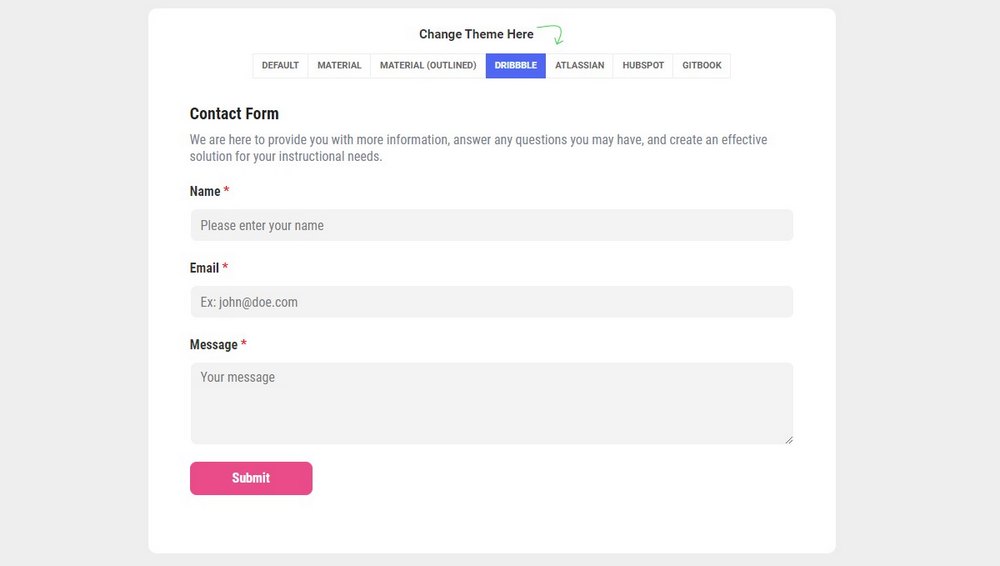 Create various types of forms with modern designs
Choose from over 30 field types
Integrate with Google Analytics to track form usage
Create payment forms with PayPal and Stripe
Choose from multiple form themes and customize designs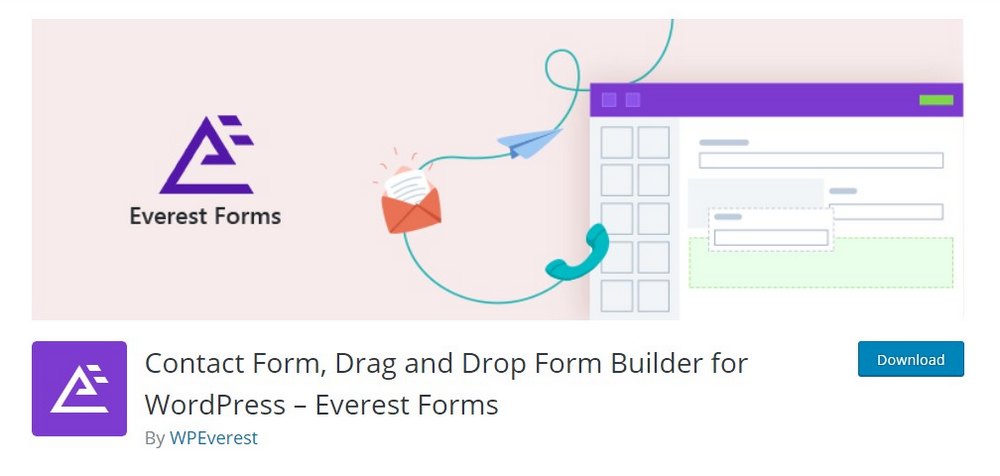 Everest Forms is another free form-building plugin you can use to create contact forms and other types of forms. One of the best features of this plugin is its modern and simple user interface.
You can also create forms with multiple columns with Everest Forms. The drag and drop editor makes it very beginner-friendly. And it includes many different field types as well.
Main Features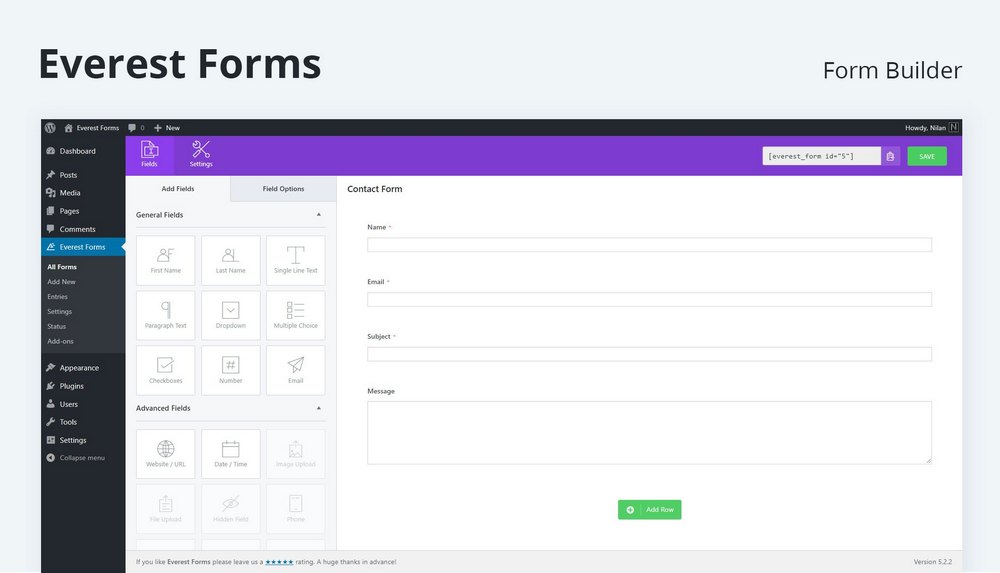 Create beautiful contact forms using the modern drag and drop editor
Choose from pre-made form templates or make your own
Protection against spam with Google Recaptcha
Includes multiple form field types and multi-column layouts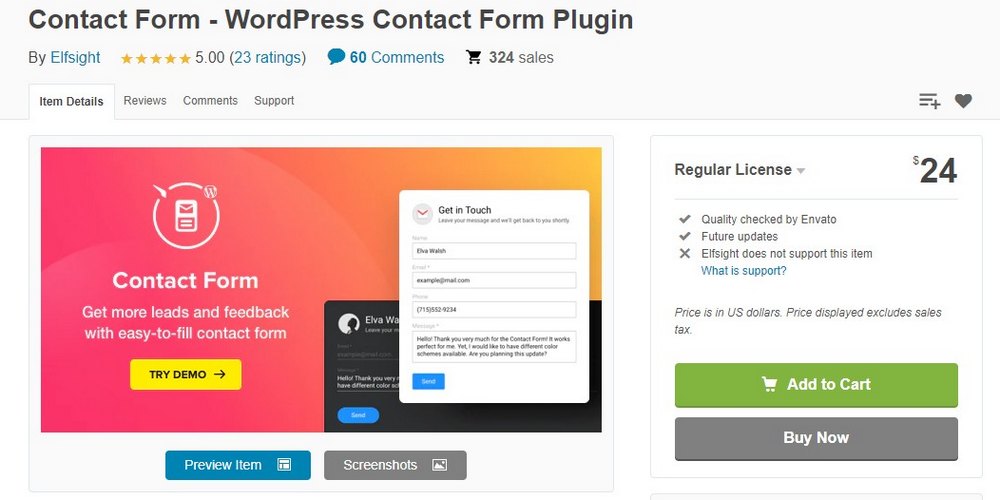 This is a premium contact form plugin that comes with a set of modern and beautiful form designs. It allows you to add contact forms with a better user experience. And it's also one of the few form plugins that includes dark-themed designs.
The plugin is compatible with all popular WordPress themes and you can embed it anywhere using shortcodes. It also includes a simple drag and drop editor for making advanced contact forms.
Main Features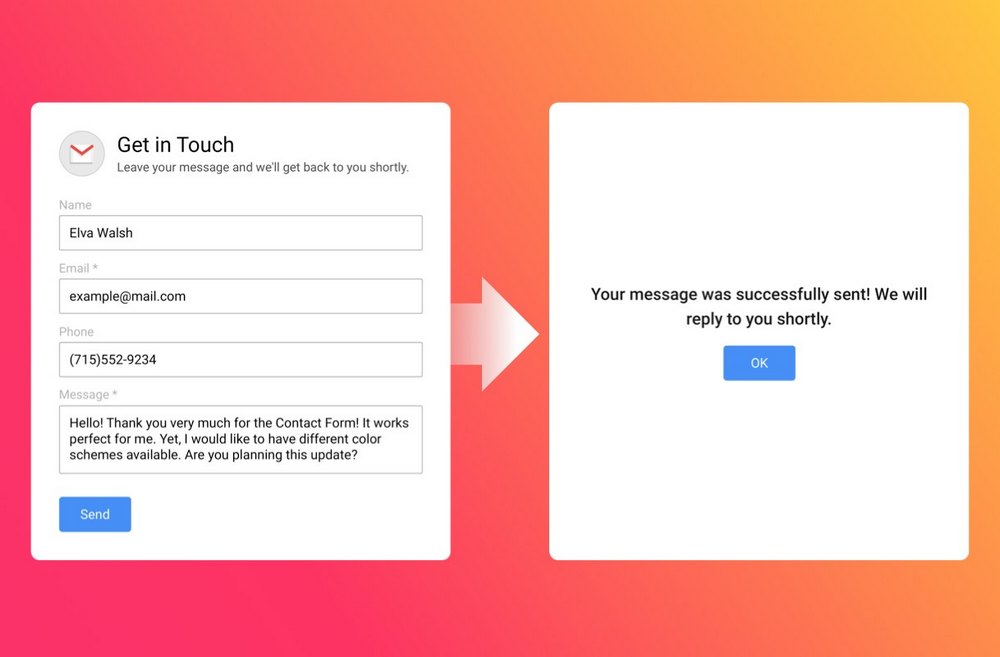 Choose from 19 different field types to create professional contact forms
Easily customize colors and design of forms to your preference
Create multi-step forms and add a thank you message
Uses Google reCAPTCHA for spam protection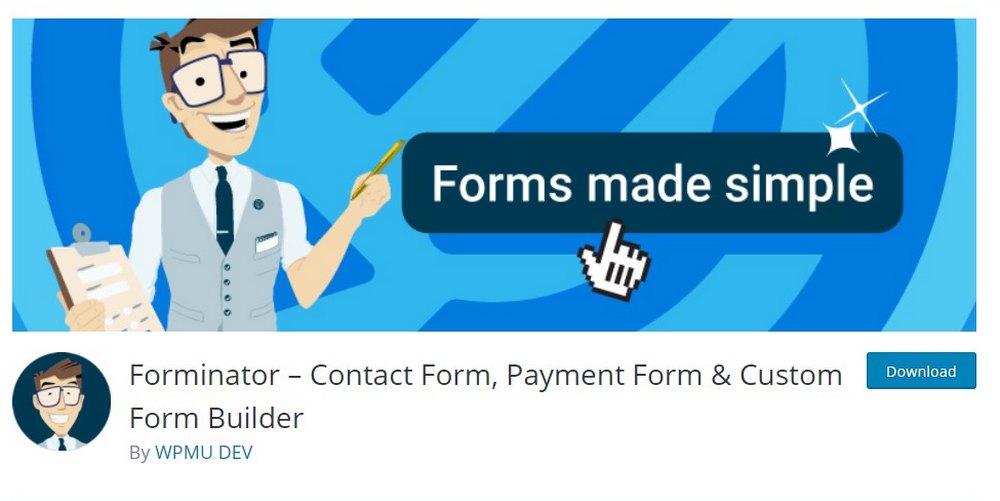 Forminator is another form-building plugin that supports not only contact forms but quizzes and polls as well. This plugin is ideal for blogs and magazines as it helps you accomplish multiple goals.
The free version of the Forminator includes all the features of the premium version except for a few advanced features like SEO benefits, popups, and e-signature. The plugin, however, has limited customization options for designing contact forms.
Main Features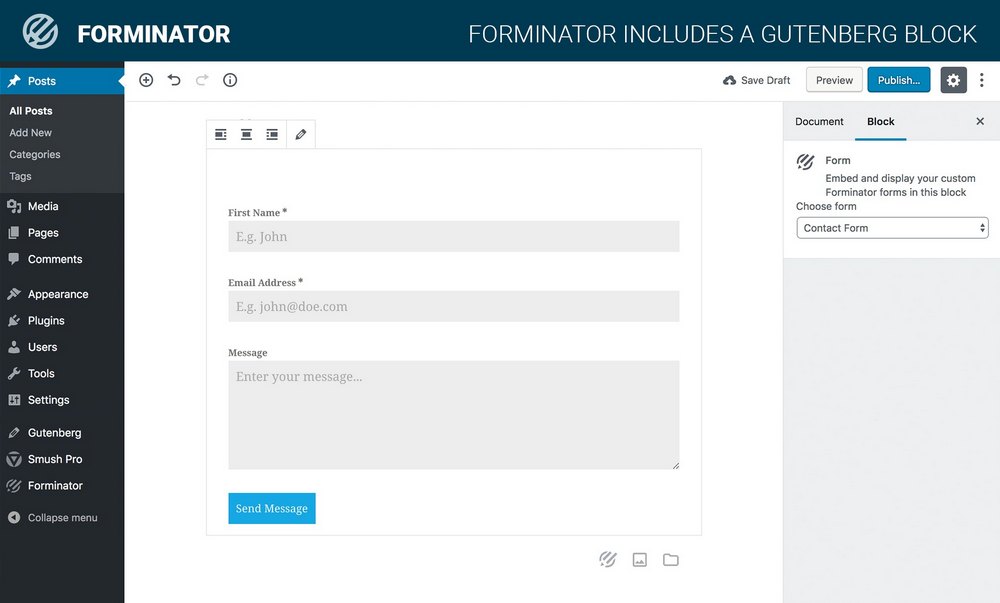 Easily design custom contact forms, payment forms, and more
Create polls and quizzes to increase engagement
Supports integration with Zapier, HubSpot, MailChimp, and more
Includes Google reCAPTCHA support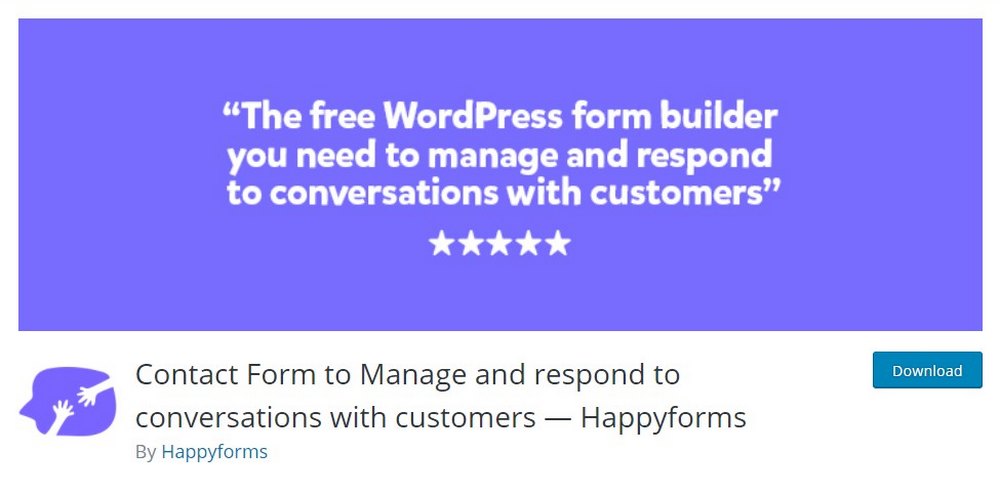 HappyForms is a beginner-friendly plugin you can use to easily design a simple contact form. The plugin can be used to create other types of plugins like registration forms, booking forms, and payment forms as well.
HappyForms comes with an easy-to-use drag and drop editor for building different kinds of forms. It also features responsive designs so the forms will look great on both mobile and desktop platforms. The only downside is most of the useful features, like Google reCaptcha, are only available in the premium version.
Main Features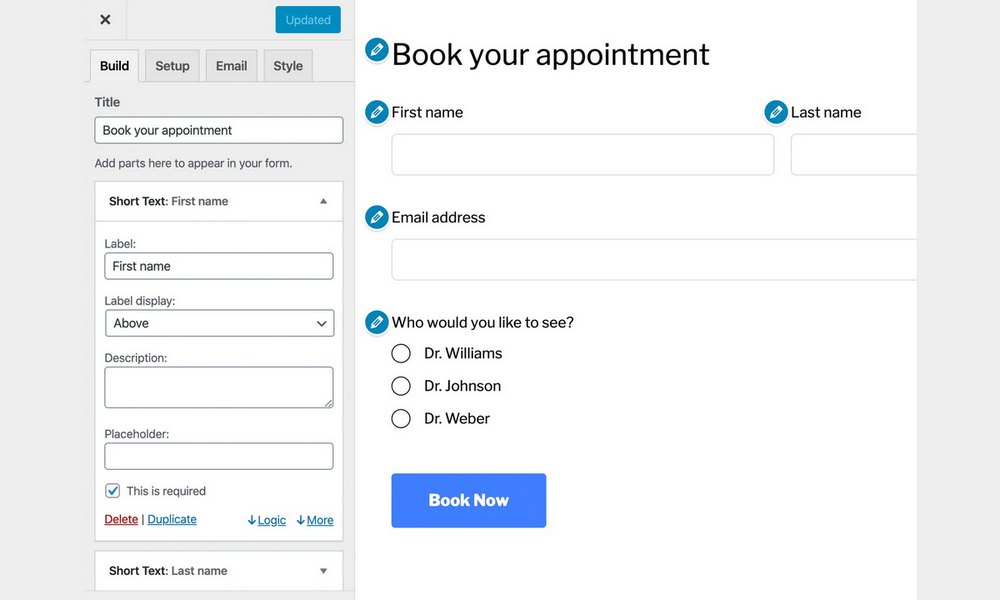 Design different types of forms using the drag and drop editor
Customize the design of the forms to match your branding
Choose from multiple form fields
Create unlimited forms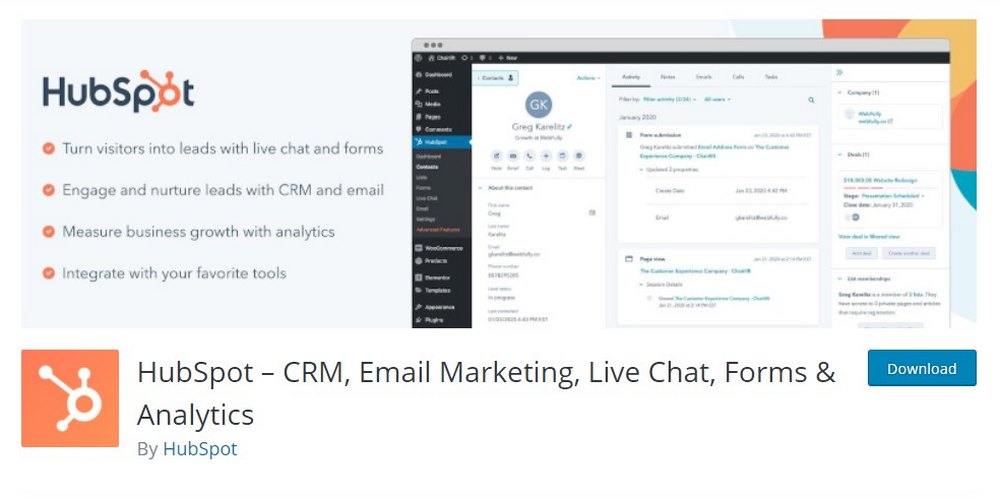 HubSpot is a complete marketing solution and a CRM for managing your customer relationships and communications. This plugin allows you to connect your website with the HubSpot CRM as well as create various types of forms.
One of the many benefits of using this plugin is that when you create a contact form you can sync the contact information you gather from the forms into your CRM. Consider using HubSpot to create contact forms for business, agency, and eCommerce websites.
Main Features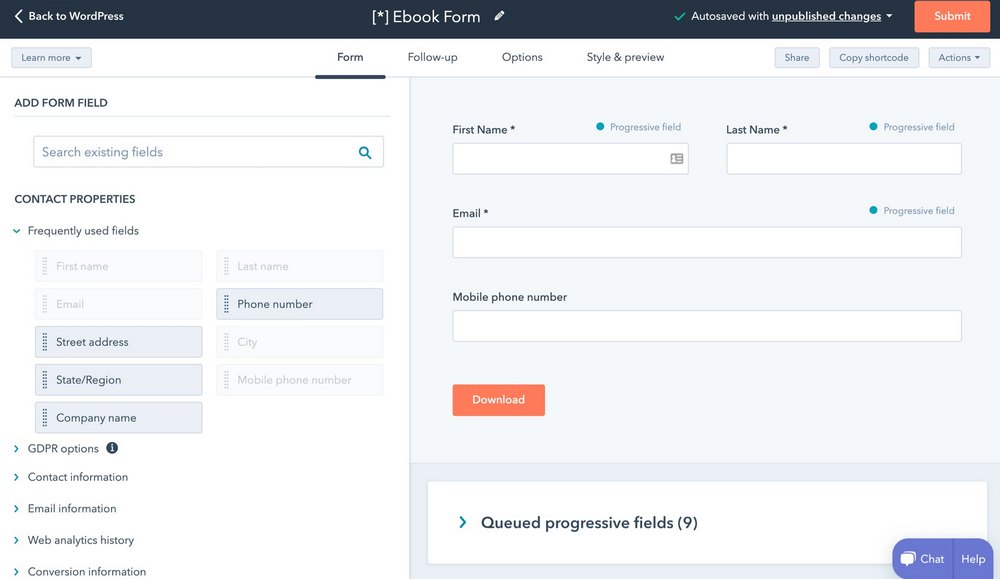 Easily create contact forms, email forms, popups, and more
Integrate with HubSpot CRM to manage your contacts
Get insights into form usage with built-in analytics
Add a live chat system to your website
How to Add a Contact Form in WordPress
Adding a contact form using a plugin is quite easy. We'll show you how it works in a few steps.
We're using Ninja Forms for the demonstration. Ninja Forms is a form-building plugin. But it's easy to use. The process will be similar for other plugins except with a few differences in the user interface design.
Step 1: Install Ninja Forms Plugin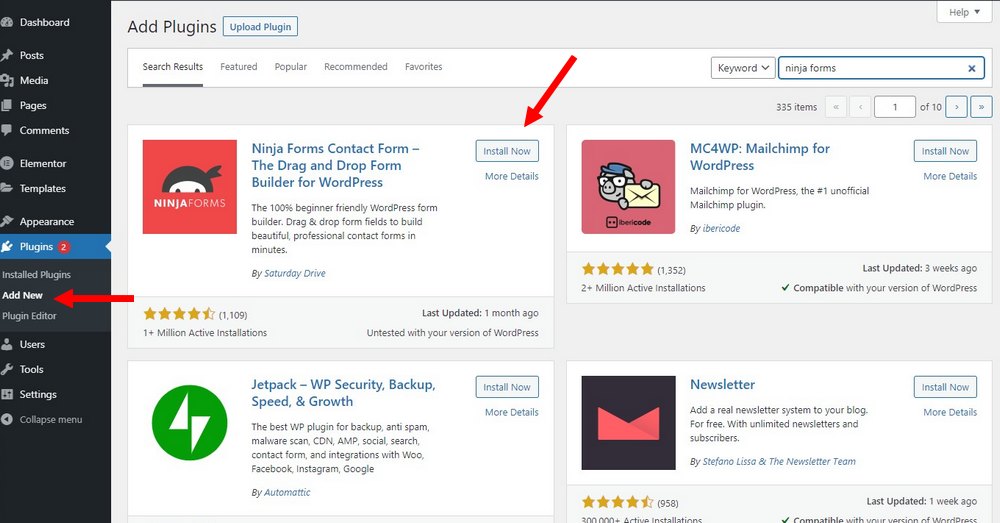 From your WordPress admin dashboard, go to Plugins >> Add New to install Ninja Forms plugin. Then Activate it.
Step 2: Create a Contact Form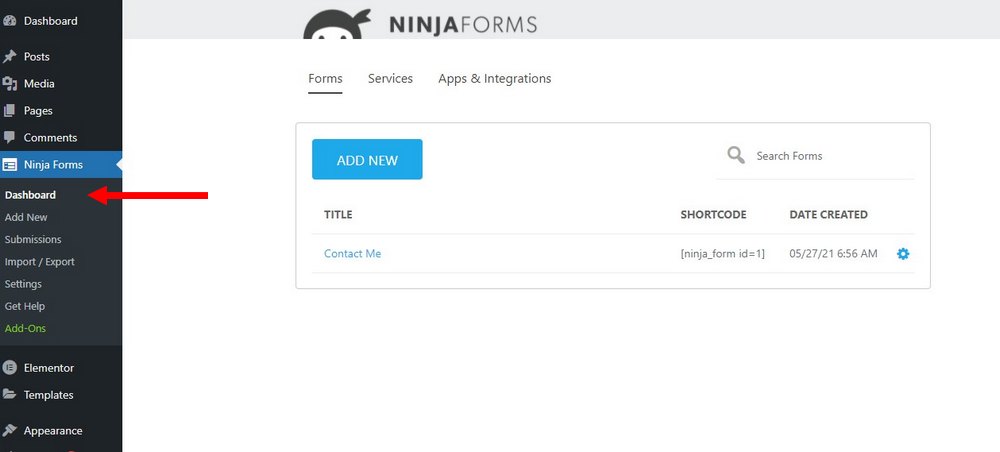 Ninja Forms will automatically create a contact form by default. You can use it to quickly add a contact form. Or click on the Add New button to create one from scratch.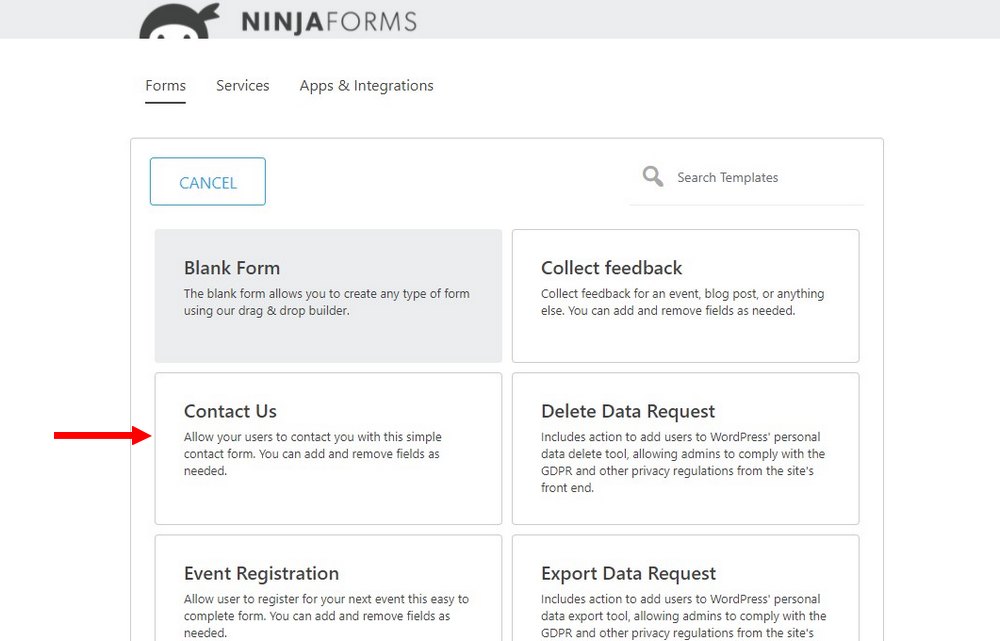 Then select the Contact Us template to get started. From there you can customize the form.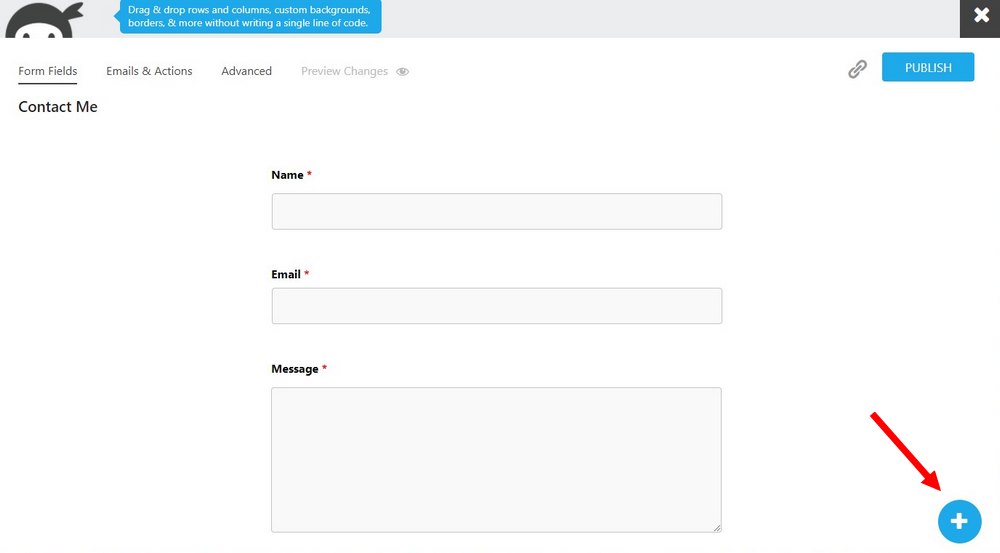 Click on the plus icon (+) to bring up the form fields section. Drag and drop any field into the form to customize the layout.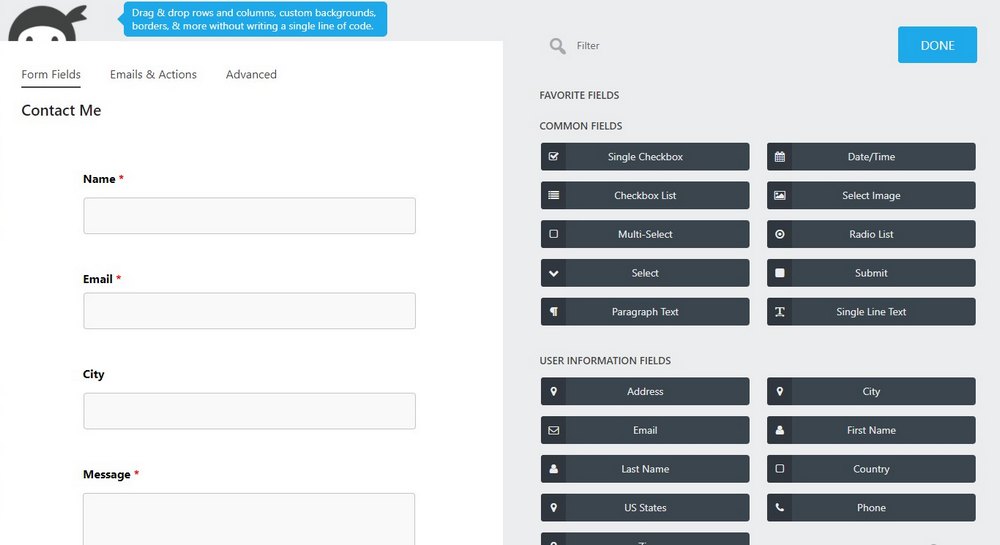 Select any field and click on the gear icon to customize each form field to your preference.
Step 3: Customize Form Settings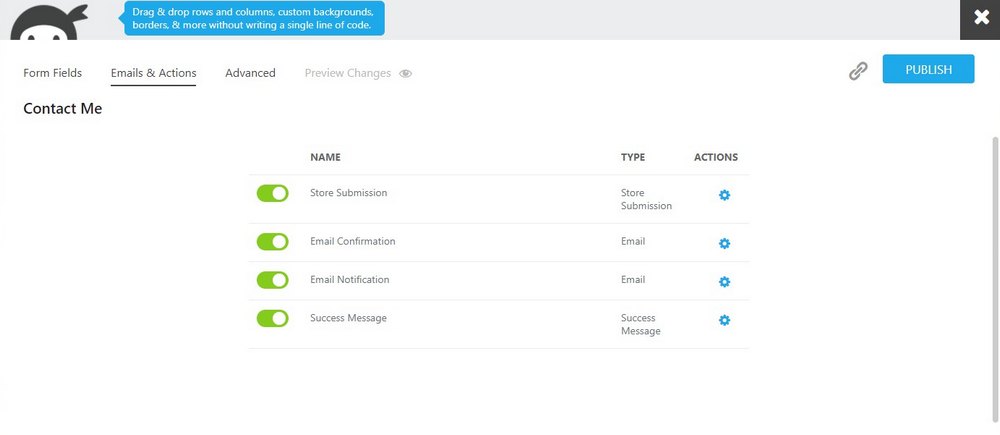 Switch to the Emails & Actions tab to choose whether you want to store the email submissions and enable email notifications.
From the Advanced tab, you can manage the display settings for the contact form. As well as restrictions.
Once you're done, click the Publish button to save your contact form.
Step 4: Embed the Contact Form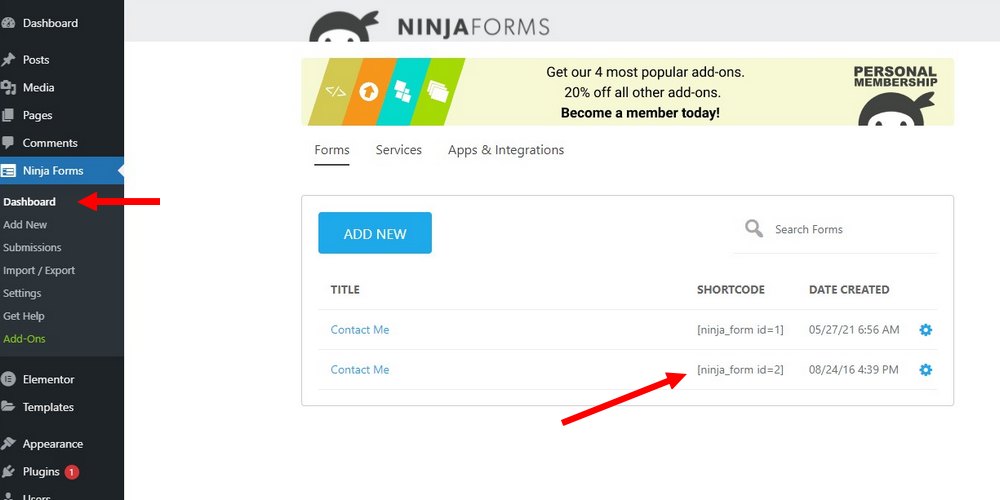 Go back to the Ninja Forms dashboard and copy the Shortcode for the form you've just created.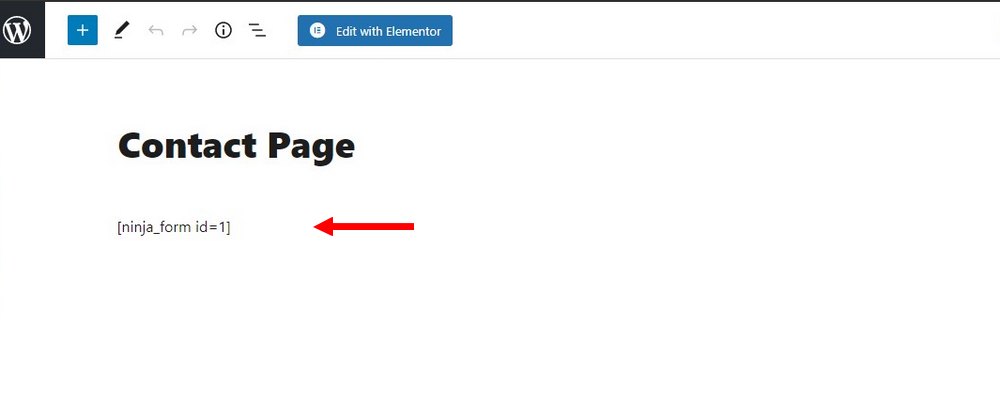 Then paste the shortcode in a page or post to make the form appear. That's it!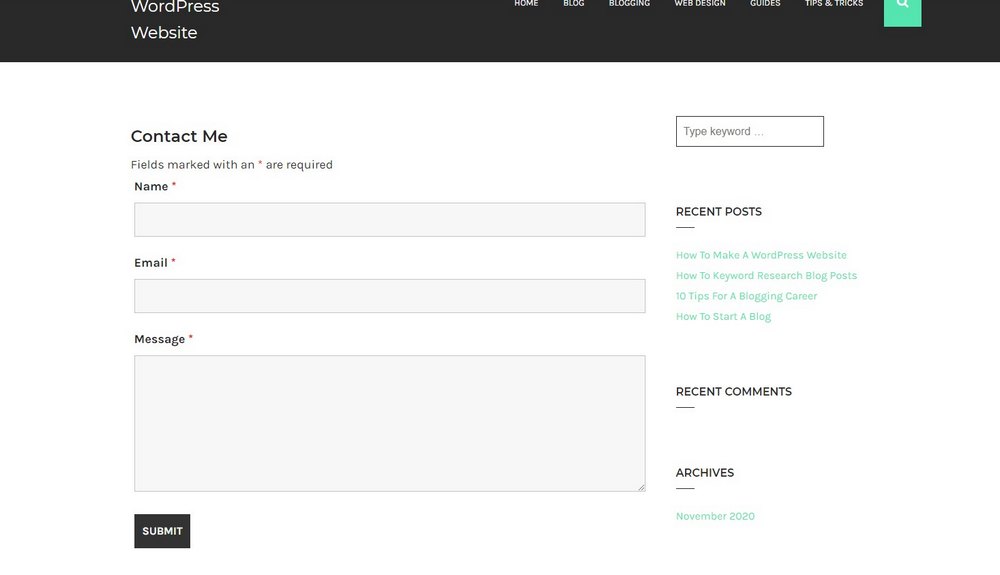 Which Contact Form Plugin is Best?
Overall, Ninja Forms is a good plugin you can use to add a simple contact form to your website. Contact Form 7 is another good choice.
If you plan on creating more than just contact forms, switch to MagicForm plugin. As it has the ability to create many different types of forms with beautiful designs.
Contact form plugins usually work well with any WordPress theme. But, always make sure to check your WordPress theme and existing plugins for compatibility before installing plugins.
If you're in the market for a new theme, check out our exclusive WordPress themes bundle. It includes 60+ premium themes for the price of one.
Looking for WordPress hosting? We use Kinsta. They offer world-class WordPress hosting, built to keep your website fast, secure, and always online.