5 Essential WordPress Plugins to Install First
So you've just installed WordPress and uploaded a beautiful theme to customize the design. Now you're getting ready to launch your website. But wait! Your website is not ready to go public just yet.
WordPress is designed to be a CMS (content management system) that fits all types of websites and businesses. As a result, it comes to you as a basic software so that you can customize it with third-party plugins according to your needs.
WordPress plugin directory hosts more than 54,000 free and premium plugins. Unfortunately, most of these plugins are either outdated or terribly built by amateurs. Some plugins might even break your site or make it vulnerable to hackers.
Needless to say, it's important that you pick the right plugins to install on your brand new website from the very beginning. To make this process easier, we handpicked some of the best and must-have plugins you should install to supercharge your website before you open it to the public.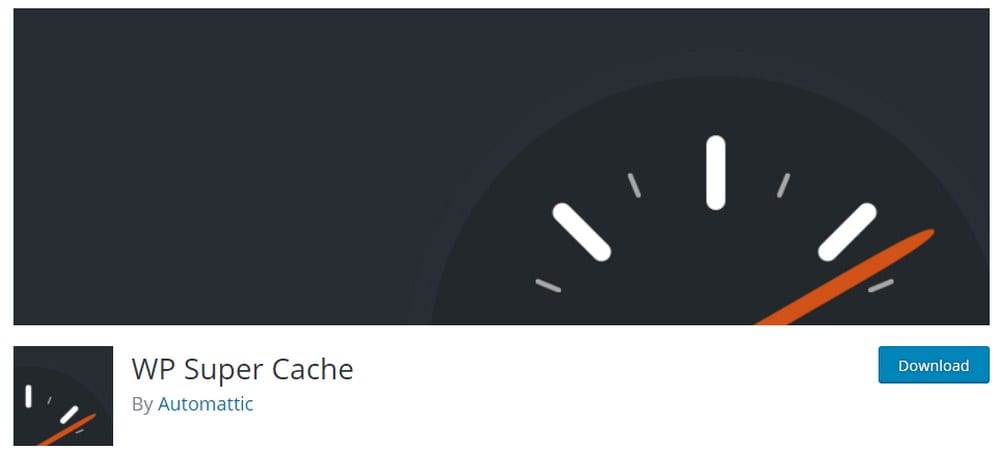 Price: Free
Best For: Improving website speed
Active Installs: 2+ Million
Optimizing your website for speed is one of the most important parts of building a successful website. It not only improve your website user experience but it will also help you rank higher on Google.
WP Super Cache is a plugin that will help you achieve that goal. This plugin is developed by the same team behind WordPress software and it automatically generates static HTML files of your website pages and blog posts to improve loading speed and reduce server resources consumption.
Main Features

The best feature of WP Super Cache is that it's no longer difficult to install and enable the plugin. You can install it and enable caching with just one-click.
Easy to install and enable with one-click.
3-way caching method.
Beginner-friendly settings and customization.
Support for CDNs.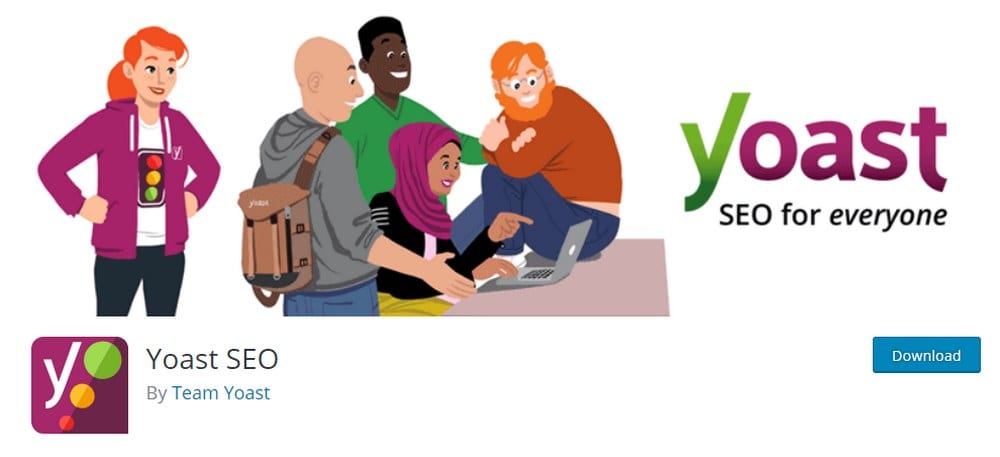 Price: Free
Best For: Optimizing website for search engines
Active Installs: 5+ Million
Google is the primary source of traffic for almost every website on the internet. By creating content and blog posts targeting keywords, you can rank your website higher on Google and generate more traffic to your website.
Yoast SEO is a plugin that will help improve your website's SEO (search engine optimization). Every time you publish a page or a blog post, this plugin will scan its content and give you suggestions on how to improve the post with keywords, meta descriptions, and for readability.
Main Features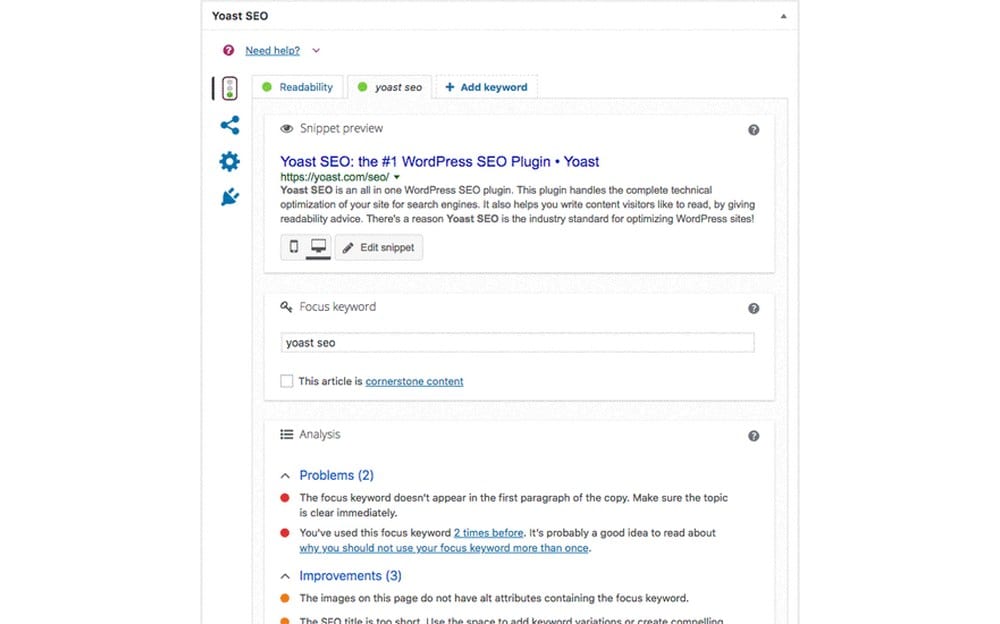 Yoast SEO also optimizes your blog posts for social media platforms. The plugin comes with a built-in XML sitemap generator, which you'll need when submitting your site to Google Search Console. This means you don't have to install a separate plugin to add a sitemap to your site.
Easily improve keyword and meta descriptions.
Suggestions for readability adjustments.
Ability to set canonical URLs.
Ability to edit posts in bulk.
Integration with Google Search Console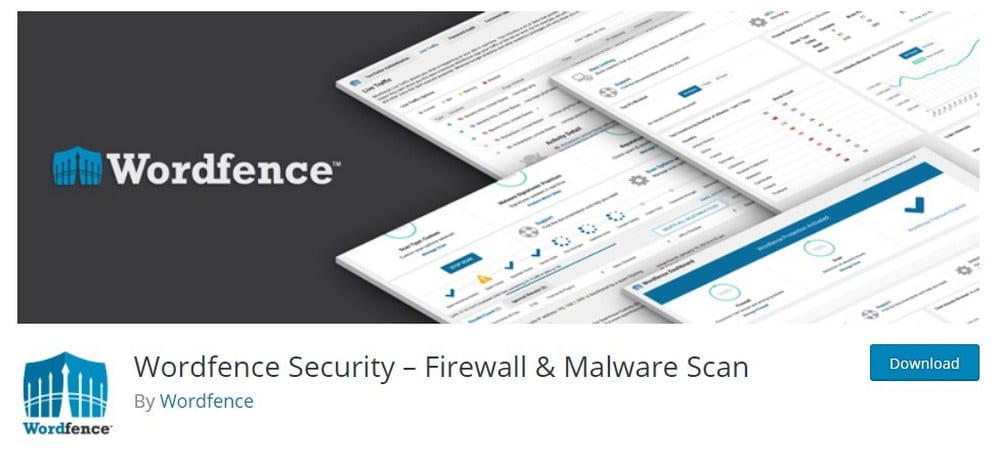 Price: Free
Best For: Enhancing website security
Active Installs: 2+ Million
While your web hosting provider promises to protect your website and provide security against malware, it will not do much to protect your website from hackers and attacks on your website. In fact, most web hosts don't even provide protection against brute-force attacks. It's completely up to you to protect your website from such threats.
Wordfence Security is a powerful plugin that will help secure your website and add more barriers to keep hackers away from your website. It comes with a strong firewall that blocks malicious website traffic and a malware scanner that keeps your site safe from malicious code.
Main Features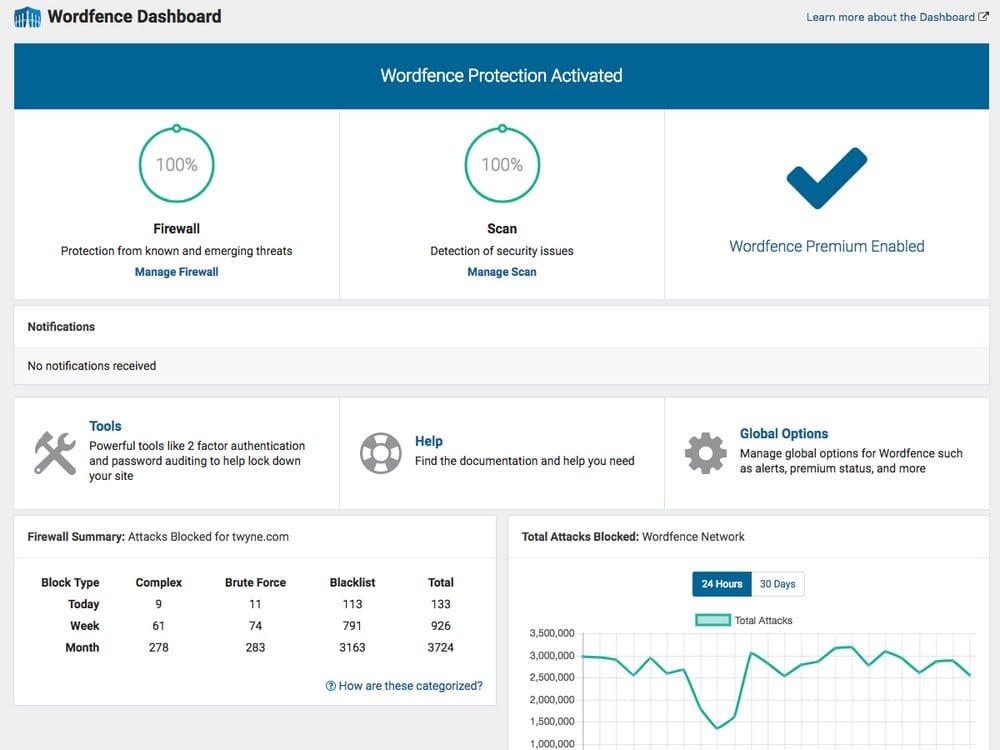 One of the many useful features of Wordfence Security is its limit login attempts feature, which will protect your website from brute-force attacks by limiting the number of login attempts. The plugin will also constantly scan your website and notify you if any vulnerabilities were discovered in the theme or any plugins.
WordPress firewall with a malware
Ability to limit login attempts.
Security vulnerability and content checks.
Comment spam filter.
Blocks hacker attacks and attempts.
Monitor website traffic and hack attempts in real-time.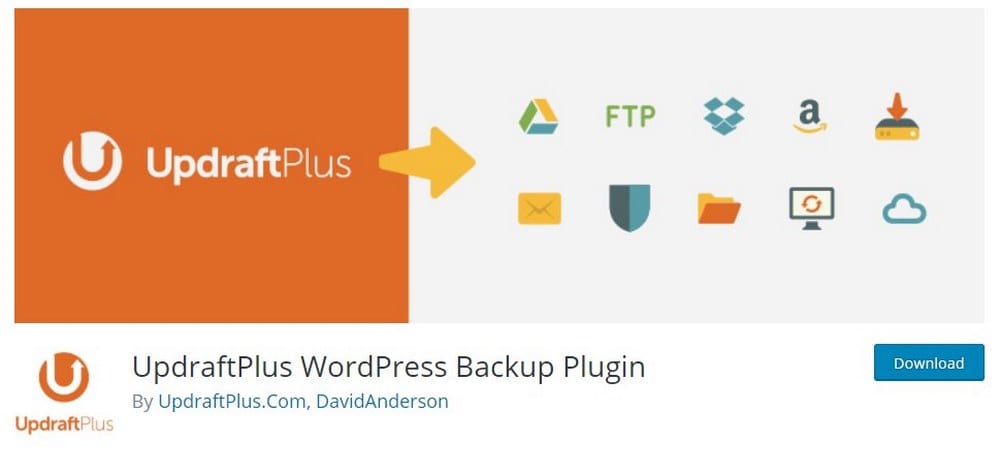 Price: Free
Best For: Setting up automatic backups
Active Installs: 1+ Million
Many web hosting providers will offer you with free daily backups, but you shouldn't rely on them to create backups of your website. For example, your backups will often be hosted on the same server as your website. If somehow your server disks get corrupted or damaged, both your website and the backup will be gone for good.
This happens more often than you think. And it never hurts to have a backup plan for your backups. This is where UpdraftPlus comes to help. This plugin allows you to setup automatic backups for your website for free.
Main Features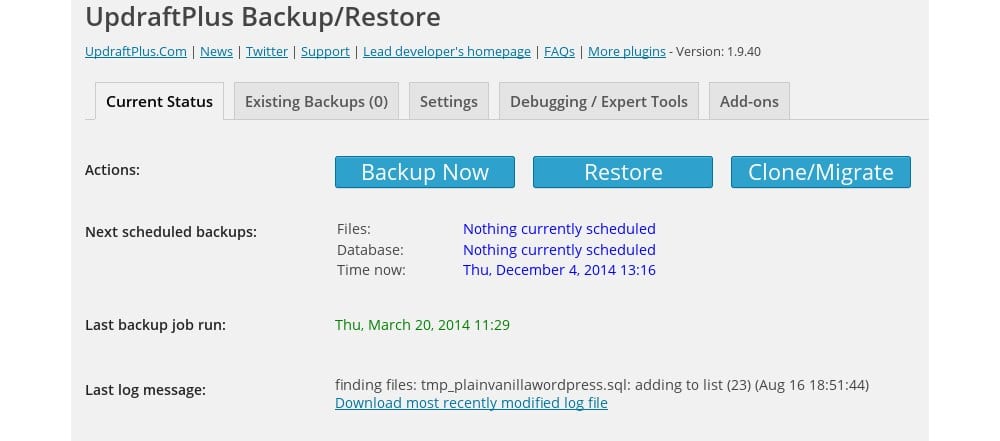 You can use UpdraftPlus to schedule automatic backups and have them stored in any of your cloud storage services, including Google Drive, Amazon Cloud, Dropbox, and many others. The coolest feature, however, is that the plugin also includes a one-click restore feature for restoring your website from a backup.
Backup entire websites, files, themes, databases.
Schedule automatic backups or backup manually.
Save backups in any cloud storage service.
One-click restore.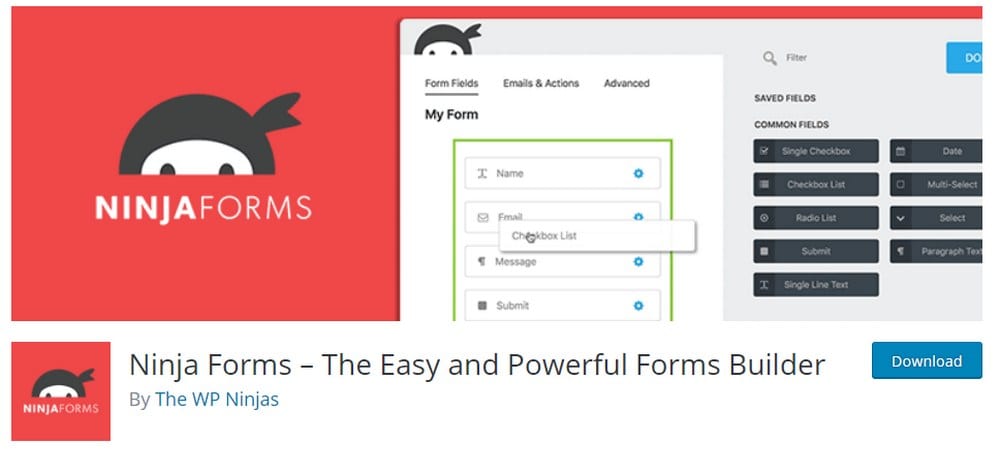 Price: Free
Best For: Creating contact forms.
Active Installs: 1+ Million
A contact form is a must-have feature for every website and blog. There are many plugins you can use to instantly setup a contact form in WordPress, however many of them don't provide proper solutions for keeping out bots and spam.
Ninja Forms is a great free form building plugin that you can use to create a beautiful contact form on your website. The plugin gives you several options to protect your contact forms from spam, including Google reCaptcha, question/response fields, and honeypot fields as well.
Main Features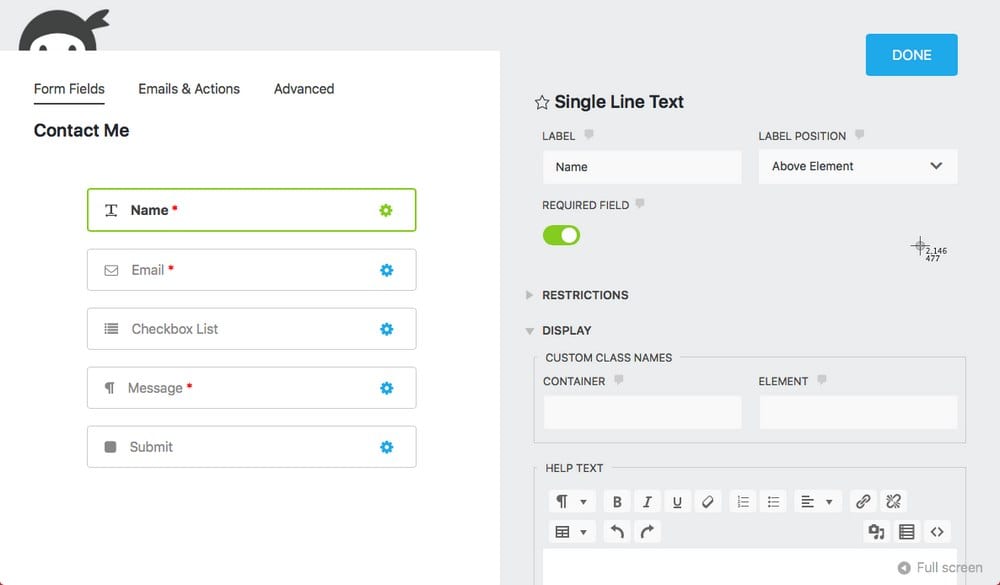 Ninja Forms is not just about creating contact forms either. You can use it to create many different types of forms, such as email opt-in forms, upload forms, and more using its beginner-friendly drag and drop form builder.
Build beautiful forms without code.
Drag and drop editor.
Easily modify and edit fields.
Integration with email marketing services.
Integrate payment processing services.
Customize with add-ons.
Over To You
These are the best plugins in their categories that will allow you to setup some of the most important functions and features on your website free of charge.
However, there are many other plugins you can and should install to extend the power of your website, like WooCommerce for selling products and Elementor for building landing pages.
Just remember not to install too many plugins as it can directly affect your website loading speed and server resource consumption.