How to Choose an Interior Design WordPress Theme
One of the many benefits of building a website with WordPress is having the ability to choose a theme design that's most suitable for your industry.
There's no need to buy a random WordPress theme and spend hours customizing it to fit your business. You can easily find a WordPress theme that's already been designed specifically for business websites related to your industry through most WordPress theme marketplaces.
Whether it's for a construction business website, a beauty salon, or a restaurant, there are WordPress themes for every business you can think of. And yes, that includes interior design themes as well.
Although, finding one of the best interior design WordPress themes can be a bit difficult, because unlike other business websites, the potential customers who visit your website will already have a keen eye for design (and they will judge your business and your brand reputation based on the design of your website!)
This puts more pressure on you when looking for the ideal WordPress theme. You also need to be aware of certain features before buying a theme for an interior design website. Keep reading to find out what they are.
We've made our own free interior design WordPress theme for you to set up up a free interior design website for your agency or architectural design business.
You can use drag-and-drop functionality to build your own interior design website with WordPress, add stunning photos of client projects, integrate social media, showcase video tours, maintain a news feed or blog, and much more.
It's completely free to download, try out, and customize with your own content. No strings attached!
Download our Free Interior Design WordPress Theme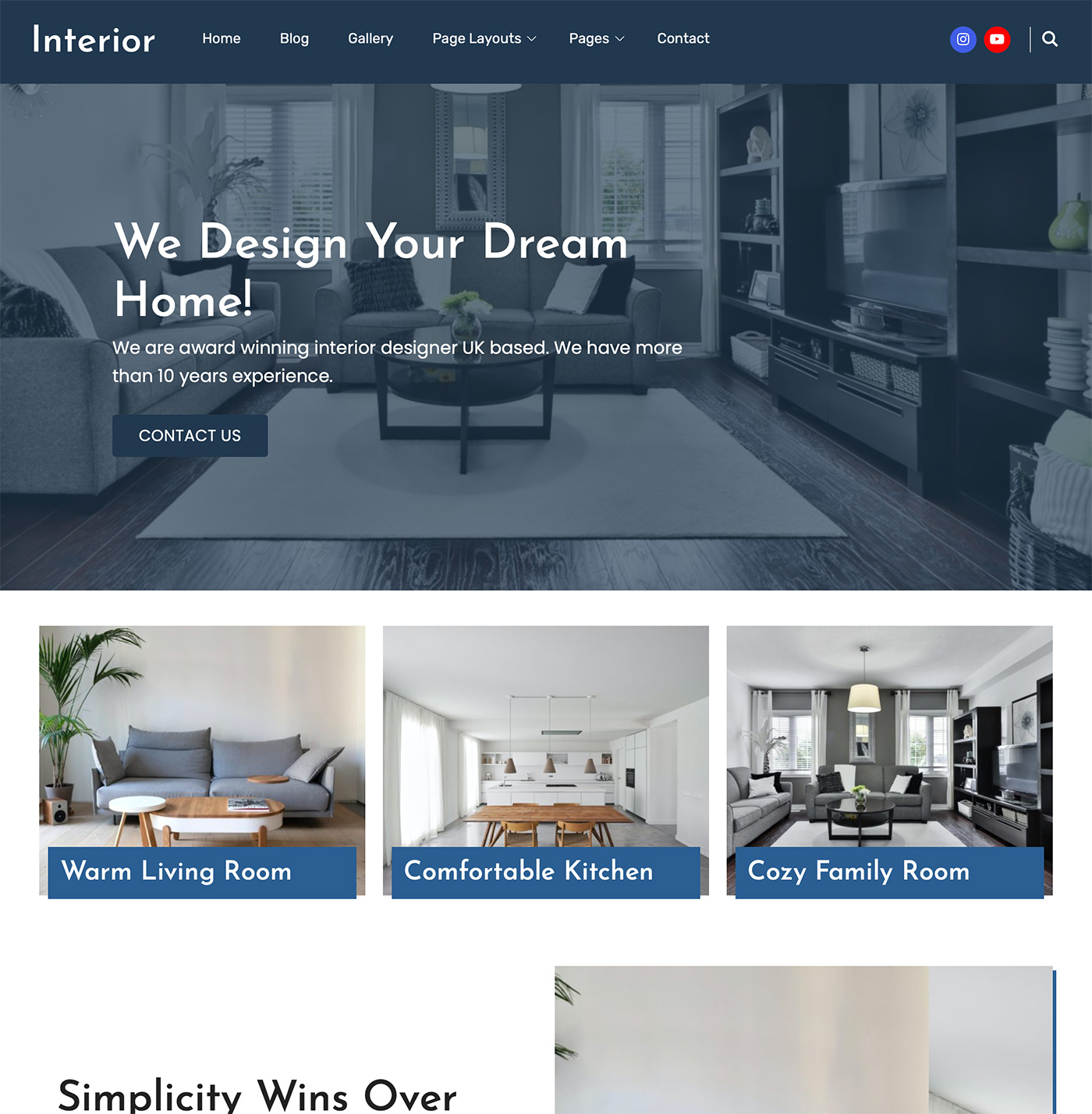 Clean And Modern Design
"If you think good design is expensive, you should look at the cost of bad design." – Ralf Speth
Web design is a constantly changing industry. The design trends we saw a couple of years ago are no longer considered relevant and new trends are introduced every year. However, finding a WordPress theme that meets current design trends shouldn't be your focus when you're searching for an interior design theme.
Instead, go for a timeless design that will stay relevant for a long time. Themes with clean and minimal designs tend to last a long time.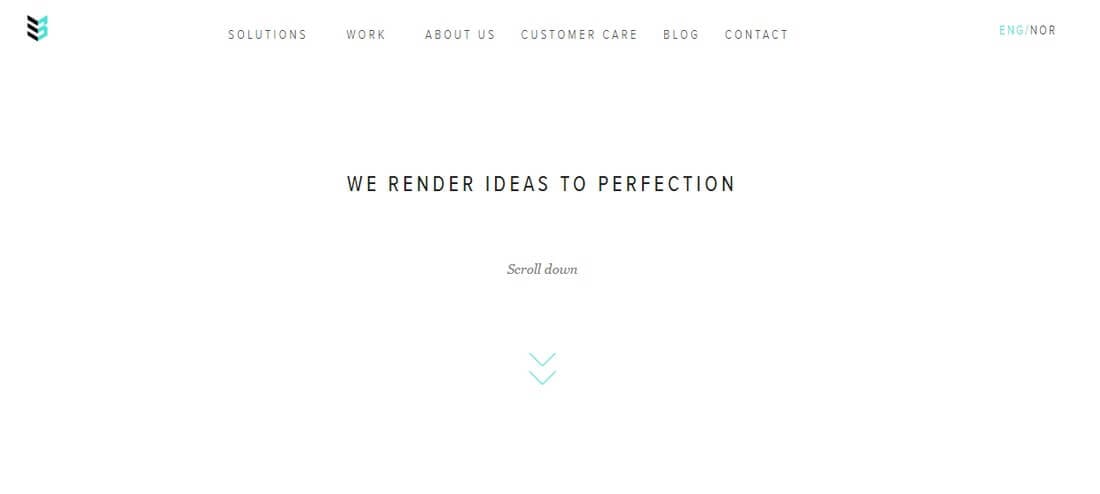 For example, take a look at the interior design agency Case3D website. Notice how that simple and clean layout makes the company appear more professional and creative. Will this design be relevant in five more years? Absolutely.
So, look for a WordPress theme with a minimal and a visually appealing design. A theme that provides you more space to show lots of images and videos through a well-organized layout.
An Online Store
Even if you're setting up a website for a small interior design agency, you should look for a theme that comes with an online store section because it will provide a great opportunity for you to monetize your business online.
More people now believe that shopping online is the best way to buy products. 71% of online shoppers actually believe they will get a better deal online than in stores. Take advantage of this audience and sell products like decorations through your interior design blog or business website.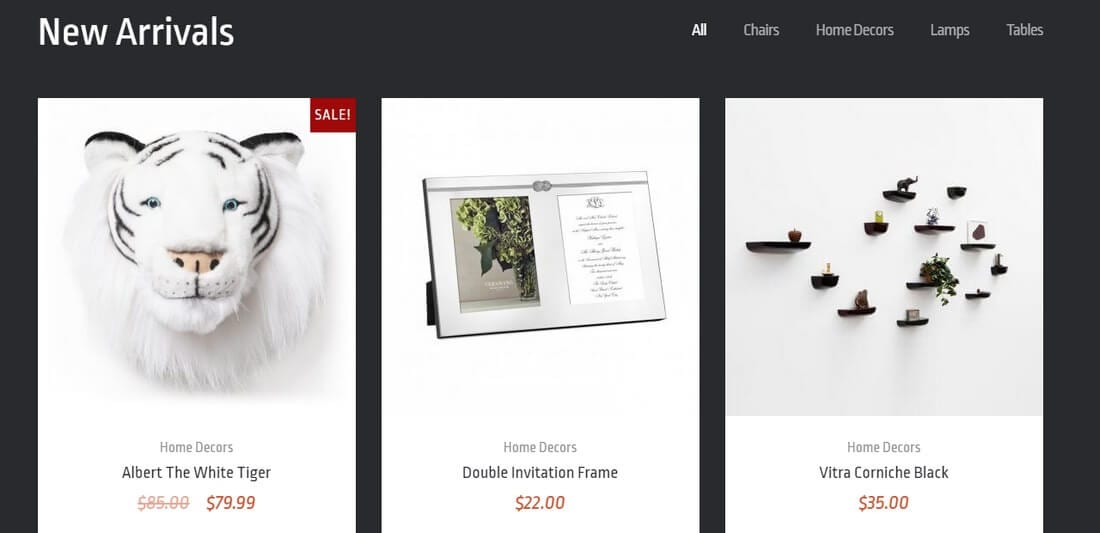 (Example – Hender WordPress theme)
In order to setup a shop on your WordPress website, you'll need a theme that supports eCommerce WordPress plugins like WooCommerce. Make sure the theme you're buying supports eCommerce plugins and comes with a store layout, a shopping cart, and product page designs.
A Mega Menu
Mega menu is a large drop down menu that can be used for neatly categorizing and organizing your interior design website. You may have seen these menus on online stores such as Amazon.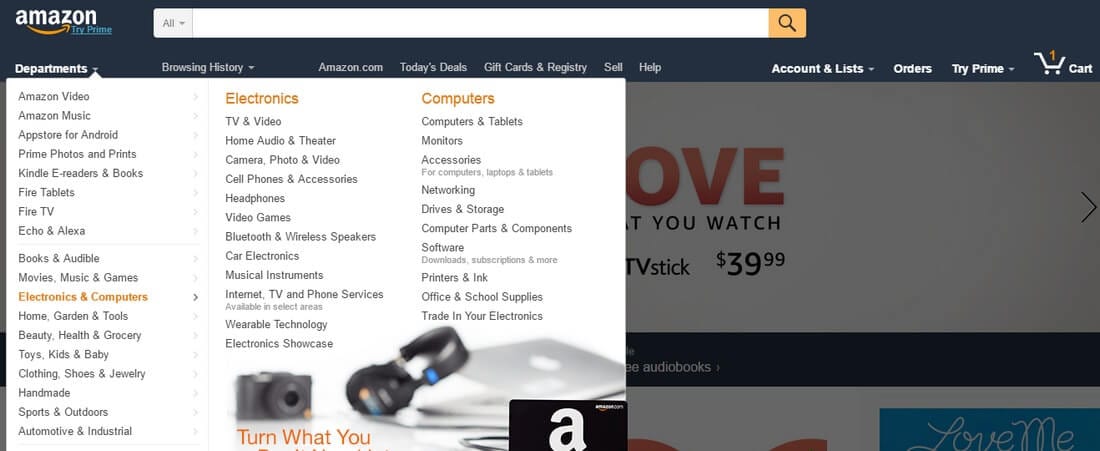 A mega menu can be a useful feature when you cover multiple categories on your website and especially when you have an online store integrated with your website. However, it's not required for a basic agency or a business website with a few pages.
If you're building a simple interior design company website, a clear and an open navigation panel would be more than enough.
Galleries, Sliders, And Portfolios
When it comes to interior design websites, photos are the main attraction that keeps your visitors entertained throughout your website. You can't describe what a great interior design exactly look like to your visitors with words. You must show it to them. This is why each and every interior design website you come across have lots of photography and less text.
You'll need galleries and sliders filled with stunning images to instantly grab the attention of your website visitors. And you'll need portfolio pages to showcase your work, experience, and past projects as well.
Not all WordPress themes have all these features, but most interior design themes do. Keep an eye out for these features when you're browsing for a theme for your website.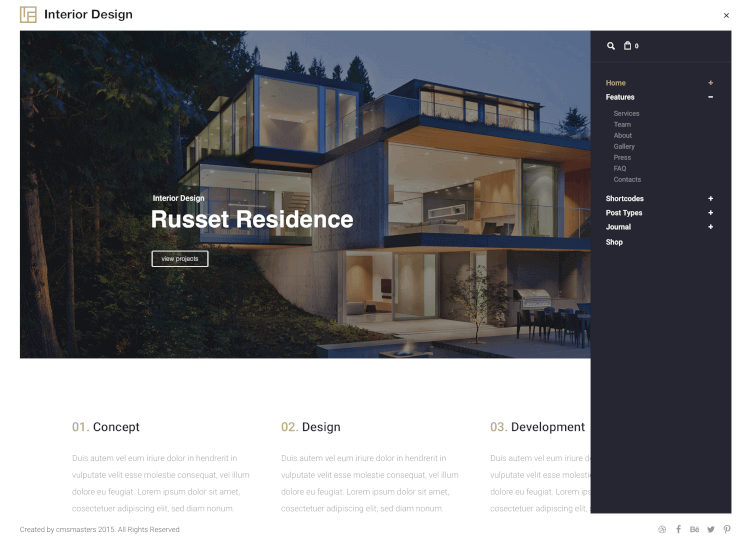 Different Header Styles
What kind of a header would you like to have on your homepage? A full-width image, a slider, or a video background?
The header section of a website is the first thing your visitors see when they arrive on your website. Whether or not they will scroll down to read more about your business will depend on how well your website header is designed.
It's important that you find a theme that supports different header styles. That way you'll get to try different styles of headers and choose one that's the most effective.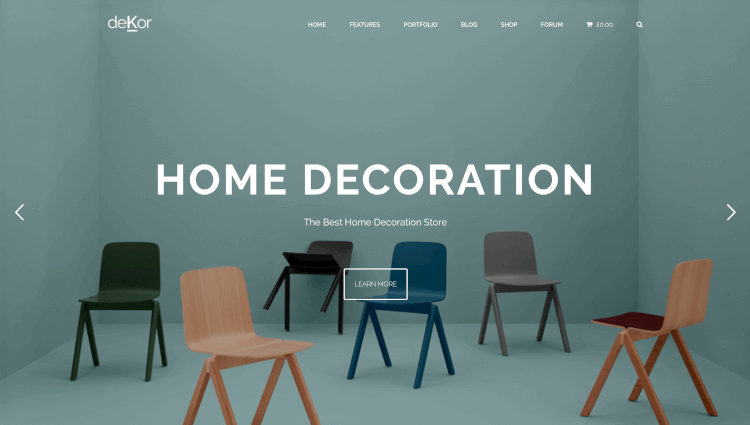 Support For Page Builders
You can't afford to have your website design looking like the design of another website. This is a risk you take when using pre-designed WordPress themes. Luckily, there's a way around this problem.
Page builders are WordPress plugins that allow you to easily customize a theme design and create your own unique homepage design and landing pages without needing any coding experience. Plugins like Visual Composer and Elementor comes with visual editors that let you design pages with live previews as well.
Using a page builder, you can create your own gallery pages, product pages, landing pages for your services with stylish pricing tables, and do much more.
Most themes are compatible with page builder plugins. However, remember to make sure your theme support Visual Composer before buying, just to be safe.
Conclusion
Of course, there are many other aspects you need to be aware of when choosing a WordPress theme. Like the responsiveness of the design, how the website looks like on mobile devices, support for different languages, and making sure the theme load faster than 3 seconds. It's no easy task.
If you're not sure where to look for a great interior design theme, start your search by checking out our collection of best interior design WordPress themes to get some inspiration.