25+ Best WordPress Themes For Musicians & Performers 2021
If you're in the process of launching a website for a music or creative arts project, this collection of the best WordPress themes for musicians and performers will provide you with lots of options.
Build for creating websites for artists, bands, DJs, musicians, and other creative performers, these themes will help you launch your new site in no time at all. Event and festival websites are well covered by these themes too.
Nearly all of the best WordPress themes for musicians and performers in this collection have multiple pre-built website demos for you to choose from. Not only that, but they all included a full set of templates for all the important content your website is likely to need.
Furthermore, as many of these musician and performer WordPress themes have been created to work with the popular WooCommerce online store builder plugin, if you want to carry out any financial transactions on your site, it's not a problem. From selling audio files, merchandise, tickets, and even charging a fee for access to your content, the WooCommerce compatible themes in this collection should cover all of your e-commerce needs.
Thanks to the varied selection of designs, as well as the customization options, you should find the perfect option for your project in this collection of the best WordPress themes for musicians and performers. And don't forget to check out our tips for building a musician or performer website too!)
5 Tips for Building a Musician or Performer Website
When building a website for a musician or a performer, you also need to include certain features on the website that are specific to this type of site. Here are a few things that you should consider when building your project.
1. A Built-In Media Player
Providing the option to stream the band or musician's music directly on the website is a must-have feature for every musician website. This allows visitors and fans to listen to the latest tracks and discover new music through the website before they purchase an album.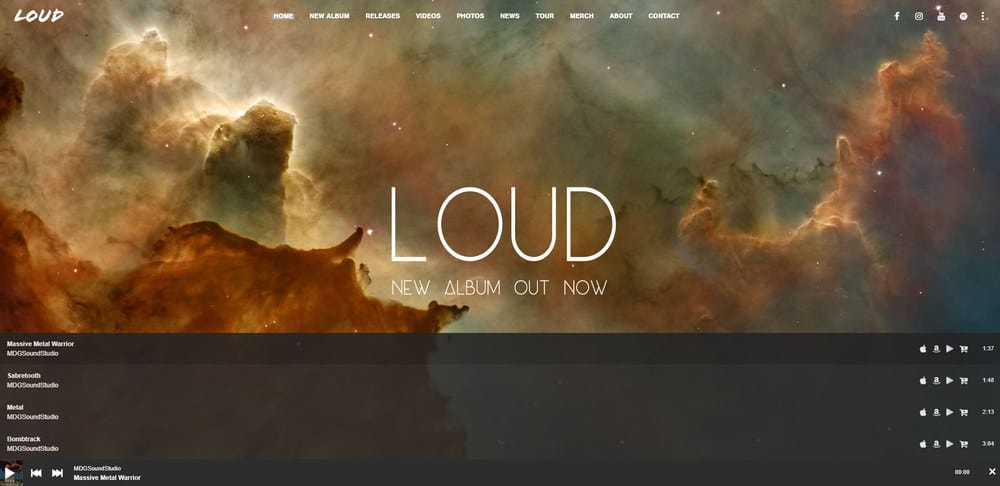 Most musician-friendly WordPress themes come with a built-in media player that allows you easily include a smooth audio player on your website to stream music on the website.
2. Support For Media Embeds
When making a website for a musician or band, it's also important to include videos of their performances on the website. This includes embedding videos from platforms like YouTube and Vimeo. You should also make sure your website supports integrations with other audio streaming sites, like Spotify and SoundCloud.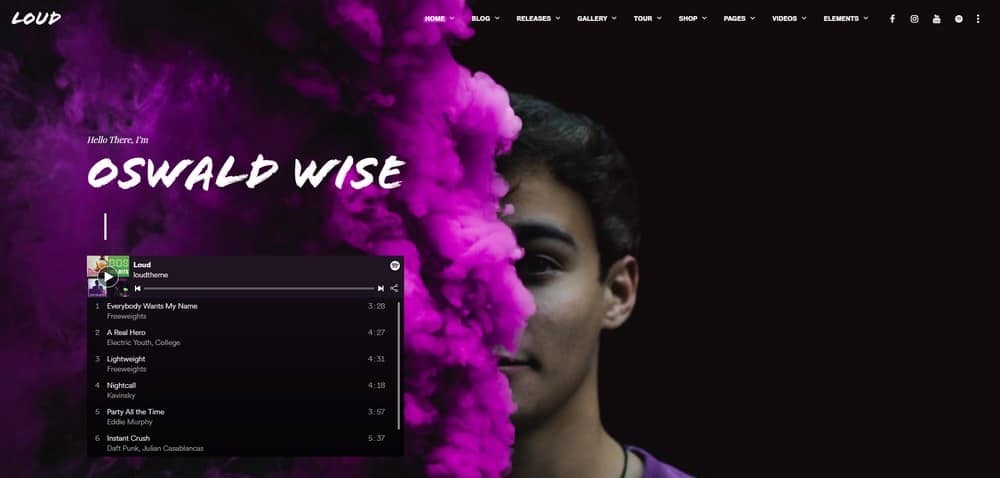 Look for a WordPress theme that supports media embeds from third-party sites. Having a theme that supports YouTube video backgrounds would also help you build a more attractive website.
3. An Attractive Header Section
A great way to leverage the website would be to create an effective header section for the website with call to action buttons to drive visitors to buy albums and to stream music on Spotify.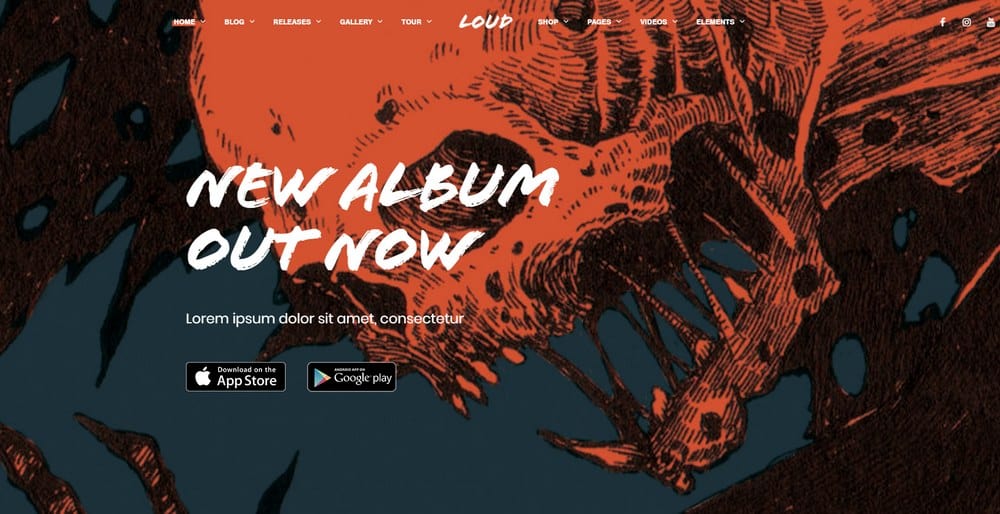 Having a professional WordPress theme that comes with pre-made homepage templates will make this process much easier for you.
4. Sections For Showcasing Albums
Of course, you'll also want to show off the most recent album releases on your website. You can either use the homepage to showcase the latest album or use an inner page to include all your albums in one place.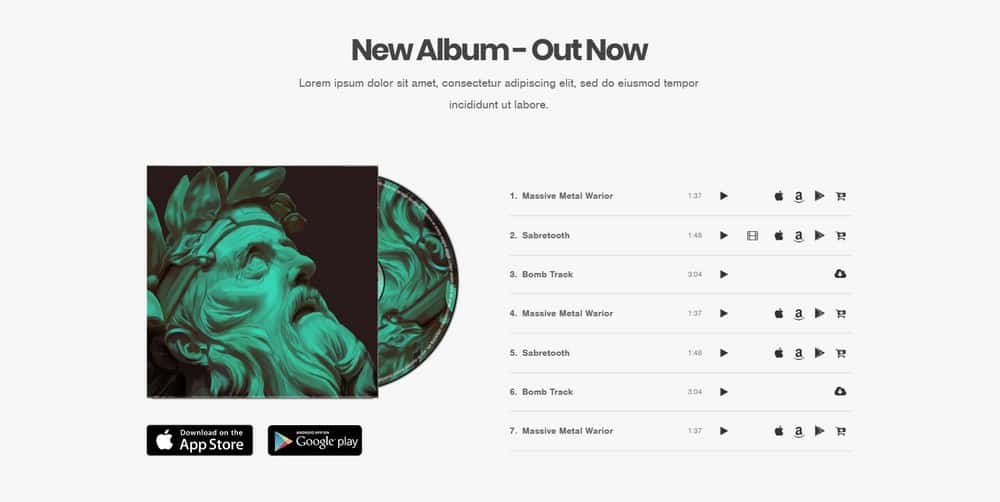 Some WordPress themes include interactive sections for showcasing your albums, where visitors can stream songs as well as find links to buy the album.
5. Gallery & Events Pages
Add a gallery section on your website to let fans and visitors browse photos and videos from the recent performances and events of your band.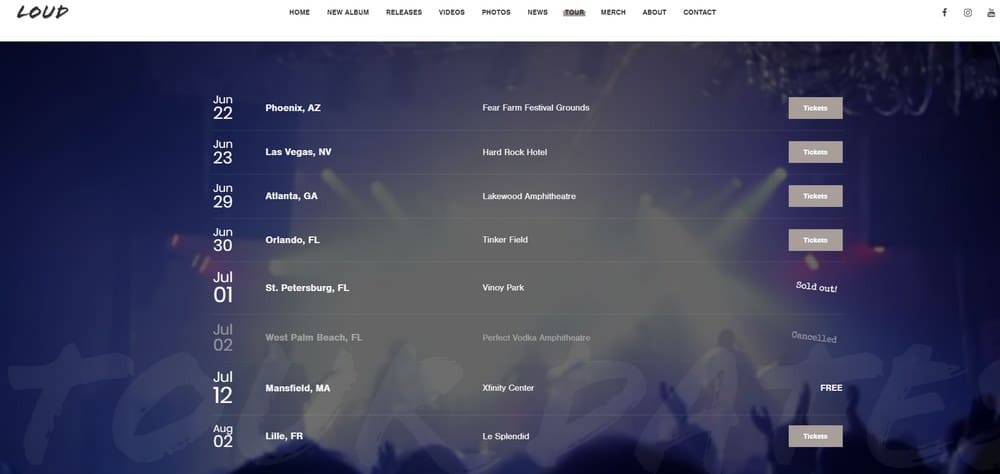 You can also include an event page on the website to inform users of the upcoming events and even to sell tickets online.