We've created a fun, friendly and appealing collection of WordPress themes for kids and children. Bright colours, inviting design — perfect for schools, pre-schools, kindergartens, and any child-friendly companies!
Creating a website with kids and children in mind isn't easy. You're appealing to a young audience, who have a completely different appreciation of what looks good, what's engaging, and what appeals to their generation. Starting from scratch can leave you with a long road ahead!
Beginning with one of the WordPress themes in this collection is a smart move. These themes are designed specifically with kids and children in mind, so whether it's a website for a nursery, pre-school, school, or kindergarten, you'll be off to a great start right from the outset.
These themes have bright colours, simple design, and plenty of character. They're sure to resonate with the younger generation. They're also a great fit if you're creating a product or service that's aimed at kids (or their parents!). Without further ado, let's dive into this collection of fantastic themes.
Children Charity - Nonprofit and NGO WordPress Theme for Kids and Children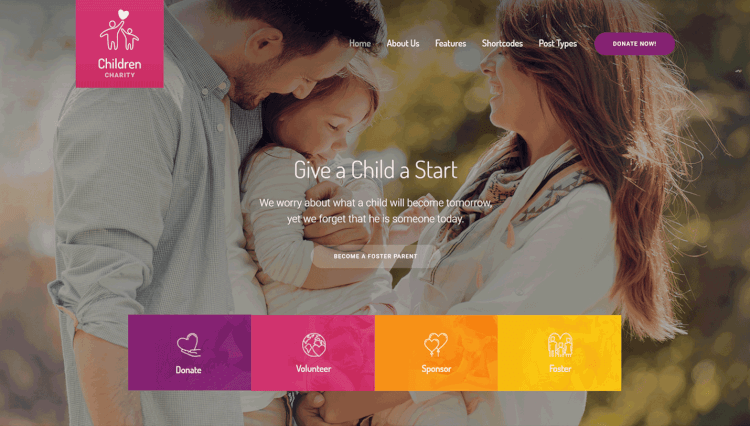 Children Charity will help you a launch a professional nonprofit and NGO website that's focused on helping kids and children. The main homepage layout comes in three variations to help you get the right look for your website. The Children Charity theme package also includes templates for all the other important pages your nonprofit or NGO website is likely to need.
Kids - Baby Shop and Kids Store WooCommerce WordPress Theme for Kids and Children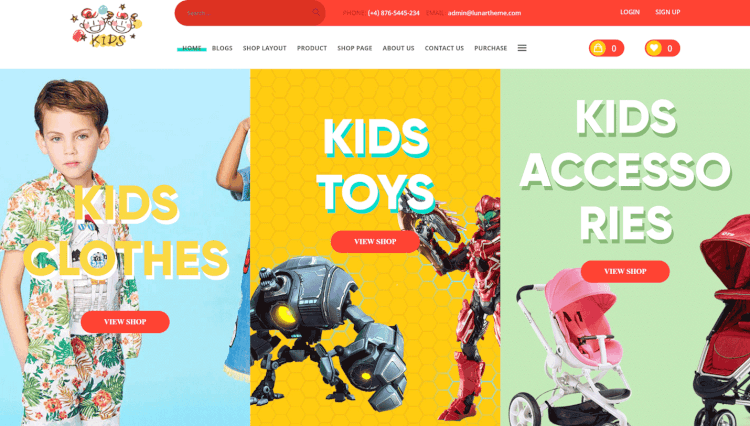 Kids is an ecommerce WordPress theme with a design that's perfect for selling child and baby related products online. Built to work with the WooCommerce store builder plugin, you can add almost any type of ecommerce feature to your website through the library of add-ons for this plugin. Customizing your kids products ecommerce store is easy too, thanks to the included drag-and-drop page builder tool.
Aki - Multi-Purpose WordPress Theme for Kids and Children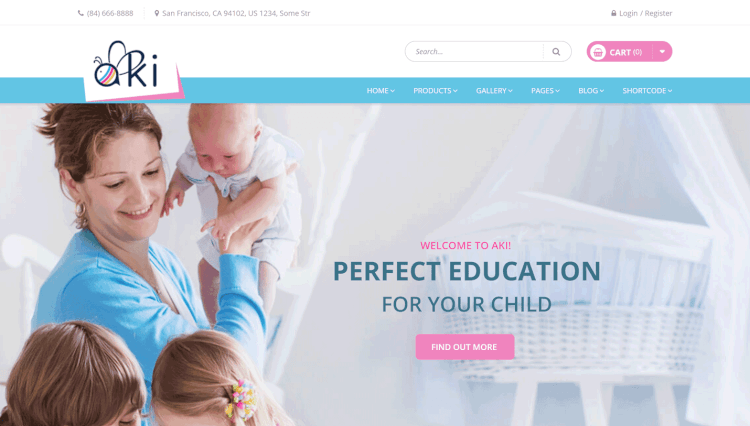 Aki can be used to create many different types of kids and children related websites. The selection of ecommerce store demos has been designed to help you sell different types of products, such as toys, clothes, and accessories. The other website demos can be used to set up a blog, promote services, or grow your kids and child-related business.
SuperOwly - Business WordPress Theme for Kids and Children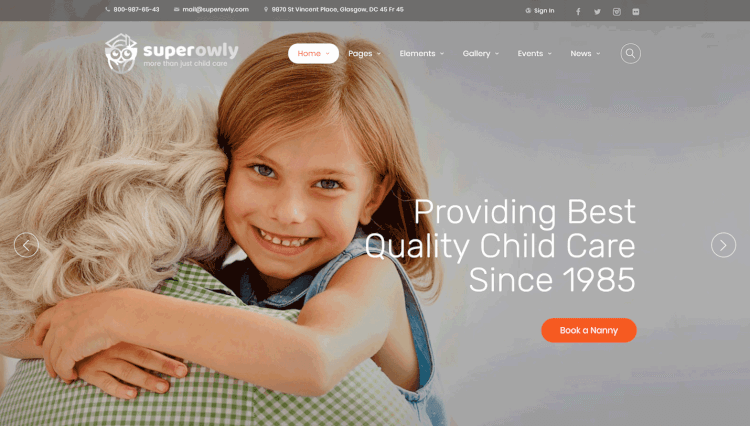 SuperOwly is a kids WordPress theme with a focus on creating business websites. The pre-built design website of SuperOwly and its demo content is perfectly suited to child care, nursery, kindergarten, and other child-focused services and products. With features like an events calendar, class timetable builder, and full ecommerce support, you can ensure your website has lots of useful elements to keep your audience coming back.
Kids Heaven - Flexible WordPress Theme for Kids and Children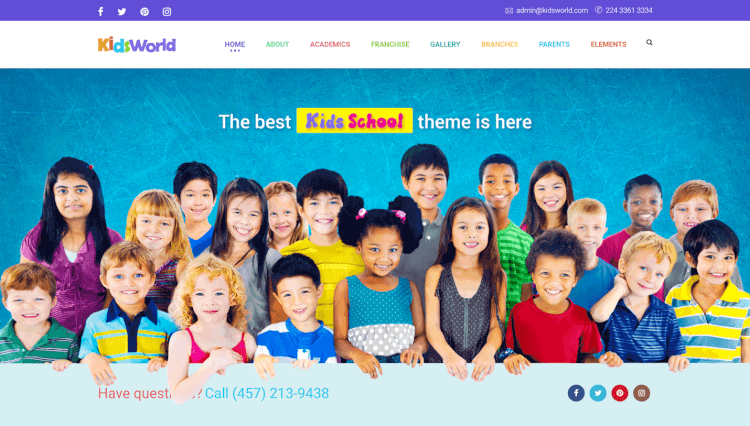 Kids Heaven is a multi-purpose WordPress theme that can be used to create a wide range of websites for children and kids projects. The selection of bright and colorful website demos can be imported into your WordPress dashboard and then customized using the drag-and-drop Visual Composer page builder tool. So whether you're creating an ecommerce store, blog, membership site, or some other website related to kids and children, this theme has lots of useful features.
Alphabet - Children and Kids WordPress Theme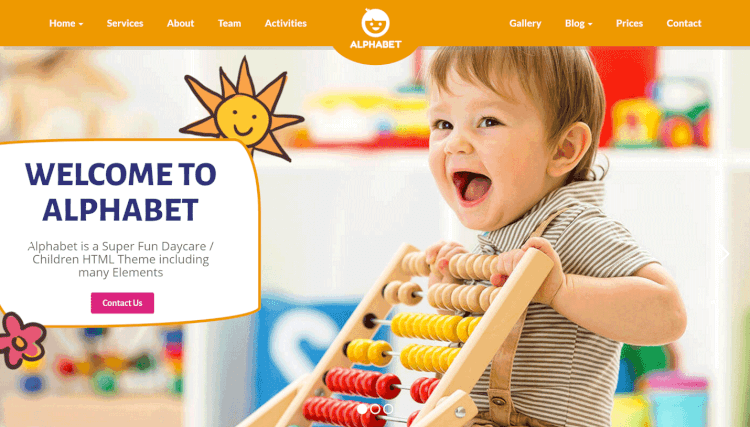 Alphabet is a WordPress theme for creating websites in kids and children focused industries. The design might be fun and light-hearted, but the feature list of Alphabet should certainly be taken seriously. Including a drag-and-drop page builder plugin, three pre-made demos, and the Slider Revolution plugin, you won't find it difficult to create a professional website with Alphabet.
Swim School - Kids and Children WordPress Theme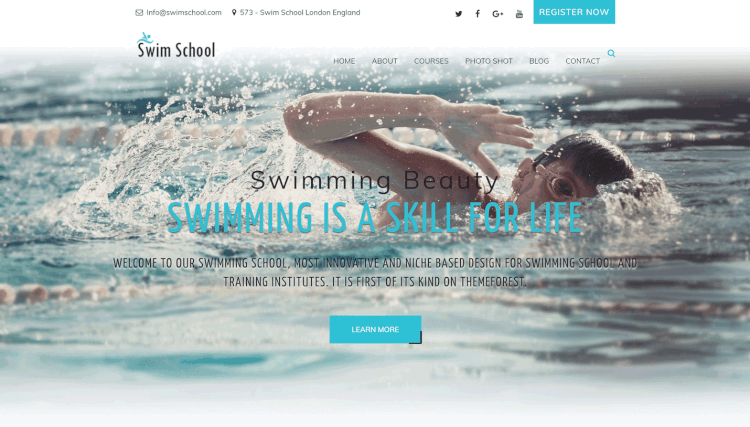 Swim School has been built for one purpose and that is to help you build a website to promote your swim school online. This is one of the more business-focused options in this collection of the best WordPress themes for kids and children. However, the design is well thought out enough to appeal to both parent and children alike.
BamBoo - Babysitters Kids and Children WordPress Theme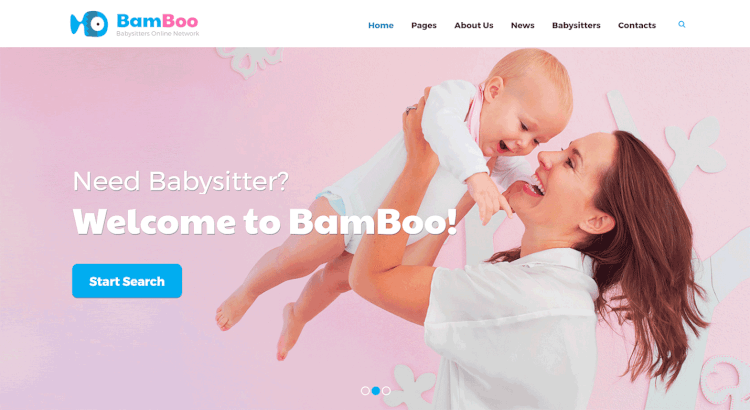 BamBoo is primarily a WordPress theme for creating websites for babysitters looking for more business. However, due to its flexibility, anyone offering services in the area of kids and children should be able to make good use of this theme. If the playful and colorful design doesn't quite match your branding, then the customization tools and settings are on hand to help you make any necessary adjustments.
Bibo - WooCommerce Kids and Children WordPress Theme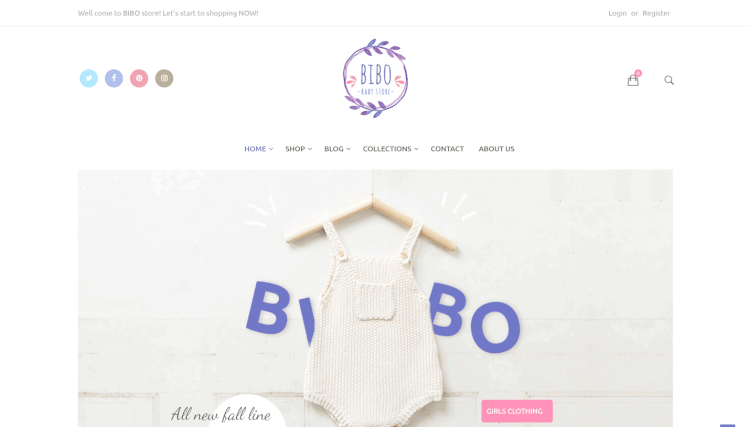 Bibo is an ecommerce WordPress theme that's perfect for creating a store to sell kids and children related products. The six homepage demos make it easy to choose the right look for your store, while tools like Visual Composer give you the option of redesigning any of the demo content. Bibo also provides you with plenty of other customization options to work with.
Kids Play - Kindergarten Kids and Children WordPress Theme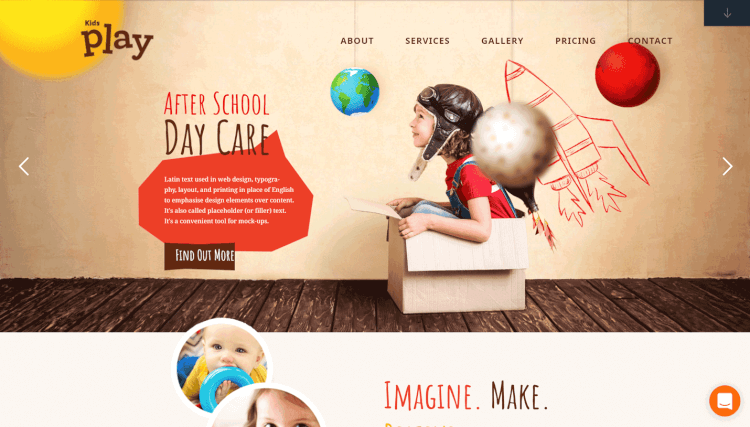 Kids Play will help you create a website for your kindergarten or nursery business. Importing the demo content only takes a few clicks, leaving you to either add your own text and images or get creative with the included drag-and-drop page builder tool. With full support for WooCommerce, BuddyPress and bbPress, you'll have no trouble selling products online, starting a discussion forum, or creating a social network for your visitors to communicate with each other with Kids Play.
KidsWorld - Nursery, Preschool and Child Care WordPress Theme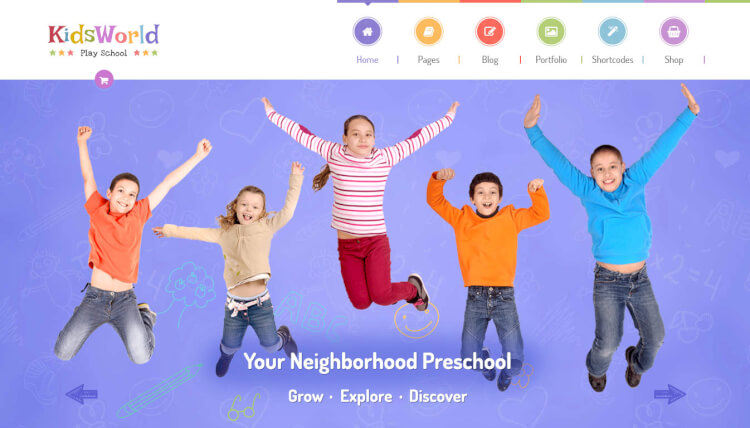 KidsWorld is a multi-purpose option in this collection of the best WordPress themes for kids and children. The default demo mode is perfect for promoting a nursery or pre-school. However, thanks to the inclusion of the Visual Composer page builder tool and a wealth of customization options, you'll have no trouble creating any type of child-focused website with KidsWorld.
Kids Planet - Multipurpose Kids and Children WordPress Theme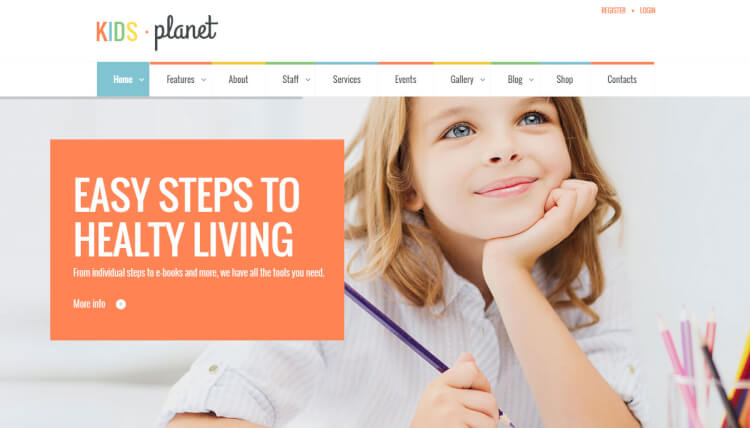 Kids Planet is another multi-purpose WordPress theme for kids and children and again it includes the powerful Visual Composer page builder plugin. You'll also find the mobile-friendly Slider Revolution plugin in the Kids Planet theme package, giving you an easy way to add animated slideshows to your WordPress website.
Juno - Kids and Children-Focused Ecommerce WordPress Theme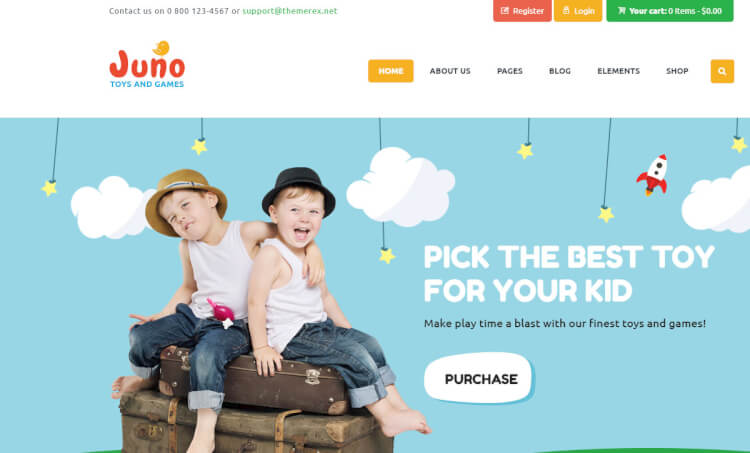 Juno has been designed to help you create a colourful child-focused ecommerce store with WordPress and the WooCommerce shop builder plugin. However, due to the style and overall appearance of June, this popular WordPress theme for kids and children is a great choice for blogs and other non-ecommerce websites.
Kids - Day Care and Kindergarten WordPress Theme for Children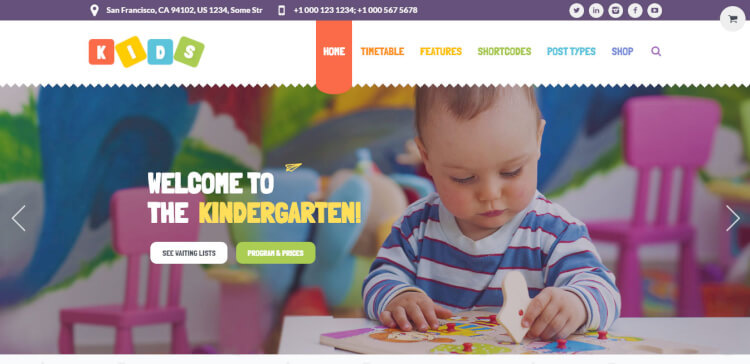 Kids is one of the most stylish options in this collection of the best WordPress themes for kids and children. No matter what type of website you're building, if it's at all related to children and kids, then this theme could be a great choice. While the default configuration of Kids is perfectly set up for creating a website for a day care centre or kindergarten, as this is a flexible theme, you can easily modify it to better meet your needs.
Family Blog - Kids and Children Blogging WordPress Theme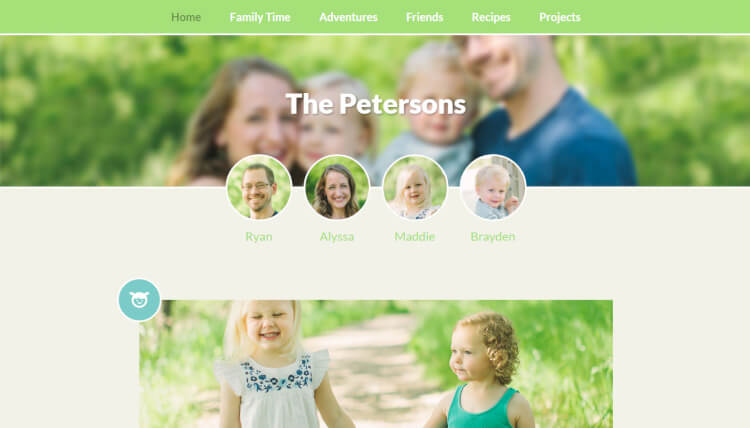 Thanks to its neutral colour scheme and subtle design, no matter what your family role is, this blogging theme could be just what you need to make your parenting blog a success. To help you set your blog up in the right way, there's a few different layout options to choose from, including a number of content and sidebar configurations. The multi-author bio feature will come in handy too if there's more than one of you publishing content on your blog.
Kids Zone - Responsive Children Theme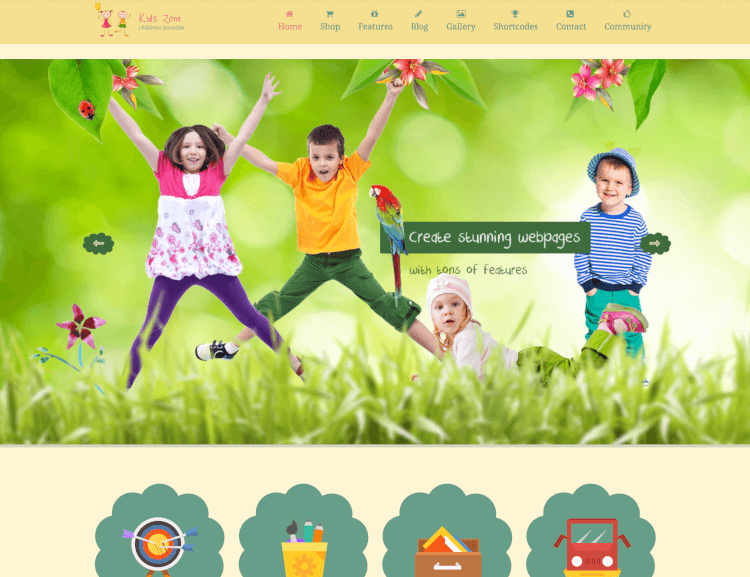 Kids Zone is a beautifully designed WordPress theme for kindergarten, day care centres, and pre-schools. But it also suits any children, art, craft, school, or training website. It supports popular plugins like WPML, WooCommerce, Event Calendar Pro and various community, forum, and contact form plugins. Build pages quickly and easily with Visual Page Builder, and benefit from lots of pre-build shortcodes for different types of content.
Magicreche - Responsive Crèche Theme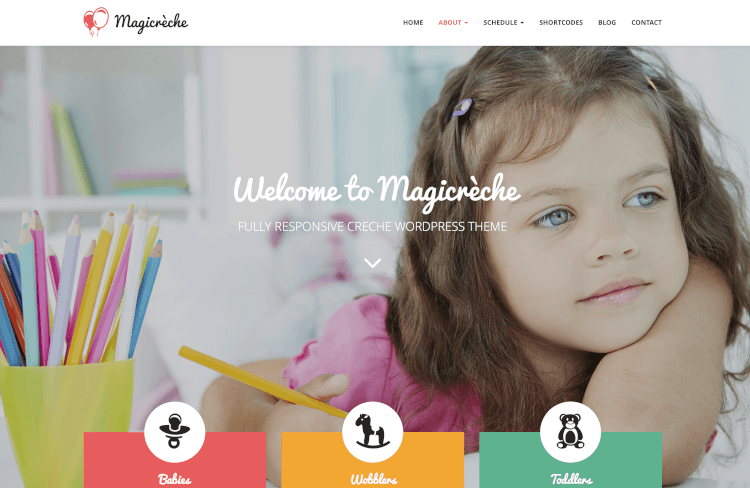 The Magicreche responsive theme is perfectly set up to work on mobile devices (including retina screens), and is packed with various colours, layout styles, shortcodes, and features to create the perfect pre-school or creche website. These include a location map, a timetable and schedule plugin, and the ability to translate the theme into various languages.
HappyChild - Kindergarten WordPress Theme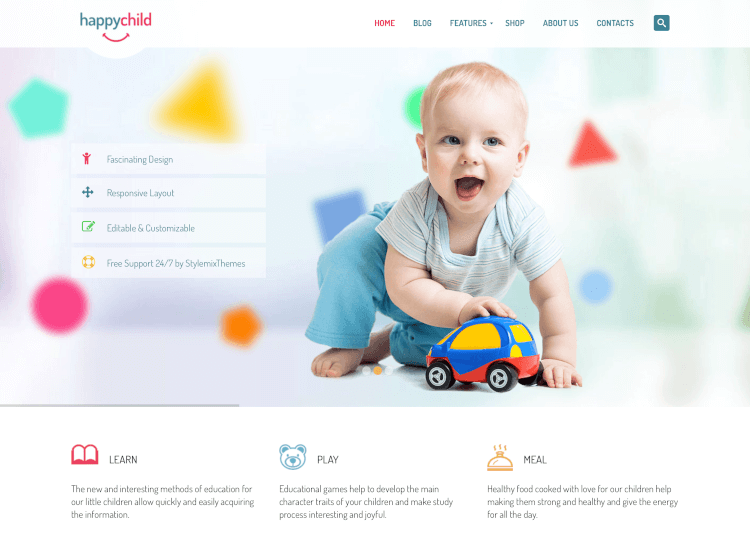 HappyChild is an outstanding WordPress theme created for professional child care centres, pre-schools, and kindergartens. It features extensive style options to get your site looking perfect, trendy animations, a choice of typography, a drag-and-drop page builder interface, and a powerful slider. Everything you need to get the perfect site up and running, with a fun, child-friendly look and feel!
Kindergarten - Children WordPress Theme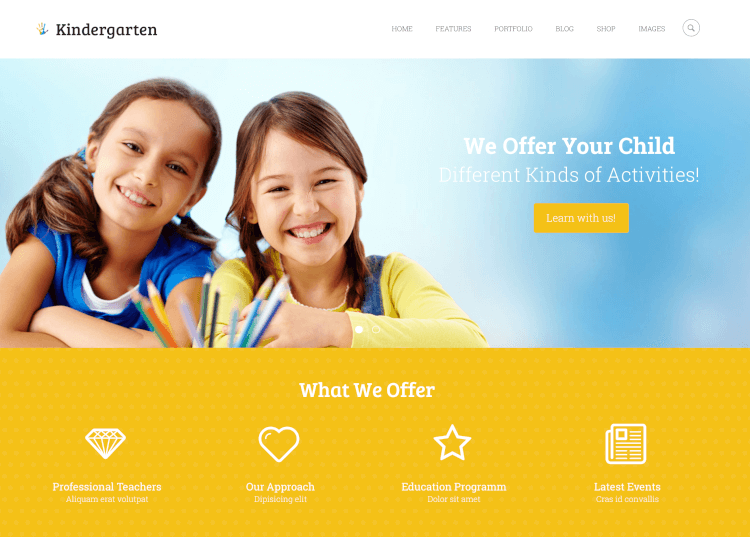 Kindergarten is an awesome solution for a children's website. It's a multi-purpose theme, meaning that it's packed with features to create a site that matches exactly what you want — multiple header layouts, numerous blog styles, an advanced rating mechanism, and beautiful sliders including Royal, Revolution, Swiper and Flex. You can use the powerful media content manager to arrange the site design just the way you'd like. Plenty of flexibility!
Little People - Kindergarten WordPress Theme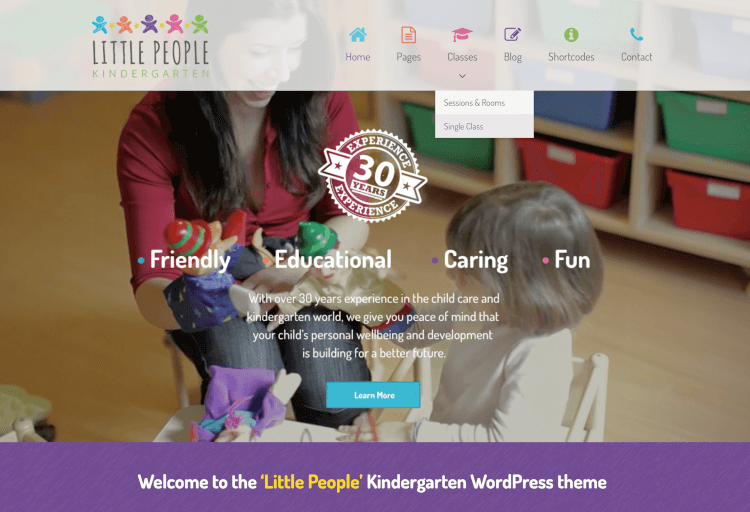 Kindergarten is a purpose built theme that will deliver an easy to use kindergarten, child care or nursery wordpress website. It's packed with every premium WordPress plugin you will ever need, and pre-built pages that are optimised for the childcare and nursery industry. It comes with detailed documentation, video tutorials and great support. You can get immersed in your content with full screen images, parallax video backgrounds, elegant typography, angled rows and animations.
Kiddo - A Powerful Kids Theme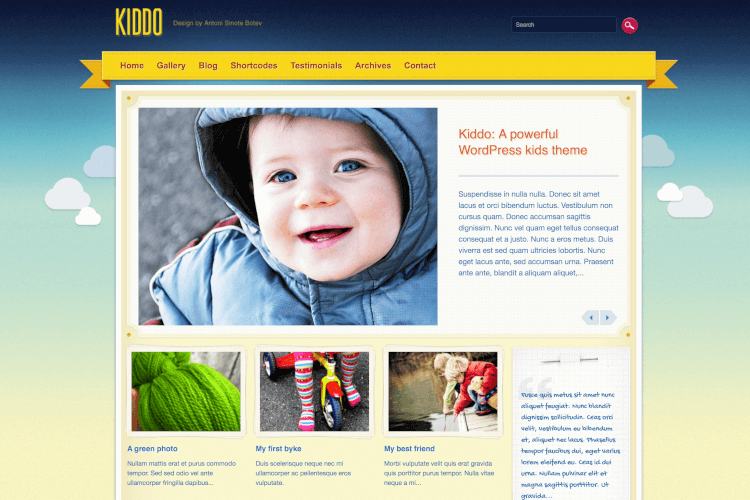 Kiddo is a powerful theme for kids and children, perfect for a kids blog, toy store, educational site for children, or anything similar. It contains six gallery layouts, a shortcode editor, and various different skins for changing the design (including several Christmas options!). Widgets for Twitter, Facebook, and more making integration social media simple.
Kids Care - Multi-Purpose Theme for Children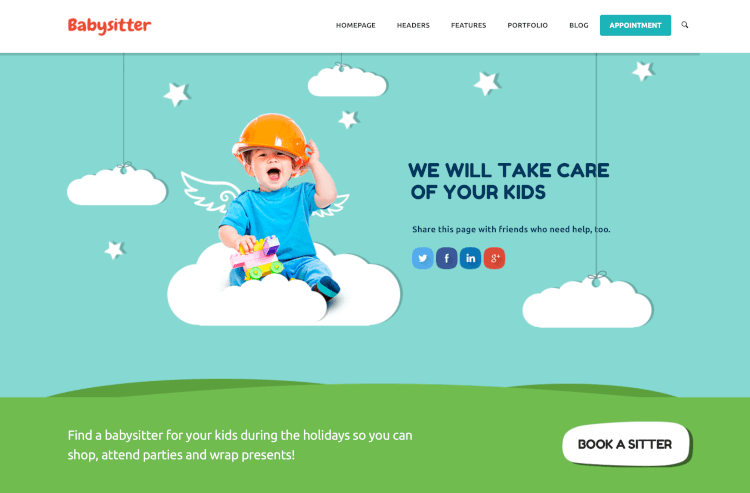 A modern, flexible and multi-purpose theme, designed with kids and children in mind. It's mobile-friendly, comes with four different skins for various topics, various header options, the revolution slider, parallax background, and supports the "Visual Composer" plugin for laying out your own page design.
Kiddy - Children WordPress Theme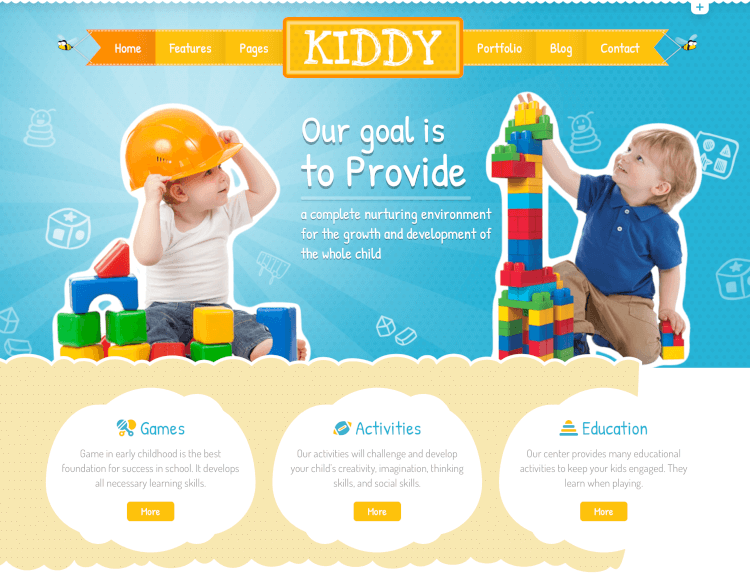 A powerful WordPress theme suitable for a wide variety of children-oriented websites. A playful and colorful design, complete with "flat" graphics and copious white space, set this theme apart from others and makes it applicable for kindergartens, pre-schools, schools, child care and many other businesses. Responsive design, retina graphics, unlimited color schemes, and much more!