8 Best WordPress Newsletter Plugins (Free & Paid) 2022
Email is the most effective marketing channel available today. It's not only a great way to convert leads into customers but it also works as a solid medium for driving traffic to your blog as well.
According to reports, 81% of small to medium businesses use email as their primary channel for customer acquisition and retention. It's also considered as the marketing channel with the best return on investment (ROI) that brings in $42 for every $1 spend.
Needless to say, setting up an email list and a newsletter for your website is one of the best investments you can make to grow your website in the long-term.
To help you setup a solid email marketing system for your WordPress website, we handpicked some of the best newsletter plugins for WordPress. The best thing about these plugins is that they let you send email newsletters directly from your WordPress dashboard.
What Is A Newsletter Plugin?
Simply put, newsletter plugins allow you to setup an email marketing system in your WordPress website. With a newsletter plugin, you can not only collect emails and grow an email list, but also send emails and newsletters free of charge.
Don't confuse newsletter plugins with pop-up builders. Pop-up plugins are only capable of collecting emails for third-party email marketing services like MailChimp. Newsletter plugins offer a complete solution for growing an email list and sending email campaigns.
Why Use WordPress to Send Newsletters?
Being able to save a huge amount of money is one of the main reasons for using WordPress to send email campaigns. It usually costs about $20 per month to build a small email list of 500 subscribers and send newsletters using an email marketing service like AWeber. Even MailChimp only allows 2,000 subscribers for free.
When using a WordPress newsletter plugin, you don't have to worry about paying monthly subscriptions. Or subscriber limits. Once you install the plugin, you can collect emails and send newsletters as much as you want for the rest of your life. And you get to manage all of the email campaigns and subscribers directly from your WordPress dashboard.
Most newsletter plugins even allow you to setup automated campaigns and send follow-up emails as well. Plus, you'll be able to connect Google Analytics to get detailed reports on click-through rates (CTR) and conversions. As well as to integrate with Amazon Simple Email Service (SES) to send email campaigns flawlessly.
Best WordPress Newsletter Plugins
Here are some of the best plugins you can use to setup email marketing in WordPress to send newsletters.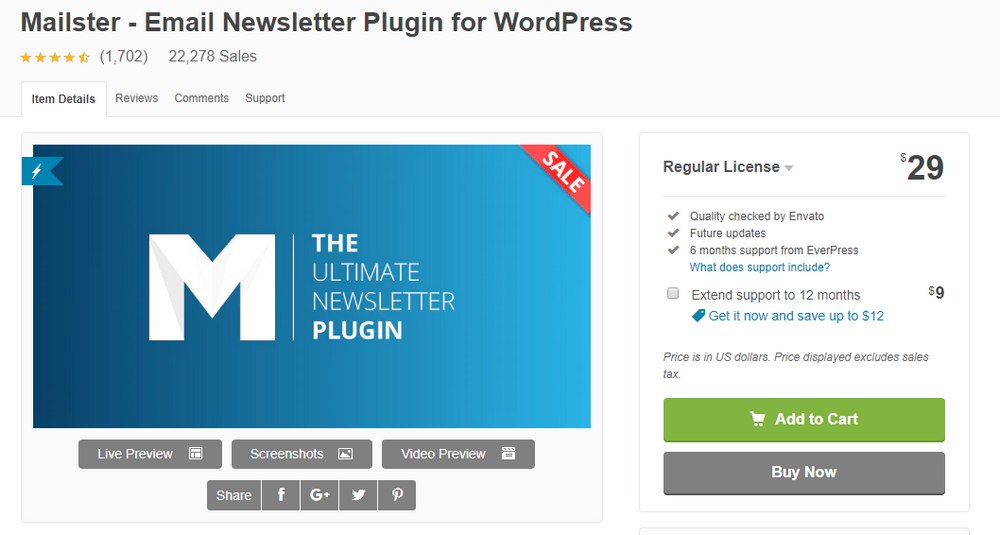 Mailster is one of the most comprehensive email marketing plugins available on WordPress. It has all the best features you'll need in an email marketing platform, including a drag and drop email builder, autoresponders, detailed yet simplified analytics, and much more.
Mailster also integrates with multiple platforms, such as Amazon SES, SendGrid, MailGun, and more. With these integrations, you'll be able to send emails with higher deliverability rates.
Best Features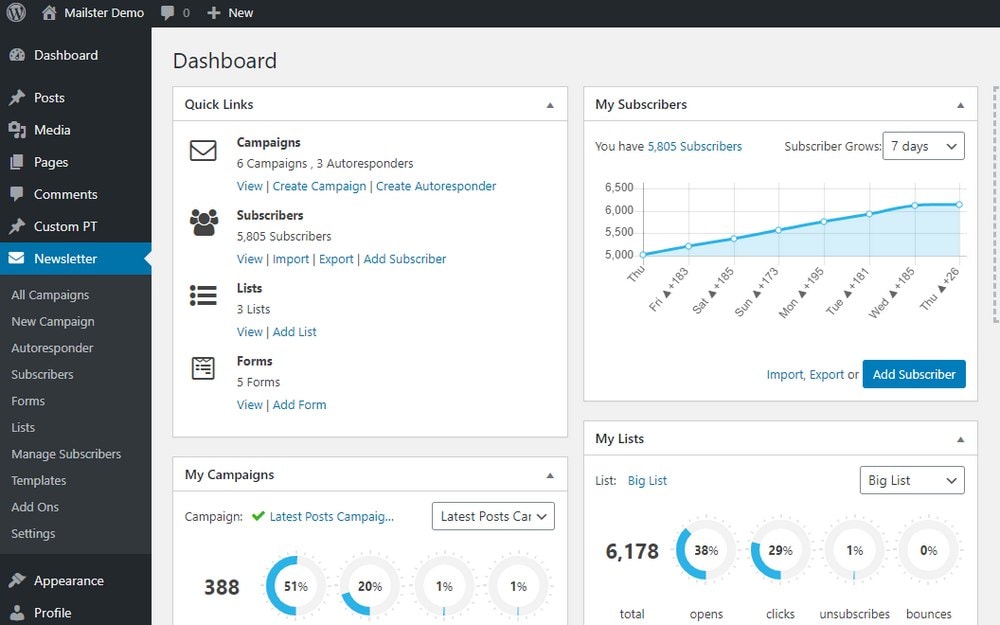 Easy to use drag and drop email builder
Unlimited email subscribers, lists, and forms
Ability to segment emails for better list management
Visualized statistics for each and every email campaign
Email autoresponders including welcome emails and follow-ups
Integrates with WooCommerce, Google Analytics, Amazon AWS, Gravity Forms, NinjaPopup, and more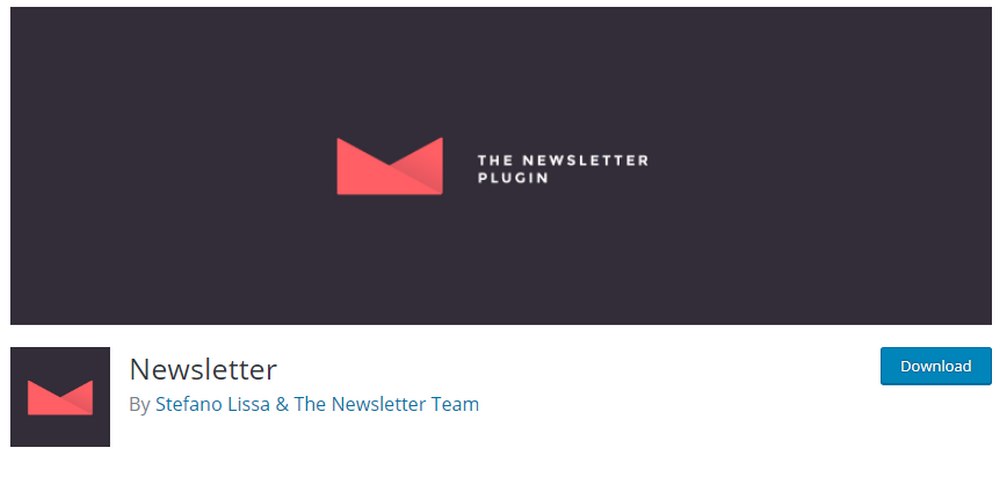 Price: Free / $46 per year
With more than 300,000 active users, Newsletter is the most popular free newsletter plugin for WordPress. This plugin is popular for a reason. It actually offers all of its features with unlimited subscribers and newsletters for completely free of charge.
Similar to other premium plugins, Newsletter also connects with Amazon SES, MailJet, and many others. In addition, it offers premium extensions for adding better features like autoresponders and integration with WooCommerce.
Best Features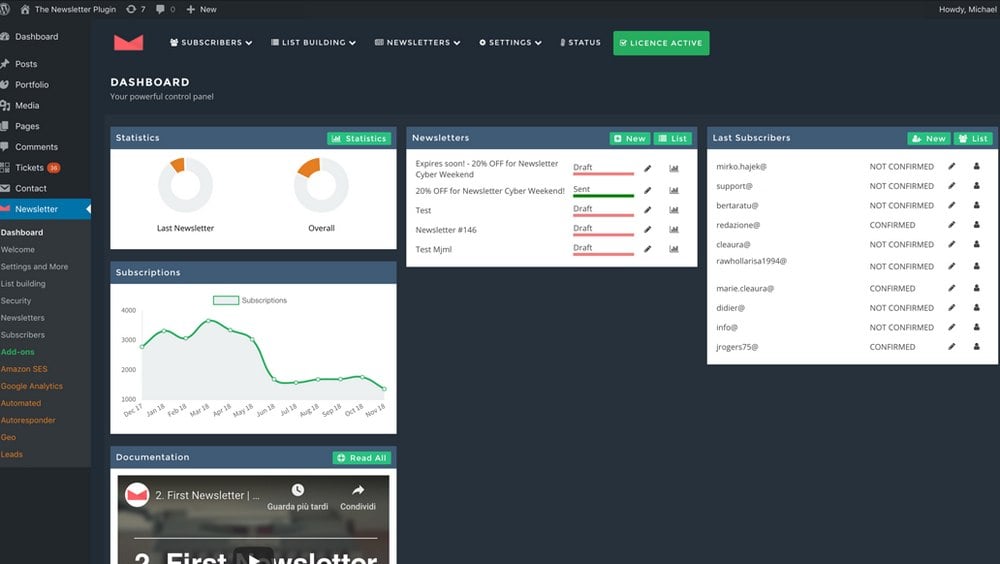 Simple drag and drop builder for designing emails
Collect unlimited subscribers and send unlimited newsletters
Create and send emails automatically with periodic blog post updates
Connect to Amazon SES, Google Analytics, and add automation with the Pro version
Track email campaigns and get detailed statistics
Compatible with SMTP plugins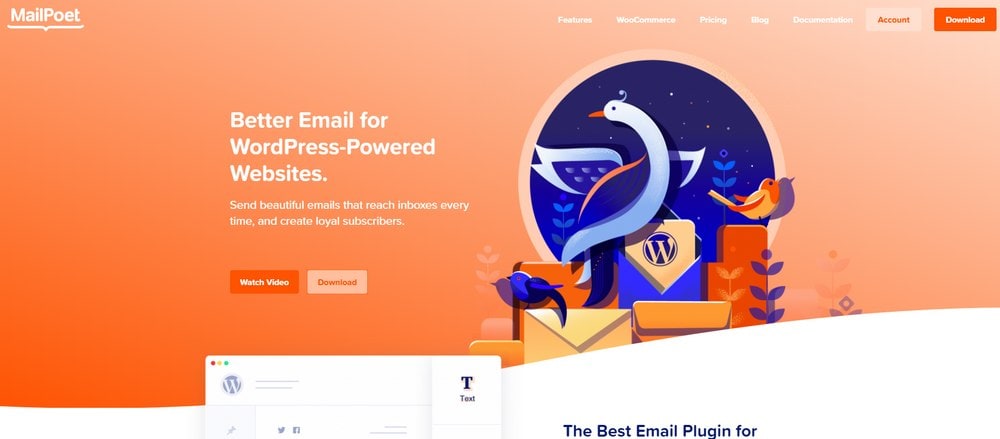 MailPoet is another popular WordPress plugin that allows you to easily setup and send email newsletters from WordPress. This plugin is well-known for its ease of use. It also promises high deliverability rates and beautiful email templates.
The pricing plans for MailPoet is a bit complicated. You can buy the plugin for a one-time price of 149€ and connect it with a third-party email service like Amazon SES to send email campaigns. Or, you can let MailPoet handle the email sending. This plan is free for up to 1,000 subscribers. And then it's 13€ per month.
Getting the Premium version for a one-time price and sending emails with Amazon SES would be the wisest choice.
Best Features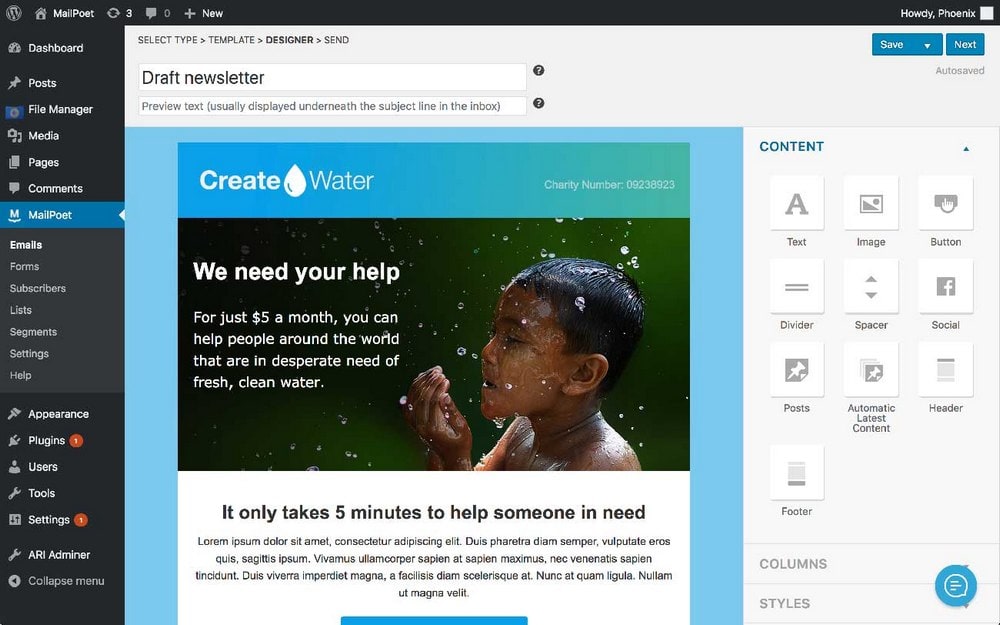 Easy setup and beginner-friendly user interface
Drag and drop email designer
Collection unlimited emails and send unlimited newsletters with the premium version
Automation features for marketing campaigns
Modern and stylish email templates
Get detailed reports on email campaigns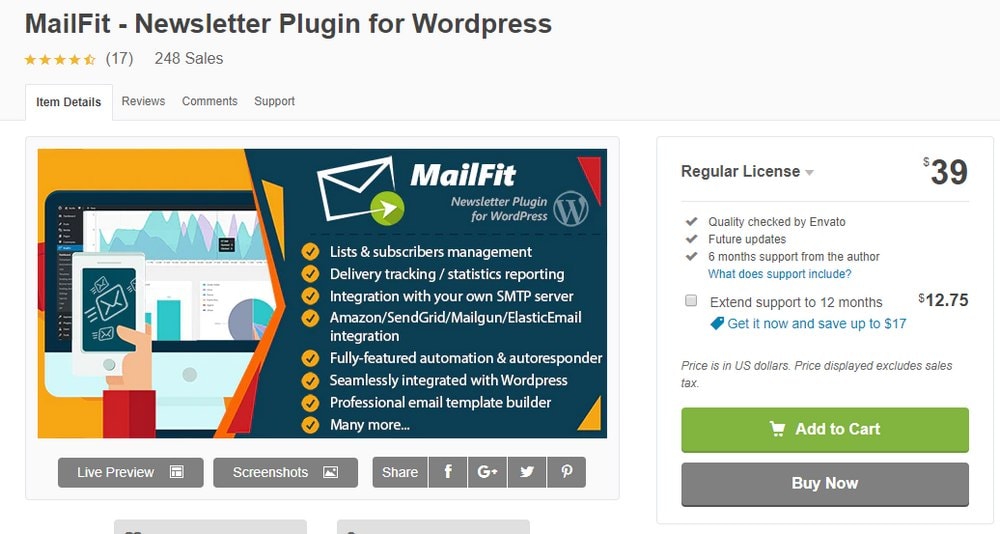 MailFit is another premium newsletter plugin that allows you to setup email newsletters directly in WordPress for a one-time price. Once you purchase, you get to host unlimited subscribers as well as send unlimited emails and get all future plugin updates for free.
A specialty of MailFit is that it supports multiple ways to send emails. You can use SMTP servers or services like Amazon SES to send your email campaigns.
Best Features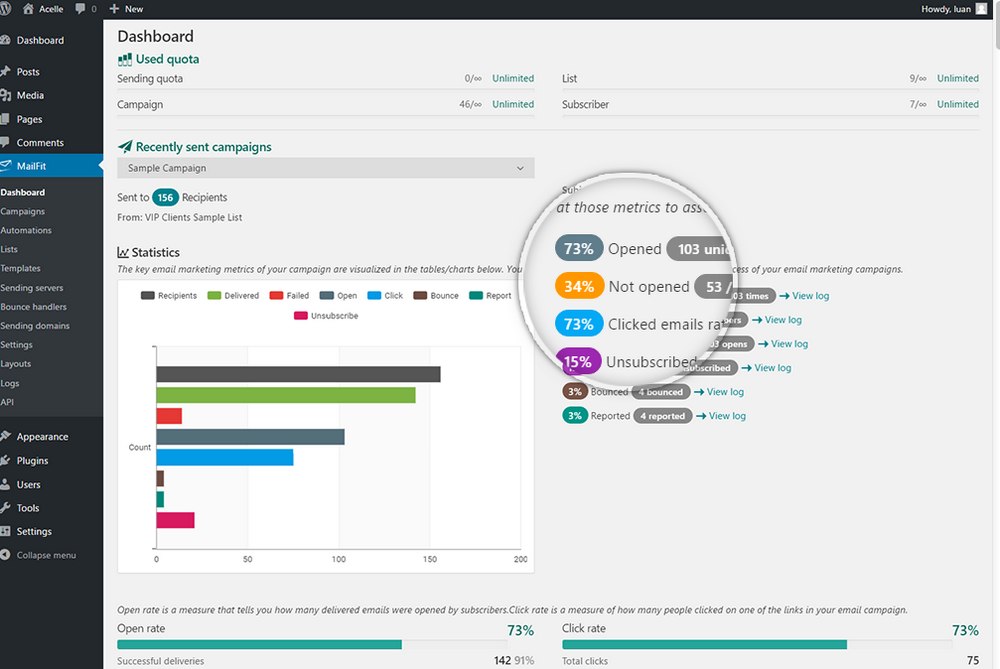 Easily create and send unlimited emails to unlimited subscribers
Lets you create autoresponders for better marketing campaigns
Includes pre-made email templates and a template builder
Easily import and export email lists with CSV
Get detailed statistics with advanced email tracking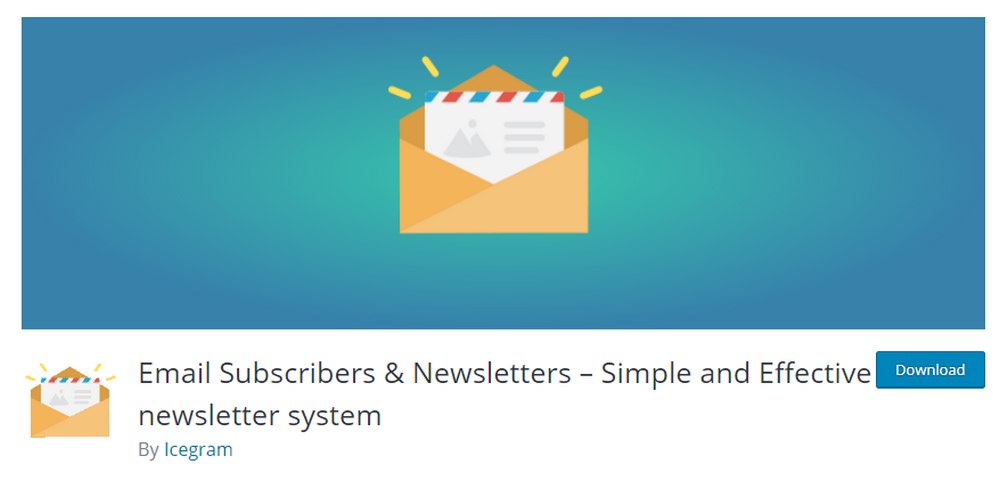 Price: Free / $6.5 per month
Icegram is a collection of tools that allows you to setup email popups and send email campaigns at the same time. The email sending service of the software is known as Email Subscribers. This plugin allows you to manage unlimited emails and send as many newsletters as you want for free.
A downside to using the plugin is that it only allows you to send emails from your host. This may affect the deliverability rates of your campaigns. However, the premium version of the plugin allows you to connect with SMTP servers, Amazon SES, and other services for sending emails.
Best Features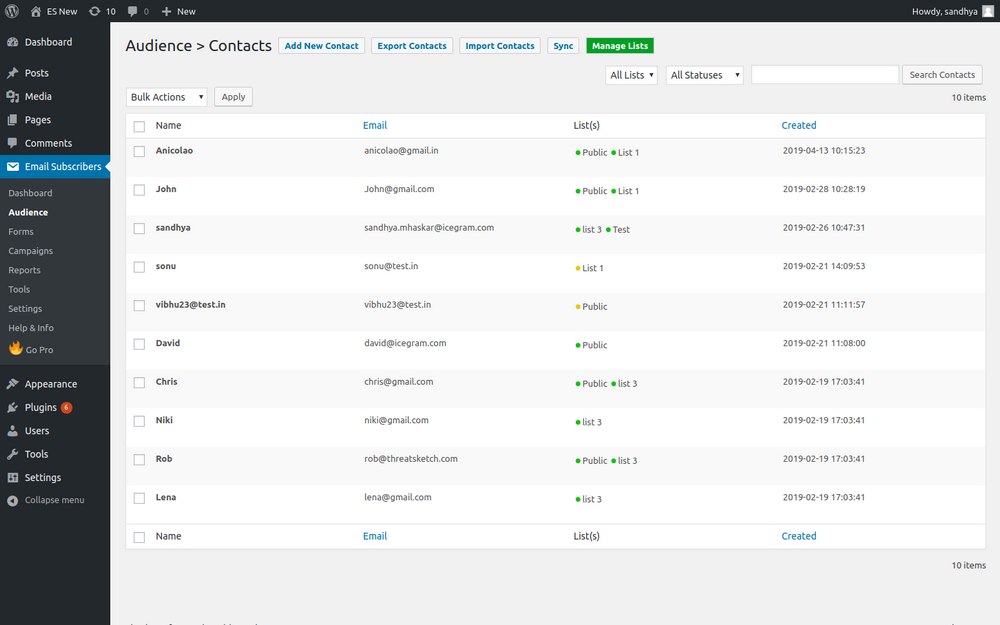 Collect and send unlimited email newsletters
Seamless integrations with other Icegram plugins for setting up email pop-ups and forms
Setup automation and autoresponder sequences with the Pro version
Workflows for creating marketing campaigns
Integrates with SMTP plugins
Reports and statistics on email campaigns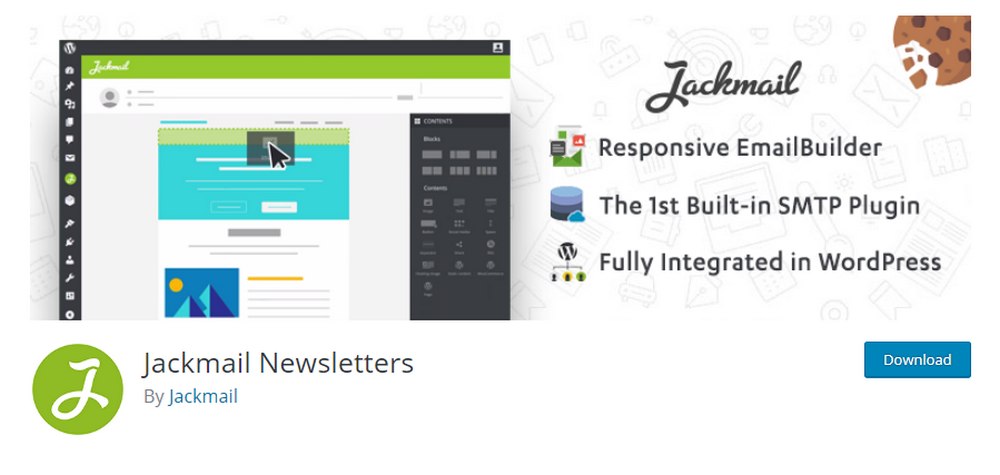 Price: Free / $69 per month
Jackmail is another WordPress newsletter plugin that offers limited features for free. It also has one of the most expensive premium plans we've seen.
While the plugin lets you send up to 3,000 emails per month for free, if you want to send more, you'll have to pay a whopping $69 per month. And that's only for 5,000 emails per month.
Still, Jackmail free version is a good option for smaller and personal blogs to use as a starting point to start growing a small email list.
Best Features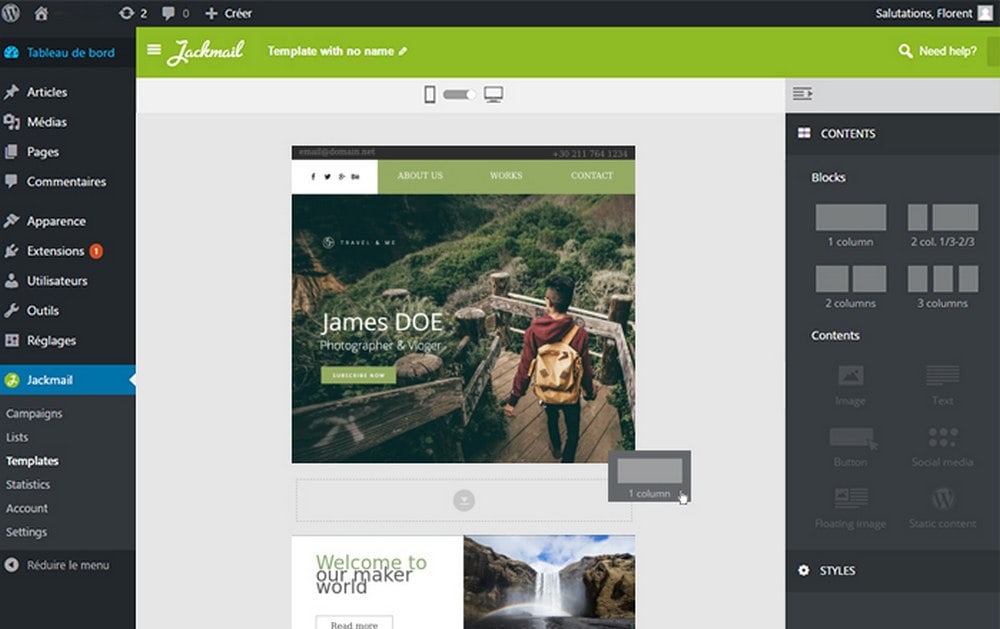 Beginner-friendly responsive email builder
Built-in SMTP service promises higher deliverability
Access to over 40 modern email templates
Automation features for email marketing campaigns
Integration with WooCommerce
Visualized statistics on email campaigns and newsletters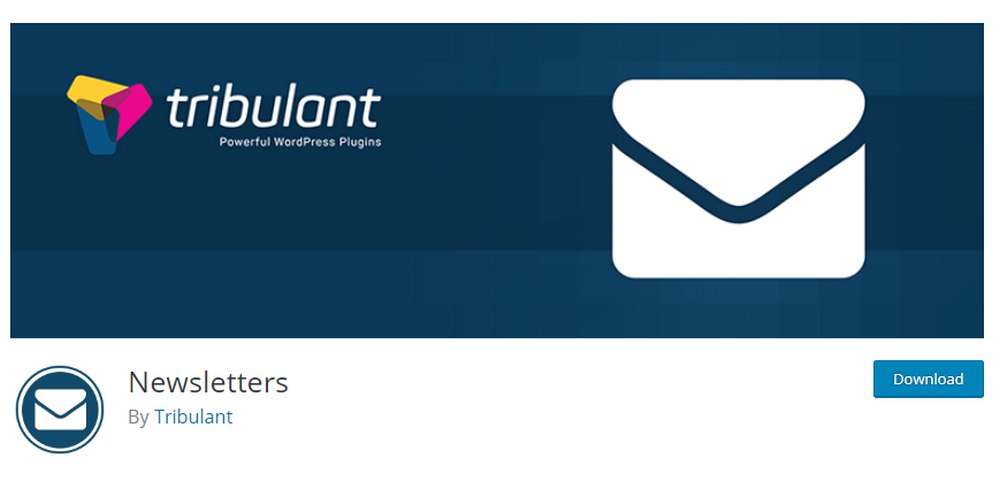 The free Newsletter plugins by Tribulant is another WordPress plugin you can use to send emails and collect leads. The plugin, however, comes with slightly outdated features. And doesn't include a responsive email builder.
A useful feature of the plugin is the ability to add paid subscriptions with PayPal and 2CheckOut. This will help monetize your online stores and membership platforms. Especially when integrated with WooCommerce.
Best Features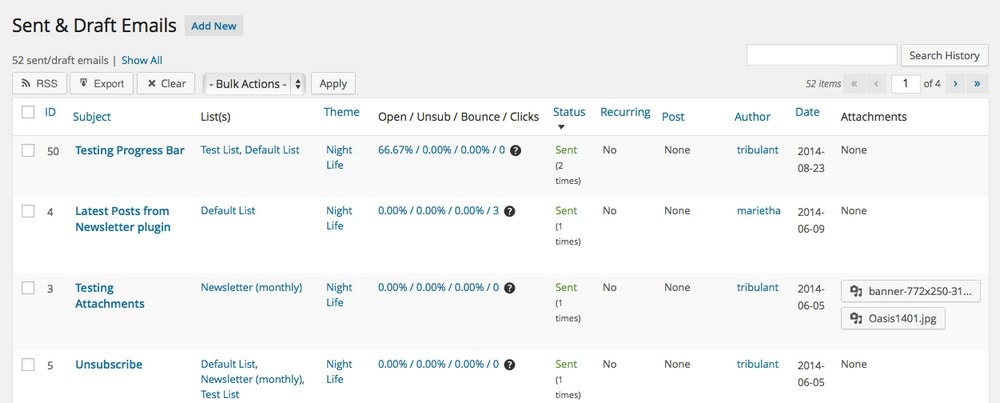 Send and manage email subscribers and campaigns
Up to 1000 emails per month with 500 subscribers for free
Sidebar widgets for email signup forms
Multilingual supports
Autoresponders for sending email campaigns
Extensions for WooCommerce, Contact Form 7, and Google Analytics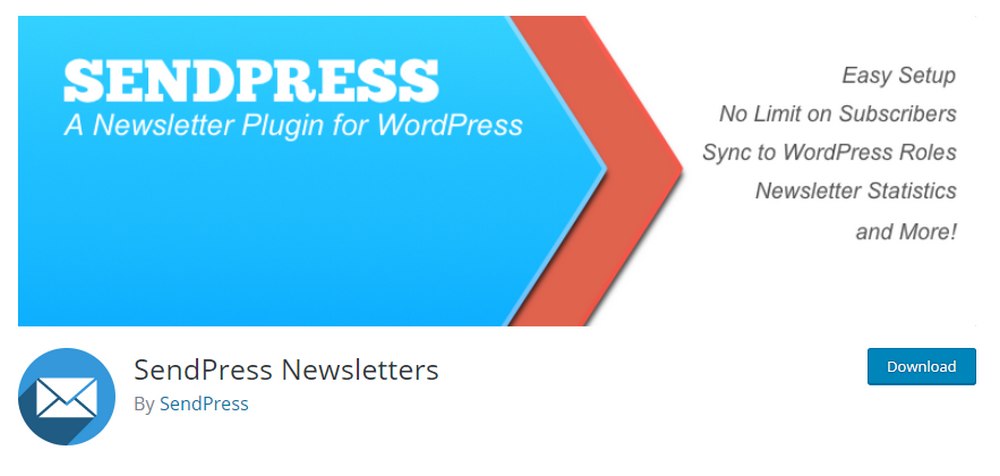 SendPress is another basic newsletter plugin for WordPress. Even though it doesn't include sophisticated features like the rest of the plugins, it's more than enough for setting up newsletters for a small personal blog.
In addition to its free features, the plugin lets you integrate with third-party platforms like SendGrid, Google Analytics, and more with premium extensions.
Best Features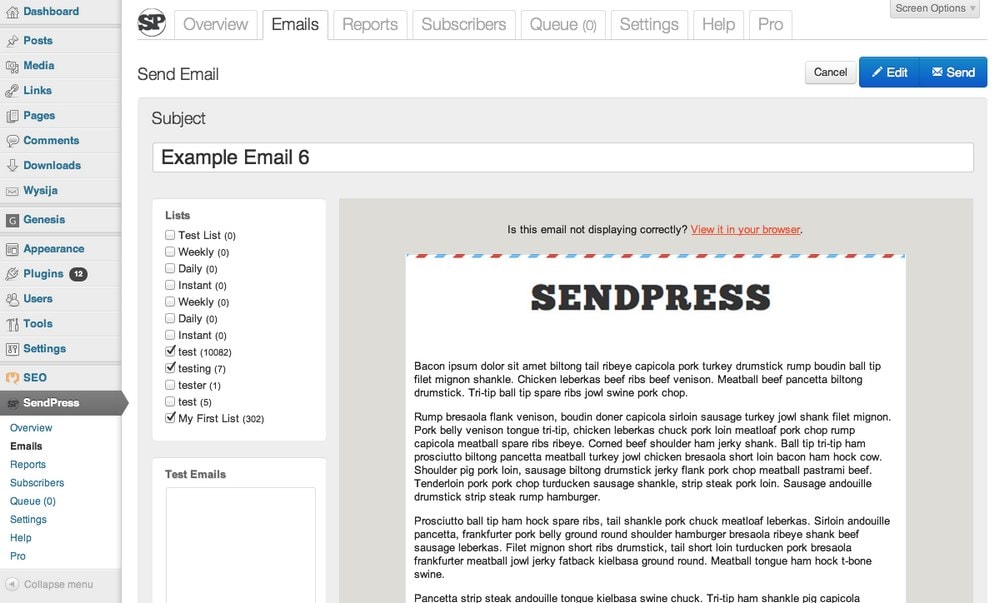 Beginner-friendly user interface and editor
Manage unlimited subscribers
Ability to setup single and double opt-in confirmations
Email templates for sending stylish newsletters
Send scheduled email newsletters
Which WordPress Newsletter Plugin is Best?
If you're new to WordPress or looking for a simple newsletter plugin for a small blog, you should try the free Newsletter plugin to get yourself familiar with how newsletters work in WordPress. This is the best free plugin you can try without any limitations. And without breaking the bank.
However, if you have a professional blog or a business website with plans to grow a solid email list for converting leads, go with Mailster. With Mailster, you get more advanced tools at a one-time price with all future updates for free. With its' Amazon SES integration, you'll be able to send campaigns with higher deliverability as well.
Setting up a newsletter plugin in WordPress requires a little bit of work. So it's definitely suitable for everyone. If you're having trouble understanding the technical aspects of the process, try using a service like MailChimp as a start.
Looking for WordPress hosting? We use Kinsta. They offer world-class WordPress hosting, built to keep your website fast, secure, and always online.