5 Best WordPress Accessibility Plugins
Accessibility is an important part of building an effective website. Not just to avoid the lawsuits, but also to make the web more inclusive and accessible to disabled people.
This is especially more important for WordPress users since the CMS is being used by more than 38% of the websites on the Internet. In fact, Automattic, the developers behind WordPress software takes accessibility more seriously than anyone. They even have a team dedicated to look after accessibility for the software.
Even though the WordPress software itself is optimized for accessibility, that doesn't make your website design accessible as well. You're in charge of that process. But don't worry, making a website accessible and compliant with the law is not that difficult.
Thanks to WordPress plugins, you can now easily integrate an accessibility solution with your website to help disabled people use your website just as comfortably as anyone else. In this post, we share a few of the best plugins you can use to make it possible.
How To Make Your Website Accessible
To make a website accessible, you need to follow the rules set by WCAG. There are a lot of boxes to check. It's mainly divided into 4 sections:
Perceivable: Visuals, content, and user interface components of the website
Operable: Navigation and functionality of the website layout
Understandable: Readability and easier to understand content design
Robust: Compatibility with assistive technologies and devices
These sections cover dozens of guidelines that you need to follow to make a website compliant with ADA.
Thankfully, with the help of the right WordPress plugin, you can make the necessary adjustments on your own.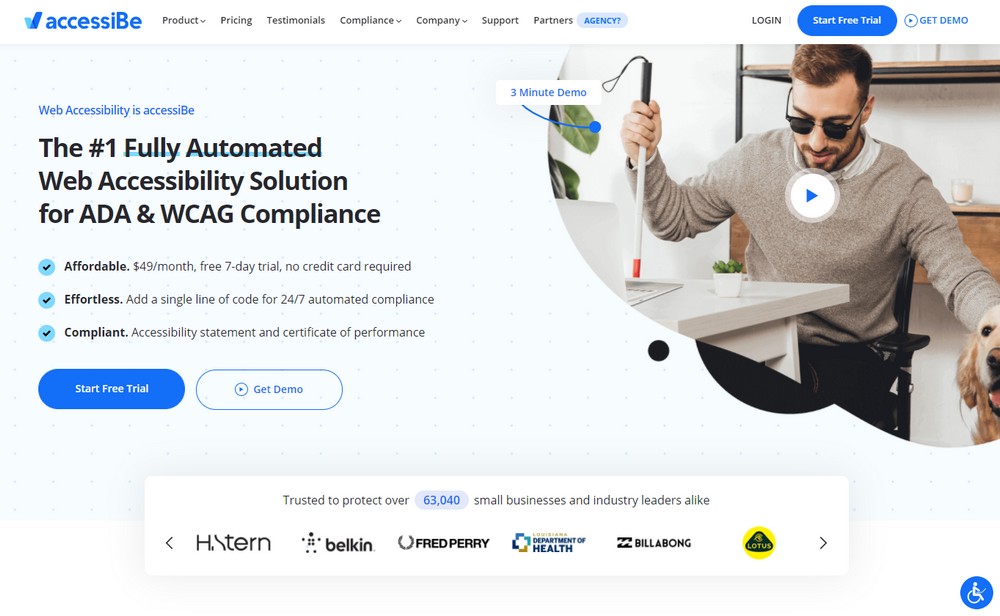 Best Feature: Fully automated accessibility solution
accessiBe is one of the most convenient accessibility solutions available today. It uses AI technology to scan and analyze your website for accessibility issues and fixes them automatically according to the user's preference.
You can integrate accessiBe with your website by copy-pasting a single line of code. Then it adds an accessibility panel to your website where users can adjust your website according to their needs.
Benefits of Using accessiBe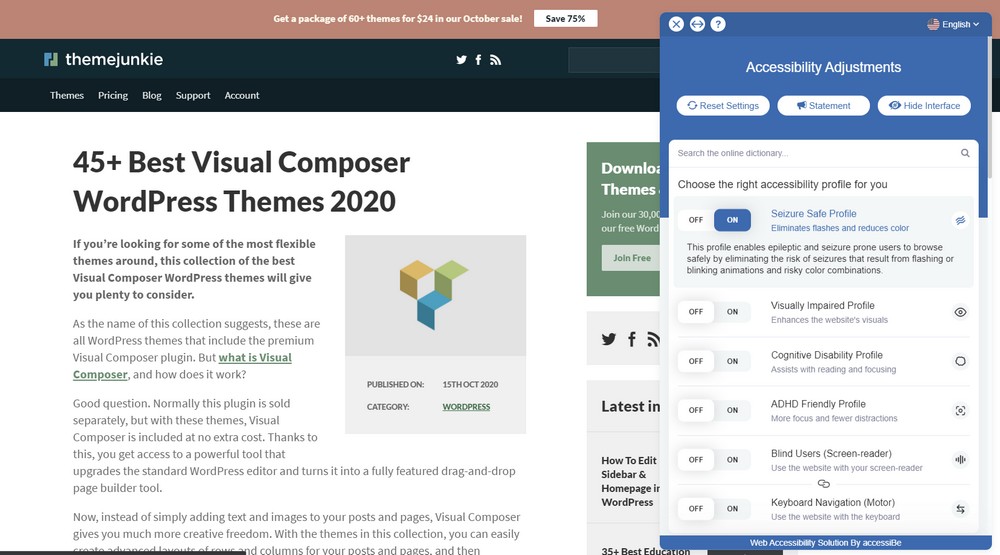 Scans your website 24/7 to ensure all your content is compliant with WCAG
Uses advanced AI and machine learning to make accurate adjustments
Optimizes your website for accessibility in multiple levels
Provides WCAG & ADA compliance with accessibility statement and certification
Complete compliance audits of your website every month delivered to your inbox
Pricing
accessiBe pricing plans start at $49 per month or $490 per year for websites with 1,000 unique pages. Compared to other accessibility solutions and agencies, this is a very affordable price for getting complete accessibility compliance for your website.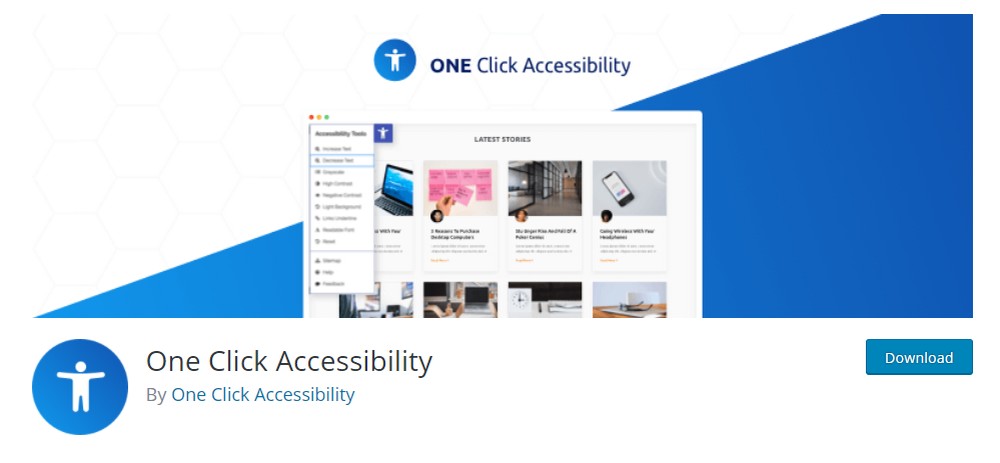 Best Feature: Adds an easy to use accessibility toolbar
One Click Accessibility is the only solution that comes close to having somewhat similar features to accessiBe, all bundled in a free plugin. This plugin is very easy to use and it also adds a toolbar to your website for adjusting some components for basic accessibility needs.
Even though it doesn't fully cover all areas of the design to make a website fully compliant with accessibility guidelines, it's enough to make your website accessible to a person with a vision disability.
Benefits of Using One Click Accessibility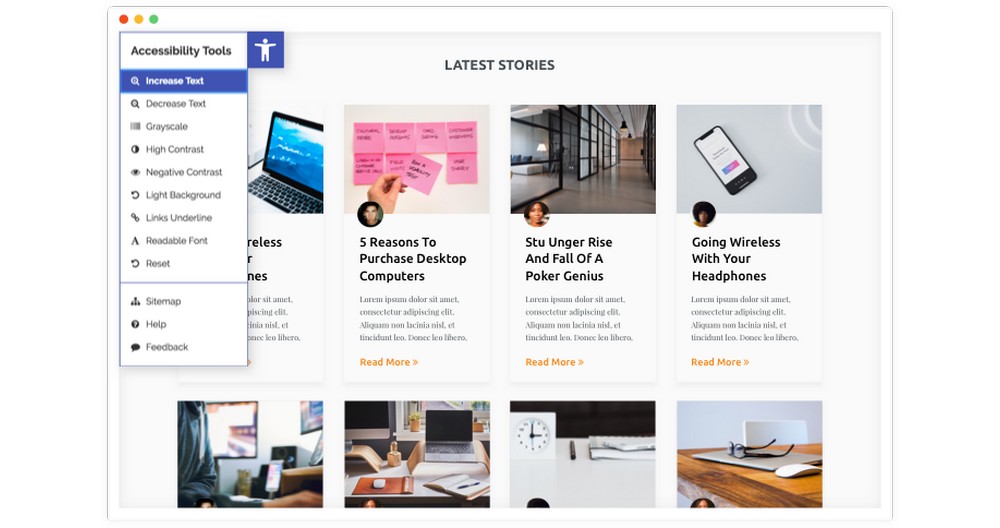 Lets users adjust website design according to their needs
Multiple ways to optimize content, adjust the font size, and more
Adjust the visual design of your website with negative contrast and grayscale designs
Free to use with unlimited websites
Pricing
One Click Accessibility is a completely free plugin. You can use all of its features on as many websites as you want.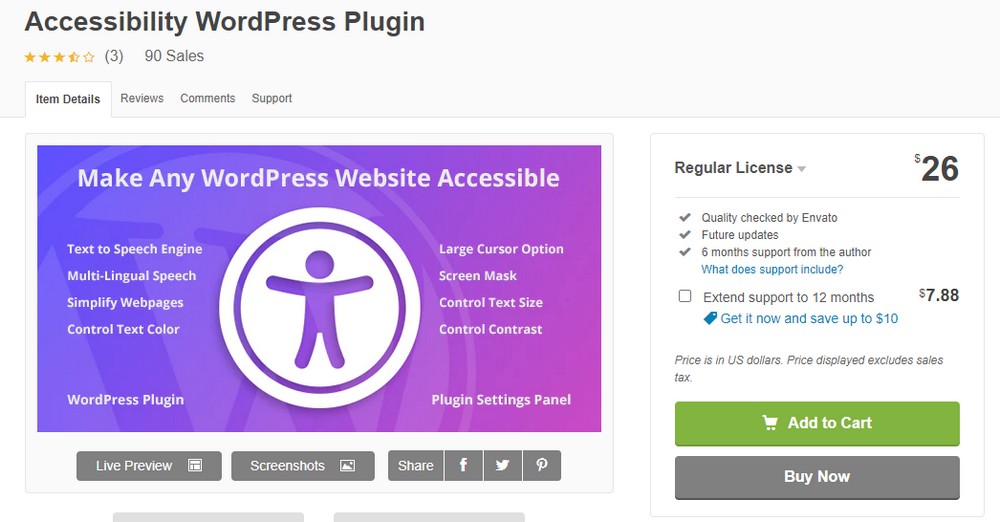 Best Feature: Includes text-to-speech engine
This is a premium WordPress plugin you can use to add a few basic accessibility features to your website.
It doesn't feature many options for adjusting your website design for accessibility. However, it comes with a very easy to use text to speech engine that also includes multilingual support.
Benefits of Using Accessibility WordPress Plugin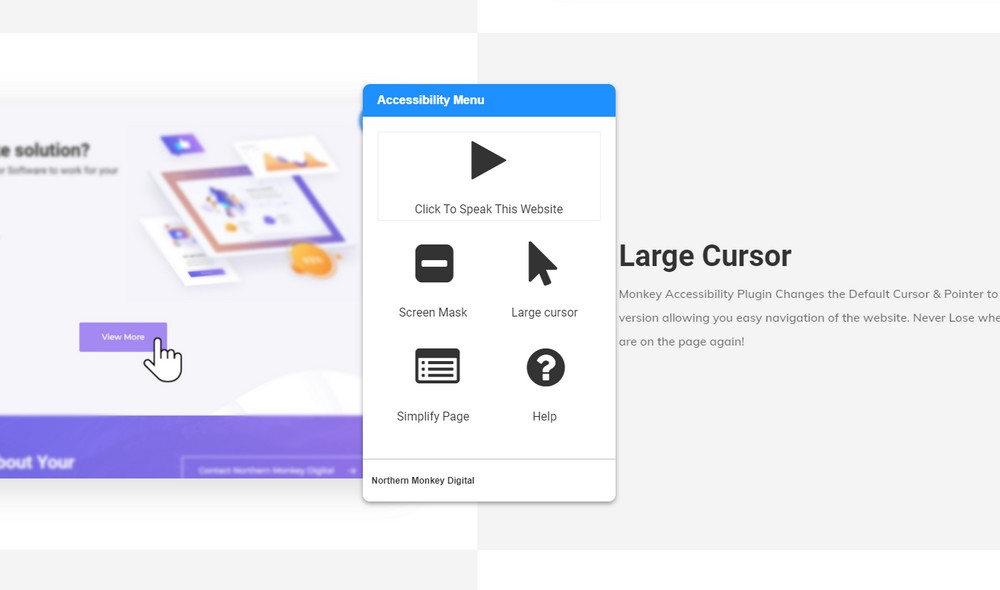 Adds a simple accessibility panel with multiple adjustment options
Text to speech engine with support for multiple languages
Ability to control text size and color
Ability to add a screen mask and adjust contrast
Pricing
Accessibility WordPress Plugin costs a one-time price of $26. You get all future updates for the plugin for free.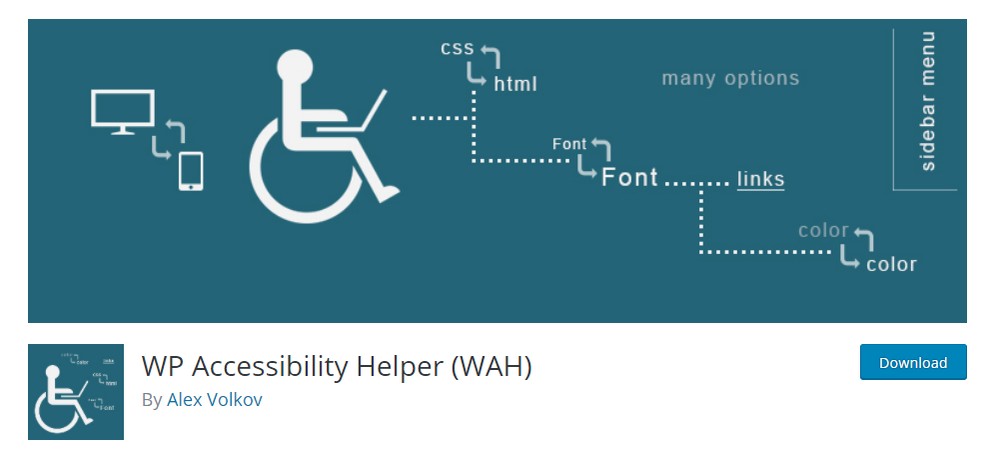 Best Feature: Fixes basic accessibility issues
WP Accessibility Helper is another useful accessibility WordPress plugin you can use to adjust and optimize your website for better accessibility.
The plugin provides several different ways to adjust different components of your website for accessibility. Including navigation, contrast, light and dark modes, and more. Even though it doesn't have a user interface as smooth as the other plugins on our list, it does its job perfectly.
Benefits of Using WP Accessibility Helper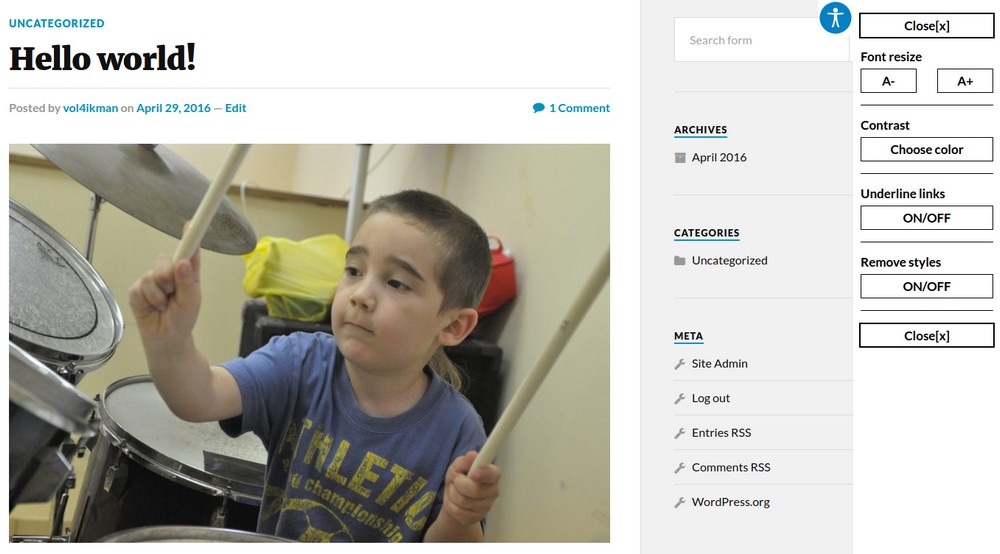 Makes accessibility adjustments in multiple levels
Optimizes image alt-tags, links, navigation, font size, navigation, and more
Includes light and dark theme controls
Ability to remove CSS animations
Pricing
The free version of the WP Accessibility Helper comes with lots of useful features. The pro version, however, offers more advanced features for $80.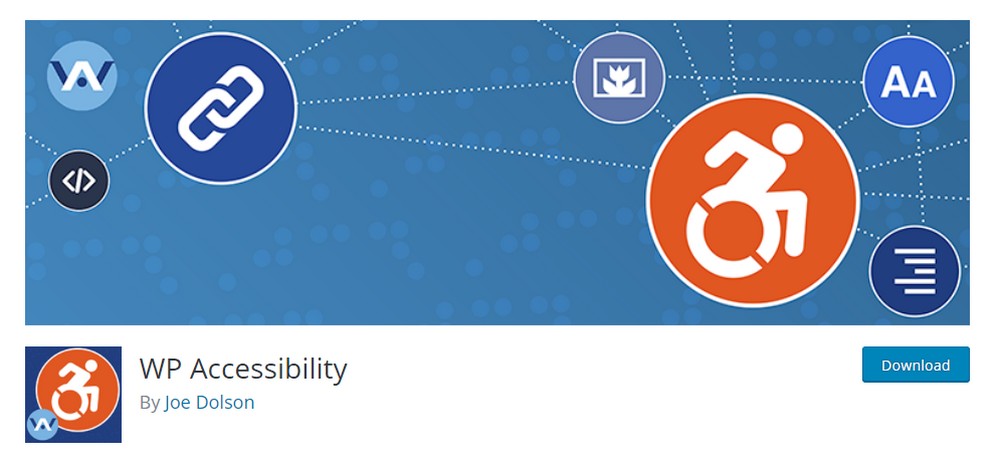 Best Feature: Fixes accessibility issues from backend
WP Accessibility is a simple plugin that helps you adjust your website for accessibility. However, it's not intended to make your site compliant with accessibility laws.
Once installed, the plugin gives you a set of options to enable or disable specific options on your website to make the design more accessible. Unlike other plugins on the list, this one is configured from the WordPress admin dashboard.
Benefits of Using WP Accessibility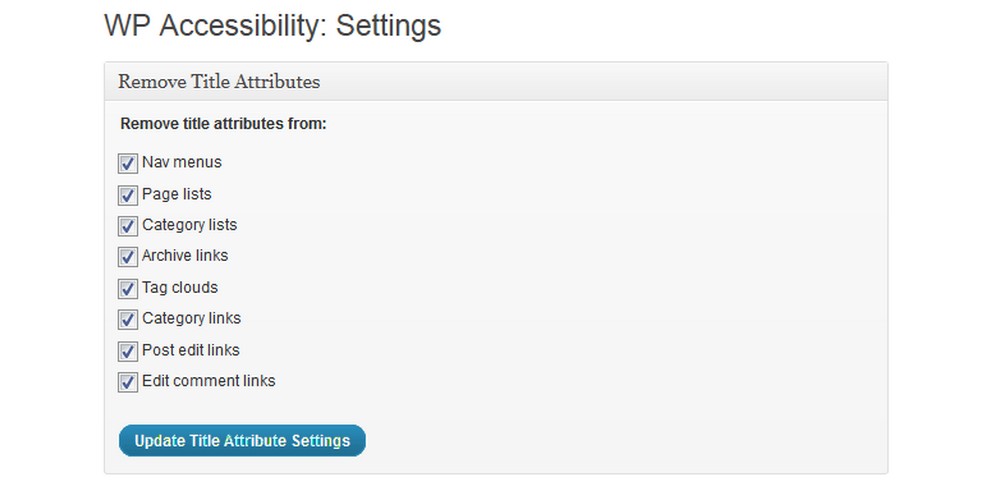 Simple settings panel lets you adjust your website for accessibility
Optimizes visuals with alt-tags and descriptions for screen reading software
Adds labels to form fields
Adds an outline to the keyboard for easier navigation
Pricing
WP Accessibility is also completely free.
Which Accessibility Plugin is Best?
When it comes to making your website ADA and WCAG compliant, none of the plugins do a better job than accessiBe.
Since it's fully automated and provides 24/7 monitoring, you'll never have to worry about optimizing your content for accessibility ever again.
accessiBe is also the only plugin that provides an accessibility statement and certificate. Which will help you avoid lawsuits.
In Conclusion
Choosing the right theme with a more accessible design is just as important as using these plugins. If you're using an outdated theme or a design with excessive animations and effects, the plugins won't help you get anywhere.
Make sure to use effective themes with clean code that gets regularly updated for the best results.
Looking for WordPress hosting? We use Kinsta. They offer world-class WordPress hosting, built to keep your website fast, secure, and always online.