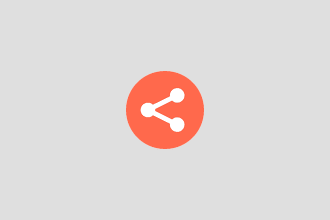 If you want to integrate your website with sites like Facebook, Instagram, Twitter, and more, then this collection of the best social media WordPress themes and plugins can help.
The tools in this collection have been included because they have useful features to help promote your WordPress website on social media, display links to your social media profiles to grow your following, and display content from your social media feeds on your site, plus a whole lot more.
Some of the social media WordPress plugins in this collection can add interesting and useful features to your site, such as social sharing button, buttons that let your visitors start chatting with you via Facebook Messenger, WhatsApp, and other services, as well as plugins that require your visitors to share your content before they can access your content.
The social media WordPress themes featured here can do everything else you'd expect from premium templates. Every theme includes at least one pre-built website demo that can be imported into your site in a few clicks. They are all also highly customizable, with detailed themes options and settings. Some themes include drag-and-drop page builder plugins too, to help you get really creative with your website.
These themes can be used for a range of purposes, but they all include a good amount of social media features or integration options. So whatever type of website you're creating, you're sure to find a suitable theme here.
Influencer - Magazine and Blog Social Media WordPress Theme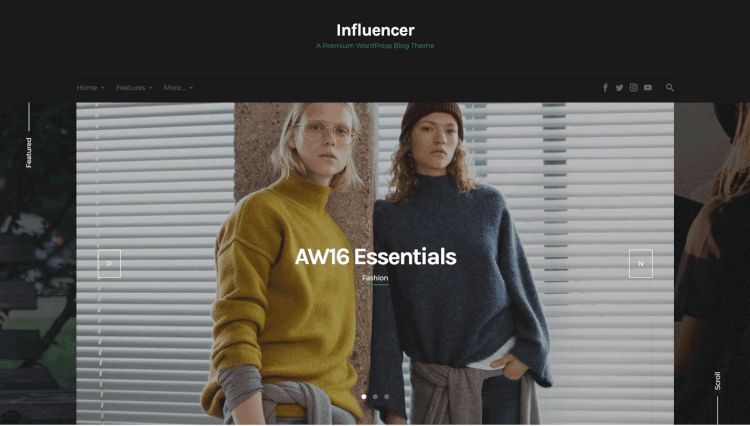 Influencer is a magazine and blog theme with good social media integration options. Although Influencer has been designed to be as easy to use as possible, it still has a useful selection of features and tools to help you set up your website the right way. If you're something of an influencer – or you'd like to be one – the features and designs of this social media WordPress theme should help you create a suitable online presence without too much trouble.
Ultimate Conversion - Digital Marketing and Social Media WordPress Theme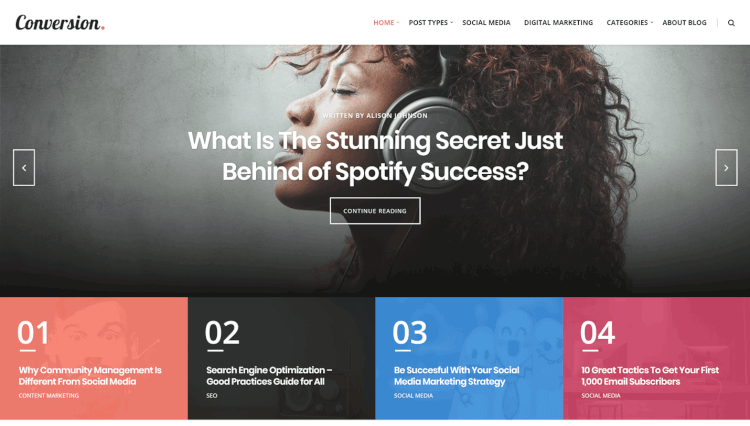 Ultimate Conversion is for anyone who wants to make their online presence more effective. From marketers and bloggers to social media people of all types, this feature-rich WordPress theme is ready for a wide range of projects. To help you display content from social media on your website, the Ultimate Conversion theme has a selection of useful widgets including like boxes, social media icons, and a Facebook page widget for you to work with.
Marketer - Online Marketing and Social Media WordPress Theme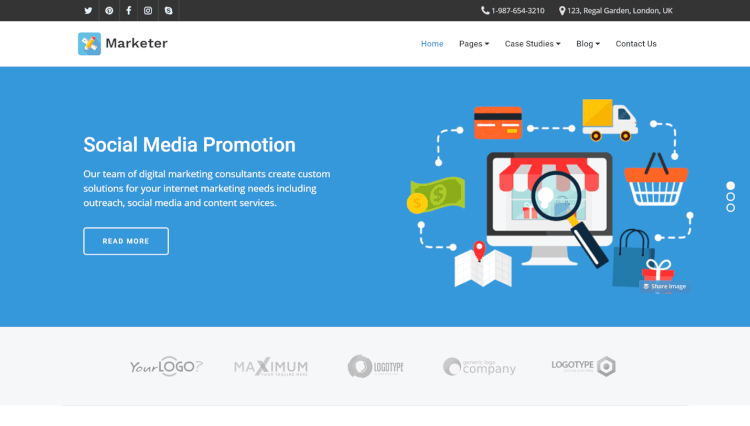 Marketer has some impressive features that have helped it earn a place in this collection of the best social media WordPress themes and plugins. As well as the pre-built website design, including homepage and inner page templates, Market also gives you access to a drag-and-drop page builder tool that makes it easy to create your own unique content designs.
Rocket SEO - Online Marketing and Social Media WordPress Theme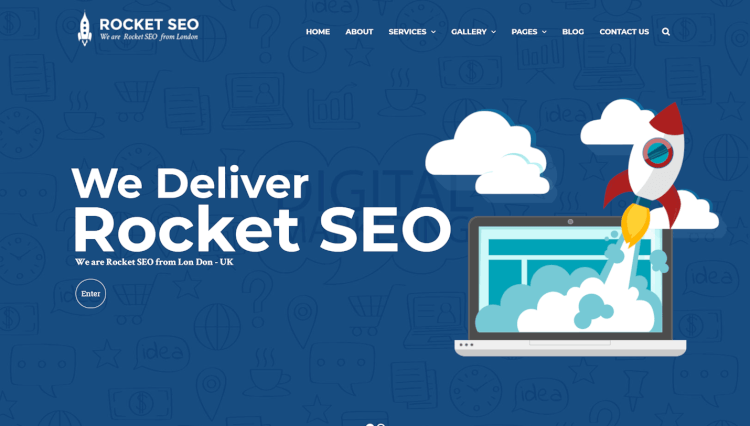 Rocket SEO is an online marketing WordPress theme with strong social media support. Designed to help you grow your following, increase your subscribers, and generate more leads, if you're offering social media related products or services, Rocket SEO could help you with your business goals. Even if you're just a social media blogger, rather than a service provider, Rocket SEO has all the templates and features you're likely to need.
Followers - Fashion and Lifestyle Social Media WordPress Theme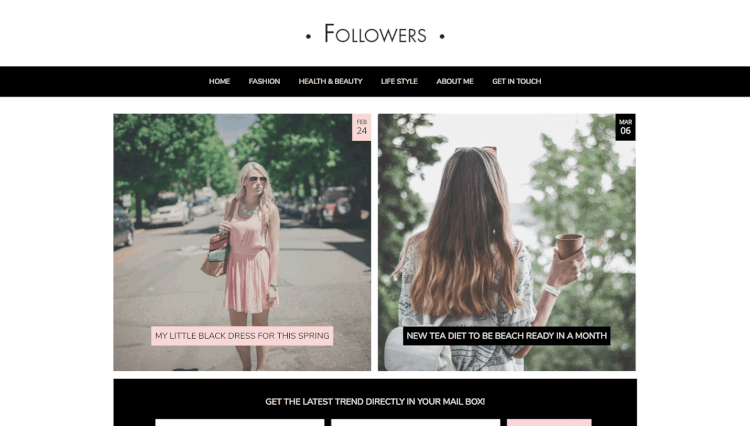 Followers is a great WordPress theme for social media influencers. If you want your website to reflect your personal brand and help grow your social media presence, this purpose built theme could be a good option. As you'd expect from an influencer WordPress theme, Followers has excellent social media integration including widgets for displaying your photos from your various accounts on your website, easy ways to promote your social media profiles, and a good set of share buttons to help your content go viral.
Nicosia - Online Marketing and Social Media WordPress Theme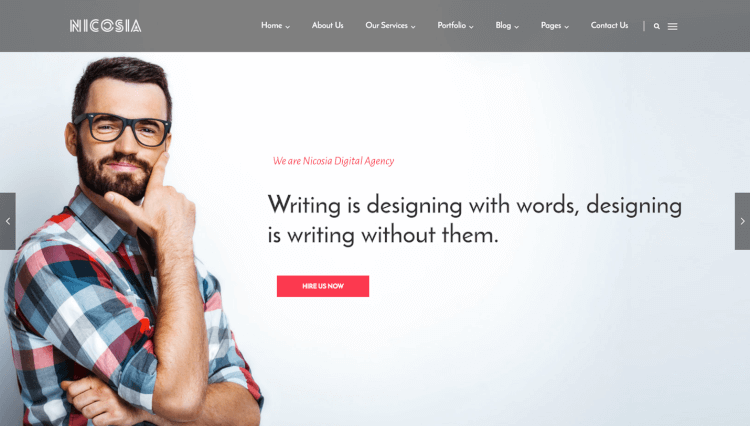 Nicosia is a social media agency WordPress theme that anyone who wants their accounts on sites like Facebook, Instagram, and Twitter to be closely aligned with their website should find interesting. As well as the three website homepages, there are 15 templates for the internal pages your site is likely to need. Furthermore, everything can be personalized through the drag-and-drop page builder tool and the WordPress Customizer.
SEO Business - SEO and Social Media WordPress Theme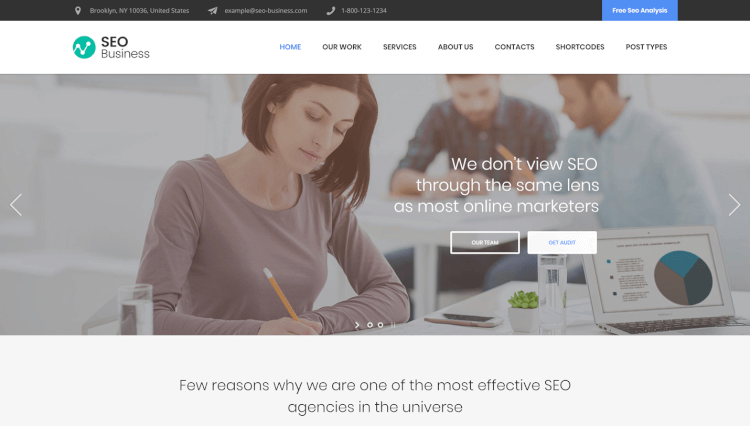 SEO Business has a strong set of features and purpose-built website designs that make it a great option from this collection of the best social media WordPress themes. When setting up your website with this theme, you can import your choice of demos in just a few clicks, giving you a quick way to add a stylish homepage layout to your site as well as all the internal page templates this theme includes.
Mr. SEO - Marketing Agency and Social Media WordPress Theme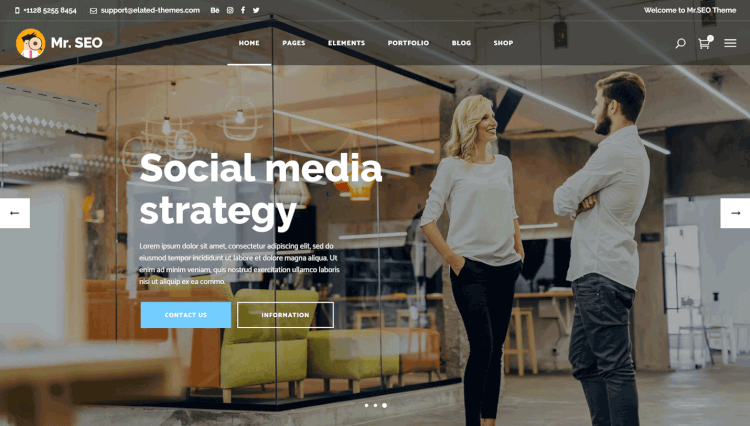 Mr. SEO is another WordPress theme that's been created for social media professionals and anyone who wants to connect their WordPress website to their social media profiles. The Mr. SEO website demos are ideal for individuals as well as agencies and other organizations. Thanks to the selection of custom social media widgets and other related features, you should have no problem integrating your website with the best social media networks.
SEO Crawler - Digital Marketing and Social Media WordPress Theme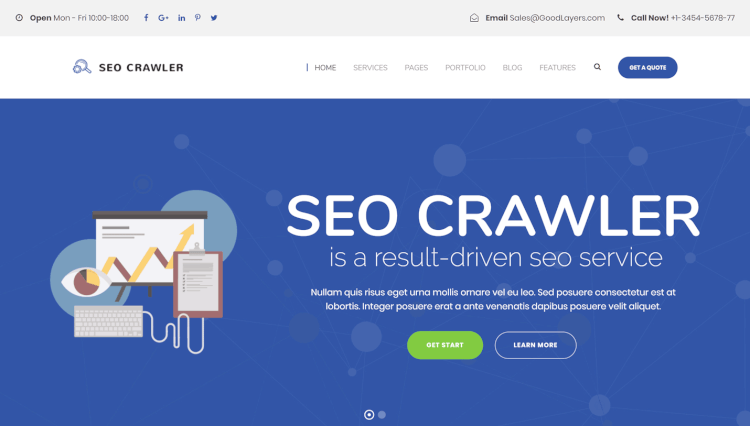 SEO Crawler is a social media WordPress theme that anyone working in social media marketing, as well as those who want to integrate social media with their WordPress website, will appreciate. The selection of pre-built layouts gives you a good range of choices for the design of your website, while the custom page builder tool makes it very easy to personalize your website regardless of your web design experience.
Social Media Auto Poster WordPress Plugin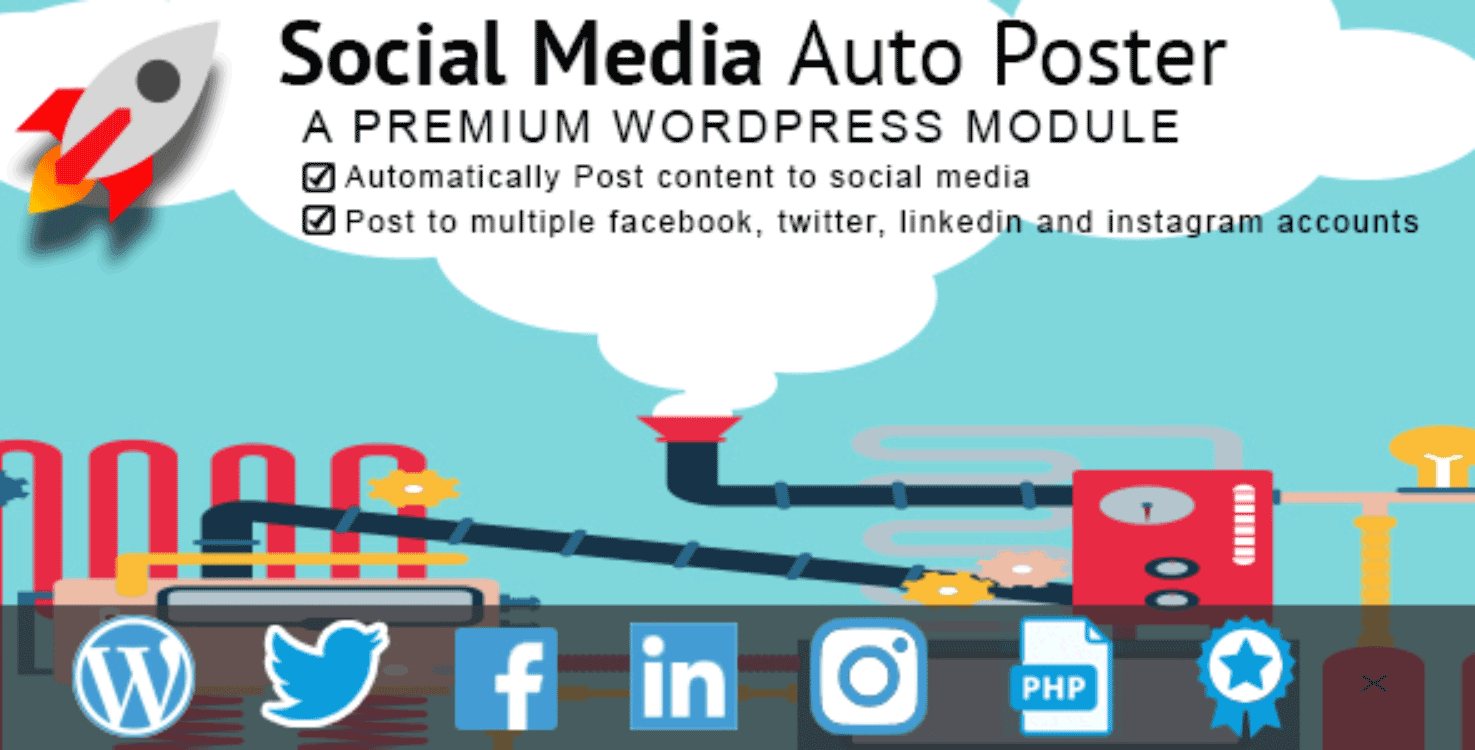 Social Media Auto Poster has been built to help you promote your content on the best social media networks. After installing this social media WordPress plugin on your website, you can configure it to automatically share your content on sites like Facebook, Twitter, LinkedIn, and Instagram. Video tutorials covering every aspect of this plugin are available to ensure you're able to automate social media marketing for your website.
WordPress Social Media Icons Plugin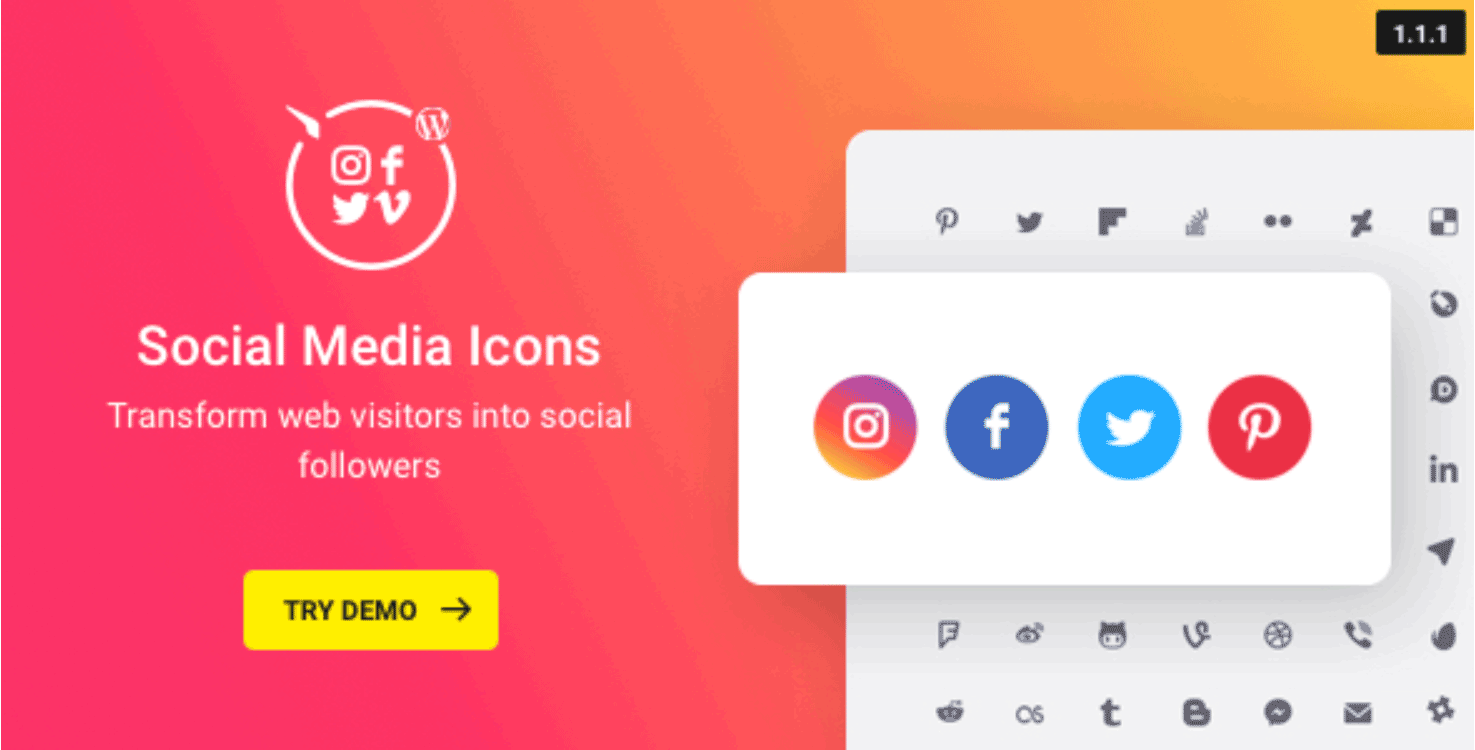 WordPress Social Media Icons will give you the ability to quickly add social network buttons to your website. The icons cover over 50 social media networks and can help you direct more of your visitors to your accounts on these sites and hopefully grow your following. There are plenty of icon styles to choose from as well as customization options to ensure they look right for your site.
Instagram Testimonials Plugin for WordPress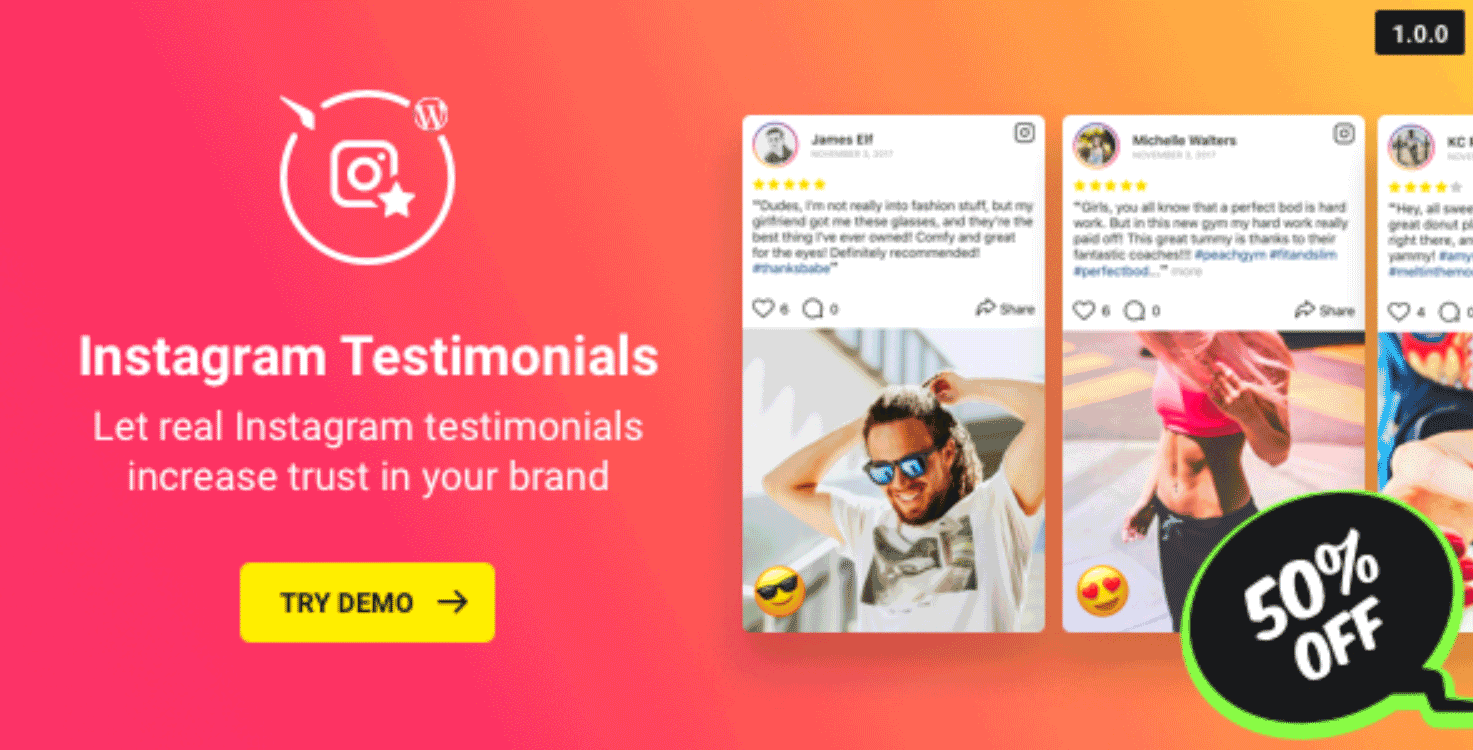 Instagram Testimonials Plugin for WordPress can help you publish feedback from your clients, customers, and followers that's posted on Instagram on your WordPress website. If you want to add some social proof to your WordPress website and make the most of any positive feedback and reviews you receive on Instagram, this highly configurable plugin is for you.
Share Your Purchase for WooCommerce WordPress Plugin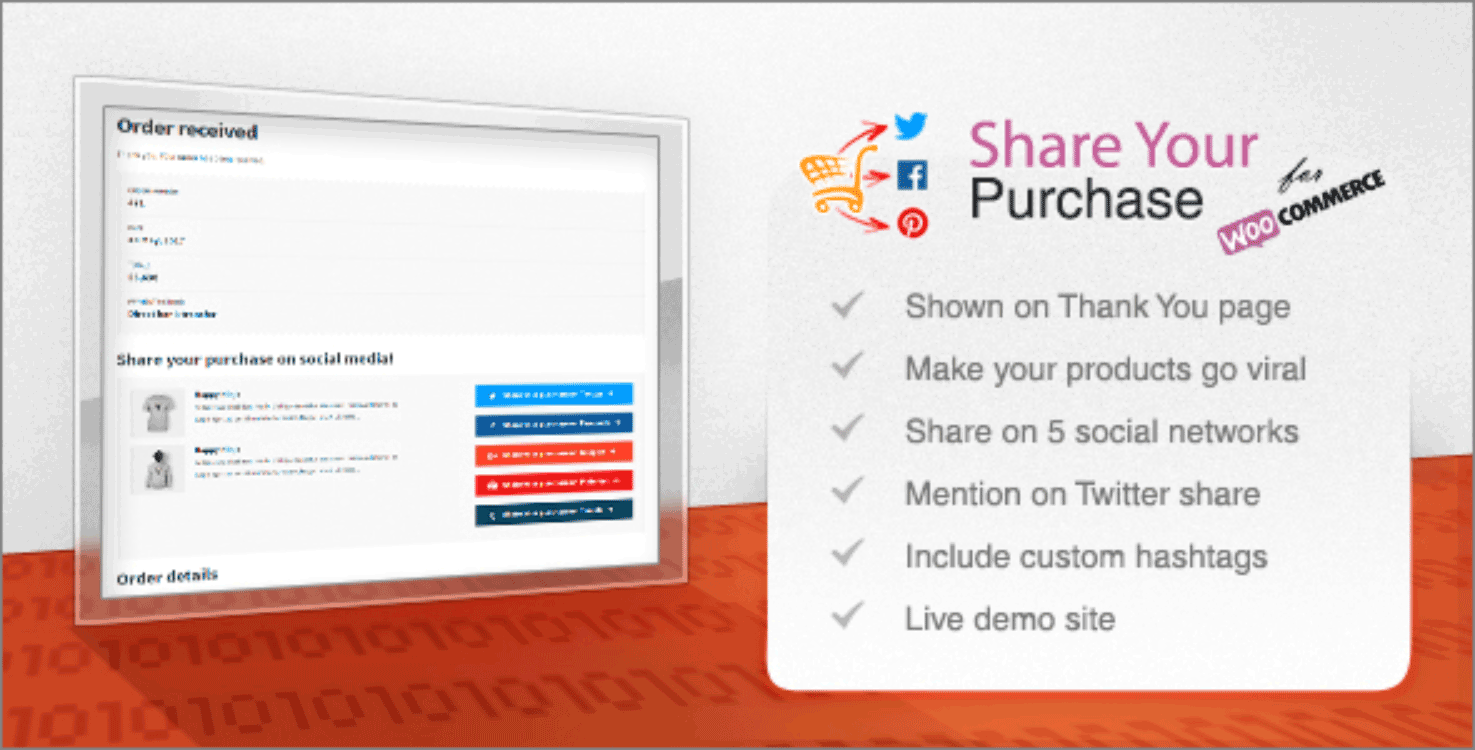 Share Your Purchase for WooCommerce can help WordPress and WooCommerce store owners promote their products on social media. Depending on how you set up this plugin, you could start displaying an invitation to share your store on the thank you page of your ecommerce site checkout process. For even more exposure, you can add custom hashtags to the social share messages.
Venta Social Media Contact Button WordPress Plugin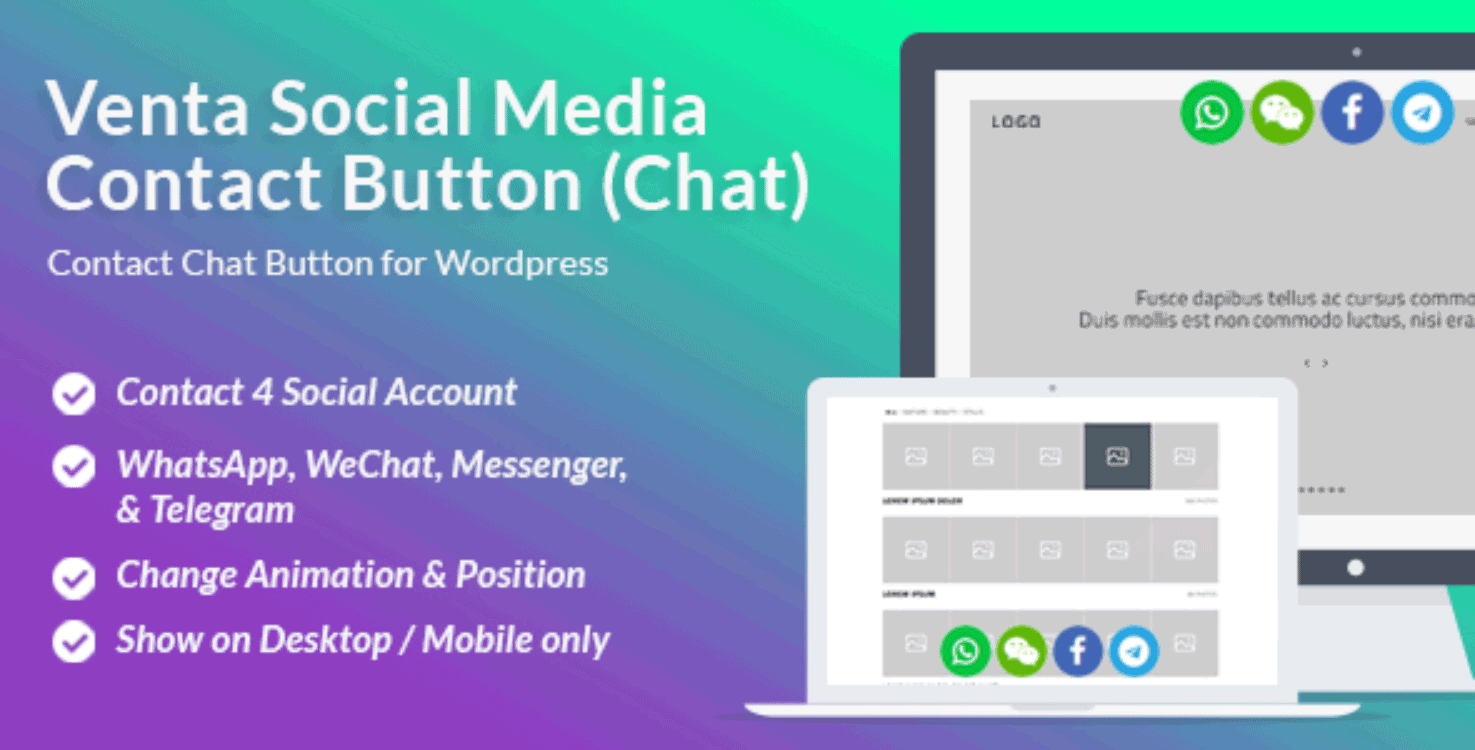 Venta Social Media Contact Button is an interesting plugin that gives your website visitors a quick way to get in touch with you via social media. WhatsApp, WeChat, Messenger, and Telegram are the platforms that are supported and once you've added this plugin to your site, your visitors can click on the appropriate icon to start a live chat with you. This useful social media WordPress plugin is easy to customize and genuinely adds a useful feature to your website.
ClickOn Icons Social Media WordPress Plugin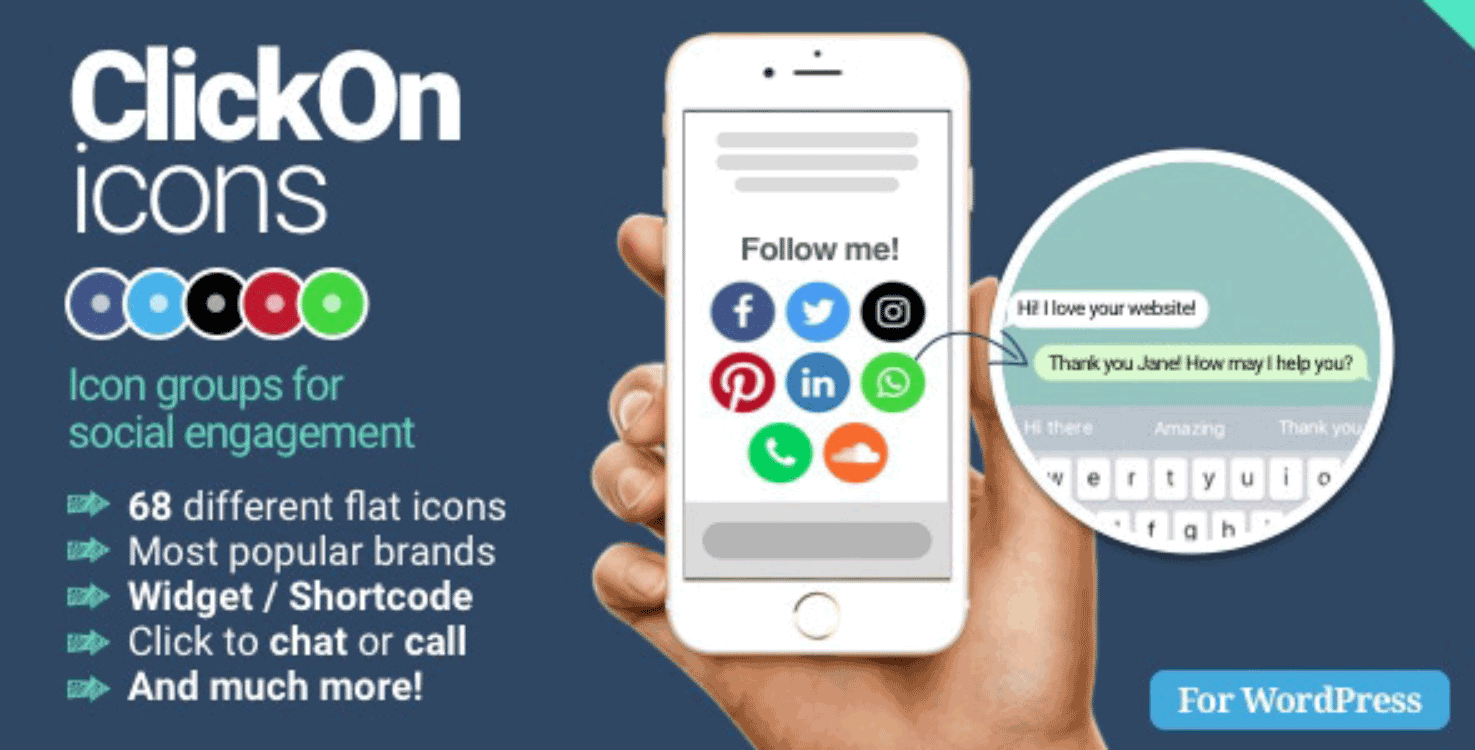 ClickOn Icons is something of a multi-purpose social media WordPress plugin. Once you've chosen which icons you'd like to display on your website, your visitors can then start a chat, a call, visit your social media profile, or send an email, depending on how you've configured this plugin. If you want to make it as easy as possible for your audience to get in touch or follow you elsewhere, the ClickOn Icons plugin is worth checking out.
Aparg SmartSocial WordPress Plugin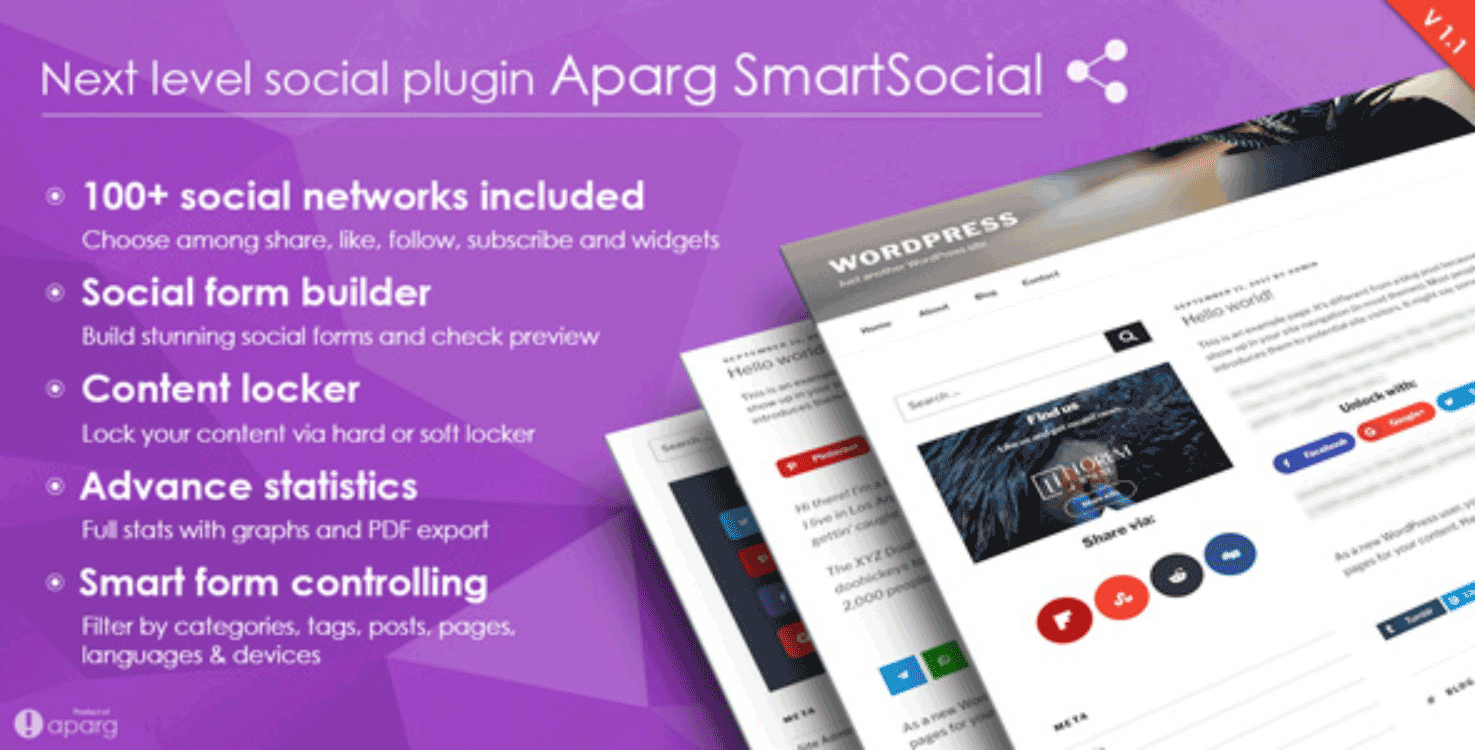 Aparg SmartSocial can add a range of social media features to your WordPress website. From share buttons and profile links to content lockers, this plugin can help you grow your social media following and promote your content on networks like Facebook, Twitter, and Instagram. The content locker feature should come in handy if you'd like to persuade your visitors into sharing your posts and pages before they can access a specific reward.