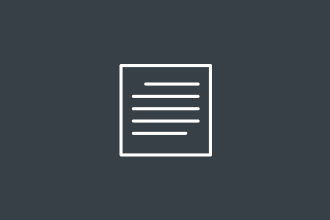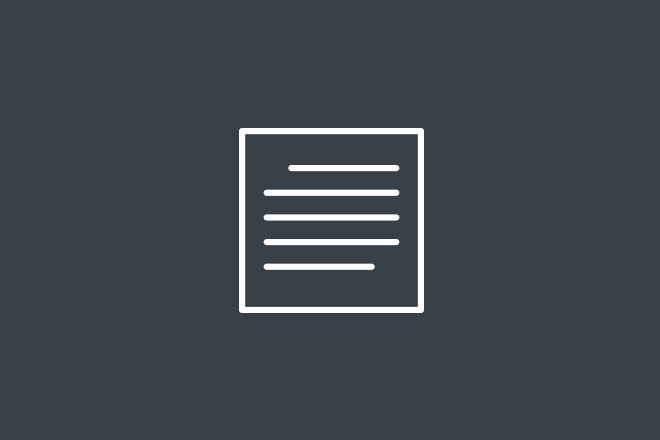 Choosing a WordPress theme can be difficult. The latest trend for advanced multi-purpose themes means it's easy to get overwhelmed by long feature lists. To help overcome this, we've put together a collection of the best simple WordPress themes.
To earn a place in this collection, the themes had to be simple in appearance, or simple to use, or preferably both. In this collection of the best simple WordPress themes, you'll find options for creating a wide range of projects. From personal and business blogs to online portfolios and e-commerce stores, there's a simple theme in this collection for most eventualities.
Choosing a simple WordPress theme has many benefits. For one, your website will be quick and easy to setup, helping you save valuable time and effort. Secondly, your content will be able to take center stage, rather than being obscured by fancy design effects and attention-grabbing theme features.
However, as these are all WordPress themes, you're free to add any extra features you need to your site, via the thousands of plugins available for this website creation software. Furthermore, many of these themes have discrete control panels that make it easy to tweak or customize their designs as needed. This means if you find any of the designs a little too simple, in most cases, you'll be able to enhance them in many different ways.
Simplicity is often overlooked in favor of wowing visitors. However, for nearly all projects, a fast loading website, that's easy to navigate, combined with a stylish, elegant design, will deliver the best results. If that's something you'd like for your project, here's our collection of the best simple WordPress themes.
Norge - Responsive Blog WordPress Theme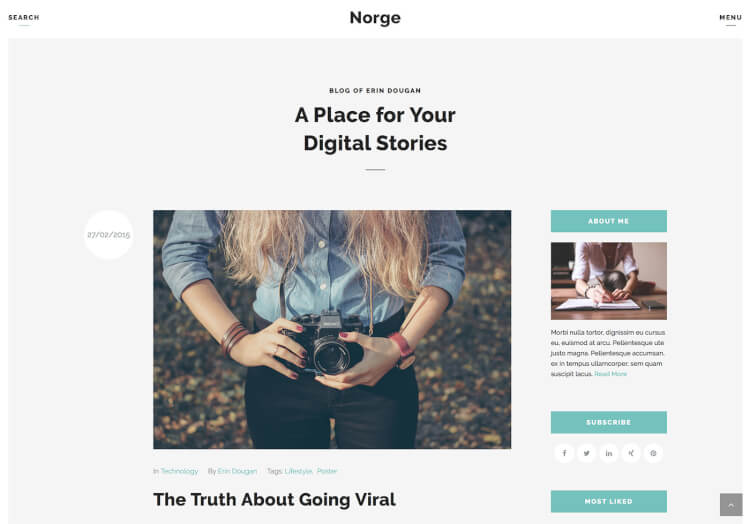 If a simple blog is the starting point you need with WordPress, Norge is a brilliant choice. A clean, minimal design puts your content centre-stage, but it is flexible enough to make it easy to add your own personal touch and design. Responsive design looks good on any mobile device, and the theme is ready to translate into other languages if you so wish. Slick and stylish!
The Litae - Simple Portfolio WordPress Theme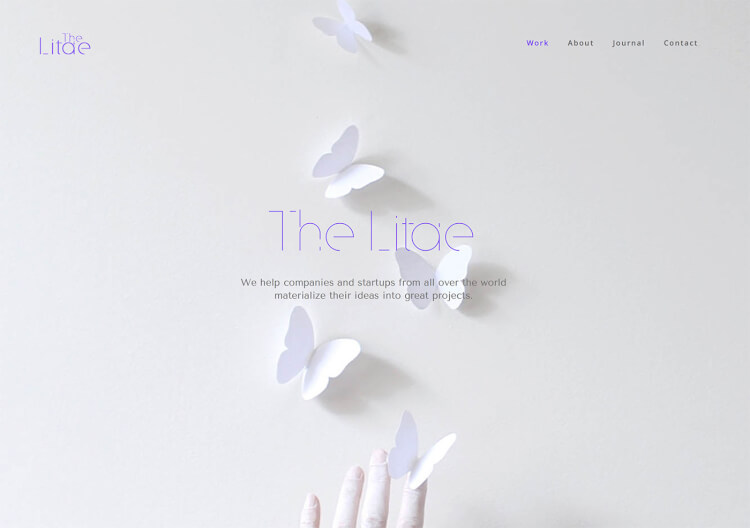 The Litae is a creative, minimal portfolio WordPress theme. It uses subtle backgrounds and color to draw attention to different sections of your page and comes with masonry and grid portfolio layouts. It's a great way to set up a simple portfolio or blog, feature your team, projects, and get a simple company website up fast!
Arianna - Simple Blog and Magazine WordPress Theme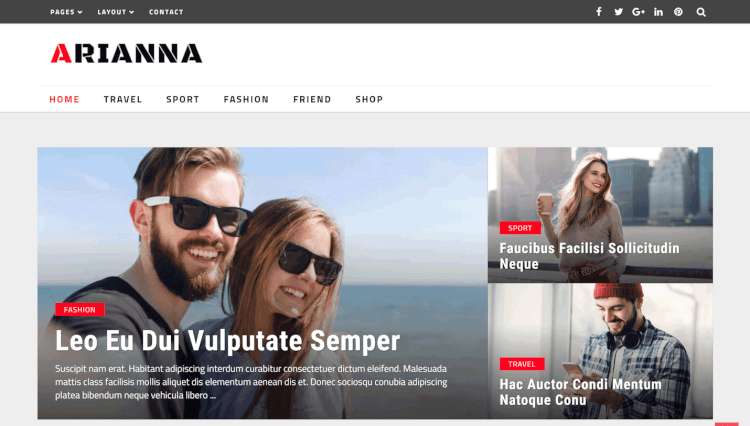 Arianna is a clean and simple WordPress theme that's perfect for blogs and magazine websites. This theme has five main homepage layouts to choose from, as well as a good selection of features and inner page templates. Arianna also has full WooCommerce support making it a good options for creating minimal online stores.
Atik - Simple Ecommerce WordPress Theme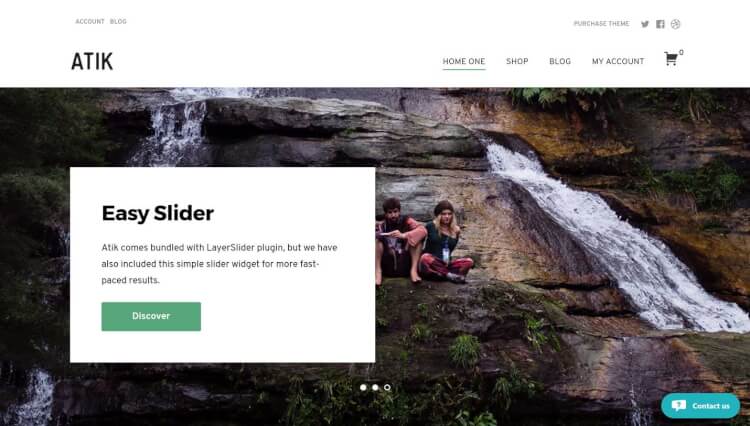 Atik is a fast loading, simple WordPress theme for building online stores. By combining this theme with the popular free WooCommerce plugin, you can easily start selling products online. Atik also has an impressive selection of blog layouts making this theme a good choice for bloggers looking for a theme with a clean and simple design.
Artistas - Clean and Simple Blogging WordPress Theme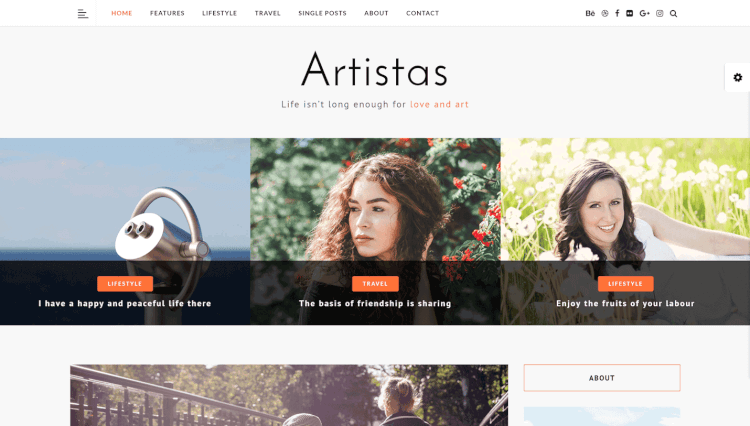 Artistas is perfect for anyone who's looking for a blogging theme that has a design that won't overpower their content. Whether you want to publish text-based articles without distraction or let your photographic work take center stage, this clean and minimal WordPress theme is well worth a closer look.
Claue - Simple WooCommerce WordPress Theme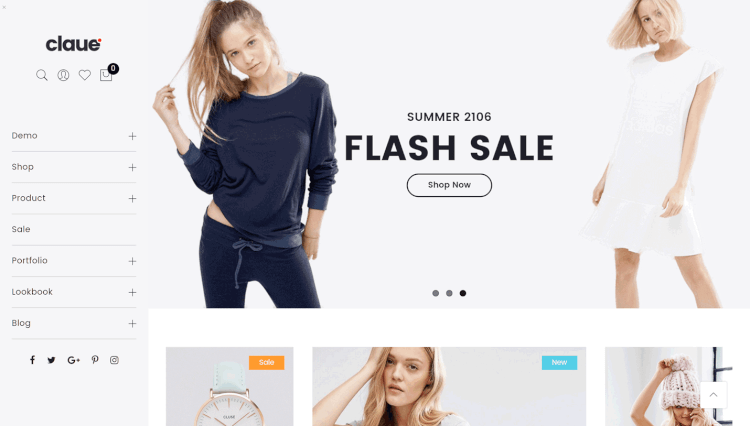 Claue is primarily an ecommerce WordPress theme. However, even if you're not building an online store with WordPress, Claue could be a good choice for your blog or news site. To help you quickly launch a stylish website, Claue is packed with pre-built page layouts and designs. This theme is not only simple in terms of design but also simple when it comes to ease of use.
Sara - Simple and Minimal WordPress Blog Theme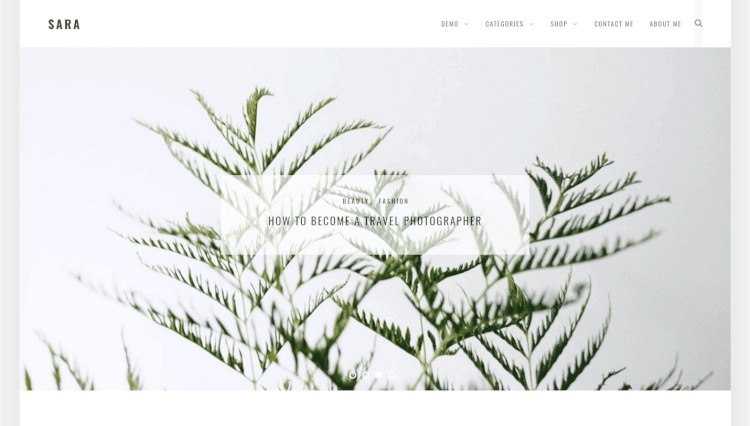 Sara is a simple and minimal WordPress theme that is quick to deploy and fast to load. Looking great on smartphones, desktops, and anything in between, Sara is a highly mobile friendly, simple WordPress theme. Thanks to the good selection of customization options, whether you want to add a few more creative touches to your website or simply change the color scheme, you can do so with ease.
Takk - Simple Portfolio WordPress Theme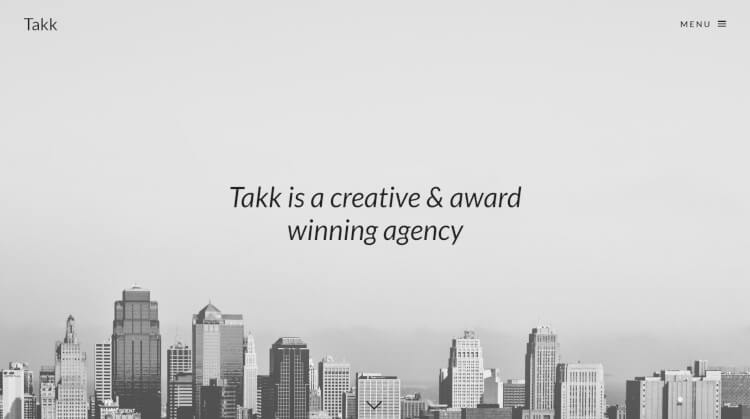 Takk is a fast loading clean and minimalist WordPress theme. The simple design of Takk does a great job of letting your content stand out on the screen. If you're looking for a straightforward but modern theme for your blog or portfolio, Takk is well worth adding to your shortlist.
GraceUnderPressure - Simple WordPress Theme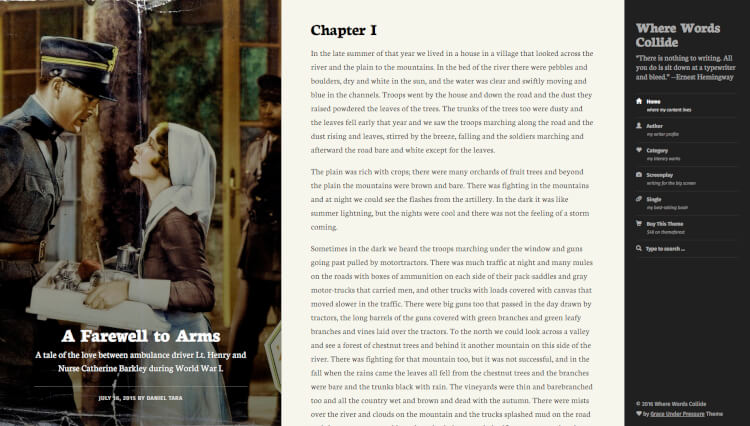 The GraceUnderPressure theme gives you six homepage demos to choose from. Thanks to this, it's one of the most versatile options in this collection of the best simple WordPress themes. However, no matter which demo you choose, you'll be getting a simple and elegant design for your site.
Luisa - Simple Blogging WordPress Theme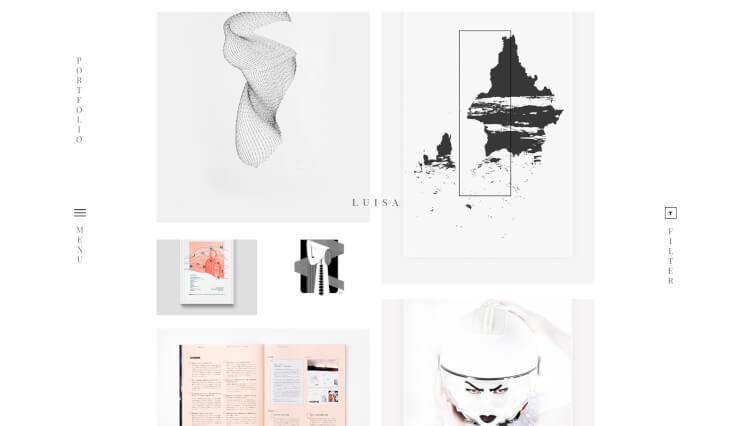 Luisa is a minimal portfolio WordPress theme. It features a design that will appeal to anyone who prefers simplicity to chaos and unnecessary complexity. The simple menu system takes up very little space, leaving more room for your content. Thanks to the one-click demo content imported, setting up your website with Luisa is very straightforward.
Bateaux - Simple Multi-Purpose WordPress Theme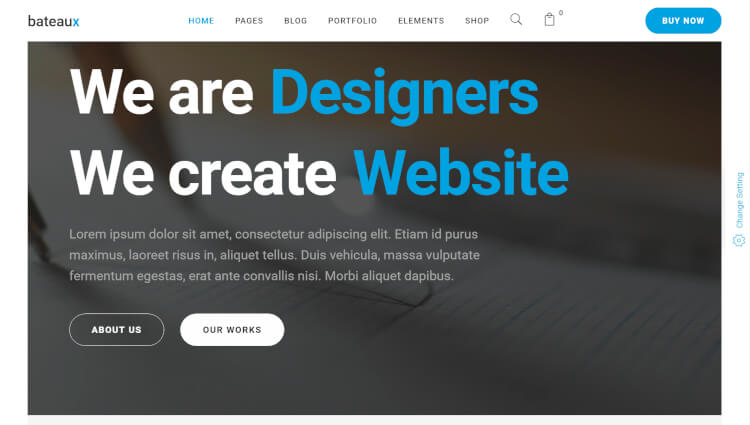 At first glance, Bateaux and its 20+ homepage demos might not seem the simplest WordPress theme available. However, among the demos, you'll find some very clean and clear designs that are perfect for creating an unpretentious WordPress website. If your preferences change in the future, Bateaux has many optional advanced features waiting in the background.
Alpha - Simple Portfolio WordPress Theme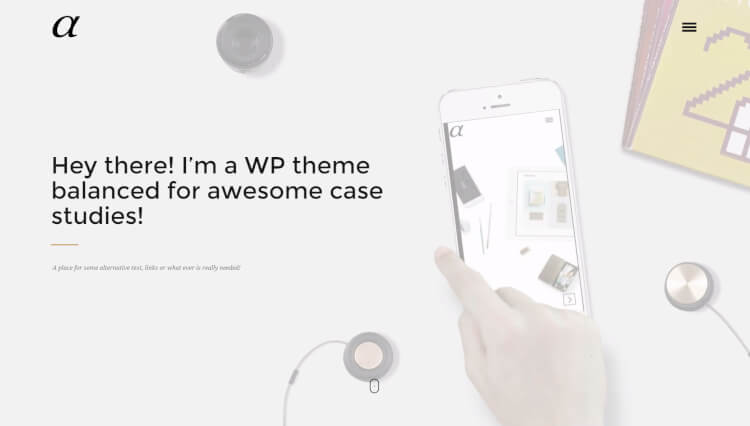 Alpha is a highly minimalist portfolio WordPress theme. Therefore, if you're searching for a theme with a simple design, that's also easy to use, Alpha could be the one. Thanks to its simple design, Alpha loads very quickly – something your visitors will appreciate.
MyBlog - Simple Magazine WordPress Theme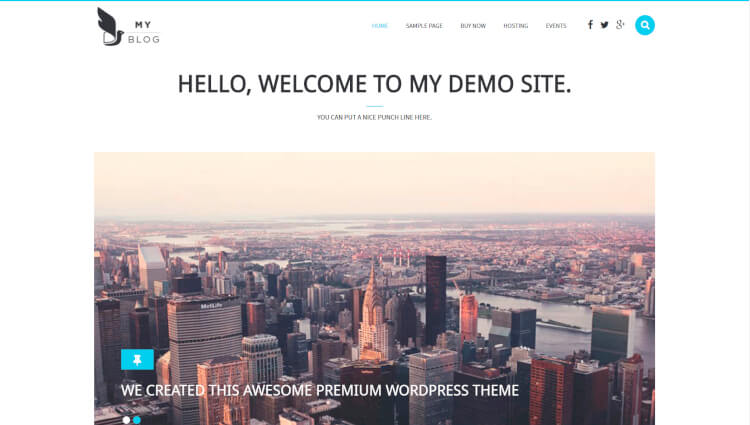 MyBlog is a great choice for bloggers seeking a theme that's focused on readability and usability above all else. MyBlog successfully walks the line between simplicity and dullness, with enough interesting elements to make a good impression. With MyBlog, your visitors won't be distracted by the design of your site, leaving them free to enjoy your content.
ROUA - Simple Portfolio and Blogging WordPress Theme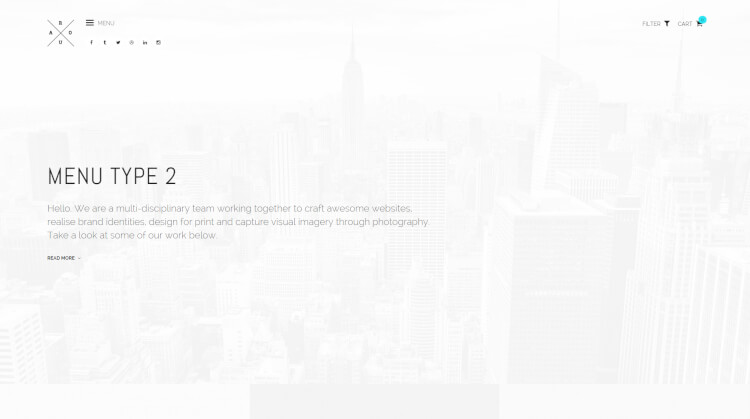 ROUA is a simple WordPress theme with a fresh design. If your project and content demands an elegant and cutting edge theme, then ROUA is worth a closer look. The ROUA theme settings give you the option of adding more elements and content to your site. However, minimalists will appreciate having the option to keep things a simple as possible when configuring their website.
Simple and Elegant - Simple WordPress Theme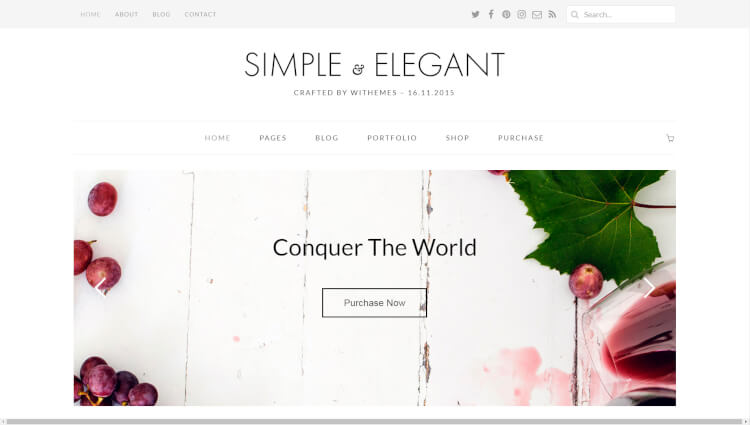 The Simple and Elegant WordPress theme combines a stylish design with an uncomplicated setup process. Whether you're creating a blog, an online portfolio, or an ecommerce store, Simple and Elegant is ready for action. The package includes two premium plugins – Visual Composer and Slider Revolution. However, in the interests of simplicity, you're free to leave them deactivated on your site if necessary.
Bonno - Simple Multi-purpose WordPress Theme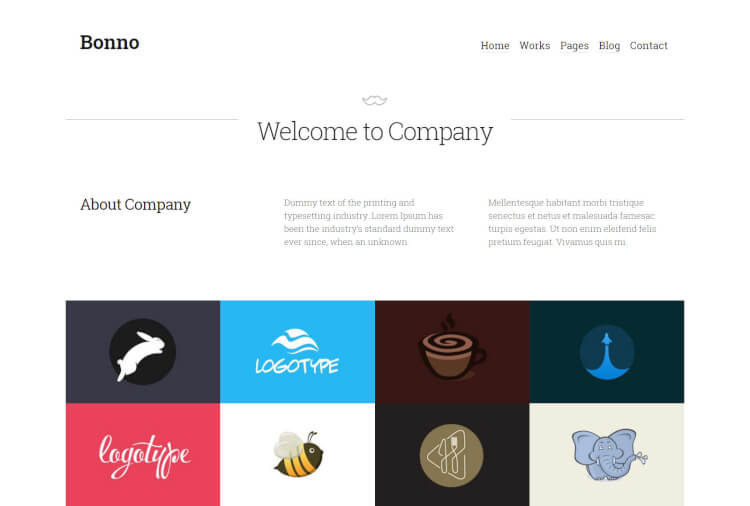 Bonno is another versatile, multi-purpose WordPress theme. However, throughout the Bonno theme's library of pre-built page layouts and templates, simplicity is a key design feature. Whether you need a stylish blogging theme or a new design for your online portfolio, Bonno is well worth taking for a test drive.
Tao - Modern Simple WordPress Theme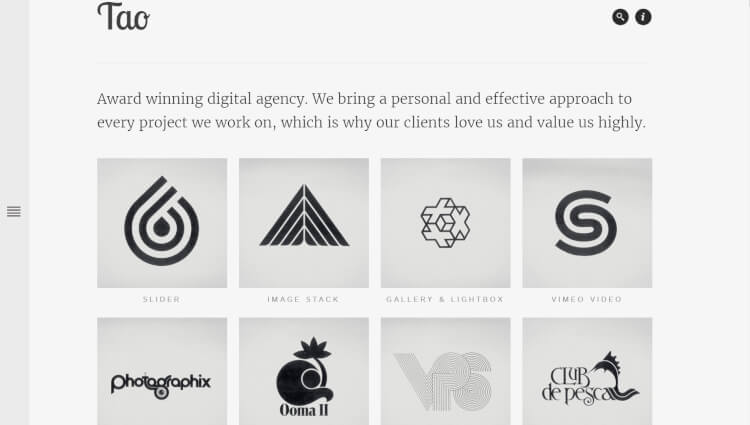 Tao is a simple and modern WordPress portfolio theme. This elegant theme has been built specifically to help you promote your services or those of your agency online. Even if you just want to create an online space to share your work, Tao has many features that can help you.
Better - Minimalistic Business WordPress Theme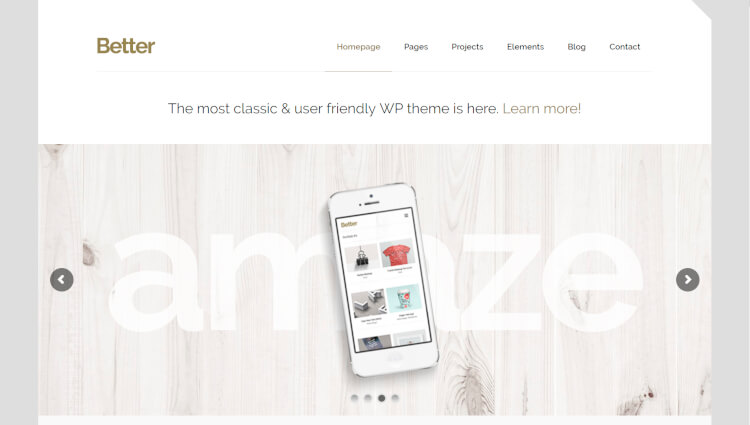 Better has proven to be a popular option in the best simple WordPress themes category. First released back in 2013, Better has been constantly improved and refreshed to keep up to date with the latest design trends and practices. Primarily a business theme, Better can easily be used for a range of different projects.
Vinero - Very Clean and Minimal Portfolio WordPress Theme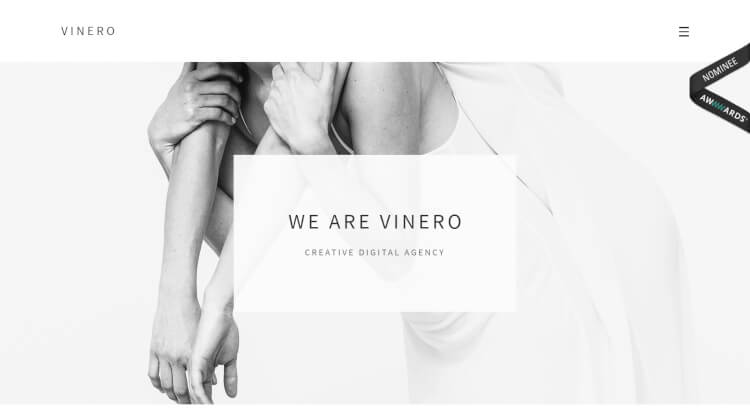 Vinero is a modern portfolio theme that's focused on simplicity and elegance. Being both simple in design and user experience, Vinero won't get in the way of your work. Once you've imported the demo content into your website, you'll be free to focus on creating more items for your portfolio, rather than fiddling with theme settings and options.
Maichau - Clean and SImple WordPress Theme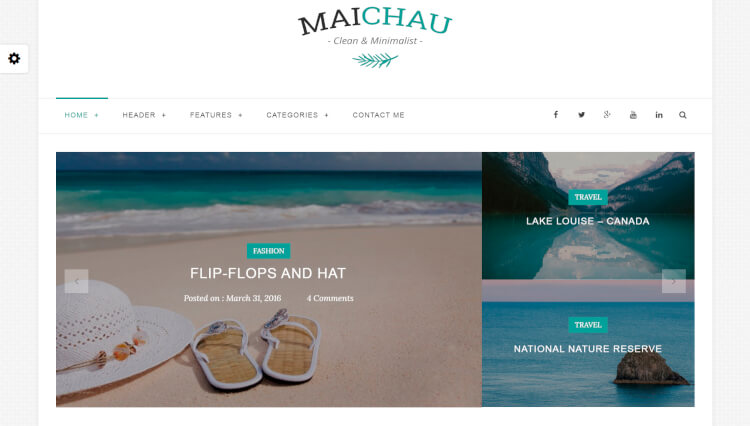 Maichau boasts a simple five-minute setup process that will help you launch your new blog with very little effort. The clean and simple design will ensure your content stands out and your site loads quickly. If you need a little extra help getting started, the Maichau video documentation will guide you through the installation process with ease.
Purity - Simple Blogging WordPress Theme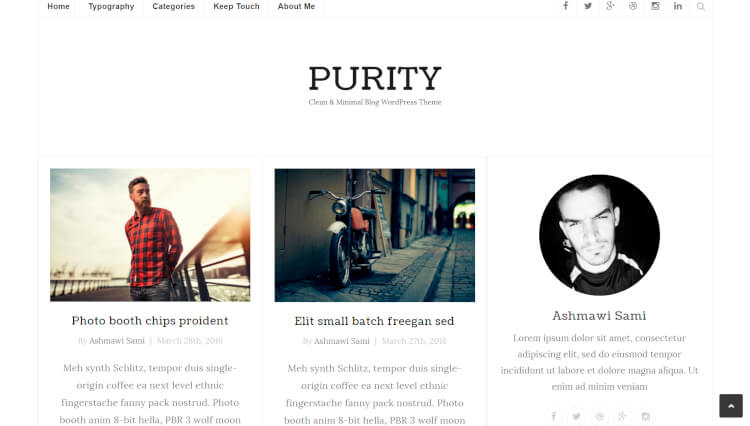 Purity is a clean and simple WordPress blogging theme that will appeal to minimalists. However, despite its simple exterior, Purity gives you plenty of creative options when setting up your site. There's a good selection of homepage layouts, a number of blog post templates, and many site customization options on the back-end.
Schiller - Simple WordPress Theme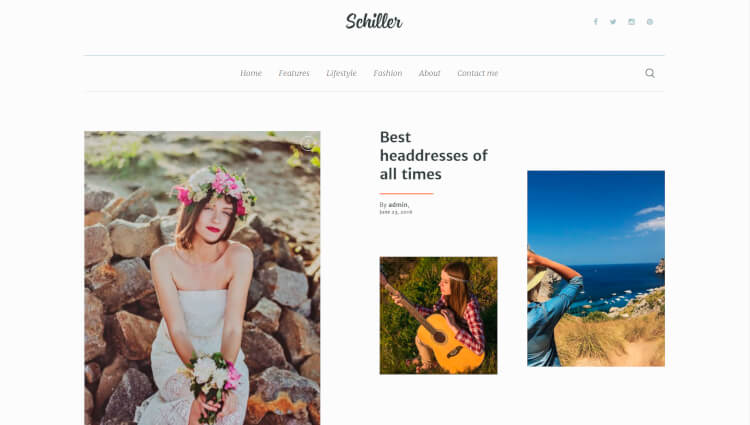 Shiller is another simple personal blogging theme for WordPress. Whether you want to simply publish your latest thoughts online or share your advice, tips, and projects with your audience, Shiller has the high-quality design your website will need. If the design of Shiller is too simple for your tastes, the theme customization options make it easy to add a little extra color and flair to your site's design.
Oleander - A Blog & Shop Theme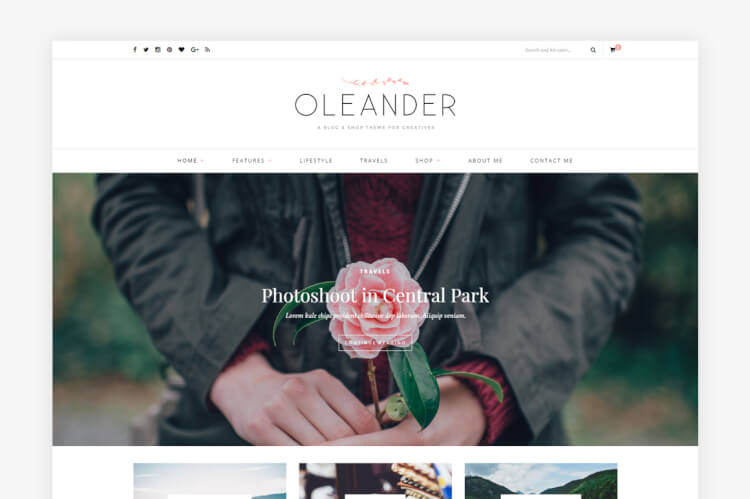 Oleander is a fresh-faced theme with clean lines and a simple focus. A dramatic full-width slider and striking promo boxes to showcase your preferred content will entrance visitors within seconds. More than that, you'll see numerous layouts and post format options, various sidebar settings, and a robust footer area. Oleander and WooCommerce are the best of friends. With WooCommerce compatibility and crisp, uncluttered custom styling included, Oleander will ensure your store shines as bright as your wares.