Koala - Responsive WordPress Grid Theme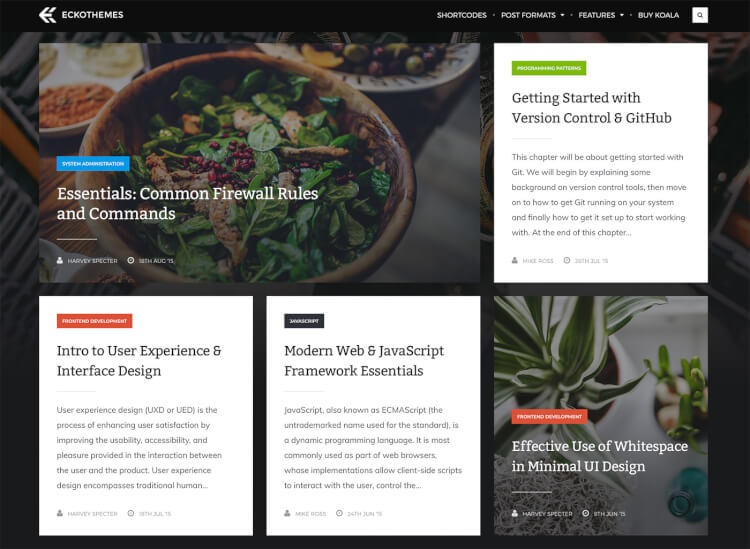 Whether you're wanting to display photos, articles, quotes, videos or images, Koala can lay everything out in a beautiful grid format. It provides a two column layout, header slider, header grid and specific post format styles ensuring that your content is always the star. Different shortcodes provide you a range of customizable options – including fonts, colors and widgets – and helps your website stand out from the crowd.
Freelo WP - Creative Grid WordPress Theme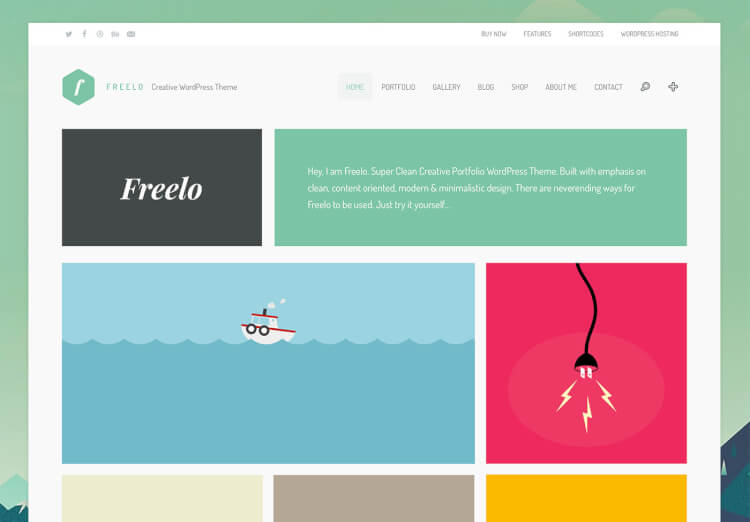 A bright, bold grid theme that's fully responsive, Freelo is a great option for creating a stylish agency website or portfolio with WordPress. It has a fresh design, to stand out from everyone else! Fully ready to translate, it supports multiple portfolio styles and animation transitions, various blog options, and much more.
Katana - Portfolio Grid WordPress Theme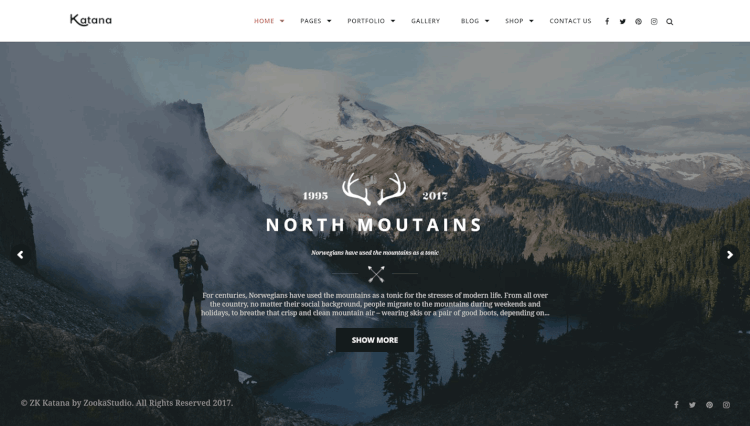 Katana is a WordPress theme with a strong grid-based layout. Marketed as a photography portfolio theme, whatever type of content you want to share online, Katana will give you plenty of options. As well as all the different portfolio templates, this grid WordPress theme also includes pre-built layouts for all the other content your site is likely to need.
TheNight - Blogging Grid WordPress Theme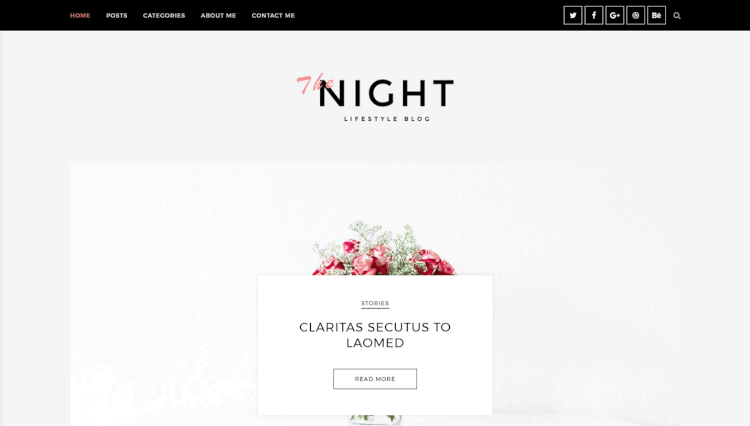 TheNight is a clean and minimal blogging theme with a flexible grid layout. Depending on how you setup your blog, TheNight gives you the option of using a homepage slider to present your latest content to new visitors. The six blog layouts use grids to display your articles to your audience, while the other tools and templates help you personalize the appearance of your site with relative ease.
Tonder - Multi-Purpose Grid WordPress Theme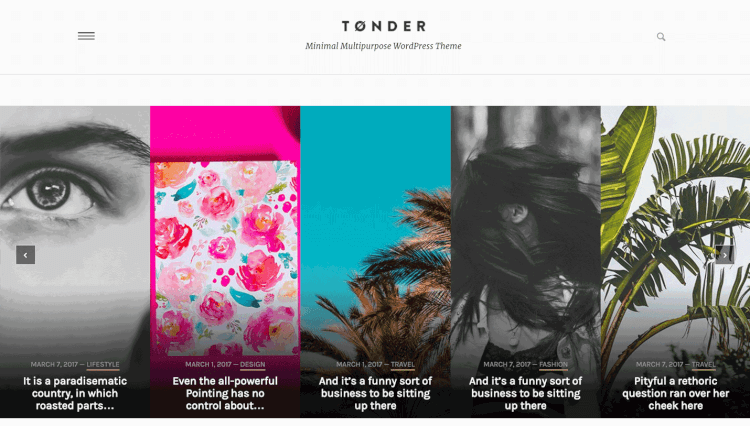 Tonder gives you multiple homepage layouts to choose from, each of which uses the grid layout in a different way. Customizing the colors and other display settings is easy thanks to the Tonder control panel. The library of custom widgets give you a good opportunity to enhance your website with dynamic content.
York Pro - Agency and Freelancer Grid WordPress Theme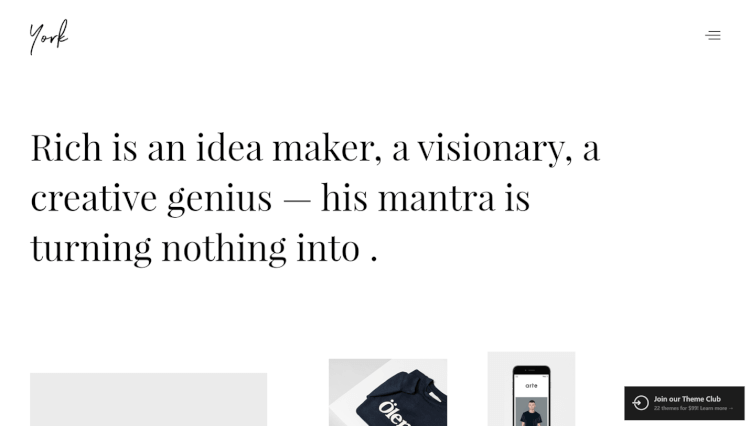 York Pro will help you use a grid layout to promote your services as a freelancer or agency. Ideal for portfolio websites or simply listing the services you offer in a stylish environment, there are many good reasons to choose York Pro. As well as an interesting design, York Pro has great attention to typography and includes all the templates needed to share your content online.
Merapi - Grid WordPress Blogging Theme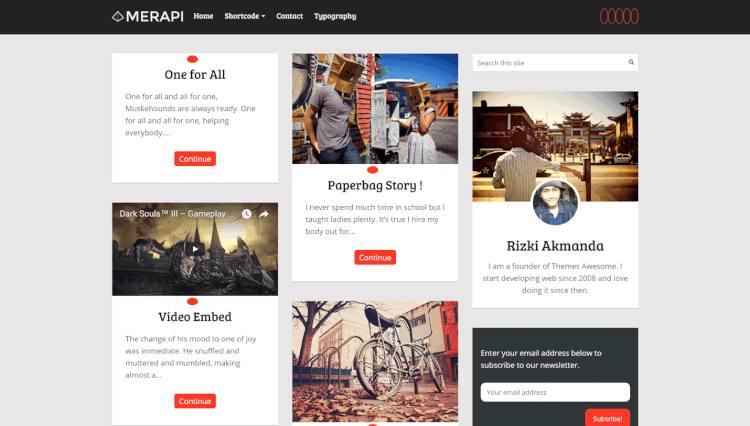 Merapi is a WordPress blogging theme with a creative grid-based layout. Thanks to this stylish layout, your visitors will be able to find all of your best content without too much effort. Although Merapi was released some time ago, it's been regularly updated to ensure its design and features are fully modern.
PressGrid - Magazine Grid WordPress Theme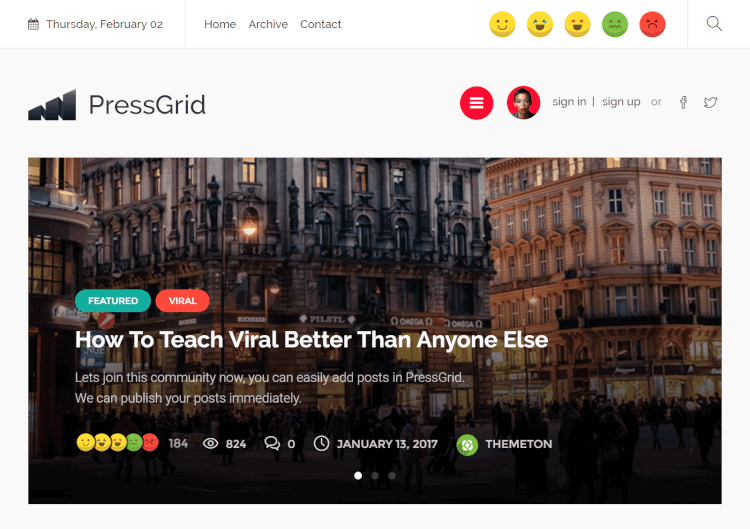 PressGrid is new for 2017, giving you a great opportunity to choose a fully up to date grid WordPress theme for your website. The focus of this theme is on helping you create a viral content website. Although you could just as easily use it for a regular blog or news website, if you want to harness the interactive features that can help your content go viral, PressGrid is a good option.
Antler and Rose - Grid WordPress Theme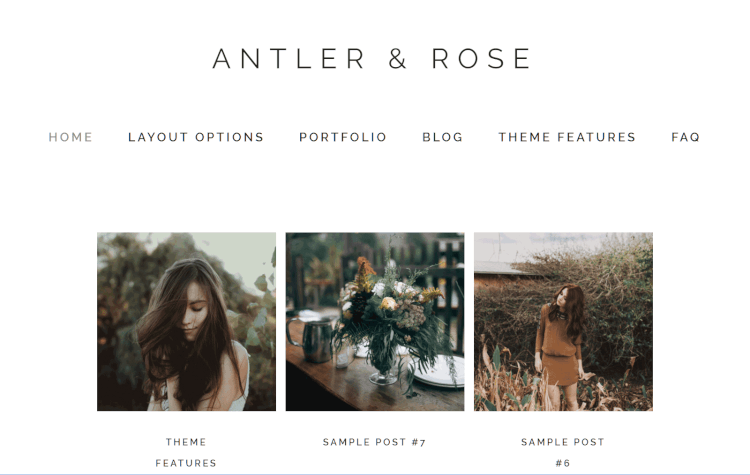 Antler and Rose is a flexible grid WordPress theme that's easy to personalize. Thanks to the selection of layout options, you can display your posts and other content in a responsive grid layout. Whether you're creating a blog, an online portfolio, or some other creative type of website, Antler and Rose could be a great option.
Pointed - Blog and News Grid WordPress Theme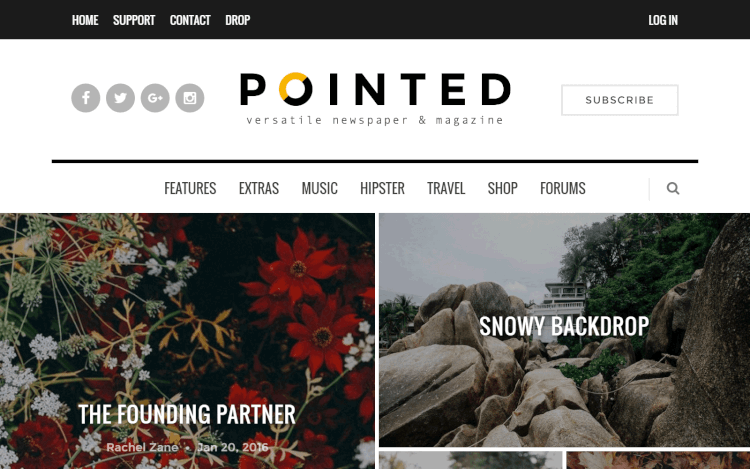 Pointed features a classic grid layout that will help your readers find the best content on your website. As well as displaying your content in a grid layout, you can also use the integrated slider tool to build a slideshow with a grid layout. Thanks to the detailed customization options, you can personalize almost every aspect of your website with this grid theme.
Carbis - Blogging Grid Layout WordPress Theme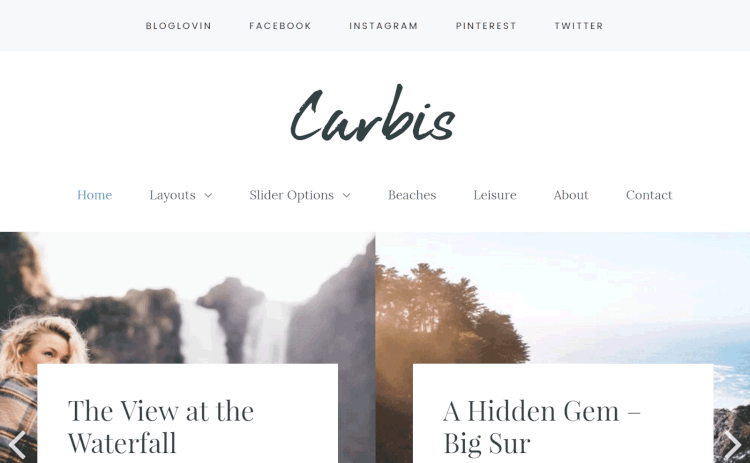 Carbis is a WordPress blogging theme that is packed with useful features. As well as the stylish grid layout that can be configured in a number of different ways, Carbis can be customized to suit your personal style. How ever you choose to use Carbis, you should be able to create an attractive blog with WordPress.
Selkie - Portfolio Grid WordPress Theme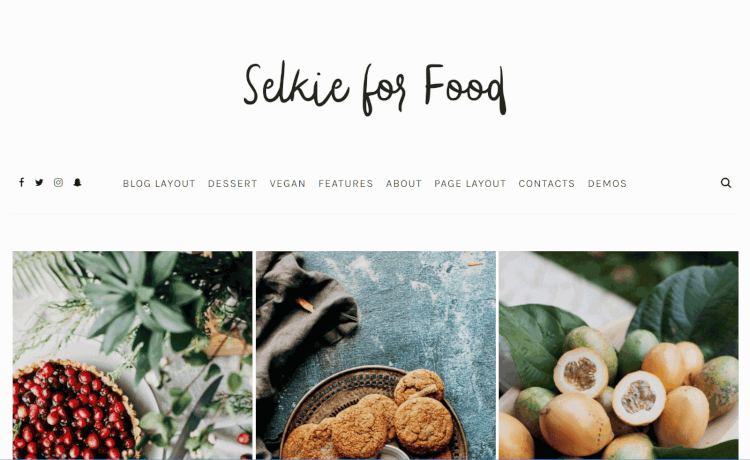 Selkie comes in two main varieties, both of which can be easily imported into your WordPress website. Both options also include a customizable grid layout that can be used to display your latest posts or the newest items in your portfolio. To help you get the most of this grid WordPress theme, there's a library of video tutorial for Selkie.
GRID X - Creative Multipurpose Grid WordPress Theme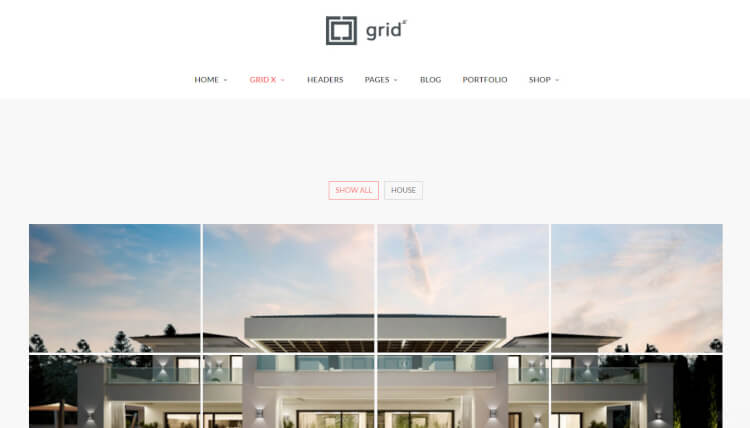 Grid X is a creative multi-purpose WordPress theme that can be used for a wide range of projects. However, no matter which of the Grid X demos you choose, you'll still have the option of using any of the grid layouts that make up this theme. Grid X is packed with useful features to help you build the website you need.
Grid - Agency Grid WordPress Theme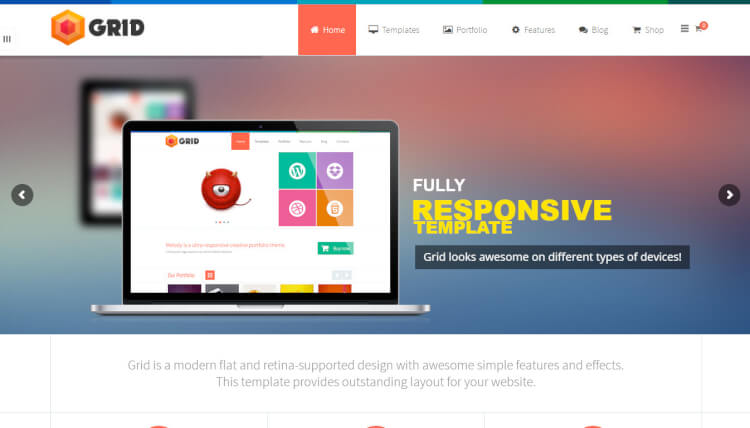 Grid is a responsive WordPress agency theme. It's also a great choice for solopreneurs who want to get their portfolio online in style. The Grid WordPress theme includes many different layouts for your articles and blog posts and portfolio items. There's actually over 20 portfolio styles to choose from, giving you plenty of options when setting up your site.
Rinjani - Responsive Grid WordPress Theme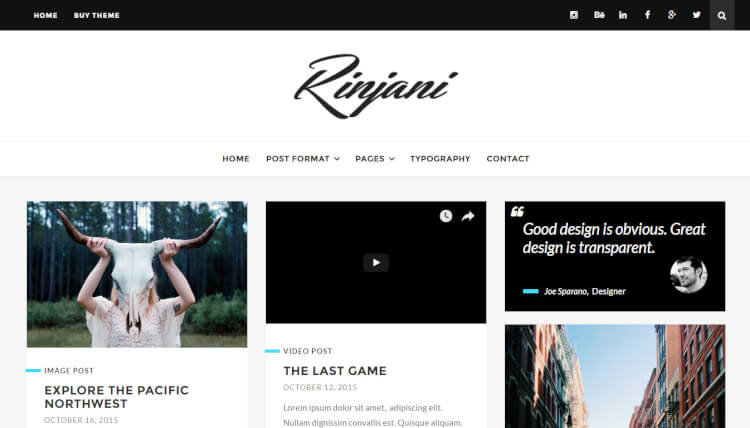 Rinjani is a responsive WordPress blogging theme with a strong grid layout. Thanks to its animation effects, your visitors should be impressed as they scroll down through the grid layout displaying your blog posts. To ensure your blog content has the right appearance, this grid theme includes multiple post format templates.
Gap - Minimalistic Grid Portfolio WordPress Theme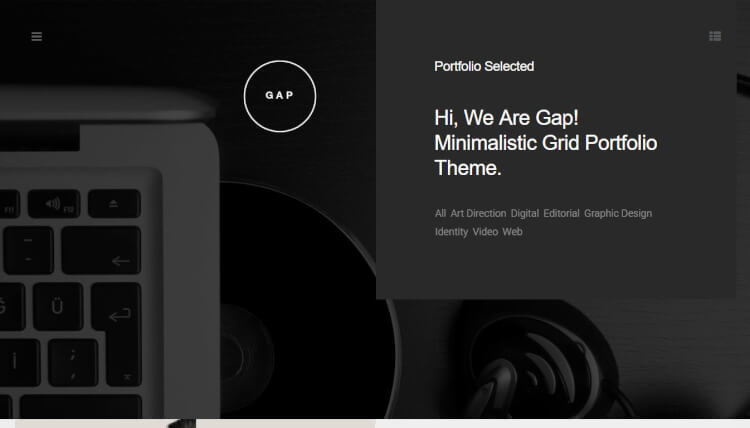 Gap is a portfolio theme that has many different grid-based layouts to choose from. These grid layouts can be used to display items from your portfolio, your latest blog posts, or team member profiles. Gap includes the Slider Revolution plugin to help you add animated slideshows to your website.
Slurp - Creative Grid Portfolio WordPress Theme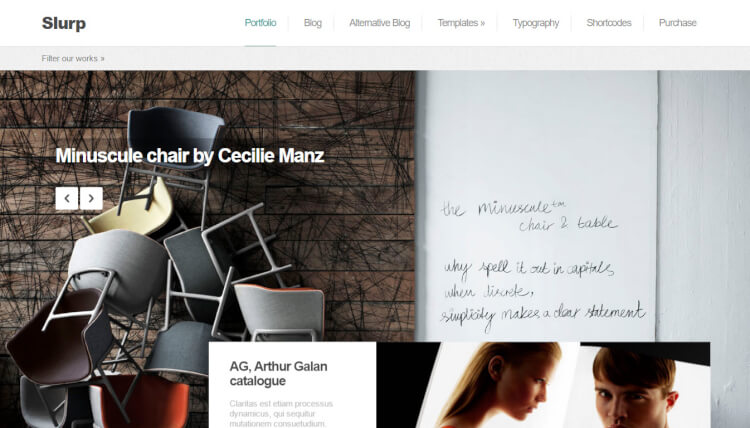 Slurp is another grid-based portfolio WordPress theme for creatives. When setting up your website, you can quickly import the demo content and start uploading your portfolio items. Many aspects of your website can be easily customized through the Slurp control panel, making this a flexible grid WordPress theme.
UberGrid - Responsive Grid WordPress Theme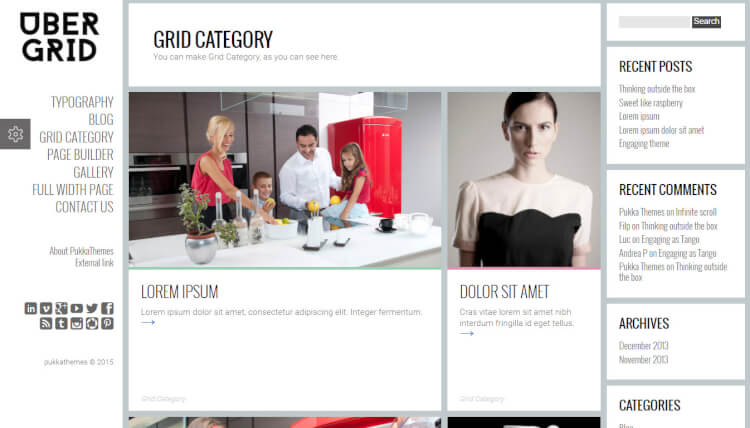 UberGrid has a full-screen grid layout that's ideal for helping you share your latest thoughts online. This blogging theme also has a selection of post format templates that make it suitable for publishing a varied selection of content, including your portfolio items. With a page builder included, you can easily customize many aspects of this grid WordPress theme.
Mineral - Multi-Purpose Grid WordPress Theme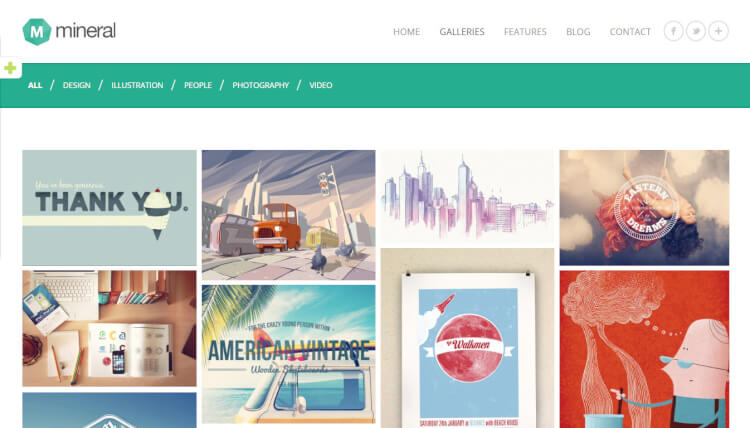 Mineral is a multi-purpose grid WordPress theme that's evolved a lot since its initial release. This theme now includes multiple layouts, including a grid-based layout that's ideal for displaying your content online. Mineral is also packed with customization tools and settings to help you build the unique website your project demands.
GridStack - Responsive Agency WordPress Theme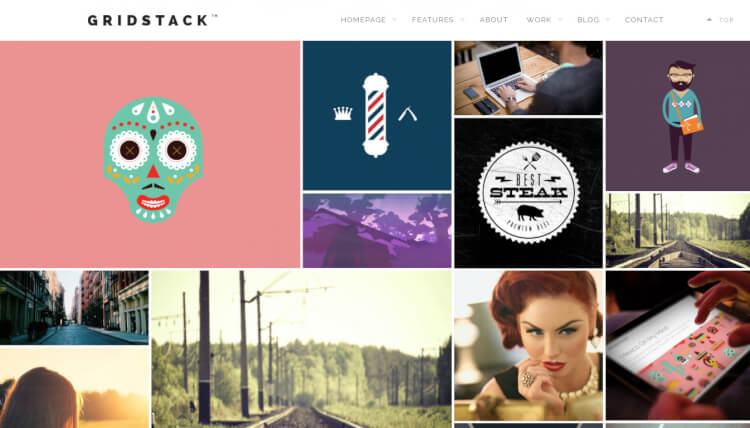 GridStack is another agency option in this collection of the best grid WordPress themes. The home page features a slideshow before displaying your best content in a full-width grid layout. Each item in the grid layout can have its own caption as well as an attention-grabbing animated effect. Despite being listed as an agency theme, GridStack is ideal for a range of projects.
Showcase - Grid and Masonry WordPress Blog Theme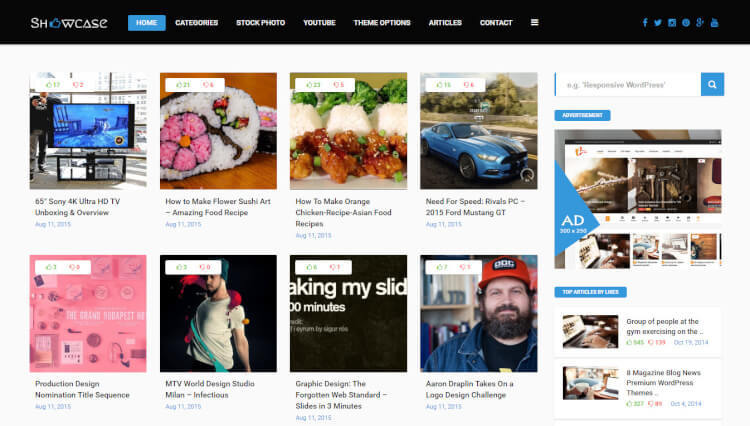 Showcase has a library of different grid layouts for you to choose from. Whether you're creating a blog, a magazine website, or an online portfolio, Showcase and its templates will help you get your site online as quickly as possible. Showcase also has a front-end content submission form to simplify the process of accepting articles from your team or audience.
Mono - Modern Grid Based WordPress Theme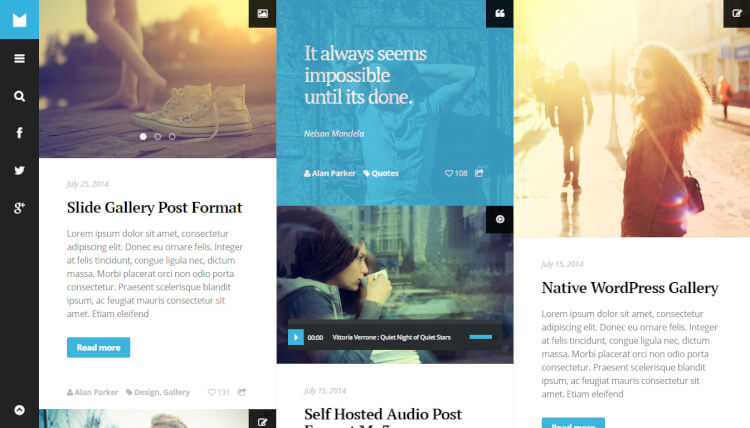 Mono has a clean and clear design that will appeal to minimalists. This grid WordPress theme has an interesting menu system that will help your content take center stage, while still being easy to use. Mono also has a selection of animated effects to help the content in your grid layouts stand out from the competition.
Mug - Creative Multipurpose Grid WordPress Theme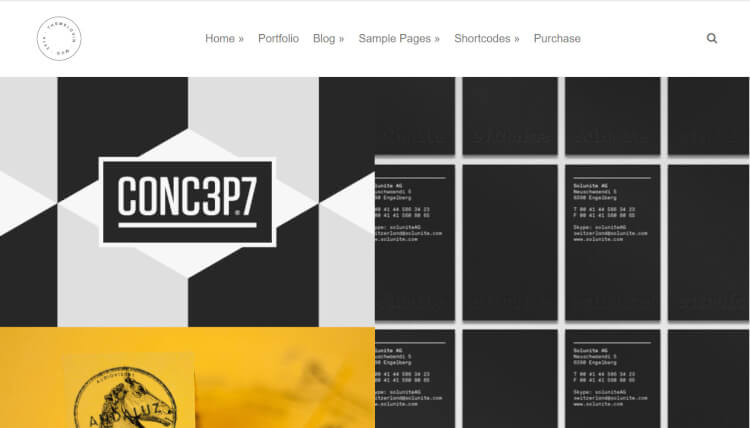 Mug has a very creative homepage grid layout for you to use on your WordPress website. The design is fully mobile responsive and whether you want to simply display blog posts or portfolio items in the grid layout, you're free to choose. Mug isn't just a grid WordPress theme, though; there are plenty of other layouts available.
Kabuto - Minimal Grid WordPress Theme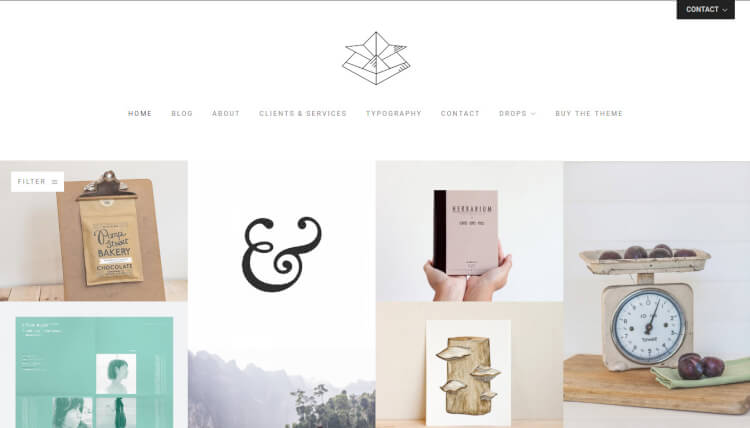 Kabuto is a grid WordPress theme with a clean and minimal design that not only looks high quality but will also help your website load quickly. This theme's grid-based layouts are all mobile responsive to ensure they look great on any screen size. All aspects of Kabuto, from its typography settings to its navigation system, have an appealing and elegant appearance.
Foot - Front-End Content Sharing WordPress Theme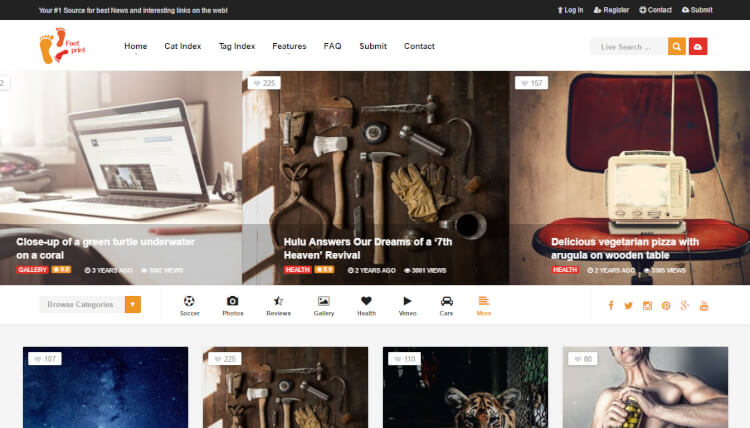 Foot is a grid WordPress theme that has been created to help you build a content sharing website. In this theme, you'll find front-end submission forms that make it easy for your visitors to add their own articles to your site. Foot has a number of different designs and layouts to choose from, making this a flexible grid WordPress theme.
North - Grid Portfolio WordPress Theme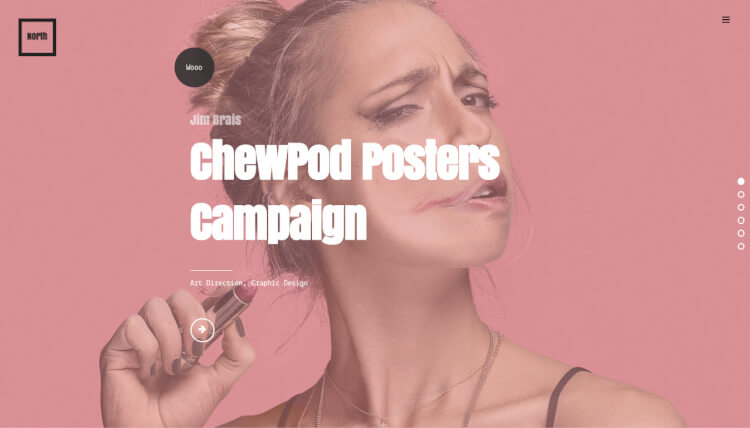 North is a customizable grid WordPress theme that can be personalized in many different ways, all through the WordPress Customizer interface. With North, you get a good selection of different grid and masonry layouts to work with. The Visual Composer drag-and-drop page builder plugin is also included with the North theme for even more creative possibilities.