10 Best BuddyPress Plugins for Adding Cool Features
When it comes to building community websites with WordPress, BuddyPress is one of the first choices that come to mind.
BuddyPress is an amazing plugin but you can't build a complete community website using the free plugin alone. You also need extensions that allow you to add additional features.
Here we showcase some of the best BuddyPress plugins you can use to add cool features to your websites like private chat, social logins, and event calendars.
Whether you're building a community website for your business, school website, or even setting up a branded social network, these plugins are must-haves for making your BuddyPress community complete.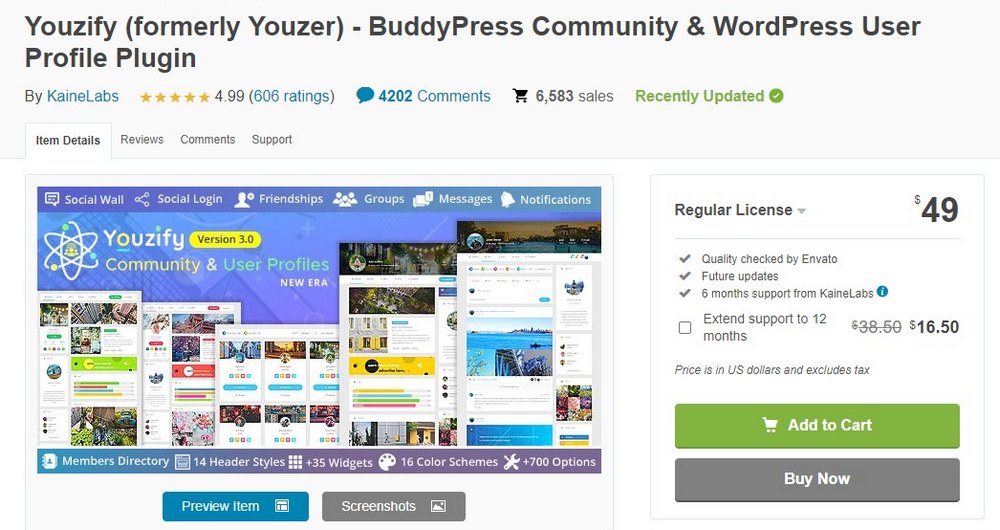 BuddyPress includes a built-in registration system for signing up users and creating user profiles. However, they also have highly outdated designs. With Youzify, you can fix that problem.
Youzify allows you to completely transform the design of the user profiles with beautiful and customizable layouts. It includes many additional features like social login, groups, user feeds, notifications, and much more for creating a professional social network.
Main Features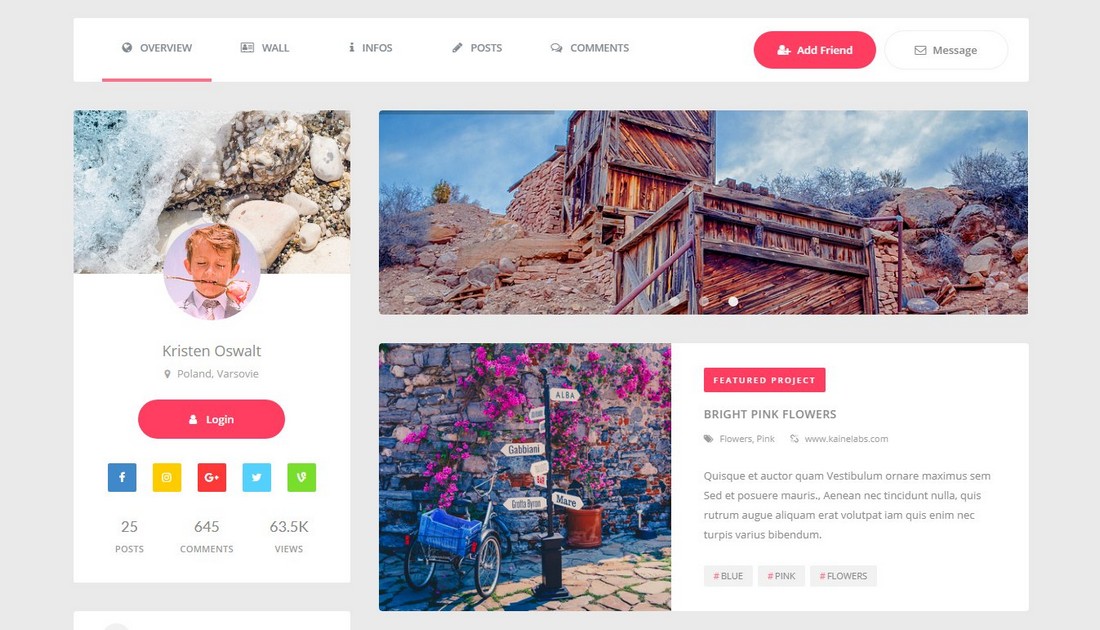 Create beautiful and customizable user profiles
14 header styles, 16 color schemes, and over 700 options to choose from
More than 22 profile widgets and 15 tabs for customizing user profiles
Allow users to share posts, get live notifications, comment GIFs
Includes social login, messages, Captcha, and more
Add Likes, followers, hashtags, reviews, ratings, and many other features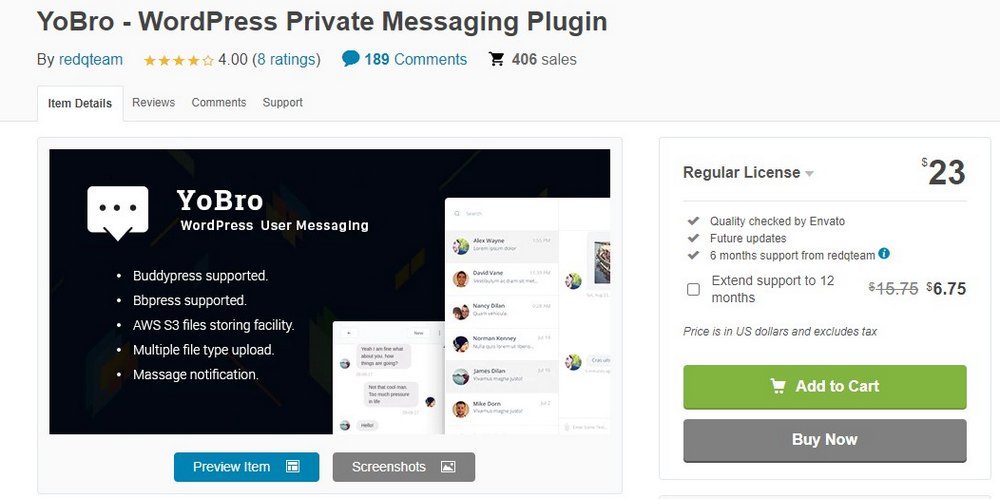 Every community and social network should have a system in place to allow users to communicate with each other. This plugin makes it possible by adding a direct messaging system to your BuddyPress website.
YoBro is a private messaging plugin that works well with both BuddyPress and bbPress. The plugin allows you to add a private messaging system for users that supports media attachments. You can even send notifications for unread messages.
Main Features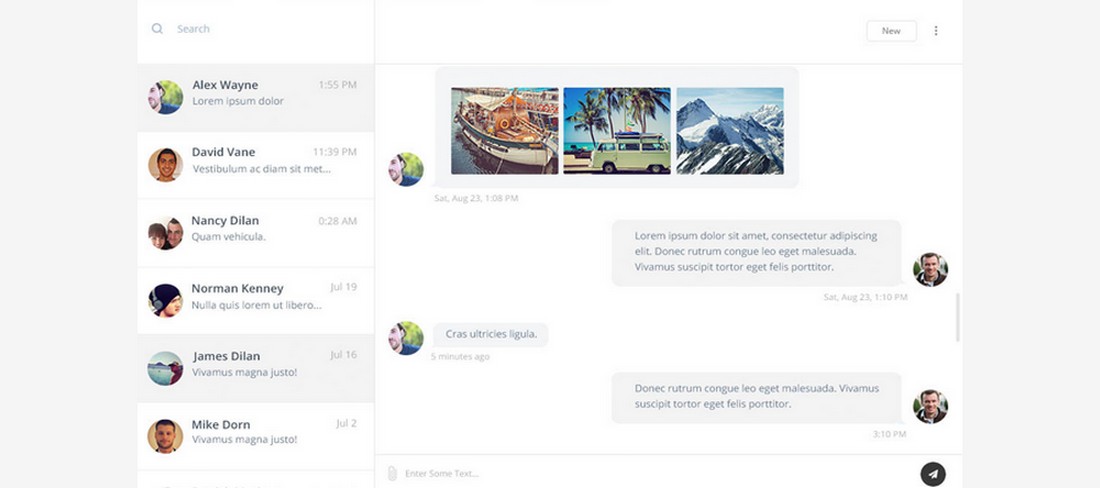 Add a beautiful direct messaging system
Let users send messages with file attachments
Includes an option to enable "seen" status for messages
Privacy control options for users for sending private messages
Store file attachments using AWS S3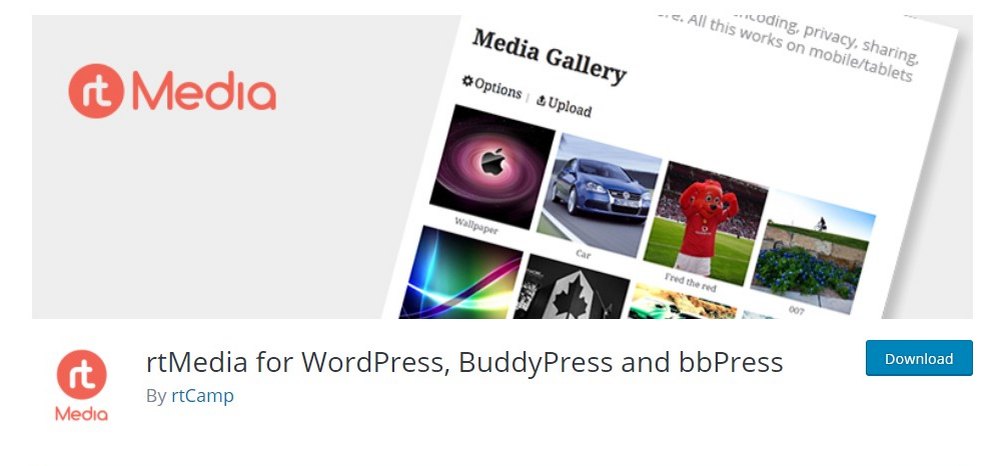 Having a simpler solution for users to manage their media in one place is another must-have feature for community and social networking platforms. With rtMedia plugin, you can add a complete media management system for your BuddyPress website.
rtMedia brings many useful features for organizing and handling media in BuddyPress websites. It adds a media tab to user profiles to show all their uploaded media files as well as create photo albums, post activity updates, and more.
Main Features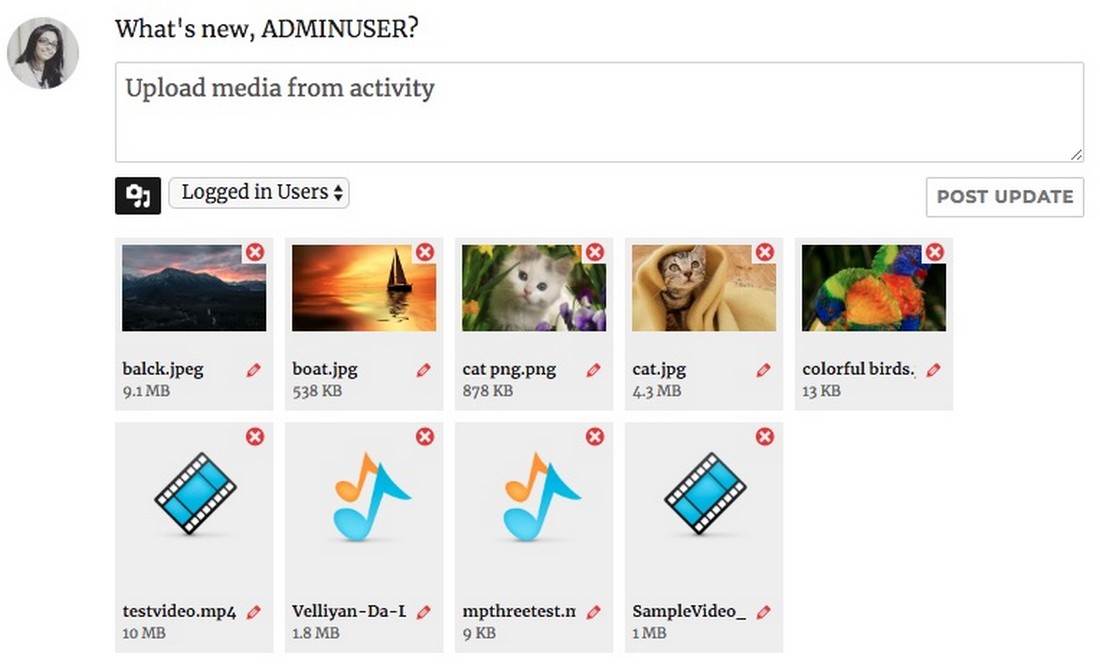 Allow users to post activity updates with image attachments
Adds Media tab to user profile
Organize user image collections with Albums
Allow users to control who can see media with privacy settings
Add photo tagging, Instagram effects, and more with premium add-ons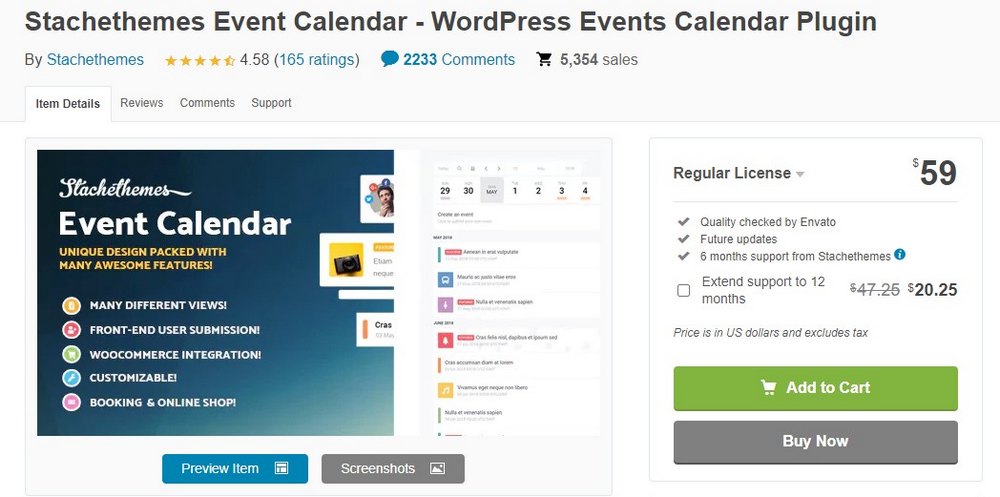 The Events feature in social networks like Facebook is an effective way of attracting users to join events as well as for promoting events. This BuddyPress plugin allows you to add a similar system for your website.
With the Stachethemes Event Calendar plugin, you can add a beautiful calendar for showcasing your upcoming events schedule to your community. It's perfect for promoting upcoming meetings, webinars, updates, live events, and more.
Main Features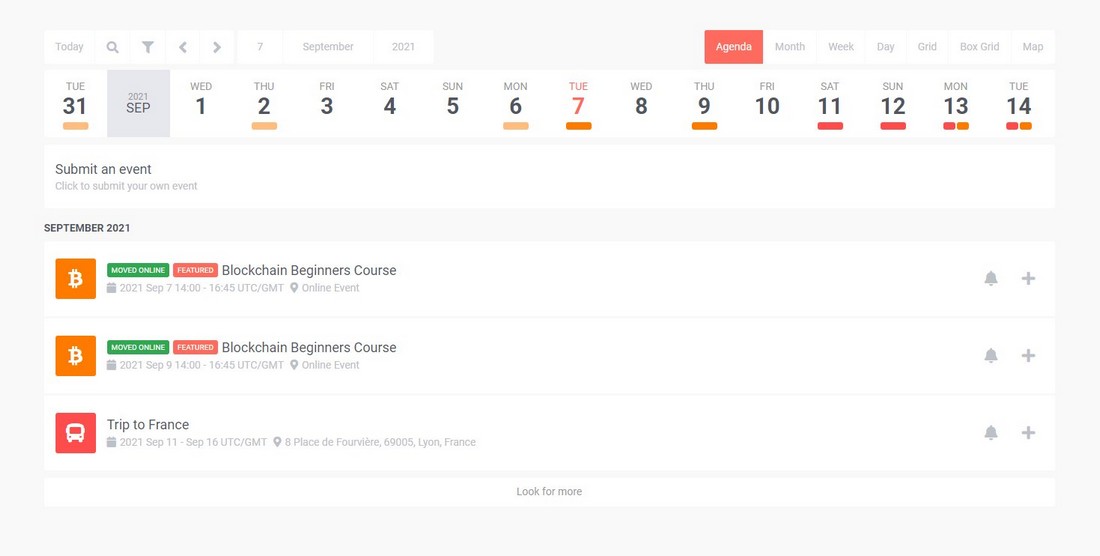 Add a beautiful event calendar with a modern design
Includes a sidebar widget for promoting events
Supports full calendar, monthly, grid, and box grid views
Ability to integrate payment gateways for online bookings
Integrates with BuddyPress, Elementor, and WooCommerce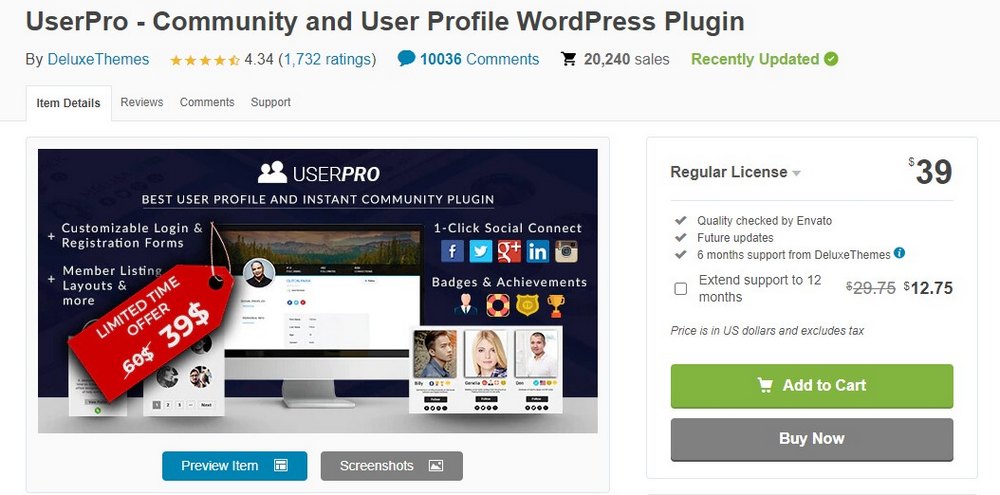 If you're building a directory website, creating a user-friendly member listing system is a priority. With UserPro, you can create an advanced community with a modern look and feel.
UserPro allows you to transform the look and feel of your community website with a better member directory. As well as custom registration forms with social login, user profile feeds, profile badges, and much more.
Main Features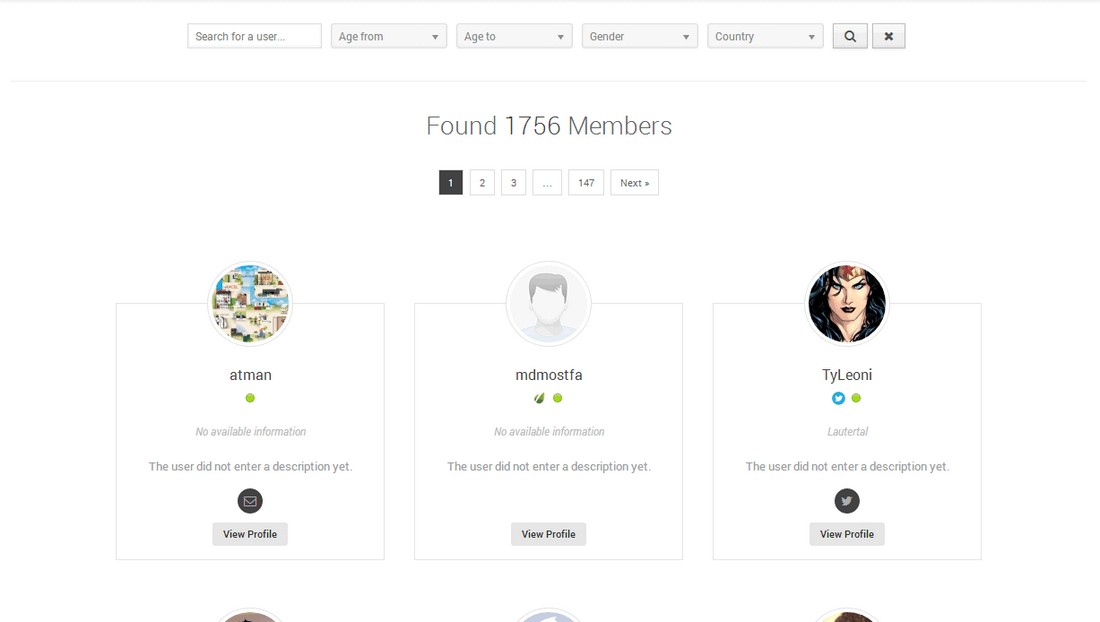 Create login and registration forms with custom fields
Integrate social login system
Add an improved member directory with profile cards
Add user feeds, followers, and connections to your social network system
Supports WPML, WooCommerce, MyCred, and other plugins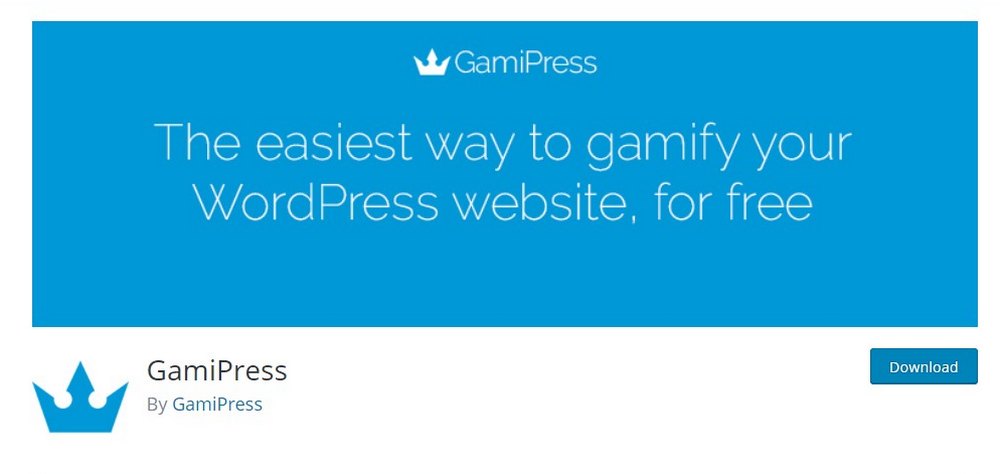 Gamification is a highly effective way of boosting user engagement and overall creating a sense of progression in social networks. With GamiPress, you can add such features to your BuddyPress website.
GamiPress adds a powerful gamification system for your social network by encouraging users to engage more and rewarding them with points, ranks, and achievements. It's a great system to have on community websites, especially for schools and membership communities.
Main Features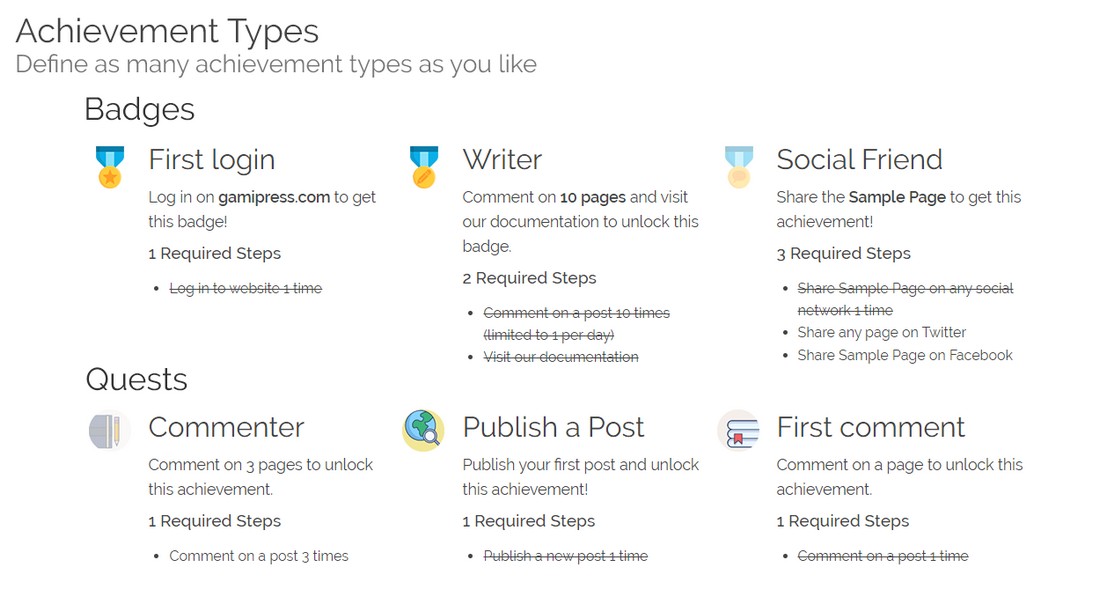 Create a rewards system to encourage users to interact on your platform
Reward users with ranks, points, and achievements
Allow users to unlock achievements with the points they earn
Configure the rewards based on user activity
Compatible with Badgr and Credly plugins for adding achievement badges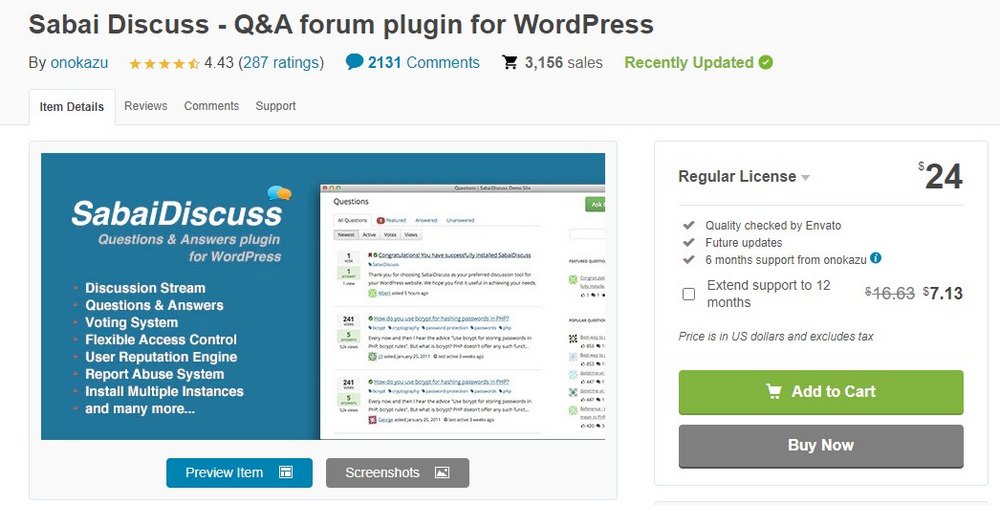 A great way to encourage more engagement among members of your community is to give them a place to discuss their opinions and ideas. Adding a discussion forum is one of the best ways to make that happen.
Sabai Discuss is a BuddyPress plugin that allows you to create a discussion forum within your BuddyPress community. It lets you create questions and answers forum with an upvoting system. It's ideal for Q&A forums, Reddit-style social networks, and even for help desk platforms.
Main Features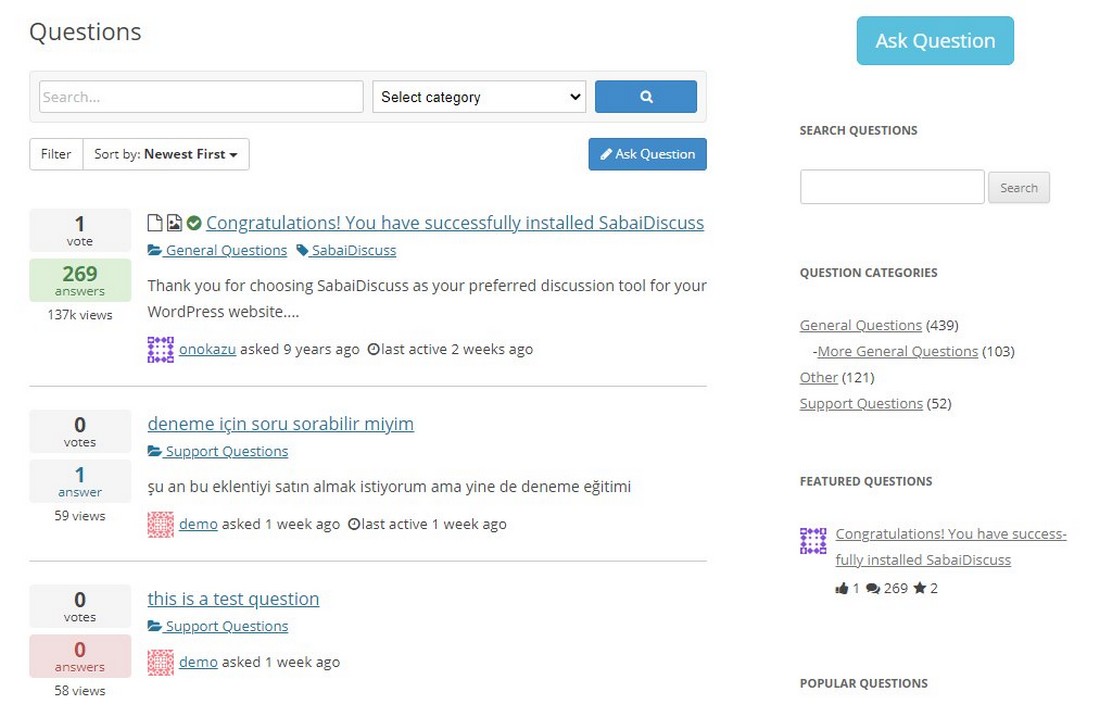 Create a Q&A discussion forum to generate more user engagement
Ability to create and post questions, comments, add tags, and vote
Close and reopen questions, accept answers, and role-based permissions
Includes 9 widgets, 5 shortcodes, and 10 email notification templates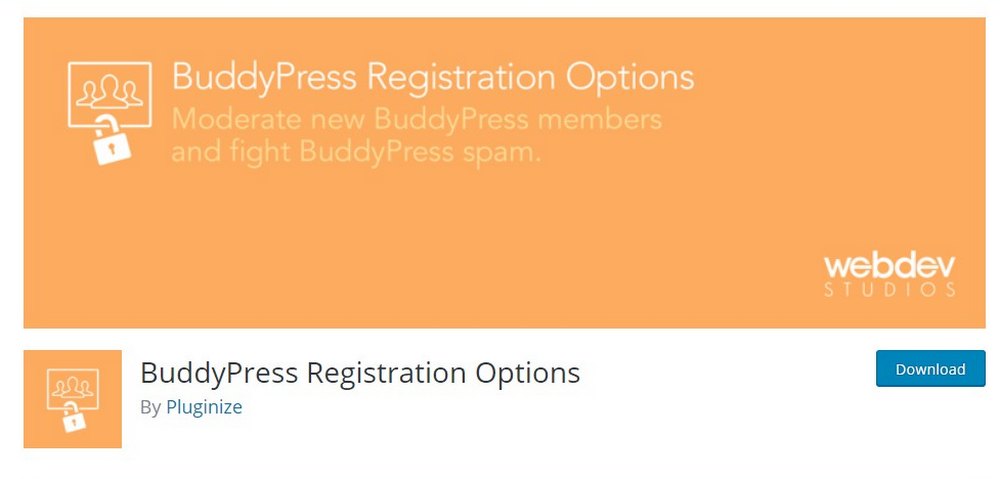 Keeping your BuddyPress community safe from bots and spam is an important part of maintaining a healthy platform. This free plugin makes that job a lot easier for you.
With BuddyPress Registration Options plugin, you can prevent bots or even users from accessing specific areas of your website. When a user registers with your website, they won't be able to access the BuddyPress community section until an admin approves the account.
Main Features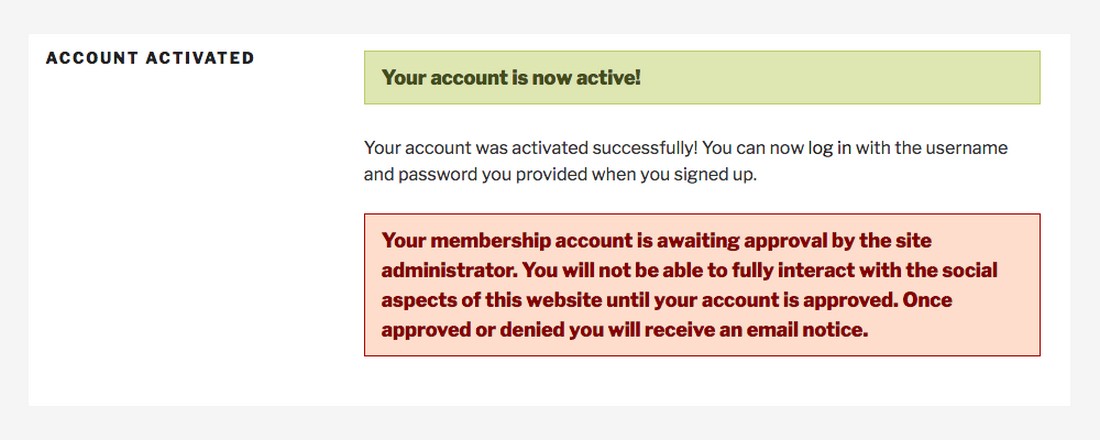 Prevents bots and users from gaining unnecessary access to your website
Supports both BuddyPress and bbPress websites
Add custom messages to show to new users
Send email notifications to users when they are approved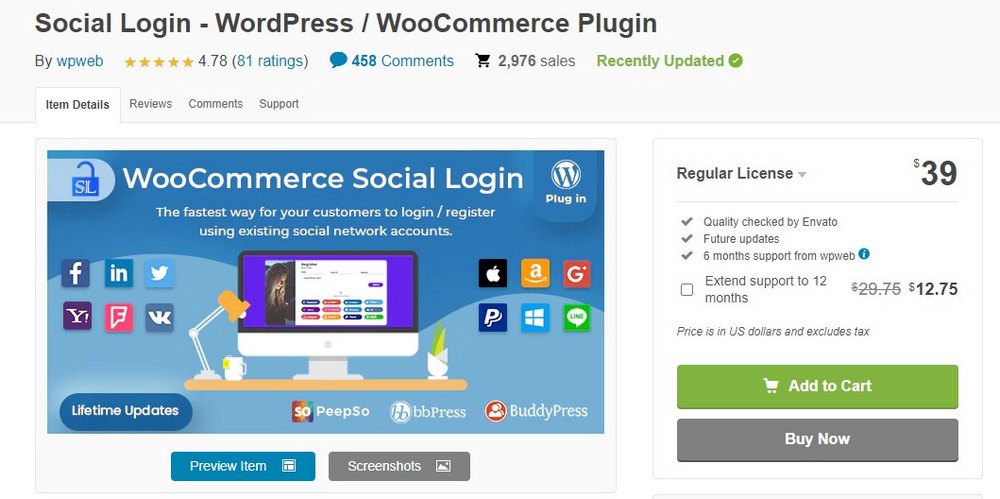 Giving people more options to quickly and safely join your BuddyPress platform will surely help grow your membership platform. With this simple plugin, you can make that a possibility.
Just as the name suggests, Social Login is a BuddyPress plugin that allows you to integrate with many different social networks to let users sign in using their social accounts. It's actually a standalone plugin that works with many platforms, including WooCommerce and bbPress.
Main Features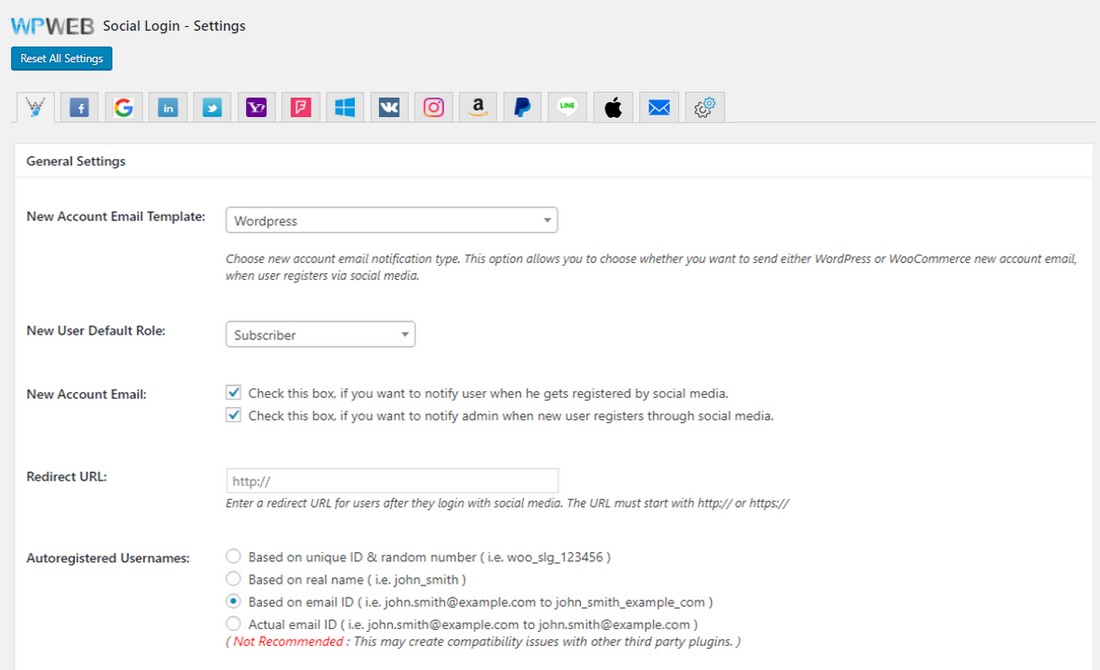 Allow users to sign in to your website using more than 10 different social networks
Works with BuddyPress, bbPress, WooCommerce, and PeepSo
Includes beautiful login and registration forms
Seamlessly integrates with social networks and offers statistics reports

There will always be users who will continue to violate the rules and guidelines of your community. The only way to maintain a platform without such users is to get rid of them.
This free BuddyPress plugin allows you to easily suspend users with bad behavior. The best part is it even has a system to let users report other users and even block them from their own profile.
Main Features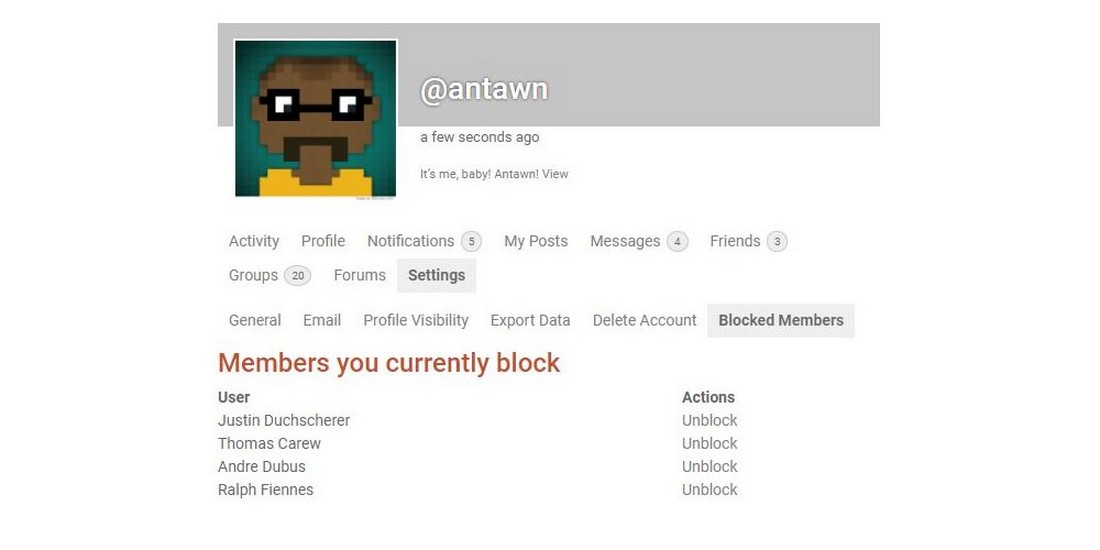 Allow users to report and block other members of your community
Suspend users who continue to violate the rules
Let users report or flag activity updates, private messages, groups, and more
Compatible with Youzify and other BuddyPress plugins
In Conclusion
With the right combination of these BuddyPress plugins, you can build a powerful community website that functions just as well as any other social network.
Also, consider using a great theme design for your community website. You can start your search in our best BuddyPress themes collection.
Looking for WordPress hosting? We use Kinsta. They offer world-class WordPress hosting, built to keep your website fast, secure, and always online.