45+ Best Free After Effects Wedding Templates, Intros & Titles 2023
When it comes to your special day, there is a lot to be thinking about, organizing, and getting into place for everything to run smoothly. There is so much to do that we often overlook how to handle the footage of that special day once it's over.
Whilst it can be tempting to hire a professional, the truth is that there are many easy-to-use After Effects wedding templates that you can use to do this yourself. With so much being invested into the wedding, it's good to save a few extra dollars.
It's for this reason that we've compiled a range of after effects, primarily from free sources with a few premium options included, that can help you easily touch up the footage from your wedding day.
Everything from After Effects wedding titles and invitations, to wedding intros and slideshows, can be found on this list.
Download thousands of versatile Adobe After Effects templates, logo stings, openers, slideshow templates, lower thirds, and more. From $16 per month, get unlimited access to a growing library of over 2,000,000 Adobe After Effects templates, design assets, photos, videos and more.
Premium Wedding After Effects Templates
Whilst there is a great range of free After Effects wedding templates on our list, you may want to spend a little extra and get your hands on a more premium solution. Before heading on to the free resources, first, let's take a look at some premium templates that we think are a cut above the rest.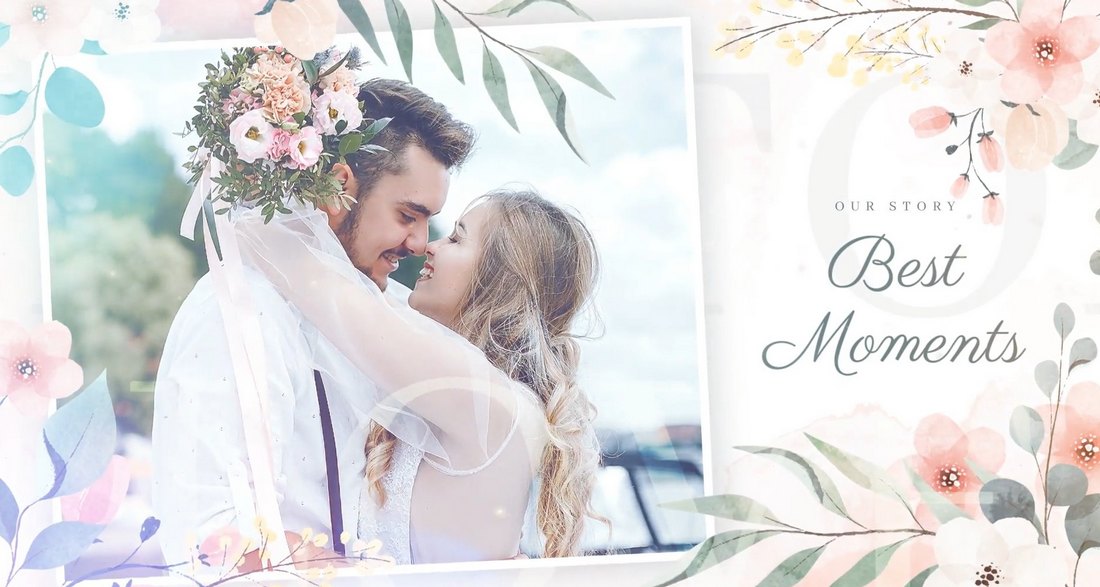 If you're looking for ways to make your wedding videos look more professional, be sure to download this After Effects template kit. It includes many beautiful slideshow designs you can use to make your wedding videos more stylish and creative. There are multiple slide layouts with different designs included in this pack.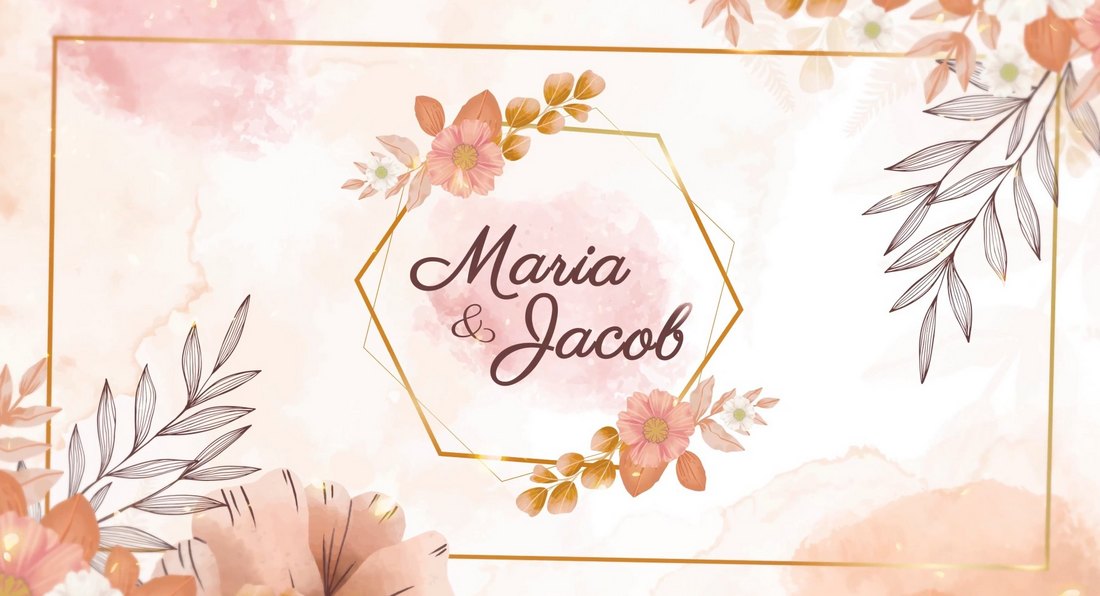 Video wedding invitations are a new trend that many people use these days to send a more meaningful and unique invite to their friends and family. It's especially useful for announcing your wedding on social media. This After Effects template will help you craft such an invitation video without effort.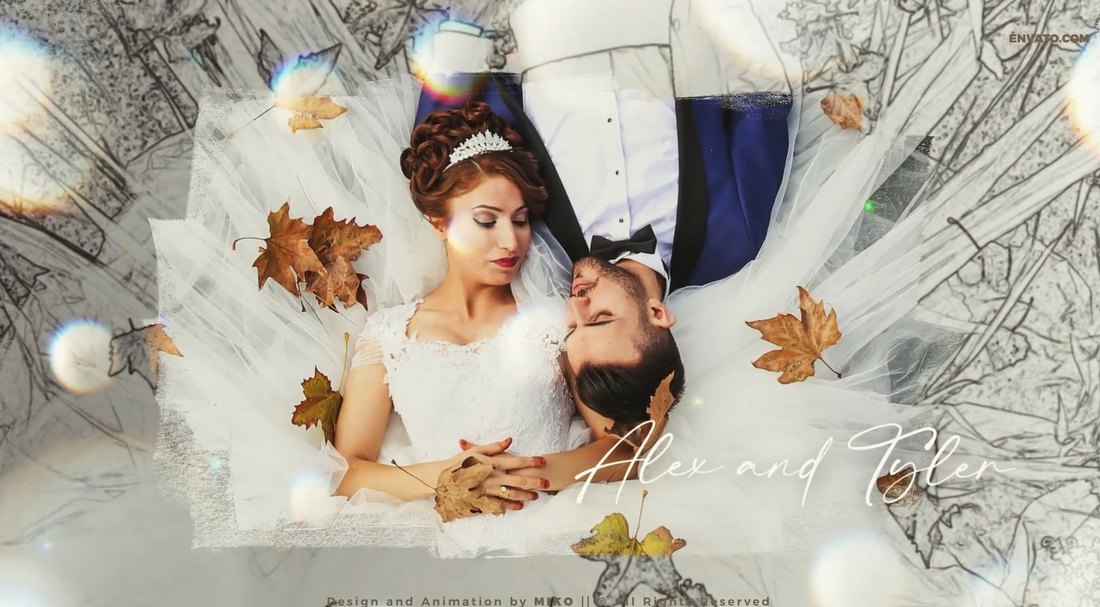 You can use this After Effects template to create elegant and moody slideshows to showcase your wedding photography. It also supports videos. It comes with multiple slide layouts with beautiful designs. They are all fully customizable to your preference.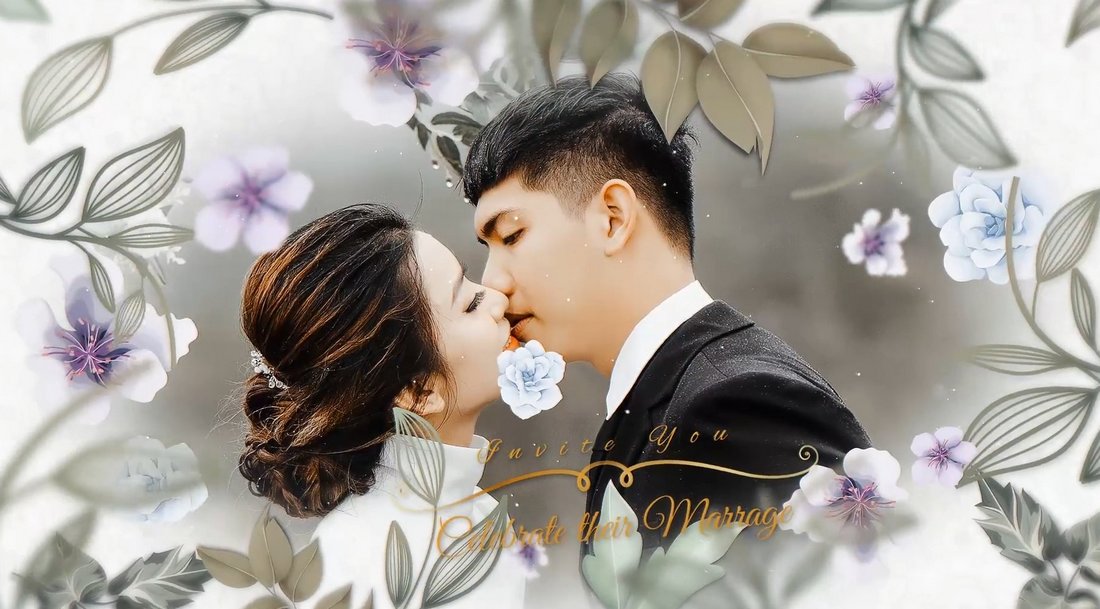 This is a beautiful After Effects intro template for designing opening scenes for wedding videos as well as for Valentine's Day and other romantic videos. It features stylish animations with easily editable elements for customizing the design to your preference.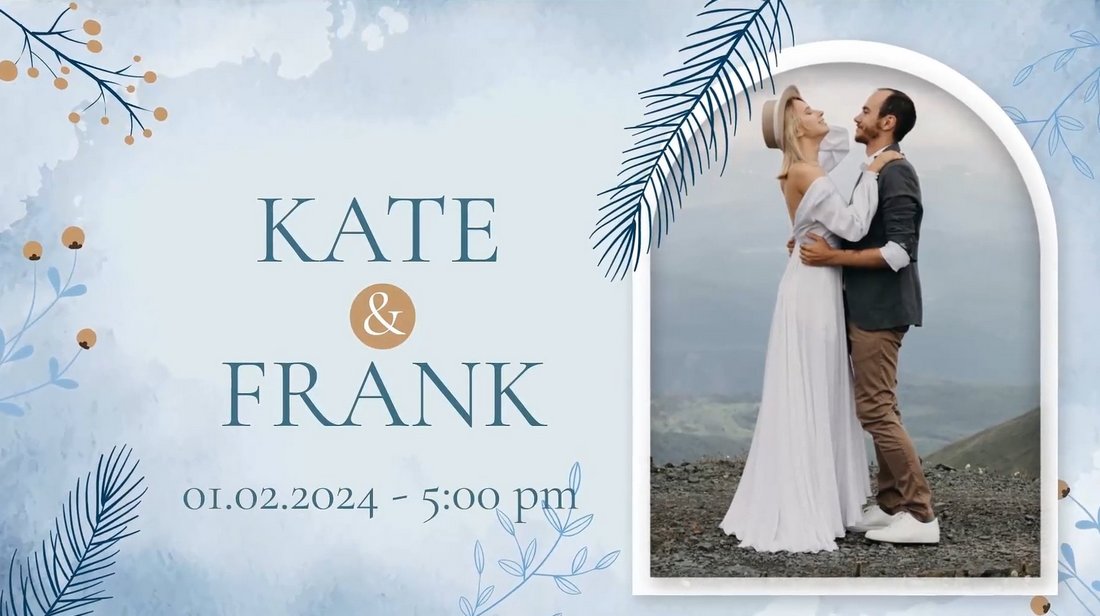 This After Effects template is made with a winter-themed design. You can use it to craft an elegant slideshow for your wedding video albums and presentations. The template has multiple styles of slides with animated objects and image placeholders.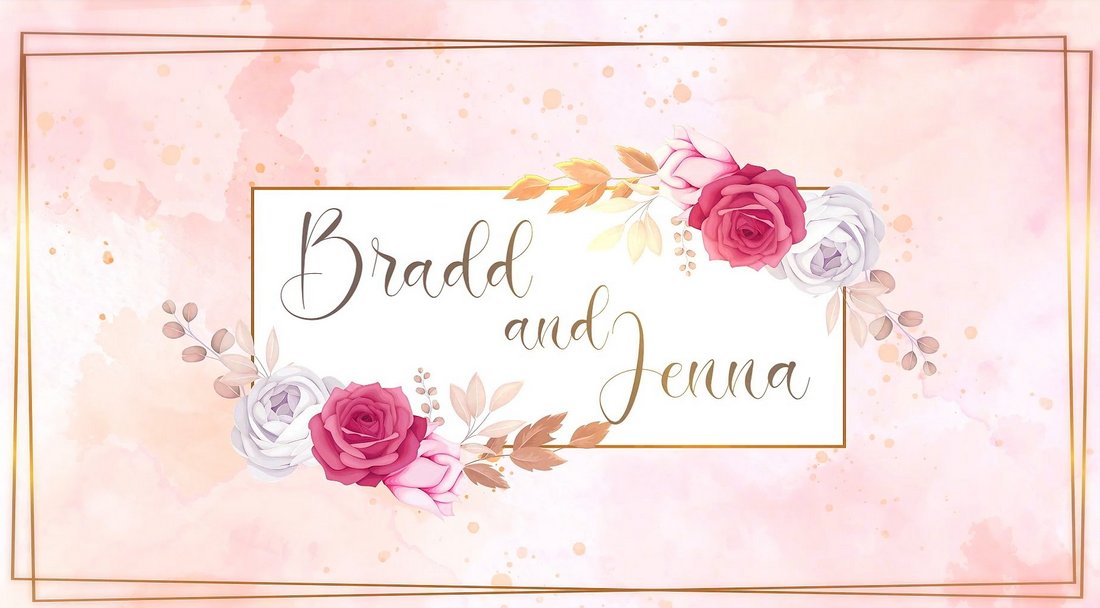 You can use this After Effects wedding template to create a beautiful invitation video for your wedding. It can also be used to make intro scenes for various types of wedding videos. The template is fully customizable.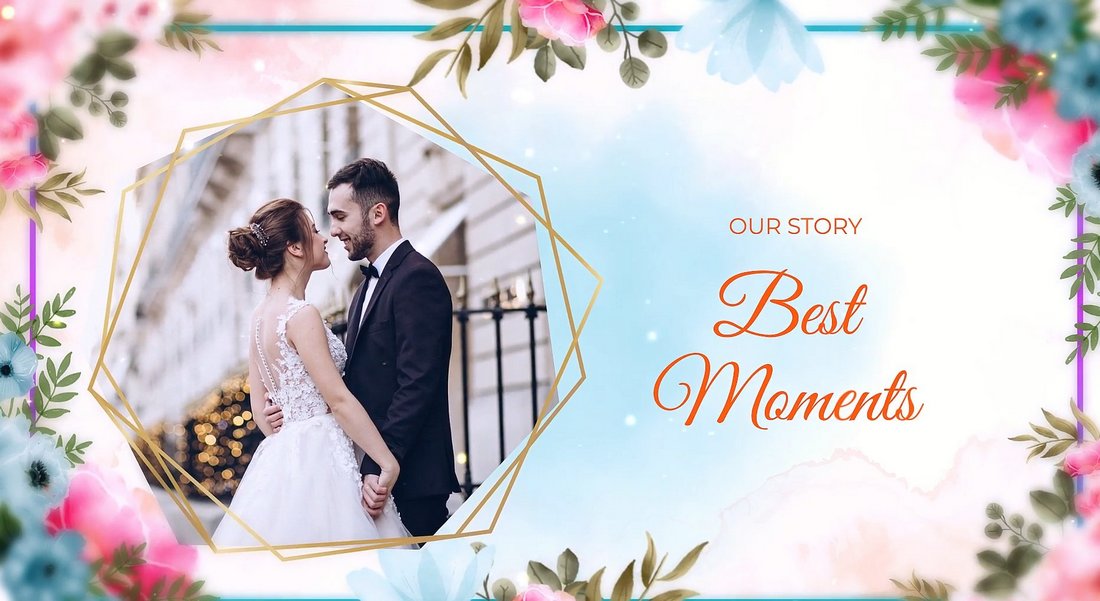 If you want to design a romantic video to tell the world about your love story, this After Effects template is perfect for your project. It has multiple styles of slide layouts with editable objects, free fonts, changeable colors, and much more.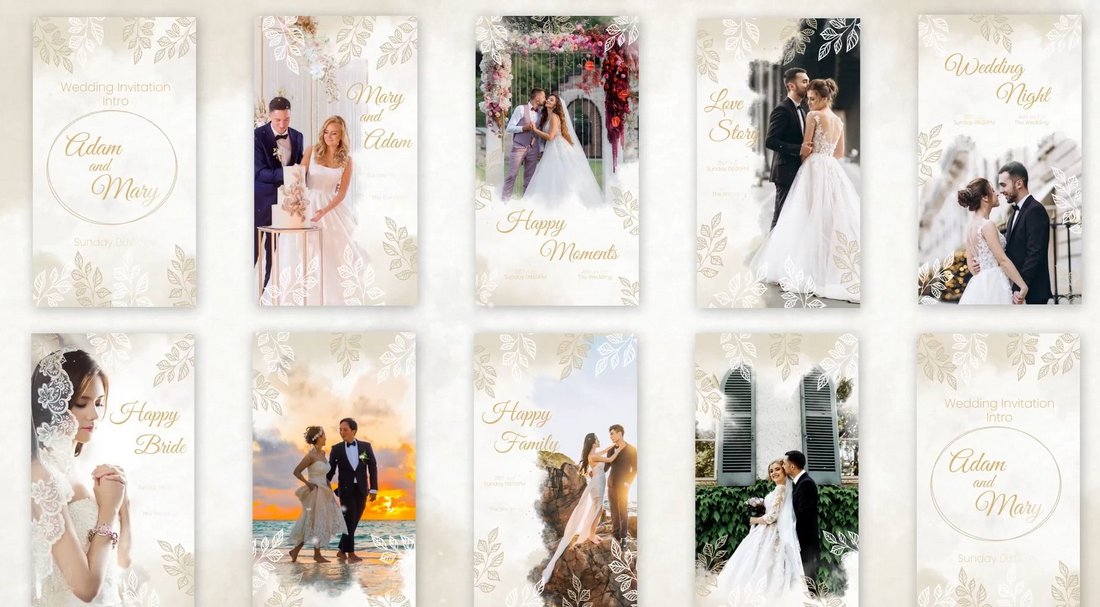 This is a collection of Instagram story templates you can use to share the best moments from your wedding. It has 10 different styles of templates with beautiful animations and effects and easily editable media placeholders.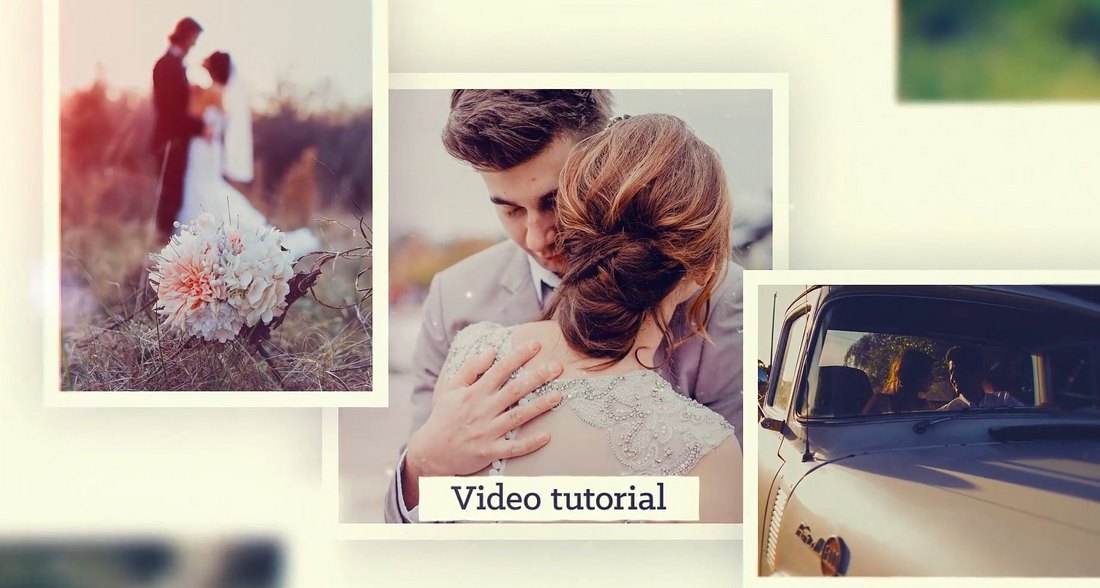 With this After Effects template, you can create professional photo gallery videos. It's especially suitable for making wedding video albums. The template features many different styles of slide designs with attractive animations to choose from.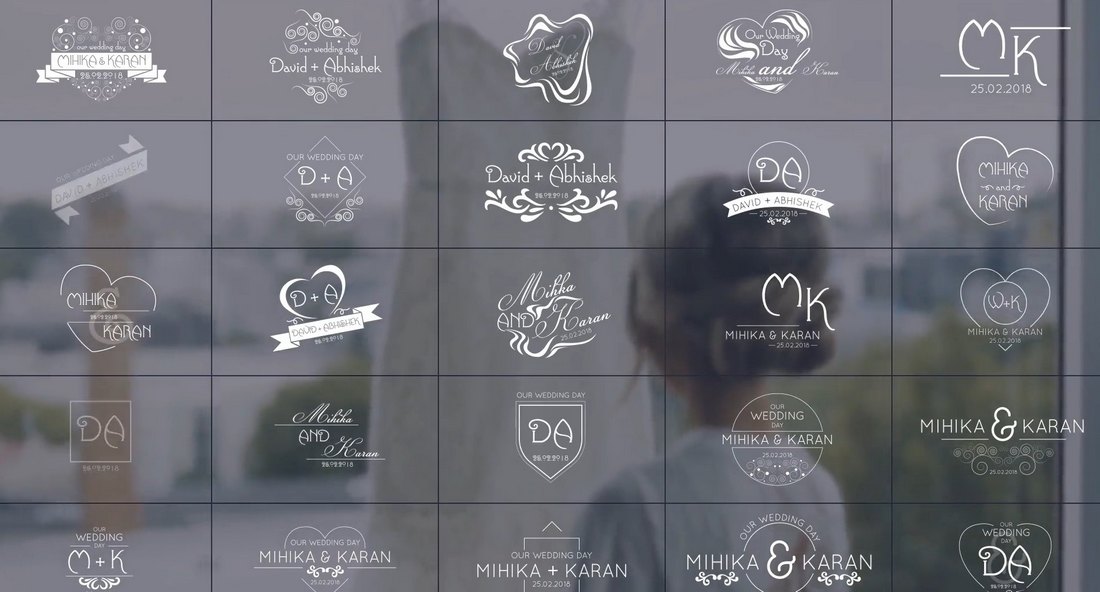 This is a massive bundle of title templates for After Effects. All of the titles in this bundle are designed for wedding videos and there are so many different styles of designs in there that you will never run out of title ideas for wedding videos ever again.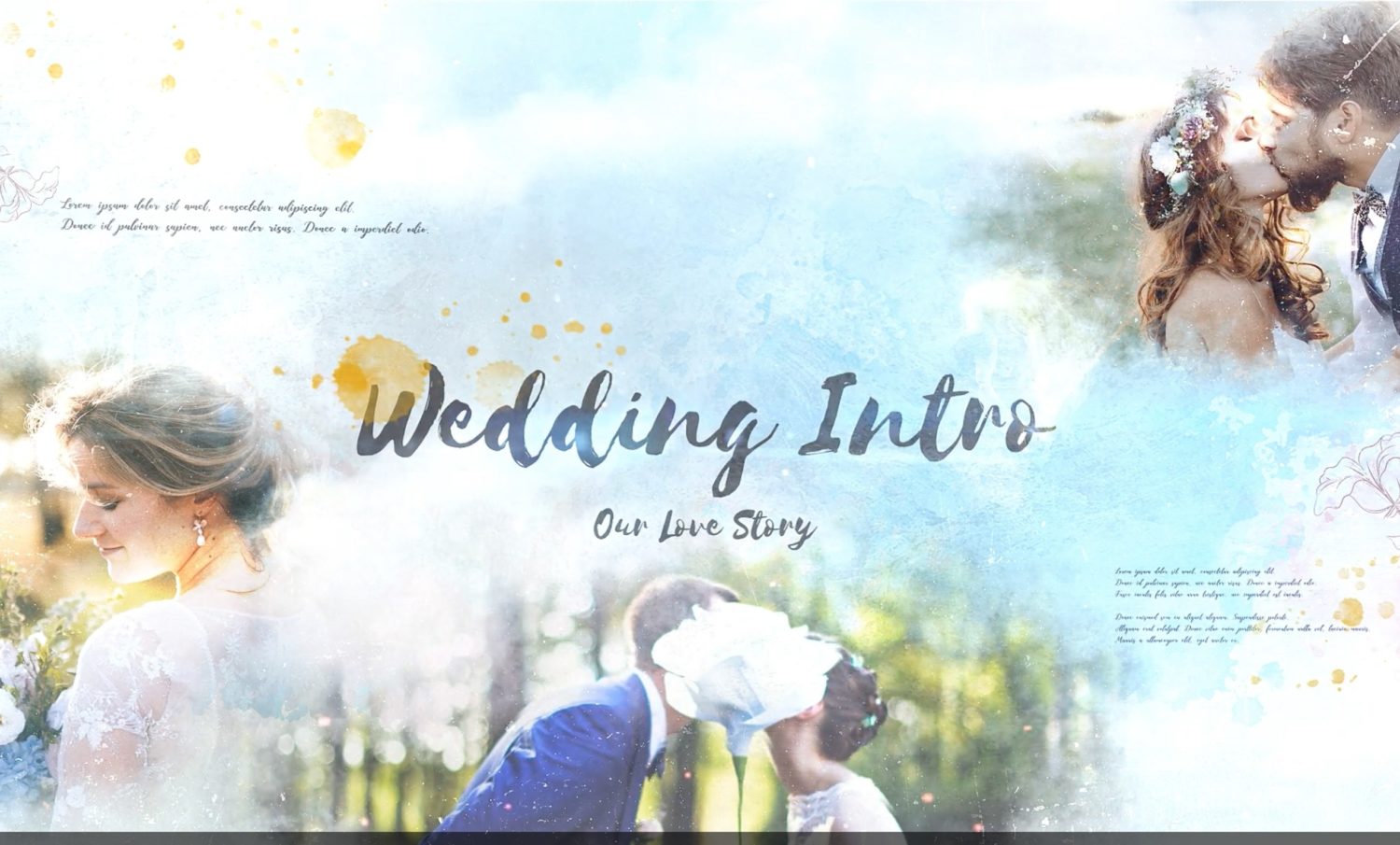 Bring a touch of magic to your wedding memories with this After Effects intro template. It allows you to seamlessly bring all of your most special memories together in one place, creating a whimsical production that is sure to make you feel all warm and fuzzy years later.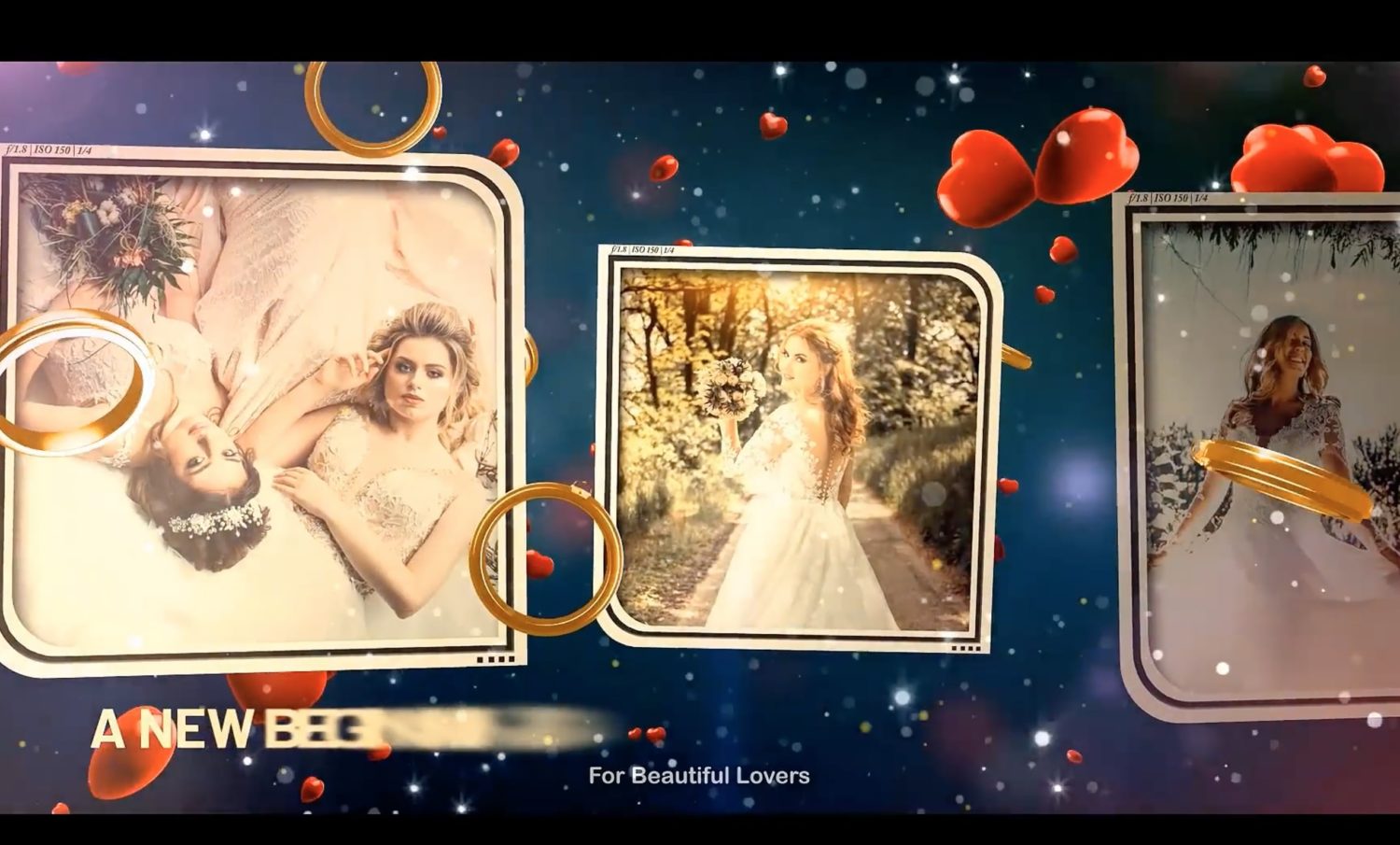 Golden Wedding is a unique template that helps you to capture your wedding memories in a beautiful fashion. Providing you with a classical gold design, you'll be easily able to produce a professional-grade intro with a few simple clicks.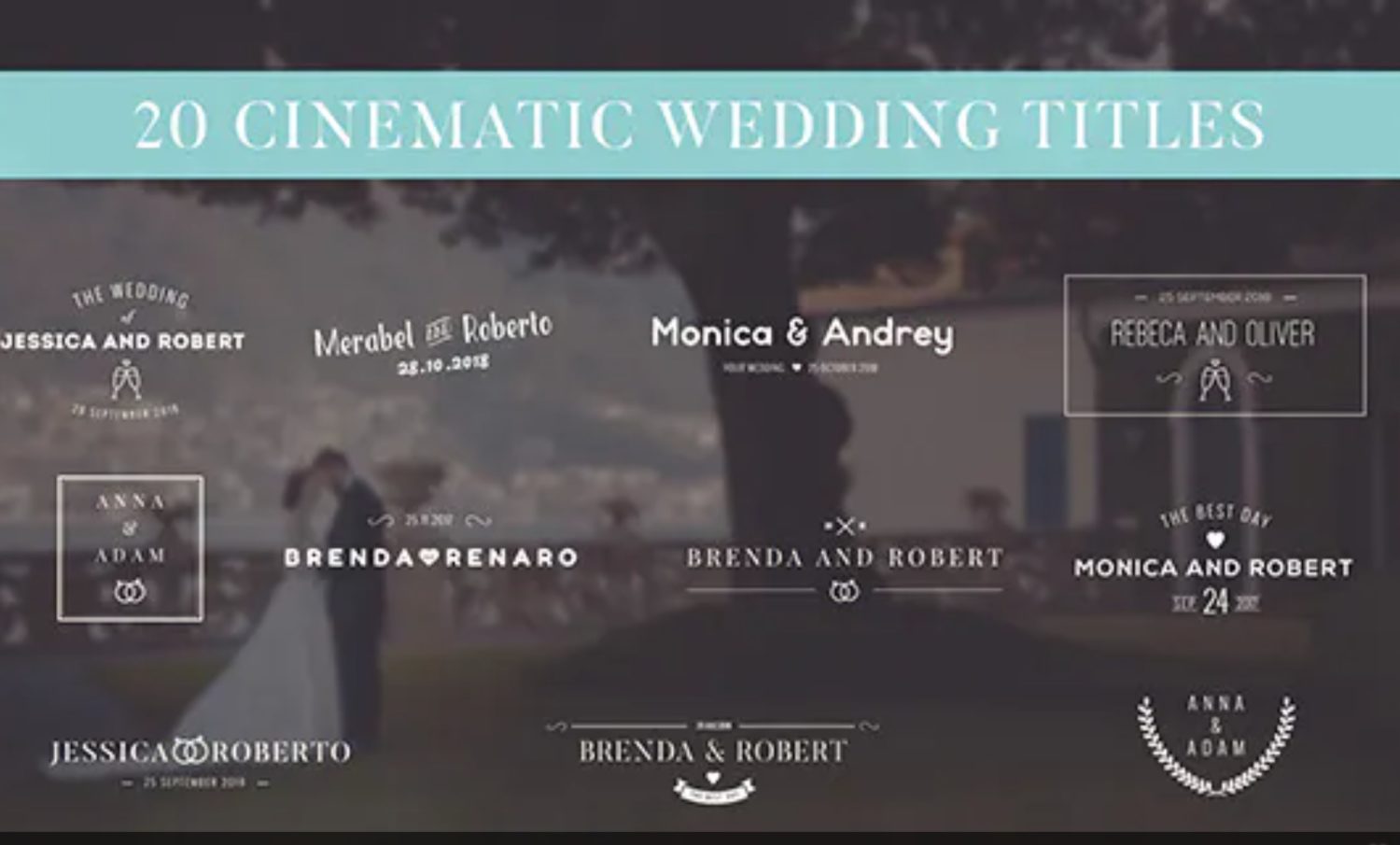 For anybody crafting a wedding video, you'll need titles. A vital part of the editing toolkit, regardless of the style you've chosen. This collection of Cinematic Wedding Titles will provide you with a smorgasbord of professionally designed titles that are sure to impress.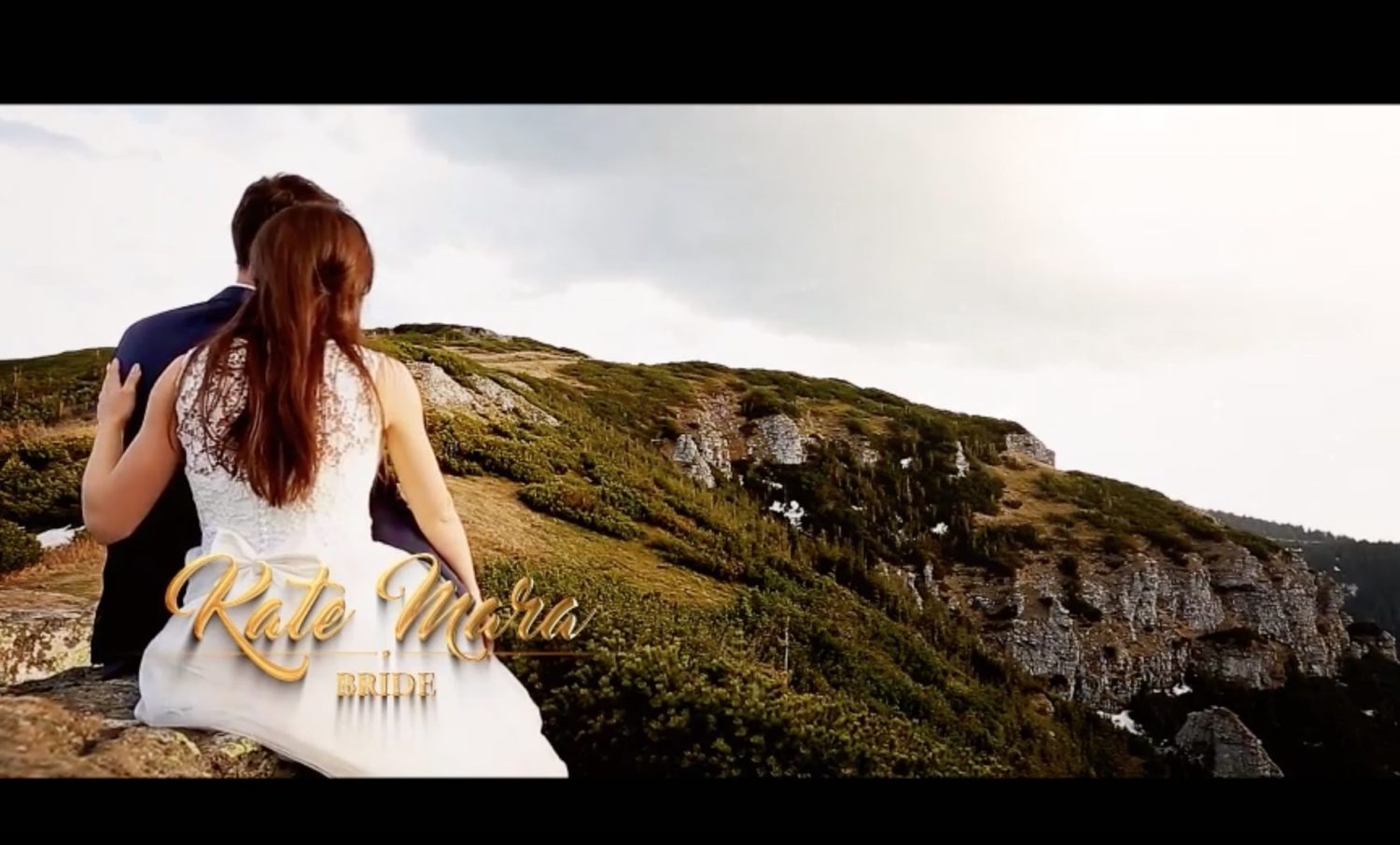 A good introduction is vital to making your wedding video production something special, and so this template is here to provide you with an effect that will deliver just that. Using a touching and beautiful style, you'll start off your wedding video with a feel of elegance and beauty that is sure to leave an impression.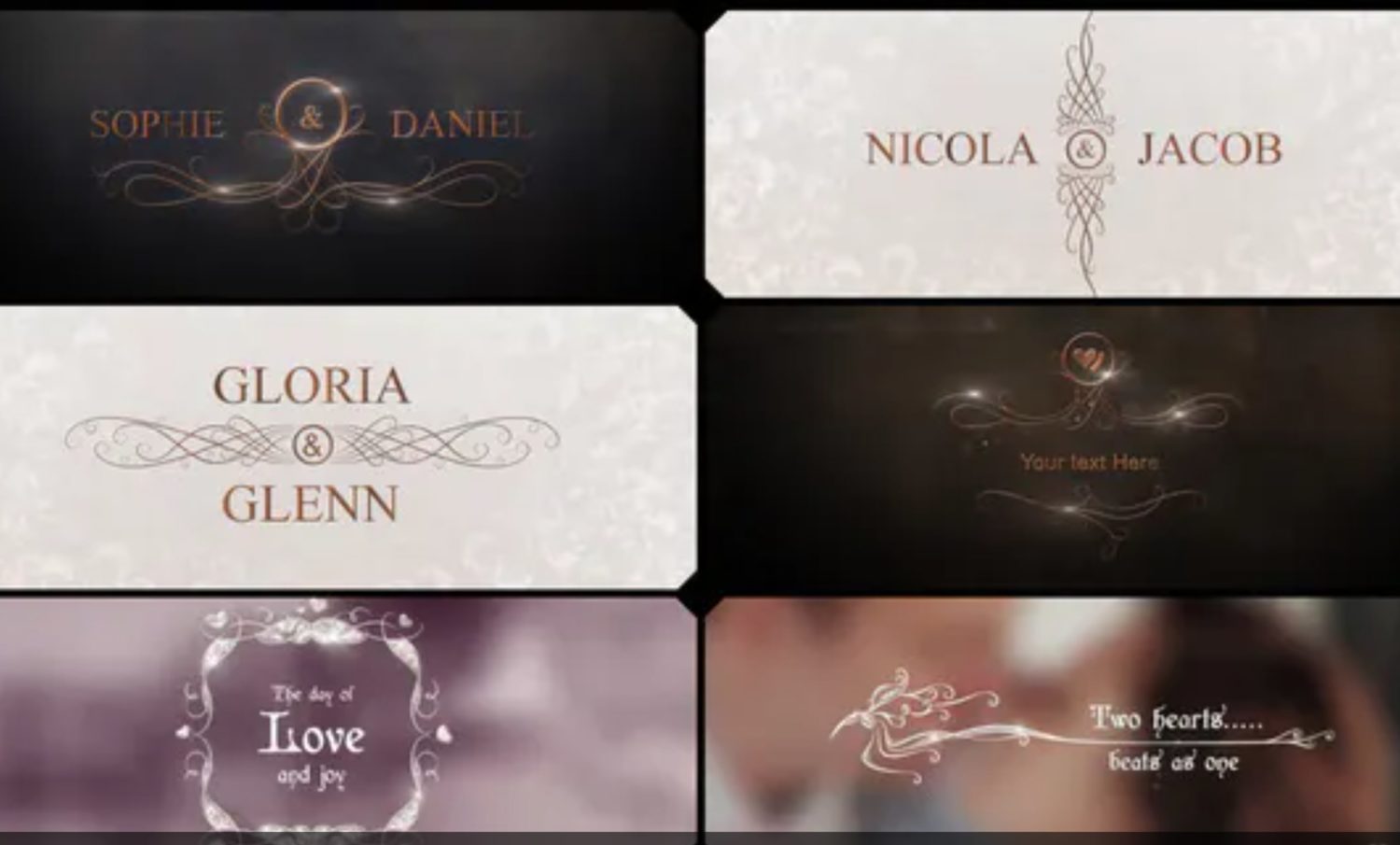 Looking to bring a more classical shine to your wedding production? Then this collection of Glamour wedding titles is all you need. It provides you with a range of elegantly designed titles, each with its own almost royal aesthetic.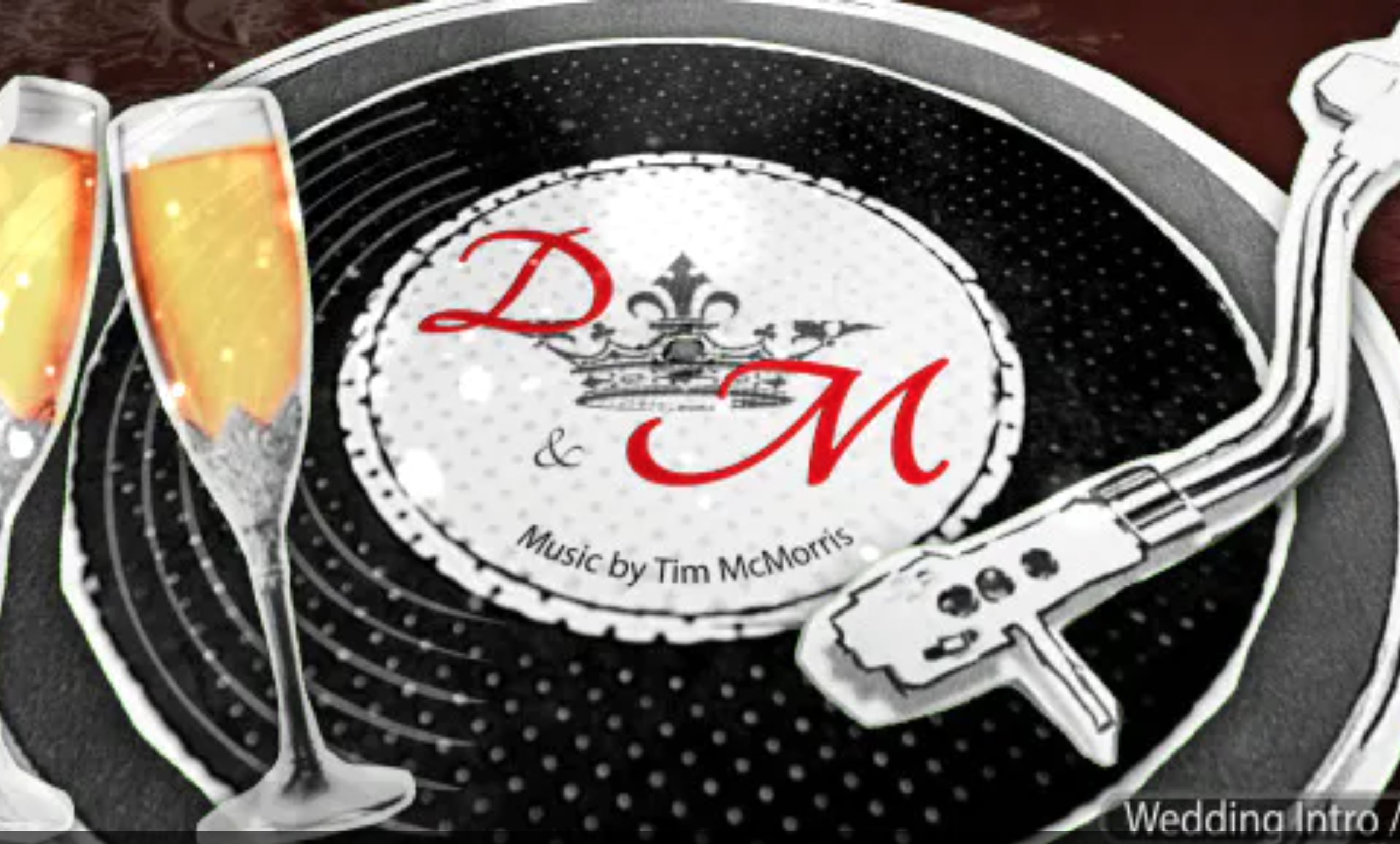 Check out this After Effects template that can be used at the start or end of your wedding video. It provides you the choice between retro and modern backgrounds with endless color possibilities and allows you to customize your own vinyl disc design to your liking.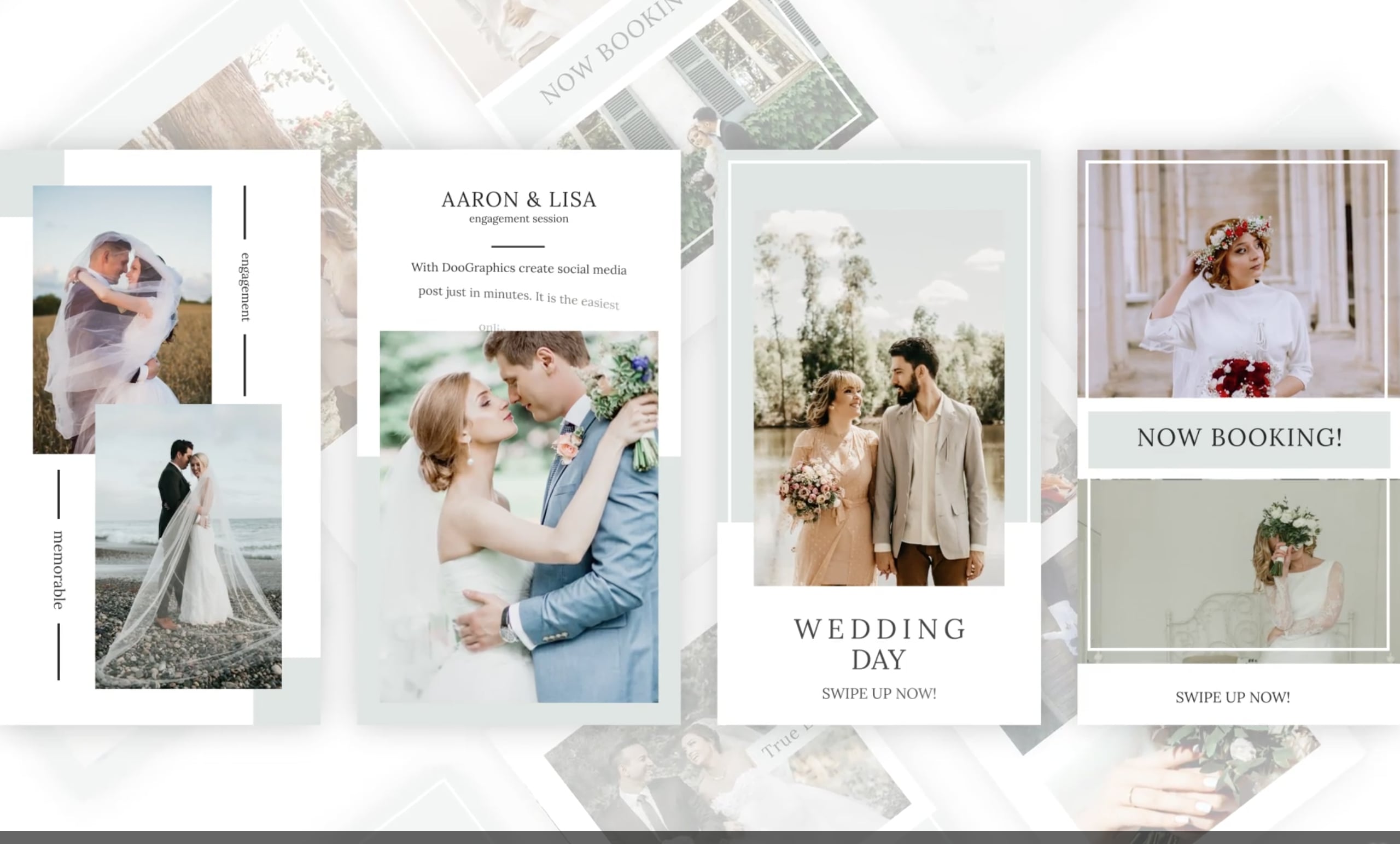 Share the beautiful pictures of your special day with your friends, and family on Instagram using this After Effects Instagram story template. In fact, if you are a wedding photographer or wedding planner looking to advertise your services on Instagram, this template can come in very handy.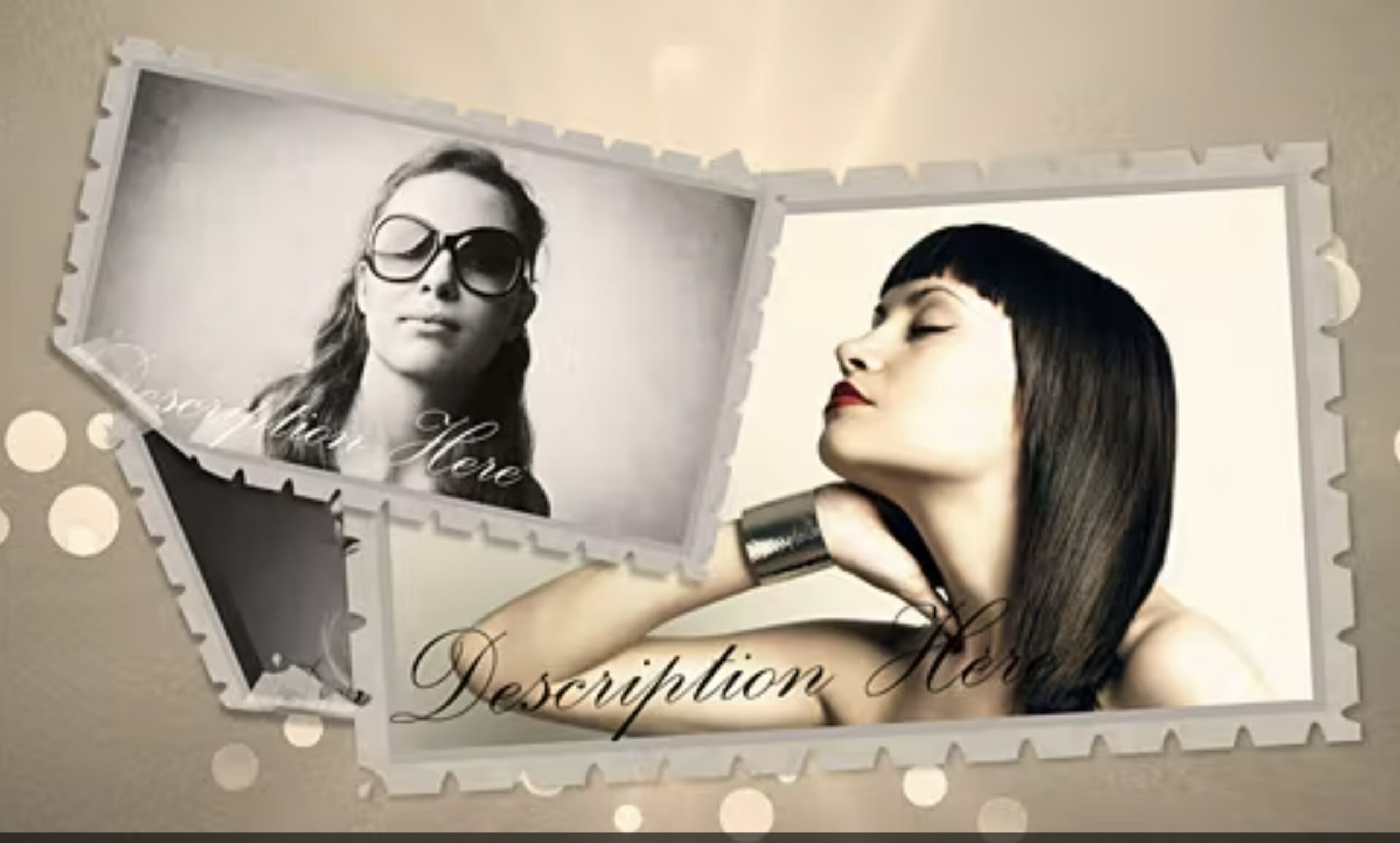 Here we have a clean, and elegant wedding album template that can be used for creating stunning presentations, slideshows, and movies to share with your friends, and family.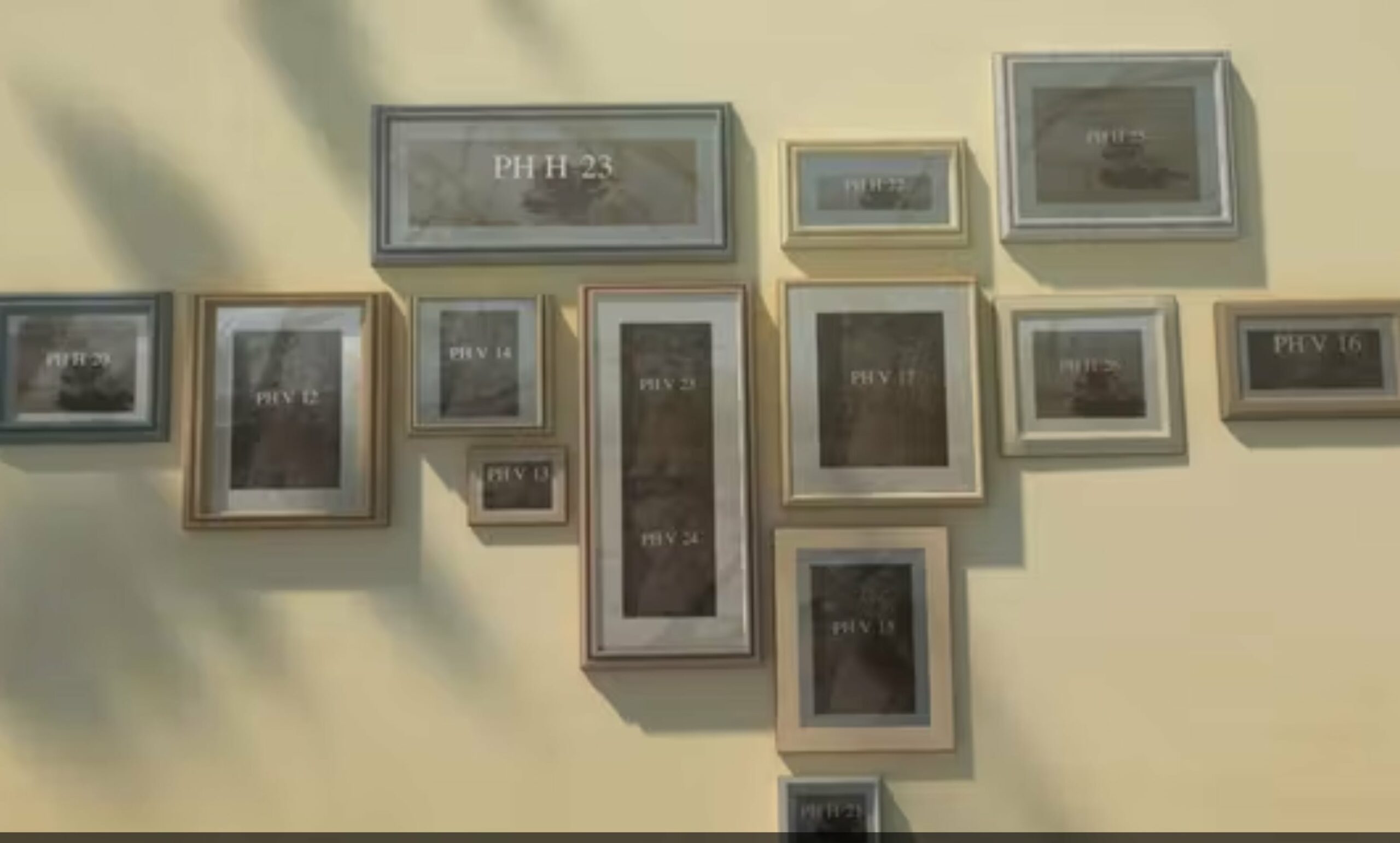 Use this template to display your video on a sunny and calm day and extend the duration of the animations as you need. The workflow for this file is quite simple and the render time is not long.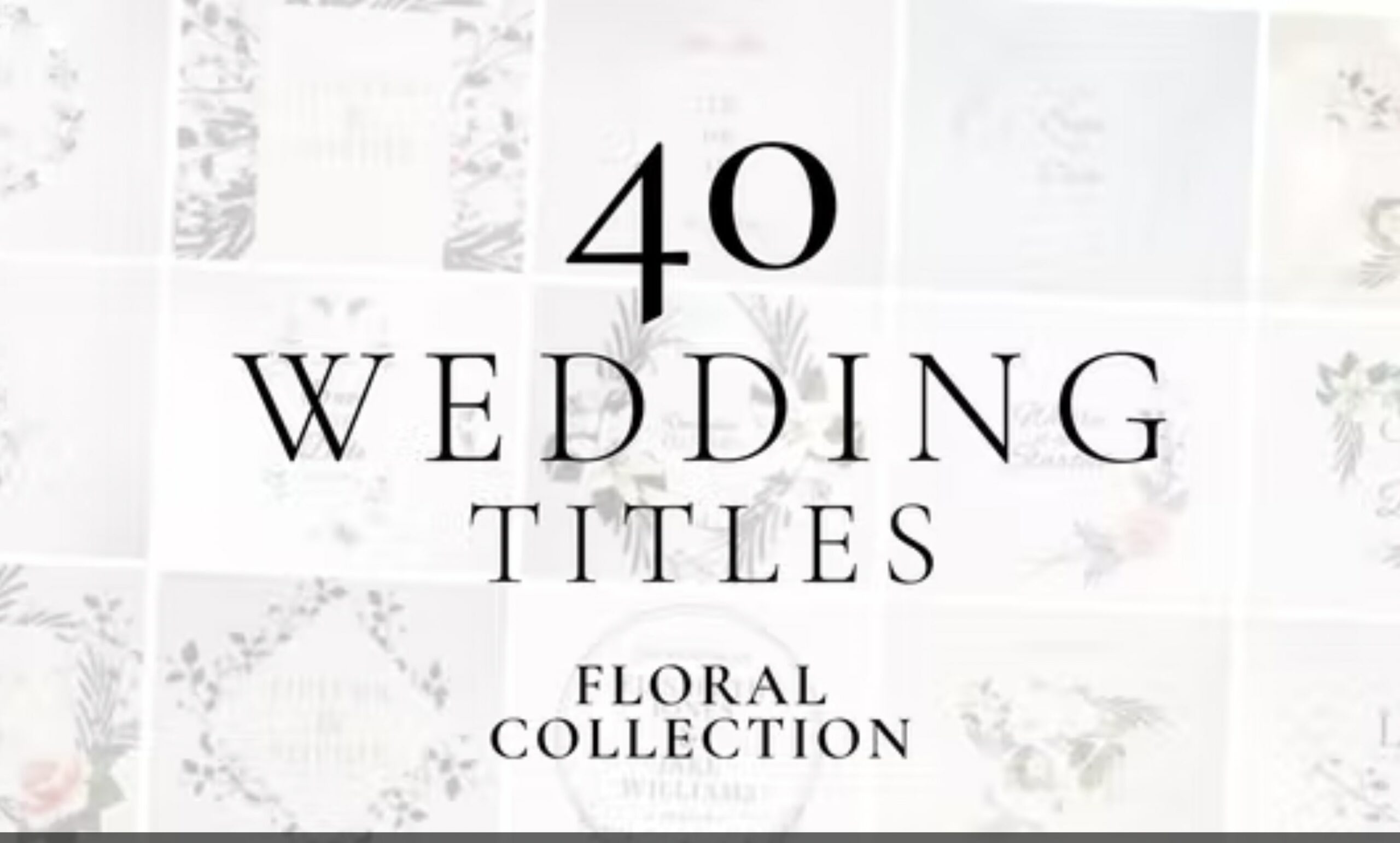 This professionally designed wedding titles mockup kit for Adobe After Effects has it all. It combines the simplicity of use with unlimited customization to help you design your unique wedding animated scenes.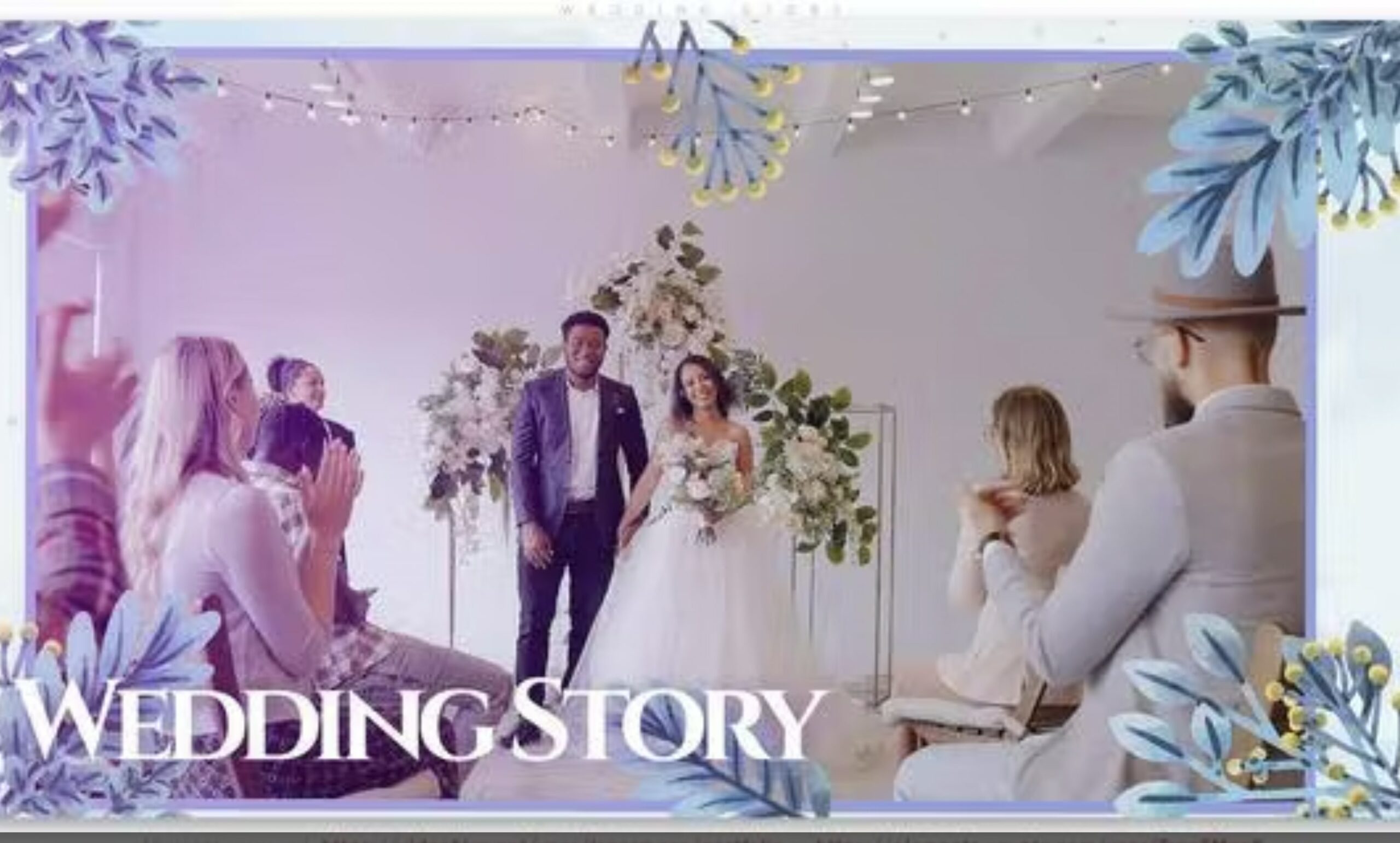 If you need to create sweet memories, video albums, or love photo stories – use the Wedding Love Story template! That really interesting and universal project will help you to produce inspiring and mood presentations or historical videos if you want a few clicks.
Wedding After Effects Templates Free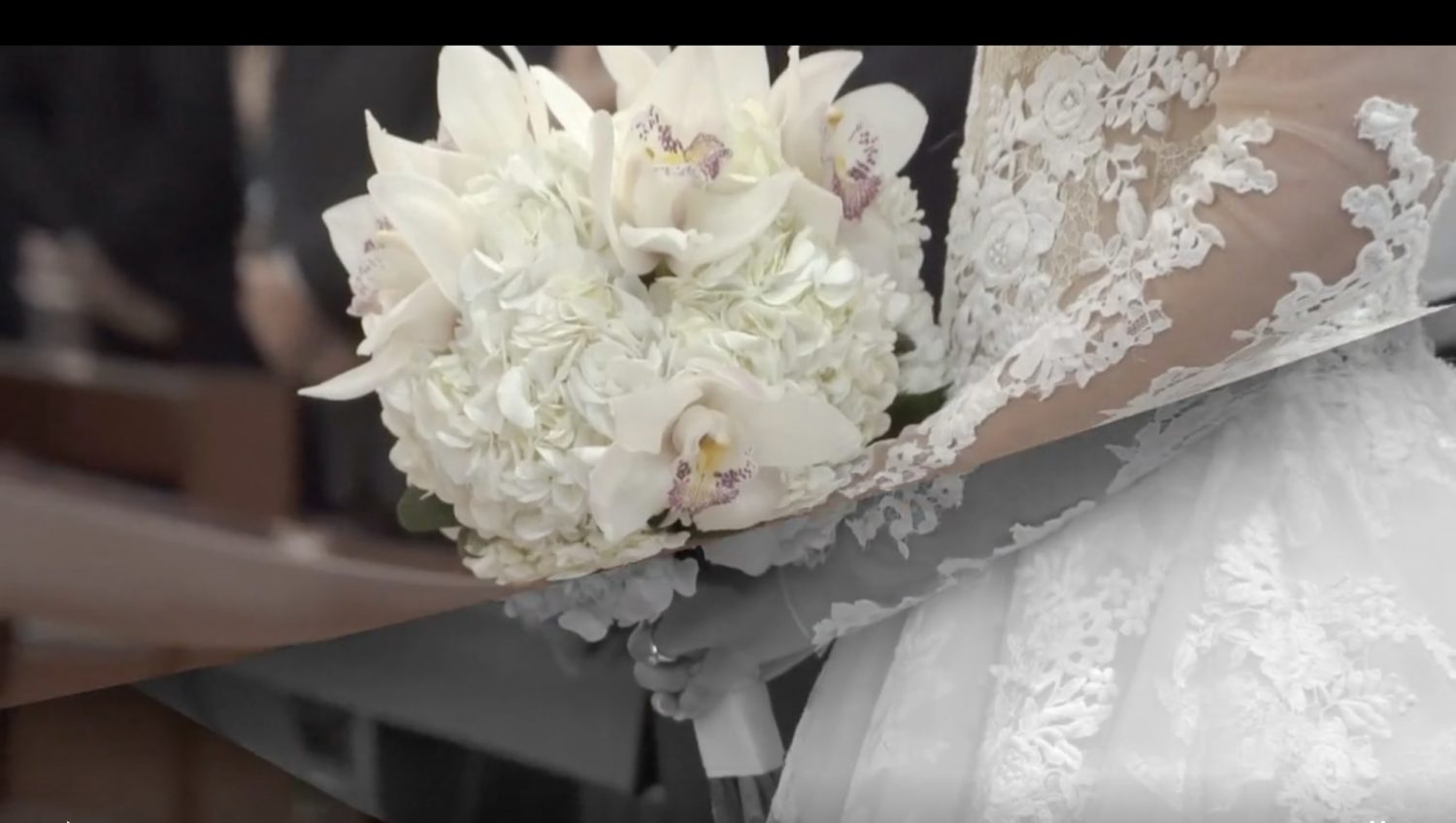 Looking to make a slideshow of your special day? Then add a touch of elegance to your production, and use this Wedding Slideshow template. It allows you to tailor an elegant and beautiful slideshow to highlight the best moments of your wedding. One of the best After Effects wedding templates free of any charge!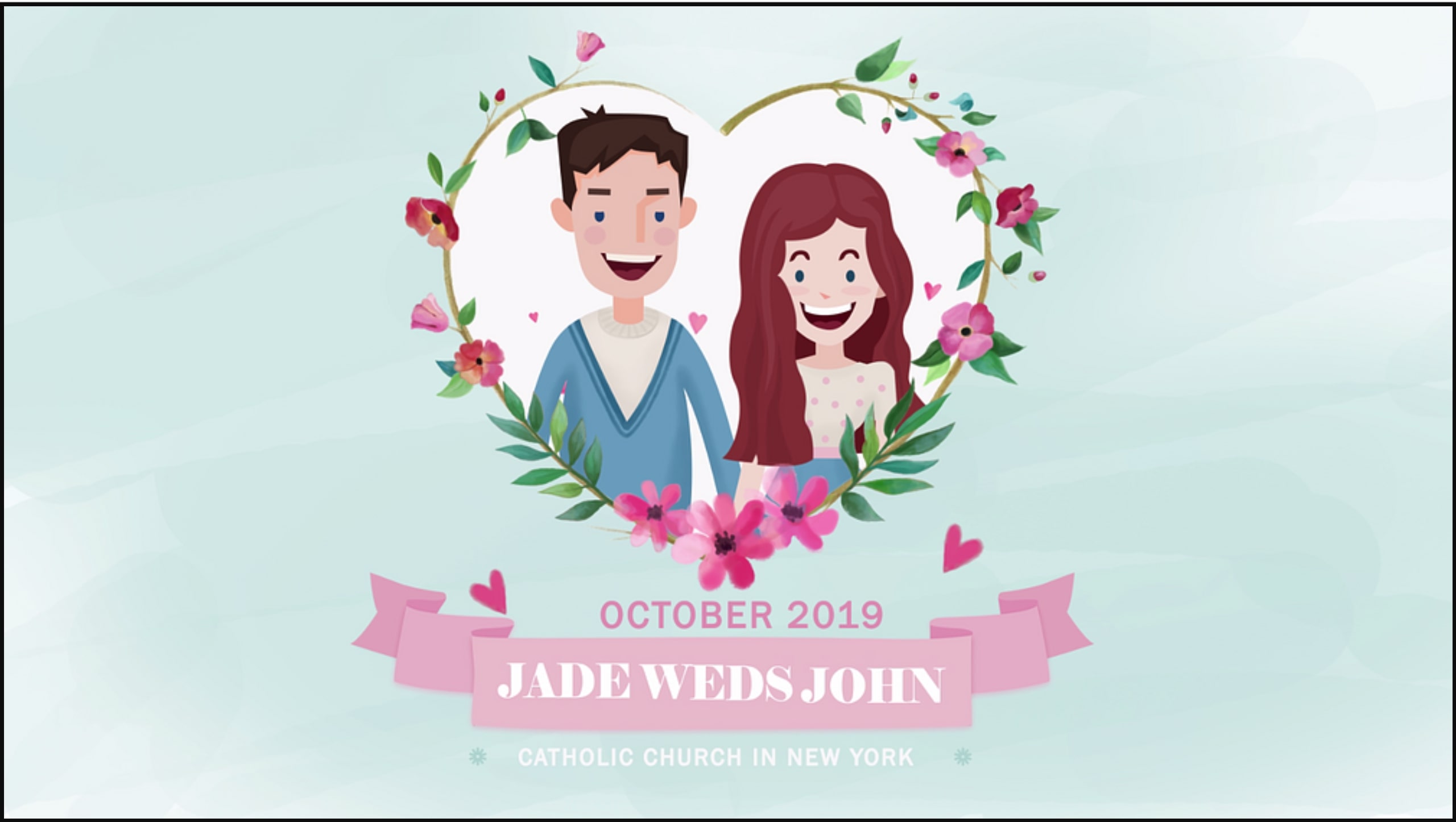 Next up we have a cheerful and modern watercolor wedding invitation video template compatible with After Effects. The template comes in a high resolution and allows you to put your name, images, and background music, and fully customize it to your heart's content.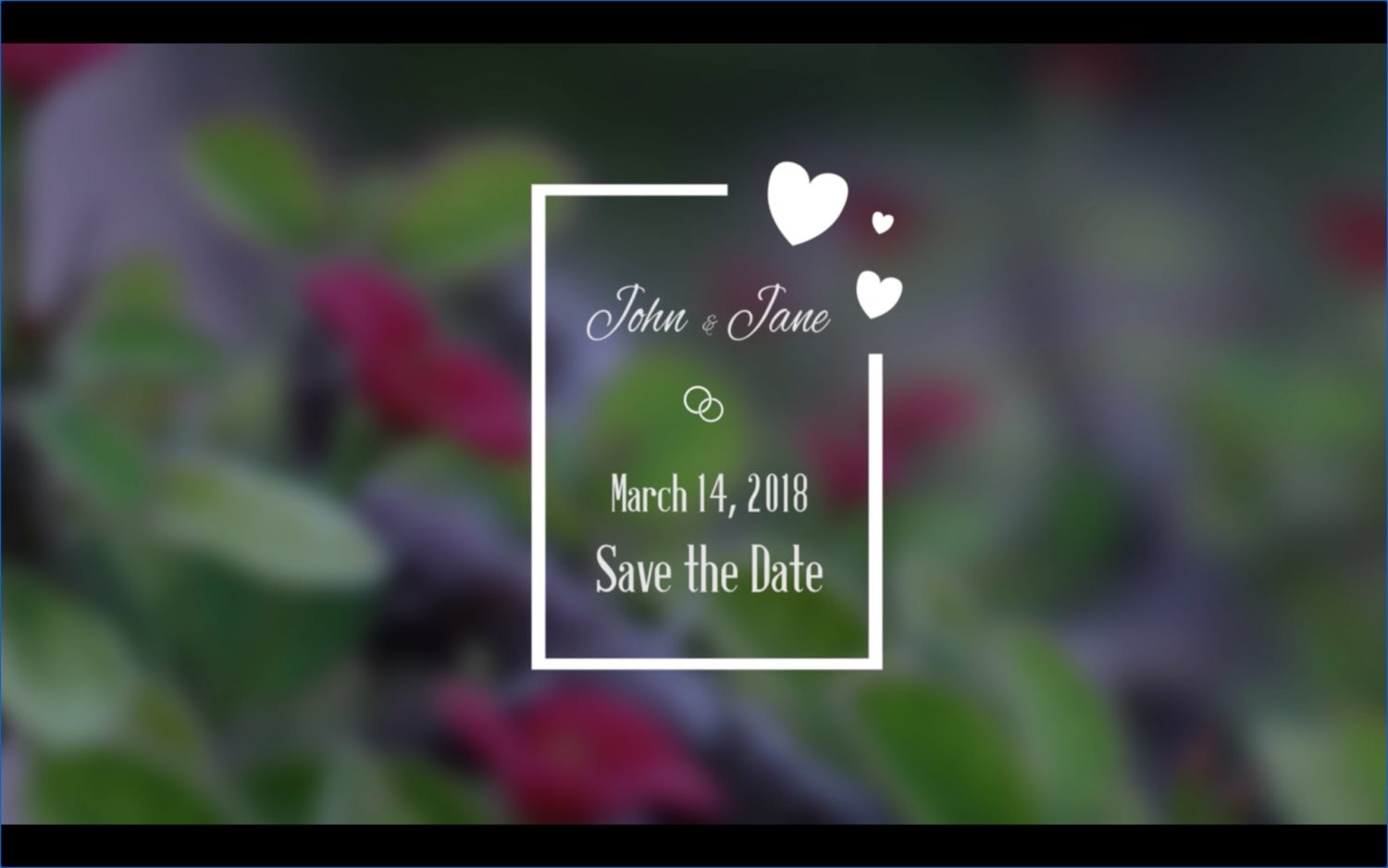 When it comes to producing any wedding video, you may need some title designs that match your wedding aesthetic. That's where this pretty and delicate title template comes in. The template is flexible enough to seamlessly integrate into almost any wedding video style.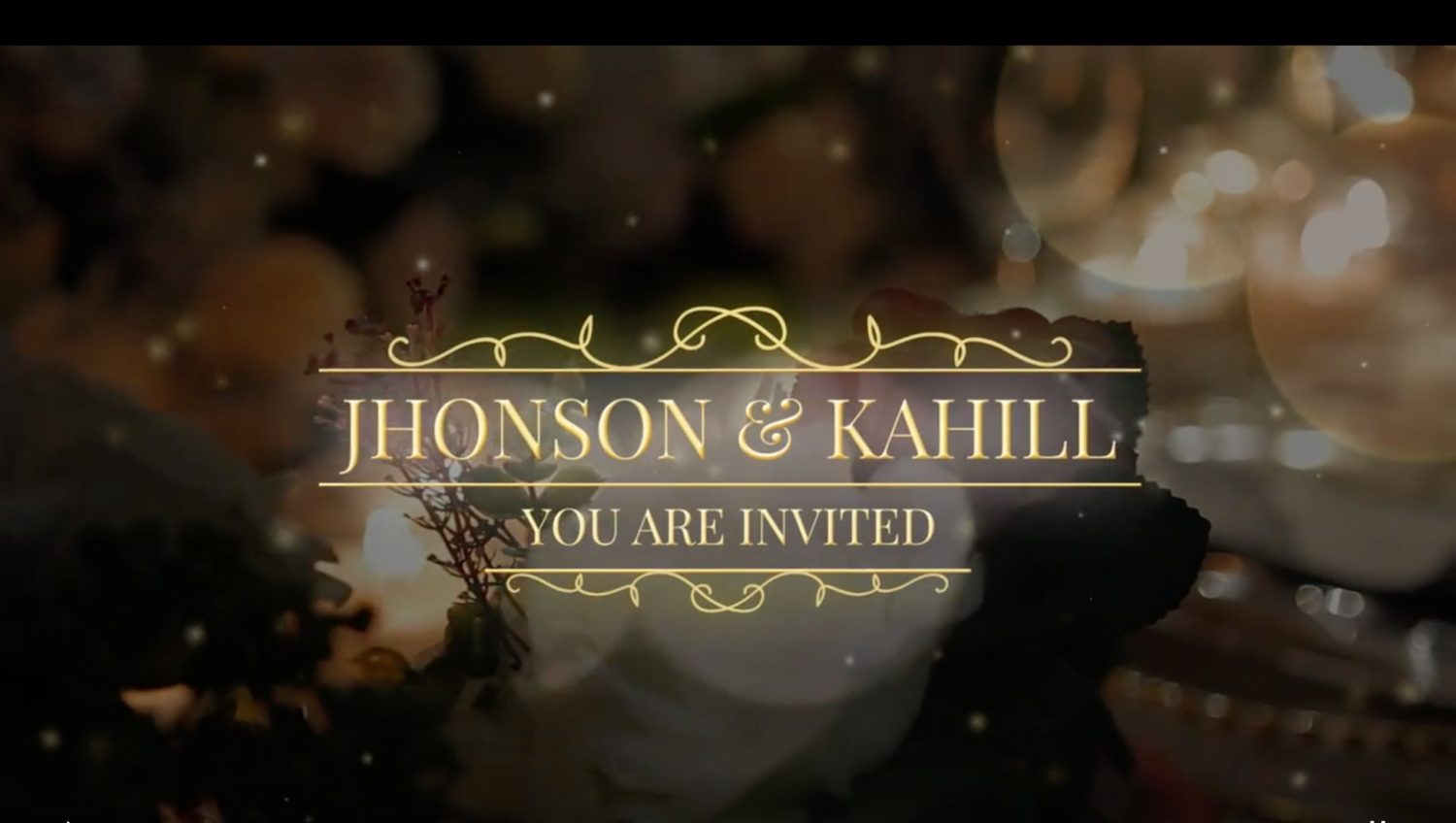 If you're creating a video of your wedding invitations to share on social media, then this After Effects opener is a great resource to use. It provides you with an elegant gold opening title screen with particle effects and orbs, allowing you to tailor the perfect invitation for your big day.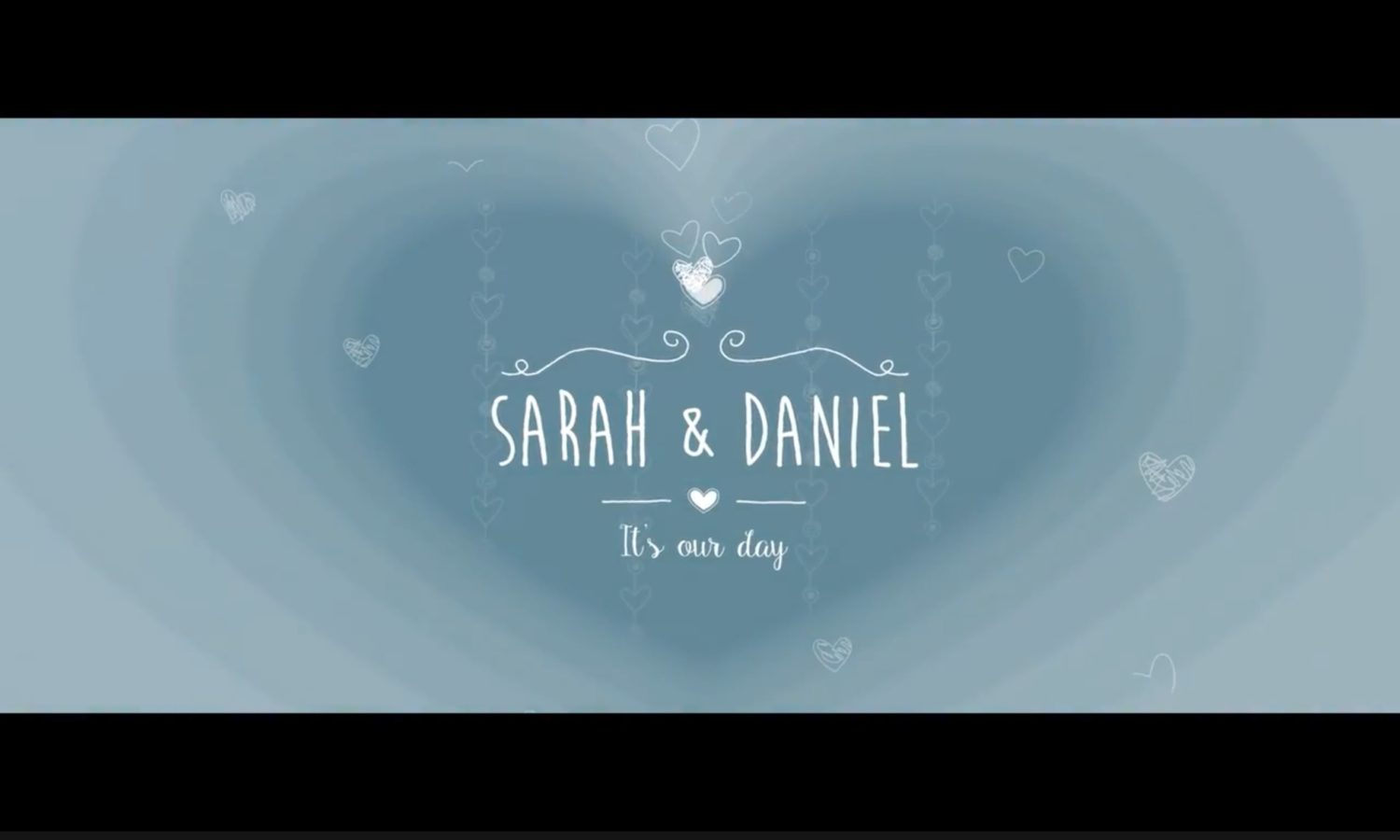 The Love Wedding Slideshow is an After Effects template that is sure to impress. It employs a trendy and modern style, light leak effects, seamless transitions, and minimal text animations helping you to quickly and easily craft a slideshow of your wedding.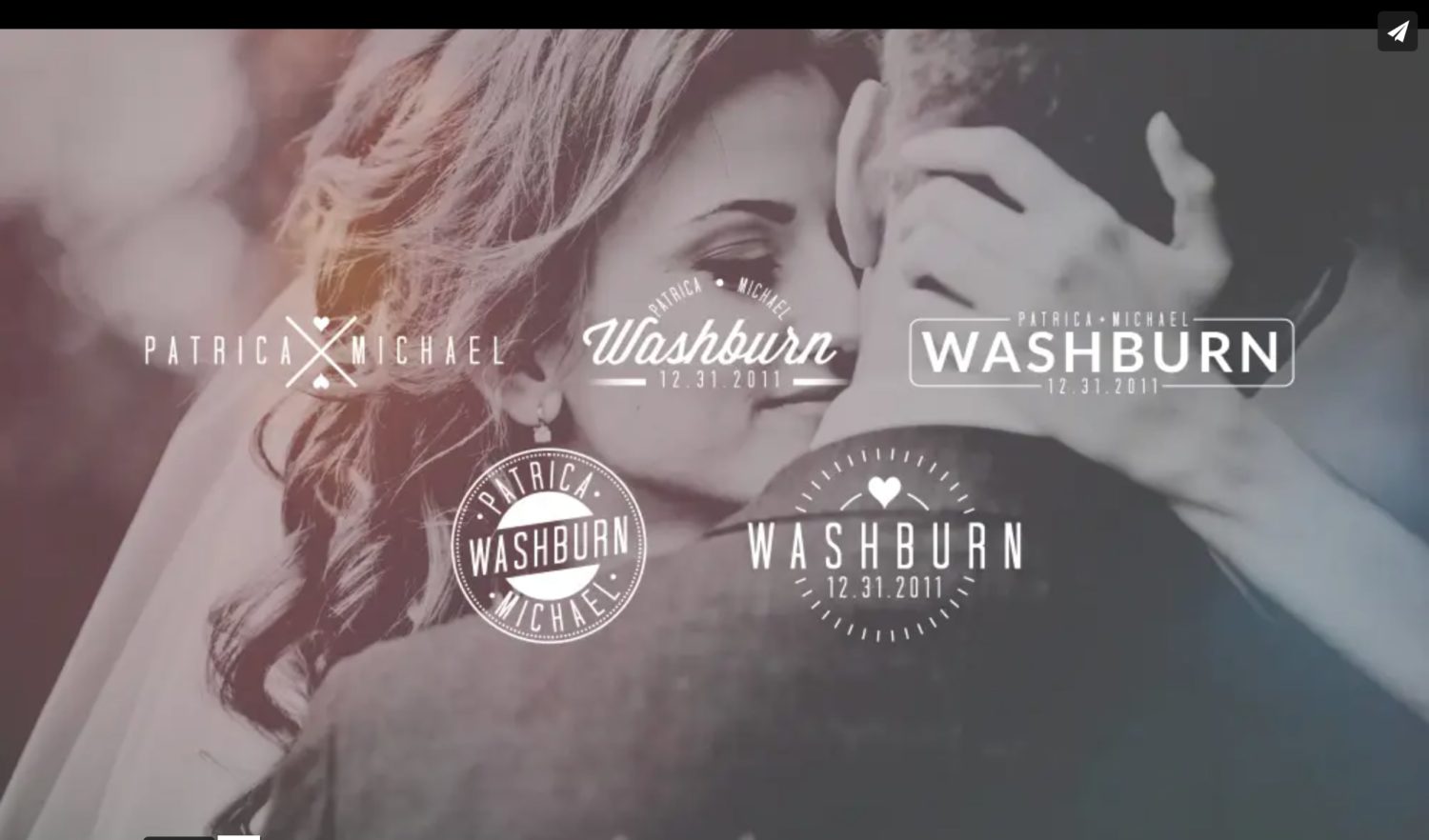 Unity Lite is an elegant collection of 5 After Effects wedding titles and 16 smooth and clean light leaks. With effects all centered around a whimsical and loving atmosphere, you'll be able to transform your wedding video into a cinematic piece of art.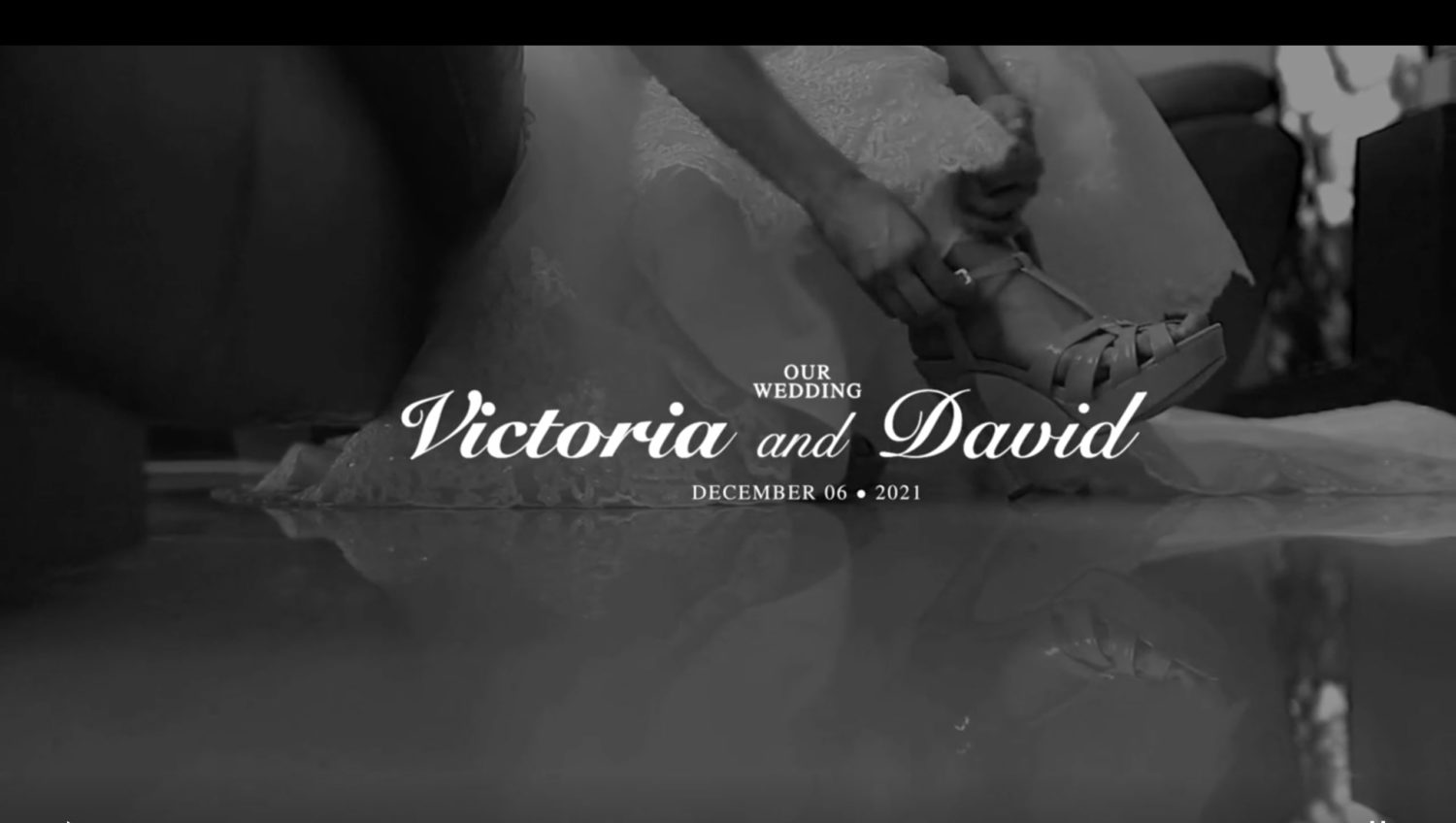 This Wedding Call-Out After Effects template is a beautiful way to craft your wedding invitations to share online. With this freebie, you get an easy-to-use template with a range of animation placeholders to craft an invitation in less than an hour.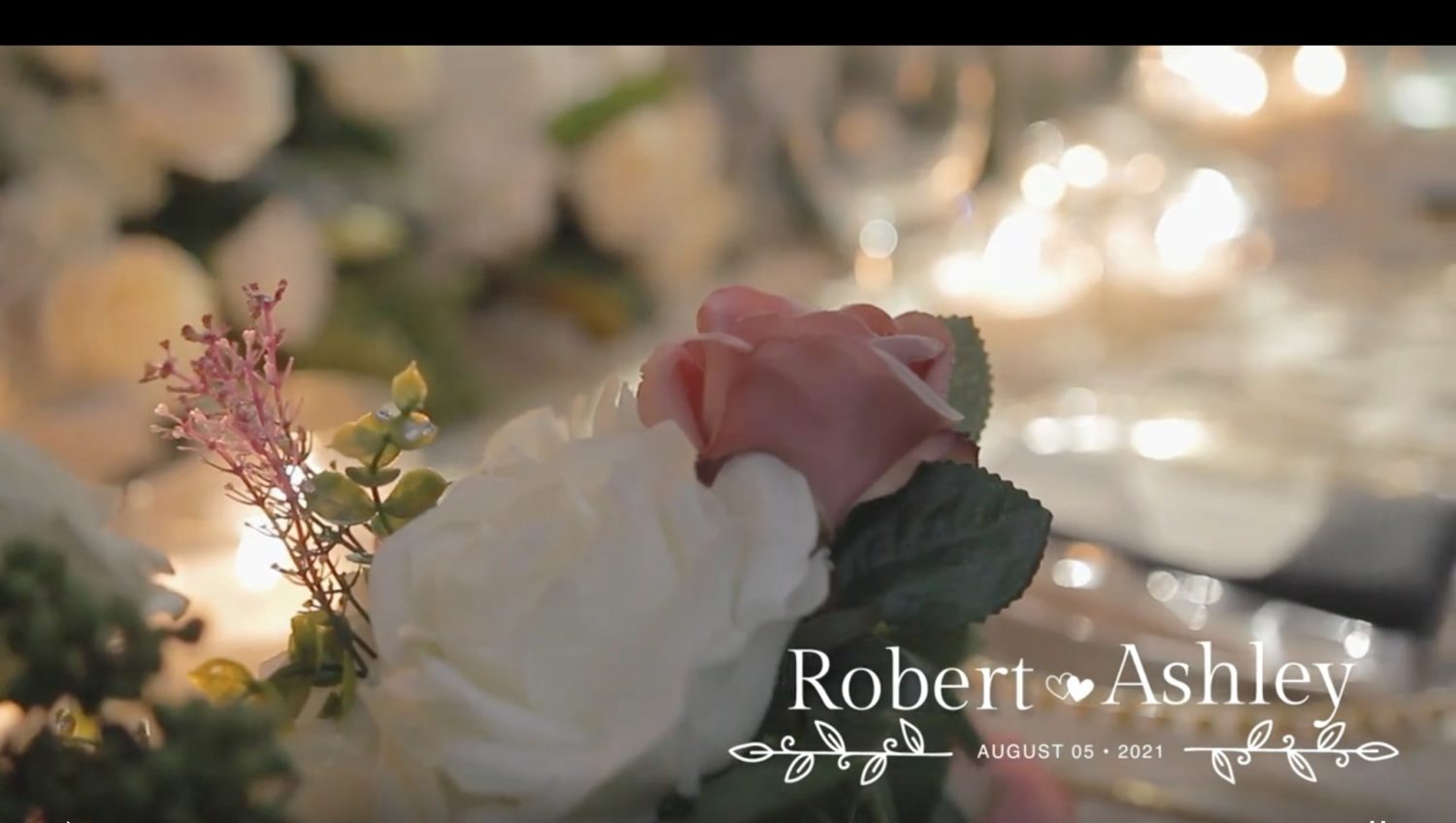 If you're creating a wedding video to capture the best moments of the day, then this Wedding lower-third template will help you to place beautiful and elegant text underneath your shots. A simple, yet effective, After Effects wedding template!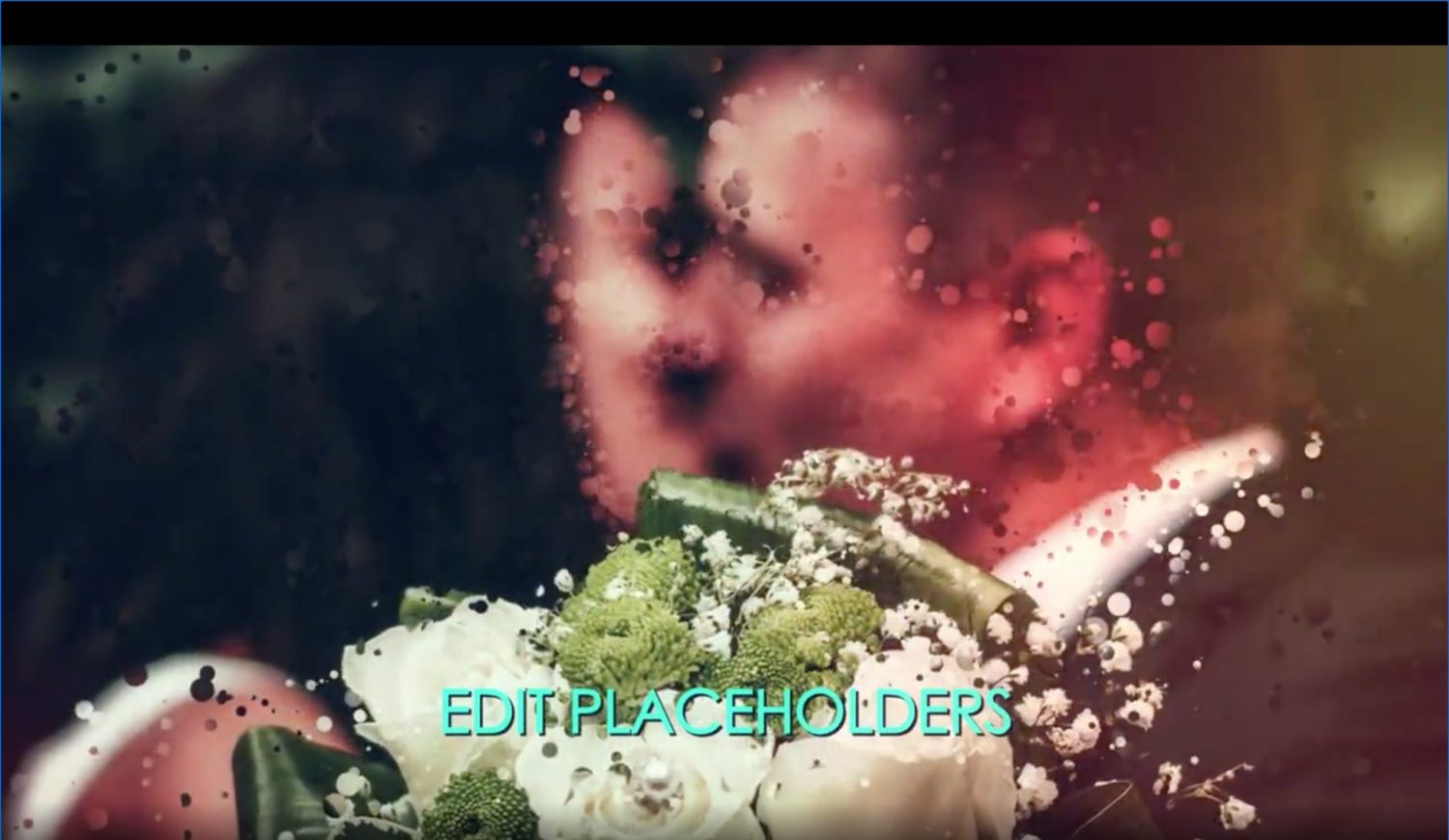 Capturing your special day is important, and that's why this slideshow template strives to provide you with everything you need to encapsulate that day in the best style possible. It features soft particle effects, placeholders, and a range of editable text effects that you can place over your video with ease.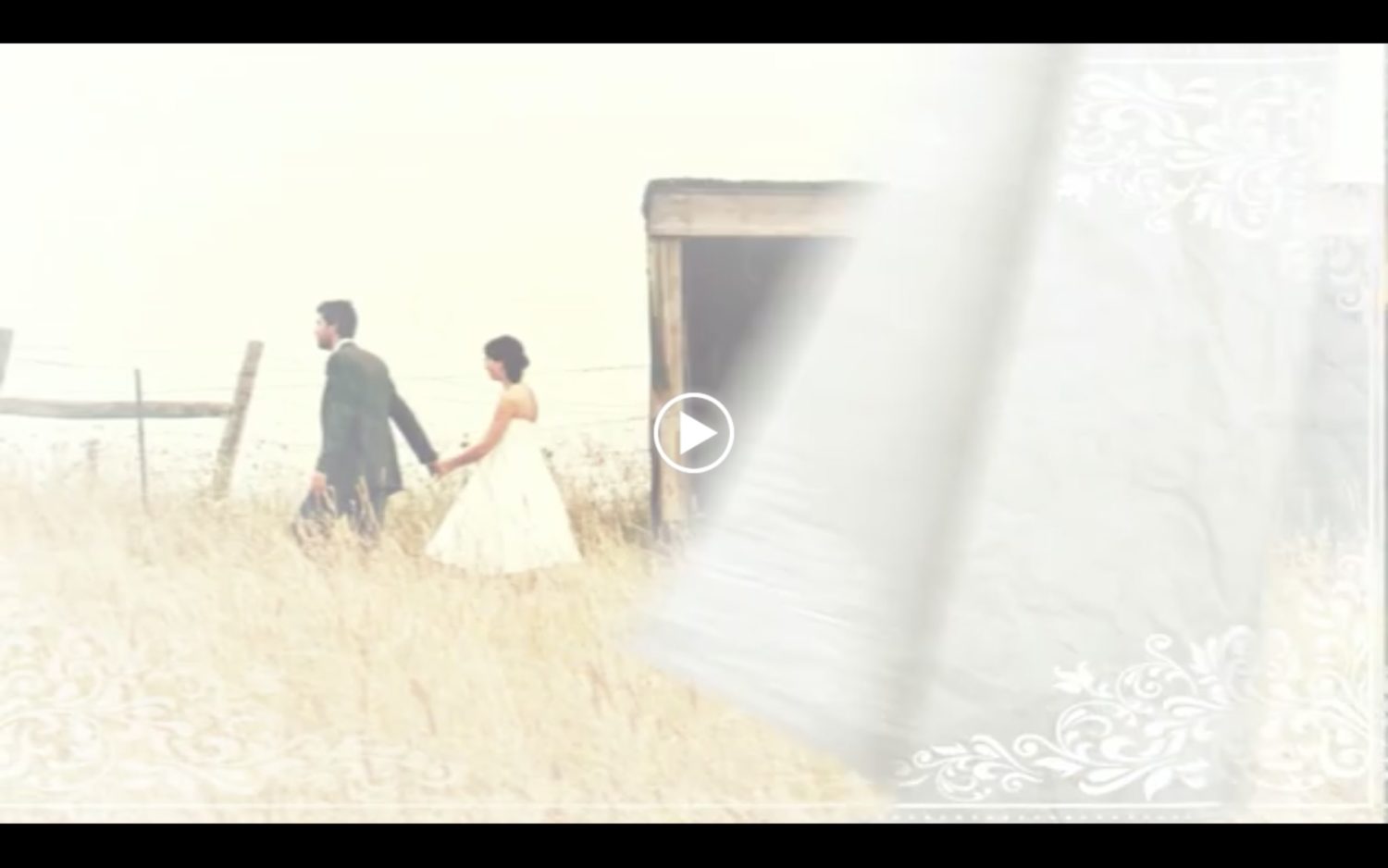 Are you a fan of scrapbooks? With this wedding slideshow template, you can create a visual scrapbook to keep the memories of your special day intact forever. A simple, yet gorgeous After Effects plugin that will put a smile on your face years later.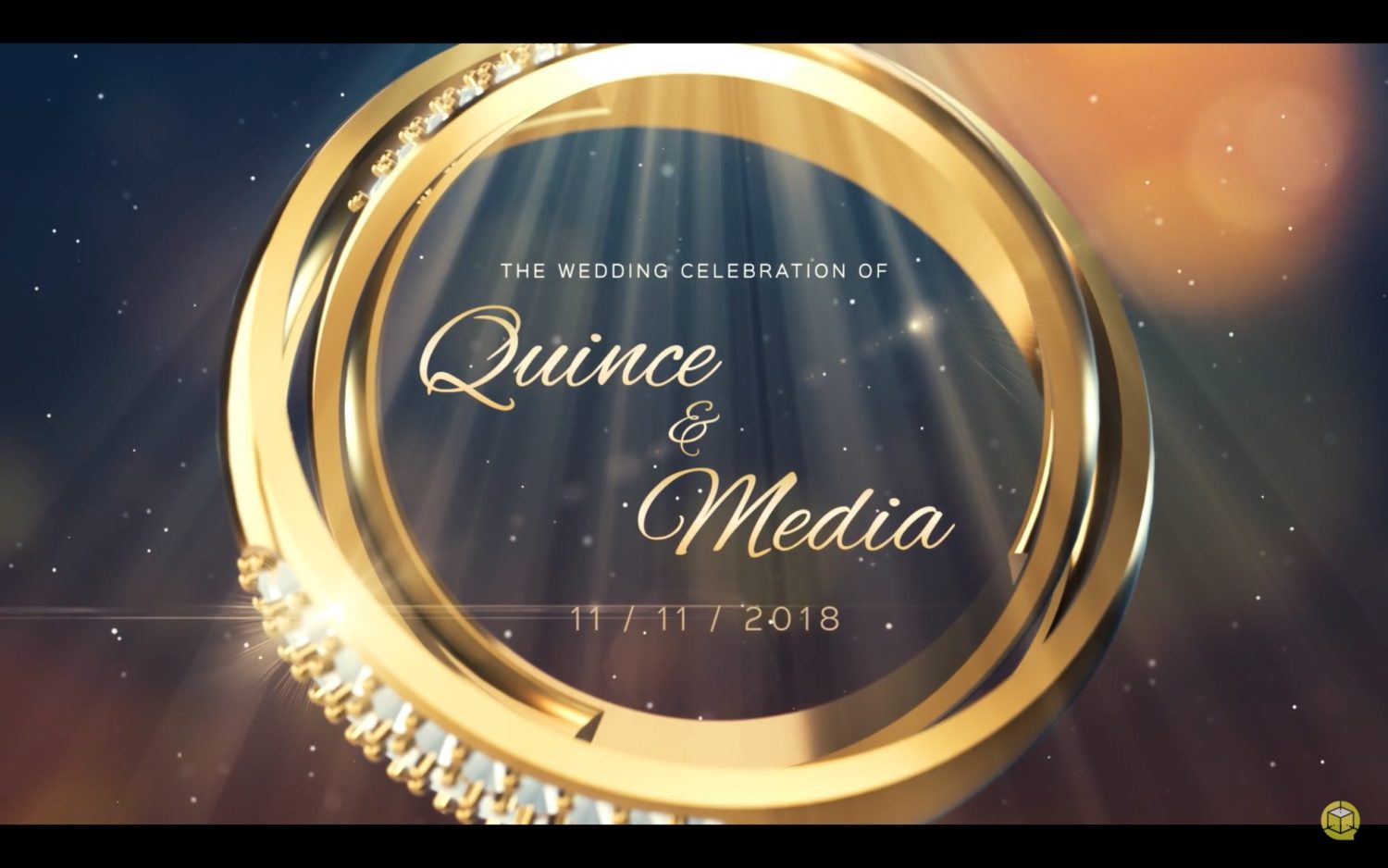 Two Rings is an After Effects 3D template that will help you craft an absolutely beautiful intro video of your wedding ceremony. Providing you with a classic elegant style, Two Rings is an easy-to-use way to bring a touch of beauty to your production without too much effort.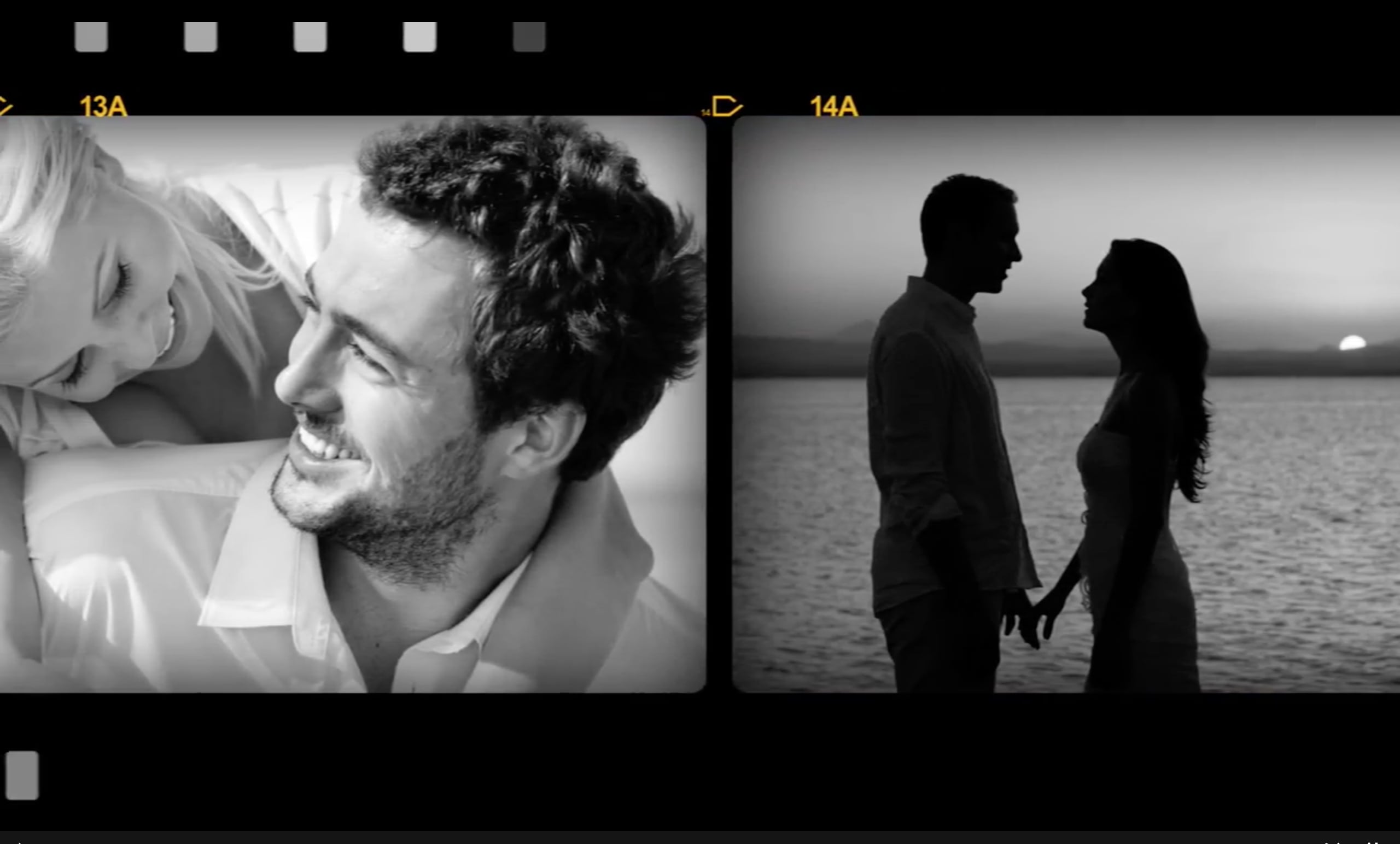 This After Effects digital film strip template has everything you need to showcase the memories of your wedding day in the best way possible. It has a touch of nostalgia to it that will make you go back in time every time you play the clip.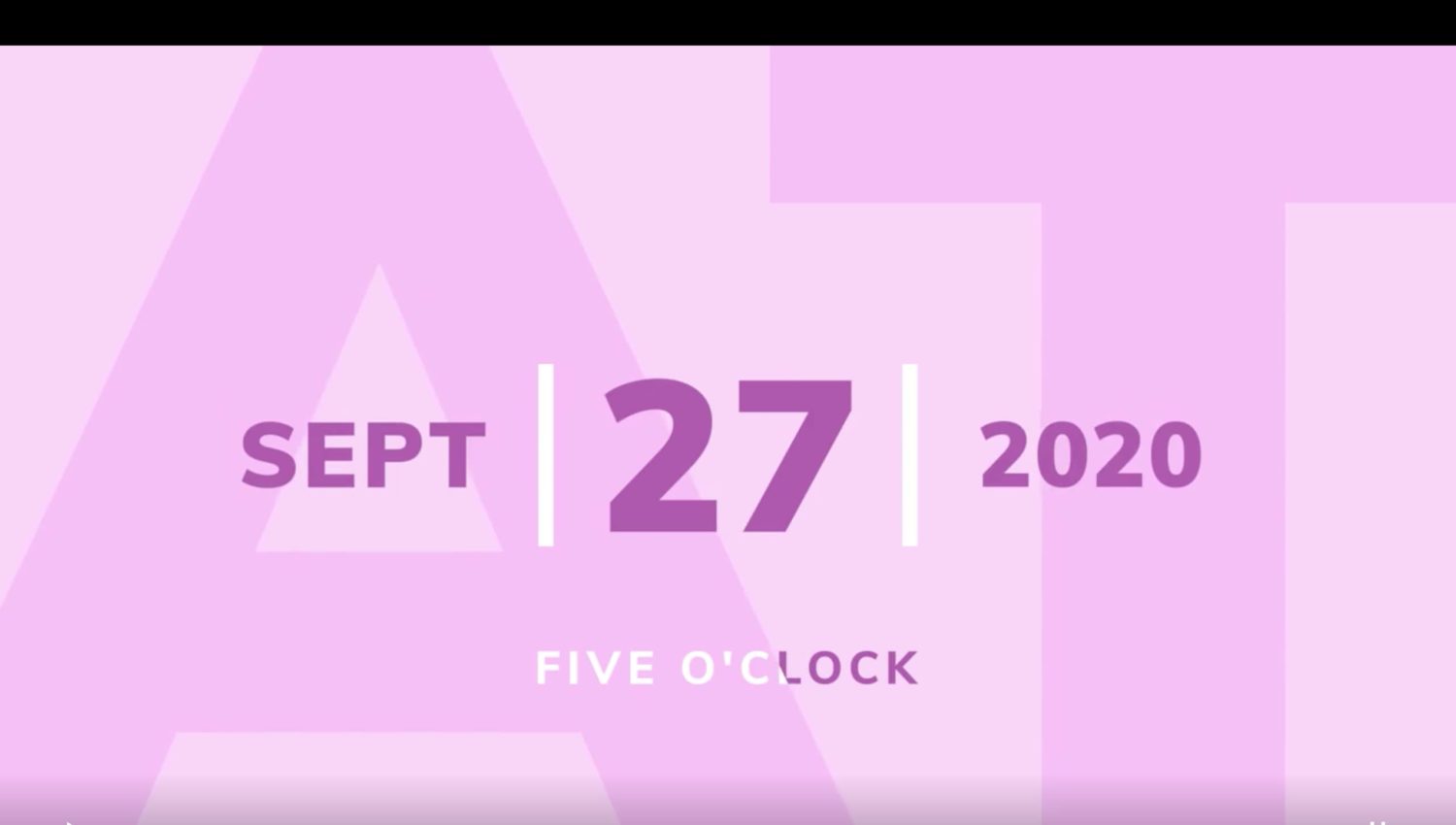 Create a beautifully crafted wedding location intro with this template tailored to provide a classic wedding aesthetic, mixed with a touch of modern charm. A beautiful wedding intro After Effects memory to look back on years and reminisce your special day.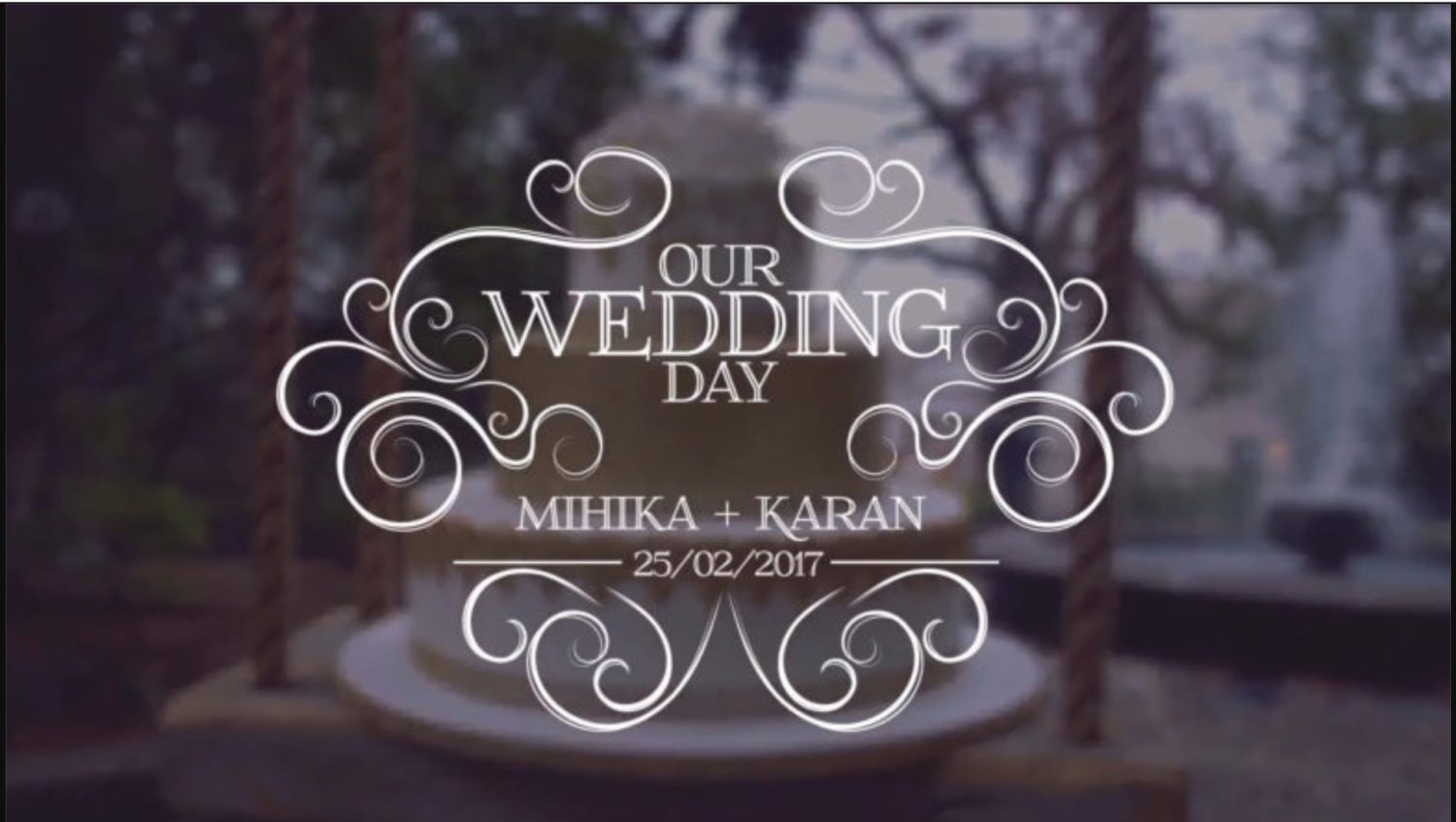 Another gorgeously crafted wedding title set that will have you forget all the other options you have seen so far. Download this freebie and you're just a few moments away from creating an unforgettable wedding opener, or invitation.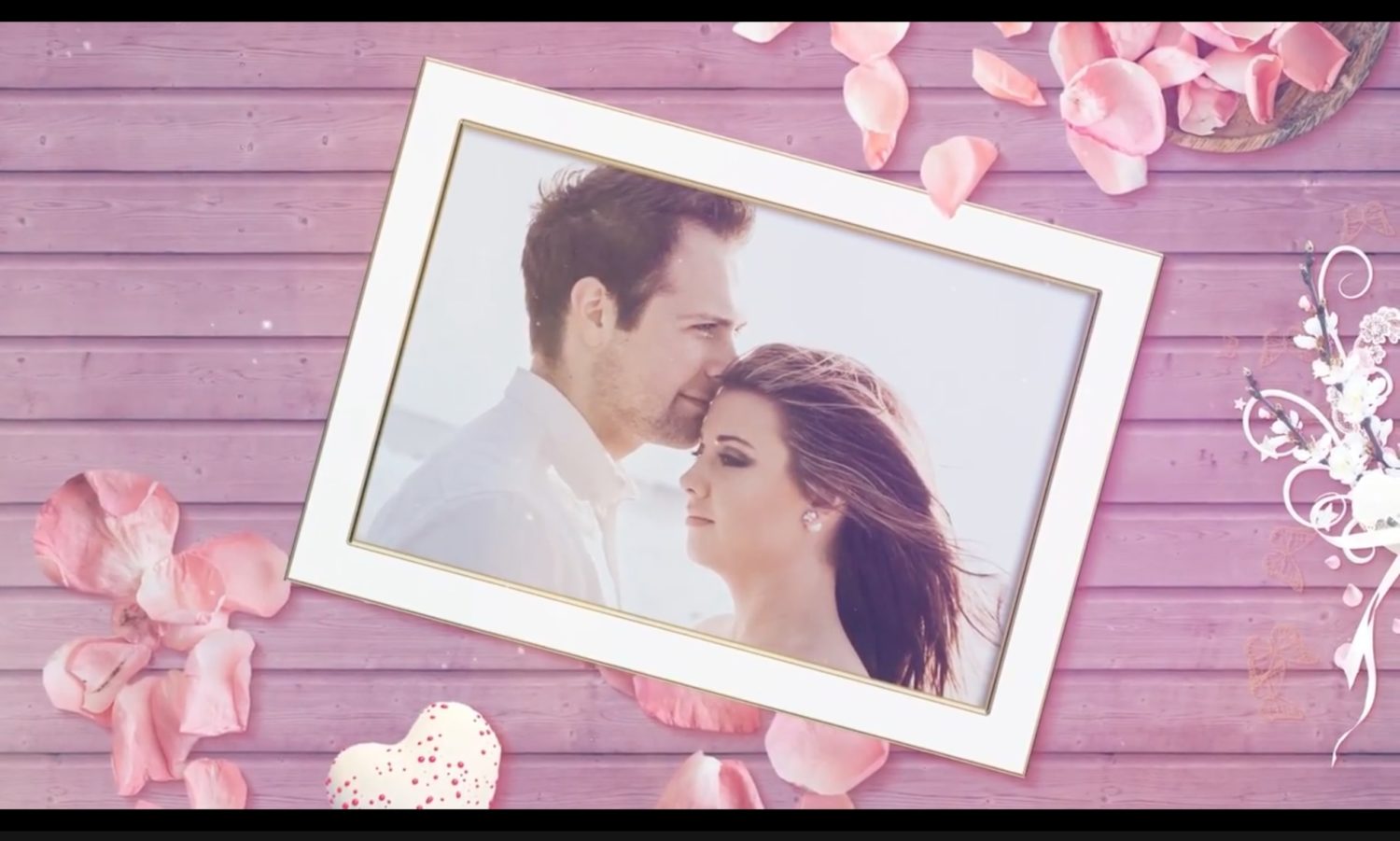 Next up is a slideshow that will help you to capture your most loving memories in style. Employing a loving and joyful atmosphere, the template can turn your wedding video project into a beautiful memory with ease. Perfect for weddings, engagements, Valentine's day, anniversaries, and family reunions.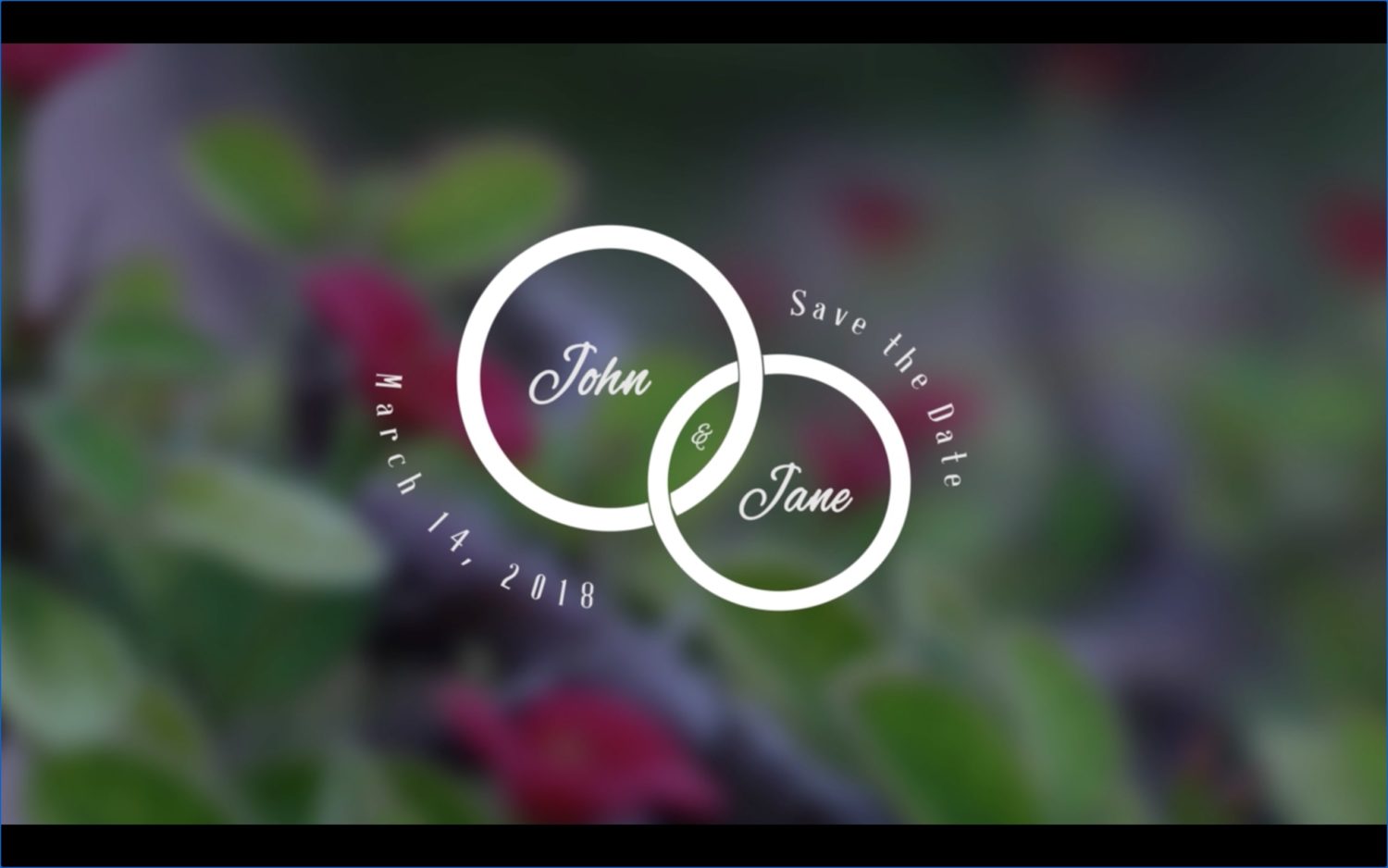 Here we have an absolute stunner of a wedding title template. It features a beautiful, dainty, and easy on the eyes design, two rings that come together to reveal the date of your big day, and so much more.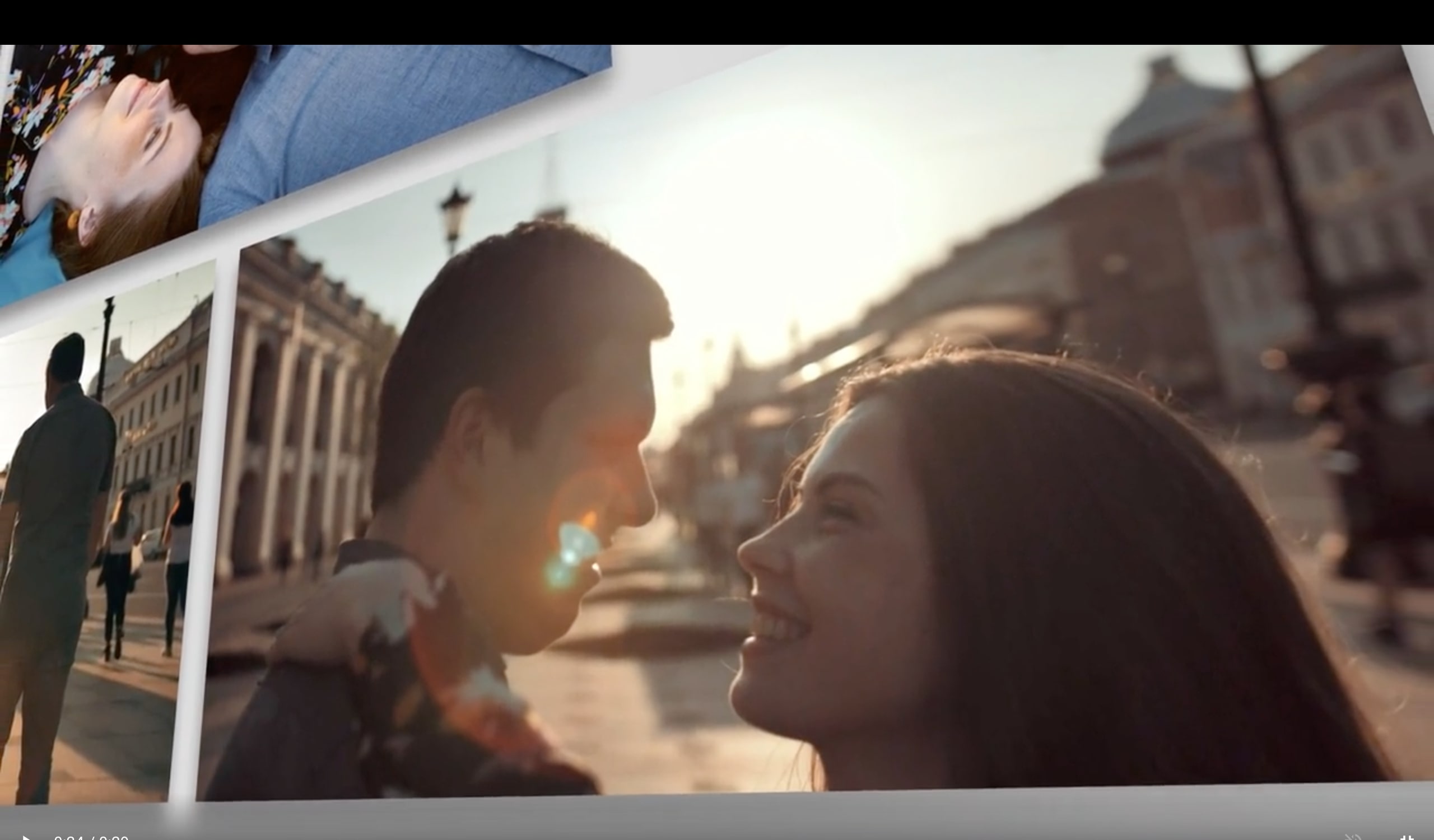 If you are wanting a simple and sober template that only focuses on the pictures of two love birds making beautiful memories, this After Effects wedding slideshow template is well worth checking out. Featuring a design that's elegant, and beautiful, this freebie is sure to win hearts.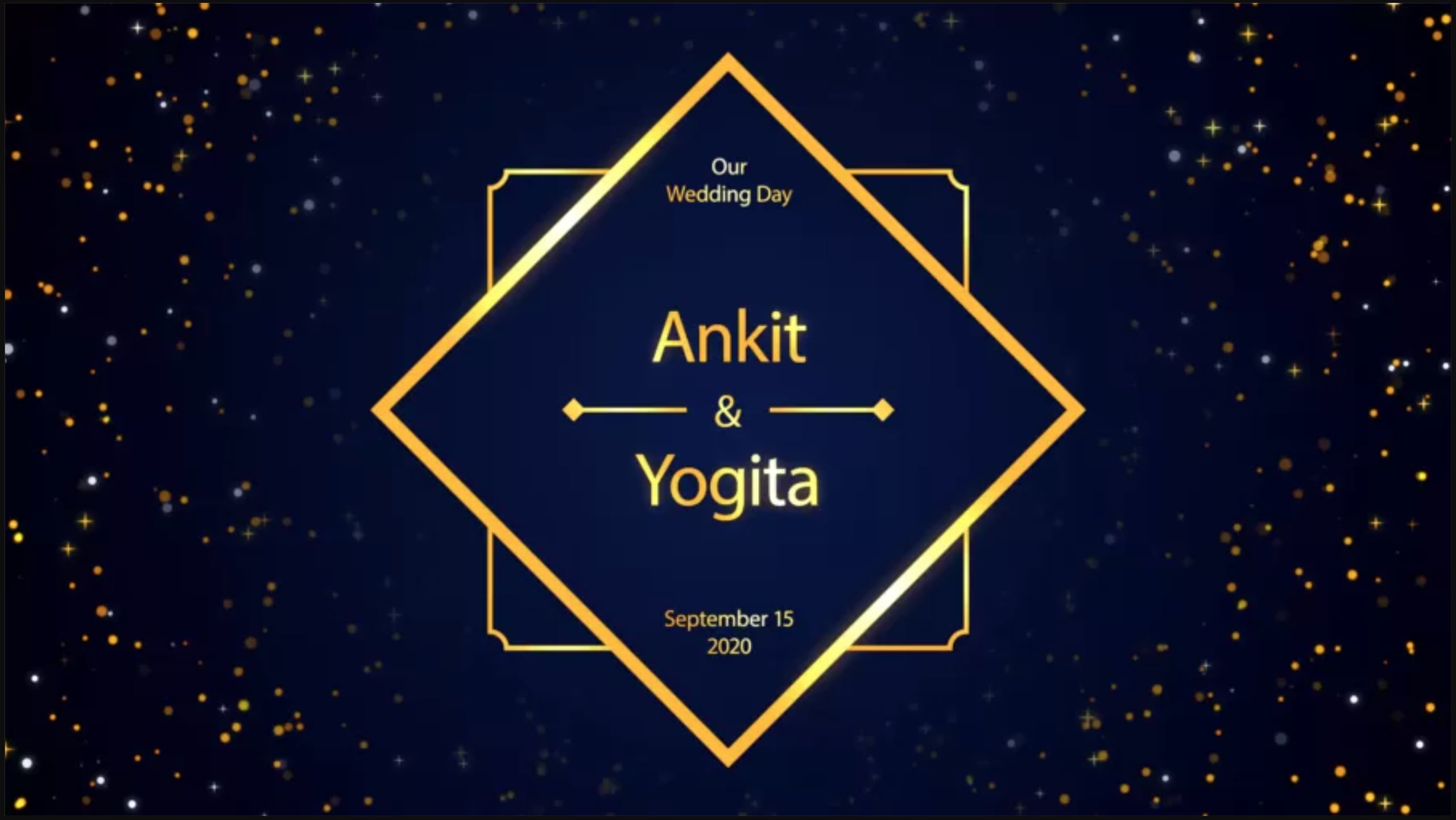 Next in our list of the free After Effects wedding templates is this title design that will blow your audience away, and give them flashbacks of their own wedding day. We wholeheartedly recommend you try it out, especially if you're looking for something unique, and eye-catching.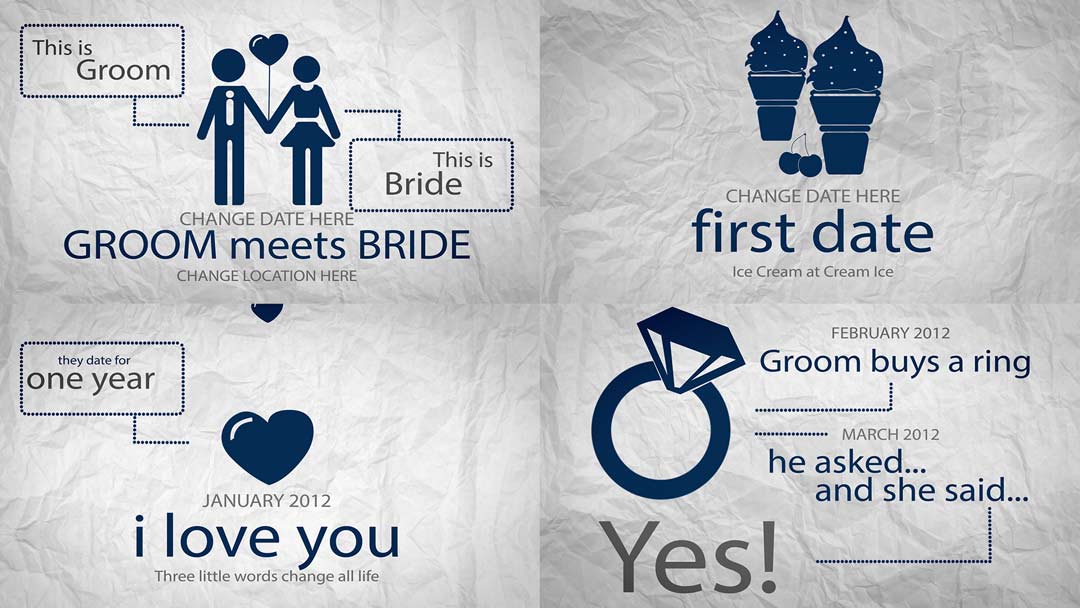 Here we have a playful and modern wedding invitation template that can be personalized with your text, pictures, venue details, and favorite colors. It's a versatile option that can also be used as a wedding intro After Effects template.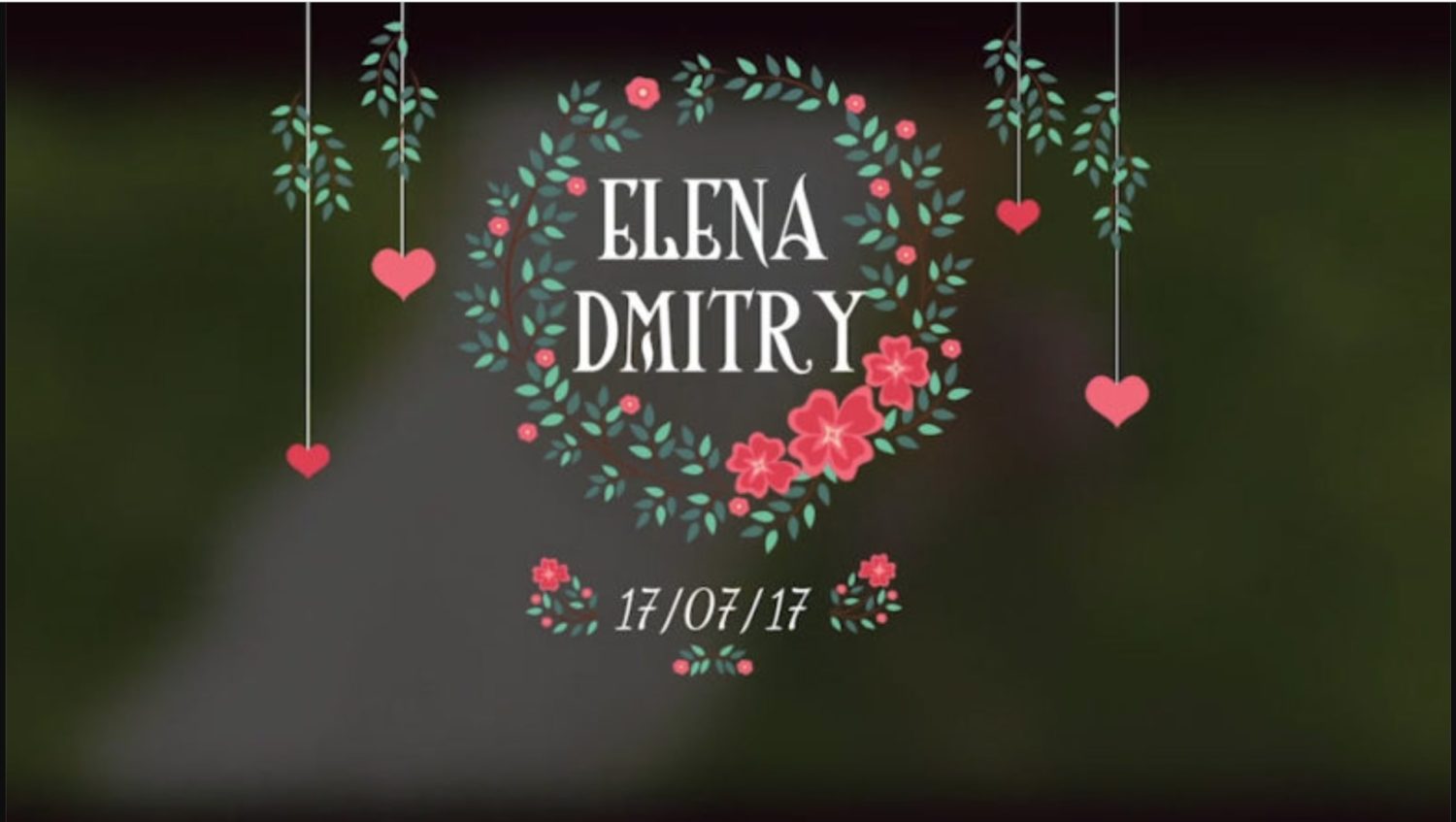 Wanting to enhance the look and vibe of your important day? Look no further than this gracefully designed bundle of After Effects wedding titles ready for you to personalize with your details, and add a magical feel to your wedding day.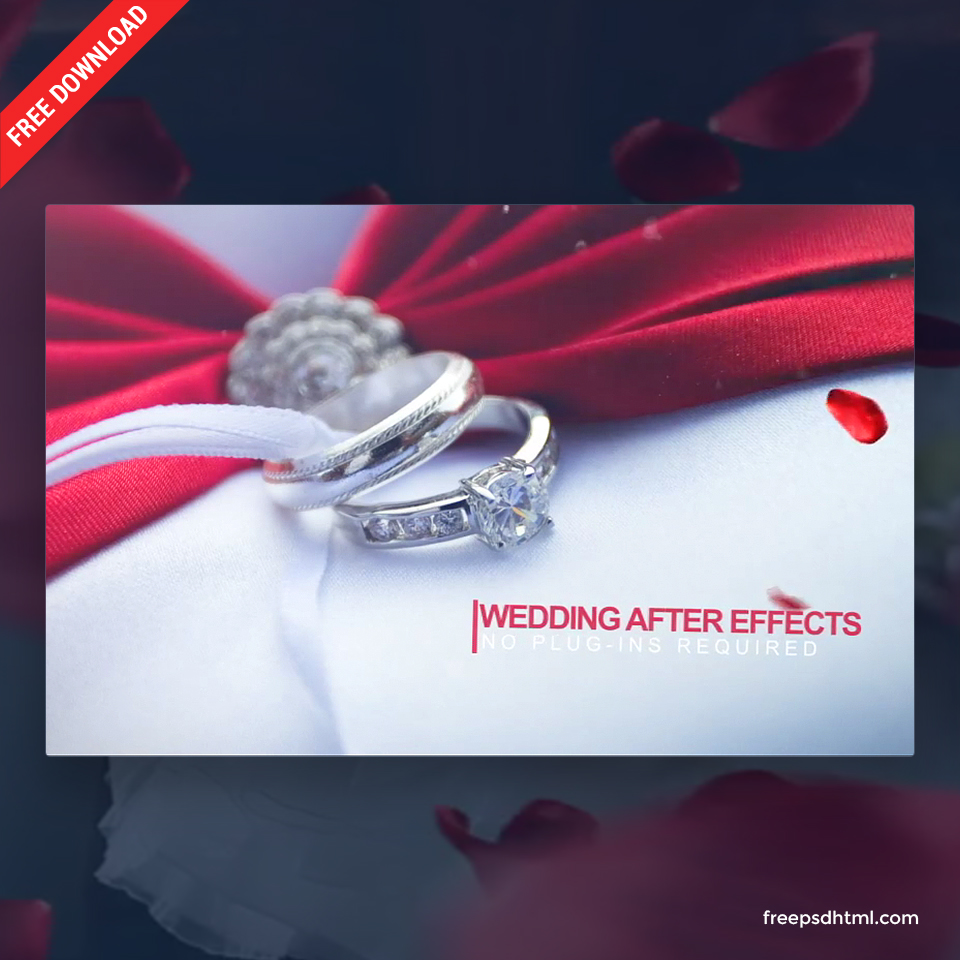 Looking to create an intro video of your wedding? Then this wedding intro After Effects freebie will provide you with everything you're looking for. The template is beginner-friendly and can be customized with just a few simple clicks.
Make Your Special Day A Lasting Memory with These After Effects!
Whilst planning your wedding may be a stressful affair, producing the video that captures those memories doesn't have to be. Now with these After Effects, you'll have everything you need to create an impressive and elegant wedding production with ease.