30+ Best Photoshop Spray Paint Brushes, Effects & Textures 2024
Photoshop tools can take a lot of grunt work out of editing and giving a perfect finish to your photographs. That said if you don't have the right resources on hand, it could be overwhelming to ascertain how to get going.
If you want to create a digital sprayed painting, Photoshop effects can be of great help. Giving your dull pictures an artistic look, Photoshop tools make sure you get applauded for your work.
In this article, we have compiled a list of the best spray paint Photoshop brushes, actions, and textures that can be applied to your text or image in just a few easy clicks. The items are sourced from both premium and free websites ensuring there's something for everyone.
Read on!
Get everything you need to supercharge your Photoshop workflow. From just $16, get unlimited access to thousands of Photoshop actions, Photoshop brushes, add-ons, templates, graphics, fonts and photos.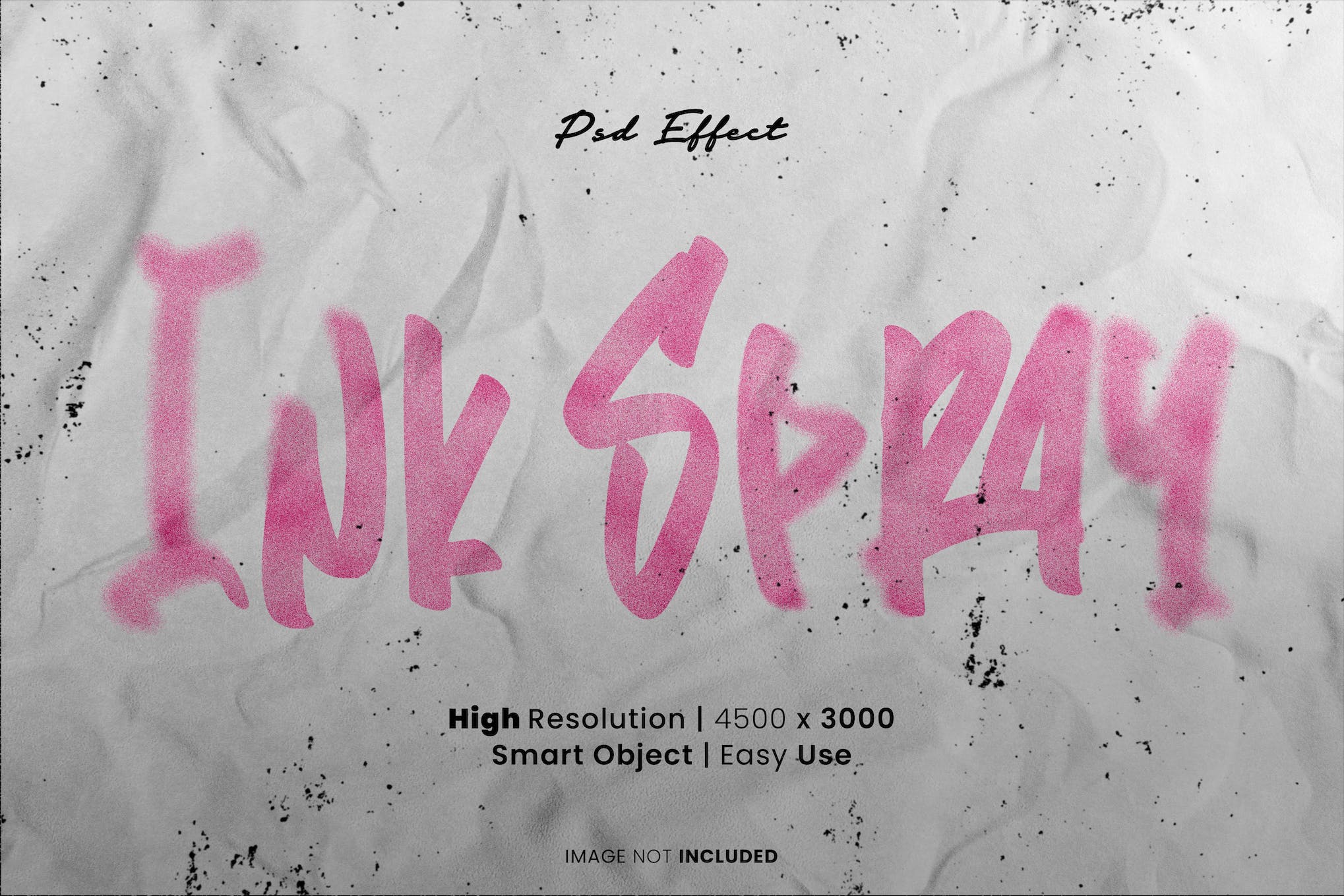 This PSD template provides a high-quality, unique paint spray text effect that will enhance your designs. With a high resolution of 4500 x 3000 at 300 DPI, smart object replacement, and impeccably organized layers, this tool is very user-friendly. Editing is a breeze—just double-click, modify, and save. You can also effortlessly change all colors, allowing for endless creativity.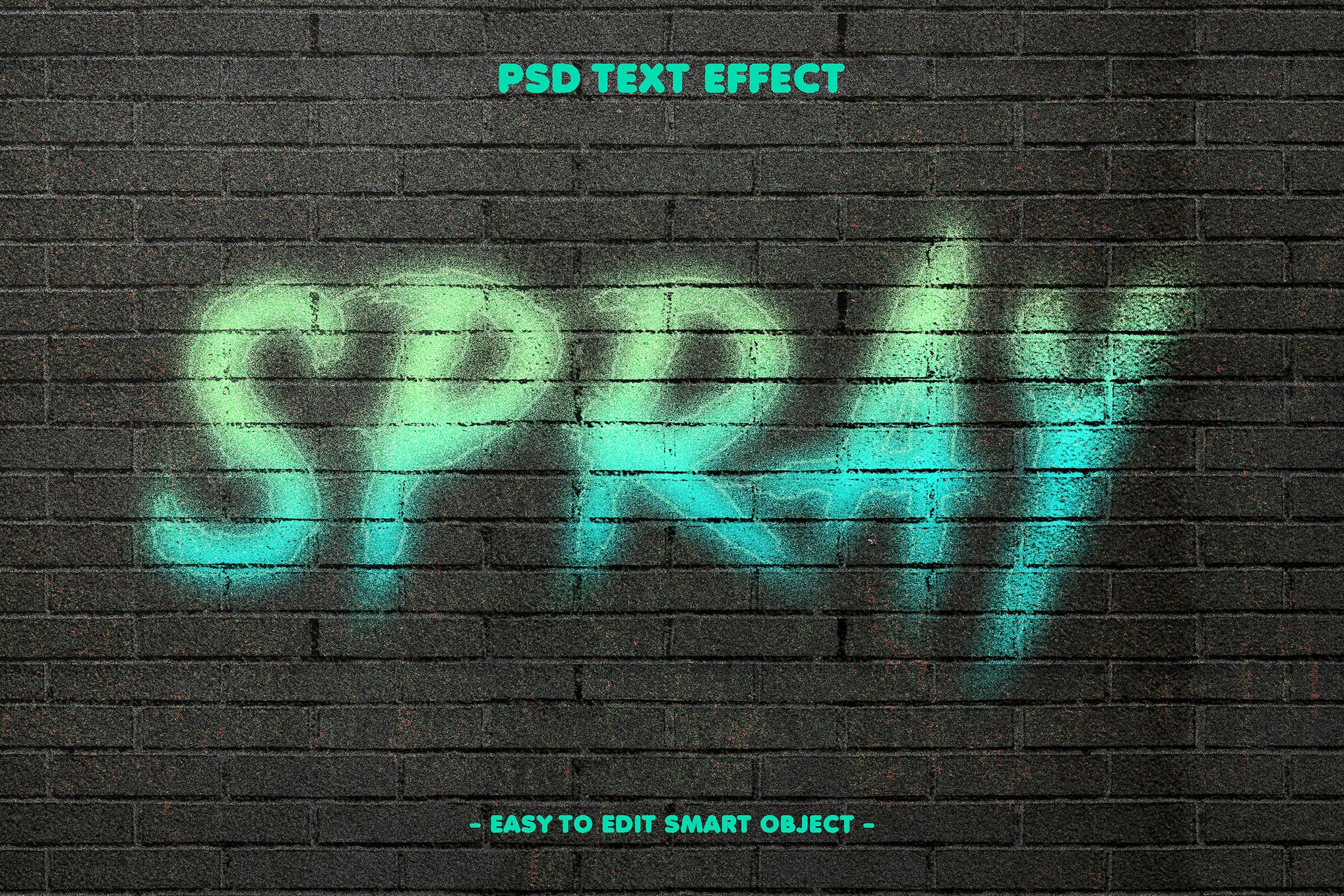 This is a vibrant, high-resolution graffiti-inspired text effect, designed to make your messages stand out on all platforms. With editable Photoshop smart objects, it allows customization to achieve your desired look in seconds. Ideal for posters, social media, banners, or flyers, it brings an edgy, artistic flair to your designs.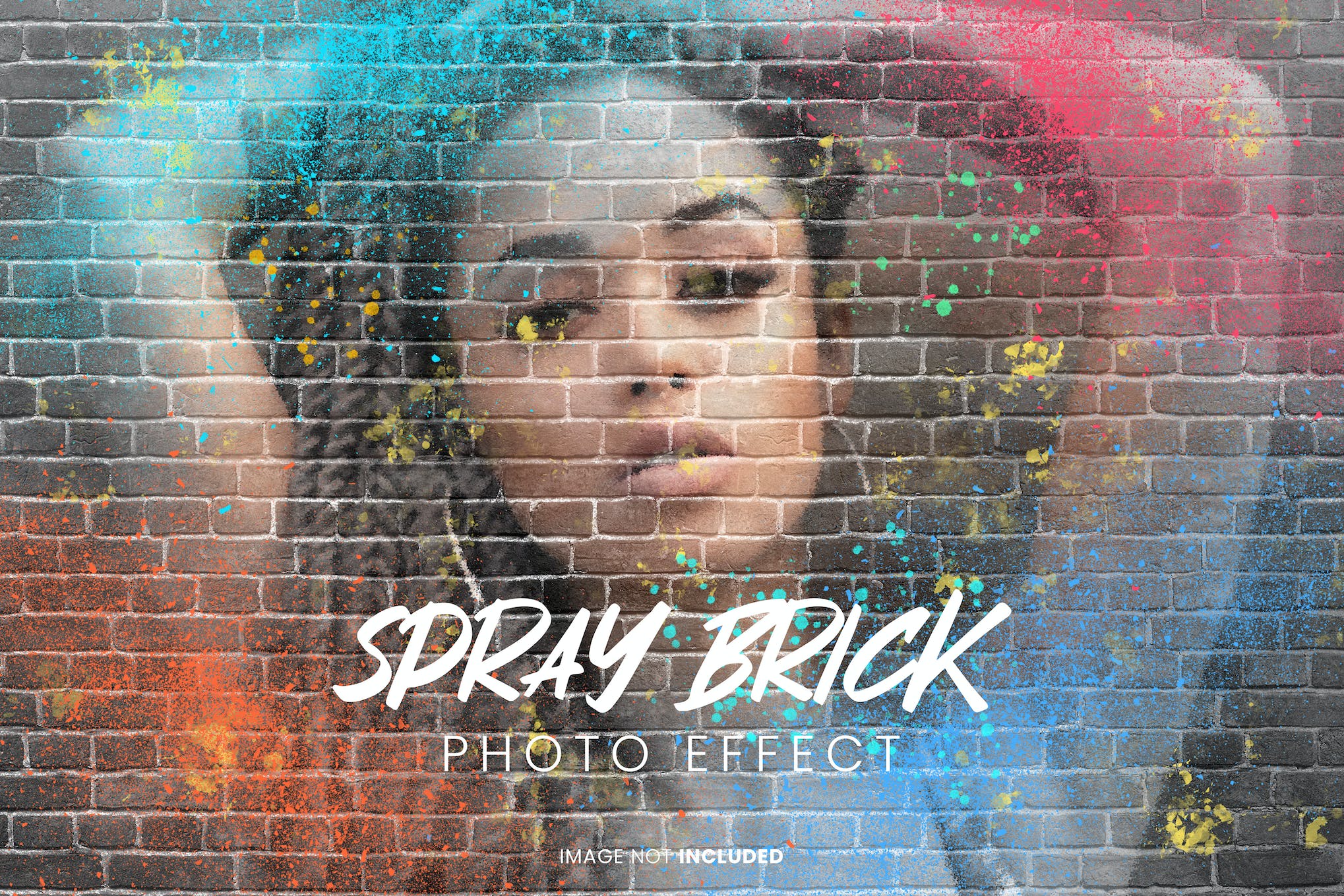 A high-quality, straightforward PSD template designed to enhance your images with a cool spray paint effect. With a 4500 x 3000 resolution and 300 DPI, it offers detailed, high-resolution effects. Customization is a breeze due to organized layers, smart object replacement, and easily changeable colors.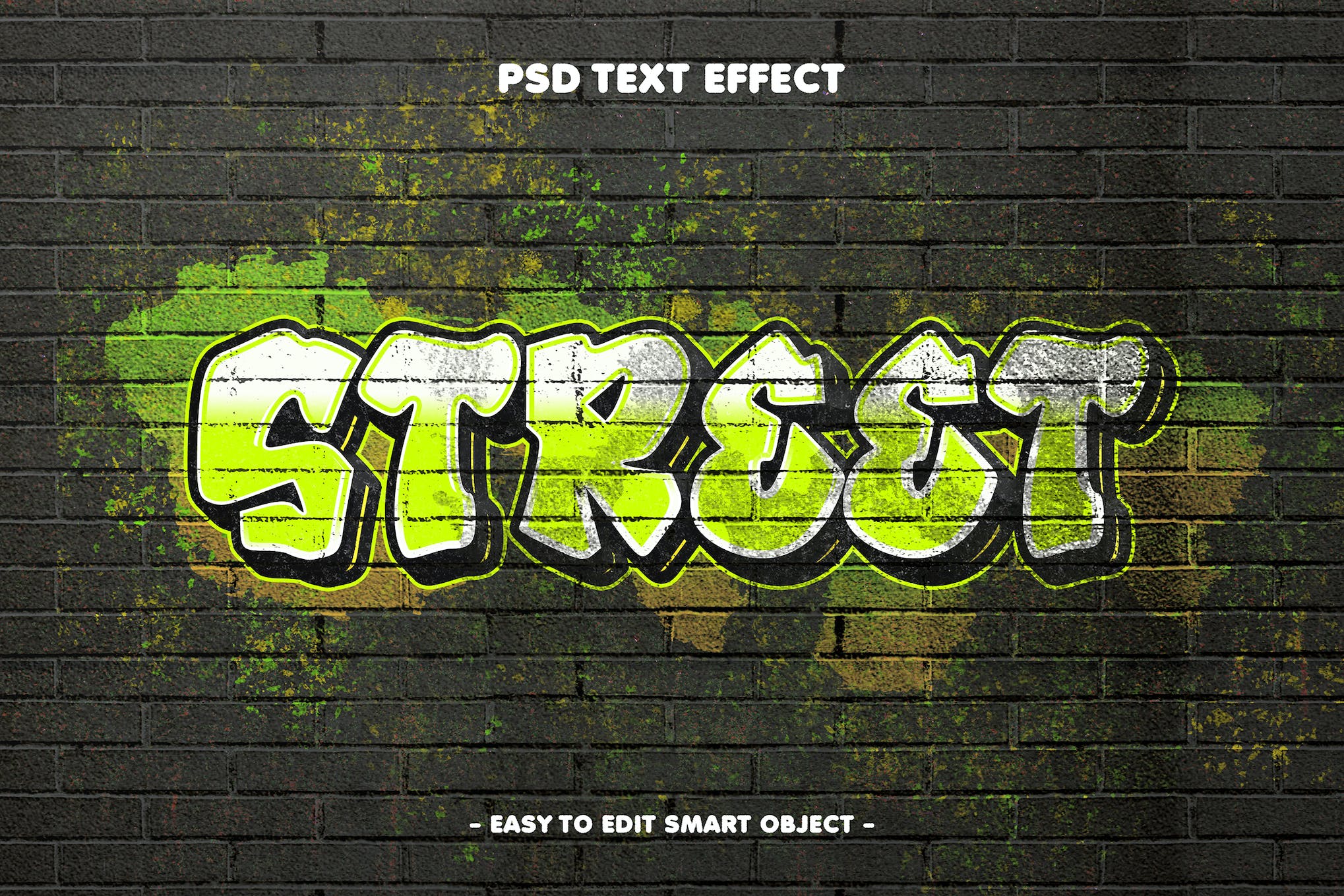 A creative text effect for Photoshop featuring a spray painting design. High-resolution and simple to use, it captures the bold, dynamic style of street art and comic typography. Fully editable, customization is effortless, allowing for a unique look in seconds. Ideal for social media posts, banners, and templates, it is a fun addition to any digital arsenal, coming with an easy-to-follow user guide.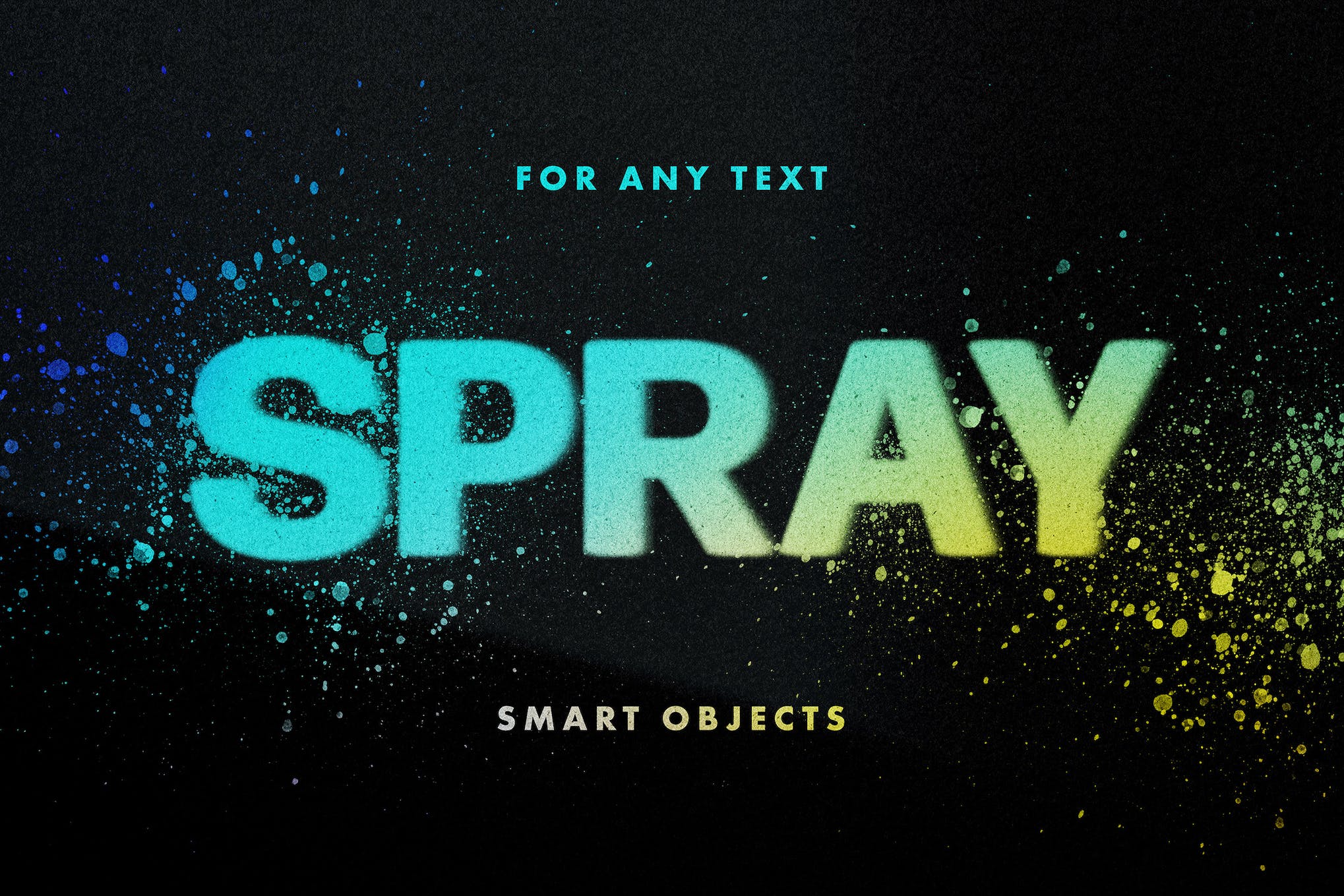 You can use this spray painting effect to create stunning art pieces reminiscent of Banksy's graffiti. Bring your work to life with our 10 gradient colors and 4 textures; customize your text or logo with any solid color, then accent it with 10 paint splatters for authenticity. Perfect for branding, advertising, and social media posts.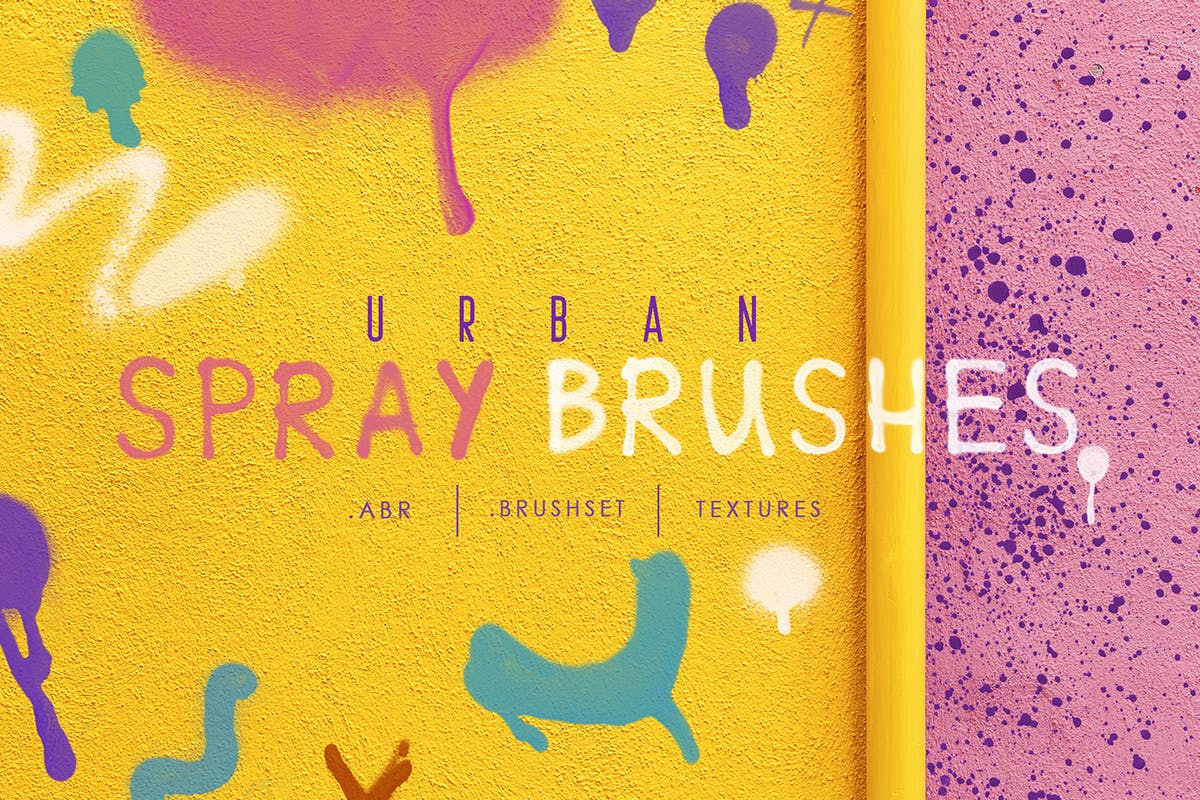 Check out this bundle of Photoshop and Procreate brushes containing urban-themed spray and smear elements. Inside the pack, you will get a range of alphabet letters with transparent backgrounds, spray paint constituents, and textures.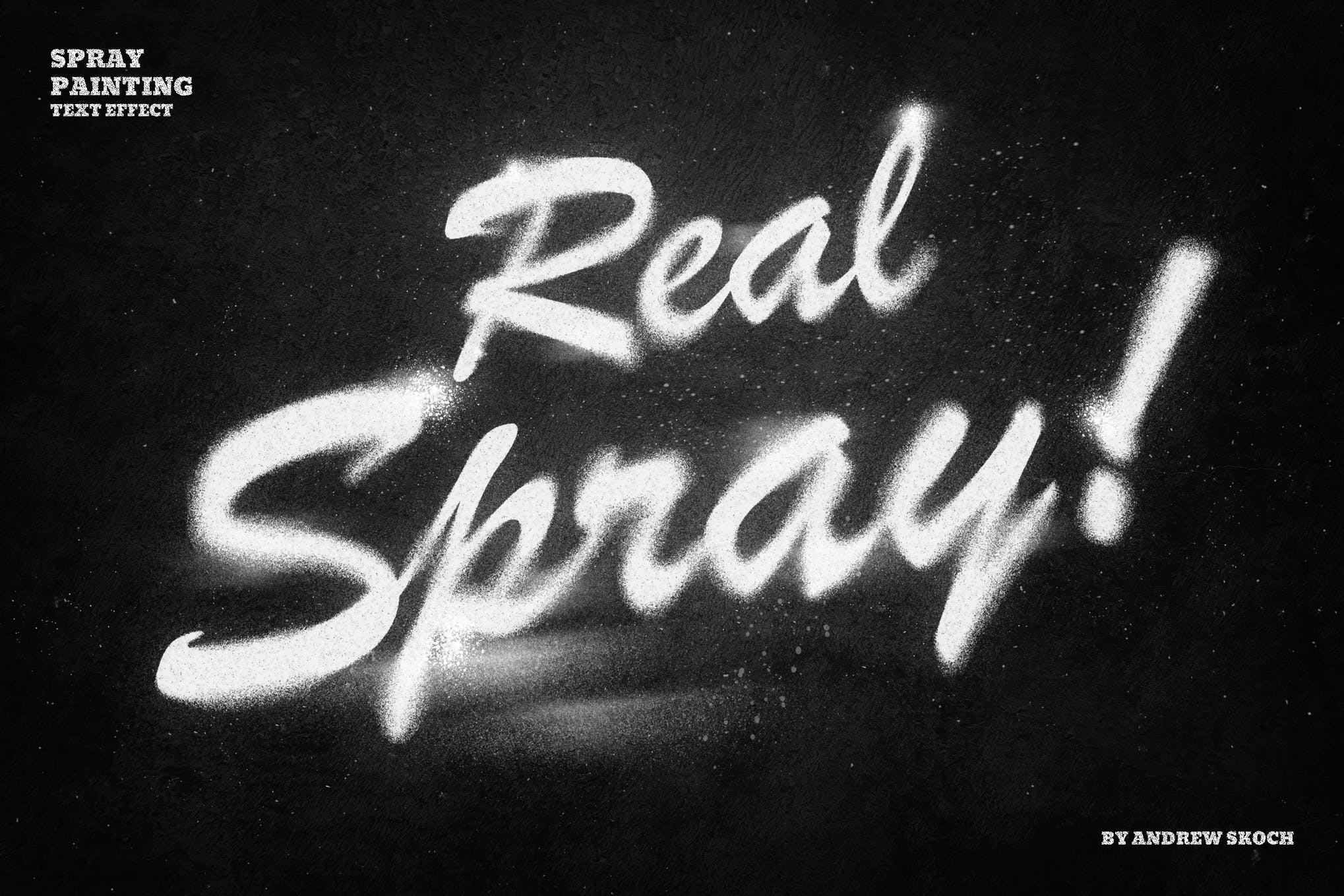 Add a cool art filter to your text, logo, or pixel layer with this spray paint text effect Photoshop action that comes with a range of background and color options for you to choose from, produces different results each time it's run, and works with any Photoshop language.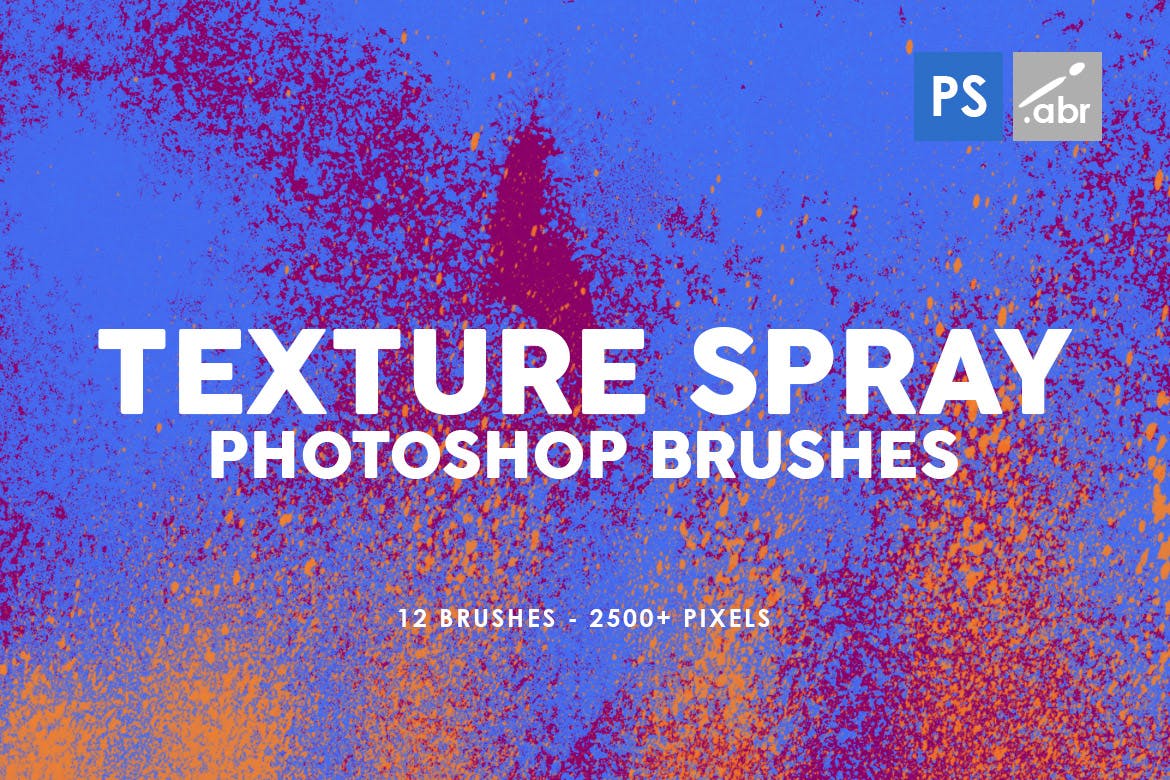 Here we have a collection of twelve high-resolution spray paint texture Photoshop brushes, up to 5000 pixels in size. These brushes can be a great addition to any design project ranging from cards, flyers, and posters, to presentations, websites, and apps.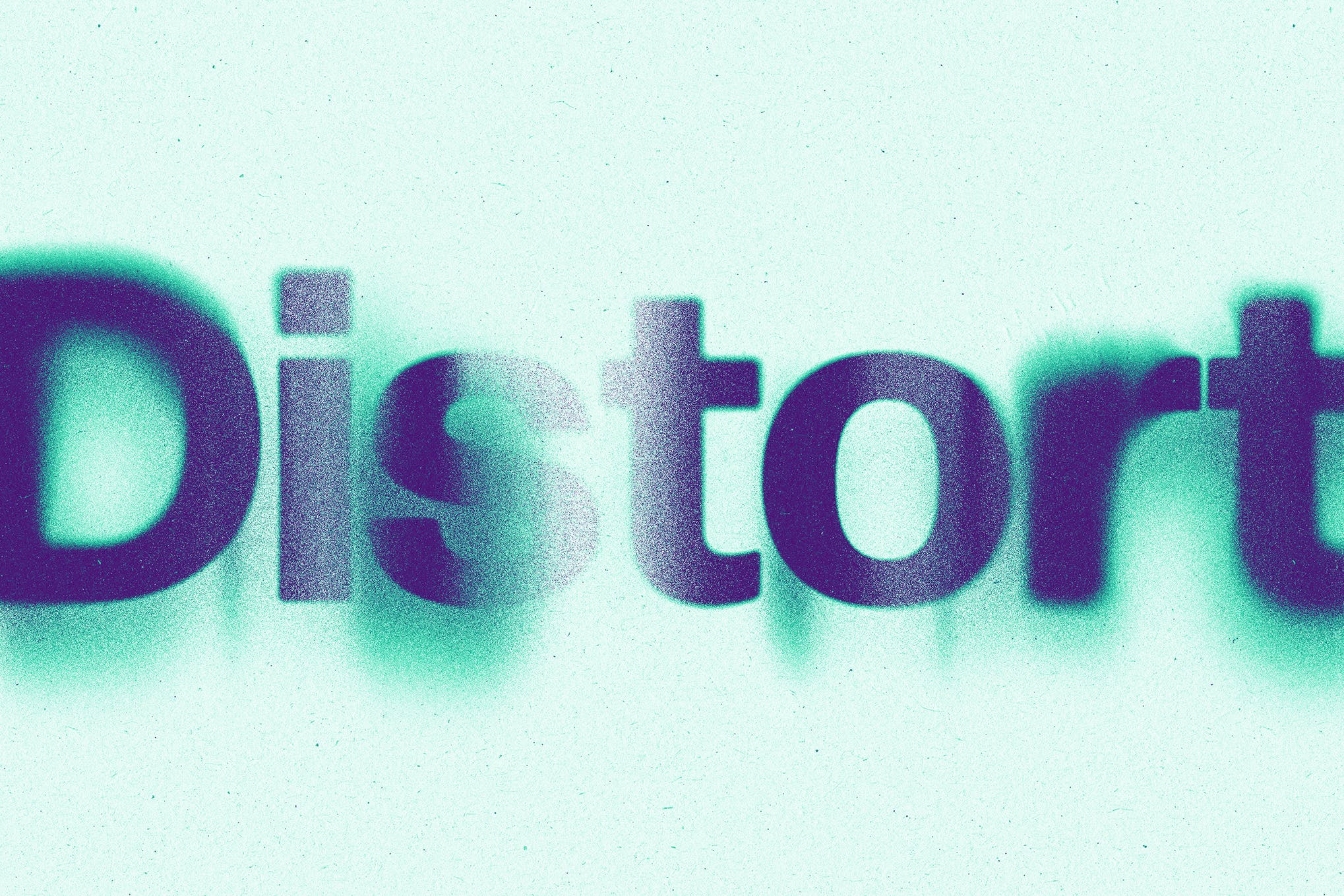 Whether it's typography, illustration, or icon, this smudged spray displacement effect for Photoshop will give your artwork a grungy, and noisy appearance guaranteed to wow your clients. It's a great spray paint Photoshop effect that you'll be excited to use when the time comes.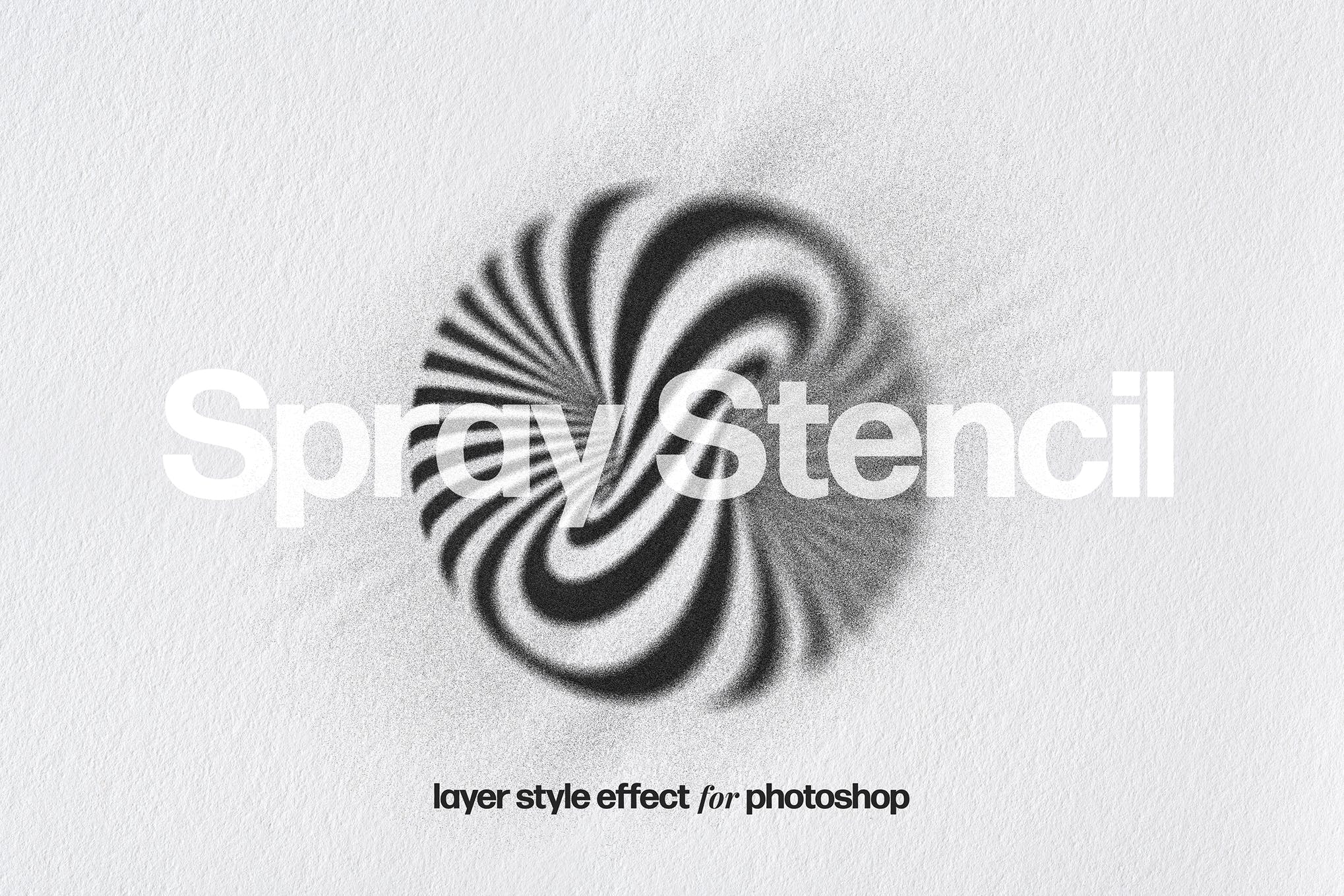 These Photoshop layer styles will help you achieve a beautiful spray-painted picture with smeared edges in just a few easy clicks. All you have to do is choose a file, place it in Photoshop, and wait for the magic to happen. If you are working on an urban-themed design project, these stencil layer styles are a must-have in your toolkit.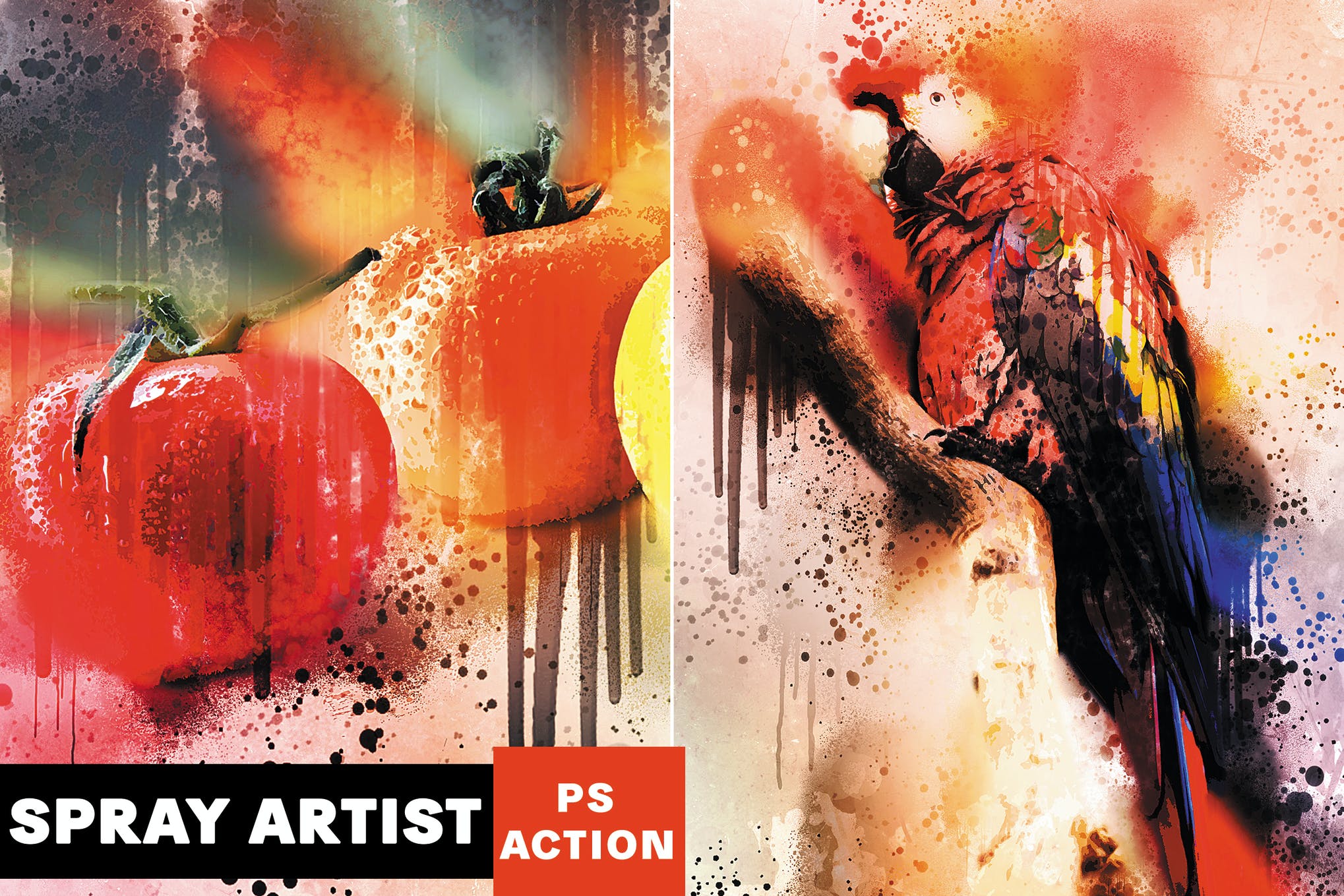 Next up is a Photoshop action allowing you to create an artsy effect packed with drops, splashes, and spray components. The outcome is professionally painted graphics sure to make an impression. An outstanding spray paint Photoshop action that you must definitely check out!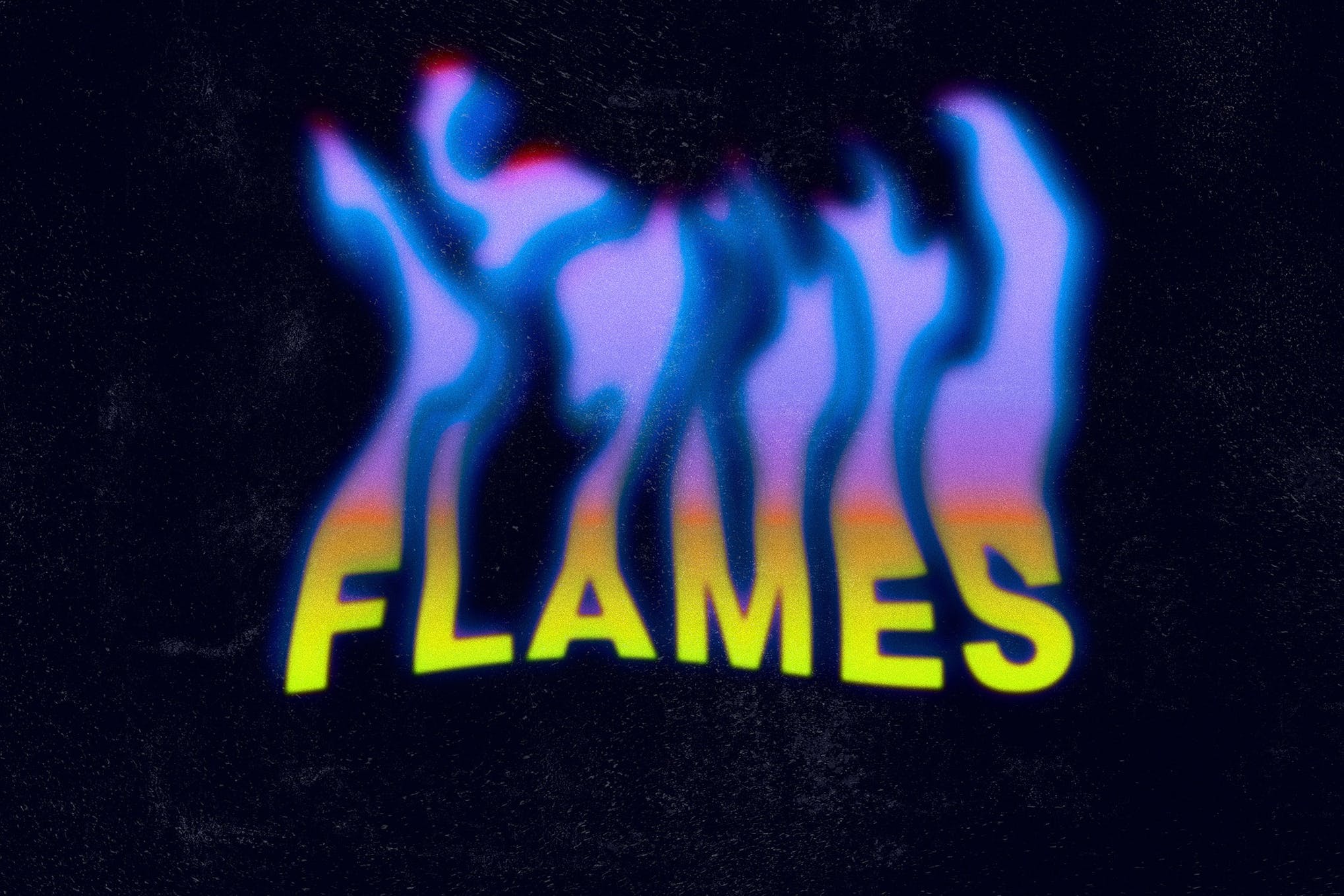 Watch your lettering burning with some colorful acid chemicals sprayed all over it. Whether you want to create a multicolor, monotone, or gradient look, this spray paint effect for Photoshop offers a surprising amount of creative control in your hands.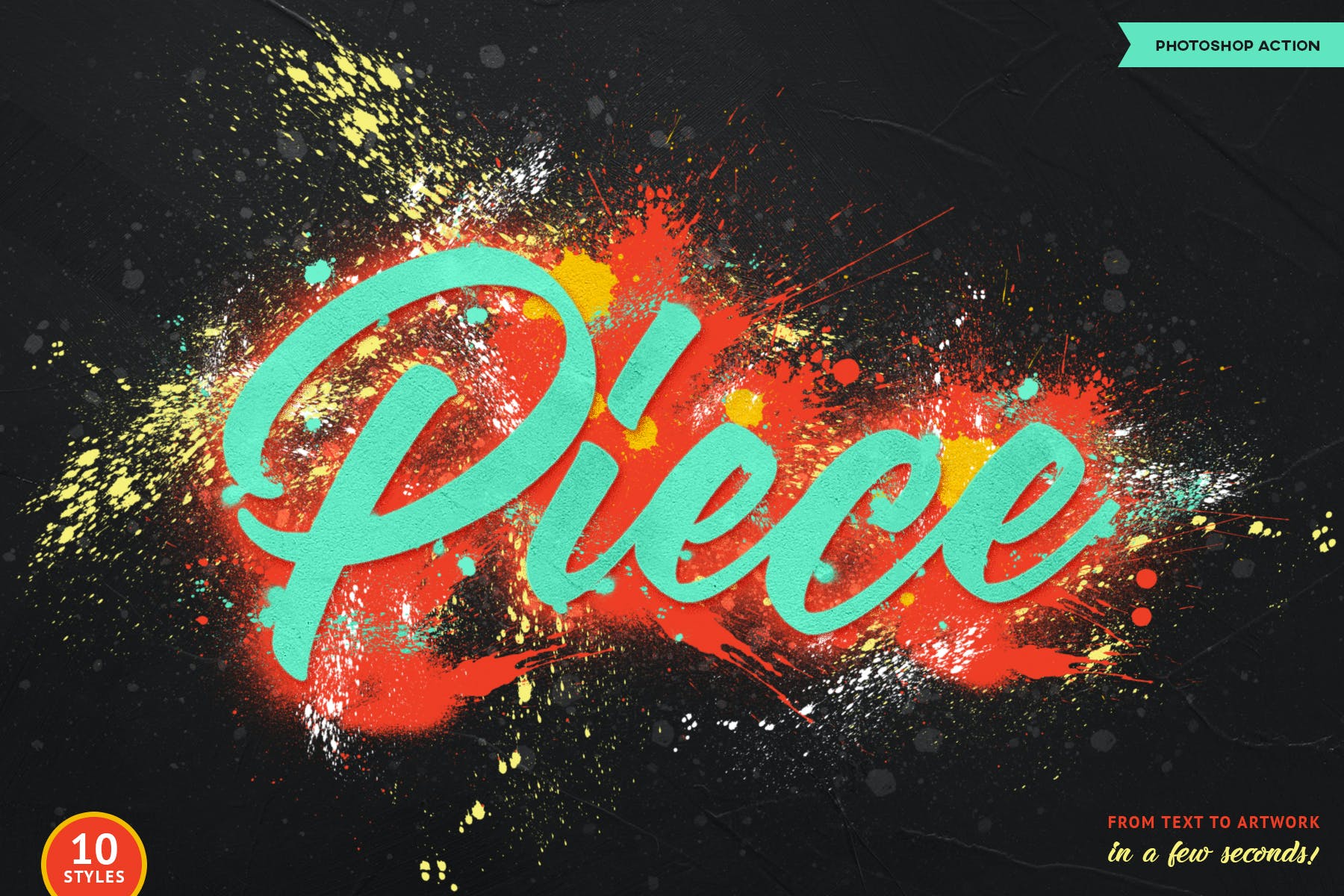 Wanting to get a unique and creative spray-painted aesthetic for your text, or logo? Look no further than this Photoshop action containing 10 effects giving a street art style appearance to your artworks. This spray paint text effect Photoshop action is indispensable in an artist's toolkit!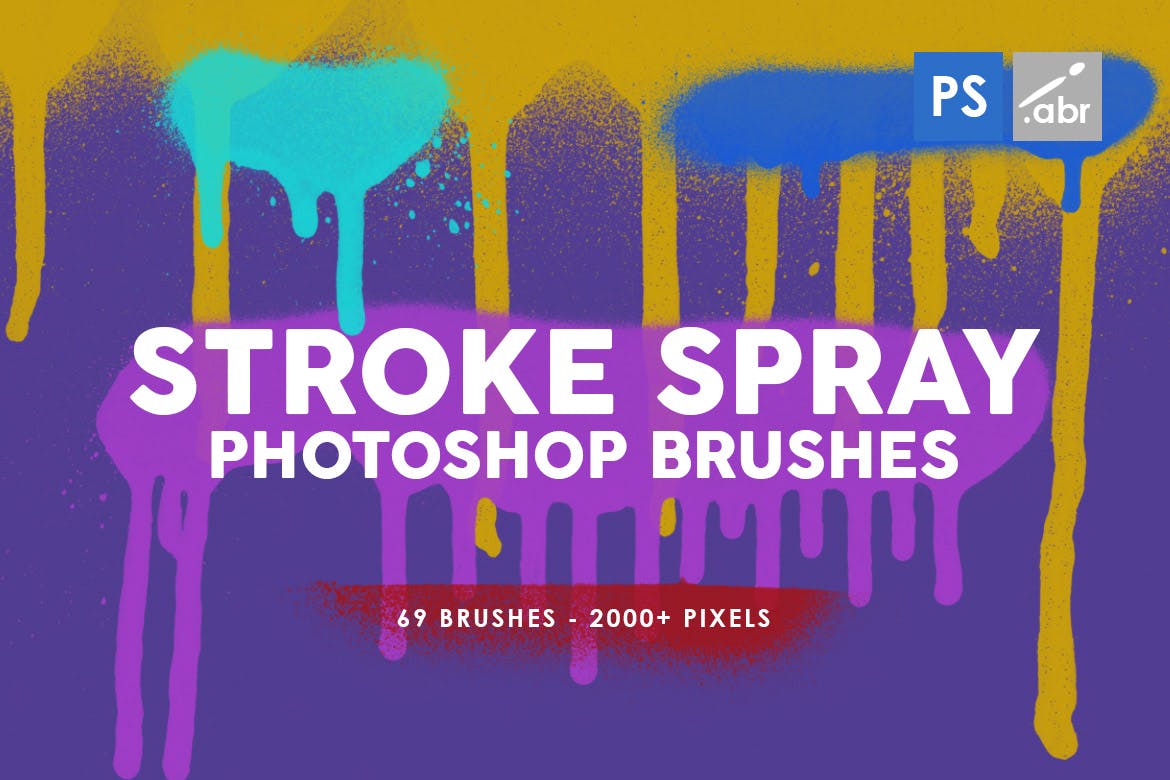 Feast your eyes on this massive pack of sixty-plus Photoshop spray paint brushes helping you create unique artworks that will knock your audience off their socks, and give your digital paintings the appreciation they deserve.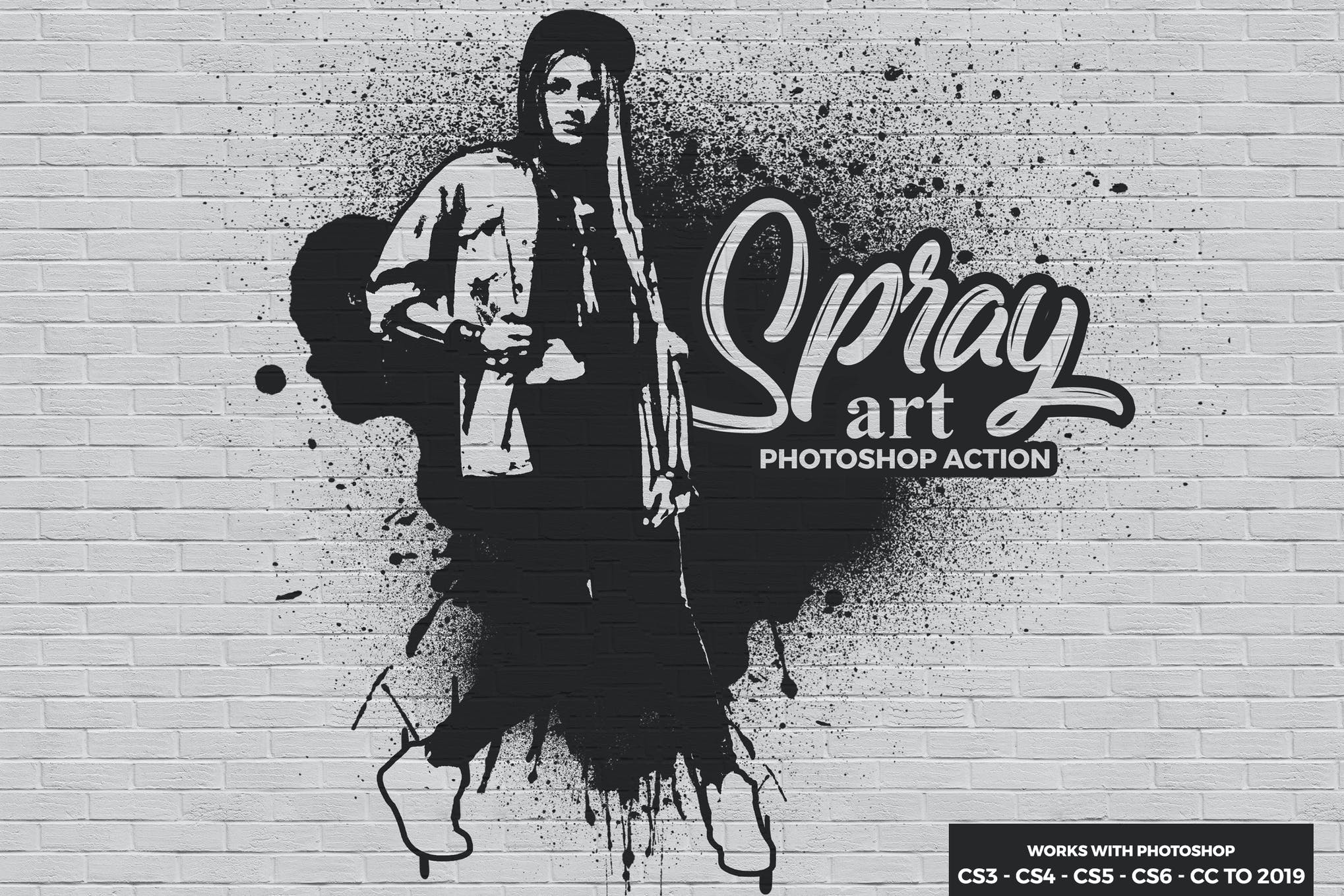 This is a non-destructive Photoshop action purpose-built to give your images a nice sprayed look in just a couple of minutes. It's compatible with Photoshop CS3 to CC 2019, and since everything remains layered, you get a lot of creative control on your hands.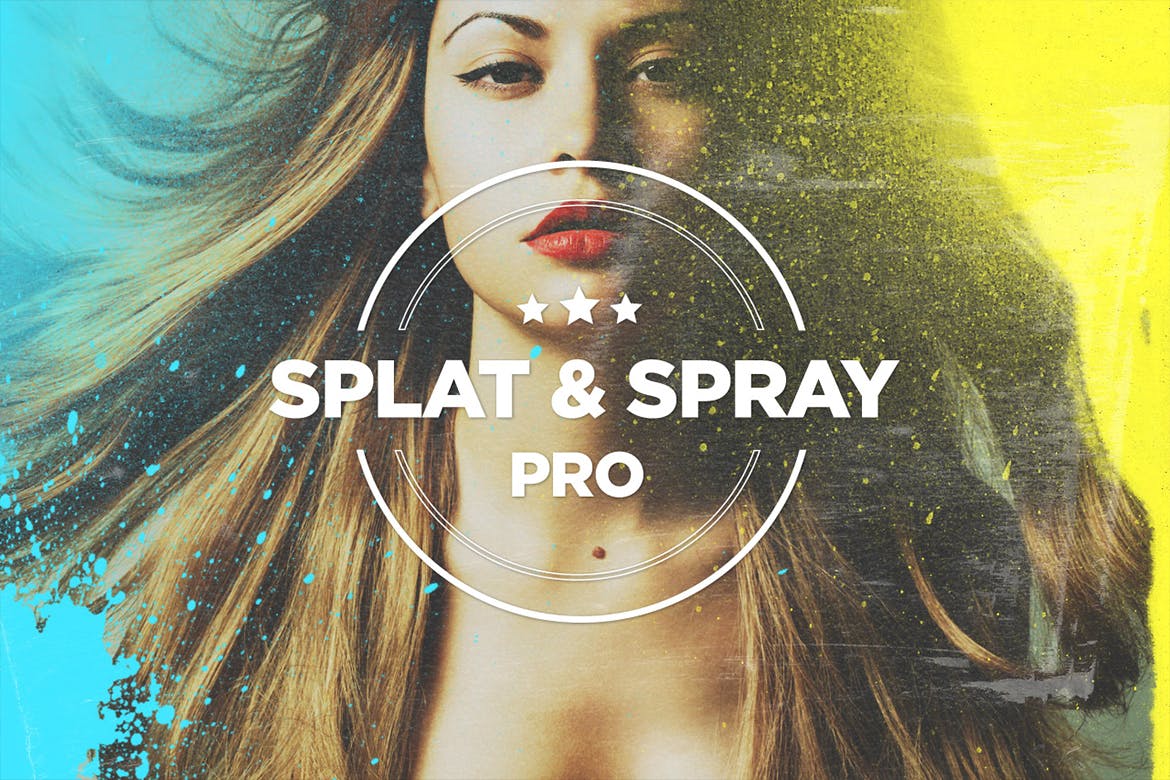 Perfect for adding texture to your digital artworks, and giving them a grungy effect, this set of forty-seven Photoshop brushes is a great choice if you are wanting to achieve a professional-grade spray and splatter look in the easiest way possible.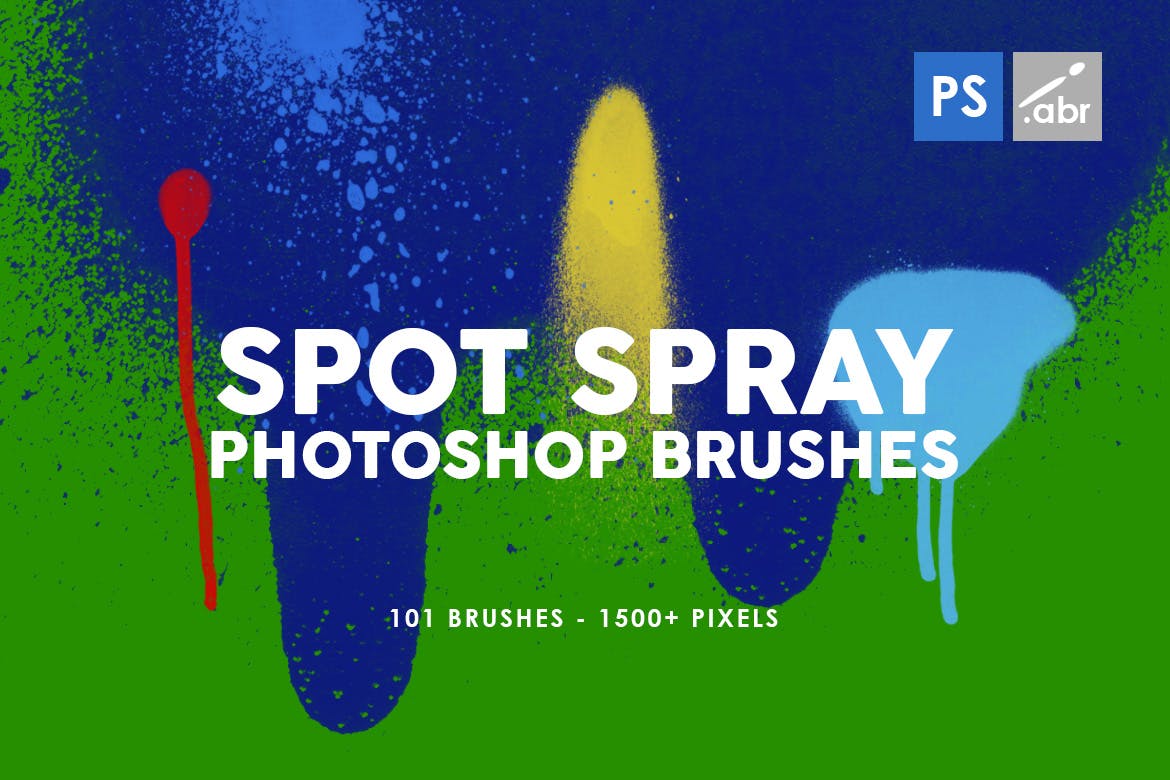 Regardless of the type of spot and blob effects you are after, this massive library of hundred plus spray paint Photoshop brushes has you covered. with these brushes in your toolkit, the only limit you have for creating stunning sprayed paintings is your imagination.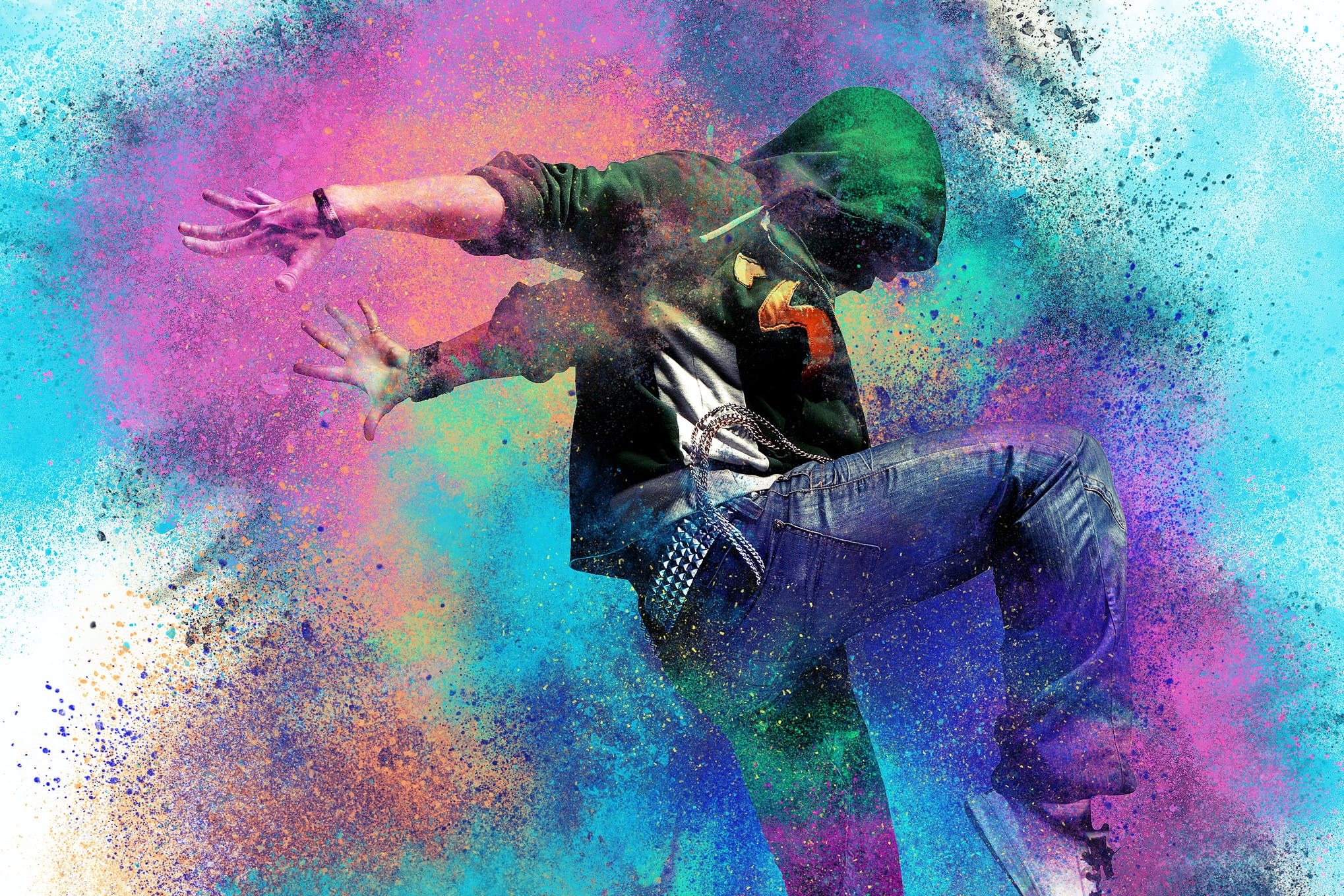 Make your pictures blow up in a breathtaking cloud of bright-colored dust combined with a beautiful spray effect at a lightning-fast speed. The action is super easy to use, and customize using Photoshop CS3, CS4, CS5, CS6, CC 2014, and higher versions.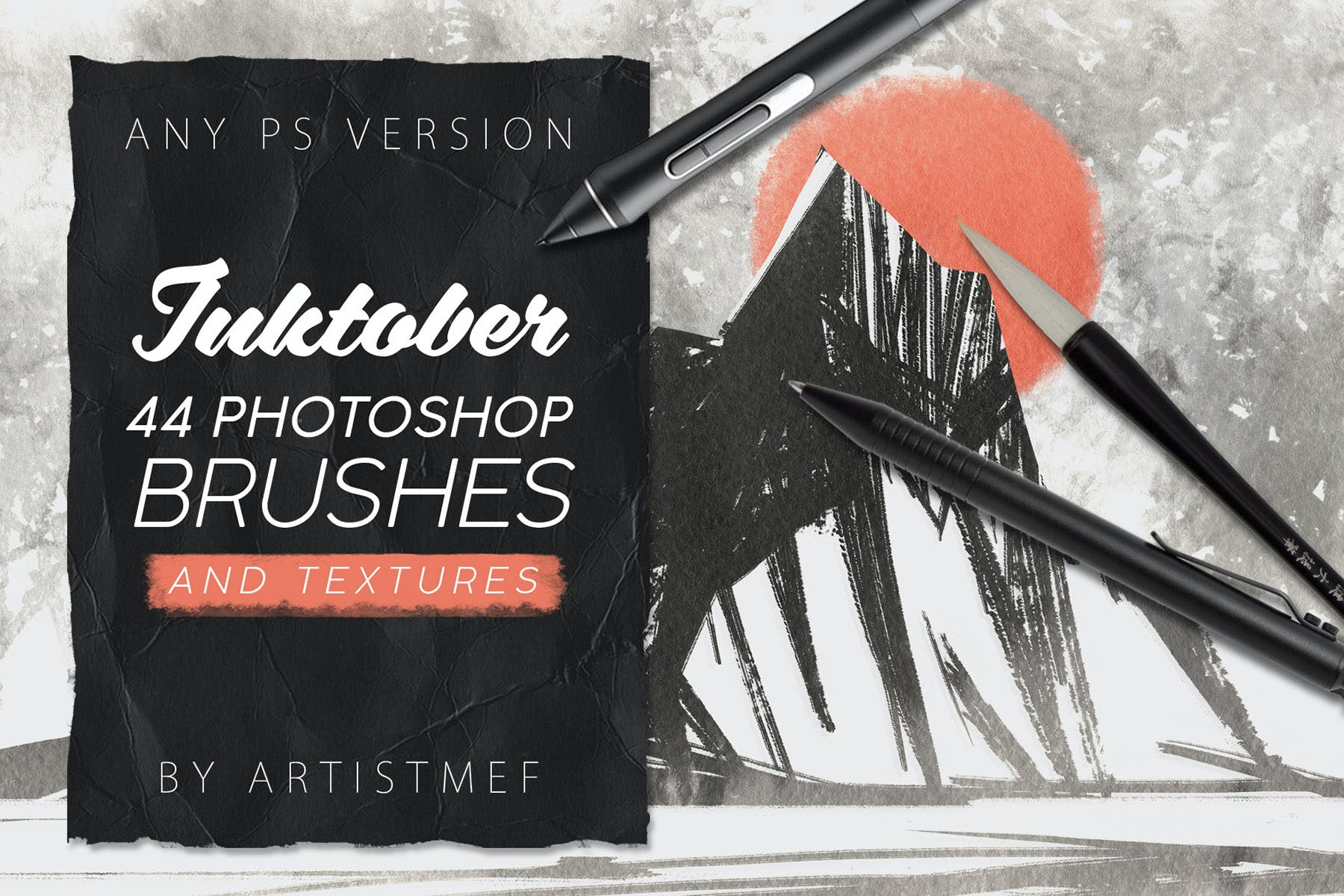 Whether you are wanting to imitate the modern style of painting or classic Chinese art, the Inktober collection of Photoshop brushes comes in very handy. It contains a range of ink brushes for calligraphy, line art, and painting purposes, as well as grunge, spray, and wet edge effects.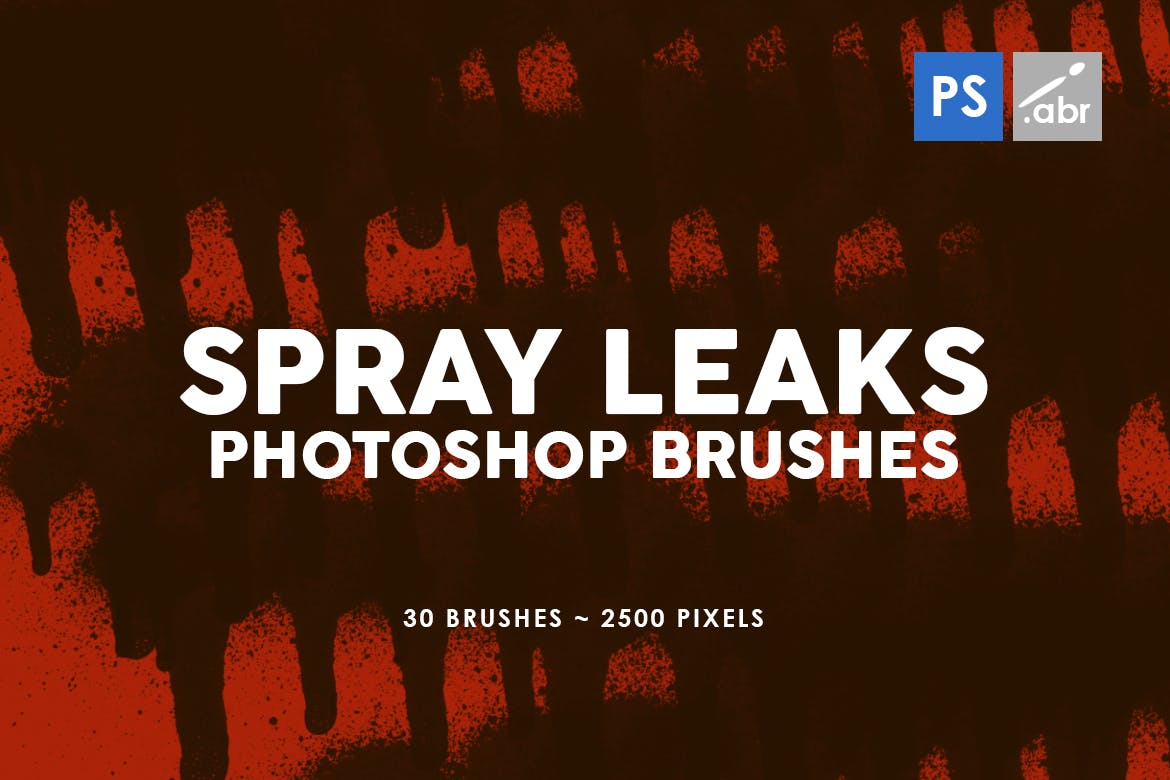 Decorate your digital pieces of art with these Photoshop brushes giving out a mesmerizing spray leak look, and establish you as a professional designer within your counterparts. The pack contains thirty high-resolution spray paint texture Photoshop brushes compatible with any version of Photoshop.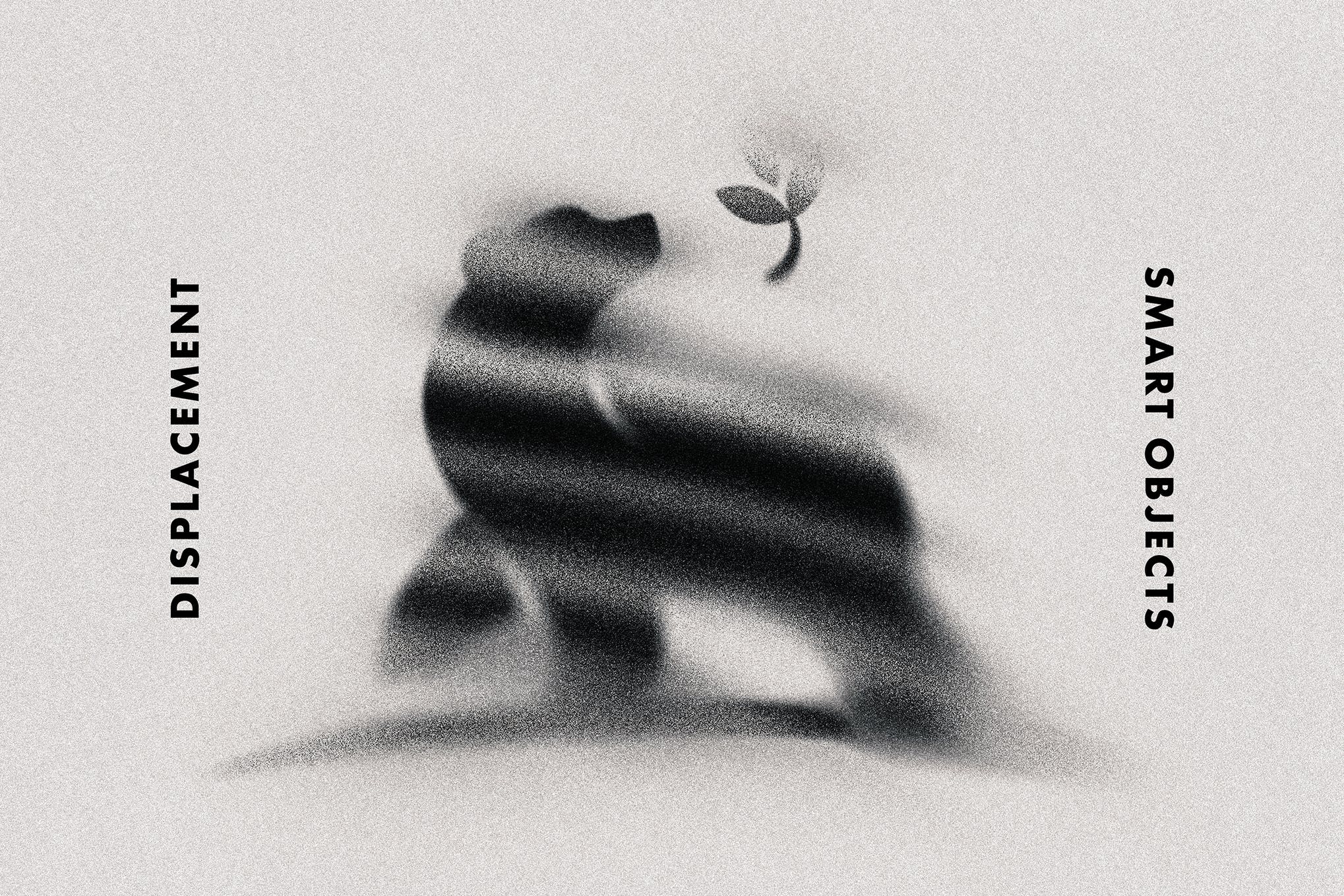 This spray patterned distortion effect is an excellent choice for giving an ancient artwork a whole new shine. Designed for professional photographers, graphic designers and illustrators to give their work a noisy look, this spray paint Photoshop effect is a must-have in any visual artist's toolkit.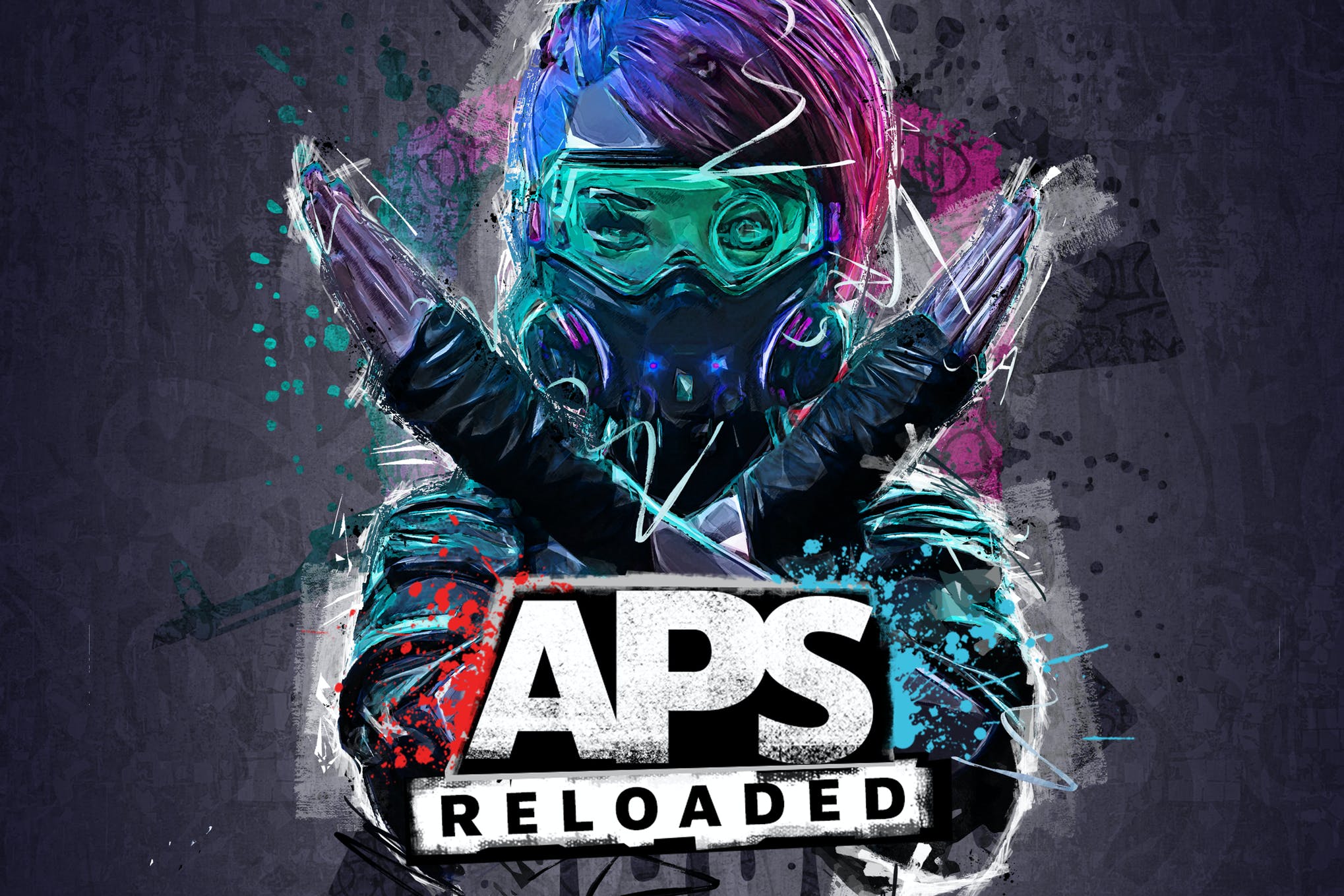 Use this Photoshop action to give your photos a slight hint of spray and splatter effect. It offers well-organized, adjustable layers, and works for images of 3000 pixels size or more in CS6, CC+ versions of Photoshop. The action is non-destructive allowing you to retain 100% of the original picture.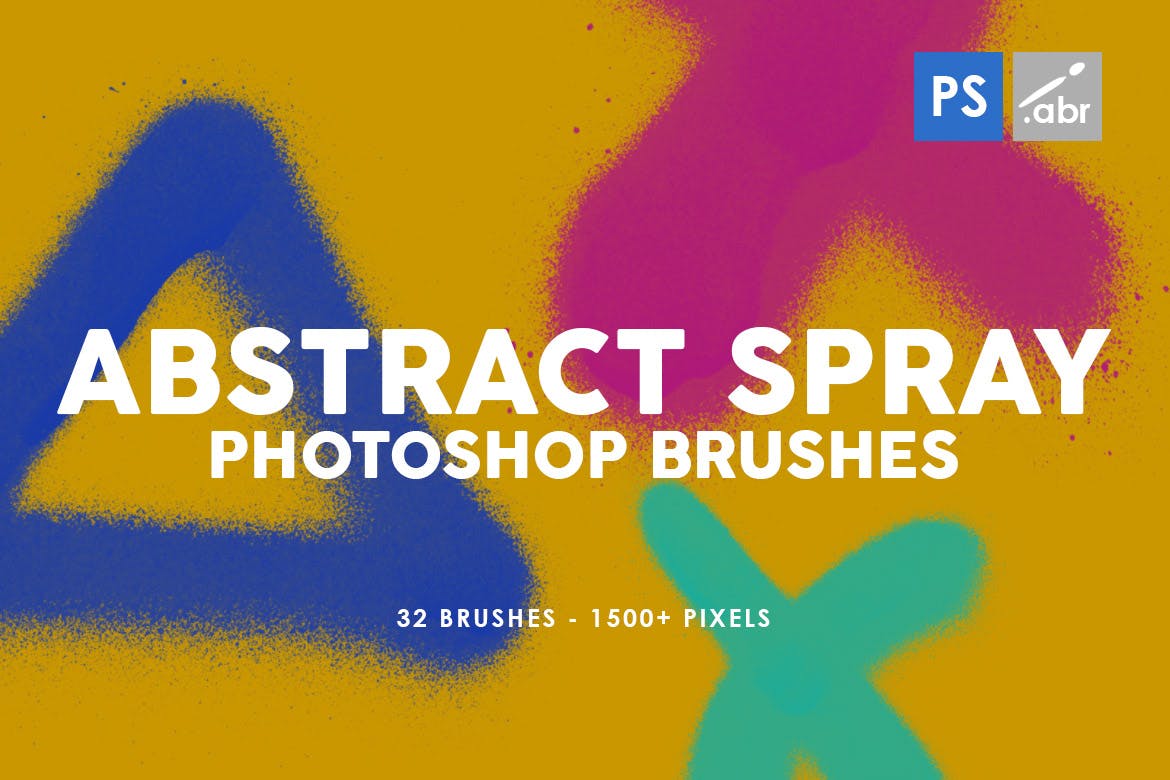 Looking to create an abstract painting on the digital canvas? Consider employing this set of thirty-two spray paint effect Photoshop brushes, and prepare yourself to get standing ovations from your clients, followers, and colleagues.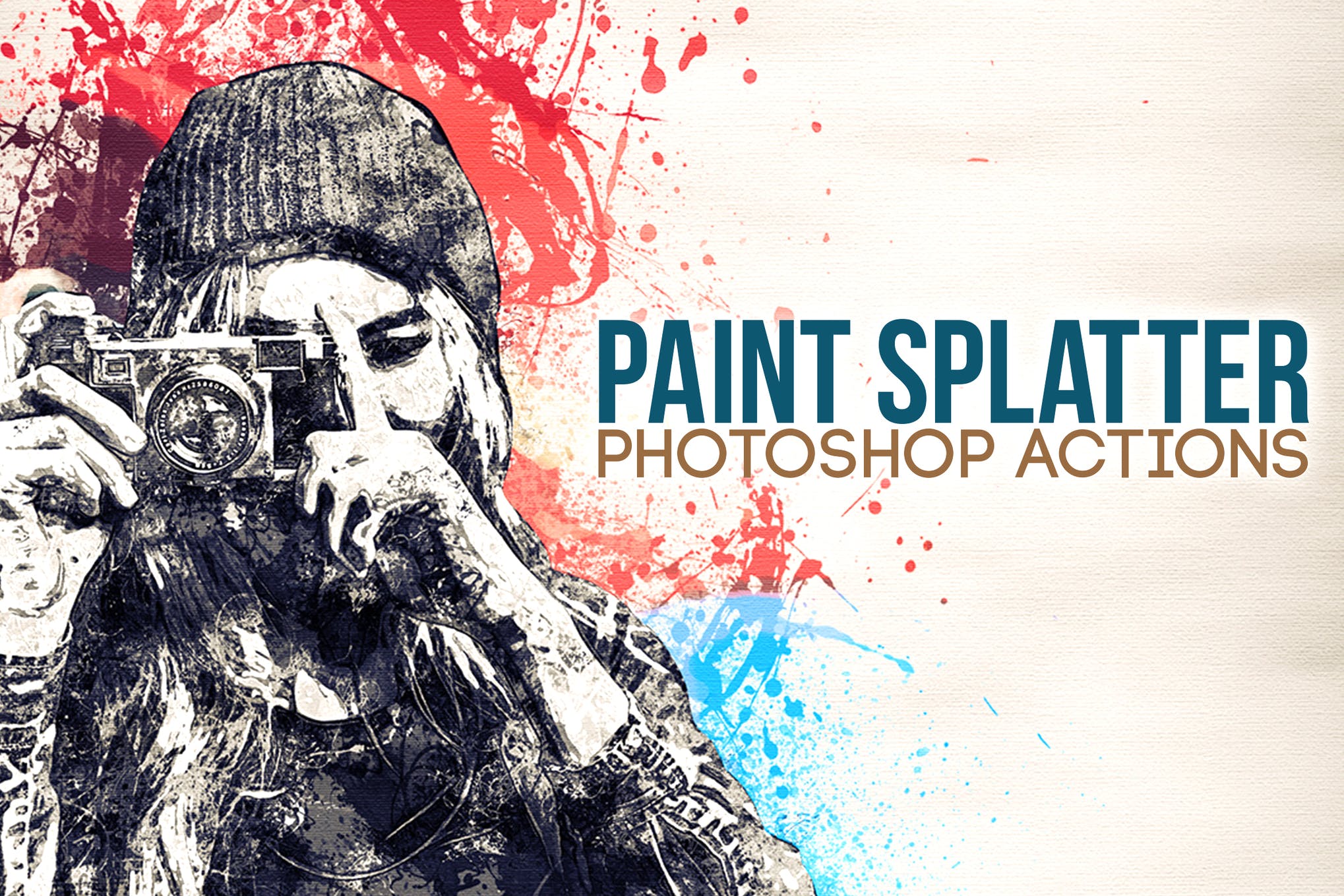 The Paint Splatter Photoshop action is a great option for beginners for it comes packed with well-organized layers, color coded, and grouped structure, plus a detailed video walkthrough on how to use the action and customize the final image.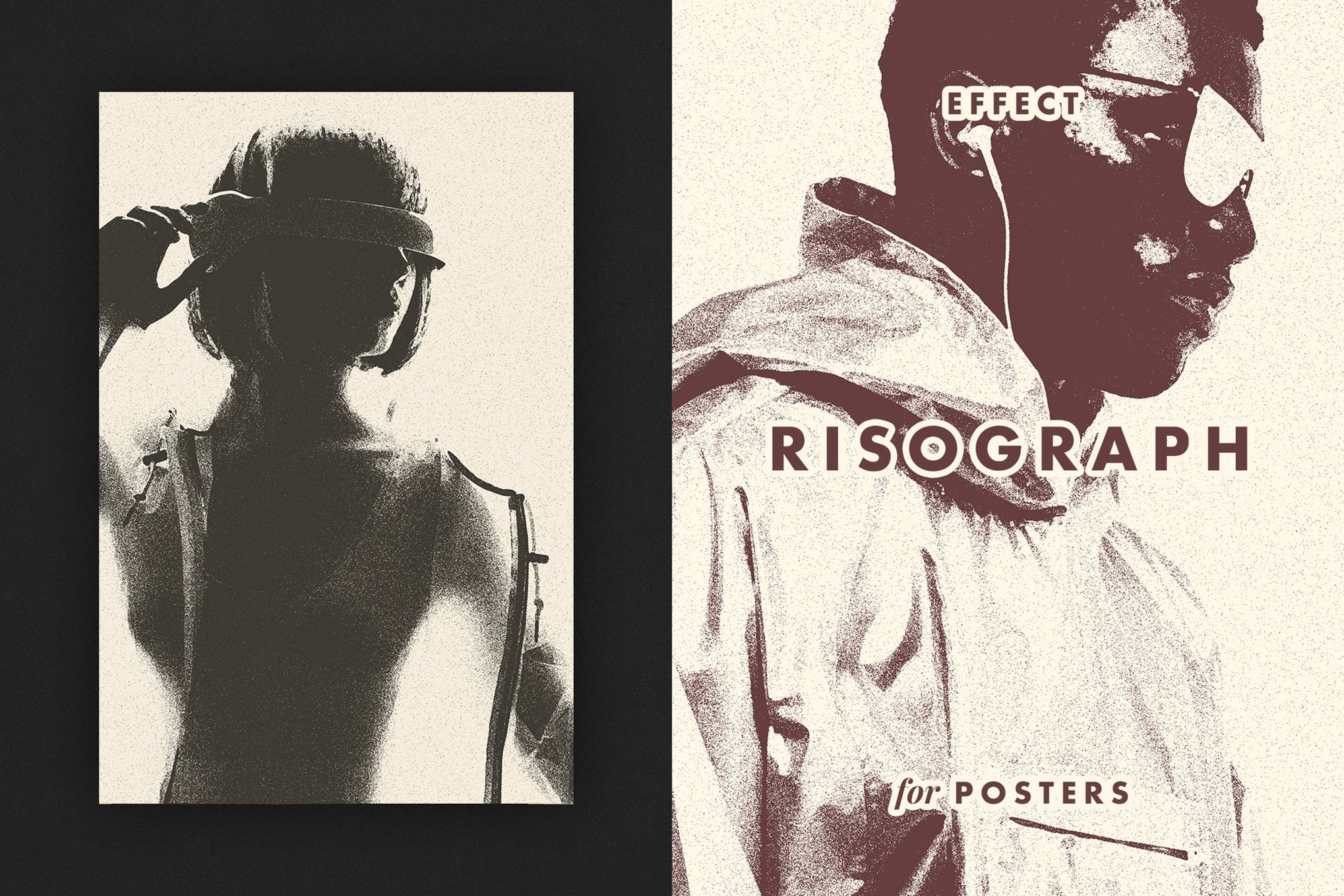 Consider this risograph Photoshop effect for giving your projects a creative and classy touch. Featuring a classic newspaper letterpress style combined with the modern-day sprayed graphics, this product will help you create something truly astonishing in tandem with your artistic skills.
Free Spray Paint Photoshop Effects
If you are wanting to get your hands on some really awesome spray paint Photoshop effects without spending a penny, you are in for a treat. We have compiled a list of the best freebies that we think are a bit special. Let's take a look: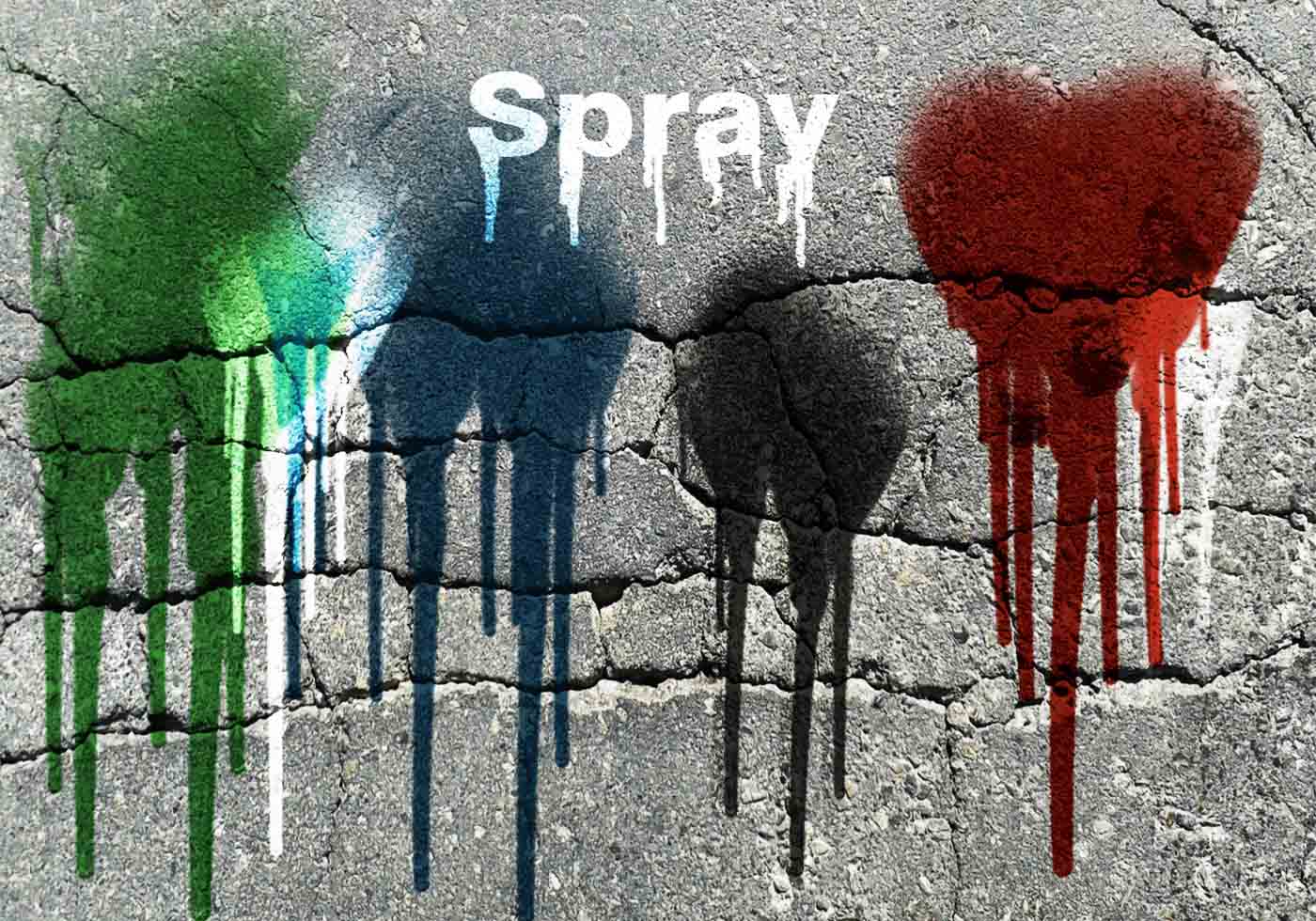 These Photoshop brushes add unique wet drips spray effects to your photographs with minimal effort. With just a few clicks, these brushes can create a masterpiece out of your dull, and boring image. The set contains twenty brushes and is up for grabs.
Transform your text, logo, or image into a wet sprayed painting, and blow your audience away, using these high-resolution Photoshop brushes that are free for personal and commercial use. These are one of the best spray paint effect Photoshop brushes out there, and are surprisingly available for free download.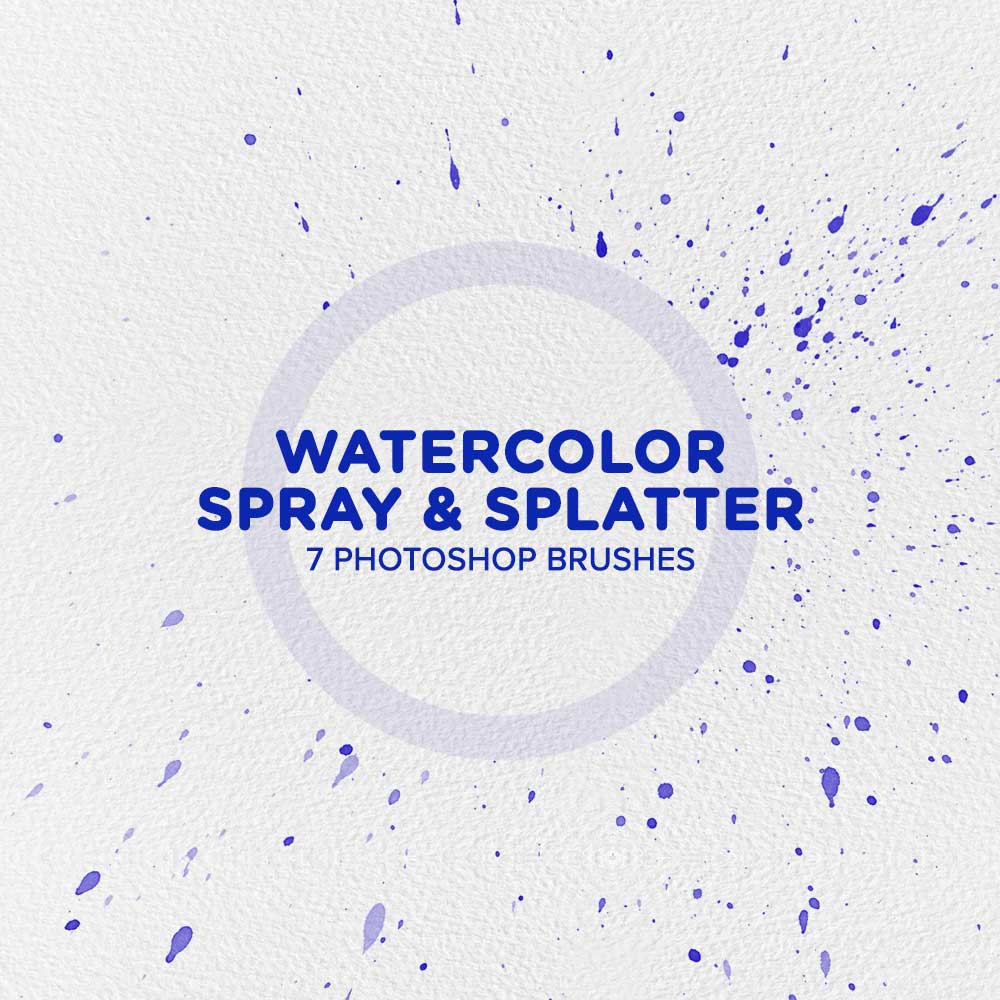 Try out this collection of watercolor spray and splatter brushes for your next artsy project, and leave your audience in awe. The brushes are very easy to use and can be tweaked to match your taste and preference.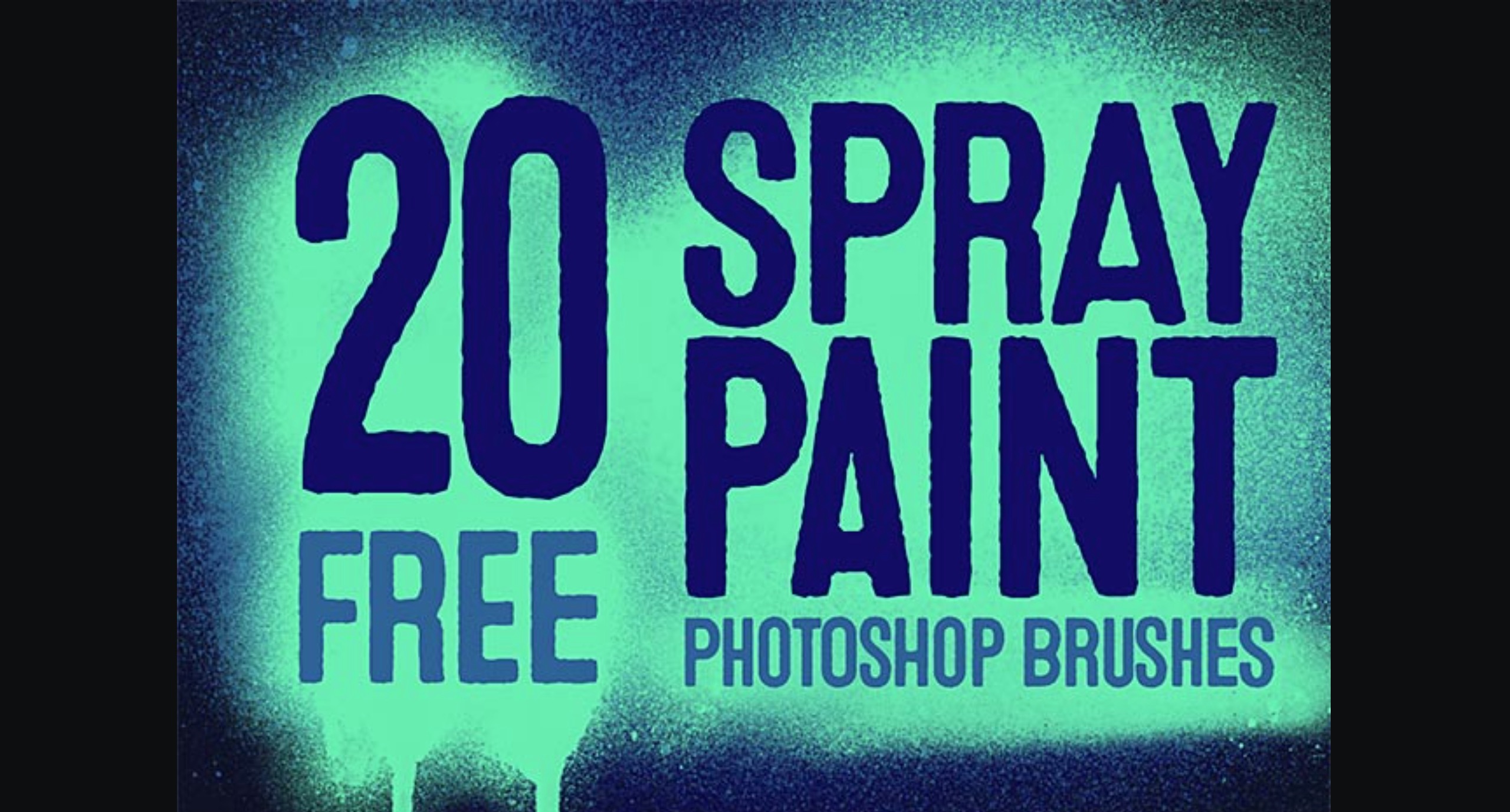 Featuring a range of spray paint markings, this bundle of Photoshop brushes has everything you need to achieve a gritty and grungy look on your images. It's a freebie, and we wholeheartedly recommend you check this out pronto.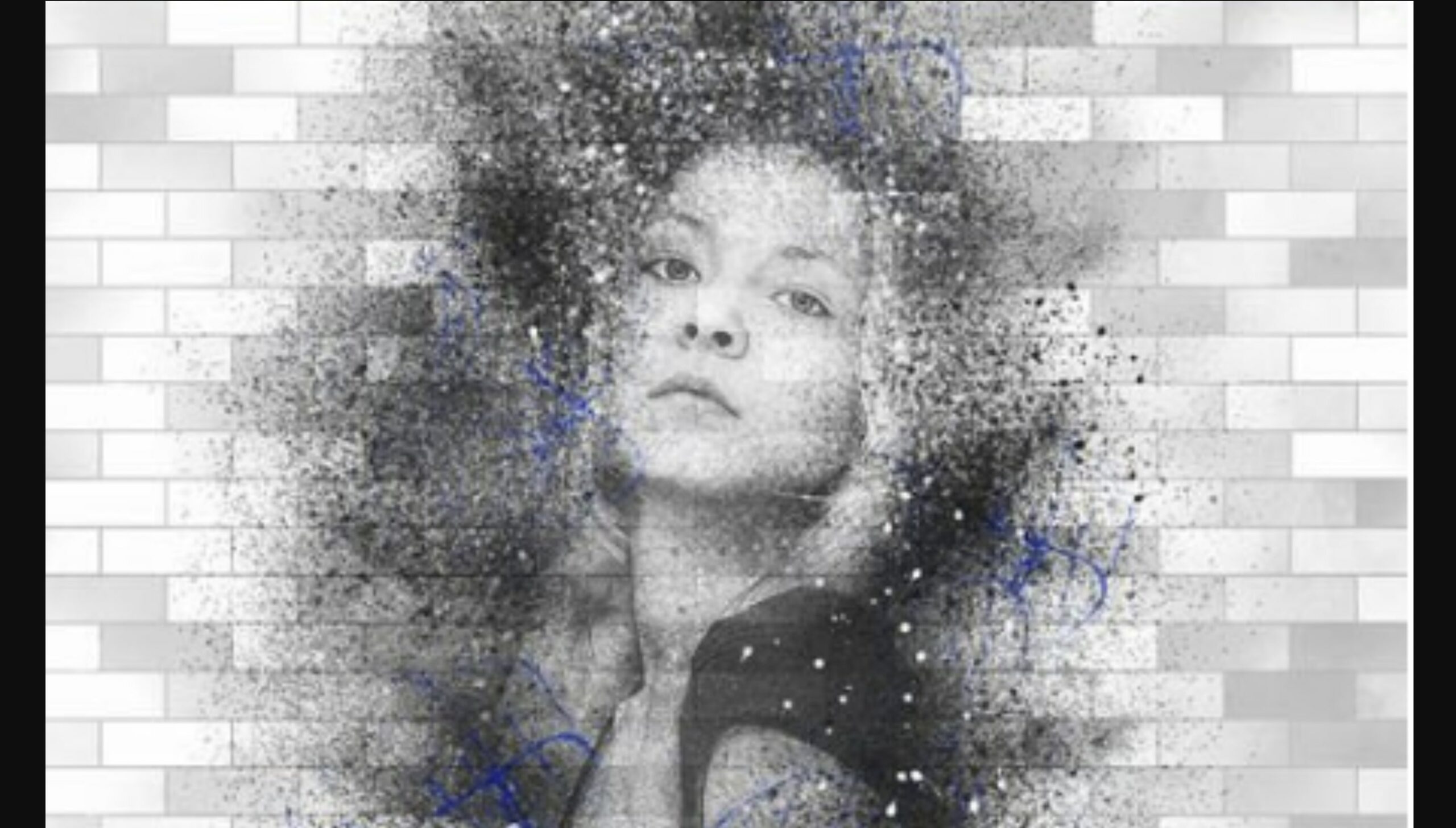 Last but not least, we have this free spray painting action for Photoshop guaranteed to give a beautiful look to your artistic projects. Perfectly suited to professionals, and ameteurs alike, this free resource totally deserves to end up on your shortlist.
And there you have it- the best spray Photoshop actions, brushes, and textures right at your disposal. Use these tools for your next creative project and make a solid impression on your clients, colleagues, and followers.