6 Reasons to Try Kinsta WordPress Hosting
If you're planning on using a managed hosting platform to build your WordPress website, Kinsta should go at the top of your potential hosting platforms list. Let's dive into why.
When searching for a great web hosting platform to host your new website, you'll come across many companies that claim to be the best in the world or the cheapest. Kinsta uses a different approach.
Kinsta claims themselves to be the provider of premium WordPress hosting for everyone, small or large. The platform has plenty of great features to justify that claim as well. Plus, they also provide application and database hosting in case you want to host and manage everything in one place.
So, we wanted to see what makes Kinsta the premium hosting platform for WordPress hosting. We decided to dig in and find out for ourselves. Here's what we discovered.
Why Choose Kinsta?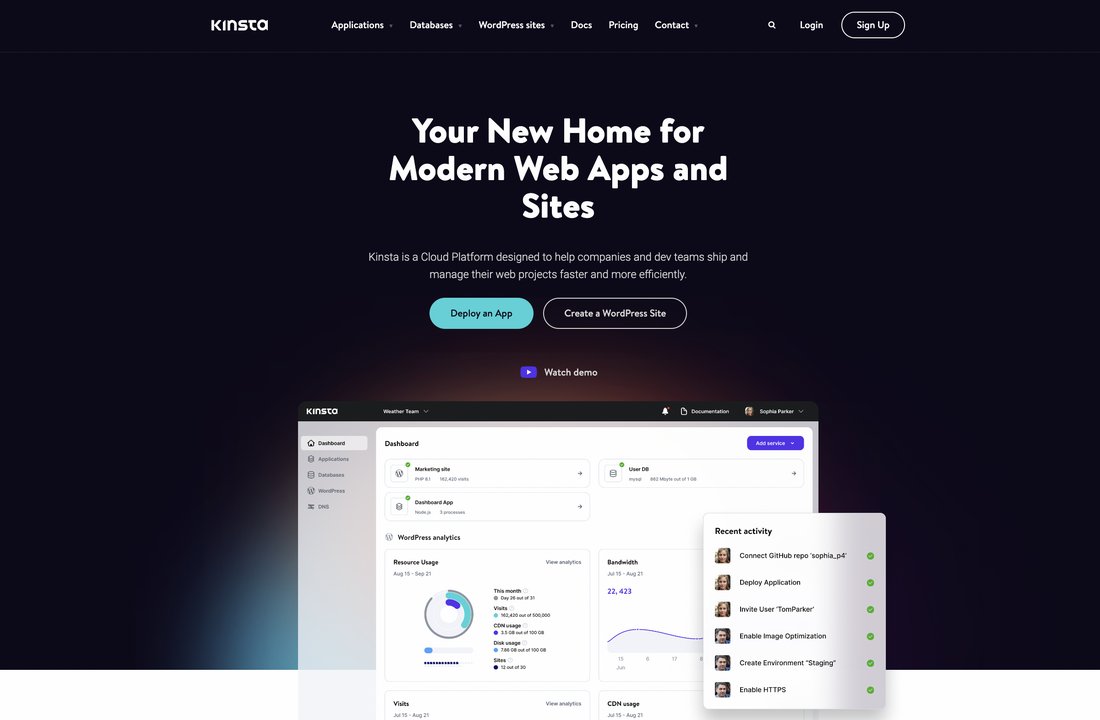 Kinsta is a reputable hosting provider that's been around for over 10 years. The company was developed by a bunch of WordPress veterans in 2013 who wanted to create a platform that offers enterprise-grade hosting with cutting-edge technology at affordable prices.
Kinsta has already been recognized by many high profile brands and businesses for their incredible service. Some of their clients include Ubisoft, Ricoh, Workforce, UNICEF, and many others.
The platform's main selling point is offering faster hosting for WordPress websites. Some of Kinsta case studies show how their clients managed to increase website speed by as much 200% and reduce load times by up to 80%.
If you want to build a website that loads faster than your competitors, Kinsta is the best choice. Of course, there are many other great reasons to choose Kinsta over other hosting platforms.
1. Fast Hosting Powered By Google Cloud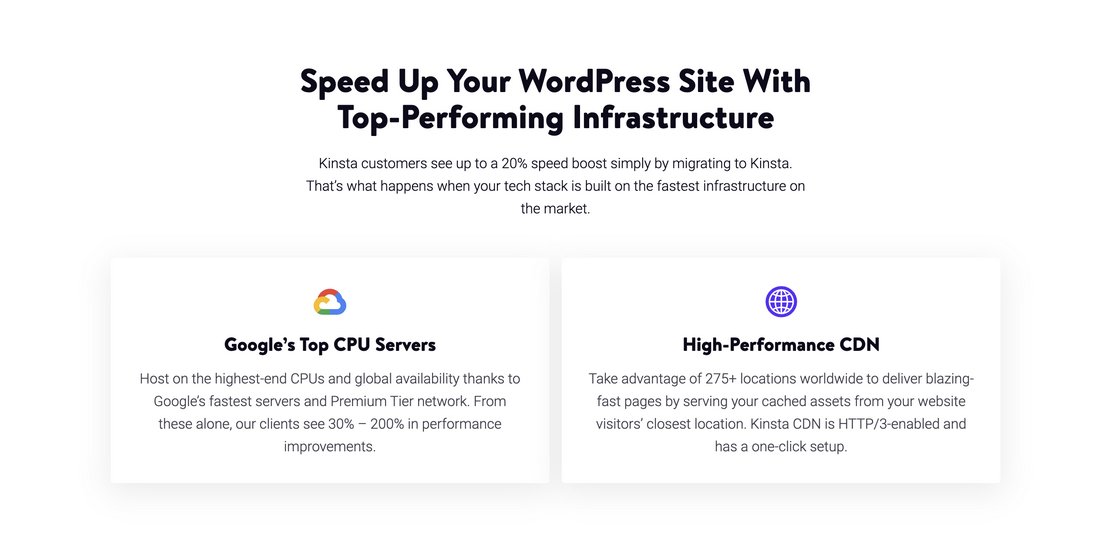 Google officially announced in 2018 that website page loading speed is a ranking factor for mobile searches. Simply put, the fastest-loading websites are getting ranked higher on Google Search results pages. Or, in other words, your website speed determines how successful your business gets.
Obviously, websites hosted on shared hosting plans are taking a massive blow by this Google Speed Update. This is why it's time for you to start thinking about switching to a managed WordPress hosting platform. But, why Kinsta?
Kinsta gets powered by Google Cloud Platform's Premium Tier Network and C2 Machines, which utilizes local SSDs with up to 96 CPUs and hundreds of gigabytes of RAM, on each machine. The servers also include a global load balancer, PHP 8+, and more advanced technologies.
It's the main secret behind Kinsta's incredibly fast hosting performance. The platform also allows users to choose their hosting locations from 35 data centers worldwide, several locations in the US, also in London, Frankfurt, Sydney, São Paolo and Mumbai just to mention a few.
Features like edge caching, early hints, or CDN with 275+ locations worldwide also boost your website's speed when migrating to Kinsta.
2. Better Resources For All Plans
Most web hosting providers promise to give unlimited hosting space, bandwidth, and unlimited everything with every hosting plan. But, they often fail when it comes down to customer support and performance.
Kinsta offers fair amounts of hosting space for websites of all sizes. And they also provide 24/7 customer support by actual WordPress experts. But, it's all the other free services you get with Kinsta that make them truly "premium".
Some of these free services include:
Uptime Checks: Kinsta checks the status of hosted websites every 2 minutes to make sure your website stays active without any hiccups
Free Daily Backups: Kinsta offers full daily backups with 14 days of backup retention and one-click restore
Free Unlimited Website Migrations: Get your website migrated to Kinsta from your existing hosting provider for free
Free CDN and SSL:Kinsta provides a free CDN with 275+ PoPs and free SSL certificates with wildcard support powered by Cloudflare that are free with every plan
Enterprise-Level Cloudflare Integration: All Kinsta plans benefit from premium features like Edge Caching, Firewall DDoS Protection, Early Hints and more
Free Built-in Application Performance Monitoring Tool (APM): Available within the MyKinsta dashboard, this tool helps monitor your site's performance, so you don't need to pay for external services like New Relic
Staging Environments: Each one of your WordPress websites comes with a staging environment that allows you to test and make any changes safely without affecting your live site
Unlimited Users: Assign as many user roles as you'd like to both your live and staging sites
Developer-friendly: WP-CLI, SSH, Git, ionCube loader, and one-click cloning are easily available to give more control to developers.
3. Fully-Managed WordPress Hosting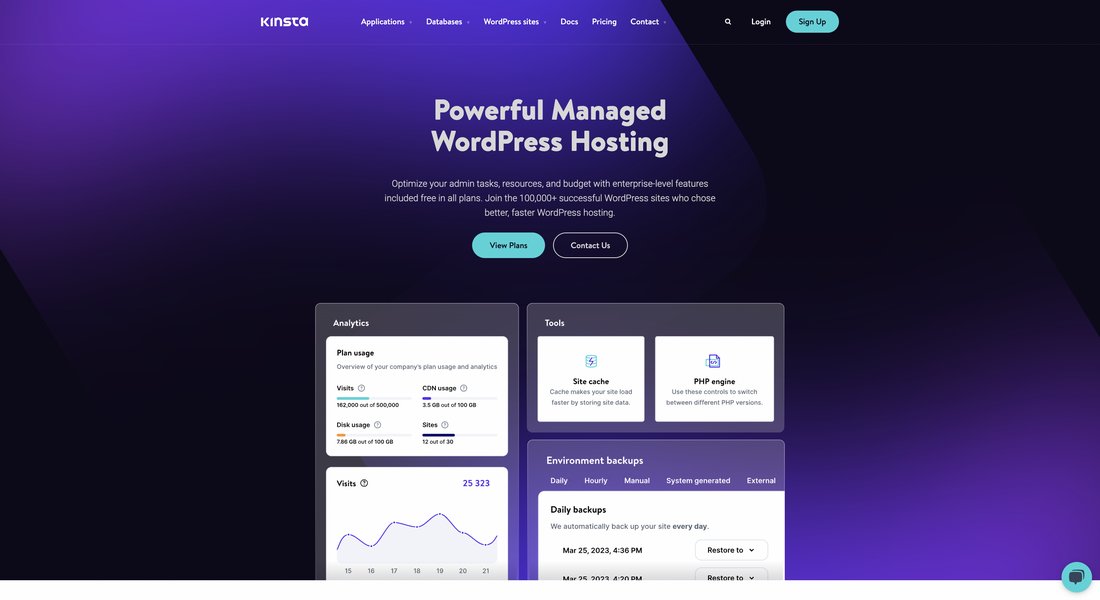 Managed WordPress hosting is not just about offering automatic WordPress updates with special server-level caching. It's also about optimizing the servers to increase the software performance.
Kinsta uses the Google Cloud Platform servers quite well to serve this purpose. Using Nginx, LXD containers, PHP 8, and MariaDB, Kinsta servers ensure the highest possible performance for WordPress websites.
Kinsta also features an automatic scaling feature for effectively handling website traffic spikes. So that whenever one of your blog posts go viral and receive a heavy load of traffic, the website will always stay active without any downtime.
The platform also provides a specially optimized hosting plan for building WooCommerce websites as well.
4. Beginner-Friendly Admin Interface
Kinsta is also extremely beginner-friendly. Unlike other platforms, Kinsta uses a custom built user account dashboard where you can easily manage and operate your website without getting lost.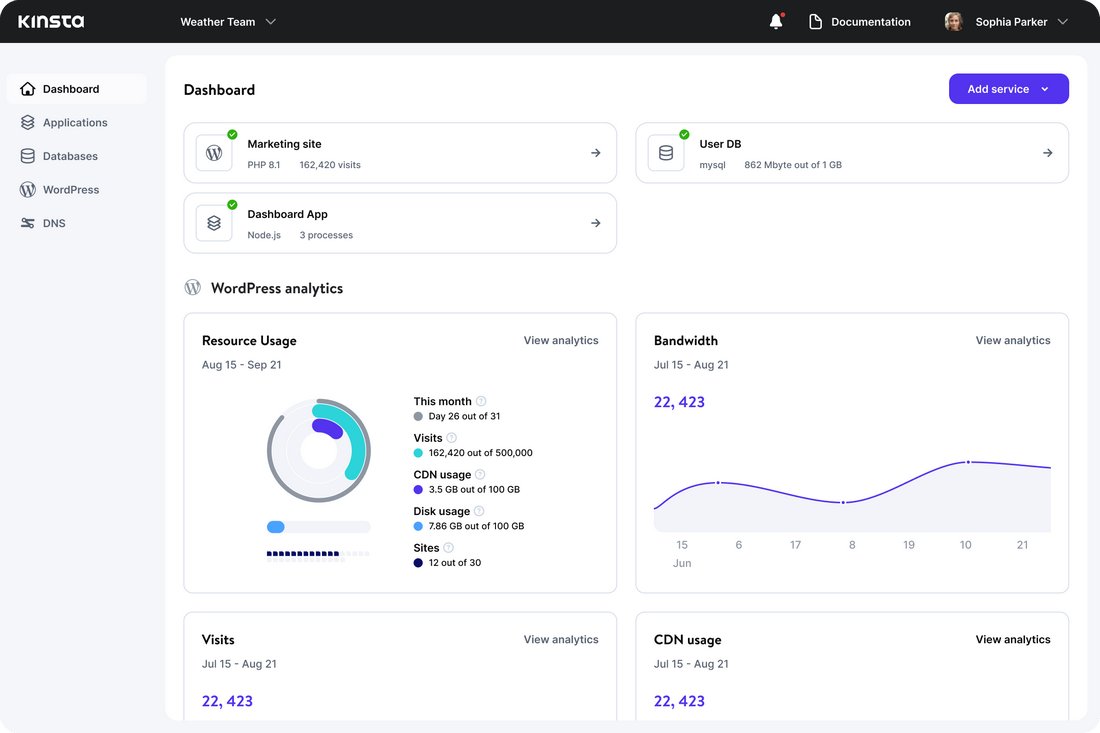 You can get started setting up your website right away by clicking on the "Add service" on the dashboard homepage. And you can keep adding more sites to your plan whenever you want.

Or, you can easily place a request for migrating your WordPress website from a different web host.

MyKinsta dashboard also includes analytics for keeping track of your website visitors and page views.

And easy site management section for enabling extra services.
You can also manage and run your applications and databases in the same MyKinsta account too.
5. Better Security & Website Protection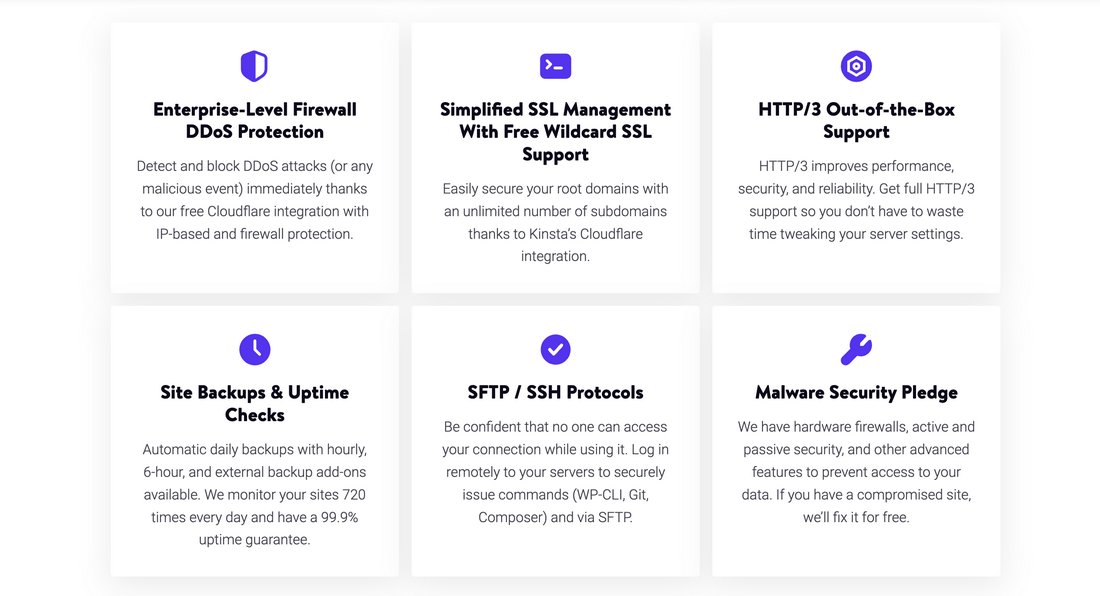 Hackers and malware are two of the biggest concerns people have when building websites, especially when using WordPress. You don't have to worry about it when using Kinsta.
Kinsta provides protection against all types of threats, including malware scanning, hardware firewalls, Cloudflare DDoS attack protection, and more.
The platform guarantees a 99.9% uptime SLA and also gives a "hack guarantee". If your website gets hacked, Kinsta technicians will fix your website. Usually, you have to hire third-party services for that type of work. With Kinsta, it's free.
6. 24/7/365 Expert Support
It's frustrating and time-consuming when you have to figure out website technicalities when you should actually focus on growing your business.
This is one of the big reasons why Kinsta offers 24/7/365 expert support that is made of actual developers and engineers. They are focused on helping you scale your business.
Kinsta's support is easily reachable through your admin. Within the MyKinsta dashboard, in the lower right-hand corner, you can click on the chat box and request assistance anytime. Whether your website is down, you'd like to request a free migration, or you have issues with SSL certificates, their team will assist you in less than 2 minutes.
You can also browse Kinsta's documentation and knowledgeable articles on various WordPress-specific topics.
Kinsta Pricing Plans
Kinsta offers several different pricing plans that fit websites and businesses of all sizes.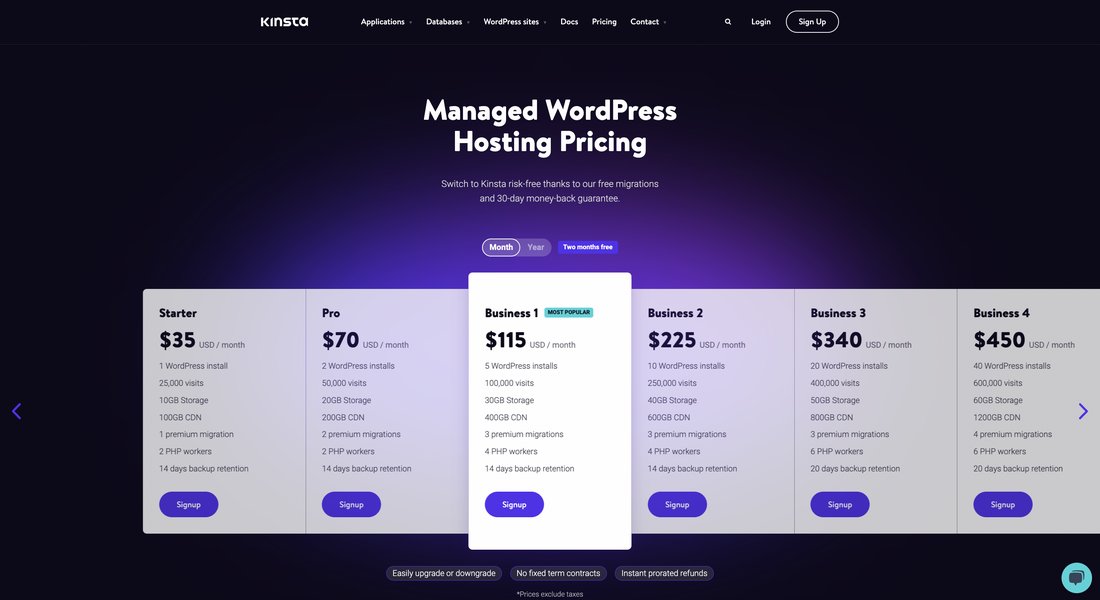 Starter: $35 per month for hosting 1 website with 10GB SSD storage. Best for a site that generates 25,000 visitors per month.
Pro: $70 per month for hosting 2 websites with 20GB SSD storage. Best for serving 50,000 visitors per month.
Business 1: $115 per month for hosting 5 websites with 30GB SSD storage. Best for serving 100,000 visitors per month.
Business 2: $225 per month for hosting 10 websites with 40GB SSD storage. Best for serving 250,000 visitors per month.
Business 3: $340 per month for hosting 20 websites with 50GB SSD storage. Best for serving 400,000 visitors per month.
Business 4: $450 per month for hosting 40 websites with 60GB SSD storage. Best for serving 600,000 visitors per month.
In Conclusion
Kinsta may not be the ideal choice for everyone. The fact is, you'll find plenty of other sites that offer "managed WordPress hosting" at much cheaper rates. Of course, most of those platforms use shared hosting servers for managed hosting plans.
If you want to significantly speed up your website, be protected from malicious attacks at all times and benefit from premium features, you shouldn't hold back on spending a few extra dollars to protect and grow your business. And, you'll find no other hosting platform greater than Kinsta to help achieve that goal.