Yoast SEO vs All In One SEO: Which WordPress SEO Plugin Is Best?
Yoast SEO and All In One SEO are two of the most popular WordPress plugins you can use to optimize websites for search engines. But which plugin has the best features and benefits? Let's find out.
Optimizing a website for search engines is an essential part of building a successful website. That makes it even more important to pick the right SEO plugin for your WordPress website. Because you'll be using the SEO plugin you choose for a very long time.
In this comparison, we explore the many features of both Yoast SEO and All In One SEO plugins to see which plugin is best for your website. Let's get started.
What is Yoast SEO?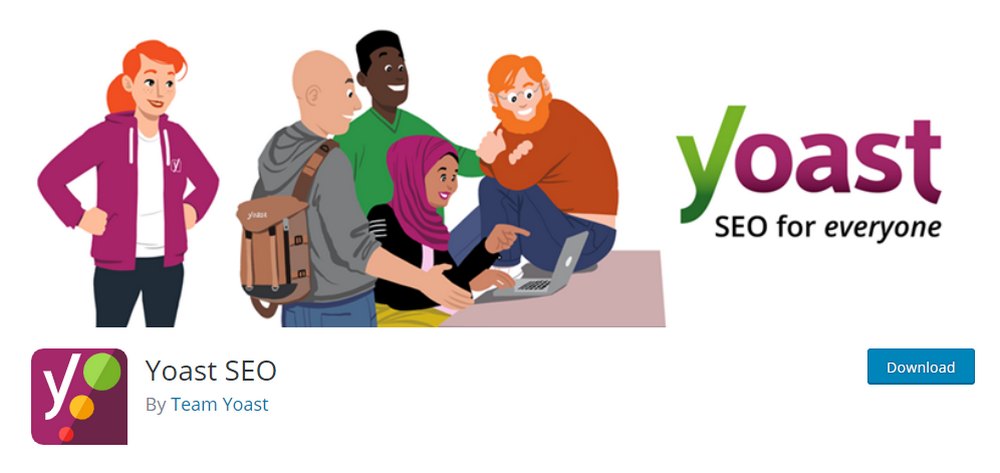 With more than 5 million active users, Yoast SEO is the most popular SEO plugin available on WordPress. The plugin is quite popular for its simple and beginner-friendly approach that makes SEO easy enough to understand for even people who are completely new to the platform.
Yoast SEO has been around since 2008 and over the years the plugin received many updates and improvements to turn it into a well-polished WordPress SEO plugin.
Using the plugin, you can easily optimize your website pages and blog posts with keywords to make them rank higher on Google.
Best Features of Yoast SEO
Yoast SEO comes loaded with many great features that help improve your content in various ways. Here are just a few of them.
Focus Keyphrase and Custom Meta Descriptions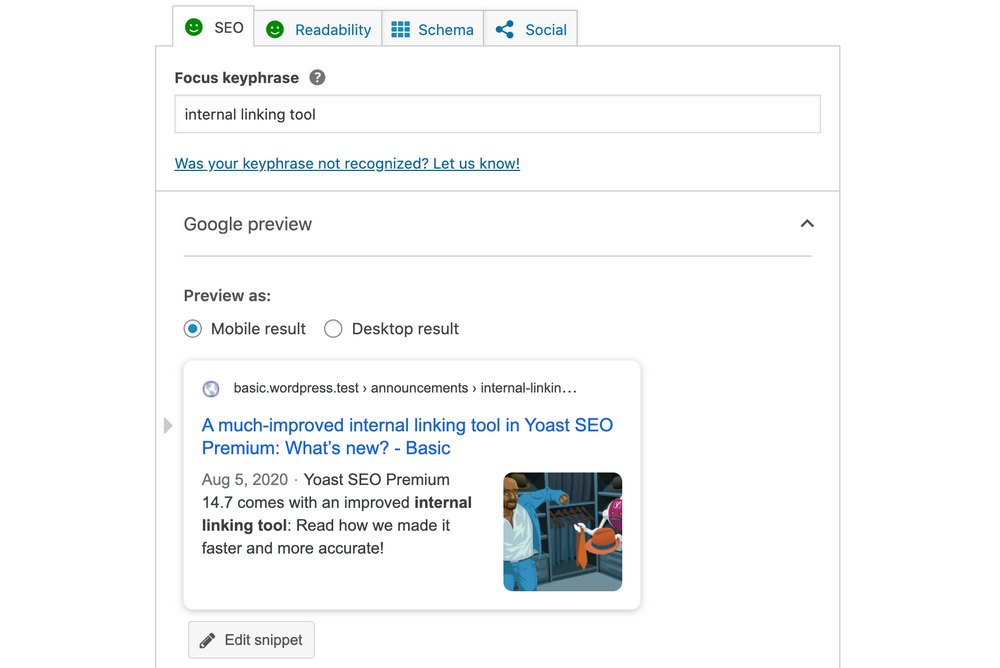 It's standard practice in SEO to optimize the contents of a page or article around one main keyword followed by two or three secondary keywords. Yoast SEO makes it easy for you to follow this practice by allowing you to enter a focus keyphrase to optimize the article.
The option to enter secondary keywords, however, is only available in the premium version. But free users can still write a custom meta description, customize the slug, and title using Yoast SEO.
SEO and Readability Analysis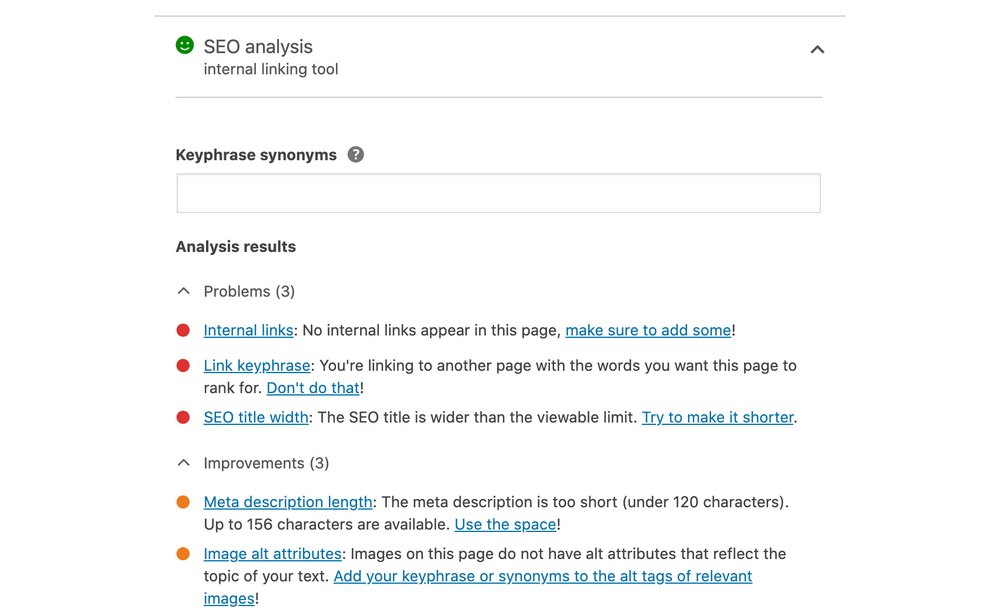 Once you enter a focus keyphrase, Yoast SEO will scan your content to see how well the keyword has been placed in your article. Then the plugin will suggest ways you can improve.
Yoast SEO also has a readability analysis that will help improve your articles for easier reading. It's an important part of SEO as well.
Built-in XML Sitemaps & Schema Markup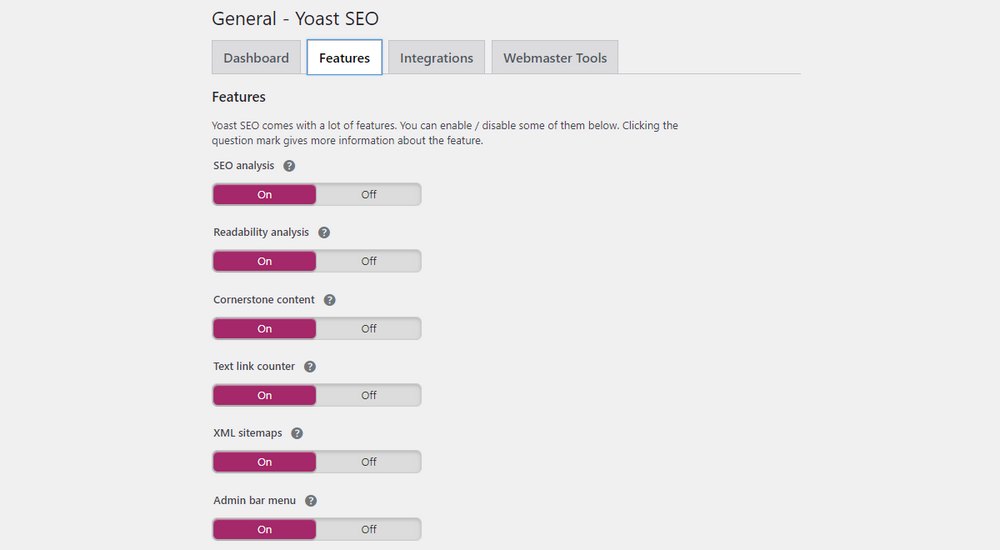 Usually, you have to install a separate plugin to add an XML sitemap to a WordPress website. But when using Yoast SEO you won't have to use another plugin. Yoast includes built-in XML sitemaps.
With the Schema.org integration, Yoast SEO allows you to optimize content to appear as rich results on Google search.
Beginner-Friendly User Interface
One of the biggest benefits of Yoast SEO is its beginner-friendly user interface. The plugin makes it easier for beginners to understand SEO and optimize pages with keywords without confusing the user with too much information.
Third-Party Integrations
Yoast SEO also supports integration with third-party apps and platforms. For example, you can integrate with Semrush to research and import keywords. As well as integrate with Zapier, Elementor, and more.
Pros of Using Yoast SEO
Yoast SEO is very easy to use and doesn't require advanced knowledge of WordPress or SEO
The plugin allows you to optimize content using a focus keyphrase, synonyms, and secondary keywords
The ability to improve articles for readability is quite beneficial for bloggers
Built-in XML sitemaps and Schema markup is another bonus
The compatibility with Elementor allows you to optimize content directly from the page builder
The plugin gives you a preview of how the article will appear on Google
Cons of Using Yoast SEO
Most of the best features are only available in the premium version
You need to buy premium add-ons to add advanced features
The free version limits you to only optimizing for focus keyphrase
How Much Does Yoast SEO Cost?
Yoast SEO free version includes basic features for optimizing a website for search engines. If you want to get more out of the plugin, you'll need the premium version.
Yoast SEO premium version costs $89 and it comes with 1 year of updates. The plugin also has paid add-ons for news websites, WooCommerce, and Local SEO, which costs an additional $69.
What is All In One SEO?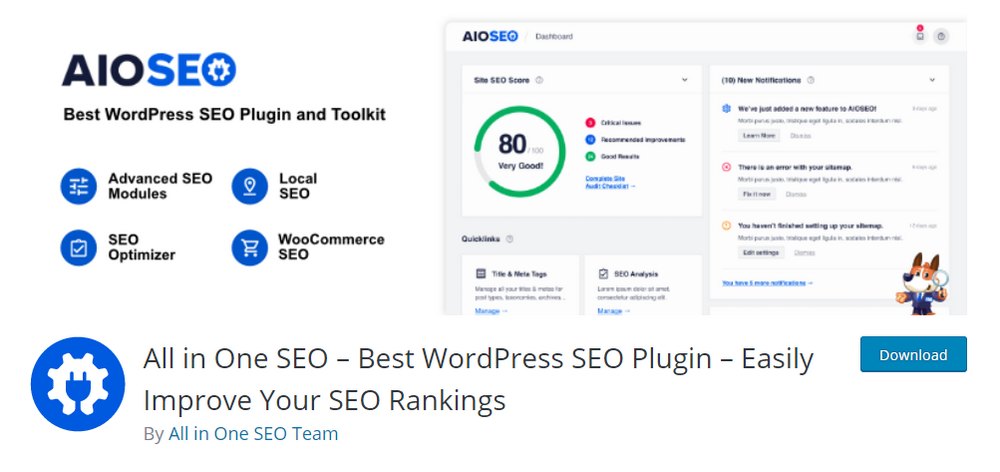 All In One SEO, or AIOSEO, is the main competitor to the Yoast SEO plugin. The plugin has over 2 million active users. AIOSEO is quite popular among marketers and bloggers as it comes with many advanced features.
In a way, AIOSEO shares many of the features from Yoast SEO. But it's like a more advanced version of Yoast SEO. For example, AIOSEO has variables for adding information quickly to meta descriptions
However, by adding many features, AIOSEO has made it a more suitable option for advanced users. The free version of the plugin, however, is fairly similar to Yoast SEO.
Best Features of All In One SEO
Here are some of the main features and benefits of using AIOSEO.
Use Focus Keyphrases & Keywords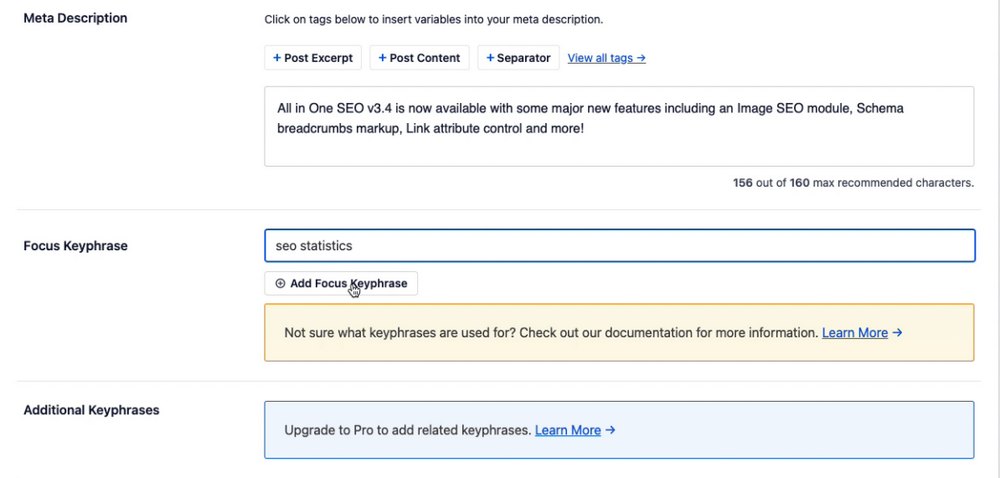 Similar to Yoast SEO, AIOSEO also lets you optimize your content based on a main keyword. But, to add secondary keywords, you'll have to upgrade to the premium plan.
A snippet preview will also show you how your post will appear on search engines.
Optimize for Social Media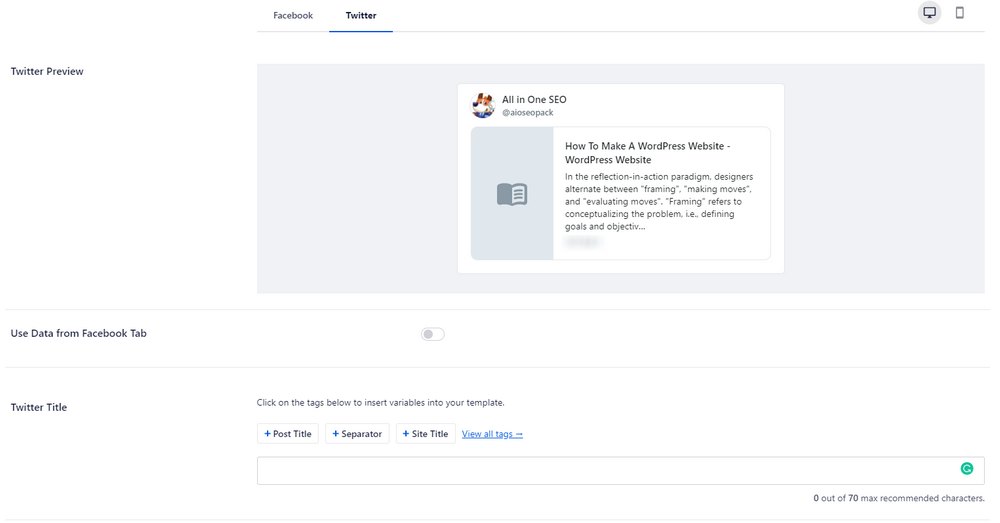 The social media optimizations allow you to customize how your links appear on Facebook and Twitter. You can even customize the titles and descriptions for each platform. Surprisingly this feature is available in the free version as well.
Simple User Interface
AIOSEO now has a very modern and simpler user interface than before. It now supports variables for easily adding meta content with just a few clicks.
For example, you can use variables to easily add a meta description from your post excerpt than having to manually type one.
Page Analysis

AIOSEO has an SEO analysis feature that analyzes your page content to show how to improve for both SEO and readability. This feature, however, doesn't show as detailed information as Yoast SEO does.
Customizable XML Sitemaps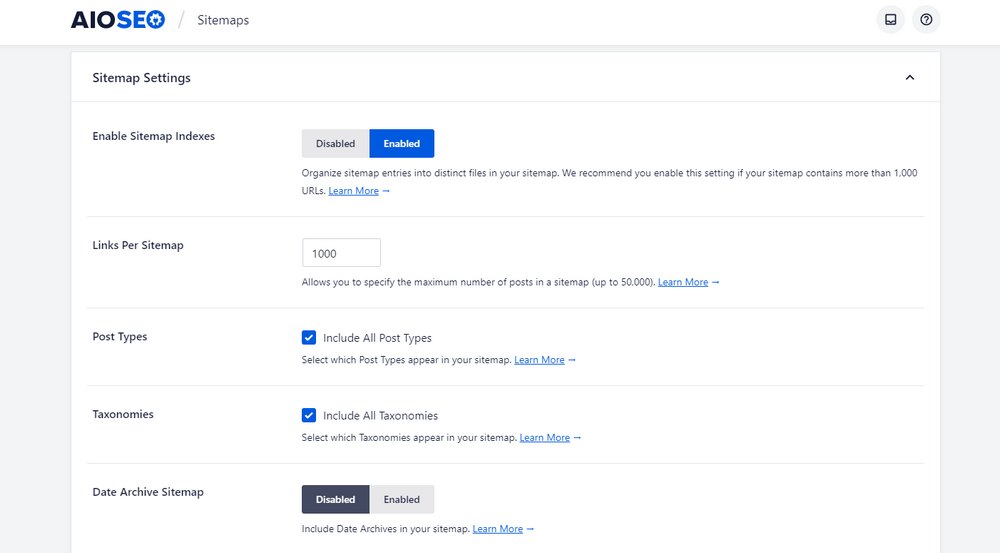 You can also create XML sitemaps using AIOSEO. And it even lets you customize how sitemaps are generated by selecting post types, taxonomies, and links to index from the sitemap.
WooCommerce, Image, and Local SEO
The premium version of AIOSEO gives you access to advanced features like options for improving WooCommerce product pages, optimizing images for SEO, as well as Local SEO features.
For example, if you have a local business, you can use Local SEO to customize your local business profile and even set operating hours directly from your WordPress dashboard.
Pros of Using All In One SEO
The modern and improved user interface is very user-friendly
Instantly add descriptions and titles using variables
Customize link appearance for social media in each post
Optimize content using a focus keyphrase and add secondary keywords
Improve articles for readability and SEO using page analysis
Local SEO, WooCommerce, and Image SEO available in premium plans
Cons of Using All In One SEO
You can only optimize for a focus keyphrase in the free version
Premium plans are quite expensive
Best features, like local SEO and image SEO, are locked behind the more expensive premium plans
How Much Does All In One SEO Cost?
The AIOSEO free version has limited features. The premium versions unlock features depending on each plan.
Premium plans for AIOSEO start at $99 per year and go all the way up to $599 per year. The $99 plan offers WooCommerce SEO, Smart Schema, and sitemaps. More advanced features are available in other pricing plans.
Yoast vs All In One SEO: Which SEO Plugin Should You Use?
Both Yoast SEO and All In One SEO have their own benefits. You should choose a plugin depending on the site you're building.
Here's a quick summary of the pros and cons of both plugins.
Yoast SEO free version is very limited but it's beginner-friendly
AIOSEO offers a few more features in its free version but it's also limited
Yoast SEO premium version has a single pricing plan with all of its features
AIOSEO premium version has multiple pricing plans with limitations
You can add WooCommerce and news SEO using add-ons in Yoast but in AIOSEO you need to change pricing plans
In short, Yoast SEO is a friendly choice for beginners and people who are new to WordPress. But, if you're an advanced user who's knowledgeable in SEO, AIOSEO is a great option for you as it offers more features, especially in its premium plans.
Both these plugins have free versions. You should try them both before deciding which plugin to settle down with.
Looking for WordPress hosting? We use Kinsta. They offer world-class WordPress hosting, built to keep your website fast, secure, and always online.