WP Adminify Completely Transforms Your WordPress Admin Dashboard
WP Adminify is a plugin that allows you to completely customize your WordPress dashboard to build a professional back-end experience. And it's more than just about adding custom branding to your dashboard.
Branding is a crucial element of every successful business. Whether it's an online learning platform, coaching business, or membership site, you need your website to represent your brand to deliver a memorable user experience.
But it's something most web designers often forget when building websites and platforms with WordPress. They build amazing platforms to serve thousands of customers but leave the boring default WordPress branding as it is on the backend.
There are actually much simpler ways to tackle this problem. Like using a plugin! And that's where WP Adminify comes in.
Let's have a look and see what this plugin has to offer.
What is WP Adminify?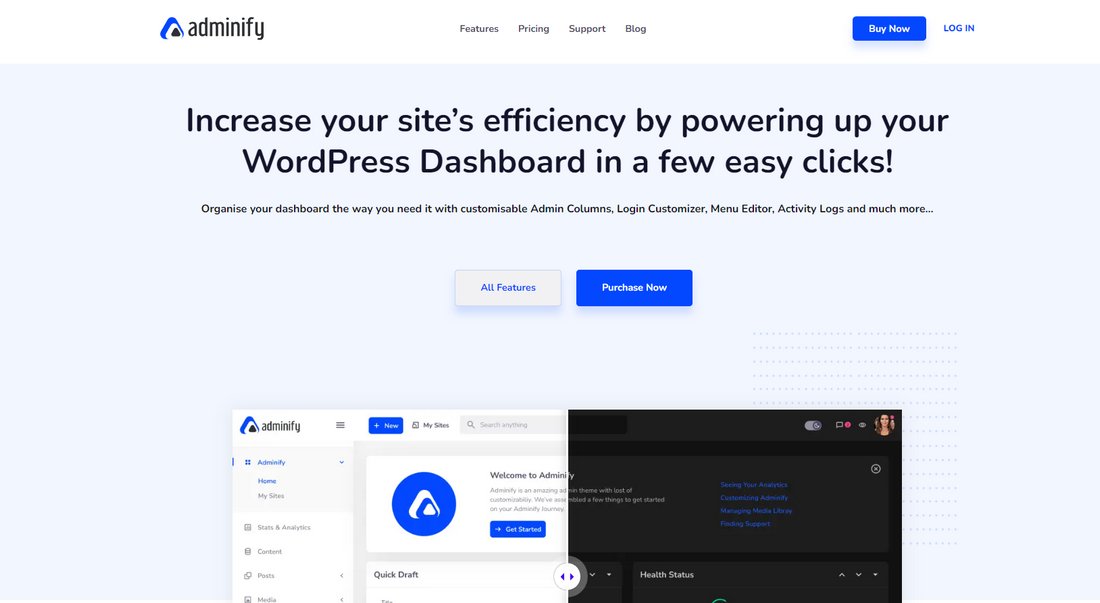 WP Adminify is a WordPress plugin you can use to edit and customize the WordPress admin dashboard. Using the plugin, you can add your own logo to the dashboard, change the login page, and fully customize the dashboard to your preference.
It actually packs so many other useful features into one small plugin. It lets you add folders to the admin dashboard, customize the menu, get rid of admin notifications, add custom widgets, and so much more. We'll get into more details later.
Why Use It?
So, why customize your WordPress dashboard in the first place?
Well, imagine creating a membership site where you sell a coaching program worth a thousand of dollars. A user buys your program and login to their account only to find the WordPress logo on the dashboard.
Or creating a magazine-style blog where dozens of authors contribute to your website and they don't even have a way to organize the images they upload.
These are signs that will harm your business's reputation and have a great impact on your brand.
Using a custom dashboard plugin is a simple way to fix that mistake. And it's not just about adding your own branding to the site. It's also about offering a more convenient experience to your users.
Main Features of WP Adminify
WP Adminify comes with a lot of great functions and features. The following are just a few of the best functions you get with this plugin.
Customize WordPress Dashboard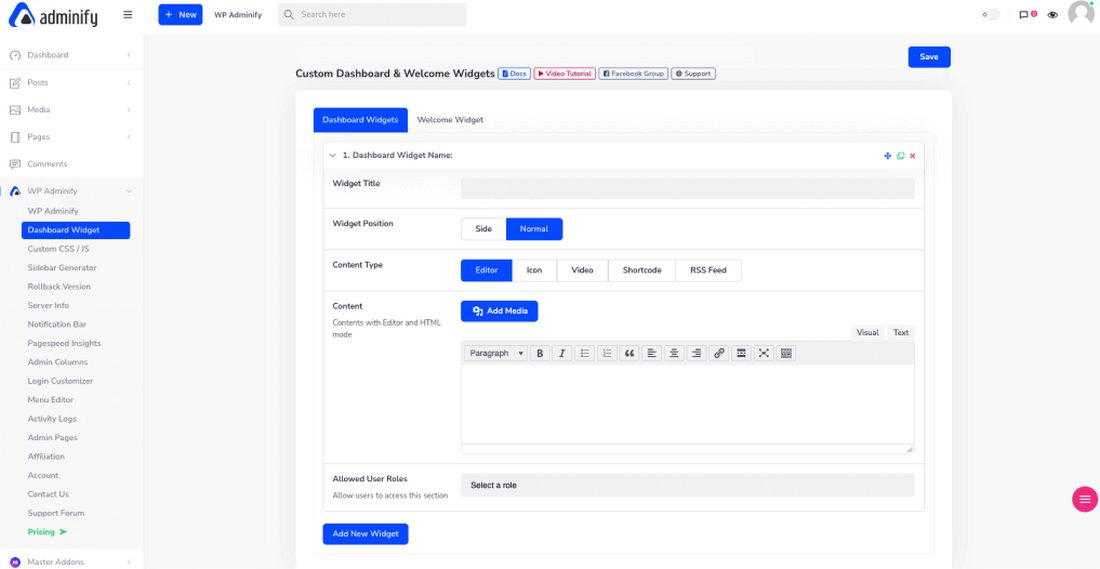 Customizing your WordPress admin dashboard to add your own logo and add custom widgets is a useful feature that should have been available by default on WordPress. Even if you have a small business website or a blog, you'd want to keep your dashboard organized and personalized.
Even though WordPress doesn't have these options available by default, you can make it happen with WP Adminify. The plugin lets you add your own custom logo to the dashboard. Remove unnecessary widgets and add your own. For example, you can add a welcome message or an onboarding video to the dashboard to welcome new users.
Also, you can introduce a dark mode to your dashboard as well.
Add a Login Page with Custom Branding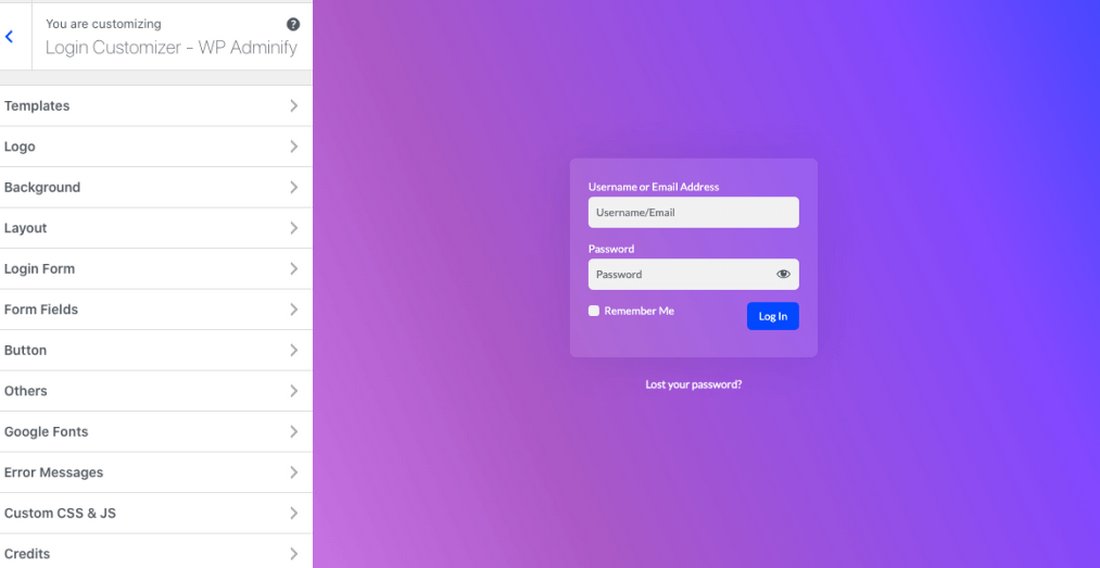 Giving a makeover to your login page with a custom background and your own branding is a great way to make your website stand out. And it will create a more premium experience for the users and clients as well.
With WP Adminify, you get 16 pre-built login page templates to customize your login page to your preference. Additionally, you can create your own custom login page designs as well.
Organize Content with Folders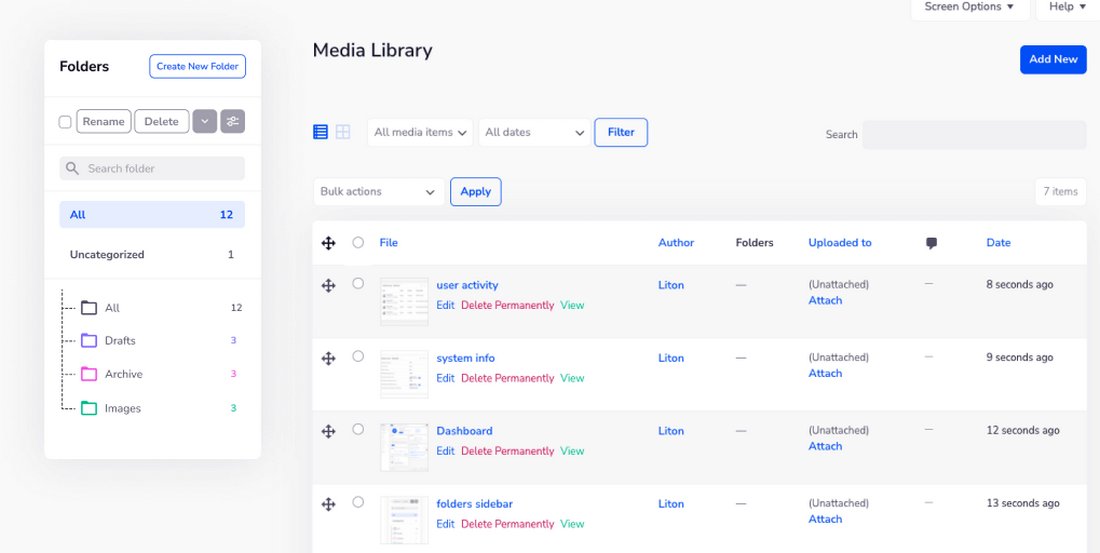 Keeping your dashboard and media library well organized will be a challenge of its own when you have hundreds of users and authors operating on your website.
WP Adminify has a fix for this issue. It allows you to add folders to your media library so that you can categorize and organize media files into different folders. You also get to create folders for post types and pages to keep all the content organized as well.
This folder module of the plugin has a live search and sorting option. And allows you to customize them with colors too.
Edit & Rearrange Dashboard Menu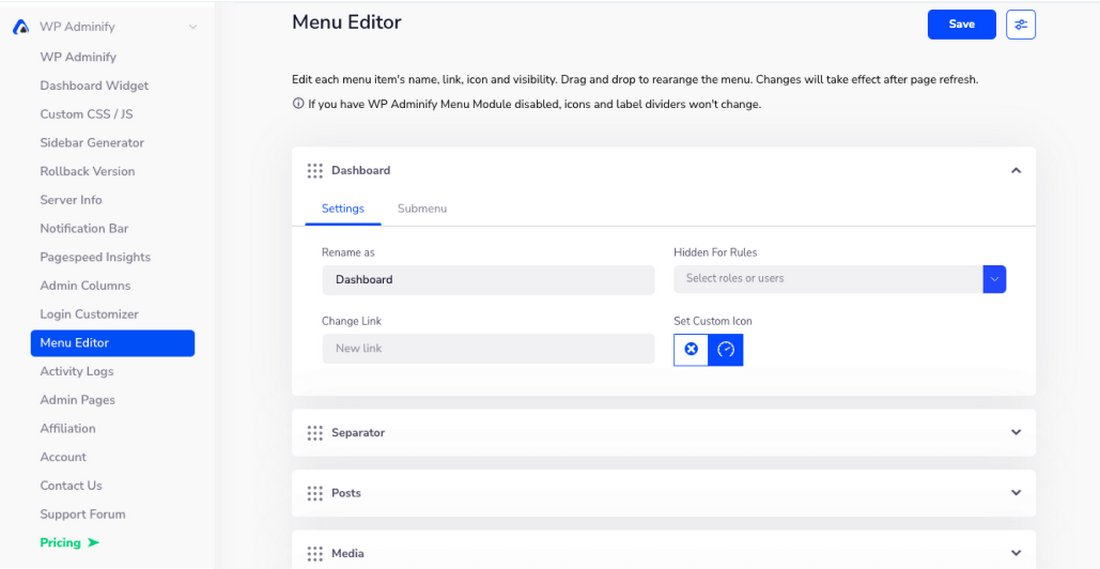 When you install a lot of third-party plugins, they will add new menu items to your WordPress dashboard. Before long, your entire dashboard menu will be filled with unnecessary tabs and sections.
WP Adminify has a Menu Editor that allows you to organize this dashboard menu by rearranging the items. Or you can also rename the items in the menu, add custom icons, add sub-menu items, and even hide them from other users.
Built-In Pagespeed Insights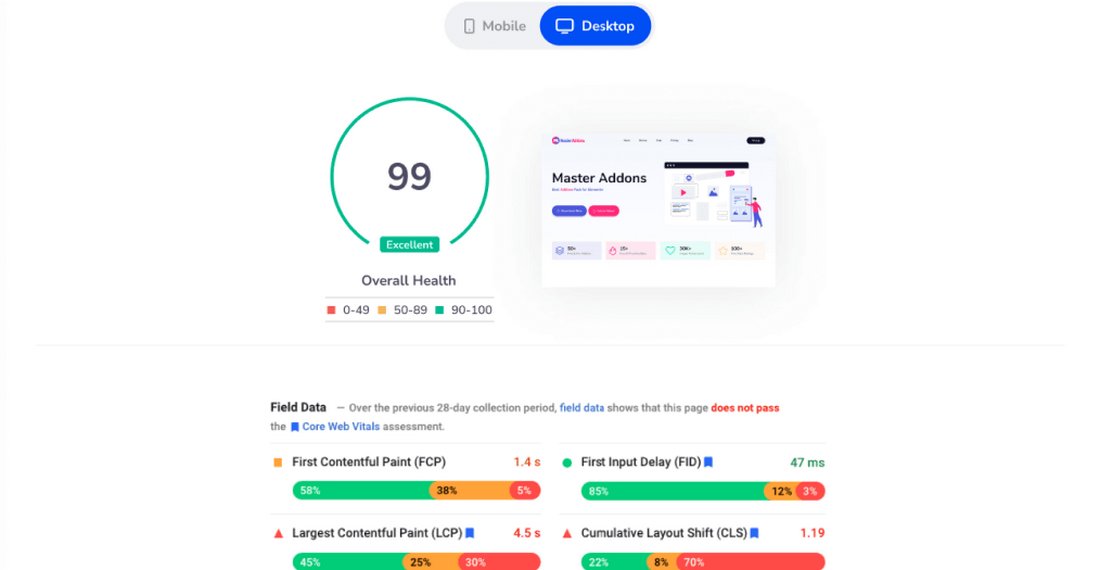 Keeping track of your SEO and page rankings will be much easier with WP Adminify as it comes with a built-in module to analyze your website's page speed rankings. Using this module, you can analyze specific pages on your website and get detailed reports on desktop and mobile page speed insights.
Experiment with Custom CSS & JS
Using the Header Footer Scripts Module in WP Adminify, you can add custom CSS and JavaScript code to customize the design of your theme. You can also choose to show your custom code on a specific page or only on the homepage.
This can be quite useful for not just customizing the theme but also for other things like adding display ad spots to your website.
And Much More
There are lots of other cool features included in this plugin that we couldn't go into detail about in this article. Here's a quick list with a short summary:
Switch between light and dark mode on the dashboard
Disable notifications for the admin dashboard
Monitor everything with Activity Logs
Customize the columns on the dashboard
Create a custom dashboard for clients with White Label WordPress
Drag and drop posts, pages, and media to create a custom order
Disable comments on pages and posts
Add Google Fonts to the dashboard
How Much Does It Cost?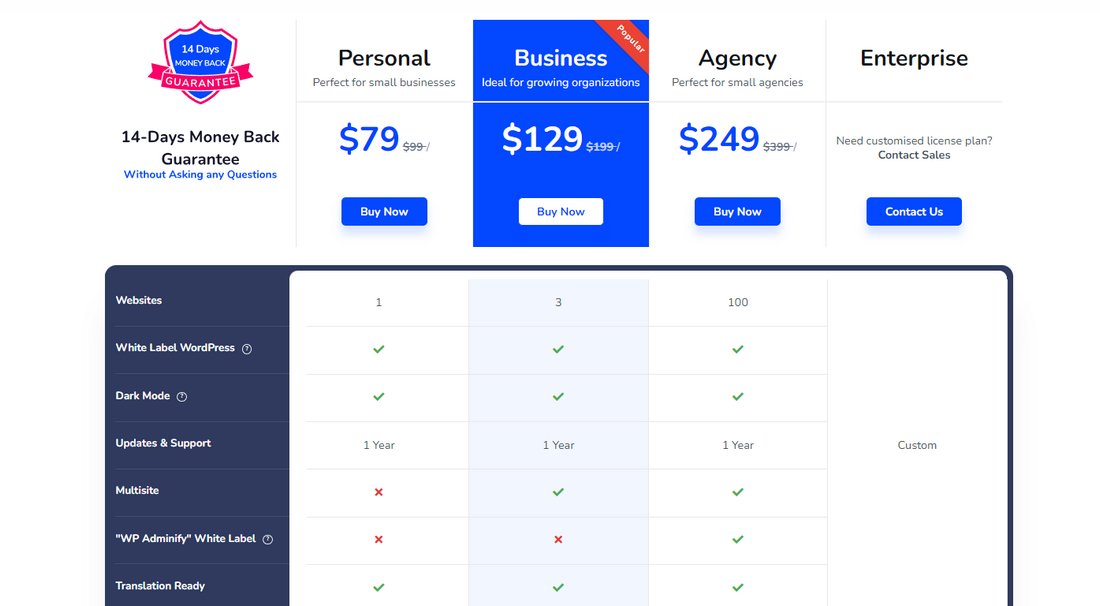 Pricing plans for WP Adminify start at $79. It's a one-time price that includes one year of updates and customer support. This plan lets you use the plugin on one website.
The $129 price is ideal for businesses as it allows you to use the plugin on up to 3 websites. Or you can get the $259 plan to use the plugin on up to 100 websites.
Should You Use Use WP Adminify?
The WP Adminify website mentions how this plugin replaces more than 30 plugins with its wide range of built-in modules. Rather than having to install dozens of separate plugins to add different features to your website, you'll be using just one plugin that has them all.
WP Adminify actually brings tremendous value to every WordPress website. Even if you have a small personal website, this plugin can help keep your site organized and optimized.
Of course, it has tons of useful functions for business websites, eCommerce sites, online learning sites, membership platforms, and many other types of websites as well.
Looking for WordPress hosting? We use Kinsta. They offer world-class WordPress hosting, built to keep your website fast, secure, and always online.