10 Best WordPress Quiz Plugins & Quiz Makers
Everyone loves quizzes. With a suitable WordPress quiz plugin, they can offer a fun way to explore topics and even learn new things. And most of us can't ignore a quiz when we see one. When you get an opportunity to find out which Friends character you are, you must take that quiz.
Quizzes are actually capable of providing more than just entertainment for visitors. There are some added benefits for businesses and blogs as well.
In this post, we'll explain why you should be using quizzes on your website. And give you a few suggestions on the best WordPress quiz plugins you should use to get started.
Why Make Quizzes on Your Website?
One of the biggest benefits of using quizzes on websites and blogs is to generate more user engagement.
For example, if you embed a quiz at the end of a blog post or an article, users will likely stay longer on your website to complete the quiz. This will increase the time users spend on your website. Resulting in higher rankings on Google.
Another important benefit of quizzes is to collect leads.
At the end of a quiz, you can ask readers to give you their email. Or encourage them to signup for your newsletter. Or even check out a product.
This will greatly help grow your email list, gather relevant leads, and eventually boost sales.
There are quiz plugins that even allows you to create product-related quizzes to help users figure out which product is best for them.
Best WordPress Quiz Plugins
You don't have to be a genius or a mathematician to create a quiz. Thankfully, there are now WordPress plugins that allow you to easily create quizzes directly on your WordPress website. And embed them in your blog posts and pages.
Explore the list of WordPress quiz plugins below to find a plugin for your website.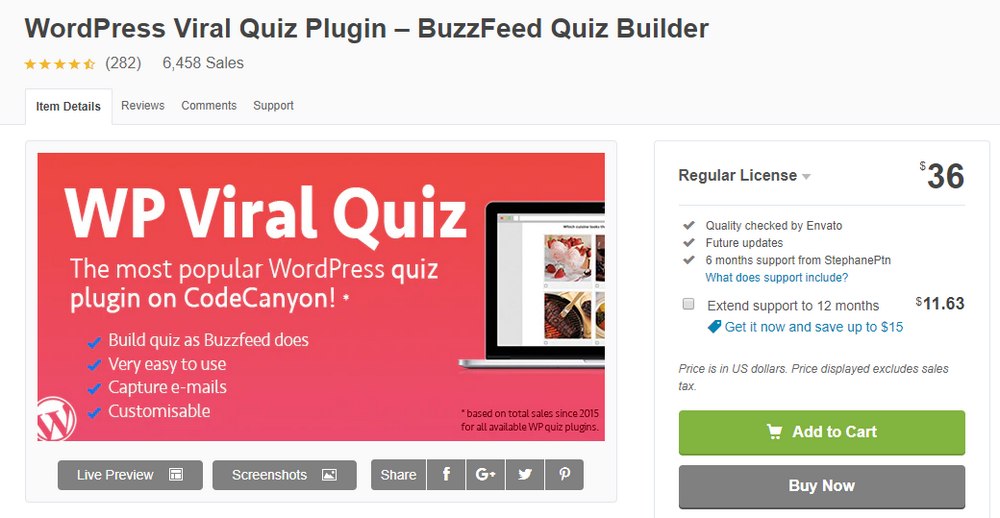 If you're looking for a quiz plugin to create trendy and attractive quizzes like the quizzes on Buzzfeed, this plugin is perfect for you.
WP Viral Quiz is a premium quiz maker plugin that comes with lots of great features and options to create two kinds of quizzes— personality quizzes and trivia quizzes.
It also includes options that allow you to collect emails to grow your email list as well as to encourage social shares to promote your site.
Main Features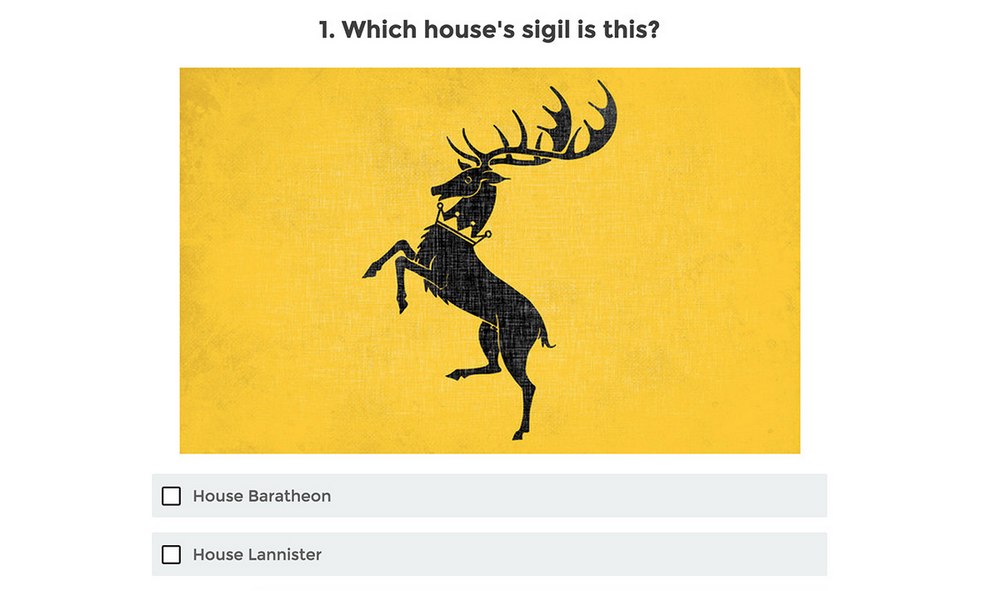 Create personality and trivia quizzes with beautiful designs
Easily make multi-page quizzes
Ability to collect emails and force social sharing
Gather analytics on user engagements
Monetize your quizzes by showing ads
Supports Zapier integration for gathering user data in multiple ways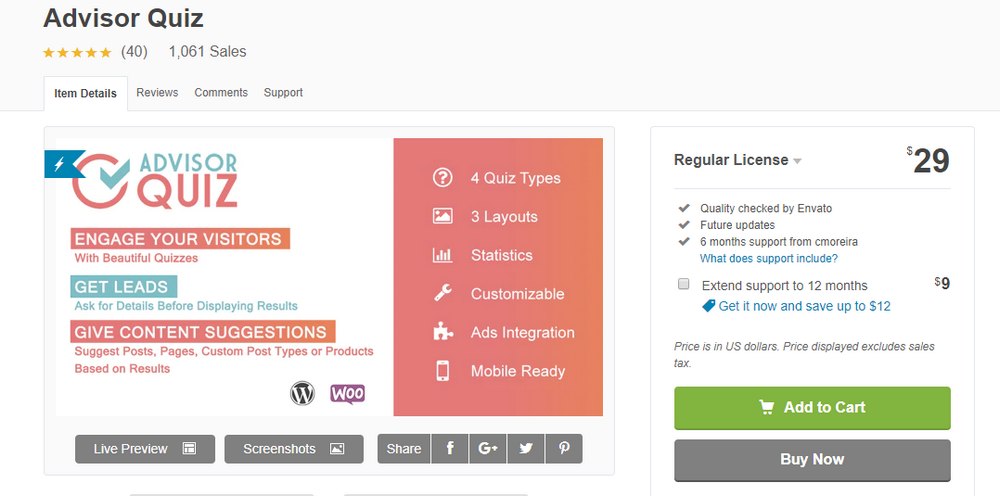 Advisor Quiz is a more advanced quiz plugin that allows you to create several different types of entertaining quizzes.
This plugin lets you create 4 different types of quizzes to promote your content and engage with users. It also allows you to design quizzes using 3 layouts, including minimal form, image grid, and presentation-style quizzes.
A unique feature of this plugin is it allows you to either ask visitors to register with your website or even promote a WooCommerce product after completing a quiz.
Main Features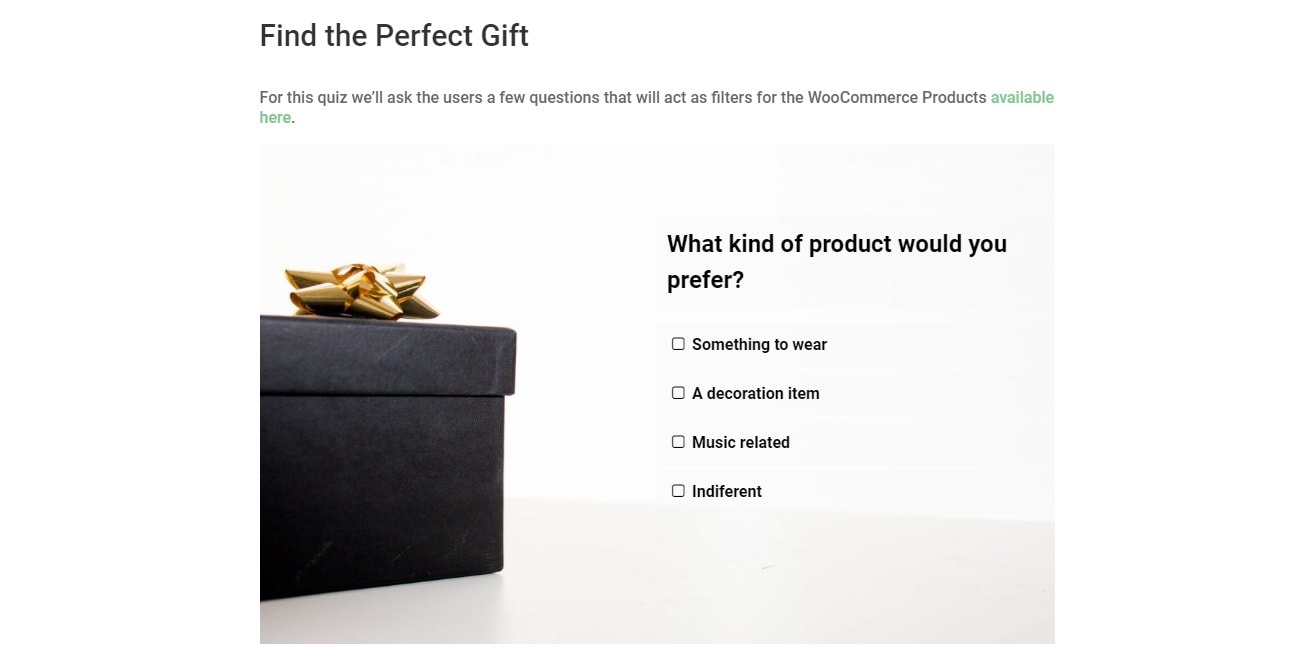 Easily make quizzes in 4 styles using 3 different layouts
Gather leads, new user registrations, or promote products
Ability to show ads inside quizzes and after results
Detailed analytics on CTRs, visits, and other engagements
Supports WooCommerce and WPML integrations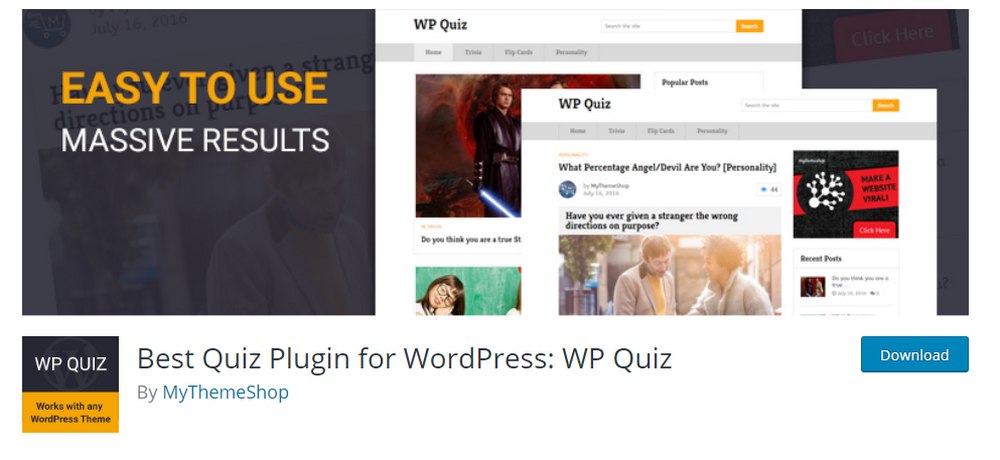 Price: Free / $87 per year
WP Quiz is one of the most popular free quiz plugins available on WordPress. You can use the plugin to create unlimited trivia and personality quizzes to keep your visitors entertained.
The plugin also comes with both single and multi-page quizzes as well as various customization options. However, the free version has limitations. To collect emails, add payment integrations, tracking, and create Facebook quizzes, you'll need the premium version that costs $87 per year.
Main Features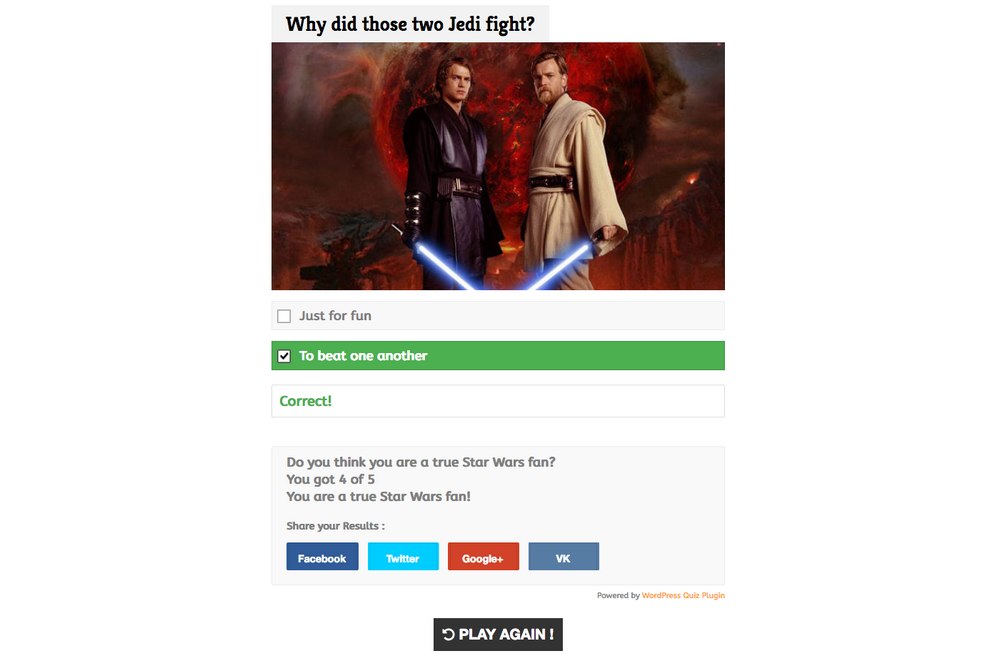 Create unlimited quizzes for free
Ability to create personality, trivia, and flip quizzes
Includes both single and multi-page quizzes with 6 animation effects
Ability to customize the quiz design colors and style
AWeber, MailChimp, Stripe, PayPal integration (premium version)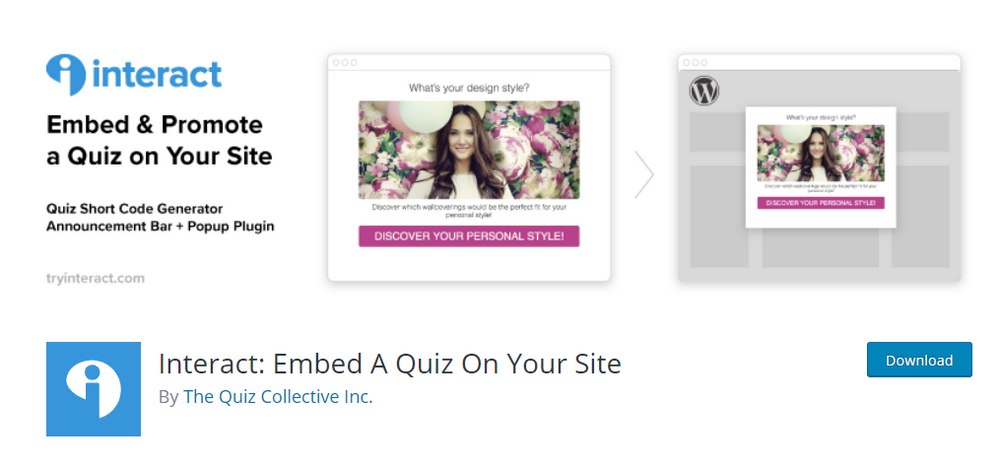 Price: Free / $17 per month
Interact is one of the most beginner-friendly quiz makers that lets you create many different kinds of quizzes with modern and beautiful designs.
Interact is a cloud app. You can create an account on the website and make quizzes using its web-based editor. And use the WordPress plugin to easily embed the quizzes on your website.
The free version of the plugin lets you create unlimited quizzes. But, to collect emails and gather analytics, you'll need a premium plan that starts at $17 per month.
Main Features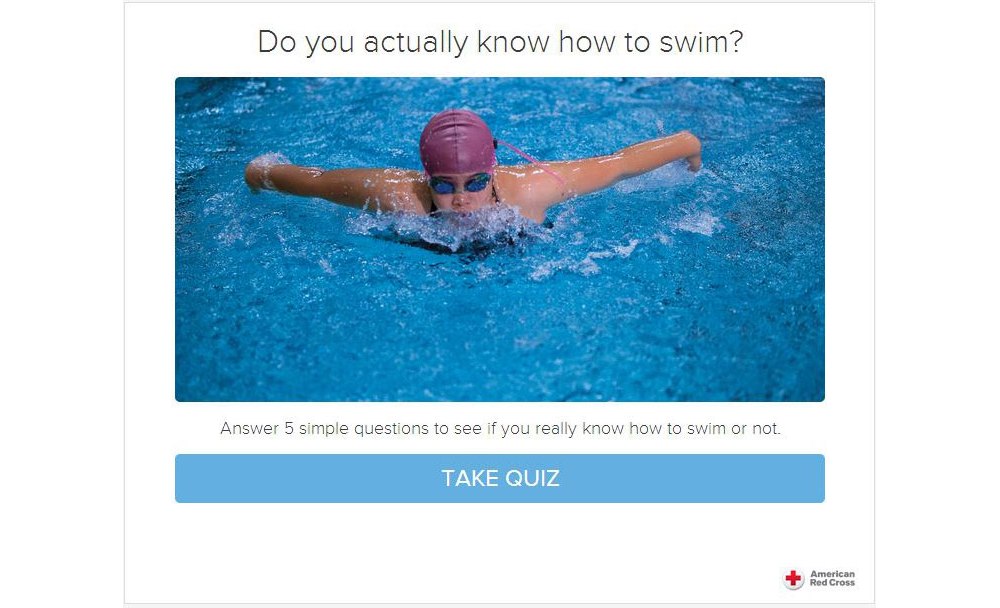 Easily create quizzes with stylish and modern designs
Simple web-based drag and drop builder makes it easier to create quizzes
Supports personality, score, assessment, and other types of quizzes
Includes over 800 pre-made quiz templates
Ability to embed quizzes on any website, including WordPress, Wix, and more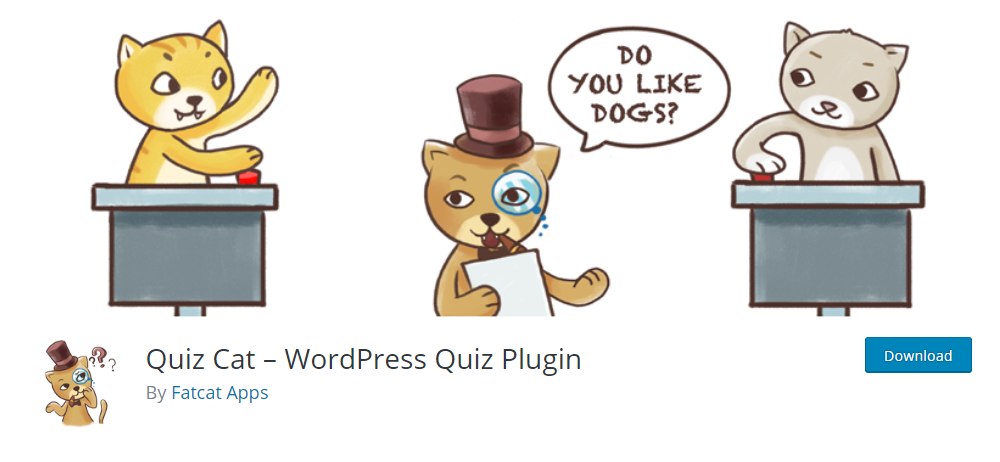 Quiz Cat is another free WordPress quiz plugin you can use to create simple but effective quizzes. This plugin allows you to create entertaining trivia quizzes with designs that attract visitors.
Like most free plugin, this one also has limitations. You won't be able to collect emails, promote social shares, or analytics with the free plugin. You'll need either the $49 per year or $99 per year plan to access the advanced features.
Main Features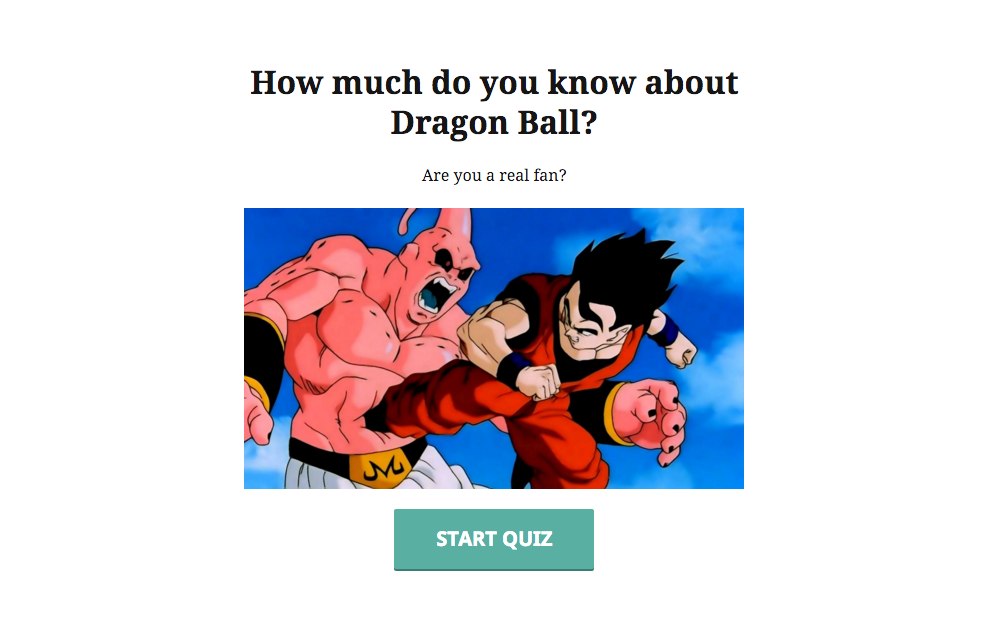 Easily create simple trivia and personality quizzes to engage with users
Integration with MailChimp, AWeber, and other email marketing tools (premium)
Gather insights on user engagements with analytics (premium)
Supports translations for different languages
Export user data to spreadsheets (premium)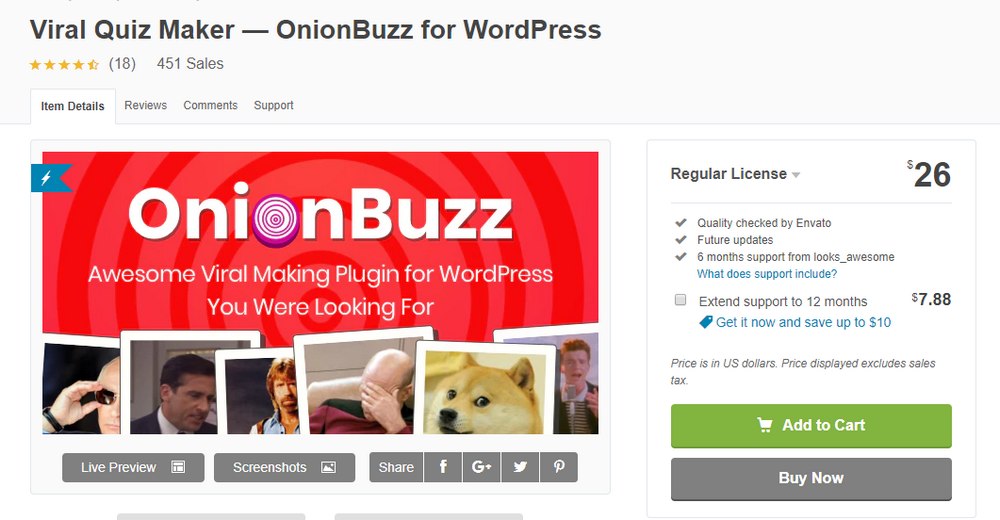 Just as the name suggests, OnionBuzz is a quiz building plugin you can use to create BuzzFeed-style quizzes directly on your WordPress website.
It lets you choose from 3 different types to create quizzes using 5 viral quiz-style designs featuring image grids, flip cards, checklists, and more.
The plugin also includes the ability to lock results behind social shares and email opt-ins. As well as the ability to show ads and more.
Main Features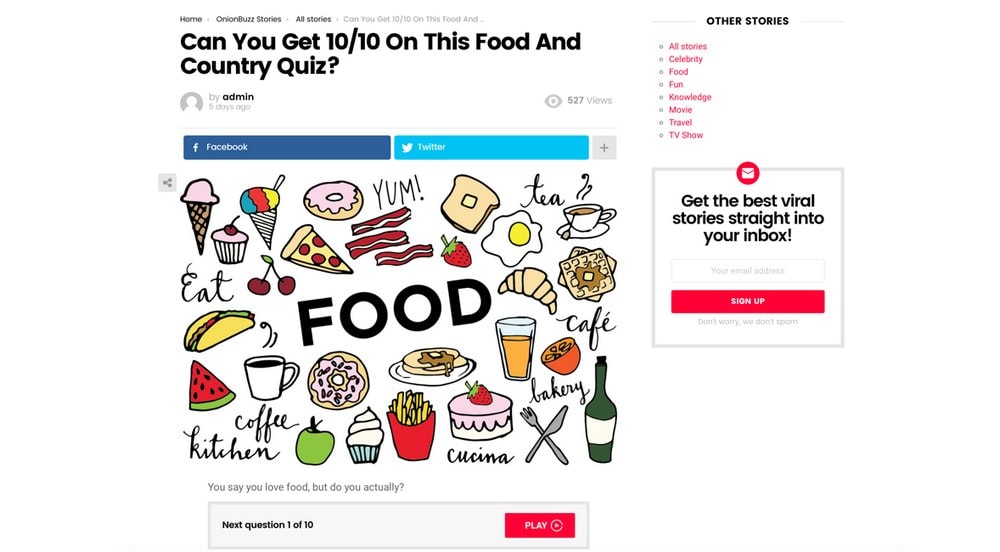 Create different types of quizzes with viral designs
Includes a widget to showcase a leaderboard
Collect emails to grow email lists and promote social shares
Include ads inside quizzes
Get detailed statistics on user engagements
Fully responsive design with the ability to add translations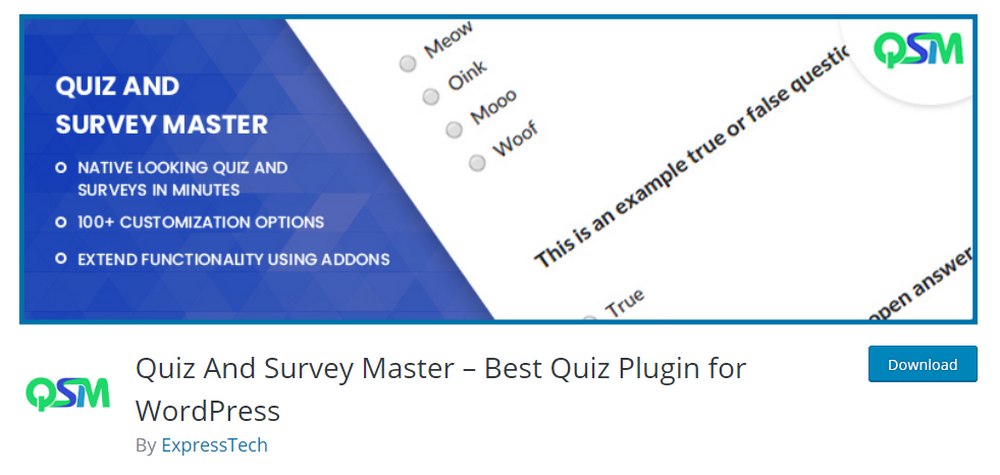 Quiz and Survey Master is the perfect plugin you can use to create polls and quizzes for professional and business websites.
Using the plugin, you can create polls to gather insights from your visitors. And create quizzes to better understand your customers. Or even to educate students in an entertaining way.
The plugin is free to use and includes premium add-ons for adding advanced features like Google Analytics, MailChimp integration, templates, and more.
Main Features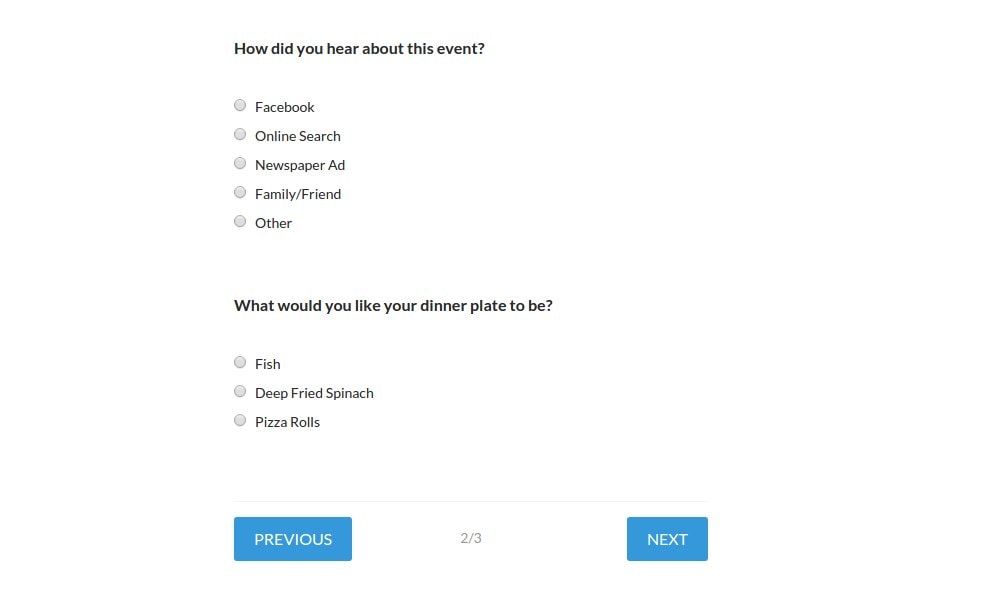 Create simple quizzes and polls to gather user insights
Ability to add 10 different types of questions
Collect emails to grow your email list (premium)
Send emails to users after completing a quiz
Create leaderboards
Gather detailed insights on engagement using Google Analytics (premium)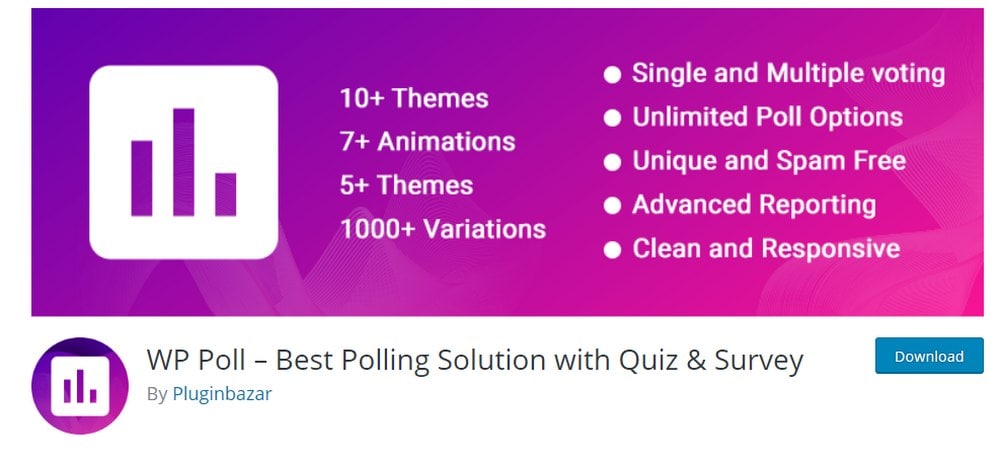 WP Poll is a great free plugin you can use to create various types of polls to gather insights from your customers and users. The plugin comes with 10 different theme designs as well as different animation and timer styles.
The premium version of the plugin is available at a one-time price of $23 with access to all of its features, including WooCommerce integration and popup on scroll feature.
Main Features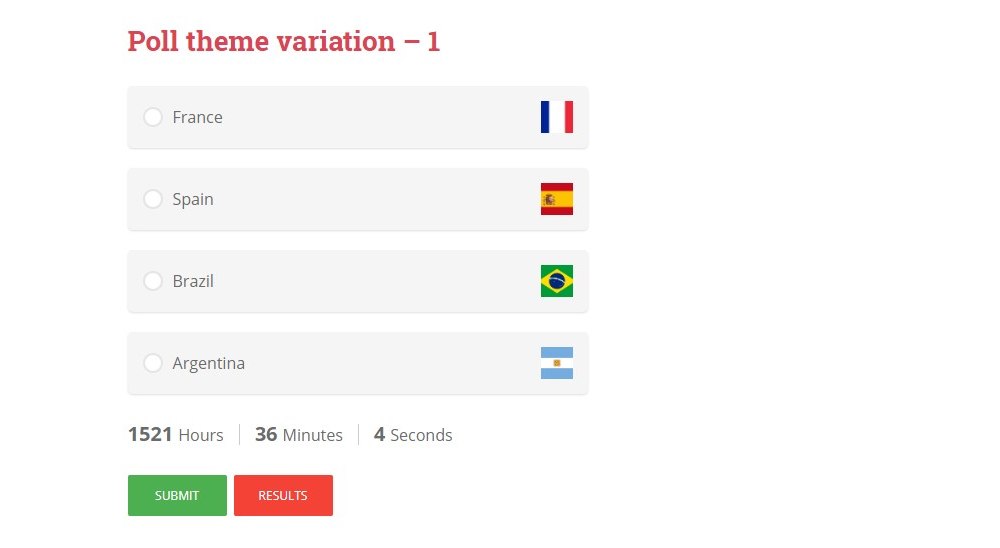 Create various types of polls using 10 different themes
Ability to generate more than 1000 variations
Includes 5 different timer styles and 7 input animations
Ability to export data to spreadsheets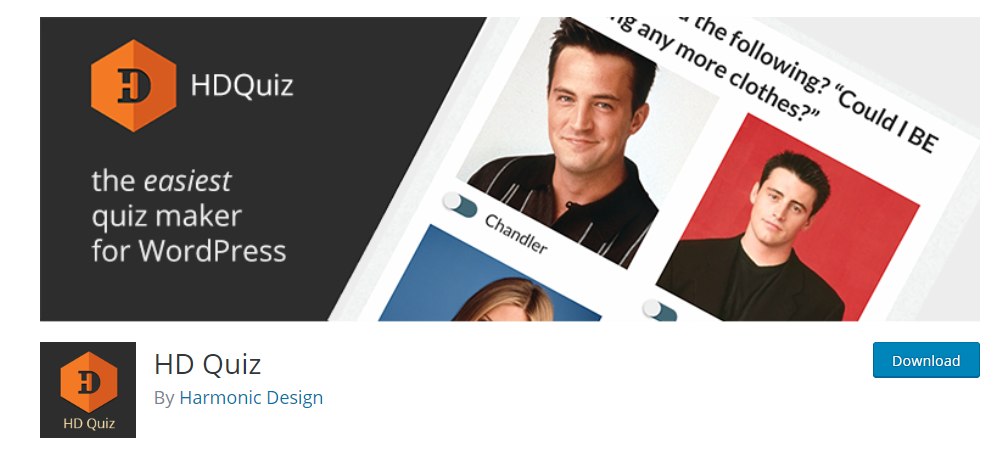 HD Quiz is a completely free to use quiz plugin on WordPress you can use to create various personality and trivia quizzes.
The plugin lets you create unlimited quizzes with features for mobile gesture and touch support. It also includes quiz timers and translation support as well.
Main Features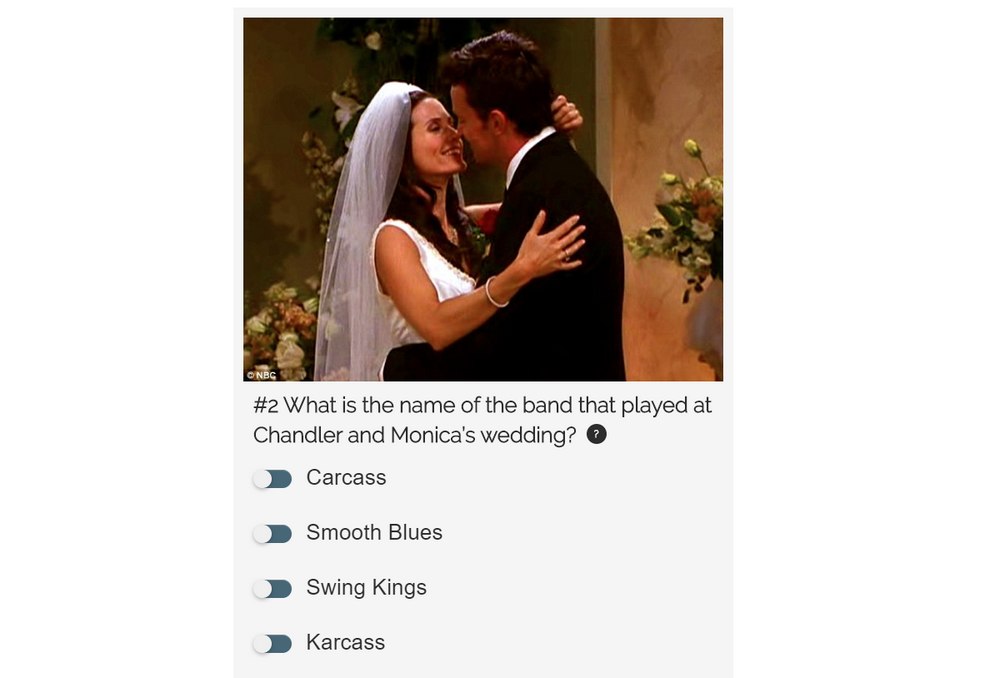 Create simple trivia and personality quizzes with ease
Ability to create unlimited quizzes for free
Fully responsive design with mobile touch gesture support
Include GIFs, images, and quiz timers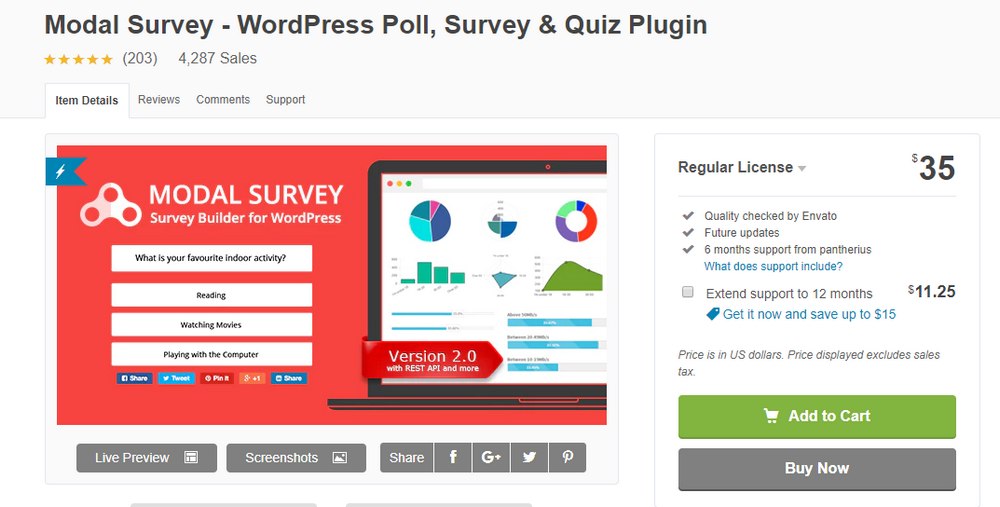 Modal Survey is a premium survey plugin you can use to create polls and surveys to gather insights and feedback from customers and users.
In addition to creating surveys for business websites, it also includes options for creating Trivia Quizzes with image grid-based designs
Main Features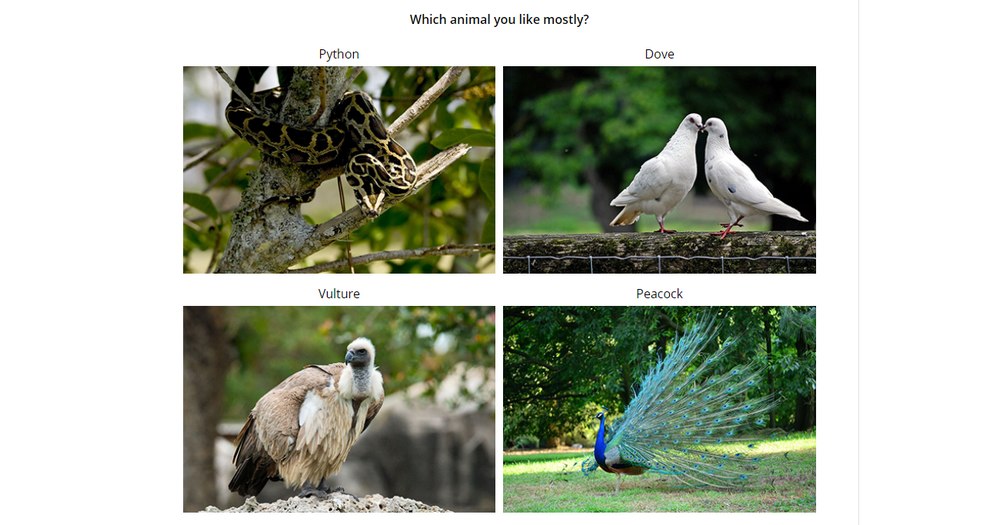 Powerful all-in-one plugin for creating quizzes, polls, and surveys
Create personality tests, product recommendation surveys, and more
Ability to create quizzes with timers
Fully customizable poll design styles
Gather detailed insights from users and customers
What is the Best WordPress Quiz Plugin?
WP Viral Quiz is arguably the best WordPress quiz plugin you can use to create all kinds of entertaining quizzes for many different types of blogs. Since it comes with a single price, you'll be able to use it to create unlimited quizzes. As well as get all future updates for free without having to pay a yearly or monthly subscription.
A great free alternative is the Quiz Cat plugin. It's quite beginner-friendly and has better quiz designs than most other free plugins. The WP Quiz plugin is also a good choice.
Before downloading the plugins, make sure they are compatible with your theme, current versions of WordPress, as well as with other third-party plugins you use on your website.
Looking for WordPress hosting? We use Kinsta. They offer world-class WordPress hosting, built to keep your website fast, secure, and always online.