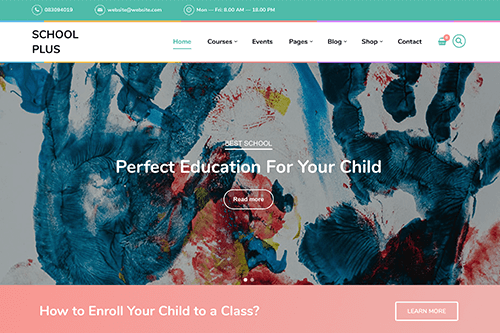 Introducing SchoolPlus
SchoolPlus is designed with a school or kindergarten in mind. We've chosen the layout, fonts, and colors to create a design that works perfectly for this audience. And we've filled theme with features that are perfect for this type of site.
You can build you website with drag-and-drop functionality, choose different layouts, and add anything you'd expect from a school website. It'll be a great resource for childen, parents, and teachers alike.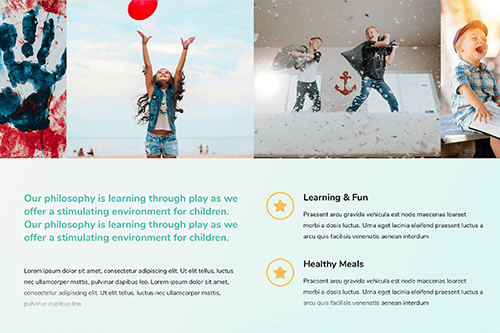 A Beautiful Homepage for Your School
The homepage is your chance to capture a parent's attention, and guide them through what your school has to offer. The design lets you feature key information (like contact info, school hours, or holiday dates) in key locations, and highlight how people can enrol their child.
You can also share the latest information about events, classes, or news. And feature your school values, core information, and photos in a beautiful gallery layout.
The theme adapts to whatever level of information you want to share, and can grow over time into a fully-fledged resource for your school.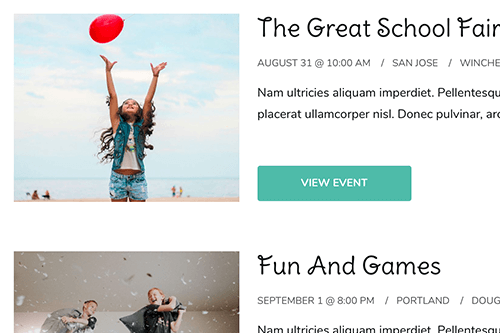 Feature Classes and Events
You can build out a seperate page on your website for different classes (or year groups, if that's more appropriate for your school). Fill those pages with information that's relevant to that group of parents and students.
Events let you maintain a calendar of what's happening at your school, so everyone's informed and has a single place to refer back to.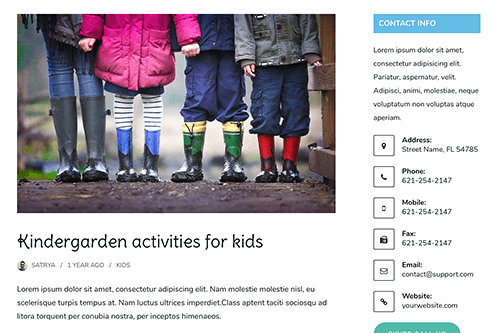 Publish a Blog, Run a Store & More
SchoolPlus also comes with several different page layouts, archive pages, and blog post styles. You can show blog posts as a list, in a grid, or a combination of the two. All managed via the Elementor page builder.
Want to run a store to sell school photos, uniforms, or anything else? No problem. SchoolPlus integrates fine with WooCommerce, the leading WordPress e-commerce software.