Business Themes
WordPress themes for creating a website for your business or agency.
Portfolio Themes
Create a beautiful portfolio to showcase your work (whether that's graphic design, photos, architecture, or anything else!)
Landing Page Themes
Build a landing page for your app or product, show off what it can do, let people register their interest, and more!
Real Estate Themes
Themes that help you with selling your next property, listing real estate, and more.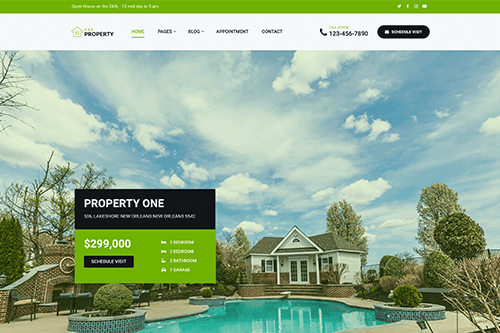 Property One
List, market, and sell your property like a pro with One Property. Everything you need for a real estate website.
E-Commerce Themes
Build an online store with any of these themes, all of which support WooCommerce.
Video & Music Themes
All of these themes are designed with video in mind, and make sharing media content super-simple.
Fashion, Food & Travel Themes
If you're building a lifestyle site, a recipe collection, or a travel blog, these are for you!
Health & Medical Themes
These themes help you create a website for a doctor, health, or medical practice.
Review Themes
Wanting to publish reviews of products or services? These themes make it easy.
Magazine & Blog Themes
Create a simple blog, or a full-featured online magazine using these versatile WordPress themes.