25+ Best Sketch Website & Web Design Templates 2023
Designing a website is a huge undertaking, especially for those that don't specialize in web design. It can often take up considerable amounts of labor, and cut into valuable work time that could be invested elsewhere.
With websites becoming more and more required for day-to-day life, for businesses small and large, and even private freelancers and organizations, the demand for easy website building has risen significantly over the past decade.
Thankfully, there is a solution. Sketch is an incredibly simple and straightforward software that will help you build a website with ease. One of the best features of Sketch is its extensive third-party range of resources. Today we'll be looking at a range of Sketch web templates, sourced from both premium and free options.
Getting the right Sketch website template will help you build anything from professional business websites to personal blogs, with a few simple clicks.
Read on to see our list of the best Sketch web templates!
Get everything you need to supercharge your Sketch workflow. From just $16, get unlimited access to thousands of Sketch templates and add-ons, as well as Photoshop actions, Lightroom presets, templates, graphics, fonts and photos.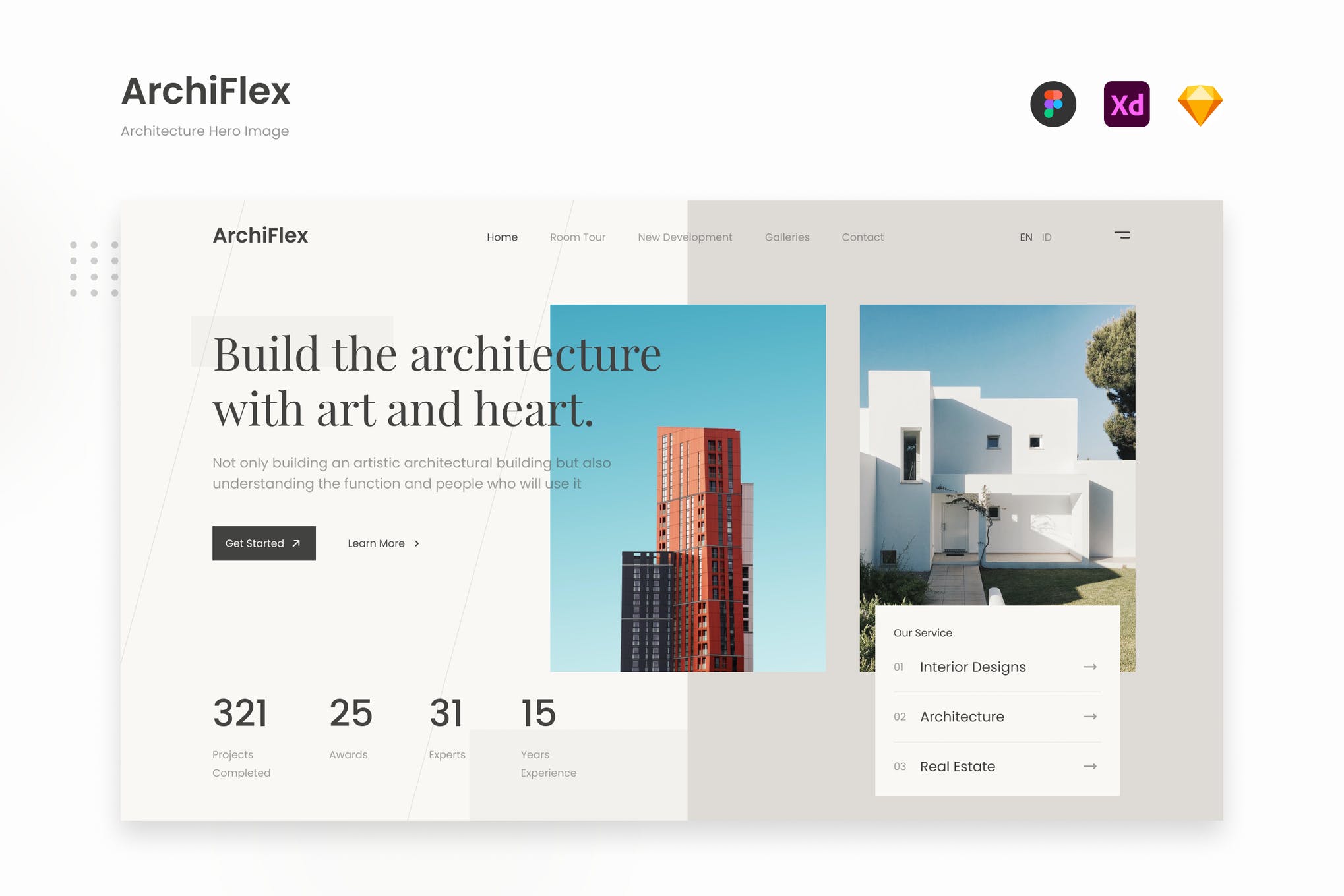 ArchiFlex is a modern, and eye-catching landing page template that will make your website looking more professional, and aesthetic. If you're looking for the best Sketch web templates for your architecture agency or studio, ArchiFlex is the perfect contender for your cash.
Knife Travel is a beautifully designed landing page template that is a must-have in a website designer's toolkit. It has a modern, unique and customizable design, and is one of the best Sketch web design templates available on the market today.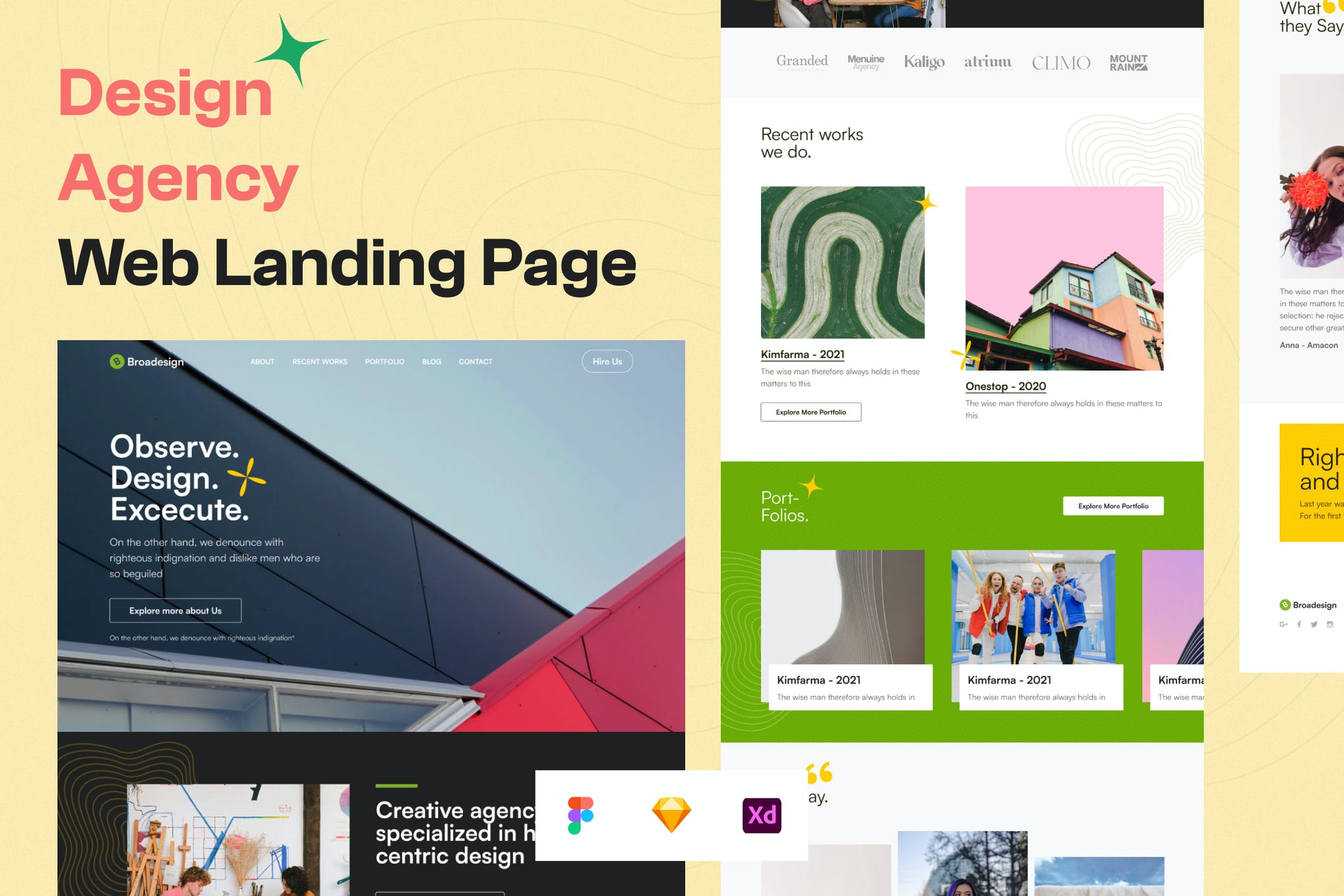 Here we have a cheerful landing page template perfectly suited for creative design agencies It's a neat, and well-organized template that can be fully molded to your specific requirements in Sketch, Figma, and Adobe XD. Do check it out.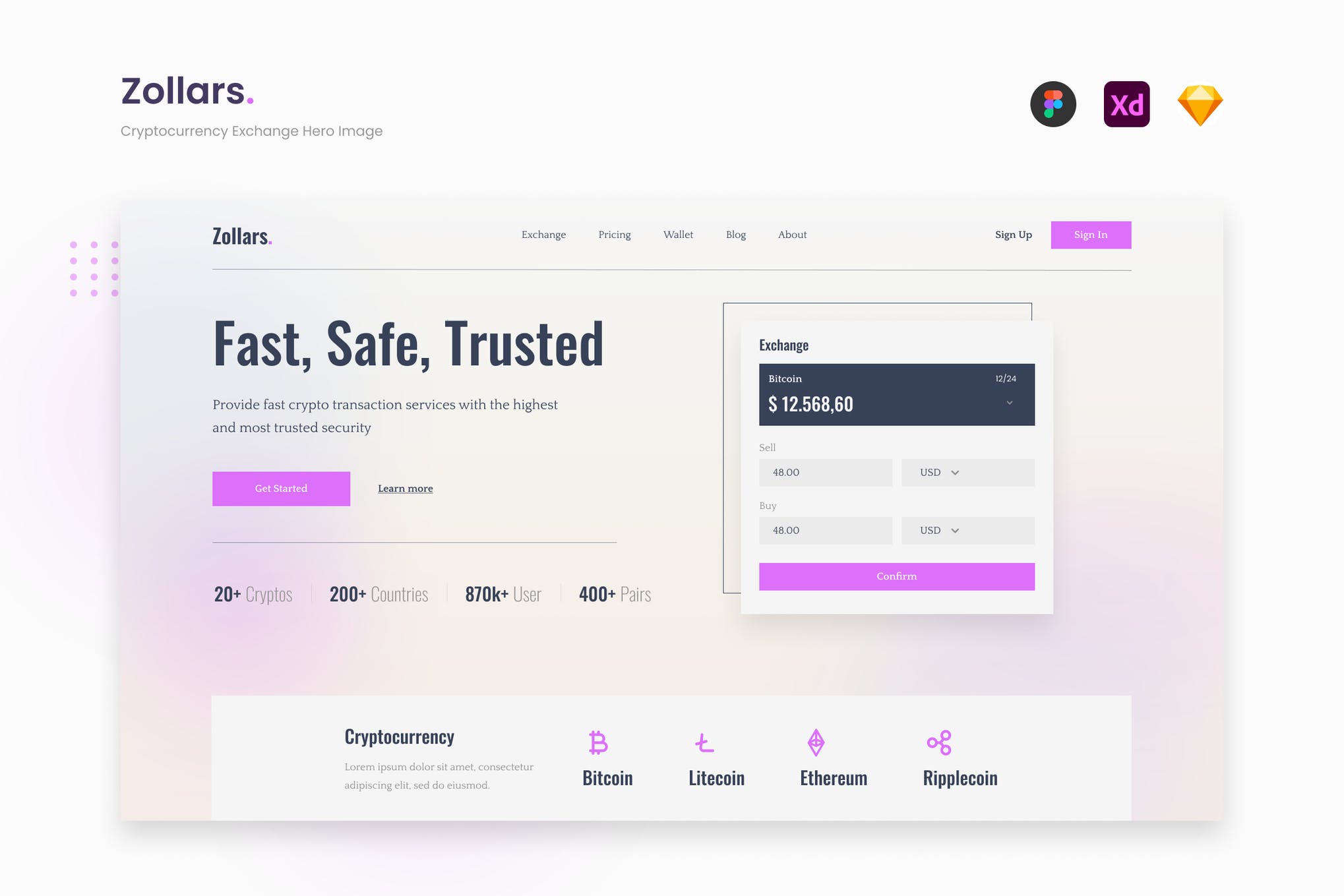 If you need a landing page template that can help establish your visitor's trust in your cryptocurrency website, look no further than Zollars. When it comes to the best Sketch website templates, Zollers stands at the top of the league. Give it a shot.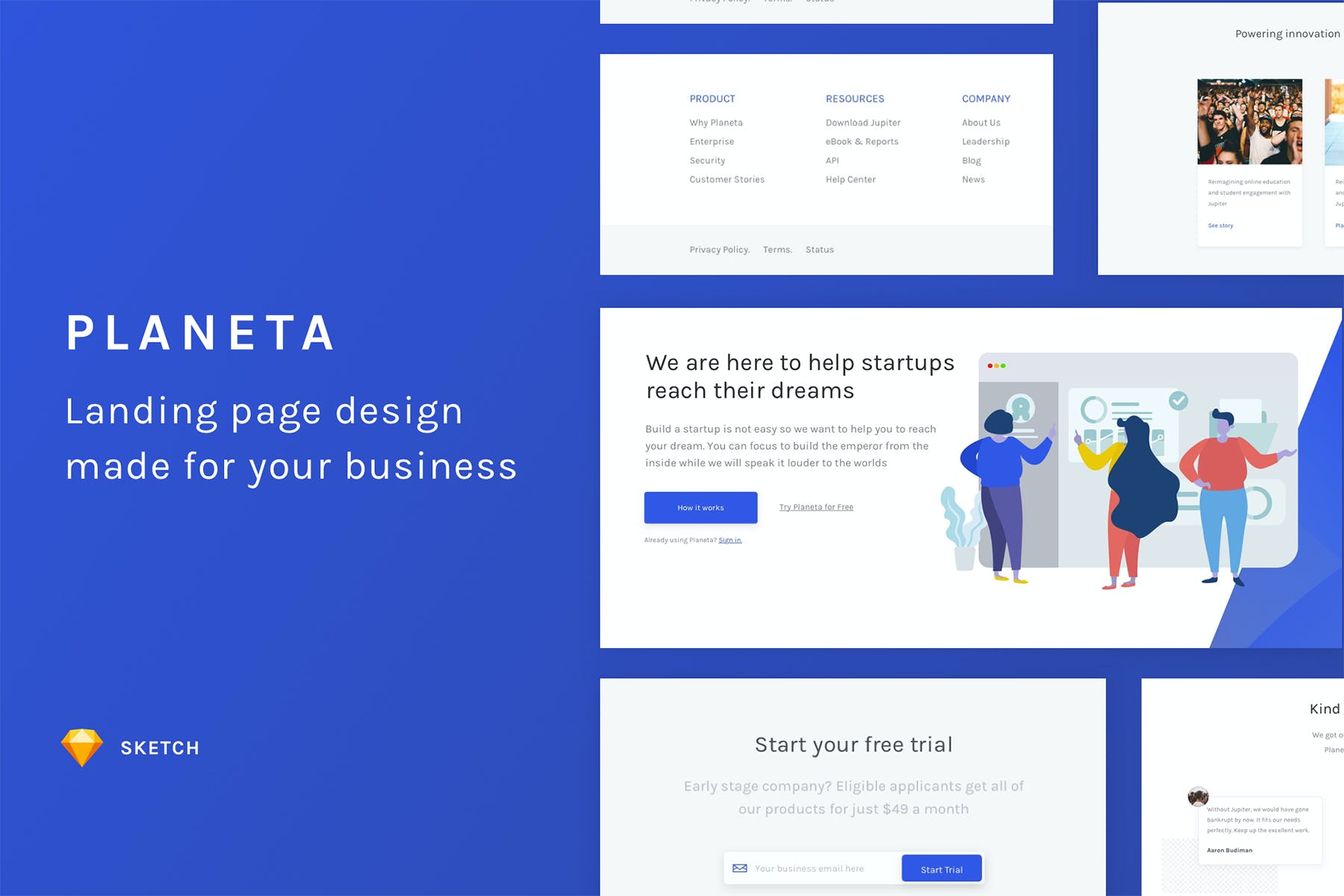 Planeta is designed specifically for startup businesses and comes with a range of pre-made website pages for you to use. It uses a minimal, yet professional, blue on white aesthetic. As well as a modern UI style that's easy to navigate. The template provides you with five pre-made home pages, fifteen block elements, and much more!
Kooki is a fun and playful Kindergarten website template for Sketch. Providing you with a great foundation to build a child-friendly learning space. It doesn't have to strictly apply to Kindergarten, Kooki is versatile enough for any young learning environment. The template provides a range of pre-built pages, and class pages already built.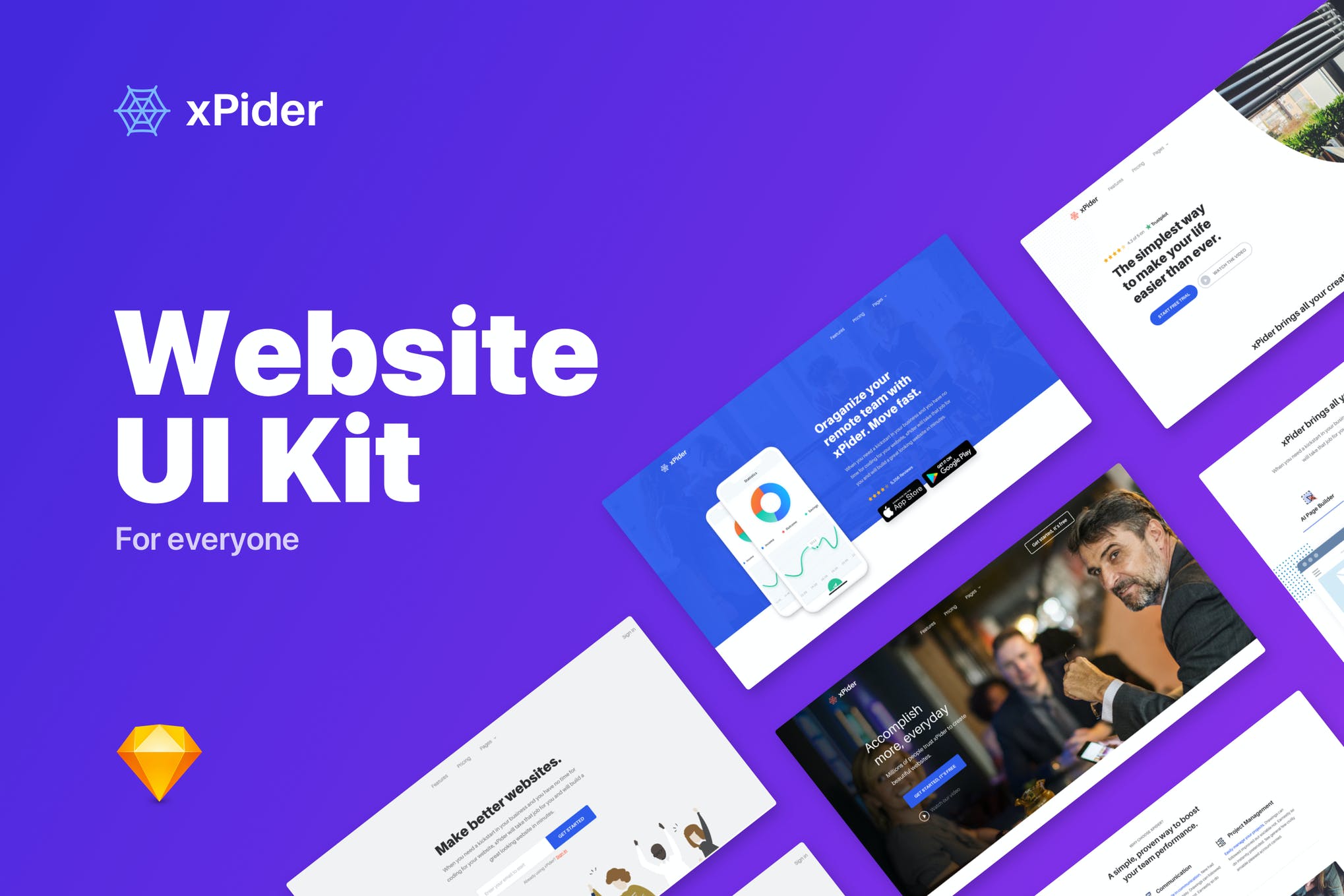 xPider is a sleek and ultra-modern multi-purpose website UI kit, helping you to build the user interface of your website in minutes. The template comes loaded with eleven different variations, a bootstrap grid, a range of pre-built pages, and much more!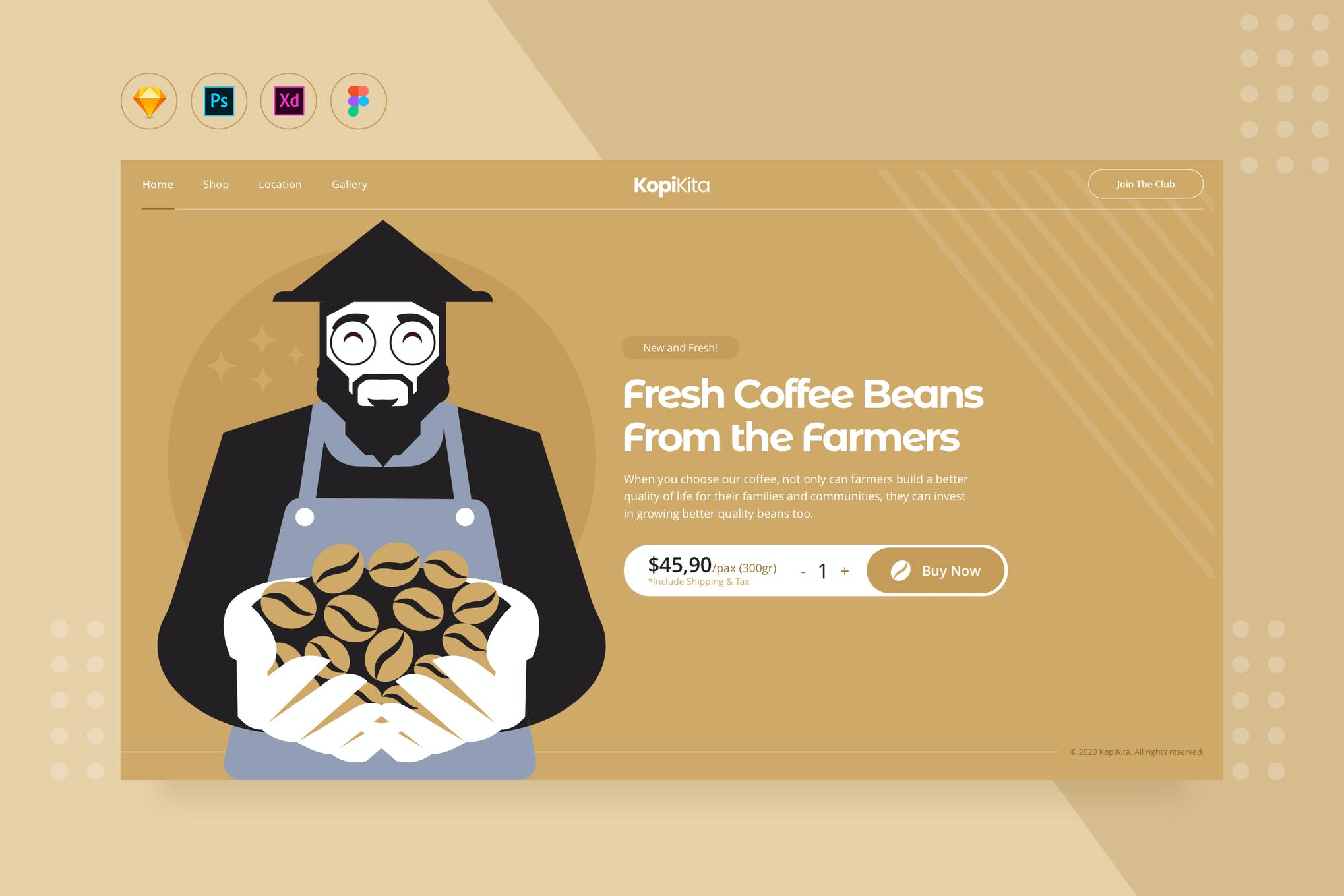 Create a beautifully designed landing page for your coffee shop with the DailyUI Coffee Shop Website Landing Template. A fantastic Sketch website template that provides both a unique design, and impressive functionality. You'll find everything you need to get your coffee shop's digital presence up and running with style.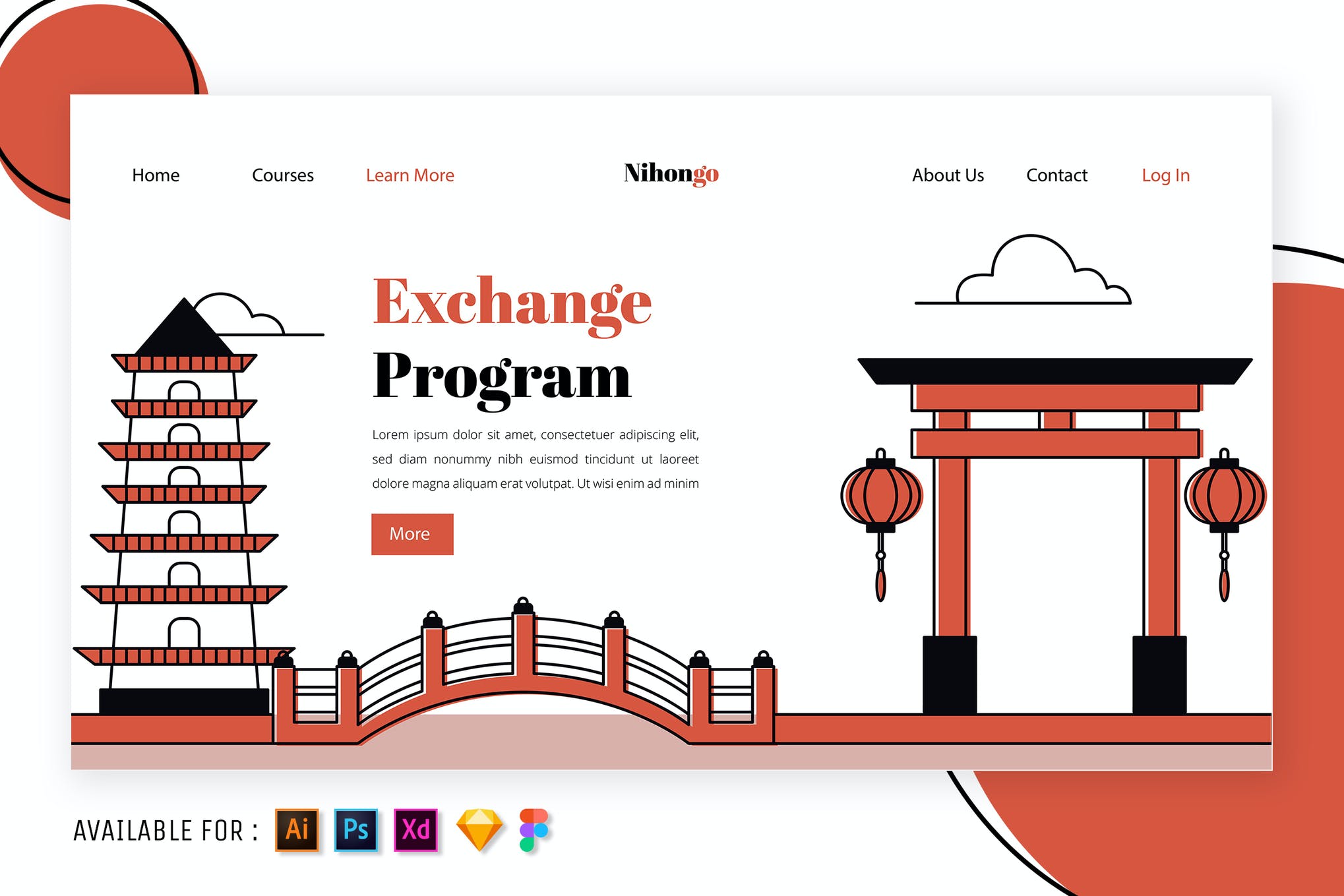 Looking to build a website for exchange students, or travelers, in Japan? Then this Heritage Sites of Japan template is what you're looking for. A well-made Sketch website template that provides you with a gorgeous illustration of a famous Japanese temple, suitable for landing pages, welcome screens, or banners.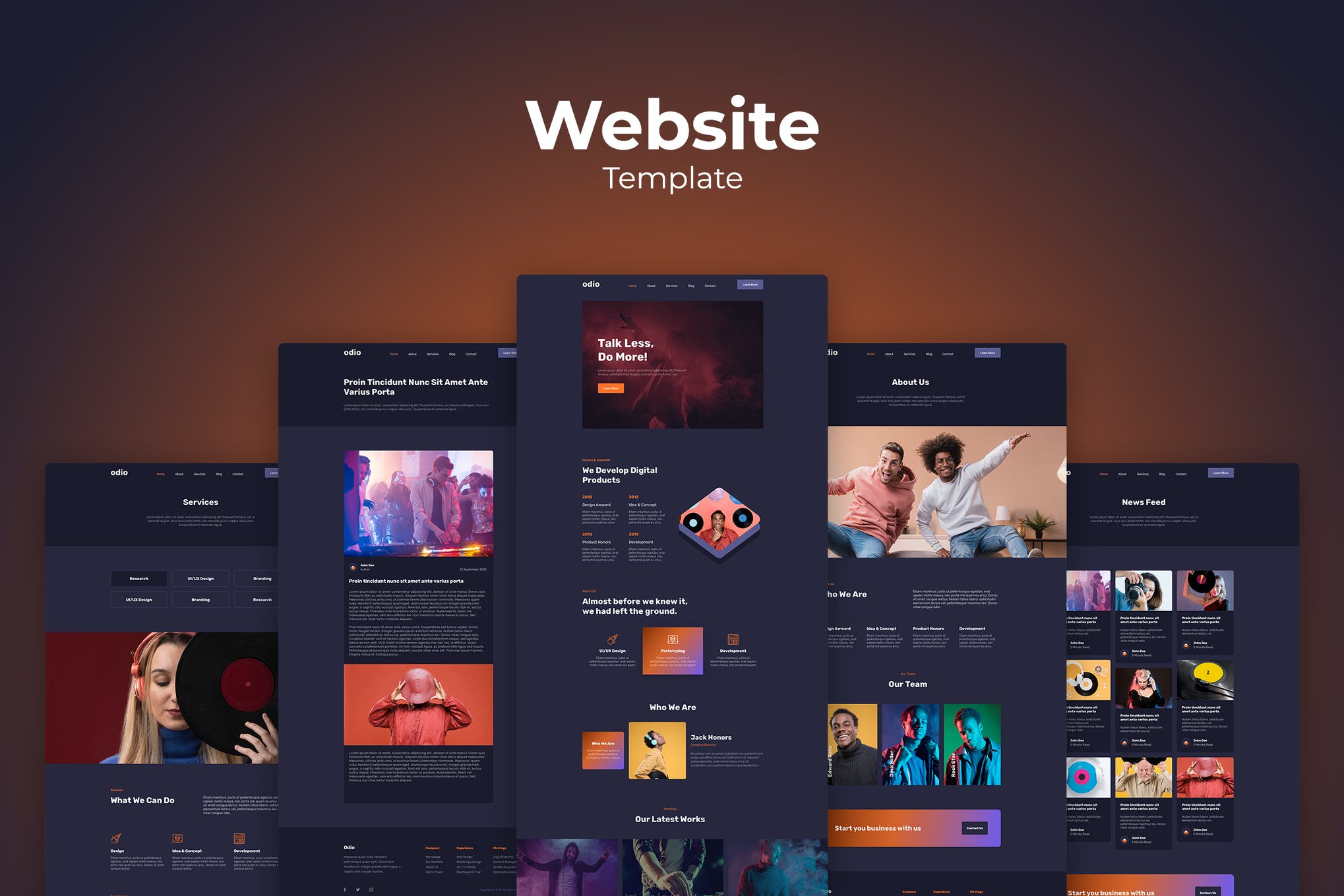 If you're looking for a more comprehensive package, then this collection provides you with a range of website designs to choose from. Each design is tailored in a sleek dark mode style and comes with a range of pre-built pages for you to enjoy. Perfect for business websites, creative portfolios, and blogs.
Looking to build an eCommerce website? Then this collection of eCommerce Sketch web templates is what you're after. Providing a range of minimalistic modern page designs that come with all of the functionality you require to get an eCommerce website up and running in a few short hours.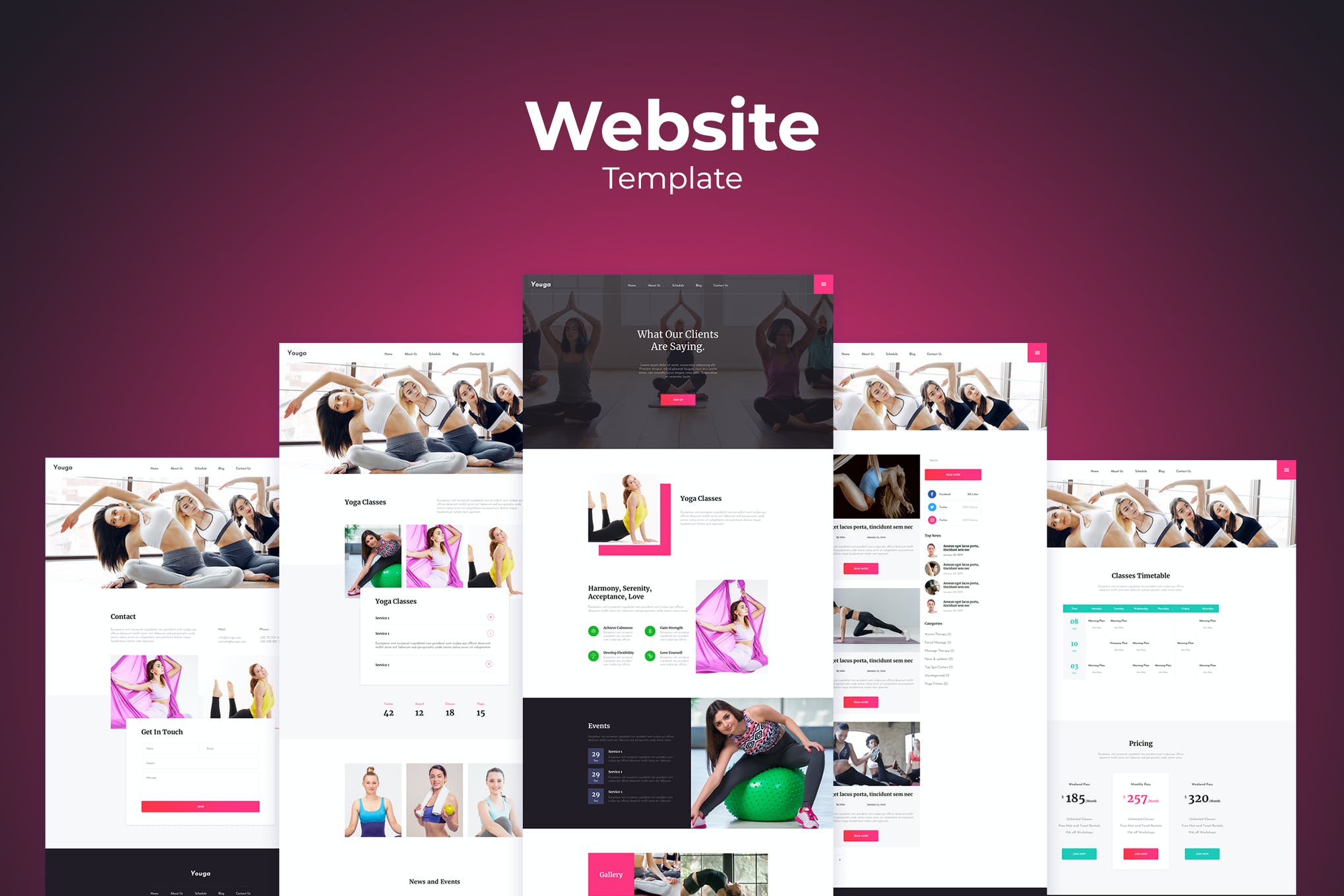 Want to build a website for your Yoga group? Then you need this Yoga website template for Sketch. It comes with a creative and somewhat whimsical page design, whilst keeping an air of professionalism. There are five-page designs that are easy to customize, providing you with everything you need to build a fantastic Yoga group website.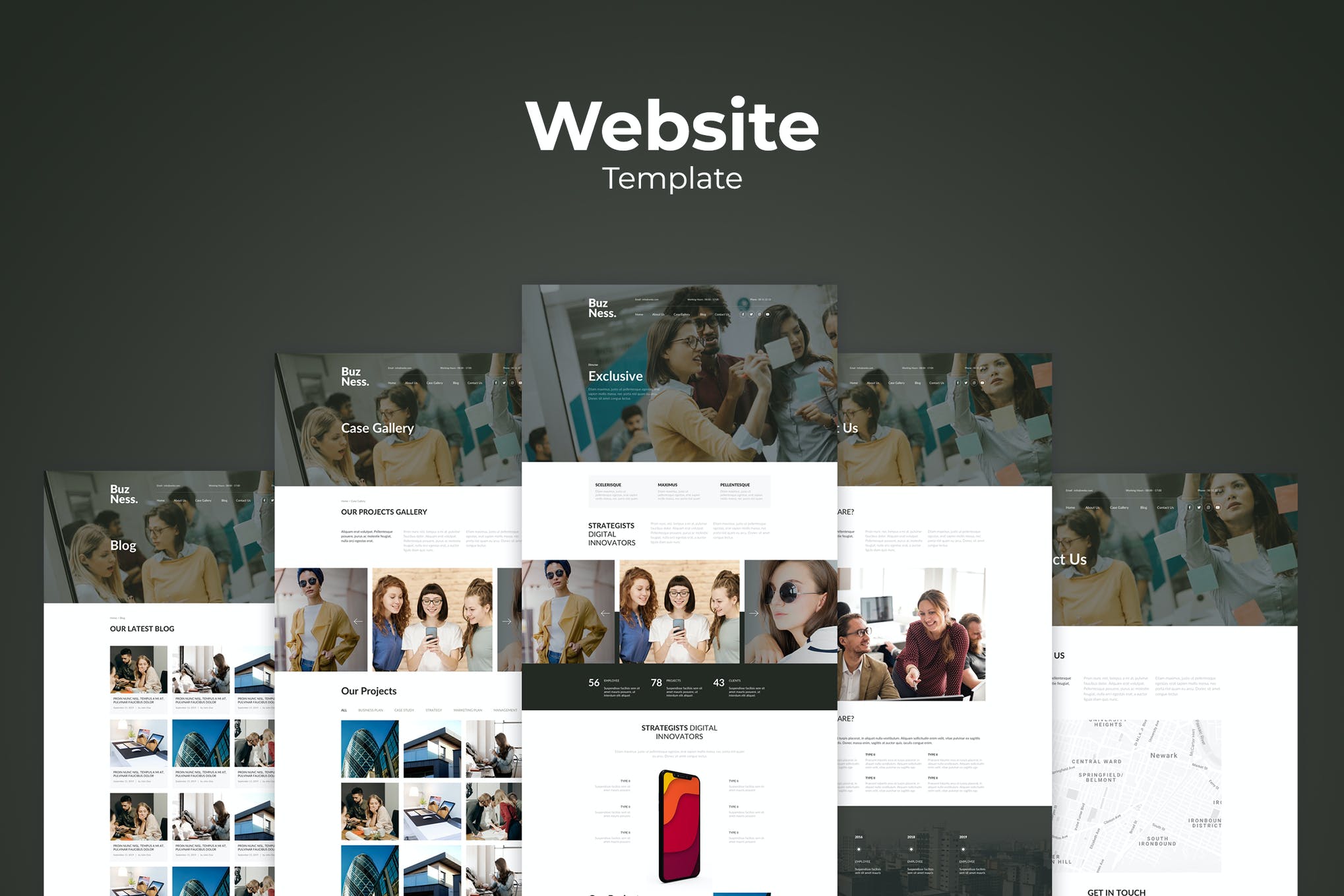 Create a captivating business website with this range of Business Website Templates for Sketch. Each template of this five-template collection will provide a simple, yet effective digital front for your business. The page designs are a traditional style, with a sleek black on white aesthetic.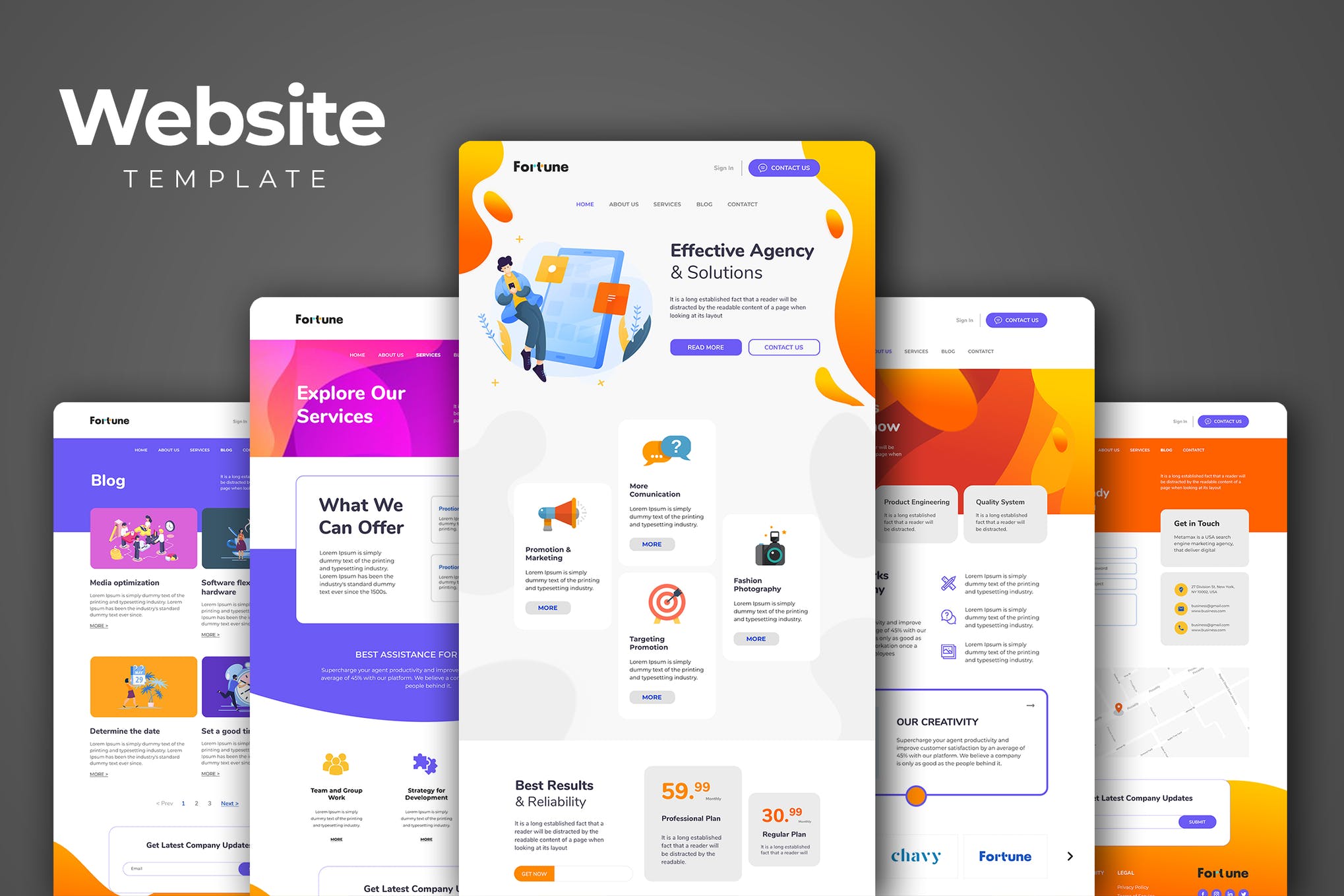 Looking to get your corporate agency on the internet in a pinch? Well, this collection of Corporate Agency Website Templates is what you're looking for. These templates provide five pre-built pages and come with a captivating bordered style that is hard to pass up.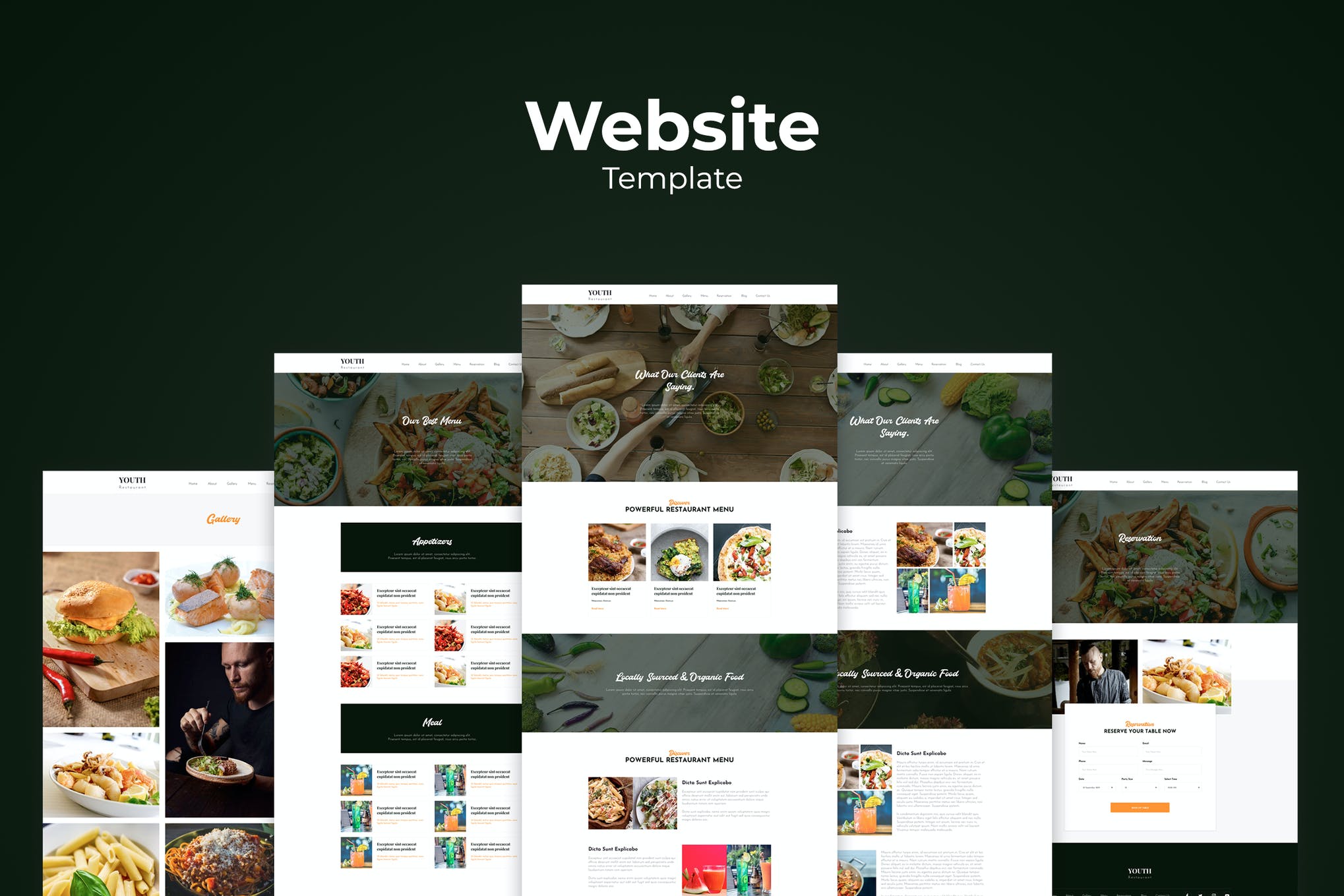 The Resto and Café website template collection is designed to provide you with a foundation to build a fantastic restaurant or café website with ease. Each page has been tailored with the hospitality business in mind, and comes with a trendy aesthetic that is sure to impress.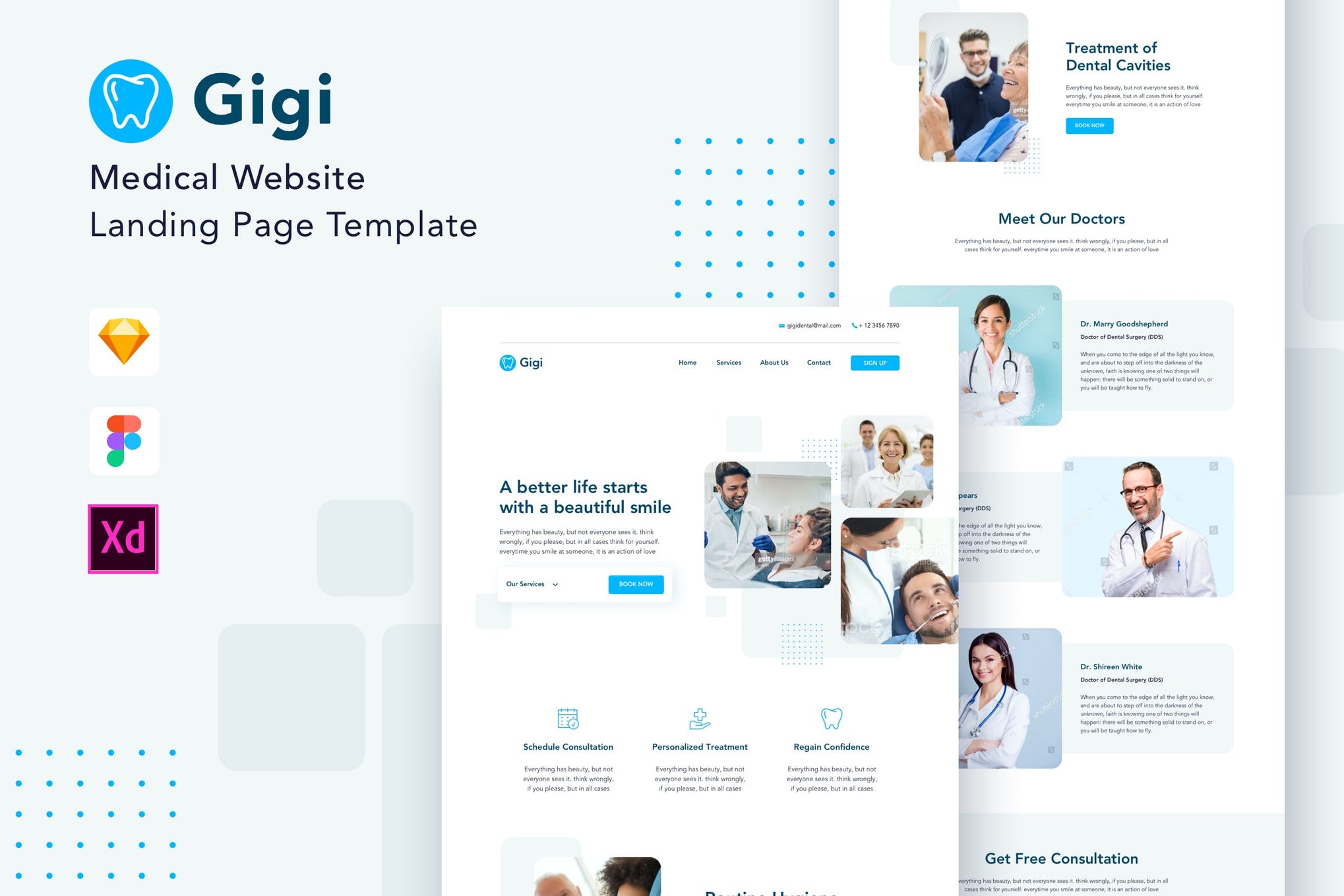 If you're looking for a landing page for your medical website, then Gigi has you covered. Providing you with a professionally designed template, consisting of a contact, header, hero, why us, services, our team, footer, and call to action page ready to be built upon.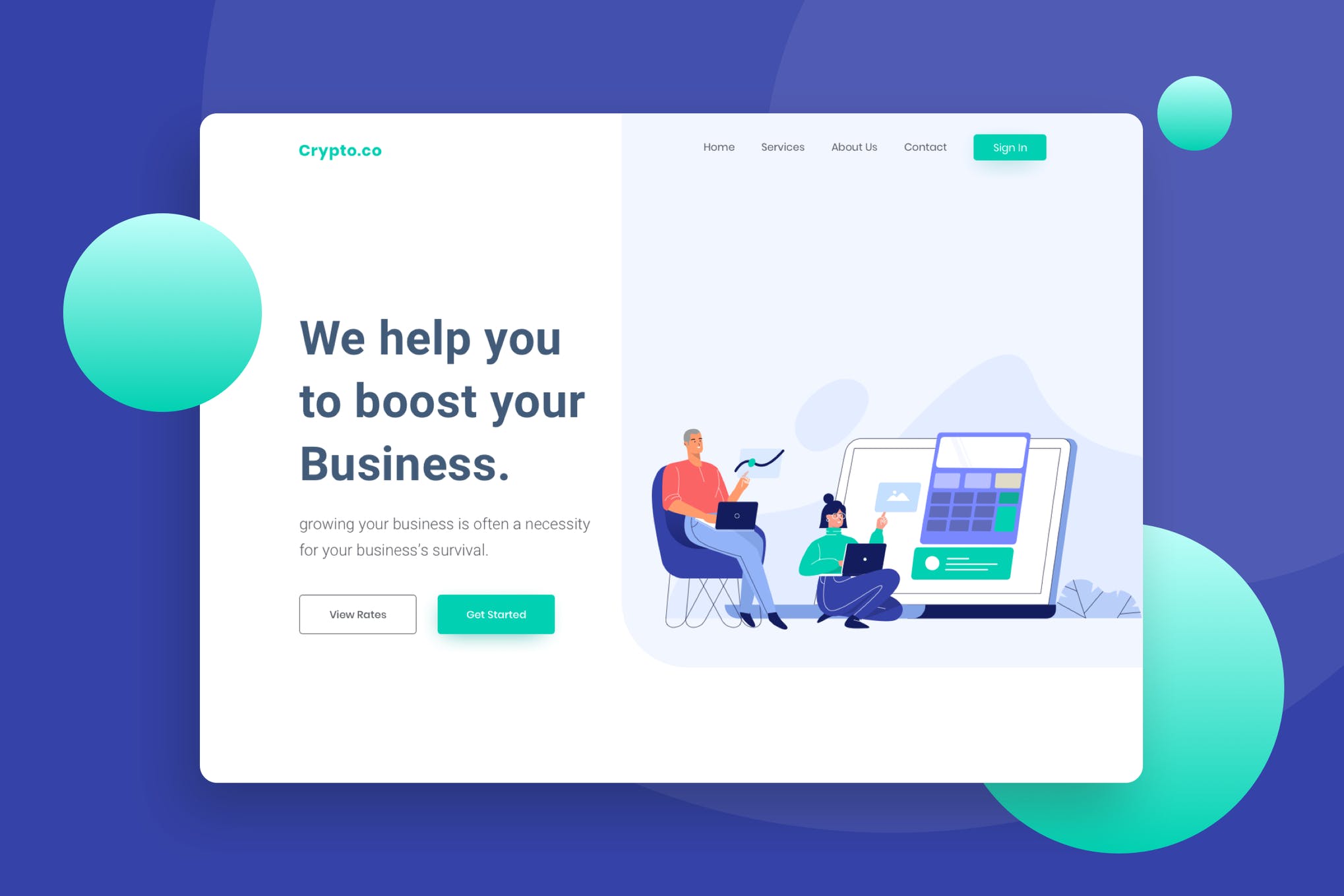 Need to attract more customers to your accounting firm? Then this Account Website Landing Page template for Sketch is what you're looking for. An expertly crafted minimalist solution to a landing page, equipped with a range of pre-built pages to take out a lot of that daunting back-end work.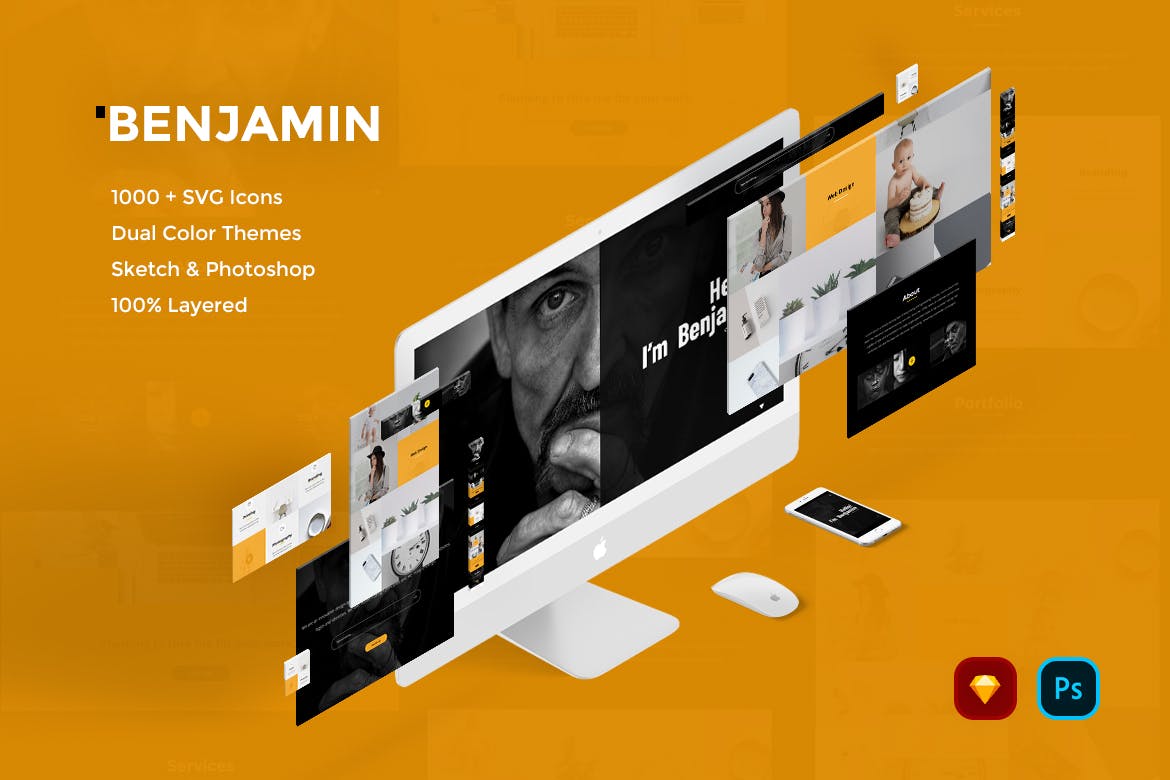 The Benjamin Creative Website UI Kit is an extensive range of website building resources, and is an incredible help for anybody looking to build a wide range of website styles. The kit comes equipped with thousands of icons, a range of themes, and several pre-built pages to get you started.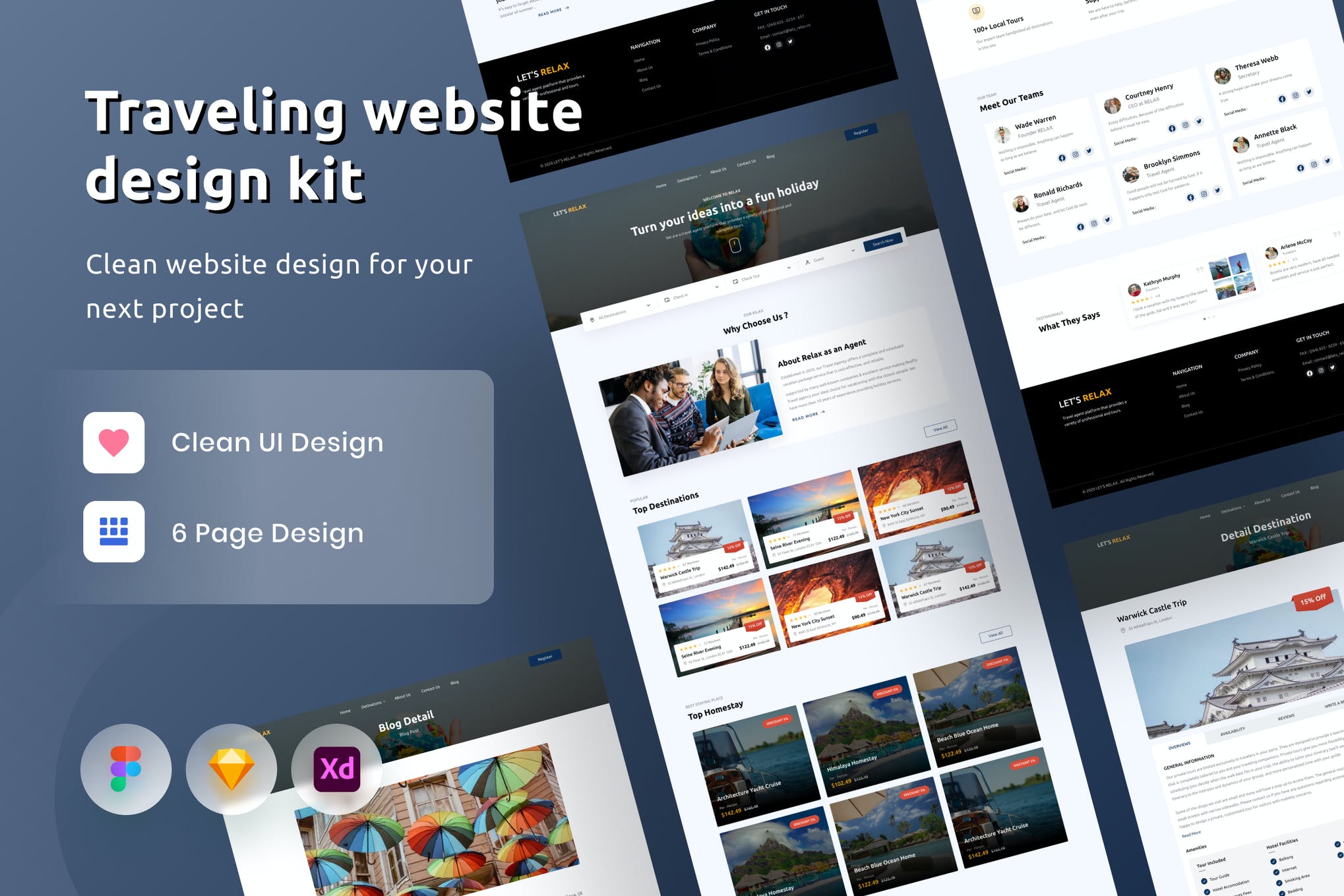 Create an incredible travel website with this Traveling Website Design Kit for Sketch. This package includes everything you'll need, including a clean UI design, icons, and page designs, to create an incredible travel website with ease.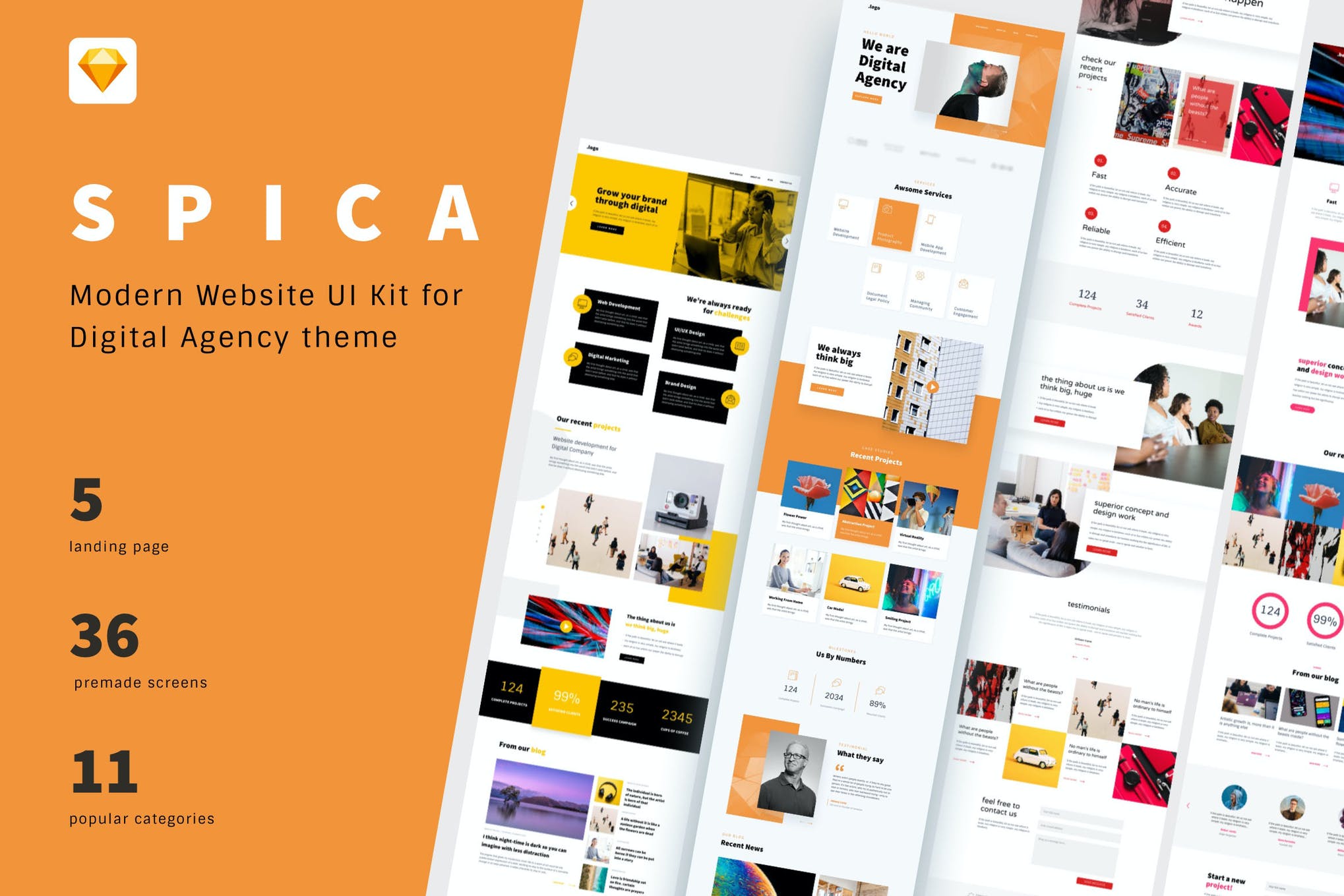 SPICA is a modern website UI kit that employs a traditional digital agency theme. A great choice for a wide range of businesses looking to step up their online presence. The kit consists of five landing pages, thirty-six premade screens, and a range of customization options to help you craft a unique website.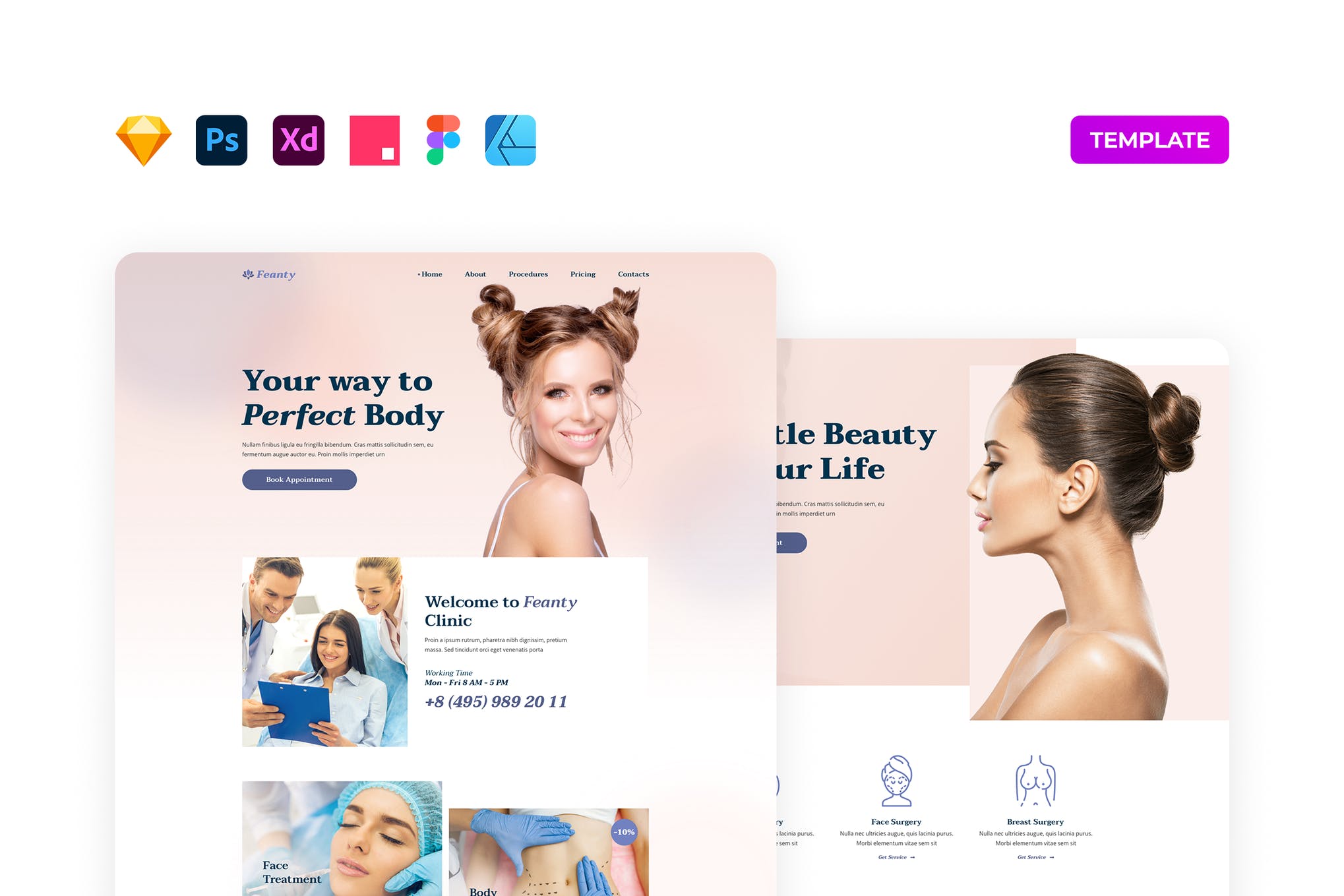 Bring your beauty clinic to the internet in style with this Beauty Clinic Website Template for Sketch. You'll have everything you need to build a captivating website, including a range of pre-built pages that'll make the process much easier.
Free Sketch Web Design Templates
Creating a website is already a costly venture, so it's easy to understand why you may not want to invest in a premium Sketch web design template. Let's take a look at some free options that we think are something special.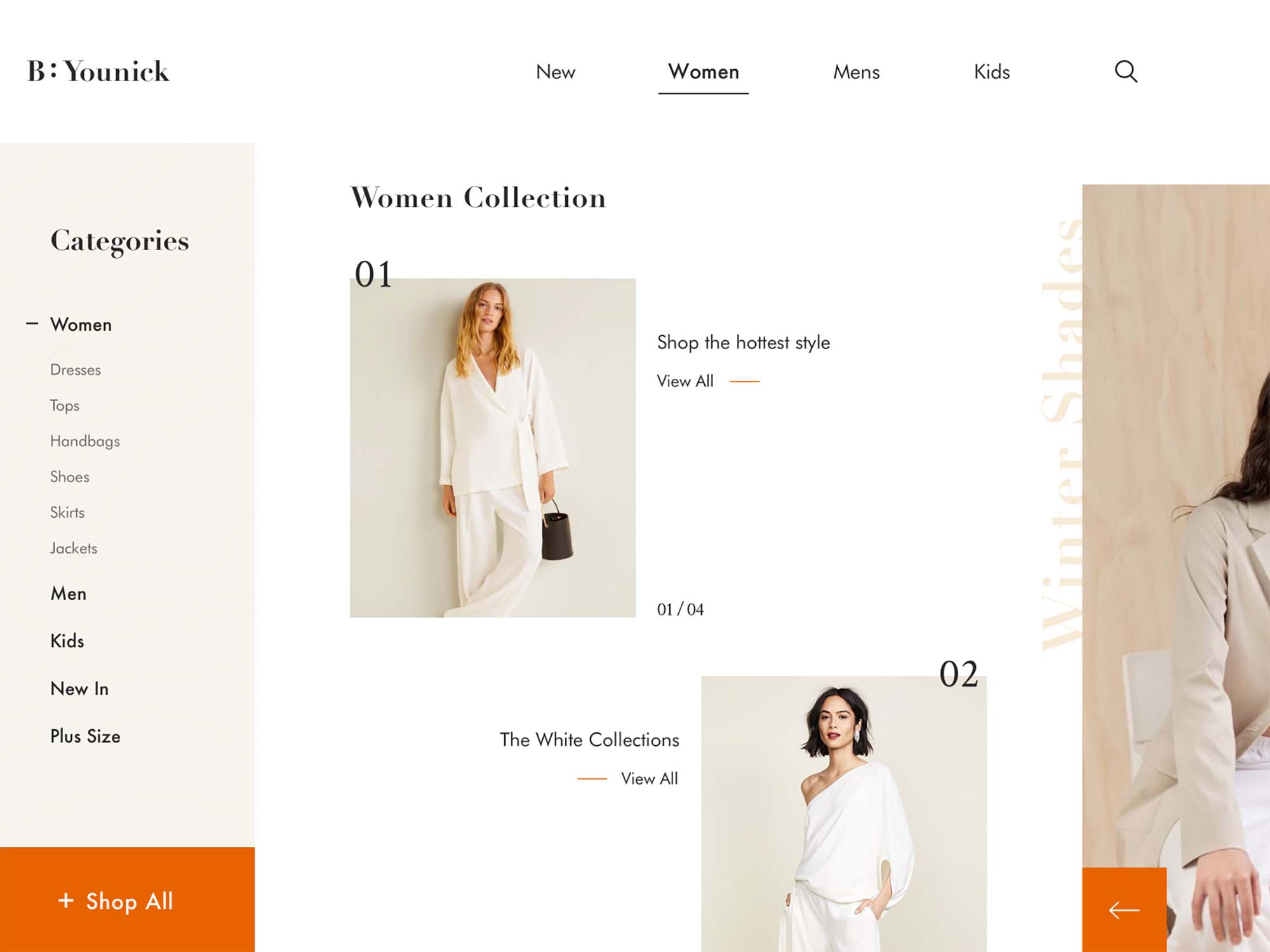 Younick is an outstanding option for anyone looking to get their hands on the best free Sketch web templates without having to spend a penny. If you are creating an online shopping portal, you must download Younick right away, or add it to your shortlist at the very least.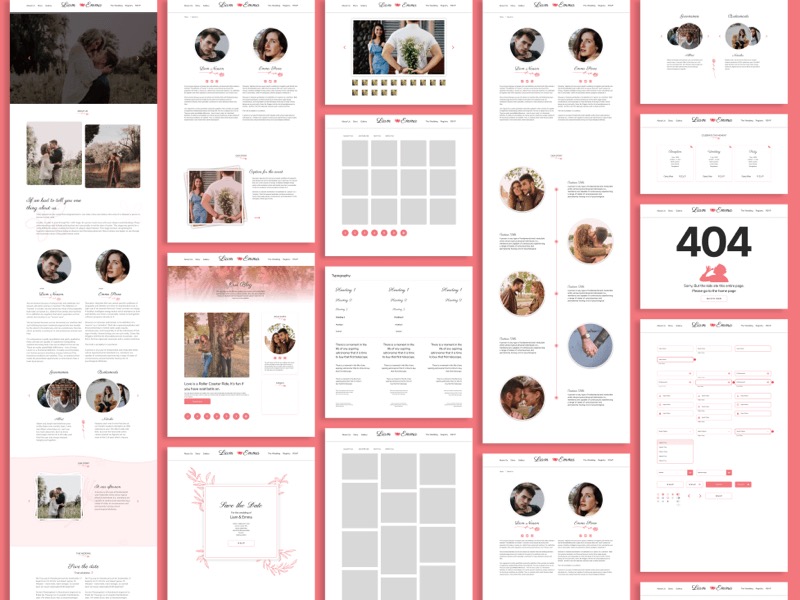 Create a beautifully crafted wedding service website with this Wedding Website Template. Providing you with all of the pages you'll need to get your business up and running. The template is highly customizable and easy to use.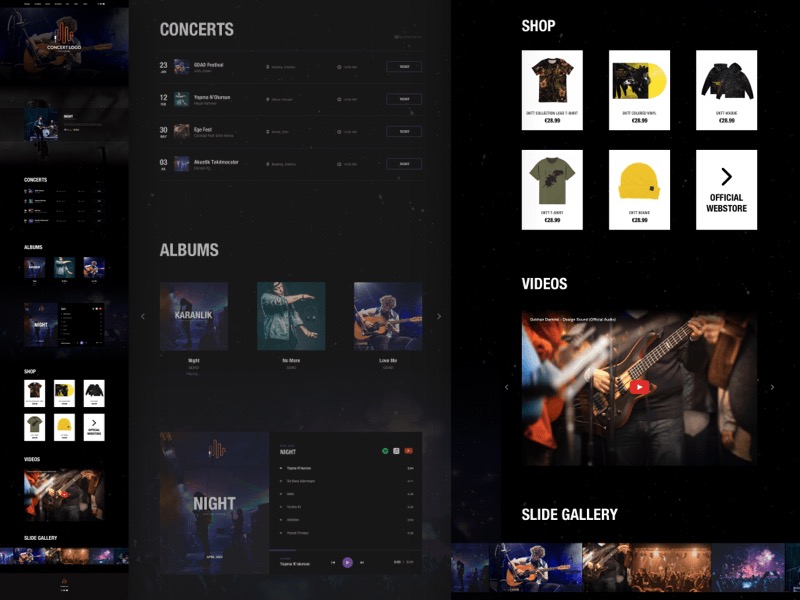 Forge an online identity for your band with this Music Band Landing Page. You can store everything here, from details about your band, to track links, videos, a gallery, a merch store, and much more!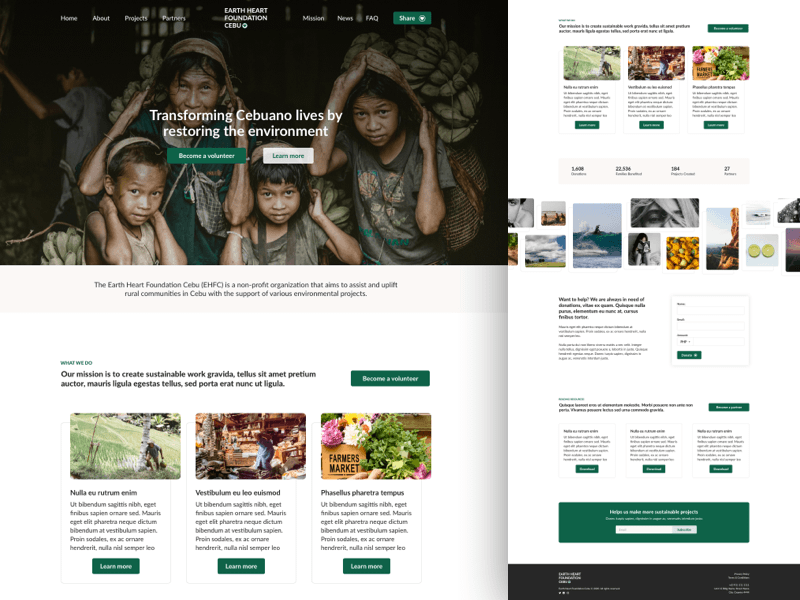 Build a home for your charity organization with this versatile Charity Website Template for Sketch. You'll have everything you need at your fingertips, including a landing page, about us page, services page, and a range of call to actions you can input with ease.
Create Your Website with These Amazing Templates!
It doesn't have to be a nightmare to get your website up and running. With this range of premium and free Sketch website templates, you have everything you need to build a professional and clean website with ease!