Posty – Food & Health, Travel, Lifestyle Blog Theme
The heart of your blog is content, or Post in WordPress. To keep your blog alive, you have to keep the heart beating. That means you have to keep posting and updating.
If a post is the heart, then Posty is the new look for your blog. It's perfect for your Food and Health, Travel and/or Lifestyle blog.
Posty offers fresh and professional look. It's customizable and very easy to do it. Just choose the provided layout and change the default color to reflect your own personality.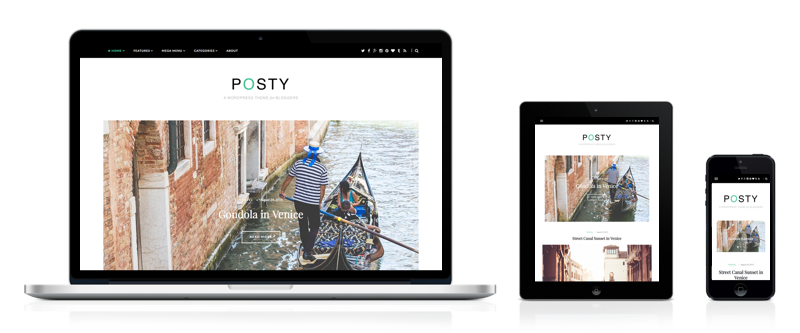 Posty Features
#1. Customizer
We're continuing to use WordPress Customizer for this theme. WordPress Customizer is a new and exciting feature that combines theme options with the ability to live preview those changes before saving them!
Here are some samples of how you can custom the themes:
#2. Responsive
Responsive feature is a must in every of our themes. Please try the demo on your mobile device to see the responsive layout of this theme.
#3. SEO Optimize & Schema.org Markup
We have included this feature since a couple of our last themes. And we plan to keep this up. Since it'll absolutely help you optimize your site in terms of SEO.
#4. Multiple Archive Layouts
Posty has have options to show your Archive/Post Listing in Standard, Grid or List style. You can also choose between Full Width, Left Sidebar or Right Sidebar.
Checkout this combination samples below:
#5. Mega Menu
There are 2 types of mega menu you can use. 'Links' mega menu and 'Category' mega menu. If you see the demo, 'Links' mega menu is represented by Features. While Mega Menu item menu next to it is 'Category' one. For 'Category' mega menu, it displays recent posts from current selected category.
#6. Header Image
Feeling adventurous by adding Header Image to your site? You can do it with Posty.
Check out the result here:

#7. Custom Widgets
Posty provides 11 custom widgets for you to add more content variation to the sidebar.
***
Already done checking the demo? So, what are you waiting for? Purchase it now!
And keep Postying ! ?
Don't forget to leave a feedback about this theme, we are so excited to see what you will do with Posty!
Looking for WordPress hosting? We use Kinsta. They offer world-class WordPress hosting, built to keep your website fast, secure, and always online.