25+ Best Duotone Photoshop Effects & Actions (How to Do Duotone) 2022
Executing a unique and captivating aesthetic in visual design projects is no small undertaking, and often requires a large range of high-quality resources to do right.
Yet for visual designers using Photoshop, this can often be a struggle due to the extensive nature of the third-party library that Photoshop boasts.
One of the most iconic visual styles, which has been used in cinema and photography for decades, is the Duotone effect, a simple, yet effective, way to bring two colors together to create incredibly unique artworks.
It's for this reason that we decided to compile a list of the best Photoshop duotone effects, making sure that you never again have to wonder how to create duotone in Photoshop. We've made sure to include both premium and free options so that there is something for everyone on this list.
Read on and find out how to make a duotone in Photoshop easily with minimal effort!
Get everything you need to supercharge your Photoshop workflow. From just $16, get unlimited access to thousands of Photoshop actions, Lightroom presets, templates, graphics, fonts and photos.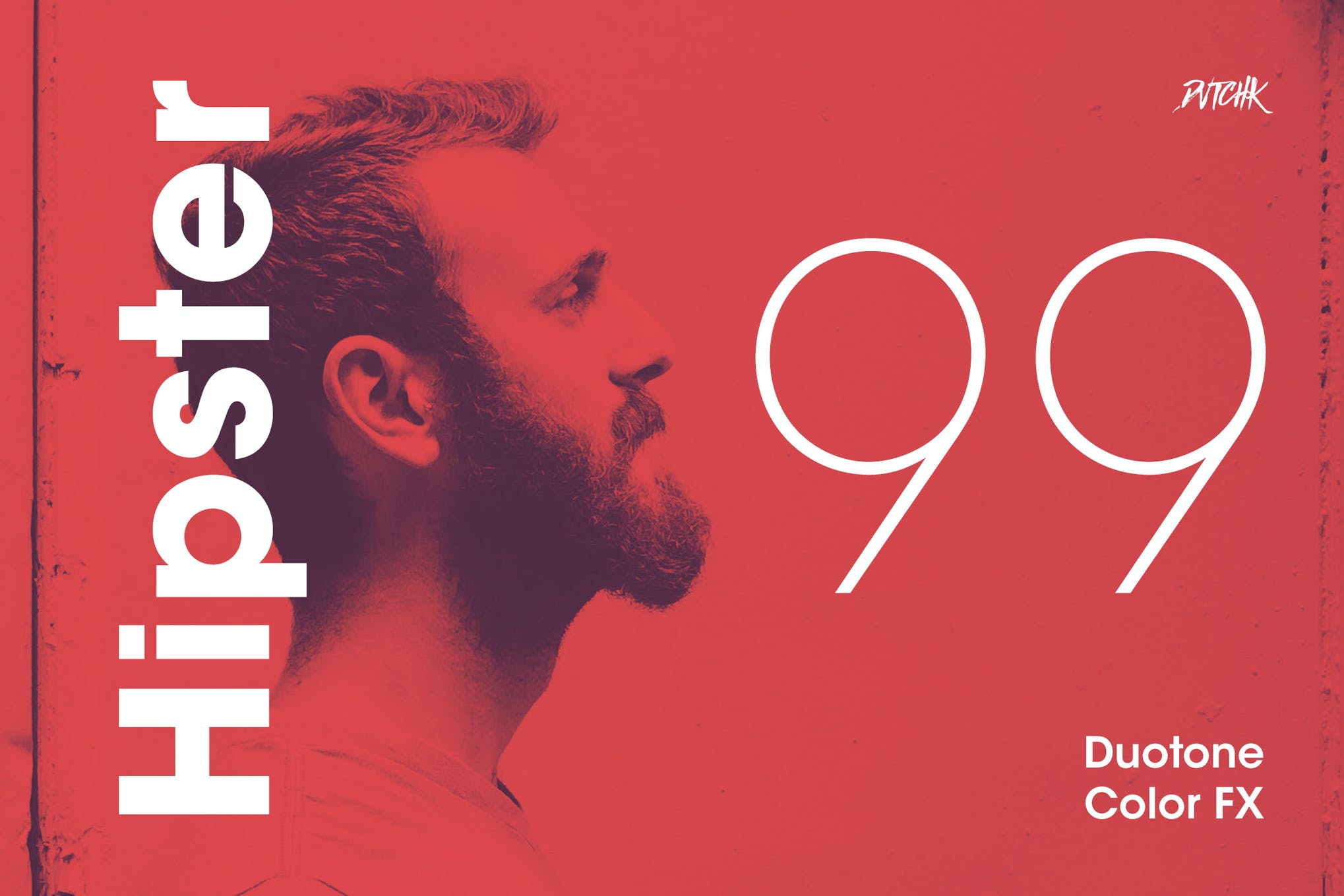 The product featured above provides you with ninety-nine duotone Photoshop filters, allowing you to give your everyday pictures a trendy, and cool look. It's extremely easy to use, and be rest assured that not even once you'll be struck pondering how to make a duotone in Photoshop.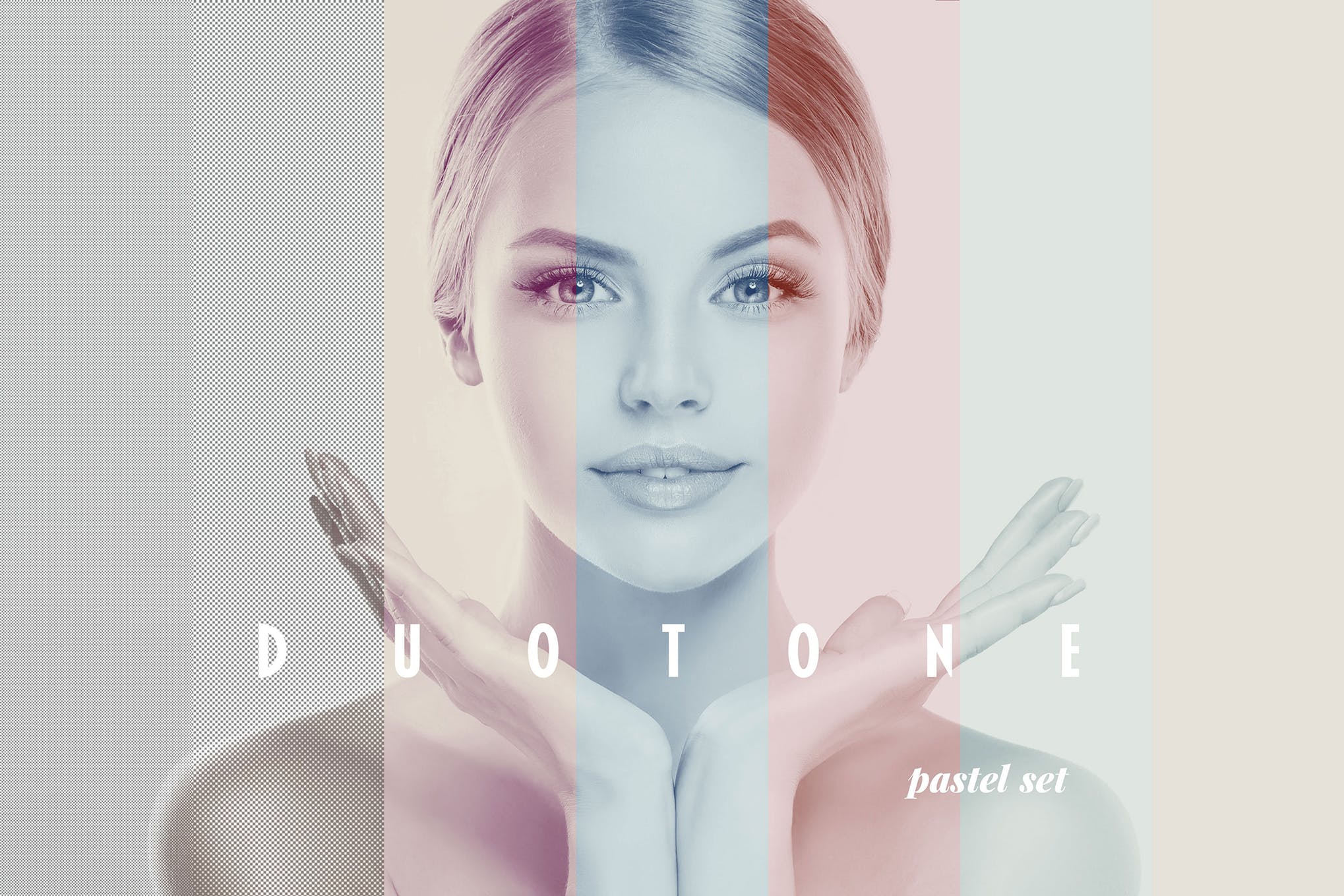 This Photoshop effect is an interesting combination of both the duotone and halftone styles. It allows you to first apply a duotone aesthetic, and then meld that style with a halftone tailored overlay. A unique style that will never have you stuck worrying about how to make a duotone in Photoshop.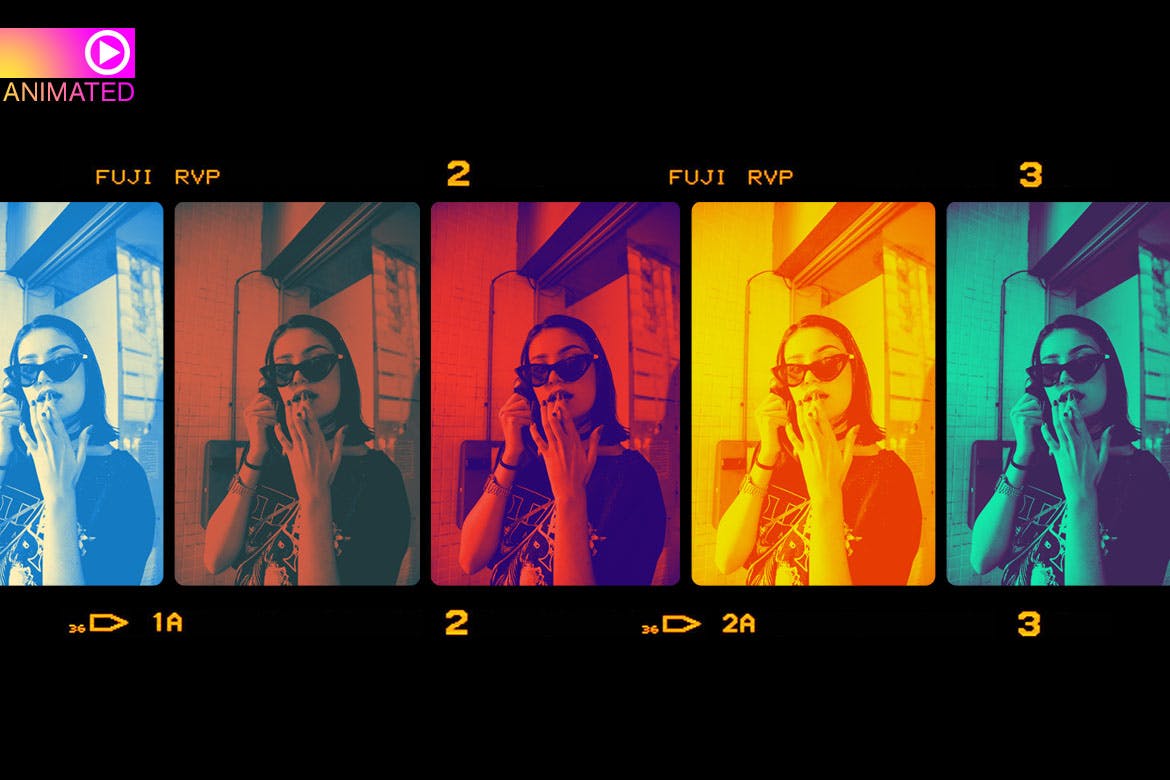 Looking to bring a touch of animated flare to your pictures? This action uses parallax effects and converts your photos into a clean 3D illusion. It also offers twenty-five color scripts that can be used to create a duotone image in Photoshop with ease. A perfect resource for people looking to bring both animation and duotone together, without needing two different resources.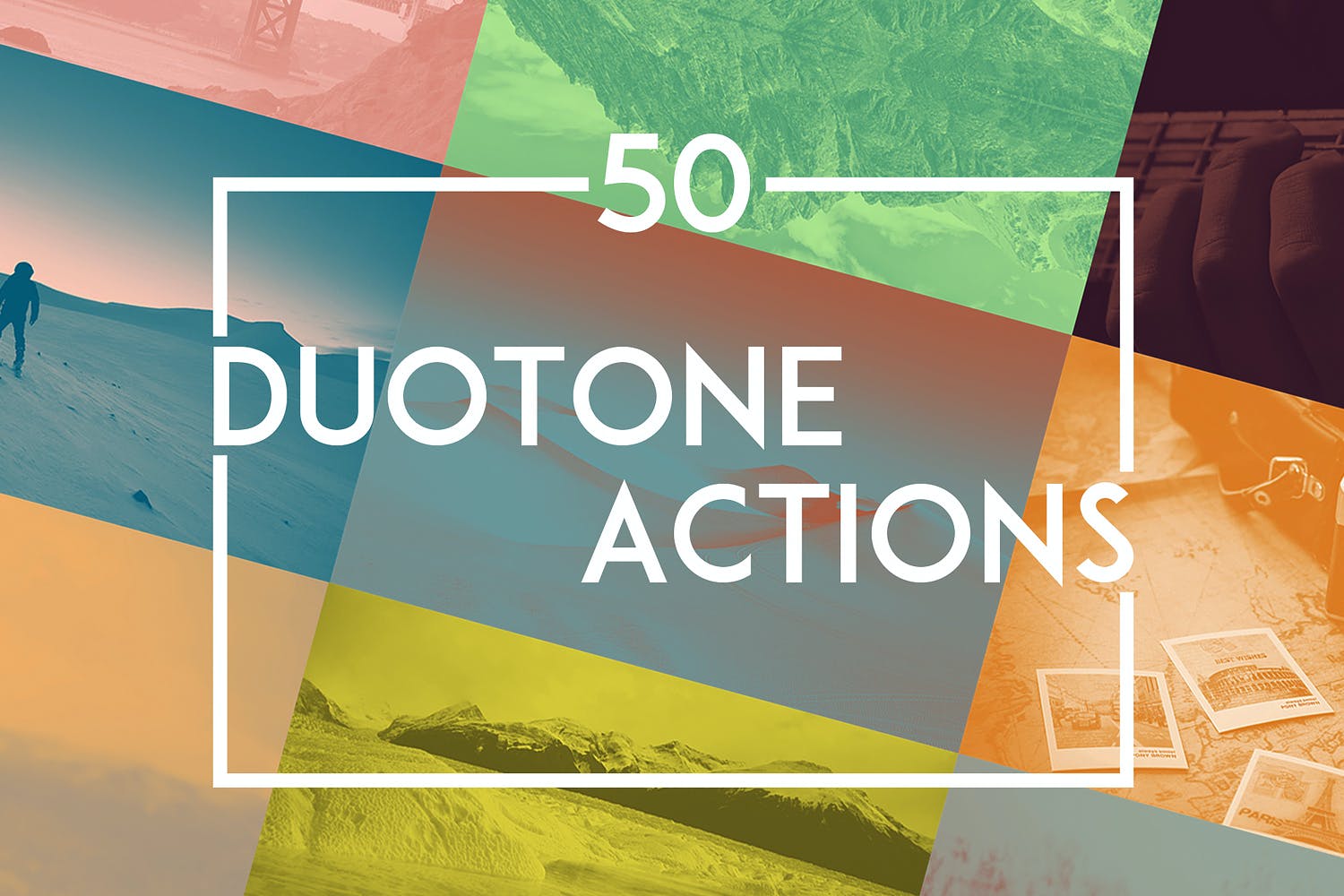 Apply these Photoshop actions to your photos and give them a trendy, and hipster look. The package consists of fifty duotone Photoshop actions providing you with a solid foundation to create any duotone aesthetic you could ever need.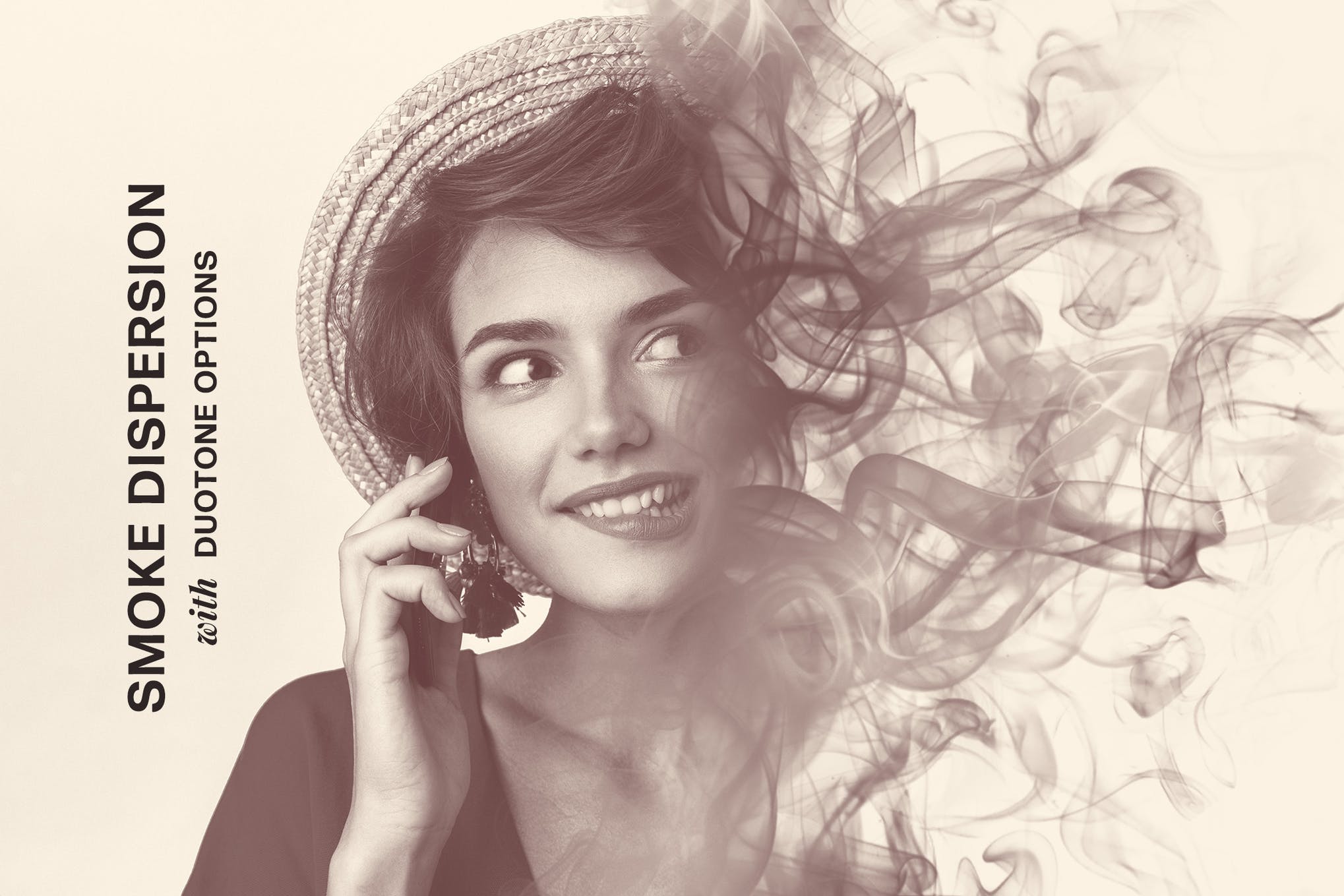 This Photoshop action makes your pictures get dispersed into the clouds, leaving the colored smoke particles hovering in the air. Sounds amusing! Use the duotone gradients and start applying them to all your favorite images to weigh up the potential of this enigmatic effect.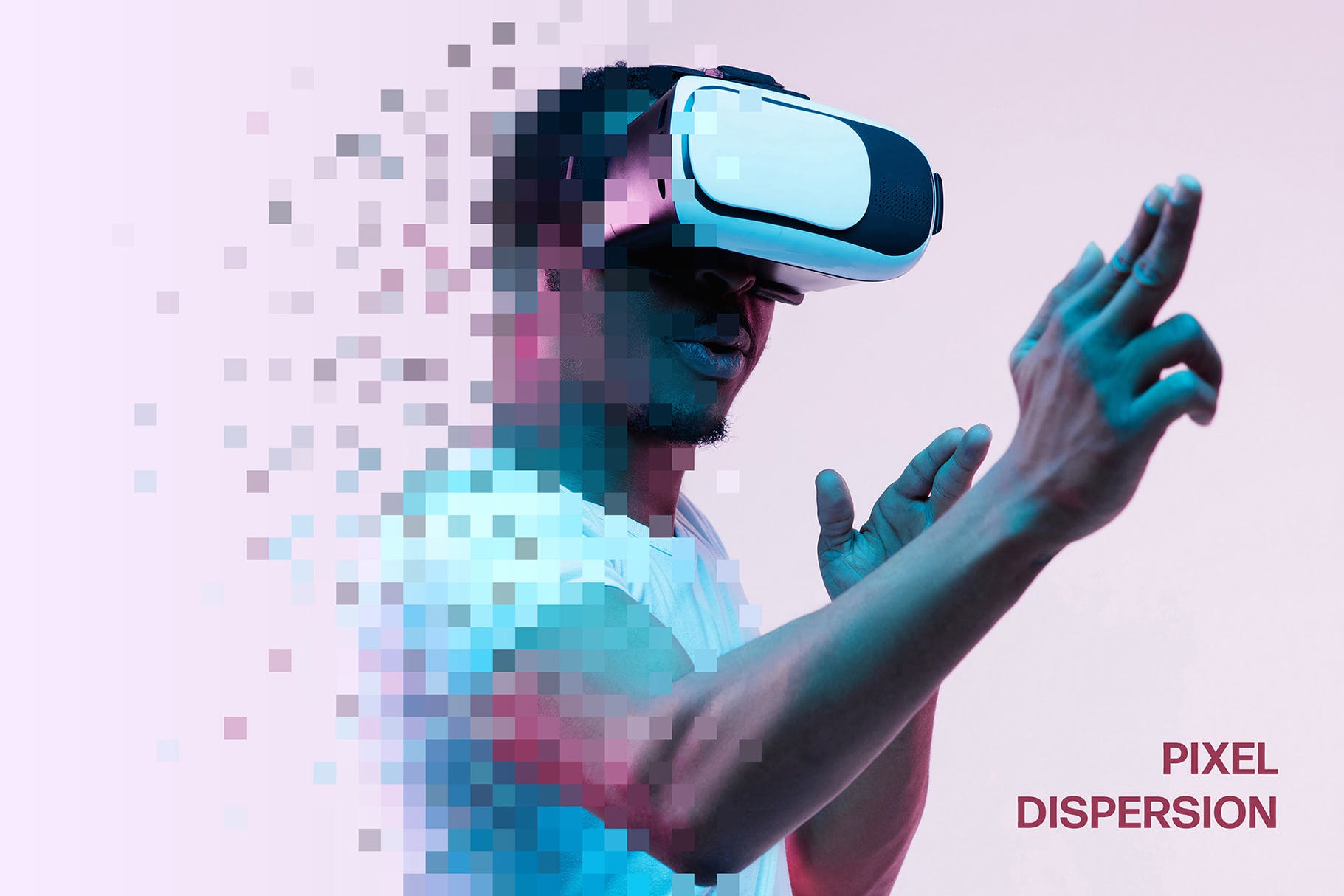 If you are an ardent gaming fan, this Photoshop action is tailored just for you. It allows you to disassemble your picture into a basketful of square colored pieces with minimal effort. To top it off, you also get to play around with a range of duotone color presets. What's not to love about it?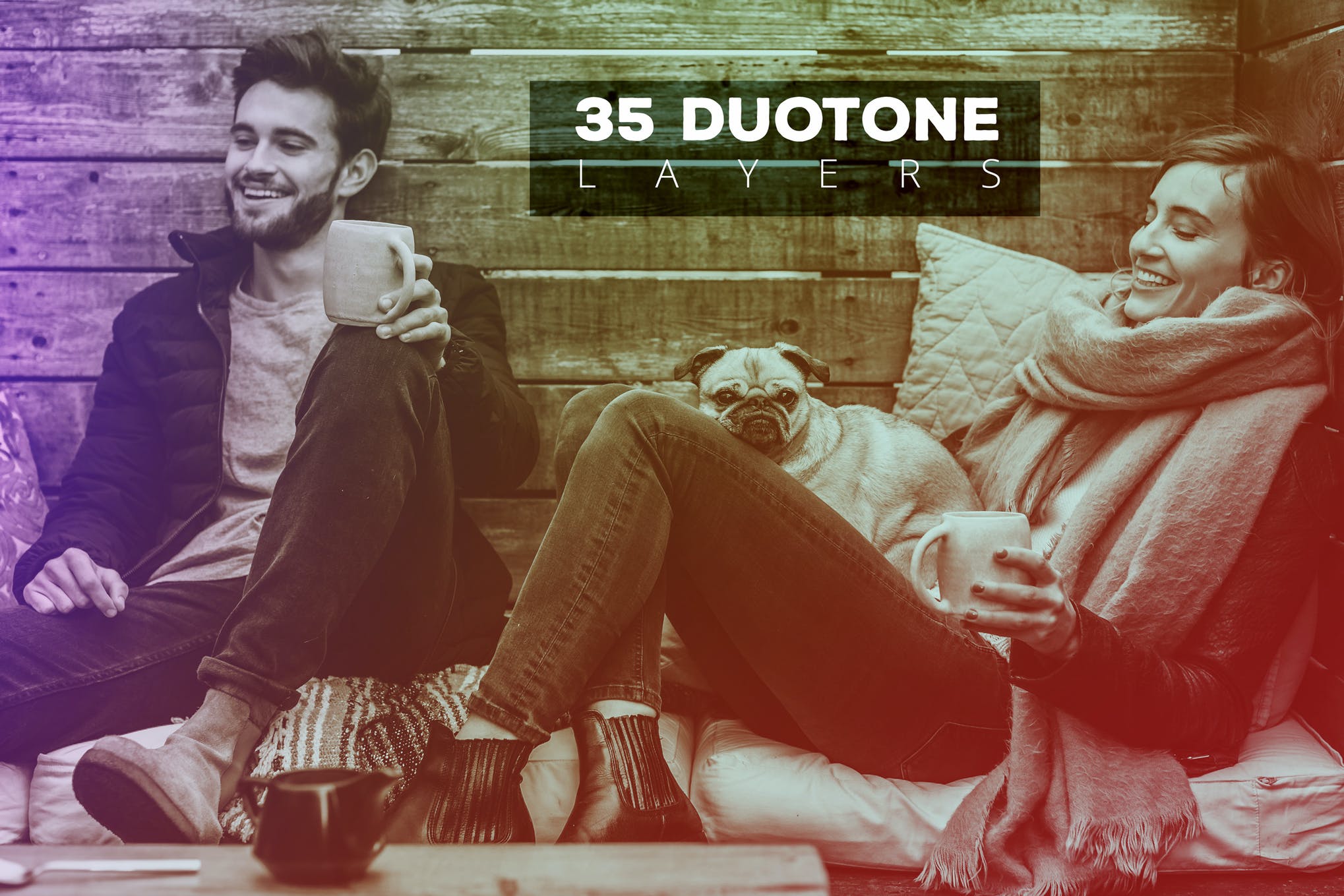 Never find yourself stuck wondering how to make a duotone in Photoshop again, all thanks to this extensive collection of duotone effects. Inside the pack, you'll get thirty-five duotone layers, each tailored to provide you with a different gradient style. These layer effects will help you to emulate an incredible duotone image in Photoshop.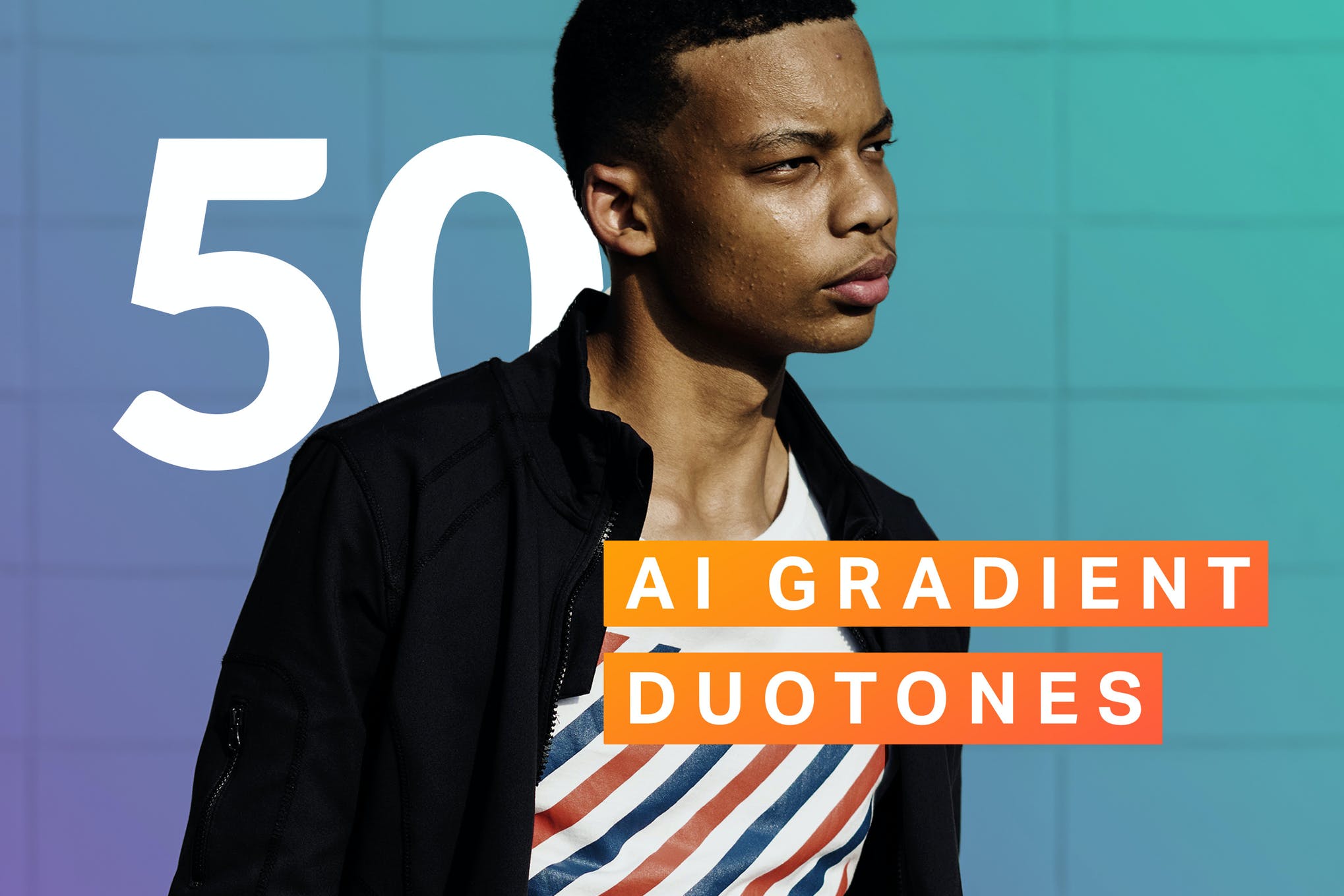 Find yourself stuck pondering how to duotone in Photoshop? This Duotone Master Kit is here to make that process easy. Each action uses AI to mask out the principal subject and produces fifty duotone styles for you to choose from. The actions also automatically fix the small issues so that no roadblock can ever stop you from creating stunning graphics.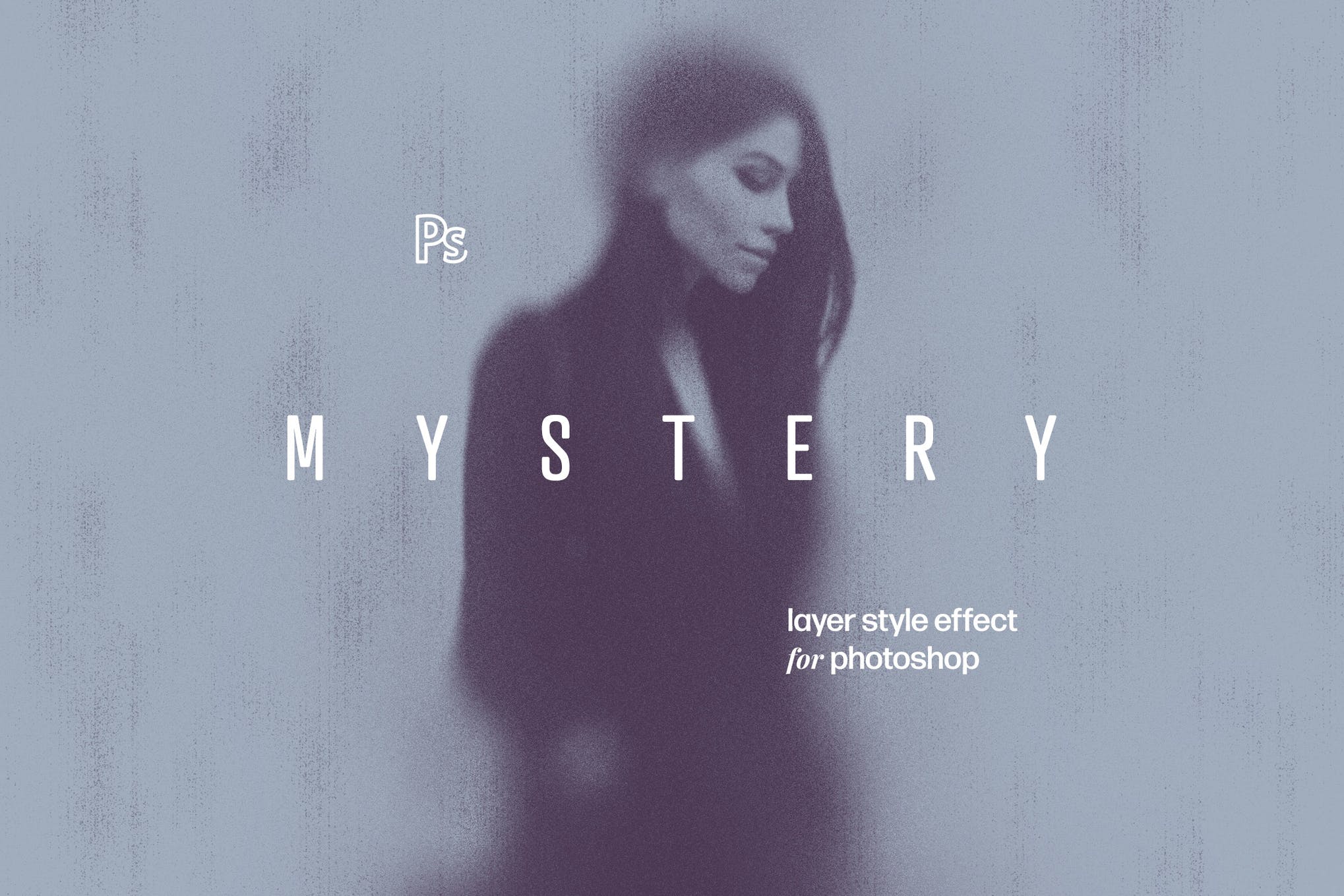 Whether you are working on a mysterious movie poster, spooky video game, or a photoshoot that requires an obscure and hazy atmosphere, this Photoshop layer style will come in very handy. There are forty plus duotone effects for you to experiment with in order to achieve an eccentric blurry aesthetic.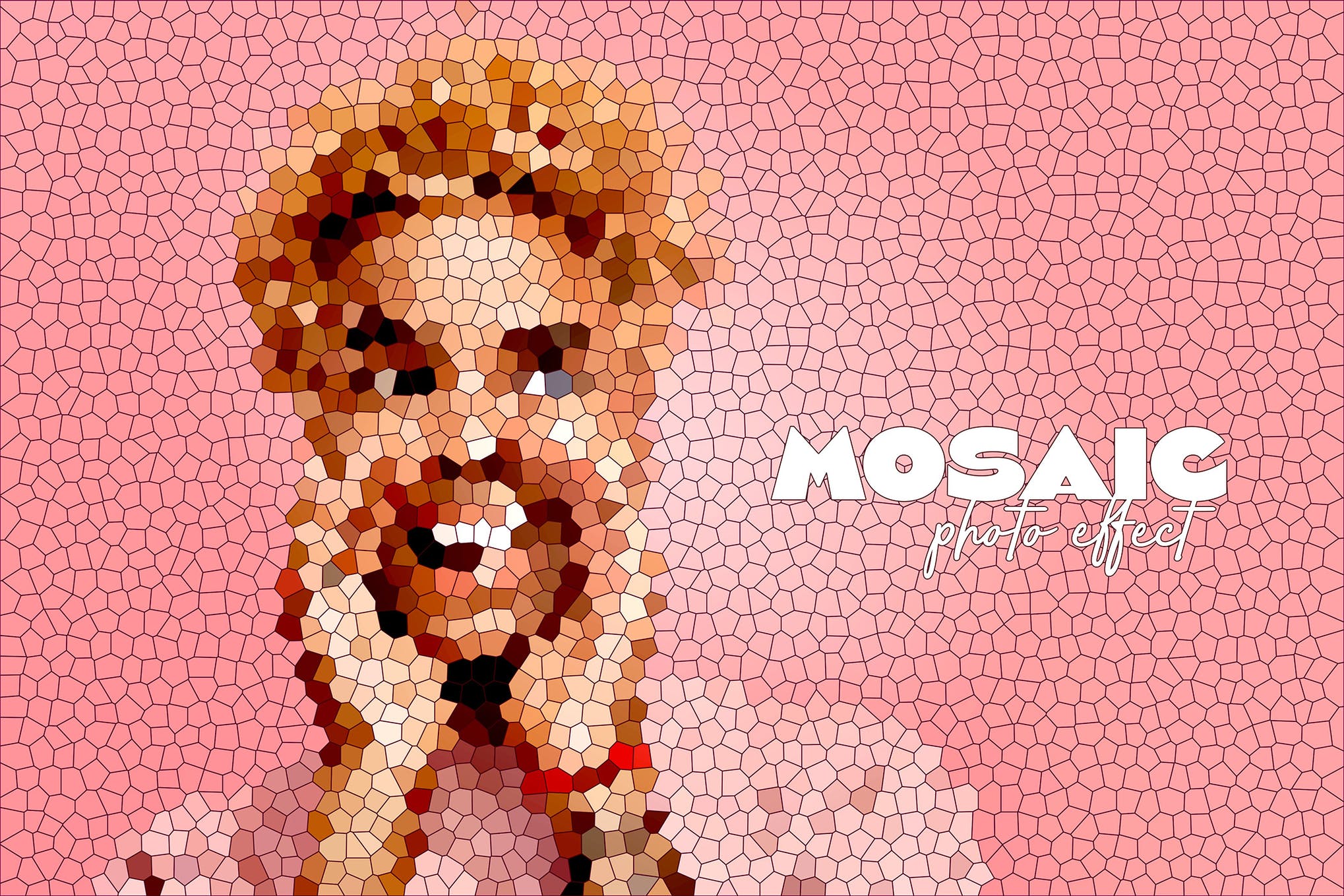 This Photoshop plugin helps to convert your picture into a mosaic giving it an artistic appearance. You can choose from the four different mosaic sizes and two duotone color overlays to create an artwork that gets you the appreciation you're worthy of.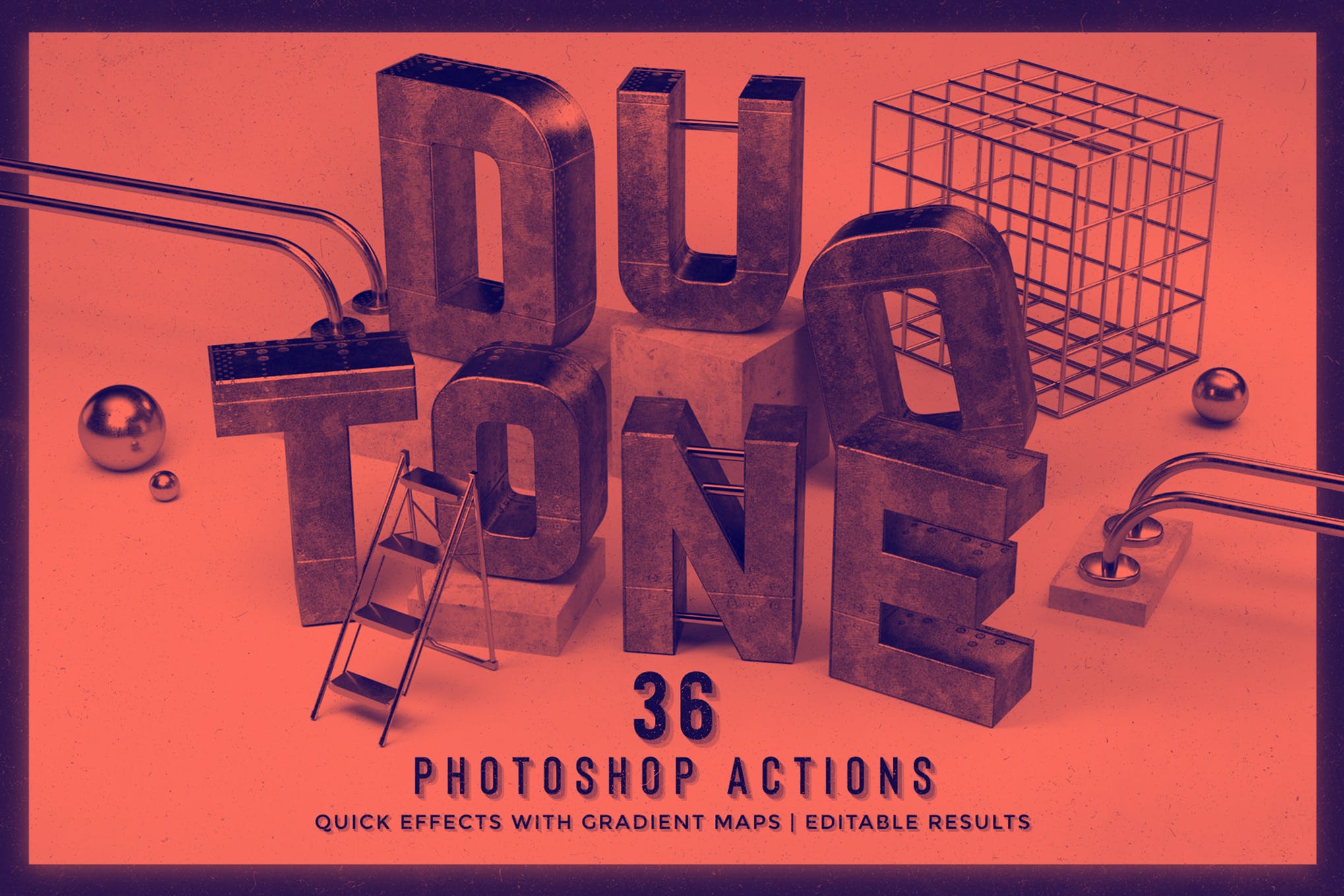 If you want more variety in your duotone application, then you must check out this mega package of Photoshop duotone effects. It offers a smorgasbord of duotone resources, covering a wide range of styles. A great option for visual designers who like to keep variety in their resource library!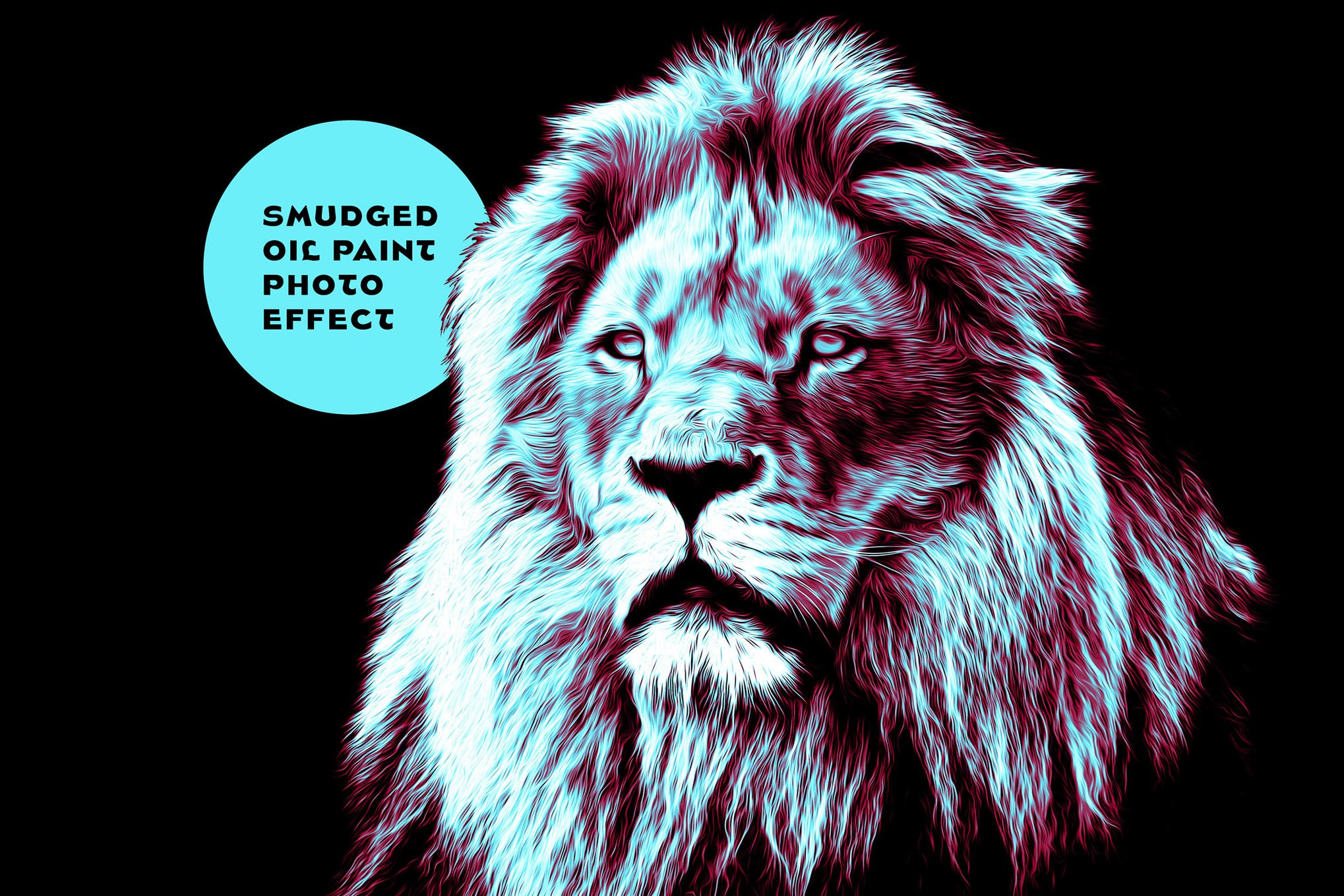 Here we have a more unique take on the traditional duotone style. This action allows you to transform your images into smudged oil-painted beauties and then enables you to enhance them using a range of duotone effects. This duotone Photoshop effect will surely unleash the artist in you, and help you discover your creative side.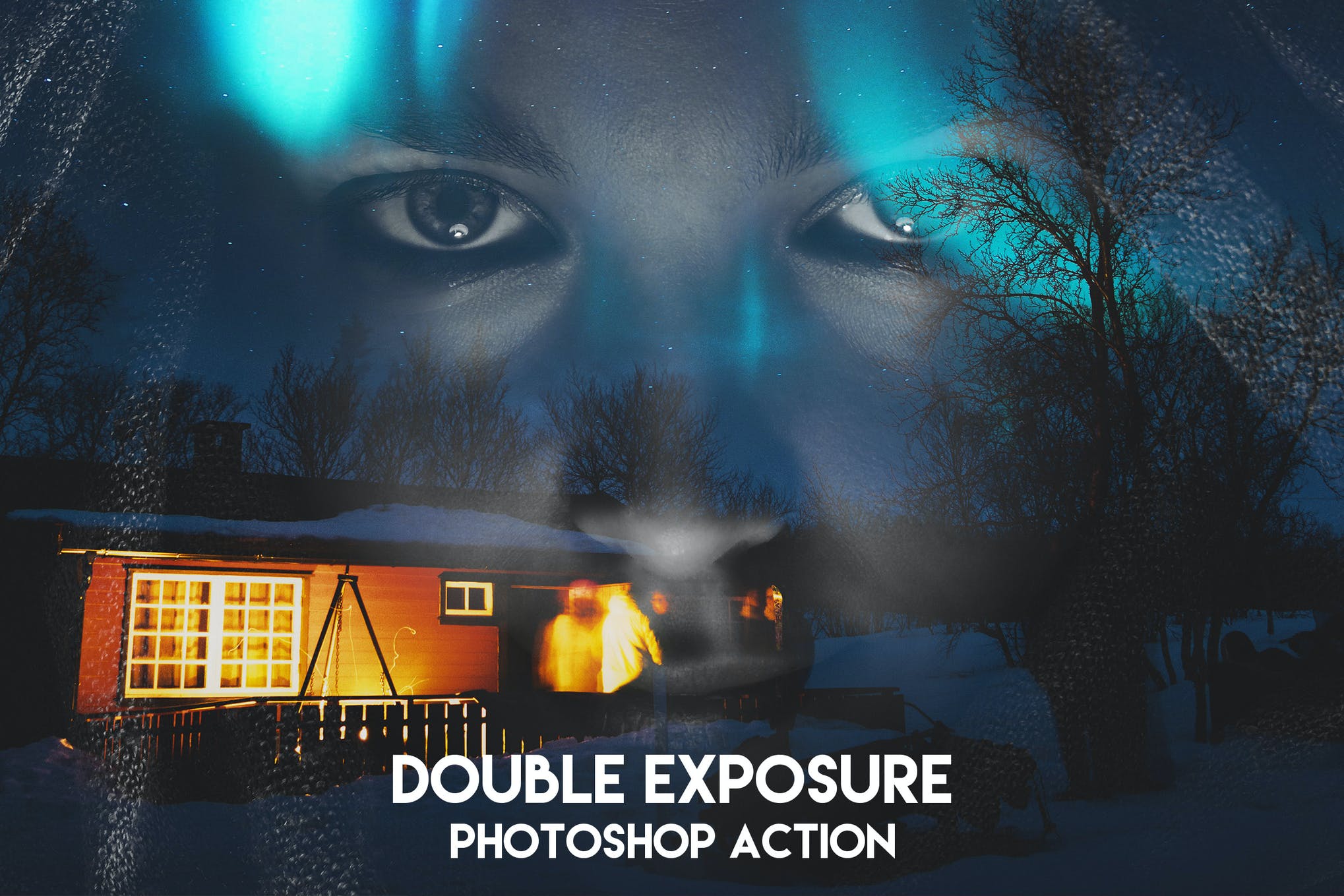 This Double Exposure Photoshop action provides you with a perfect foundation to begin toying with the duotone aesthetic in mere minutes. This non-destructive action has been designed to use a softer blend of colors, and avoid the harsh separation of hues that defines many duotone styles.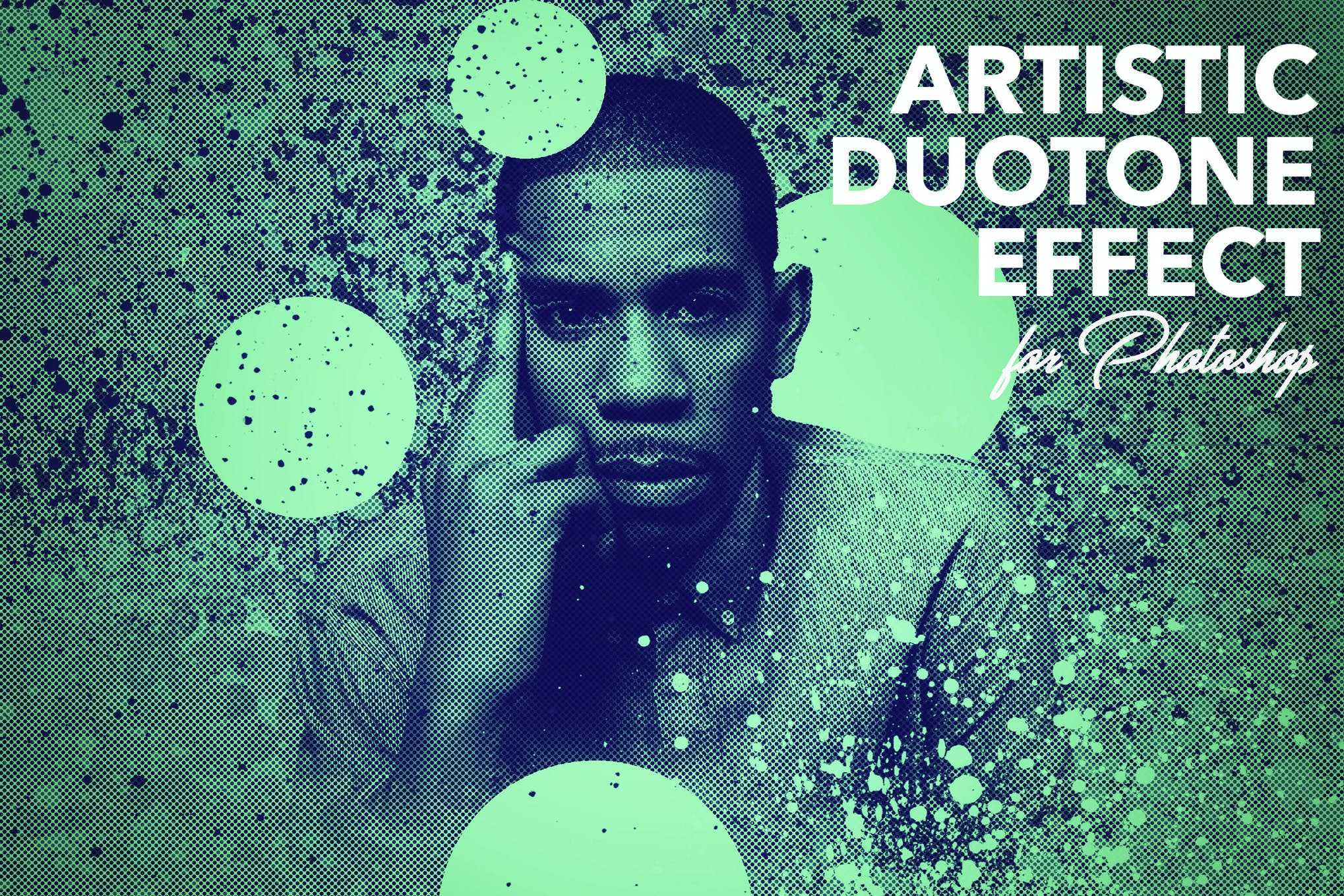 Bring out the fluorescent vibes with the Artistic Photoshop action that provides you with a range of duotone colors, as well as halftone and vignette effects, giving your pictures an intense look from the 80s. A great option for those looking for more flexibility in their duotone designs!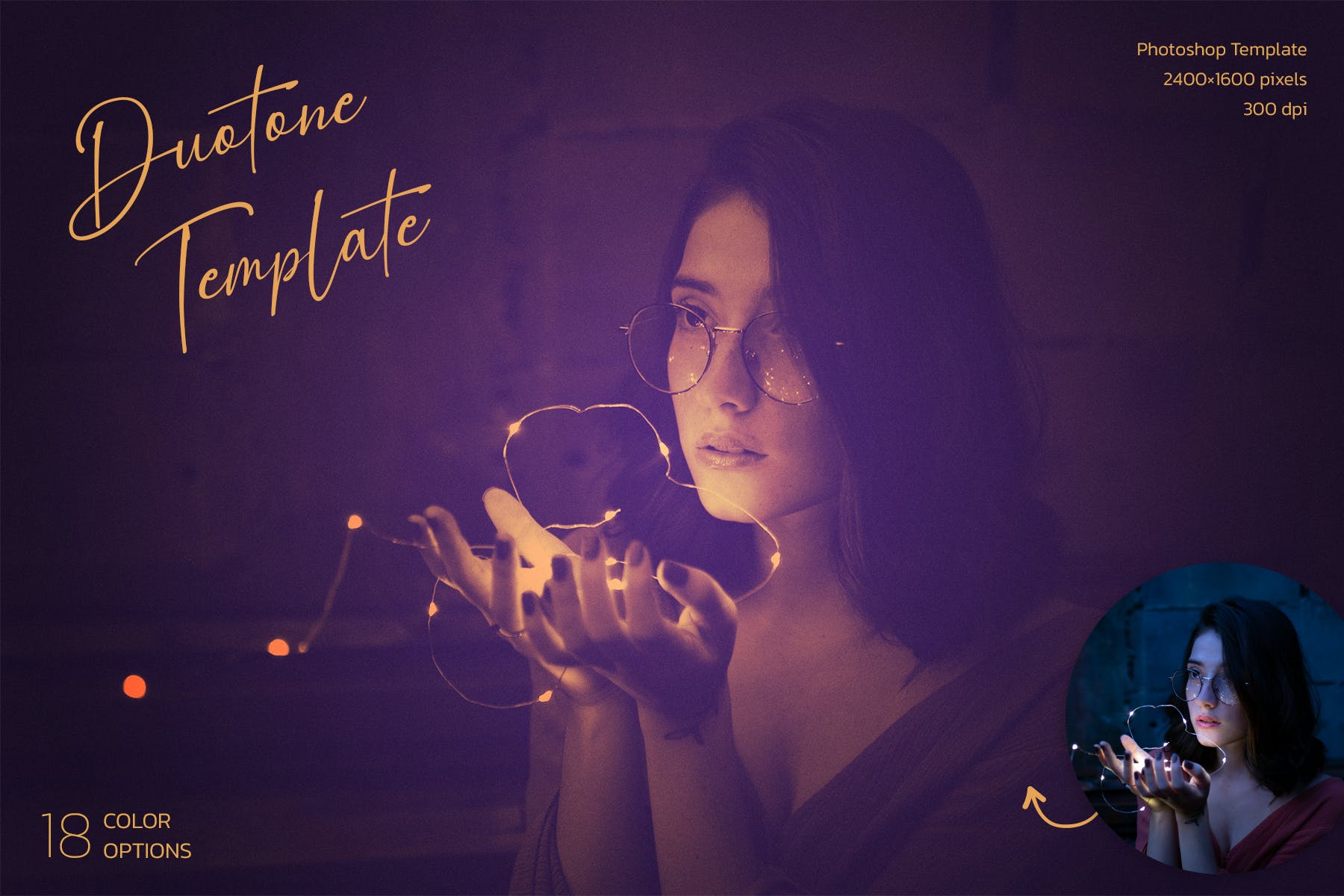 This Photoshop template equips you with eighteen duotone effects, tailored so you can use captivating and mesmerizing color match-ups that are sure to create an impression. A great option for anybody looking to bring a captivating style to their visual projects.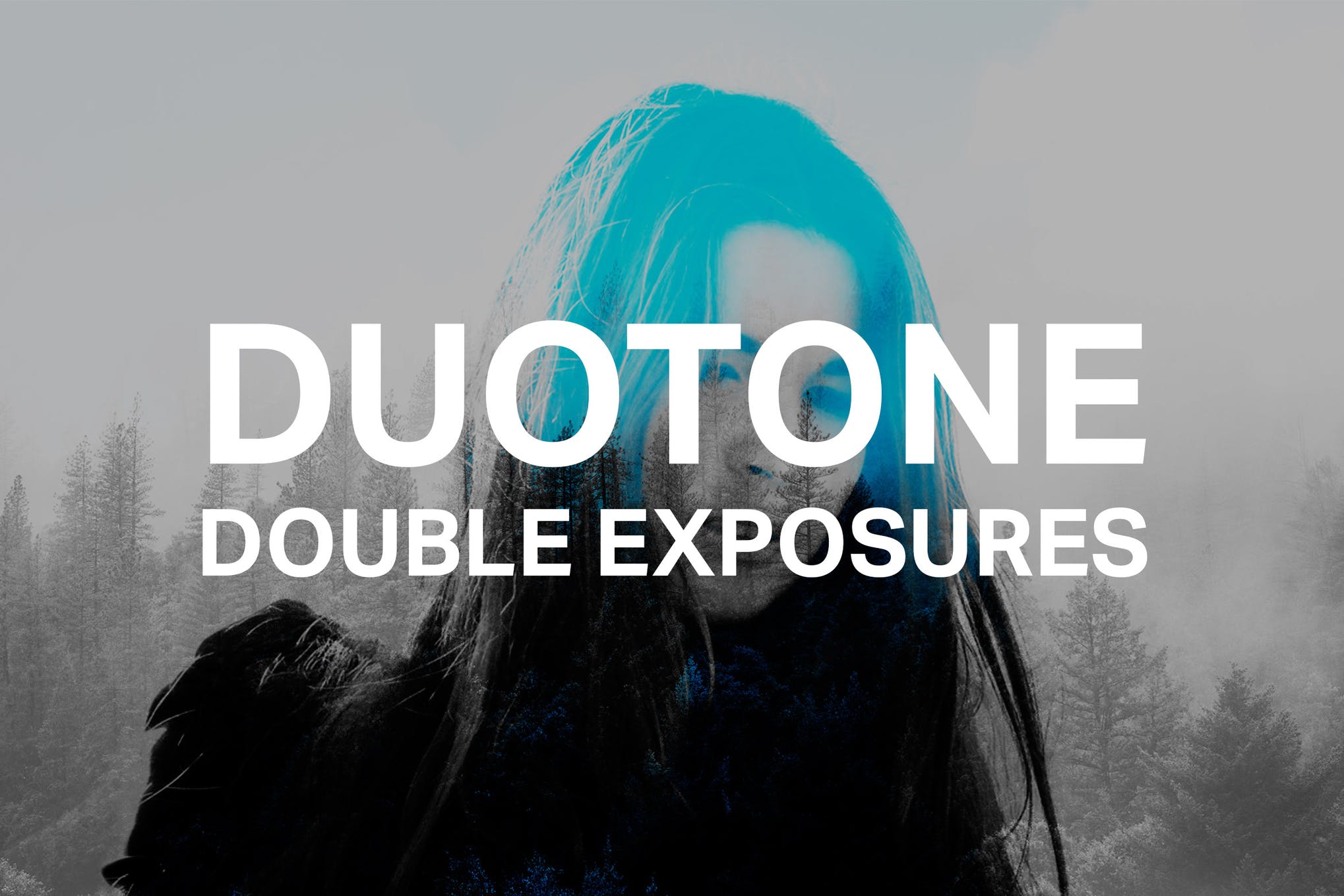 This collection of twelve Photoshop actions will help you bring together the duotone style with the double exposure aesthetic in a non-destructive fashion. Whilst a more niche artistic style, you will find this a refreshing way to execute your visual design projects.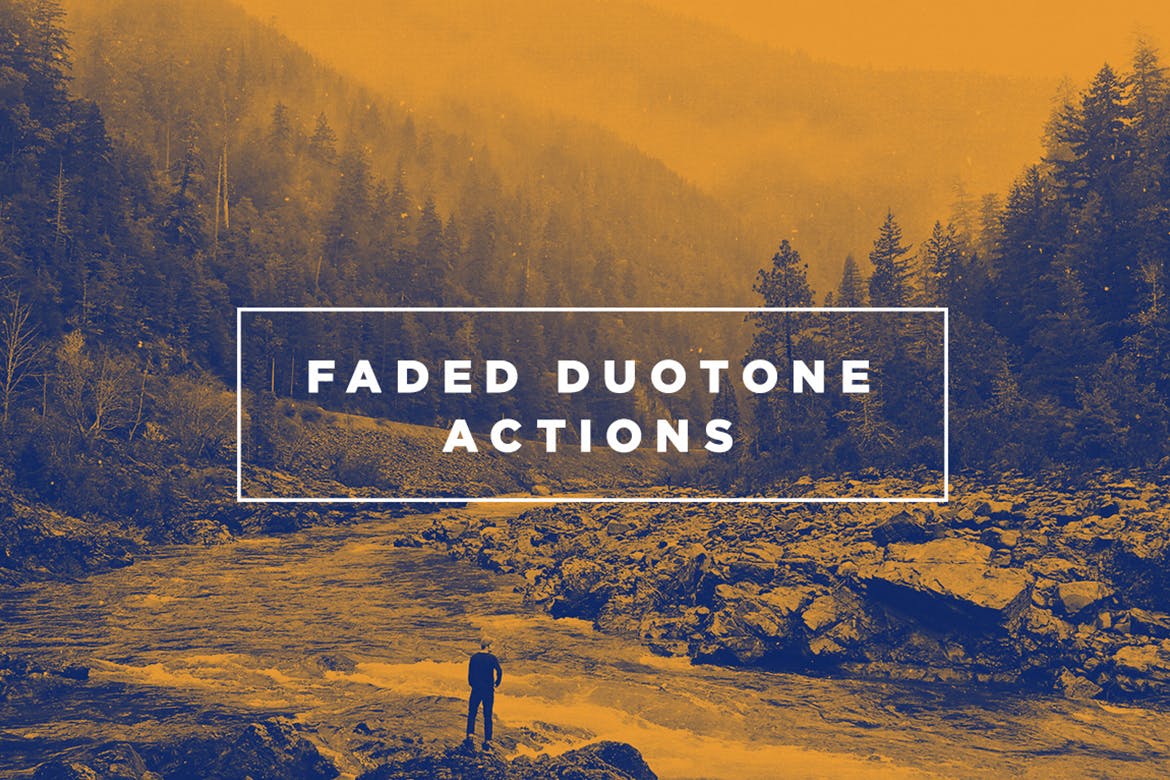 Here we have twenty two-tone faded Photoshop actions that will help you save a lot of time in creating album covers, Instagram posts, profile photos, and so much more. With this tool, you'll be able to create stunning duotone images in Photoshop quickly, and efficiently.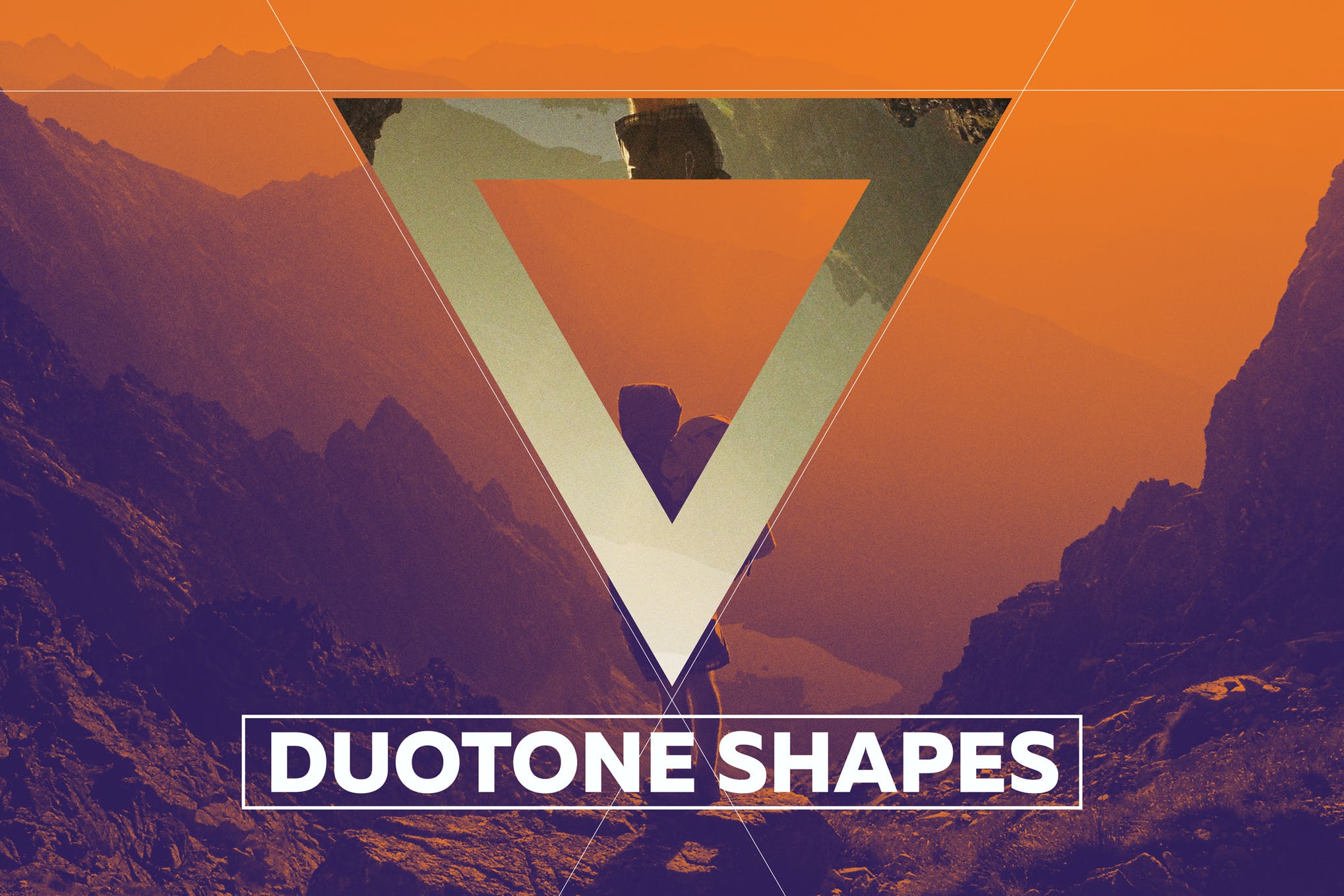 Need some building blocks to get yourself started? Check out the Duotone Geometric Shapes collection. Inside you'll find thirty-five different shape designs, each with its own iconic duotone style. A unique template that provides you with effects rarely seen in visual design projects.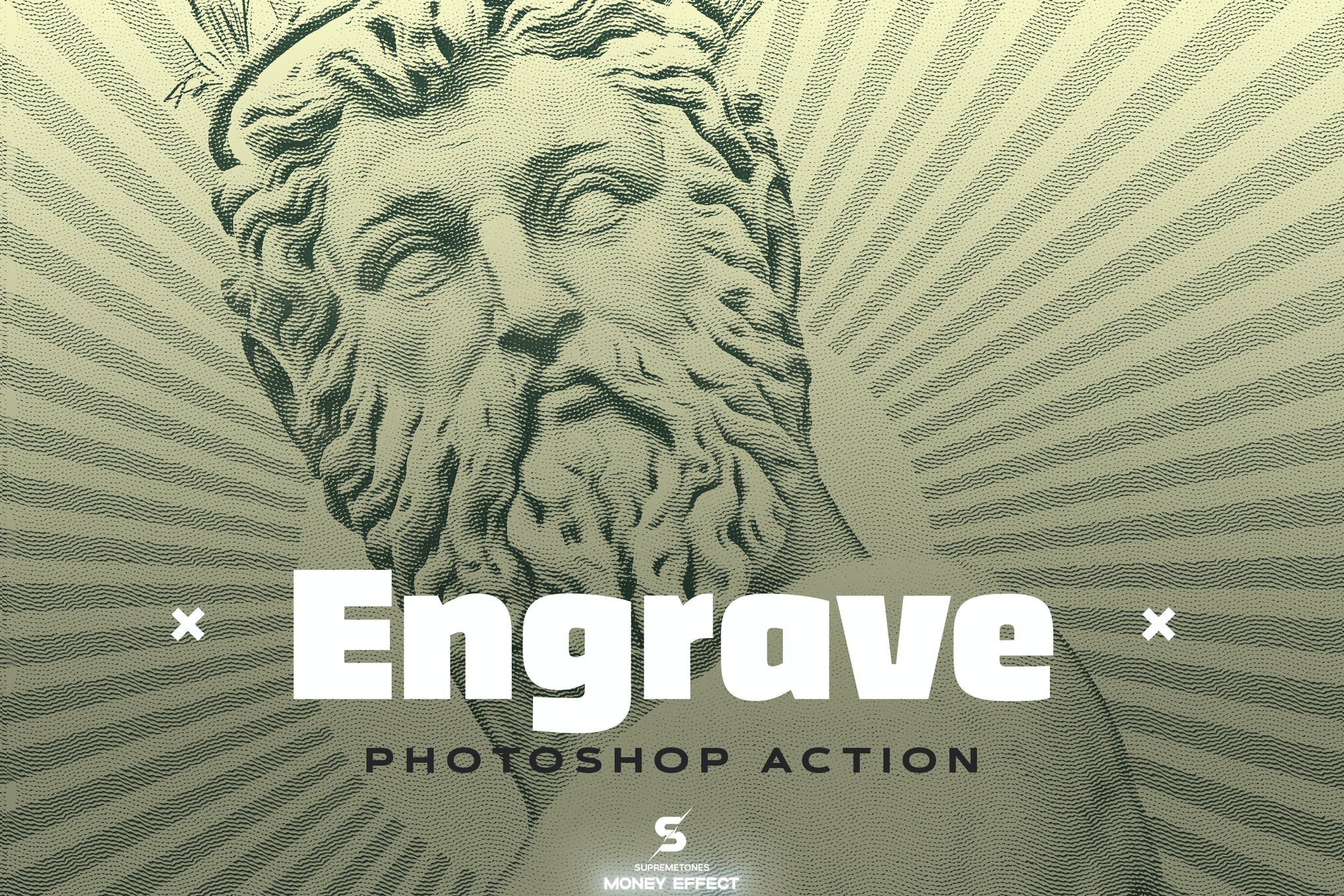 Bring a more unique and innovative effect to the screen with the Engrave Photoshop duotone action kit. It allows you to transform your picture into an engraved piece of art with a beautiful duotone overlay. A great option if you are looking for an interesting approach to creating duotone images in Photoshop.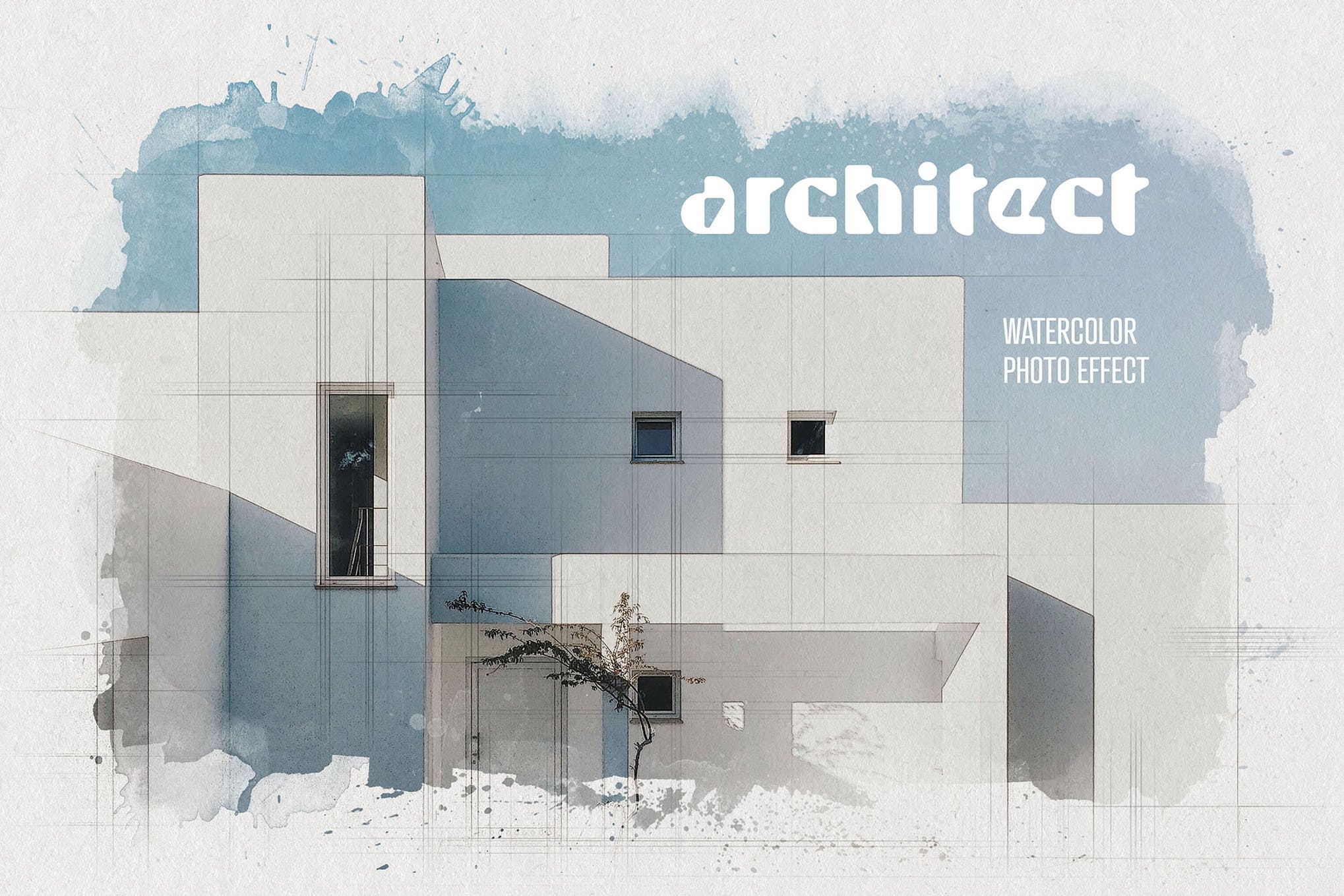 If you ever wondered how to do duotone in Photoshop in combination with the watercolor effect, here's the answer. Providing you the best of both worlds, this product will transform your images into a watercolored beauty, and then let you apply duotone filters to enhance the overall composition.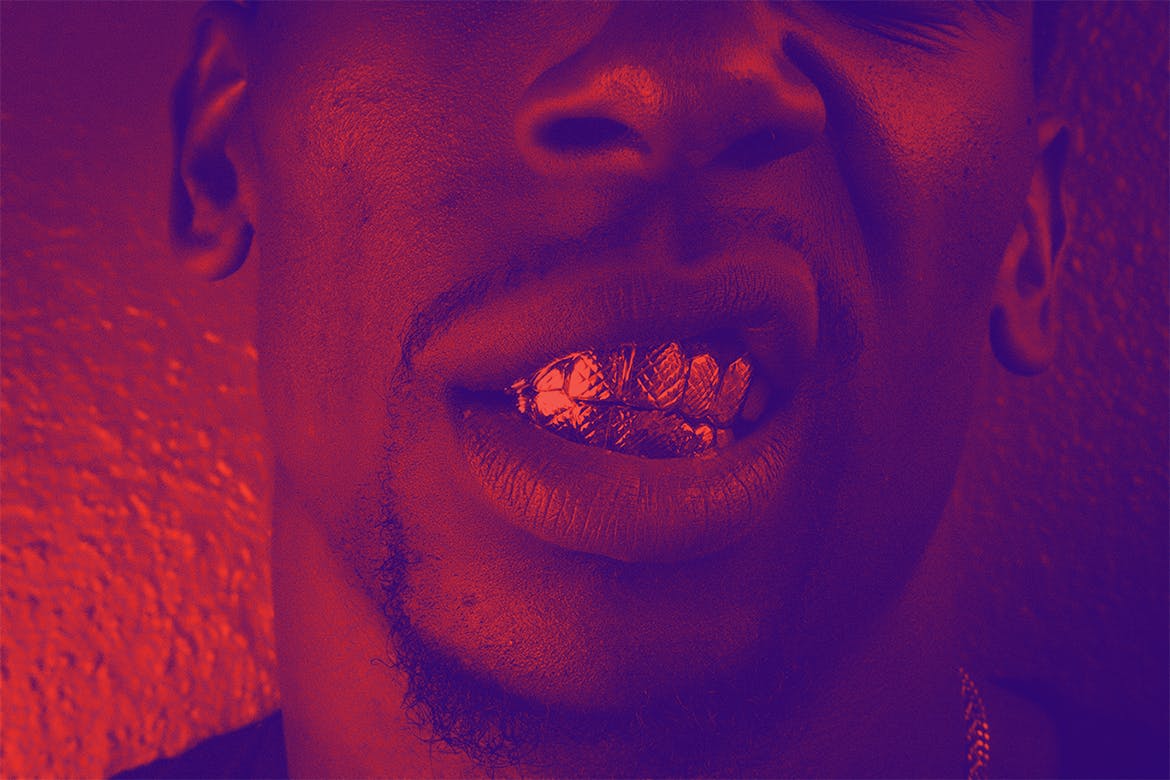 For those looking to get started with Photoshop duotone effects, this simple plugin is a perfect foundation, to begin with. With twenty-five color scripts, this Photoshop collection supplies you with a traditional duotone style that can be applied to your pictures with a few easy clicks.
Free Duotone Photoshop Actions
You don't have to spend any money getting your hands on some great Photoshop duotone resources. Let's take a look at some free options that manage to stand out: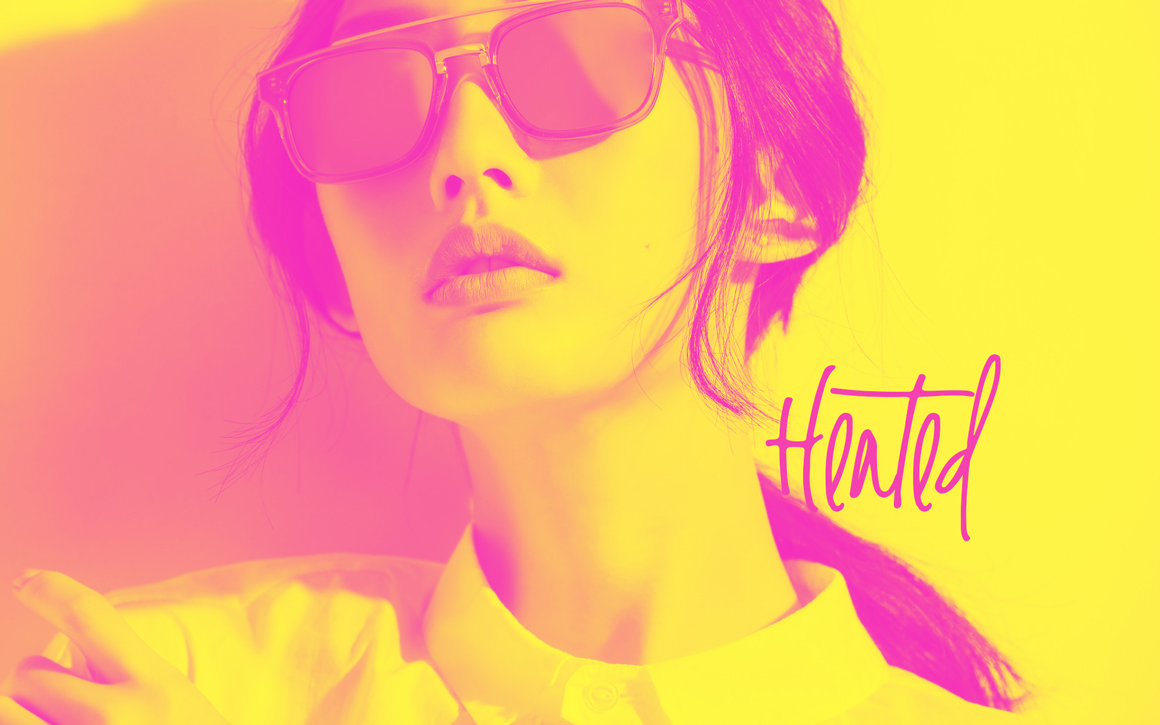 Amp up your social media game with this collection of seven free duotone Photoshop actions that will help you transform your pictures into two contrasting tones in an instant. Add these effects to your photos, and witness your social media following going off the charts.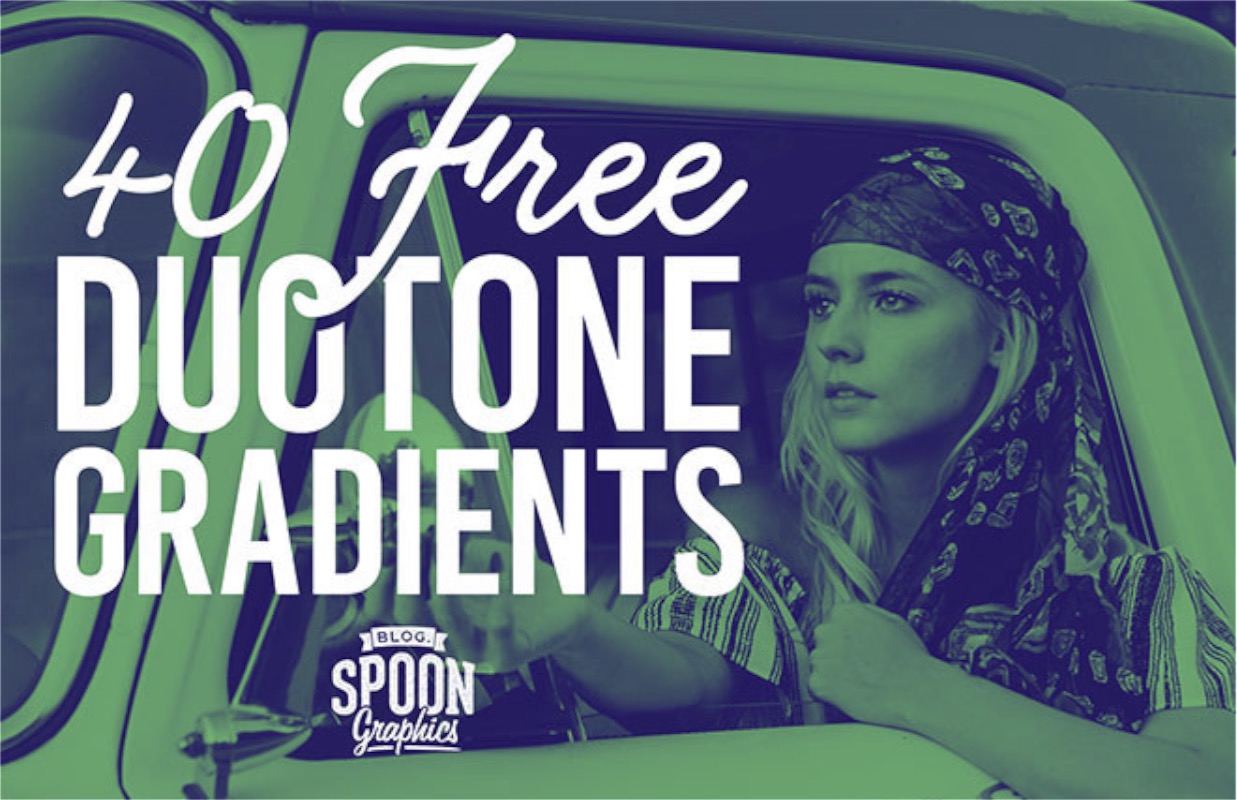 Here we have a bundle of forty vibrant duotone gradient presets for you to play and create something truly amazing with. It provides you with a gradient map so you can produce the desired duotone effect in Photoshop with minimal effort.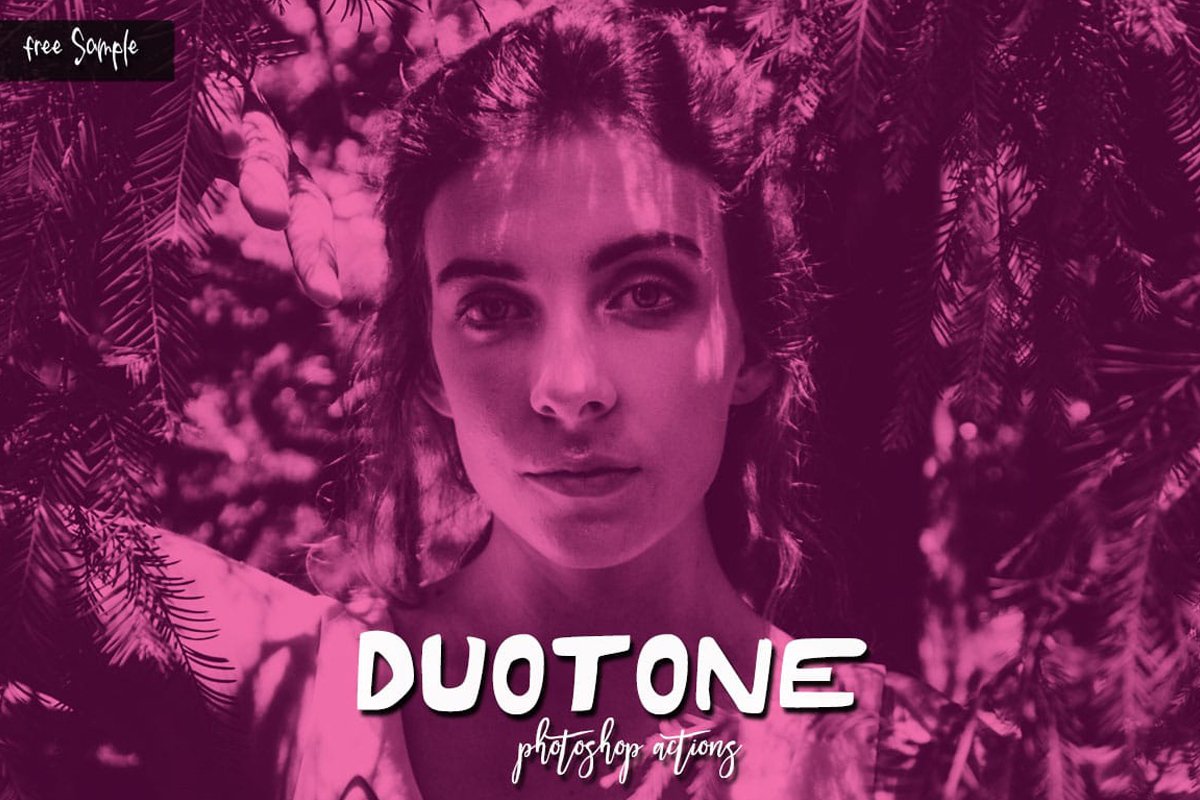 This Photoshop collection provides a range of actions that will help you quickly, and effectively, transform your images into a duotone aesthetic. Perfect for beginners that want to test out the duotone style, but don't want to spend any money on premium resources.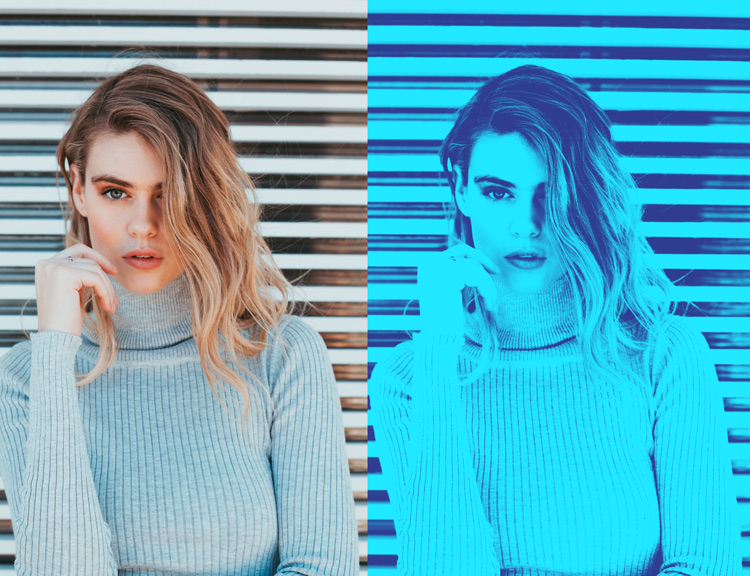 Bring a touch of creativity to your visual design projects with this bundle of four free Photoshop actions that make dual coloring a piece of cake, and save you from wasting your time wondering how to duotone in Photoshop.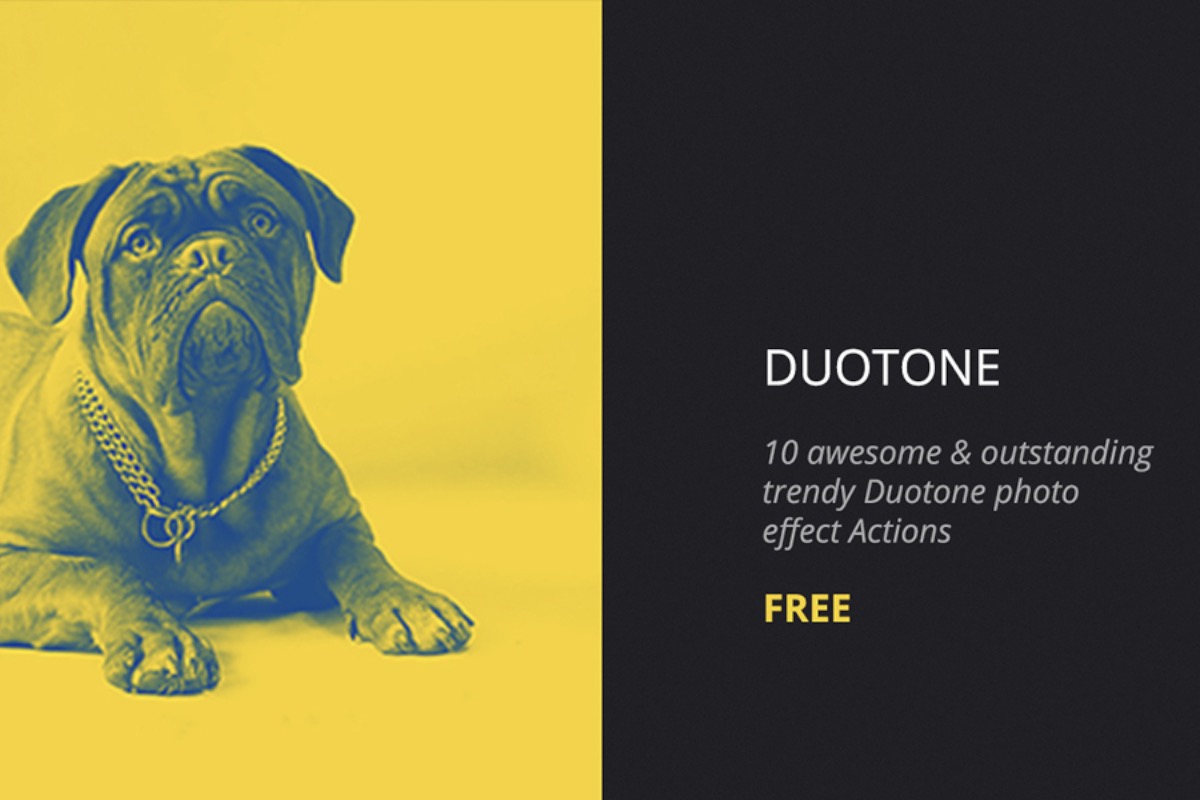 Can't help but wonder how to duotone in Photoshop for free? Check out this set of free duotone Photoshop actions that equips you with ten different colors that can be mixed and matched to bring out a completely new gradient.
Create Amazing Duotone Designs with These Resources Today!
There is nothing easy about getting the right style in your visual design endeavors, yet that doesn't mean finding great Photoshop duotone effects has to be a struggle as well. With these resources at your disposal, you have everything you need to create incredible duotone images in Photoshop with ease.