20+ Best Movie Poster Templates (PSD)
The history of film posters goes back over a hundred years. The first poster promoting a film appeared in 1895 in Paris. Even after all these years, filmmakers and film studios still use posters to promote their movies.
The movie poster is a key piece of the marketing process for promoting a film. It's almost like an artwork that symbolizes the release of the finalized production. People will often proudly frame and hang these posters in their homes to show their appreciation for a great poster design.
Designing an iconic movie poster takes a lot of effort and time. First, you need to find inspiration for your poster design. To help you get there, we gathered a collection of modern movie poster templates.
These templates are great for finding inspiration for your poster designs and you can even use them to make a poster without effort. Download a PSD template from the list and try it out.
Get everything you need to supercharge your work projects, business proposals, reports, and more. From just $16, get unlimited access to thousands of professional business templates for Microsoft Word, InDesign, Photoshop, and more.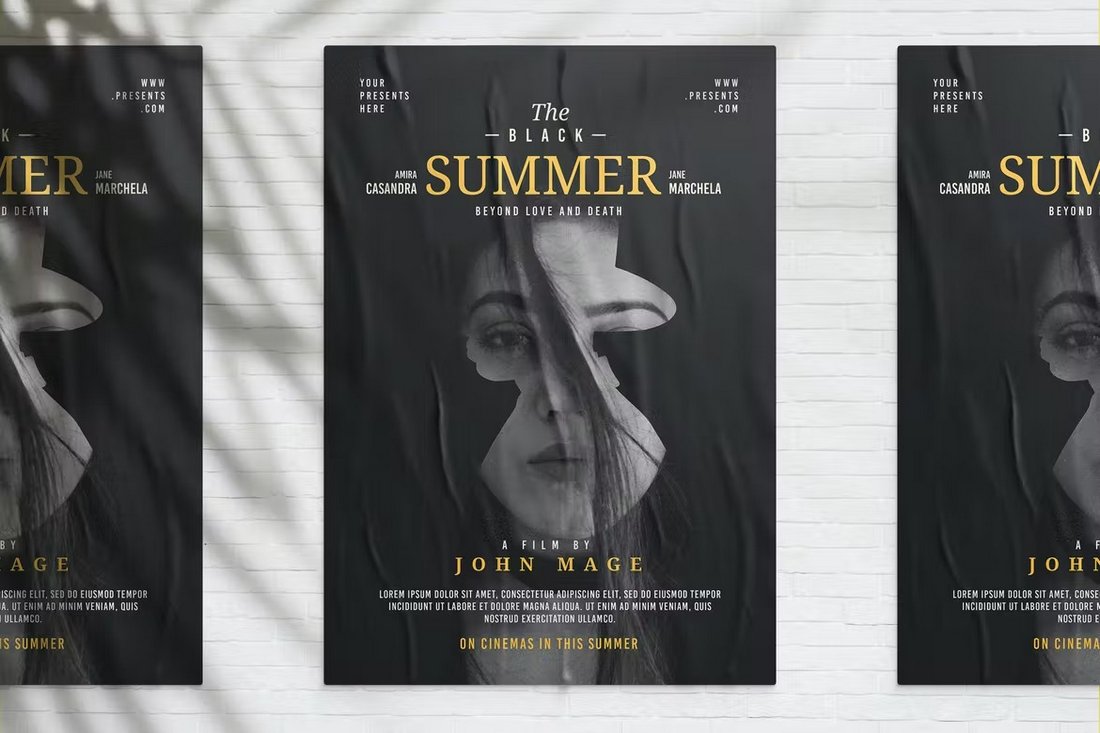 The double exposure effect is one of the most popular trends in movie poster design. It's a fairly easy effect to master but with this poster template, you can create a double exposure poster with a different approach. It's great for making a dramatic poster for a thriller or drama movie. The template comes in Photoshop and Illustrator formats.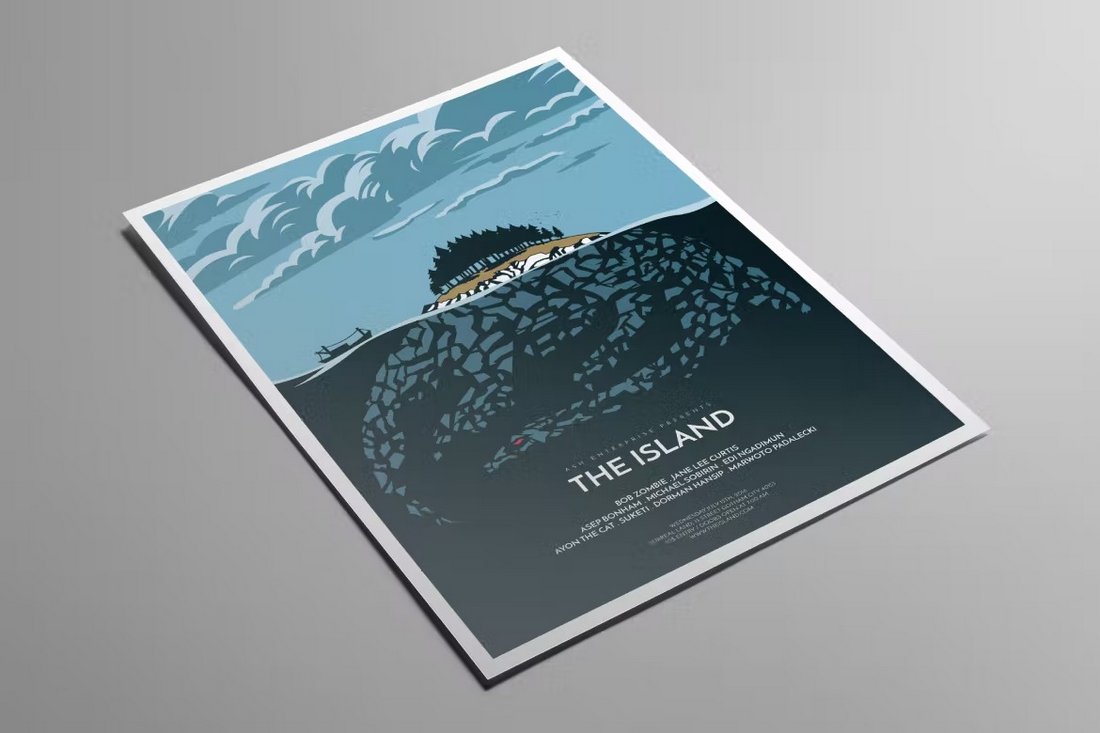 This poster design will remind you of classic movie hand-drawn movie posters from the 80s. While it's perfect for promoting a monster movie, you can also take inspiration from this design to make posters for other types of movies. The template is great for making posters and flyers.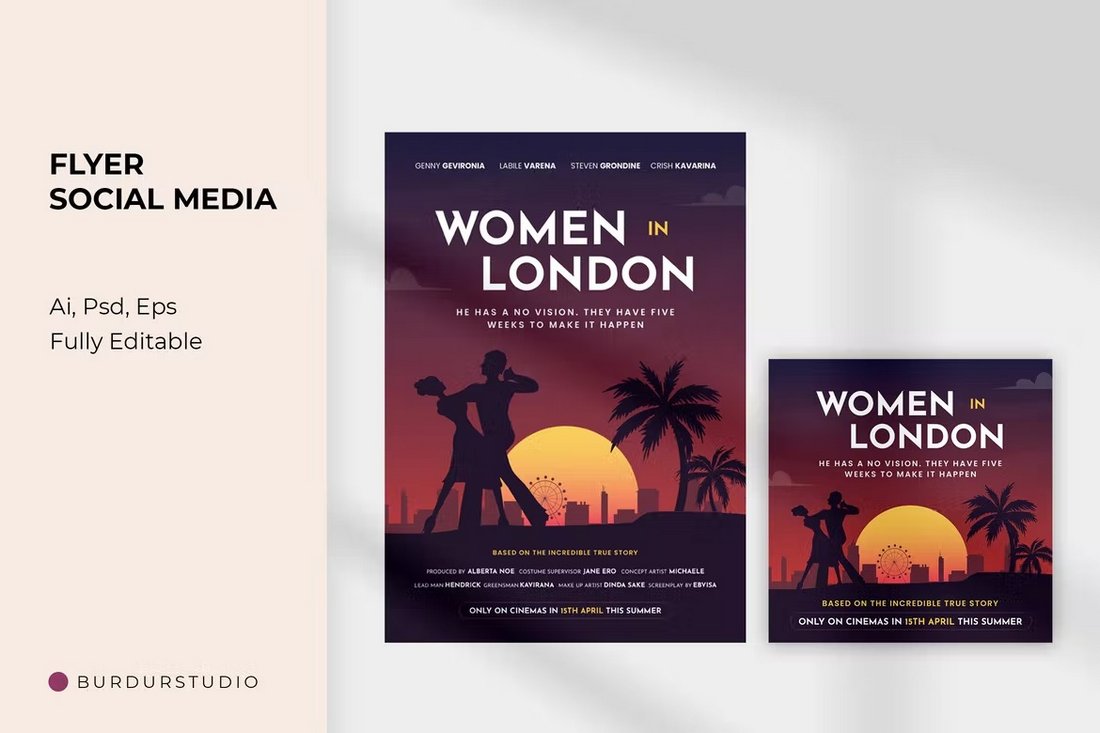 If you're working on a poster design for a romantic film or a musical, this Photoshop poster template will come in handy. It has the perfect design for making a beautiful poster for promoting movies like La La Land. The template is available in A4 size and you can customize it using Photoshop or Illustrator.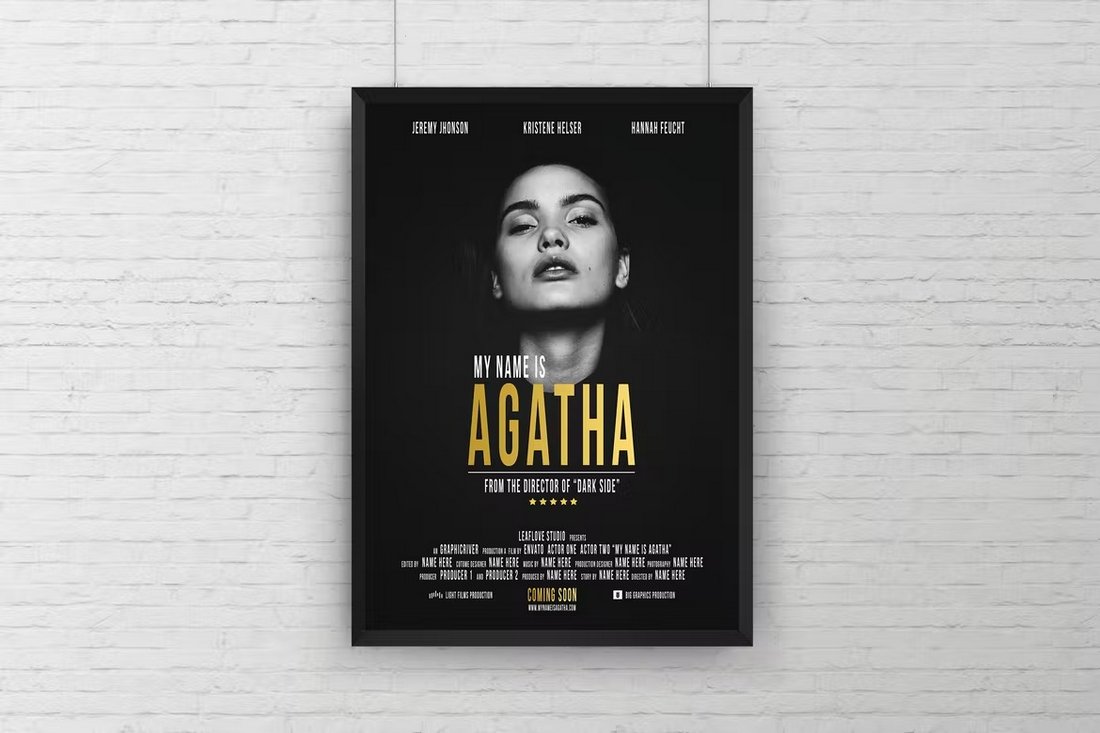 This poster template comes with a very simple design but it works perfectly for promoting dark and gritty movies. The dark black and white theme of the poster will help create that suspenseful feel for the film. The template comes in A3 size and it's fully resizable to your preference.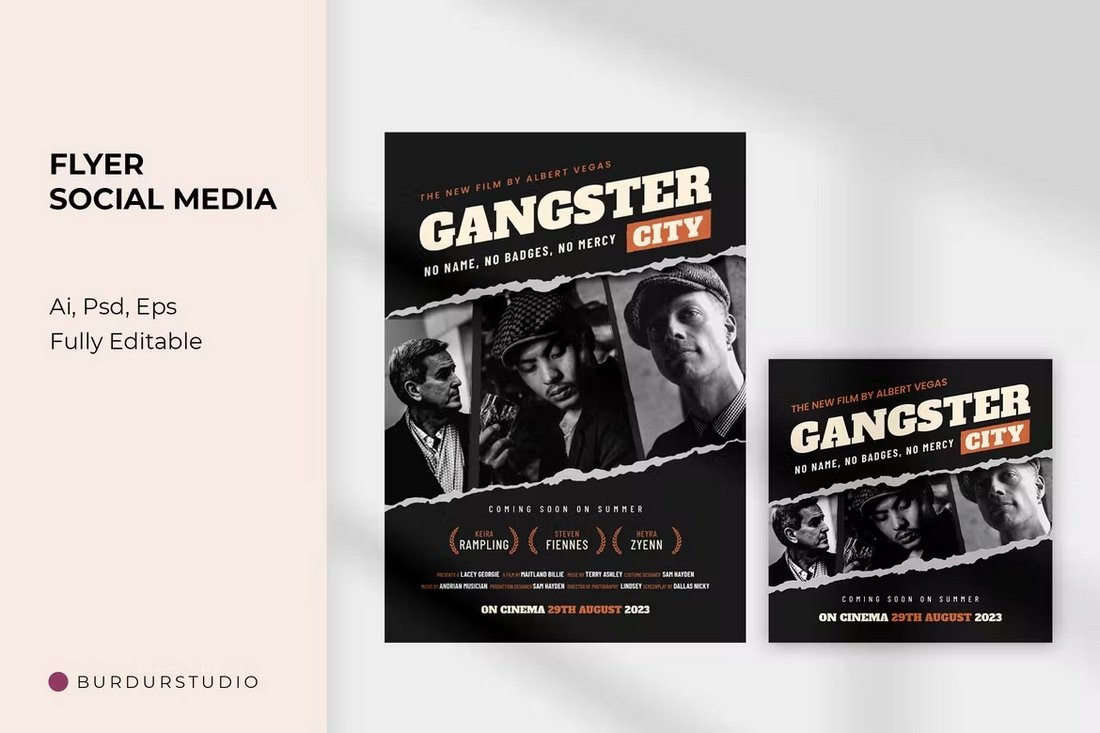 Gangster and mafia movies usually feature an ensemble cast that you also need to show on the poster. You can use this style of a poster design to create posters for such movies while also featuring the cast in a cool way. And of course, it has space to show off the award wins and nominations too. The template is available in Photoshop PSD, Illustrator AI, and EPS formats.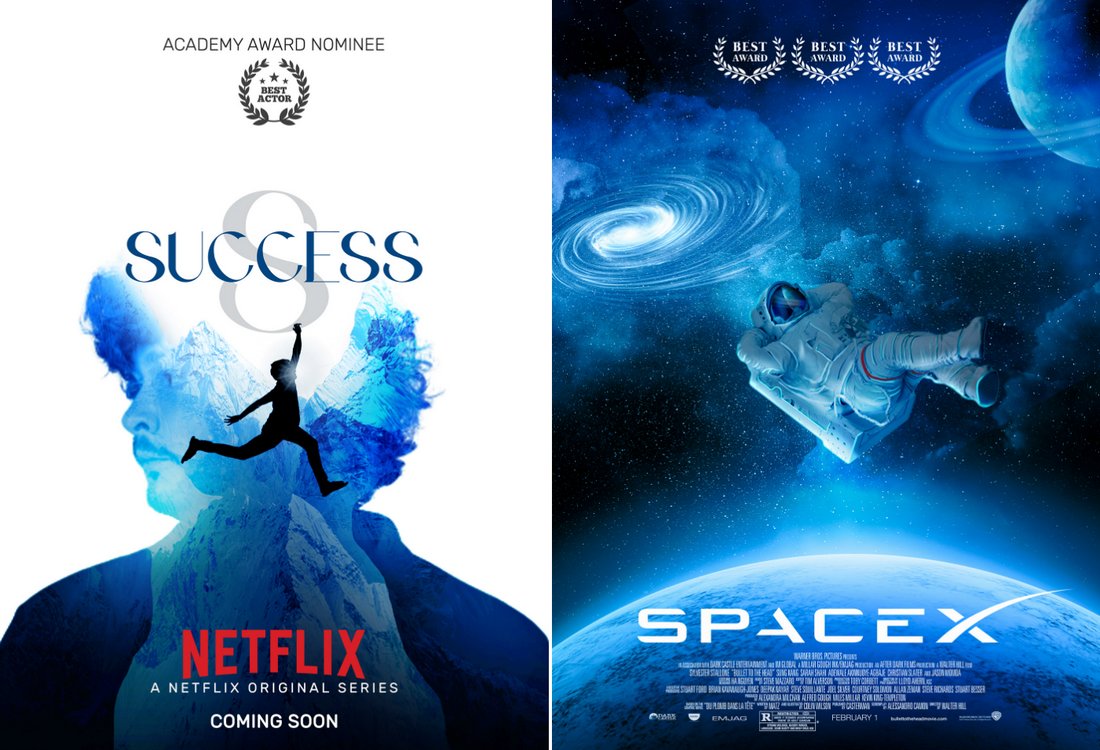 This is a bundle of free movie poster templates that includes 4 different templates for you to download and experiment with. There are multiple styles of poster designs in this pack that you can customize using Photoshop.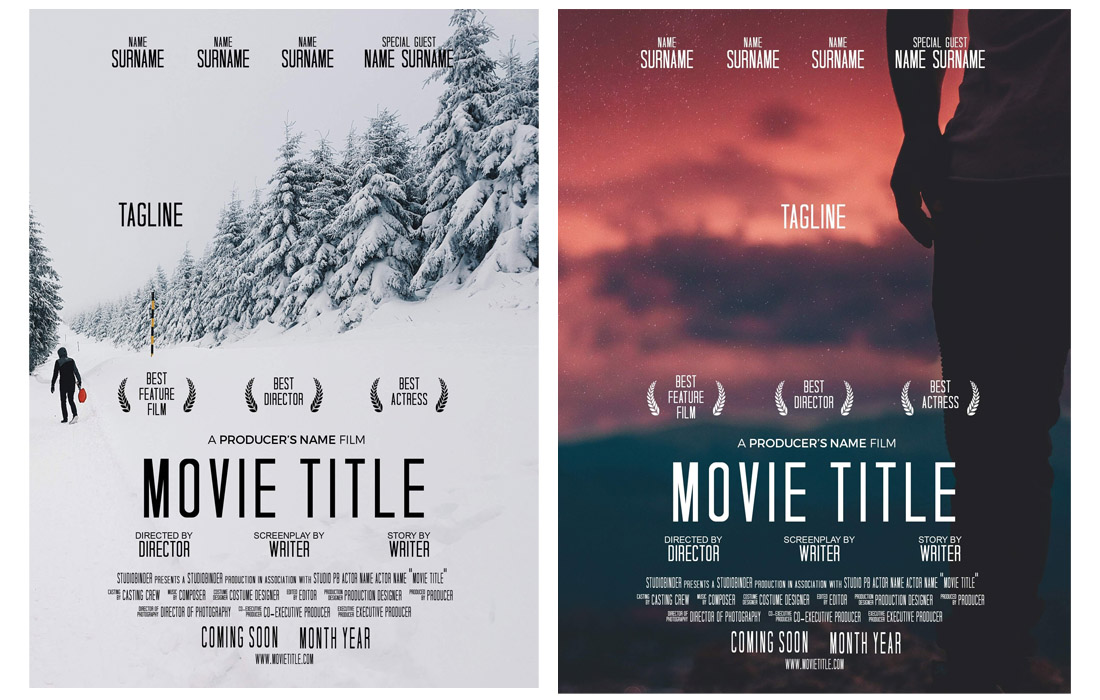 This movie poster template is also free to download and use. It features a fully customizable layout where you can change the background, fonts, and text to create posters for many different types of films.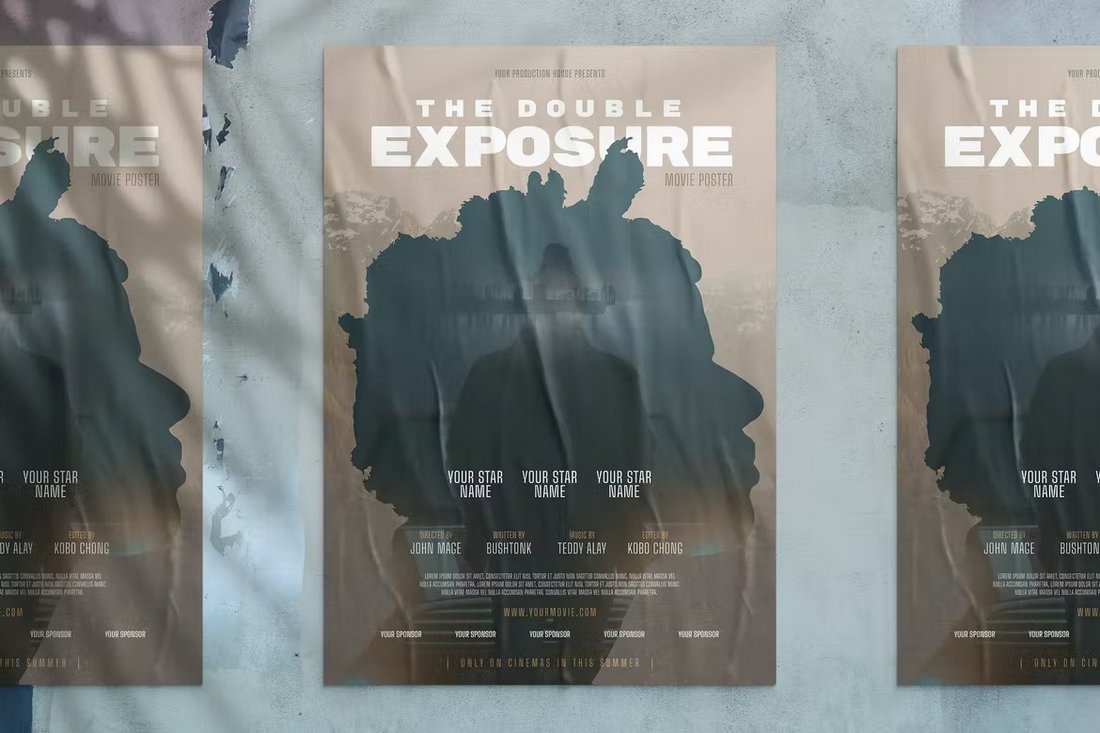 There are many ways you can use the double exposure effect to create unique movie poster designs. This PSD template offers another creative way to design an attractive movie poster with a stylish double-exposure look. It's great for drama, crime, and thriller movie poster designs. You can edit it with Photoshop and Illustrator.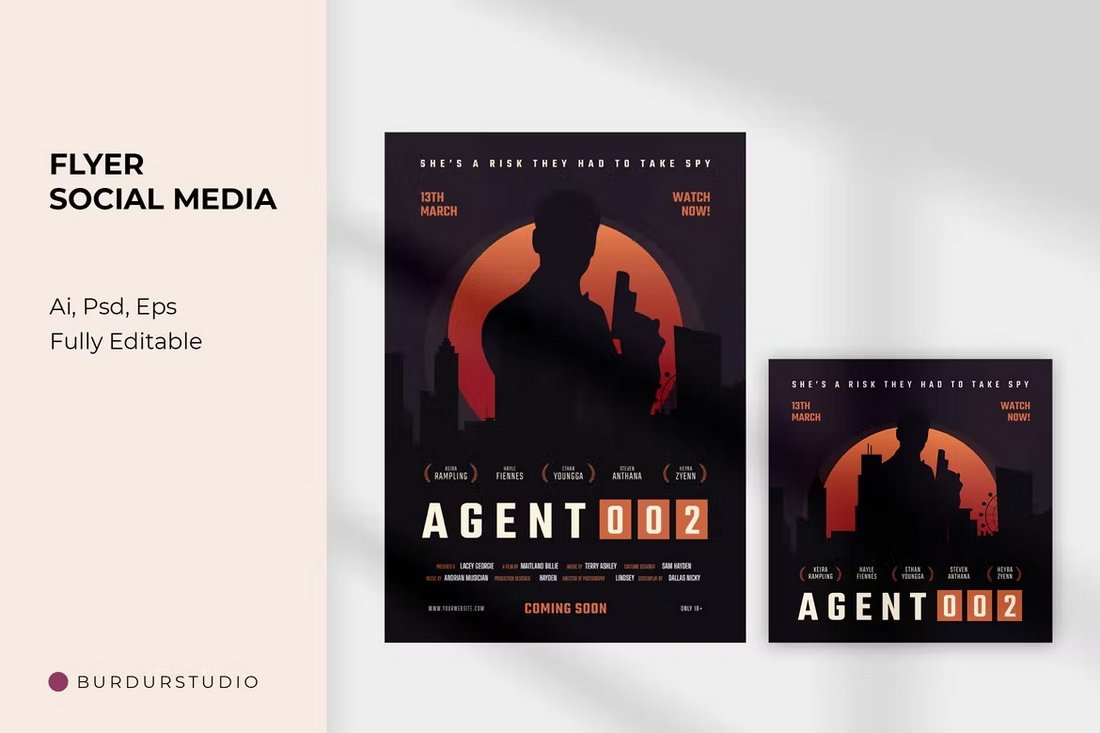 The inspiration behind this movie is an obvious one. Spy thriller movies like James Bond usually have mysterious poster designs. And this poster follows that same concept. It's great for promoting action and mystery films as well. You can customize it to change colors and images to make the poster look more unique.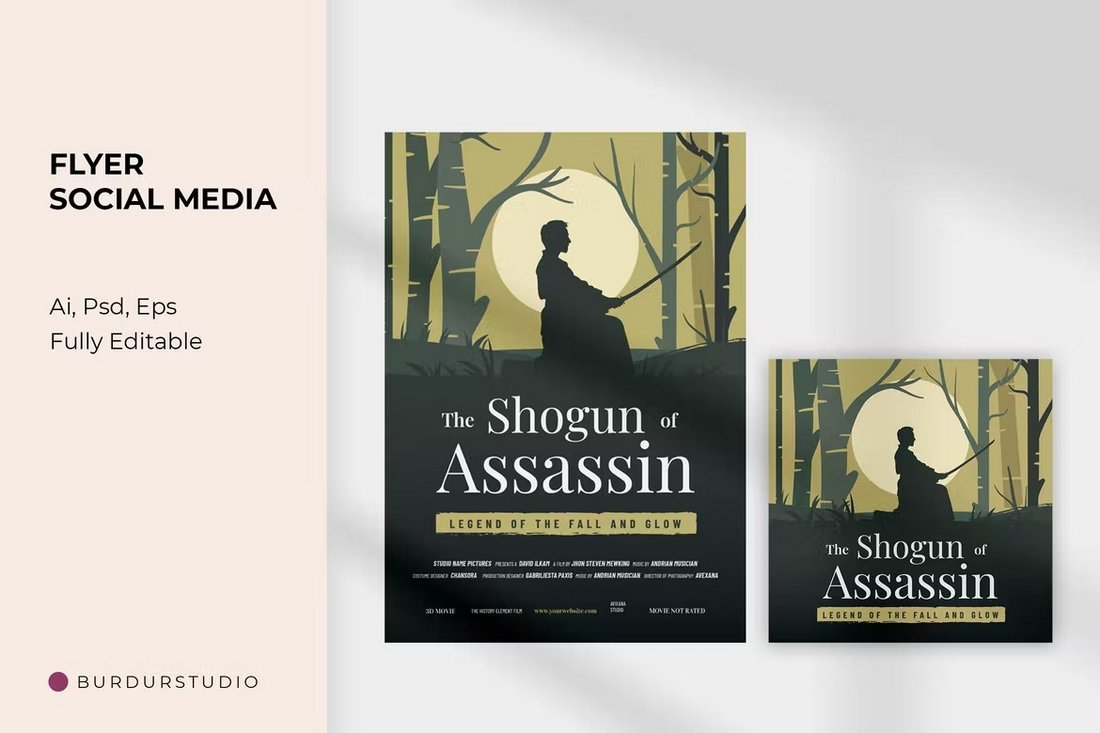 This movie poster comes with a design inspired by Japanese samurai culture. It features beautiful illustrations and a creative layout. It's easy to customize so you can change the design to make posters for different styles of movies. The template is available in PSD, AI, and EPS file formats.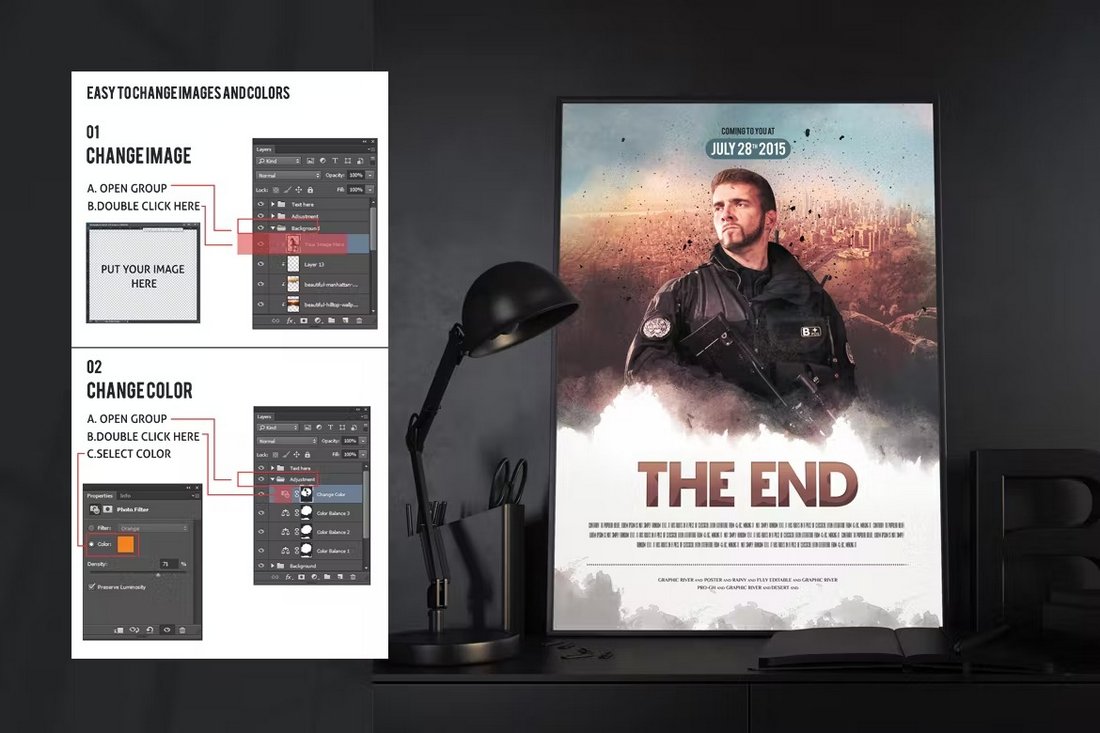 With this movie poster template, you can easily make a cool poster for an action movie. The PSD template includes organized layers that allow you to edit and customize the colors and replace images with just a few clicks. The design is resizable and comes in A4 size.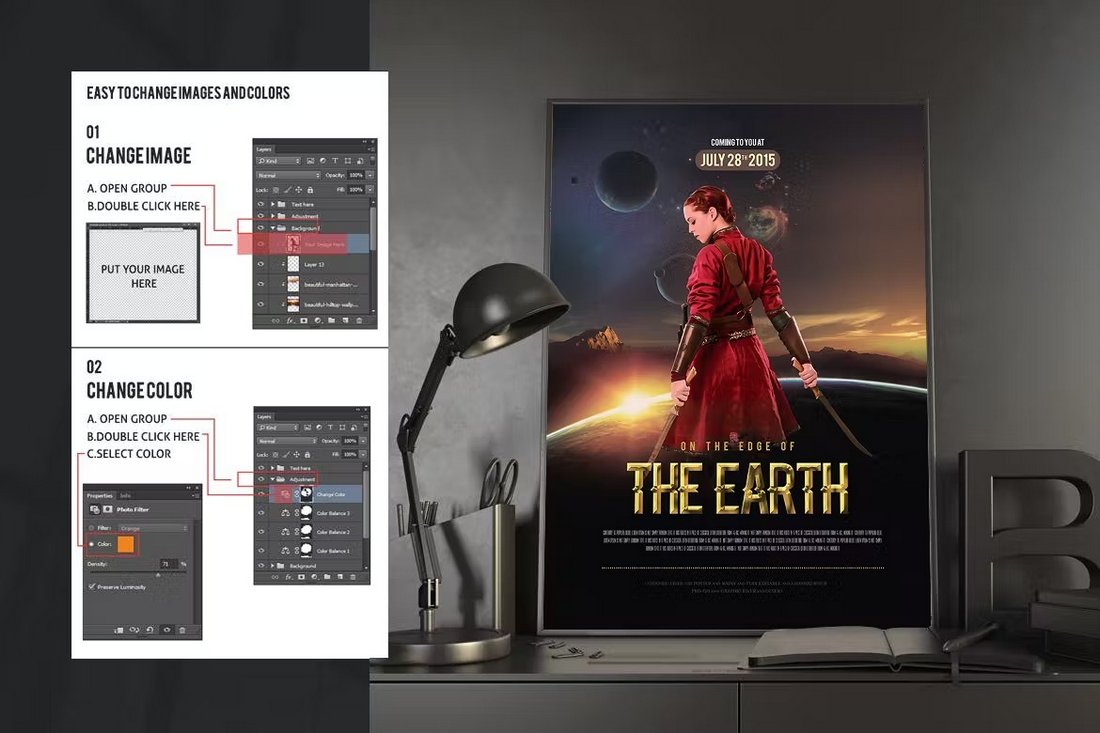 The futuristic sci-fi vibes of this movie poster make it a great choice for making posters for modern action and sci-fi movies. You can easily replace the images, edit text, and change colors to make this poster design your own. The template comes in a fully editable PSD file.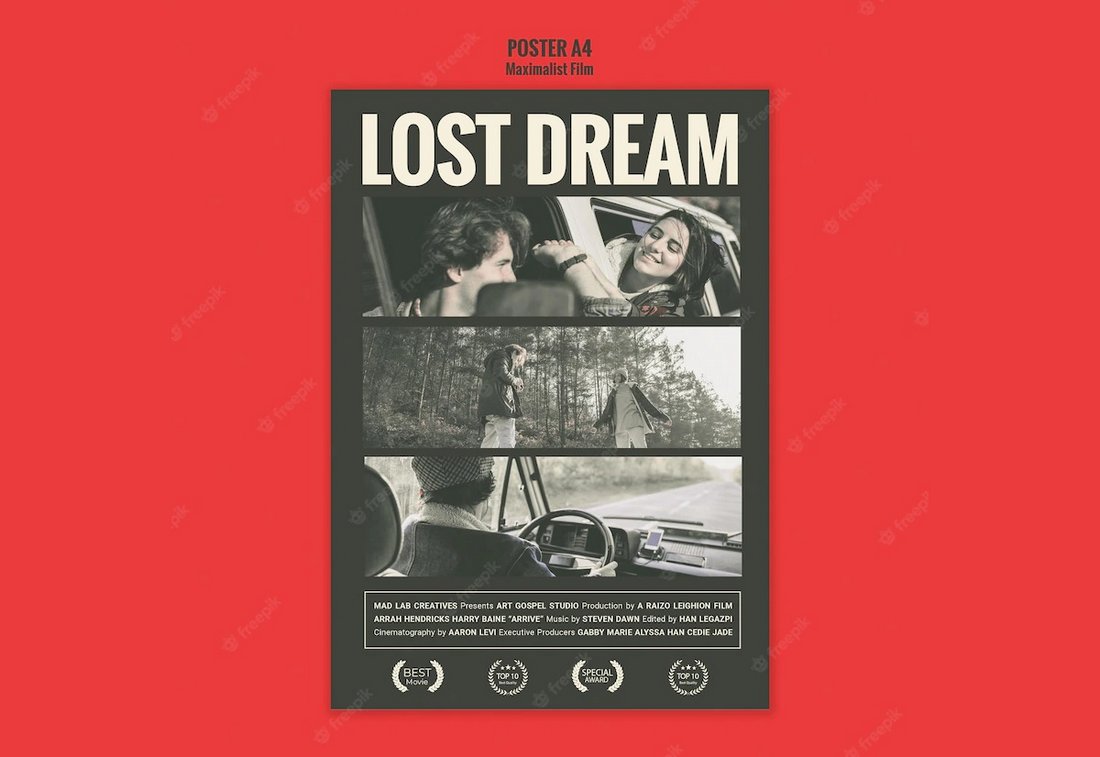 A vintage-themed movie poster template that uses visuals quite well to showcase the movie with multiple scenes. This poster is great for promoting documentaries, dramas, and romantic films. The template is free to download.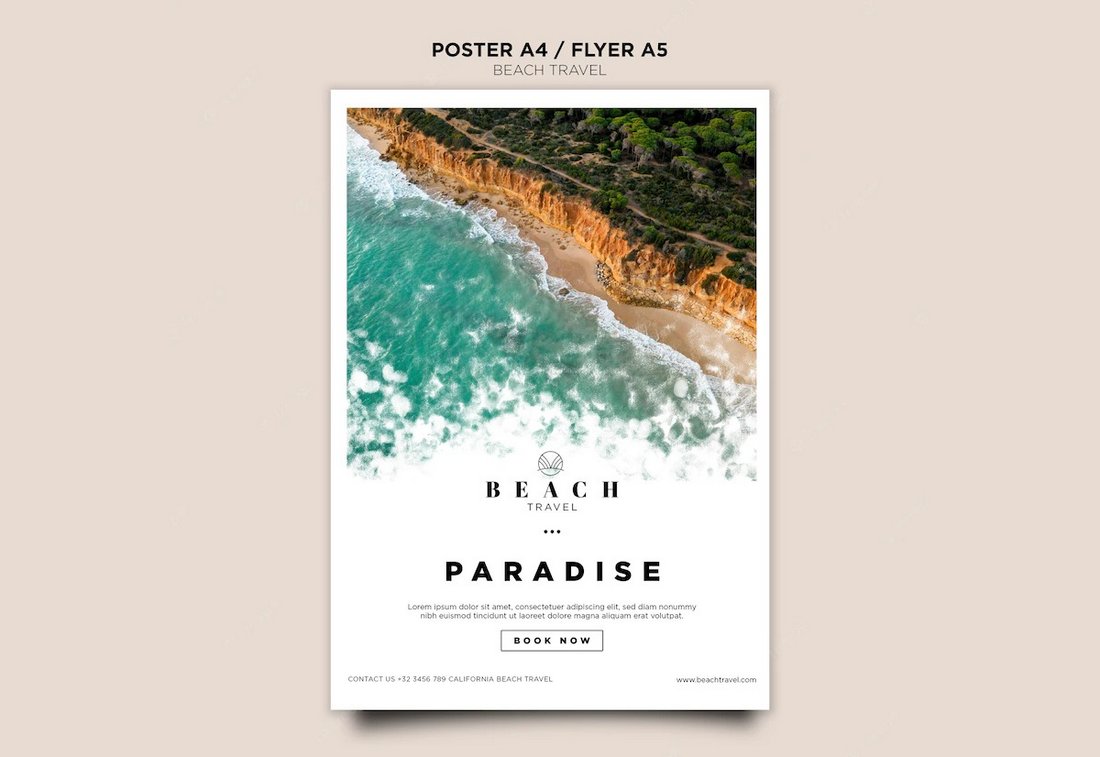 This free movie poster template features a modern design with a layer masking effect. It allows you to show a big image with a title and text to promote your film. You can edit the template using Photoshop.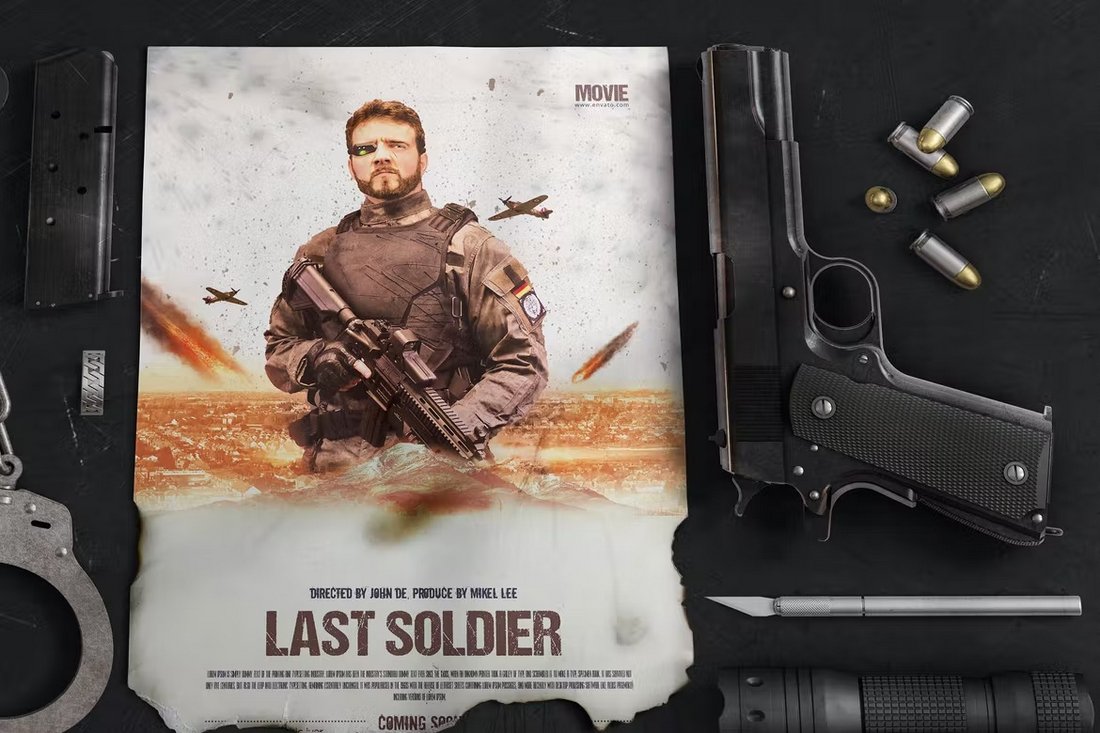 Another explosive movie poster design for action movies. It's especially suitable for military action films and war movies. The PSD template comes in A4 size and you can easily edit the design to change colors, fonts, and images to your preference.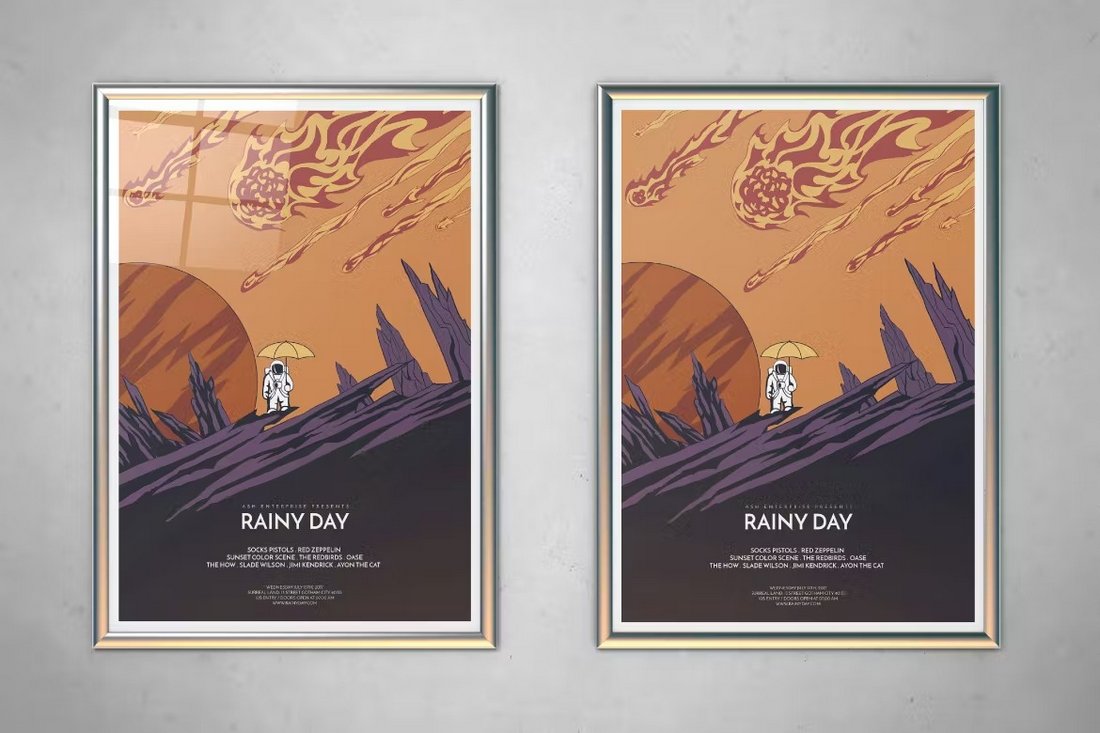 A beautifully illustrated poster design you can use to make a memorable poster for a sci-fi movie. This design has both horror and thriller vibes that will fit in great for promoting a space thriller or even an apocalyptic movie like 2012. The poster template is available in Photoshop PSD and Illustrator vector formats.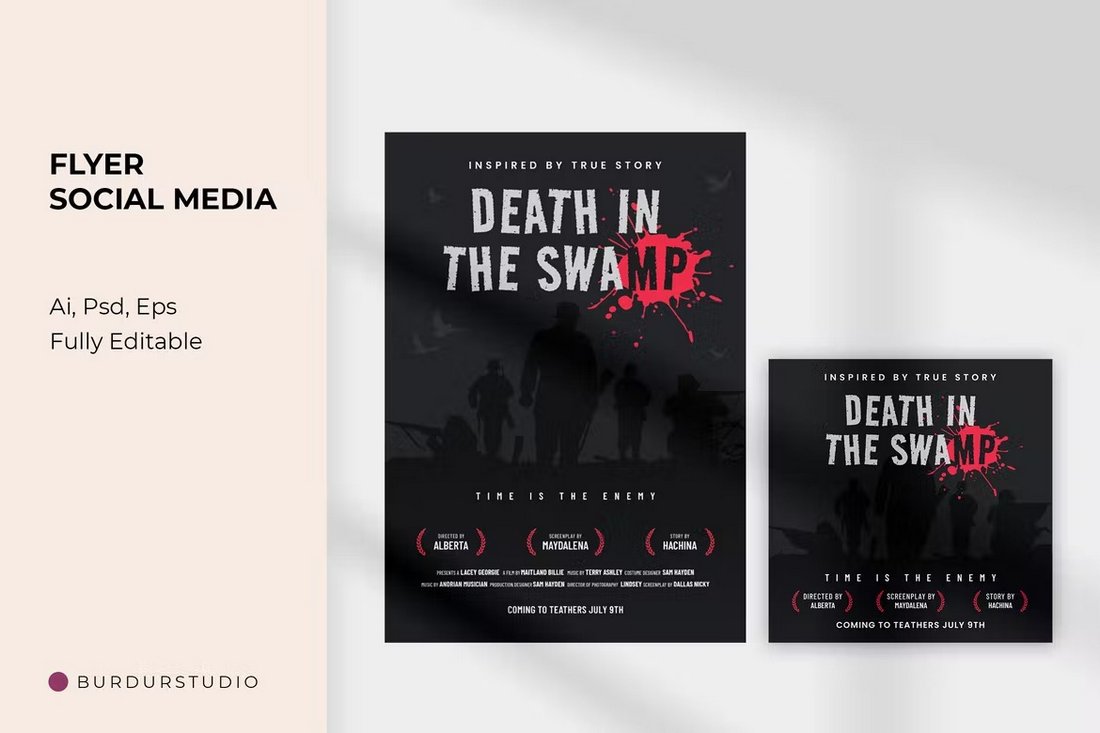 You can use this spooky movie poster template to make a dark and scary poster for a horror movie. The template features fully customizable elements so you can change the text and colors with a few clicks. It can also be used to create flyers and social media posts to promote the film.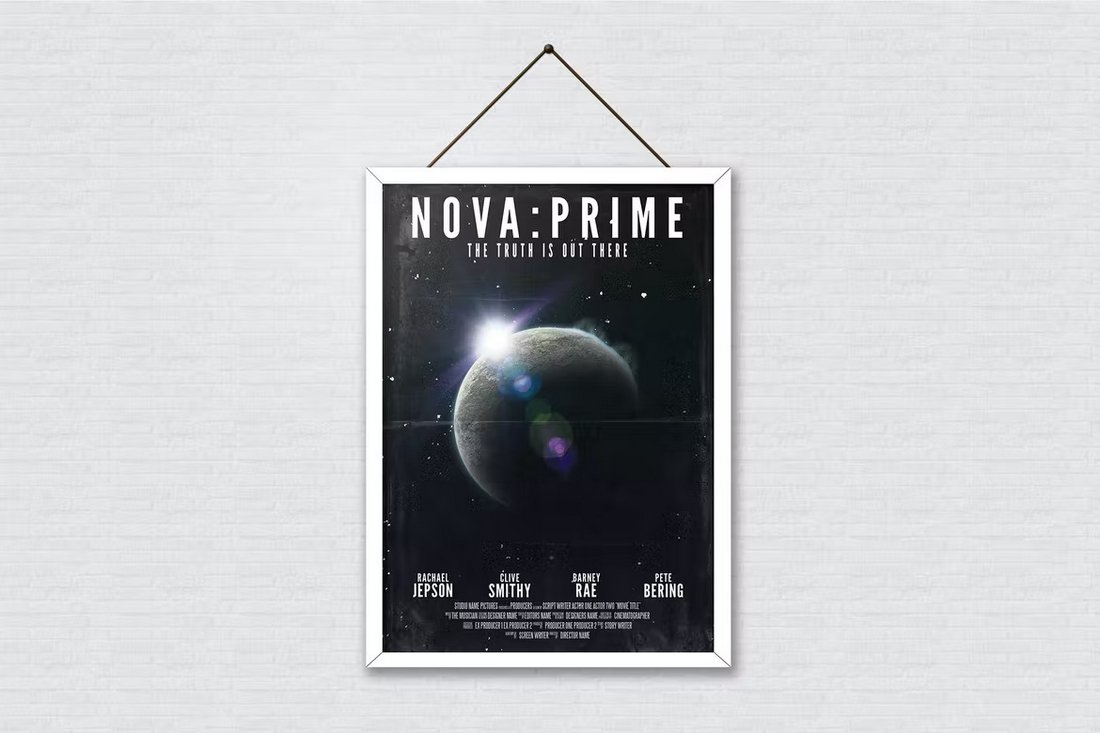 A bold movie poster featuring an outer space theme. It's clearly made for promoting space and science fiction movies. Of course, it'll work great for promoting documentaries as well. The template is available in A4 size and in PSD file format.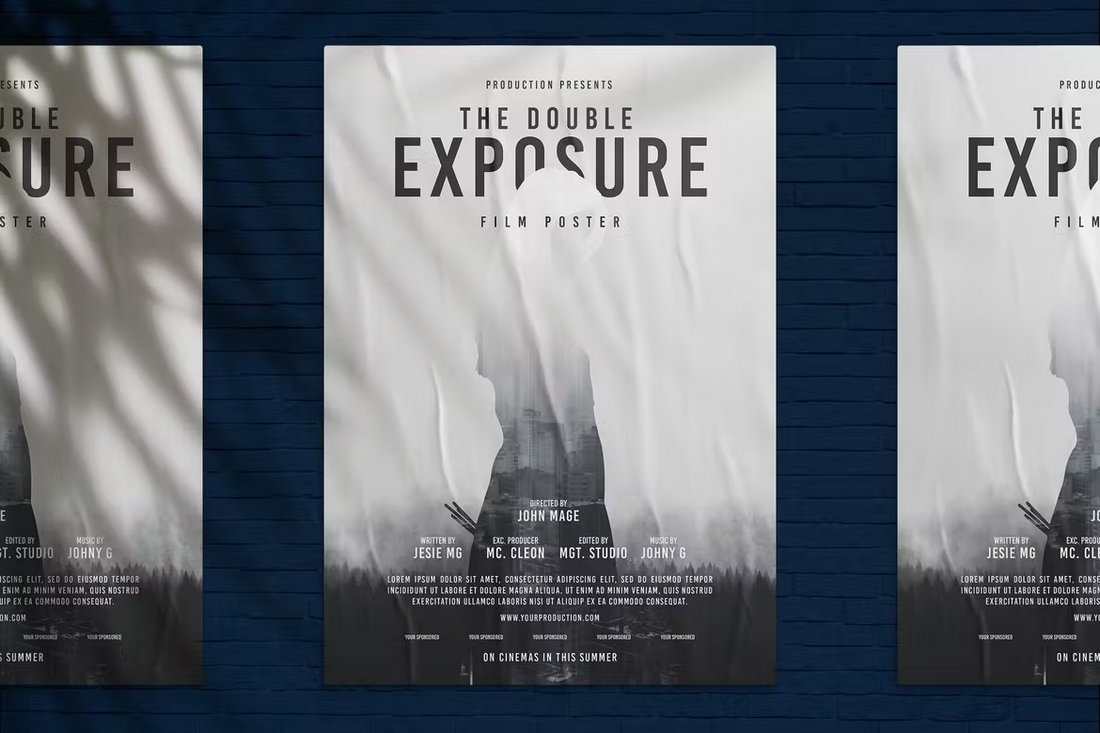 This movie poster template also features a double exposure effect. It uses a very clean and minimal approach in its design that allows you to make posters for modern romantic dramas, thrillers, and even horror movies. You can edit the design using Photoshop and Illustrator.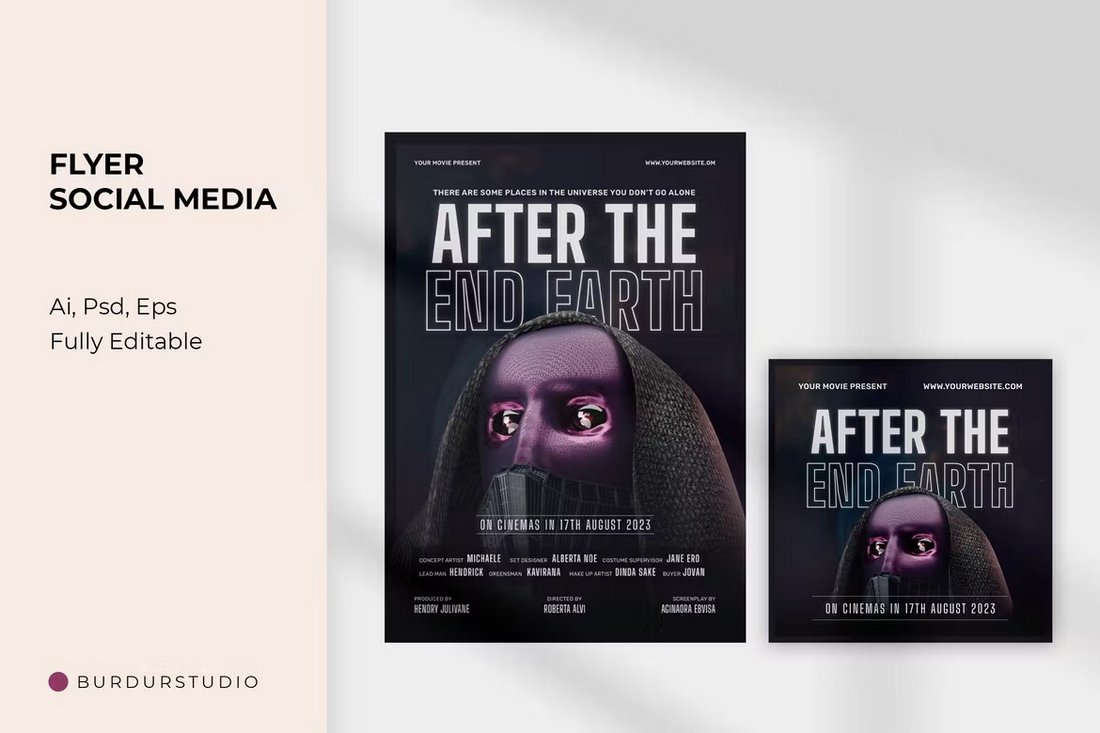 With this poster template, you can create a spooky poster for futuristic thriller movies. It features a weird AI and robotic vibe that will fit in well with sci-fi films as well. The template includes a flexible A4 poster design and Instagram post design in a fully customizable PSD file.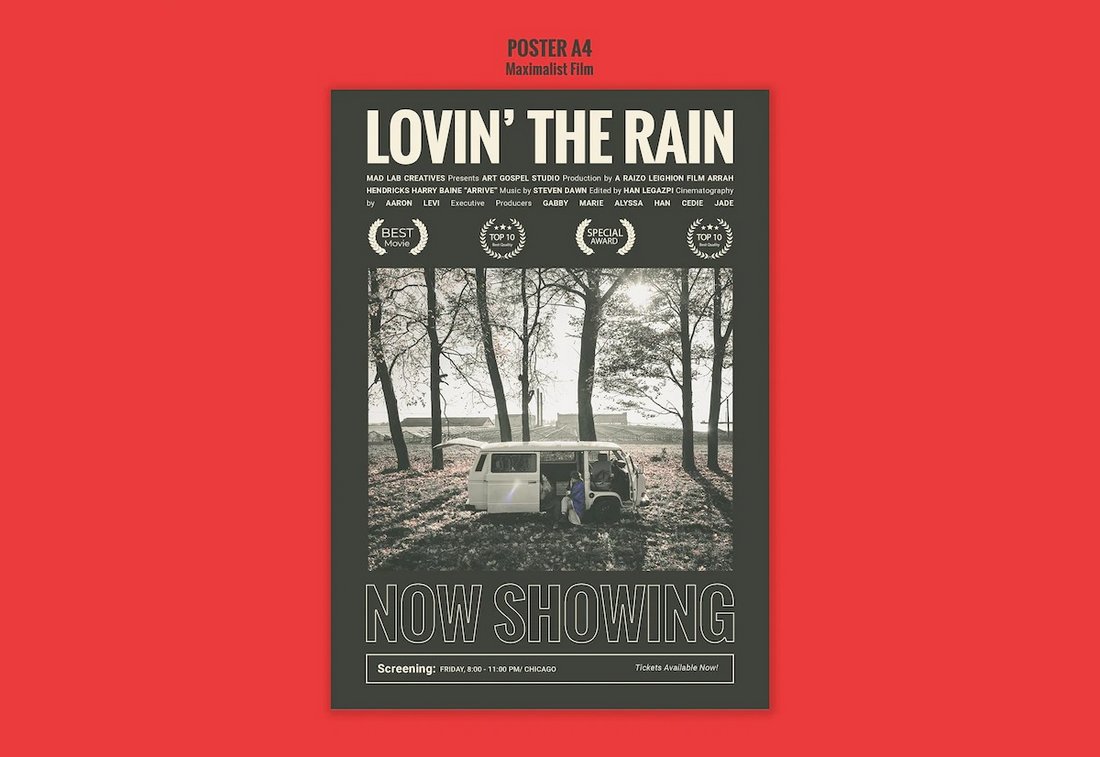 A beautiful movie poster template with a retro-themed design. This poster is great for promoting short films and documentaries, especially during film festivals. The PSD template is free to download.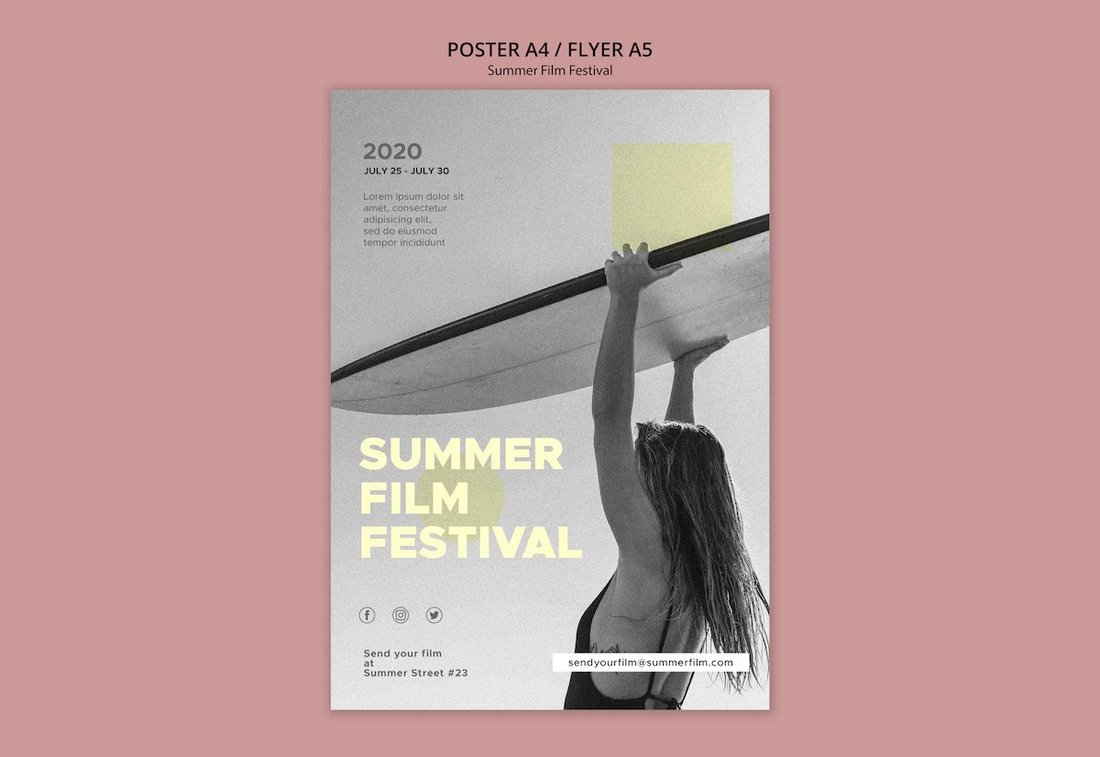 This free film poster template also features a retro-style layout that lets you create posters as well as promotional flyers for your movie. It comes in PSD format and lets you customize it to your preference.