MailOptin: Lead Generation & Email Automation in WordPress
Building an email list is one of the best ways to monetize and build a loyal audience around your blog. Which is why it's important to setup email optin forms from the very first day of launching your website.
MailOptin is a simple and easy-to-use lead generation plugin that helps you achieve that goal. The plugin comes with plenty of useful features and automation options that can be quite useful to both beginners and experts.
In this guide, we take a closer look at this new WordPress plugin to see what it has to offer and how it works.
Why Lead Generation Is Key To Growing A Blog
The success of a blog, an online store, or any kind of website truly depends on the amount of traffic it receives. Simply put more traffic equals more sales and customers.
However, generating traffic is not enough. Because if you don't have a system in place to convert website visitors into leads, you'll simply be wasting all the efforts you put into generating traffic. Email is arguably the best way to generate leads from traffic.
According to surveys, 77% of people prefer to receive promotional messages via email than other mediums such as social media updates and text messages. More importantly, 80% of retail professionals agree email is the best medium for customer retention.
How do you convert your visitors into leads? Well, you can start by setting up email optin popups and forms on your blog to promote your email list. Then you can setup automated emails to send email campaigns and newsletters to your subscribers.
This is where lead generation WordPress plugins come to help.
What Is MailOptin?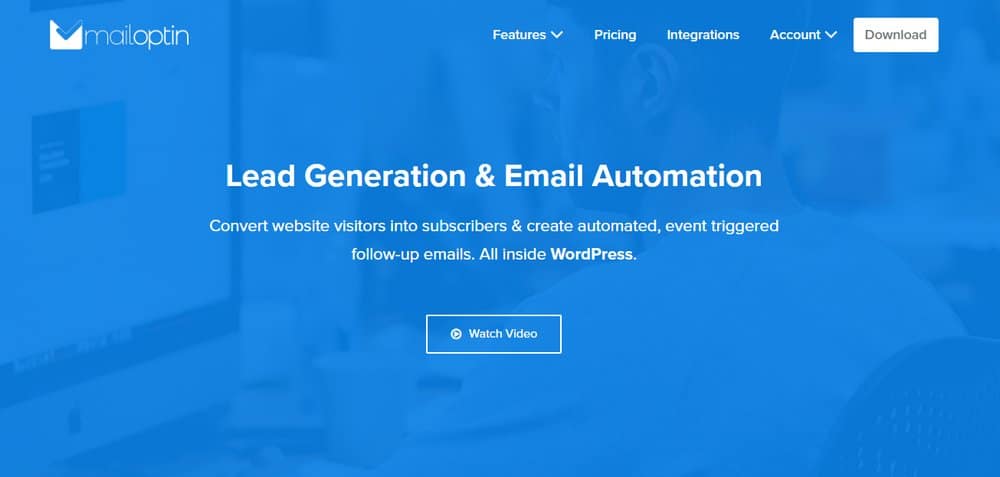 MailOptin is a sleek new lead generation plugin for WordPress that allows you to easily setup email optin popups and optin forms on your blog. The plugin not only helps you generate leads but it also allows you to setup automated email campaigns to send to your subscribers.
This means you can actually automate some of the most time-consuming tasks using the plugin so that you can focus on freeing up more time to developing your blog or website. For example, the plugin lets you automate newsletters to send to your subscribers whenever you publish a new blog post or even schedule them to send at a specific time.
Main Features
The plugin also comes with many more features like modern optin form designs and beginner-friendly user interface.
Create Sleek Email Optin Forms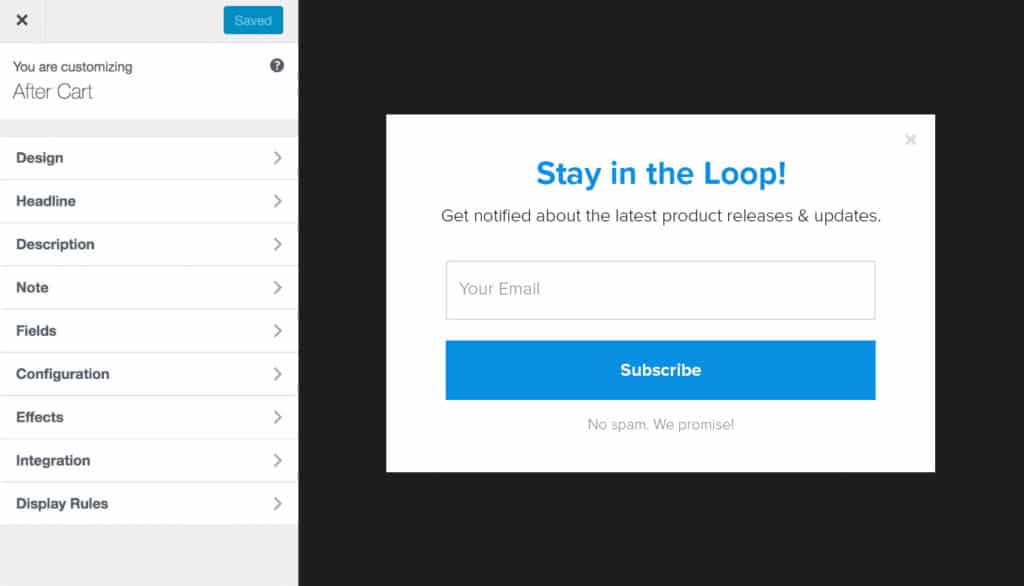 MailOptin email subscribe forms come in several different styles and templates. The form designs feature minimal and clean designs which you can easily customize to your preference with different colors, effects, display rules, and more.
Many Different Ways To Generate Leads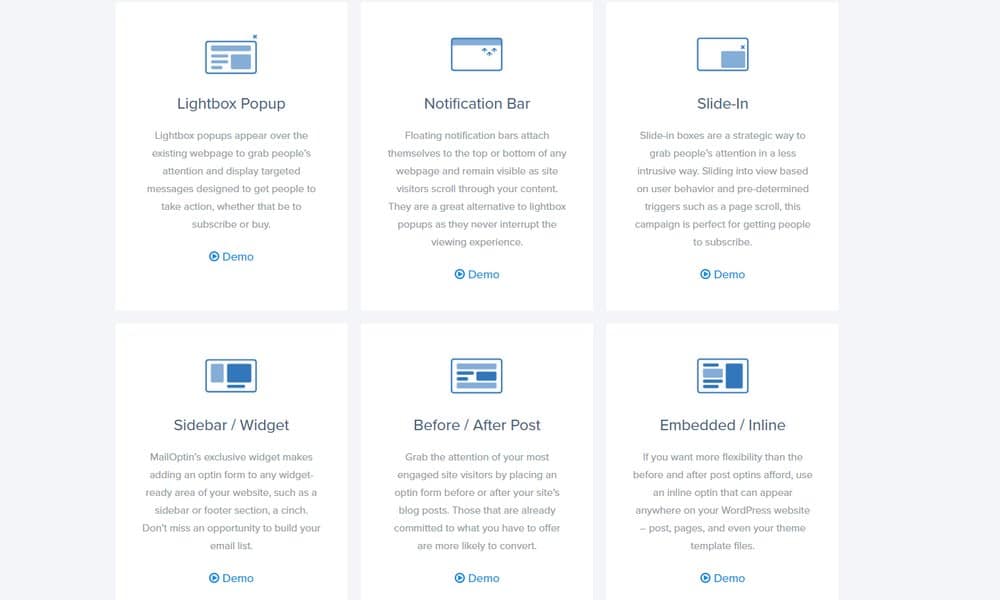 In addition to email optin popup messages, the plugin lets you promote your email newsletter with many other ways. You can also show your email optin form as a notficiation bar above every blog post, show as a slide-in message, embed the form in blog posts between paragraphs, or add it as a widget in the sidebar.
Send Automated Email Newsletters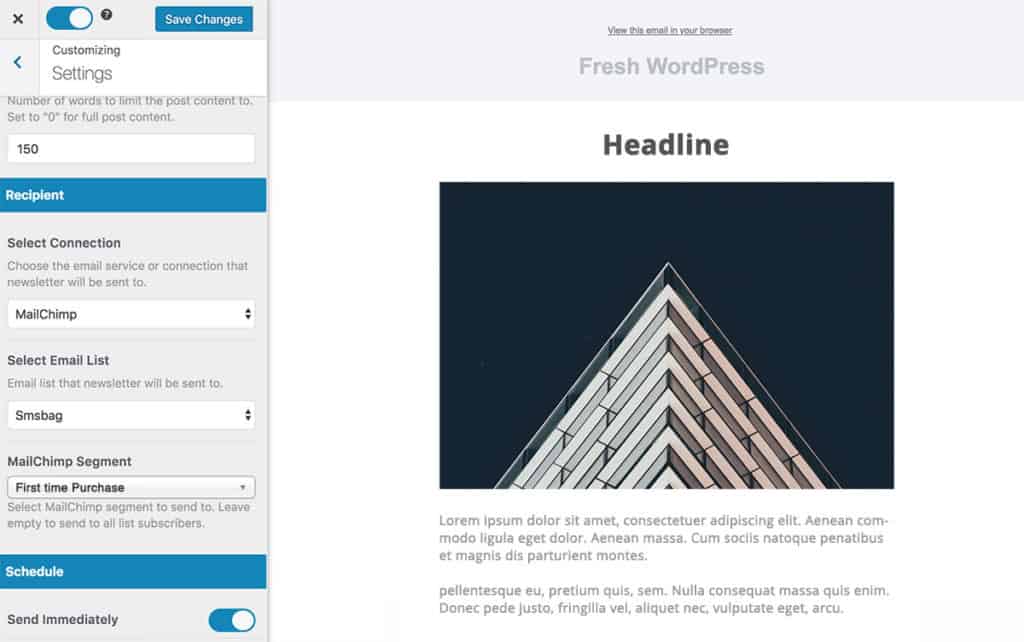 A useful feature in MailOptin is its automated newsletters functions that allow you to schedule or automate email newsletters to send to your subscribers whenever you publish a new blog post. You can also create email digests to send as daily, weekly, or monthly newsletters. All from within your WordPress dashboard.
Works With All Major Email Service Providers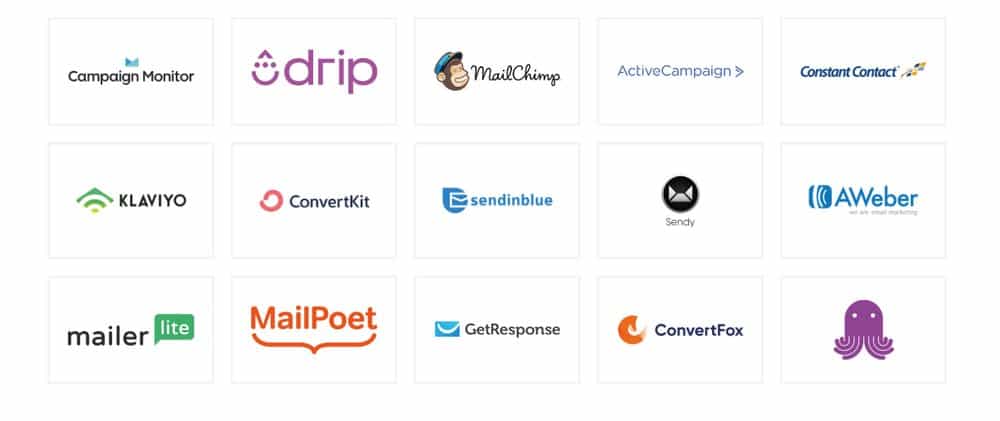 MailOptin supports integration with all major email service providers, including MailChimp, AWeber, GetResponse, ConvertKit, and more so that you can use your favorite email service provider to grow your email list.
Advanced Features For Marketers
If you're a blogger or a marketer who use advanced tools to get the most out of your lead generation efforts, MailOptin has plenty of useful tools for you including a unique system called LeadBank which lets you store subscriber behavior data.
Here are a few of the other tools you get with the plugin.
A/B Testing
Display rules for triggering pop-up forms
Page-level targeting
More than 30 different CSS3 animation effects
Lead generation analytics and reports
Pricing Plans
MailOptin comes with a free plan, which allows you to use the plugin free of charge with limited features. You can still use it to create unlimited email popups and send automated email notifications. But you'll need to subscribe to a paid plan to gain access to advanced features like A/B testing and conversion rules.
Standard: At $69 per year, this plan gives you access to all of the lead generation tools and features.
Pro: At $169 per year, this plan lets you use the plugin with 3 websites with access to all of the email automation and lead generation tools.
Agency: At $269 per year, this plan lets you use the plugin on unlimited websites with full access to all of its features.
How MailOptin Differs From Other LeadGen Plugins
Most lead generation plugins available on WordPress costs monthly subscriptions with prices starting at $20 per month (total $240 per year). Compared to these plugins, MailOptin is one of the most affordable plugins we've seen.
Even the free version of the plugin provides more than enough options for setting up a basic lead generation system for a small business or a personal blog.
If you're planning on setting up email optin forms for your new blog or switching from your existing lead generation plugin, try the free version of MailOptin and see if it fits your needs.
Looking for WordPress hosting? We use SiteGround. Their managed WordPress hosting is fast, powerful, and secure. Prices start from $3.95 per month.