40+ Best Legal PowerPoint Templates (+ Law PPT Slides) 2023
There is nothing easy about working in the law industry, it requires hours of dedicated work, and you often find yourself hours deep into paperwork to get anything meaningful done. Yet, this can be doubly stressful when you're tasked with making a legal presentation.
The best way to make a legal presentation is through pre-made legal ppt templates. However, finding good-quality law PowerPoint templates can be a nightmare at times, forcing you to search through thousands of templates online.
It's for this reason that we decided to compile a list of legal ppt templates sourced from both premium and free options making sure to cover every style of law PowerPoint template you could possibly need.
If you're stuck needing to create a legal presentation or just need something to spice up your portfolio, you'll find it all here on our list.
Read on to see our collection of the best legal PowerPoint templates out there right now!
legal powerpoint templates, law powerpoint templates, legal ppt templates, law ppt templates
Get everything you need to give the perfect presentation. From just $16, get unlimited access to thousands of PowerPoint presentation templates, graphics, fonts, and photos.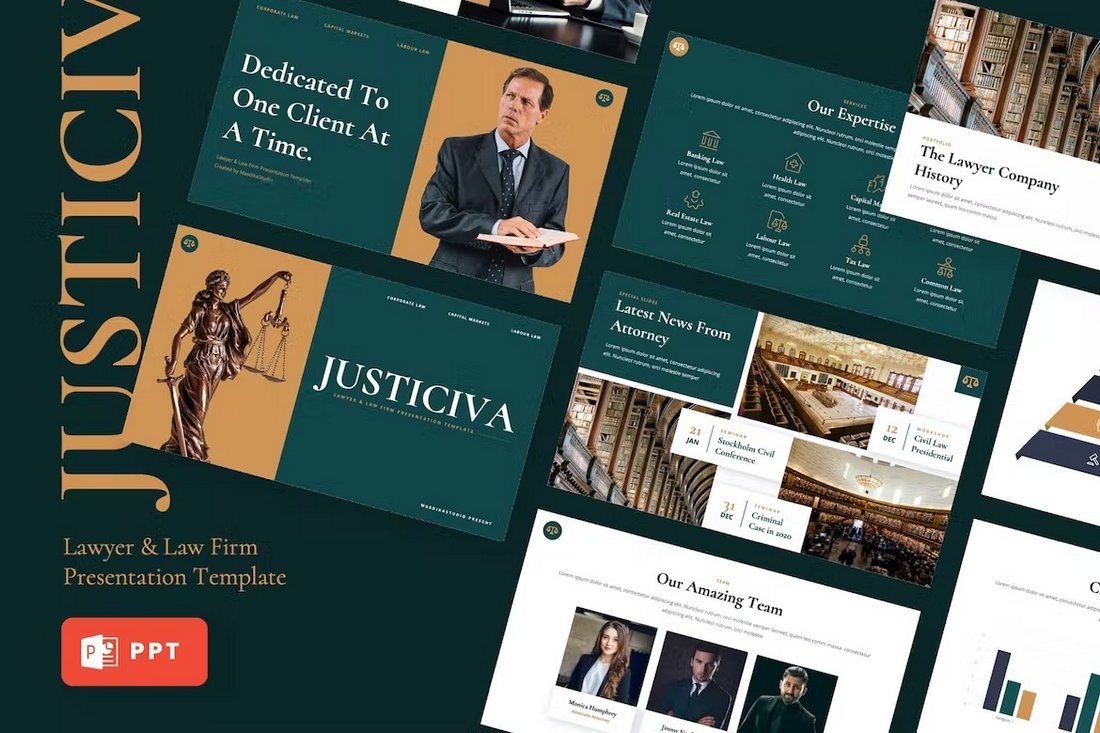 Justiciva is a beautifully designed PowerPoint template for modern law firms and lawyers. It comes with a set of stylish slides for presenting your key points in a more engaging way. The template has more than 40 different slides with device mockups, vector graphics, image placeholders, and more.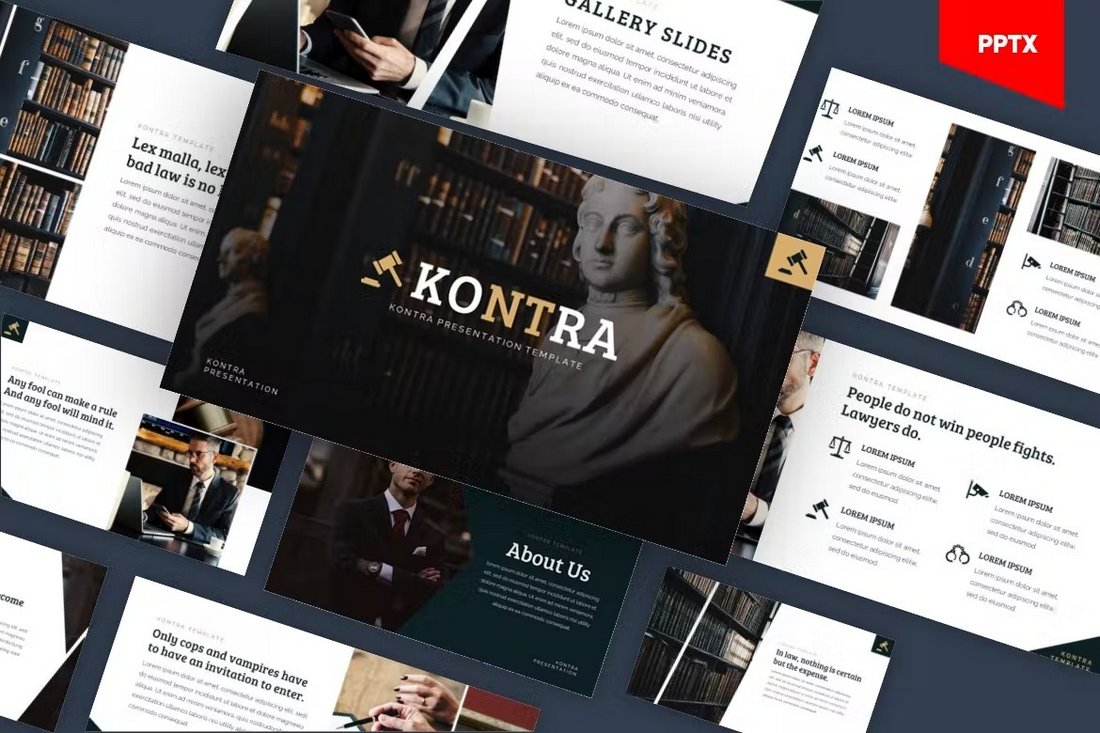 This PowerPoint template comes with a clean and modern design. It's great for making presentations on various topics related to law. There are 50 unique slides in this template that you can easily customize to change colors, fonts, images, and much more according to your preference.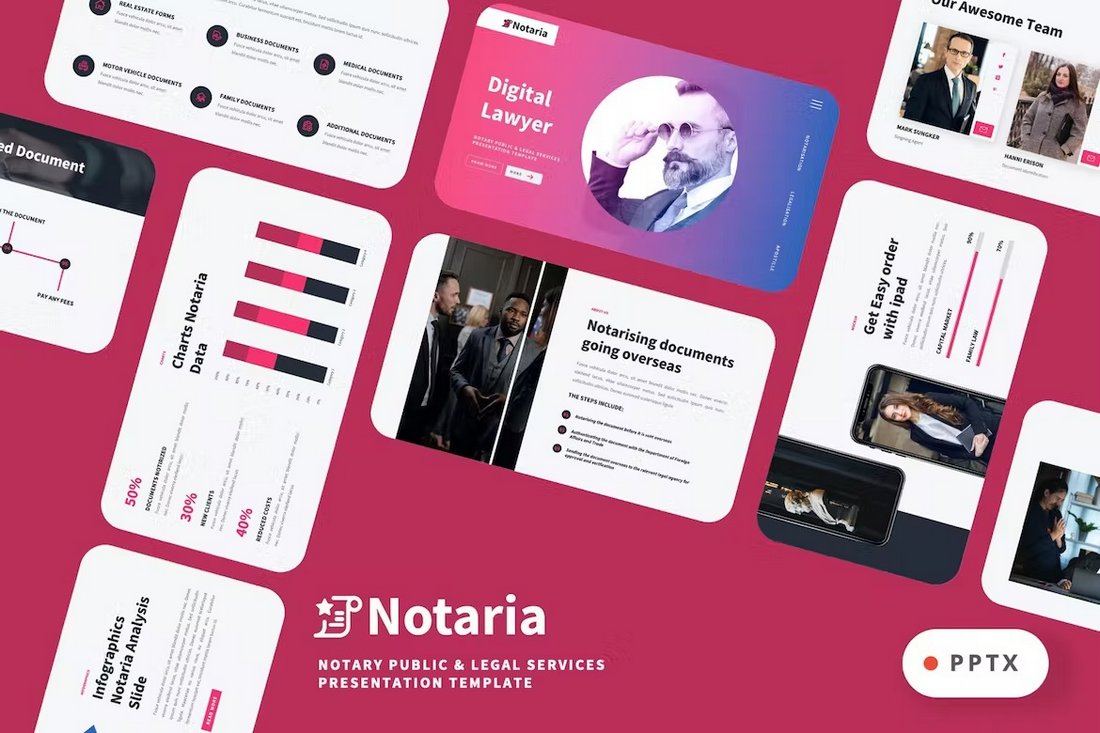 If you're working on a presentation related to notary public or legal services, this PowerPoint template will come in handy. It includes 40 unique slides with creative and modern layouts. You can use it to craft presentations that deliver your message in a more clean manner.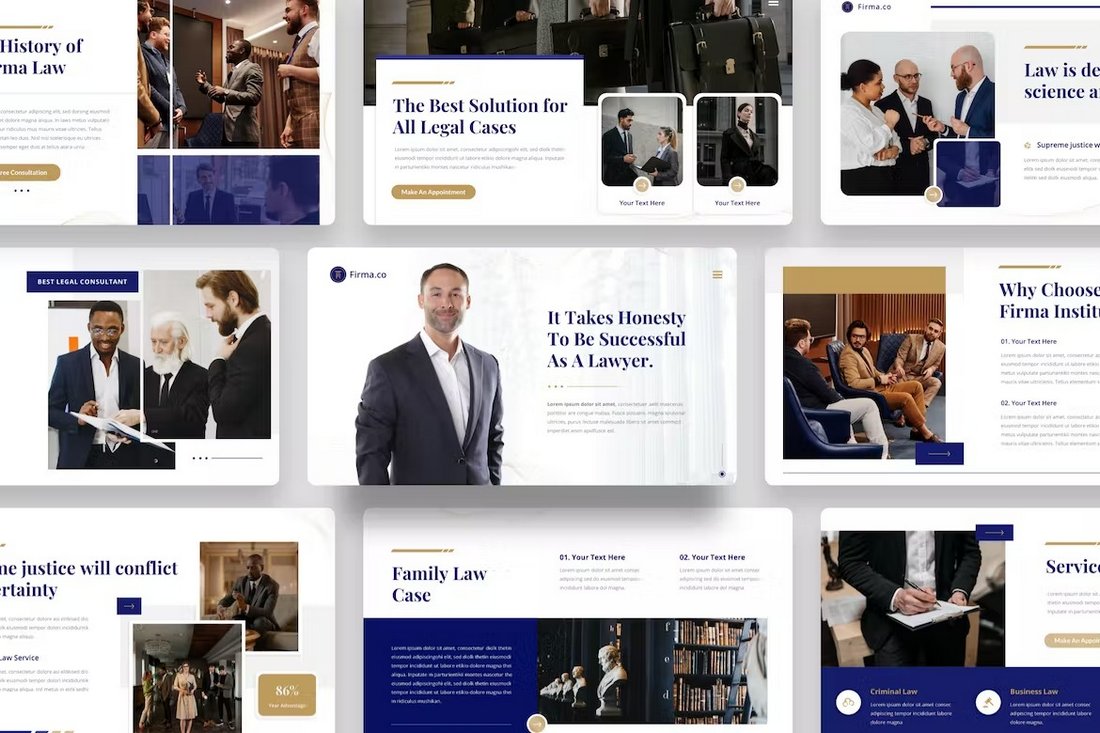 Firma is a modern PowerPoint template made with lawyers in mind. This template comes with 30 different slides with professional designs. It's ideal for corporate agencies and law firms as well. The template has drag-and-drop features with easily editable elements.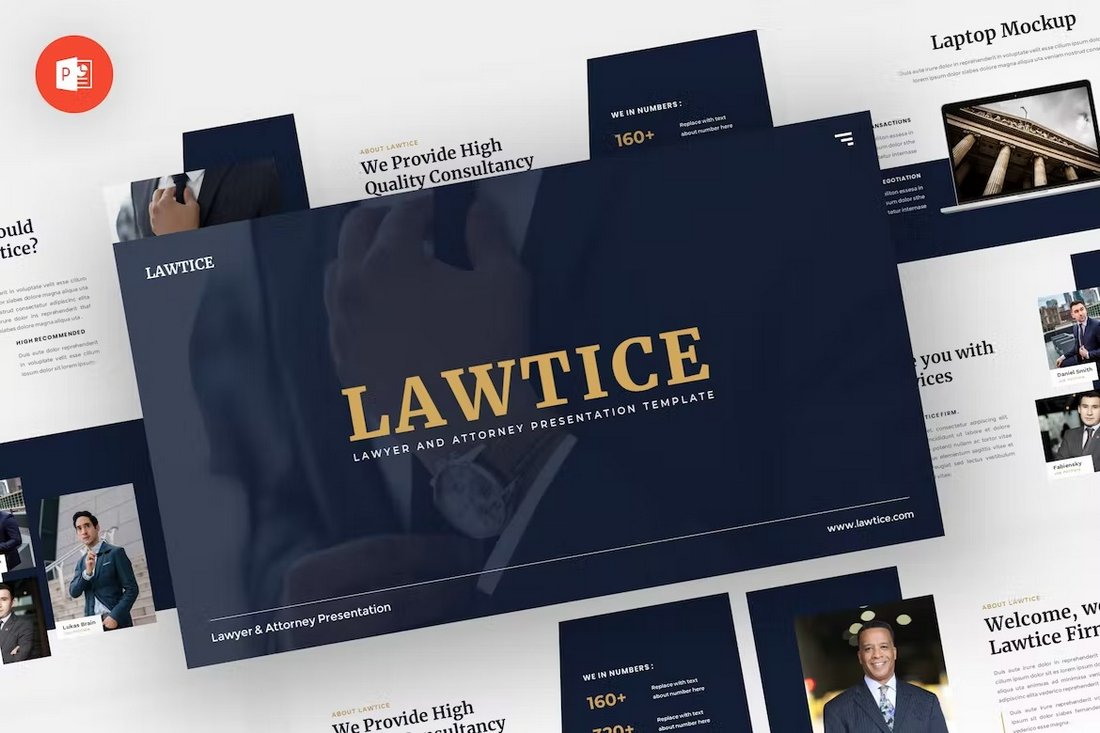 Lawtice is a clean and minimal PowerPoint template you can use to make slideshows for both lawyers and attorneys. There are 15 unique slides in this template with layouts that are useful for various law-related presentations.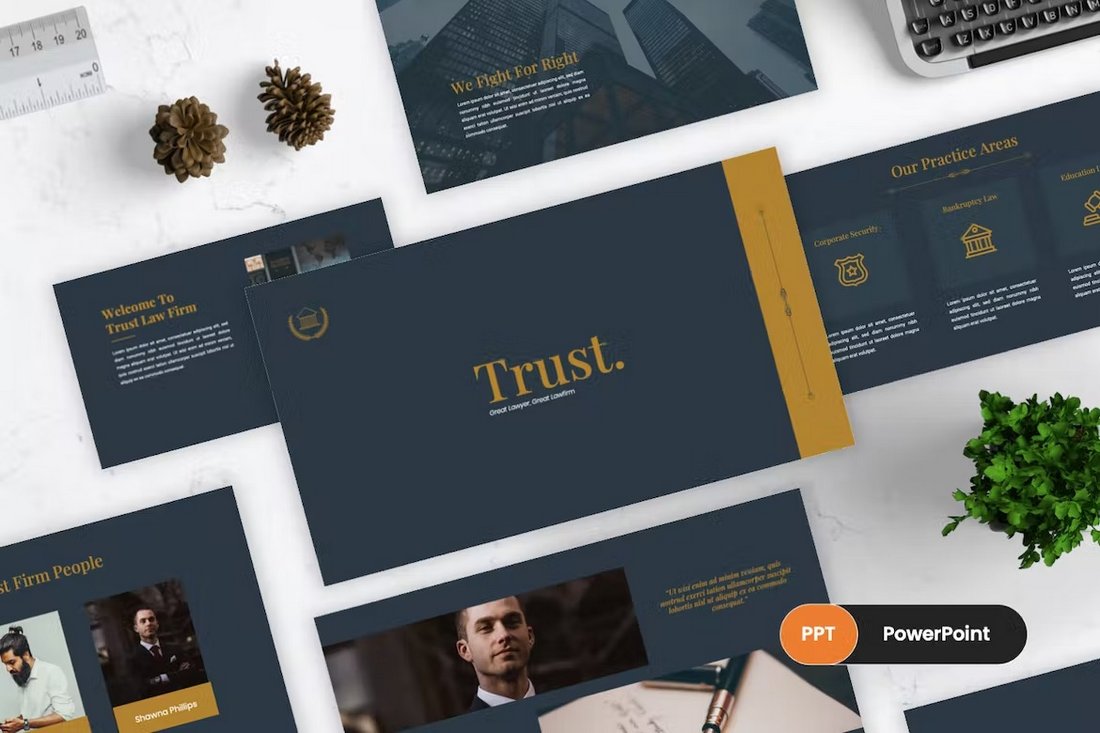 If you prefer bold presentation designs with dark color themes, be sure to give this PowerPoint template a try. It comes with a dark and gold color scheme that gives a high-end look and feel to the entire presentation. There are 34 unique slides in this template.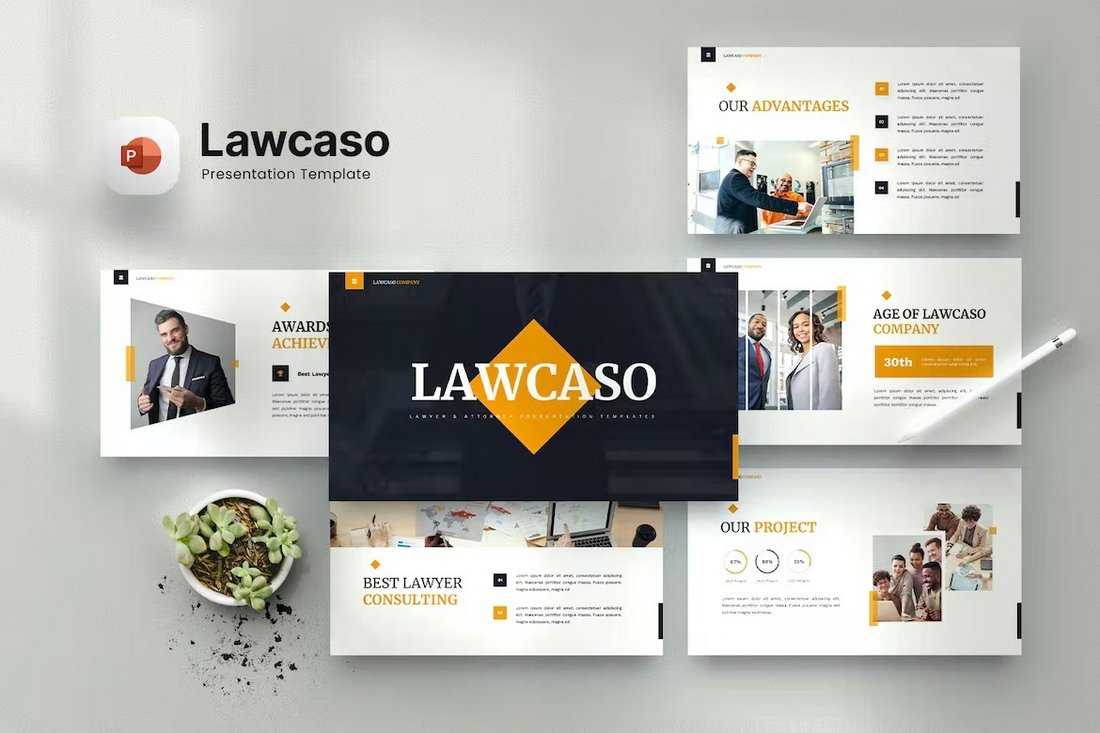 Lawcaso is a creative PowerPoint template specifically designed for lawyers. It has bright and attractive slide layouts with plenty of space for promoting your law firm and legal services. The template includes 40 slides.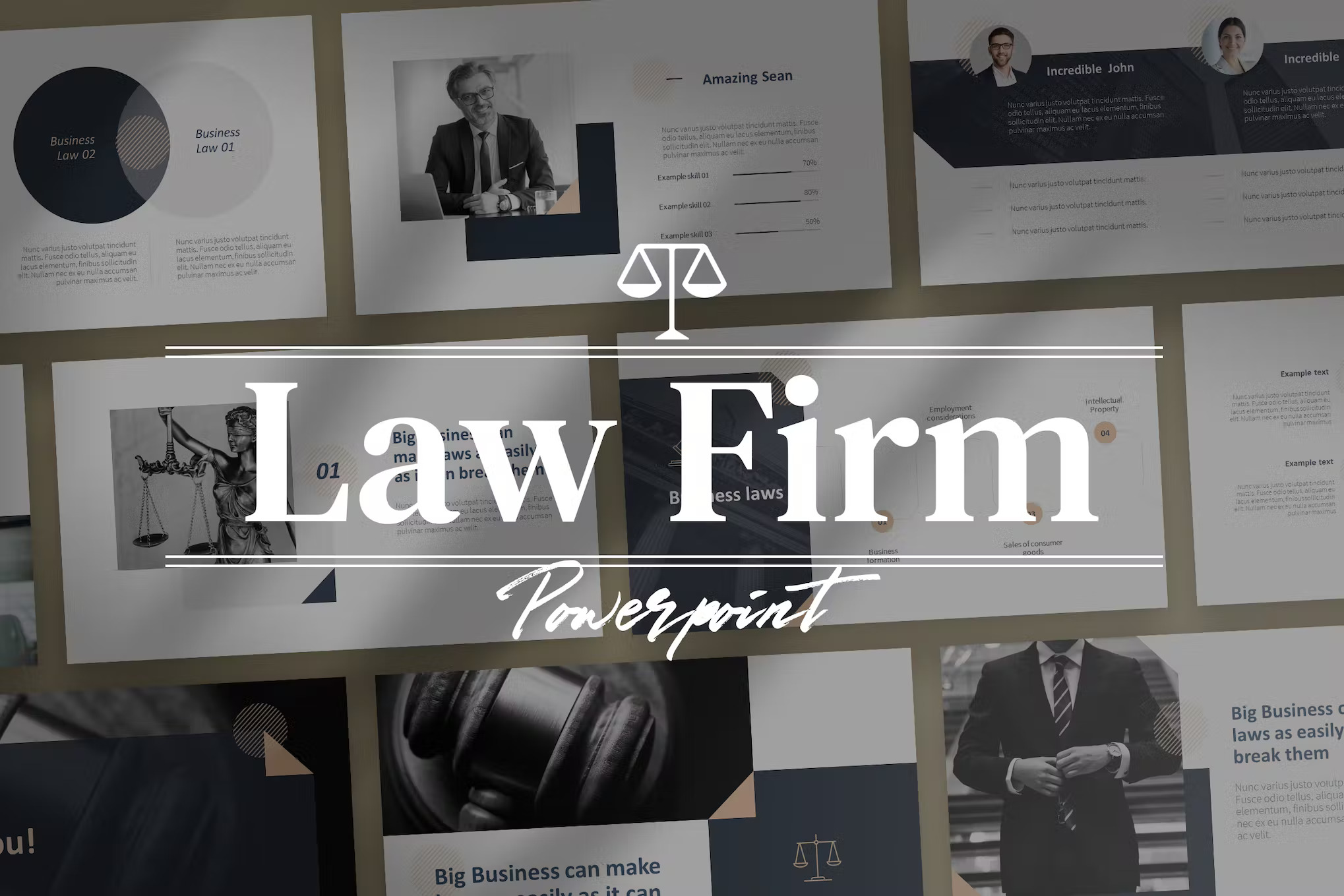 Sean is a powerful legal PowerPoint template with a lot of features. It contains 30 useful slides in HD resolution for attorney and law firms. As one of the best legal ppt templates out there, Sean certainly deserves your attention.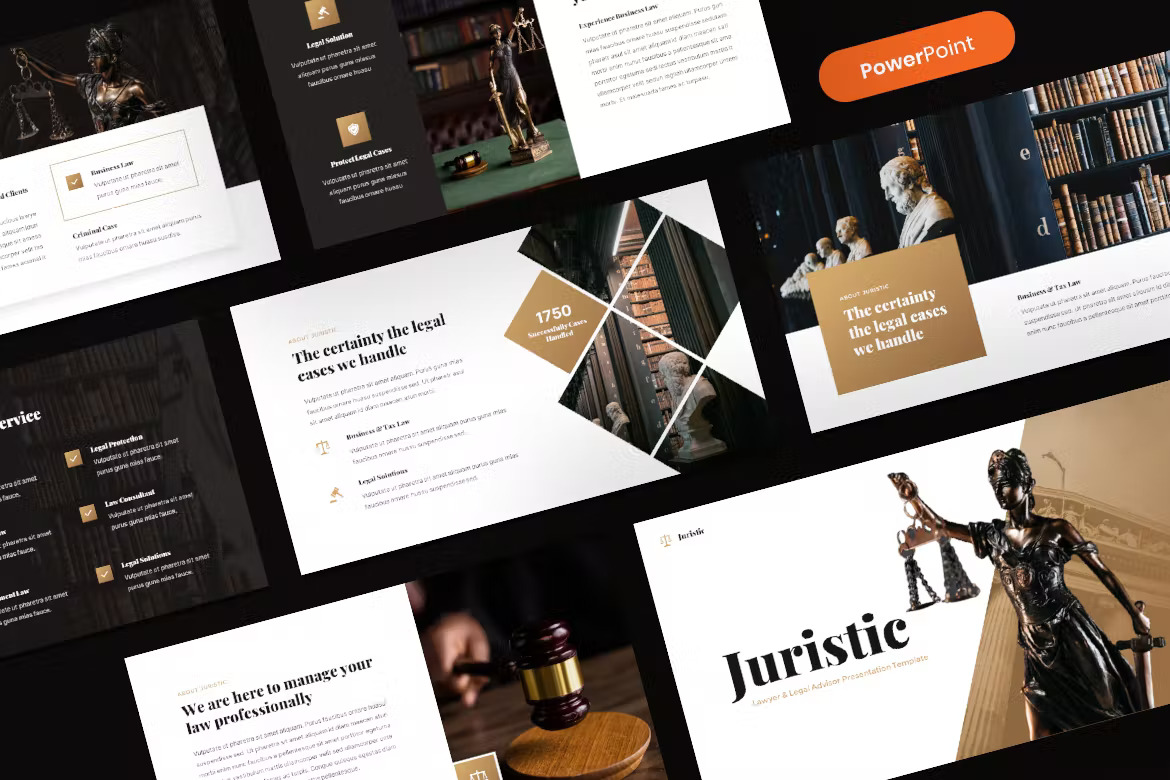 An elegant and polished presentation is key to earning clients' trust, especially for startup legal businesses. Juristic is an excellent template that can help you impress and keep your clients with minimal effort. When looking for sophisticated law ppt templates, Juristic is well worth checking out.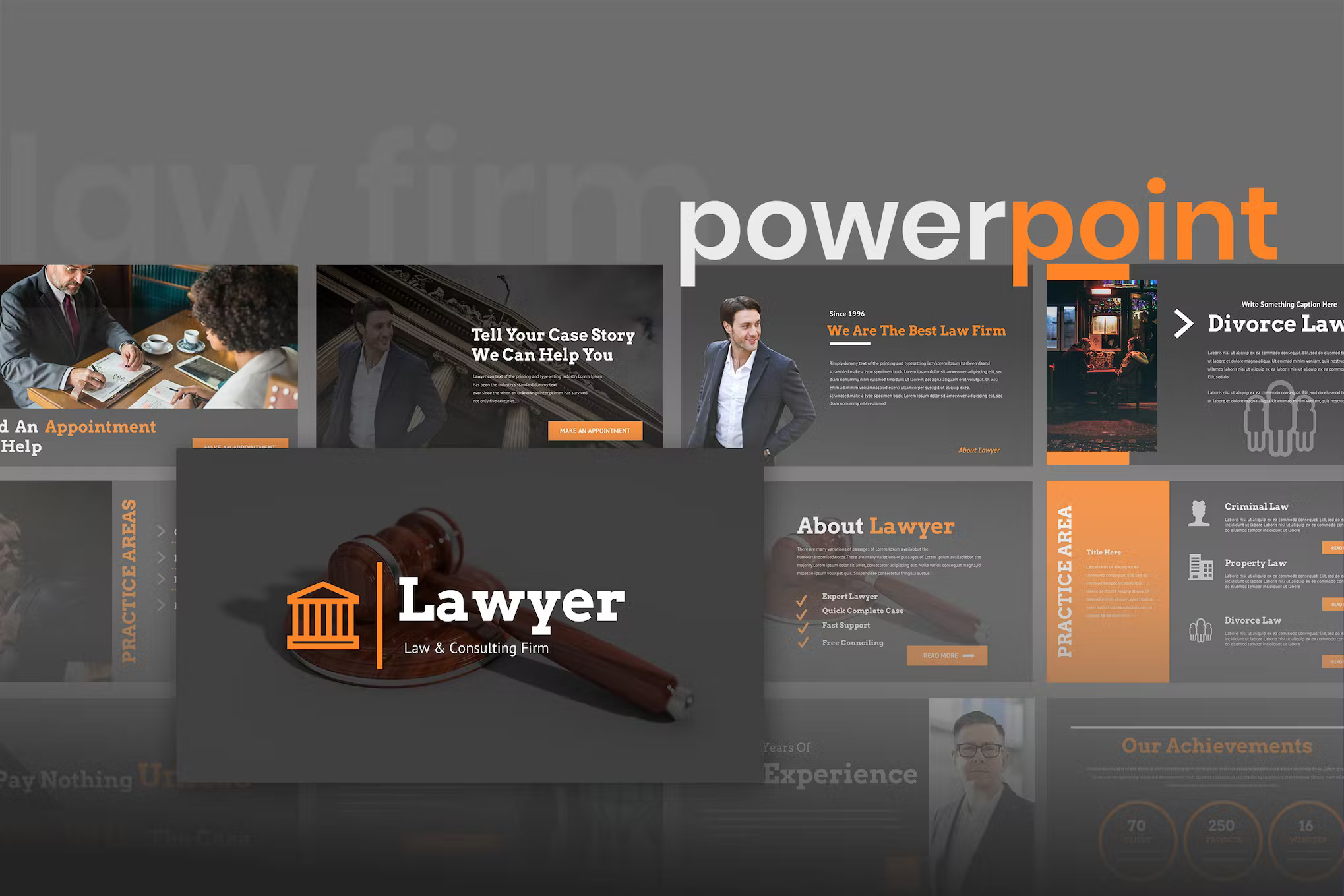 Next up, we have Lawyero, a modern and professional PowerPoint template that focuses on the most important aspect of a presentation, i.e., content. The template is 100% customizable and has an array of amazing features for you to try out.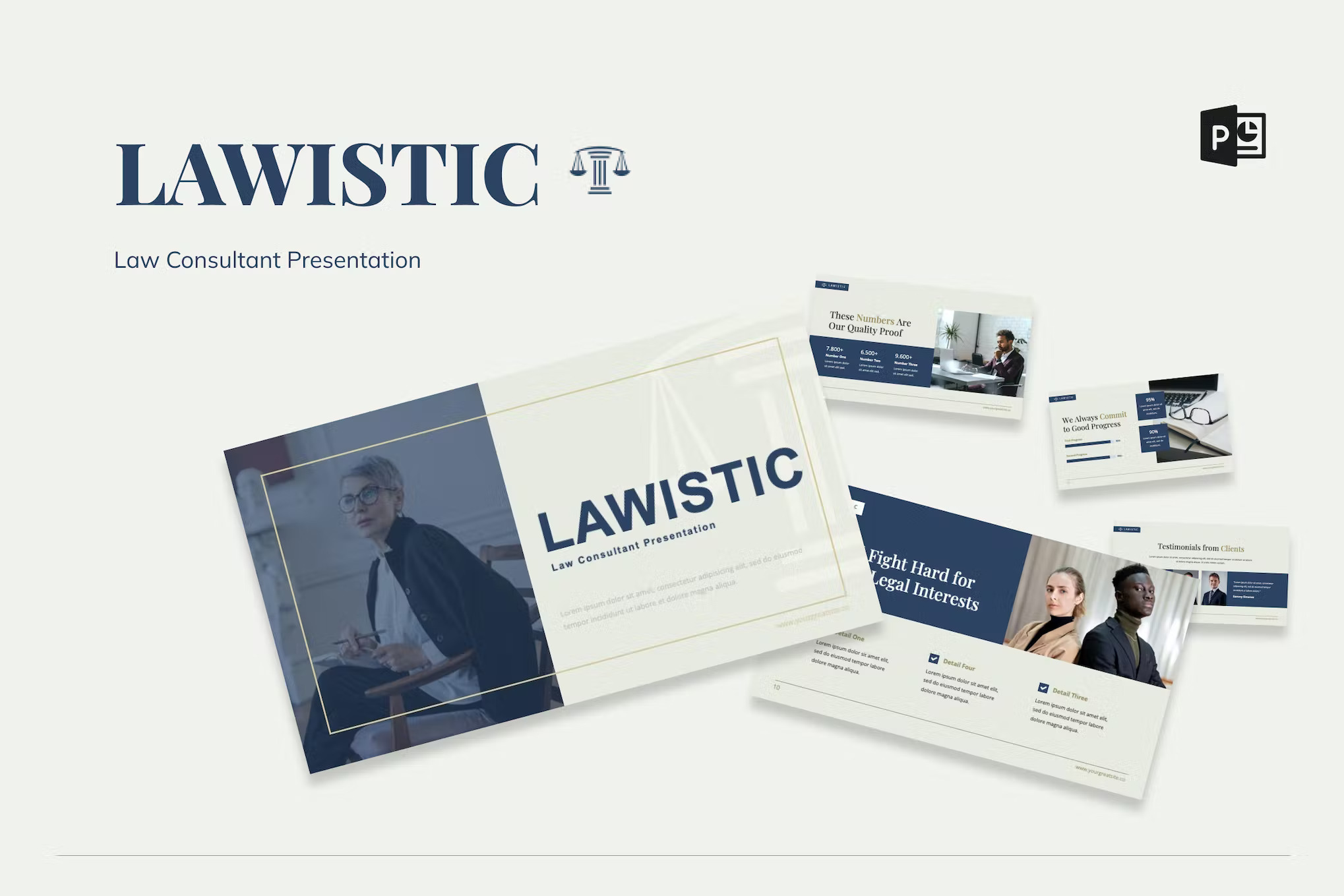 Lawistic is a sophisticated PowerPoint template that can virtually be used for any law presentation. It comprises of 30 slides, painstakingly created by professional designers so you can impress your clients without having to do anything extra.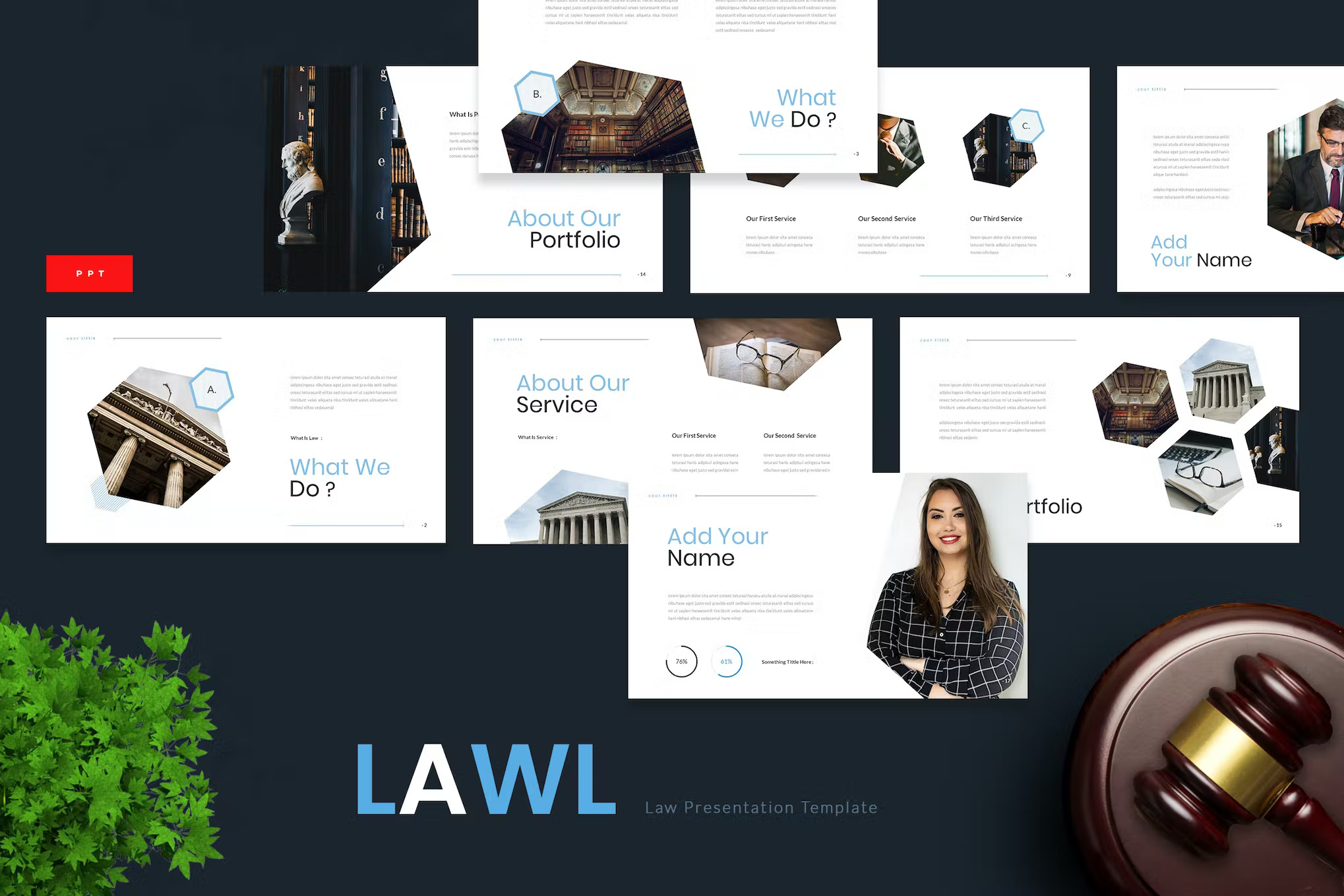 Lawl is a powerful PowerPoint template that will bring new opportunities to your law firm. Its clean and modern layout will engage your clients and get them all curious to know what's coming next. It has 30 slides that can be customized to your liking in just a few clicks.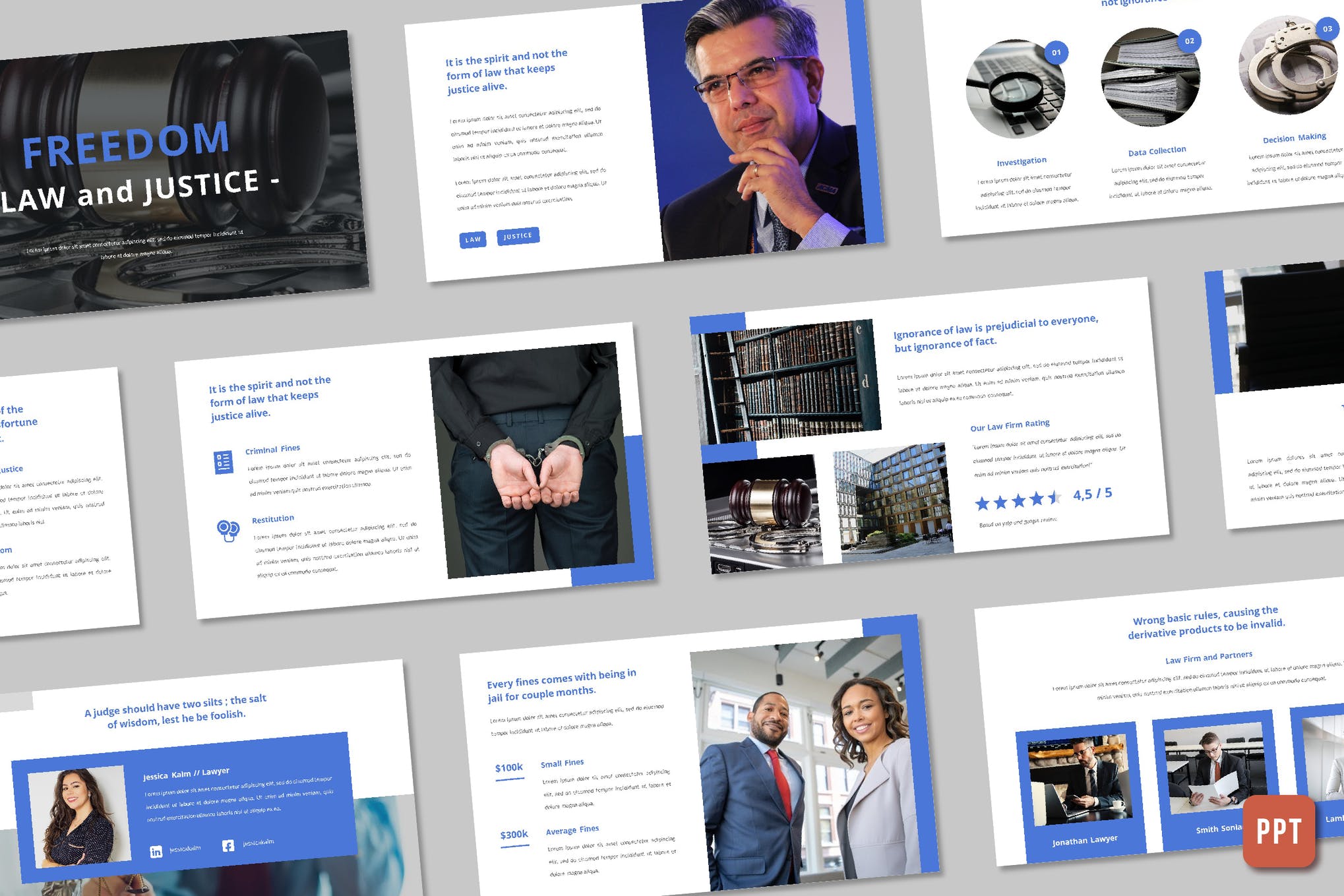 If you're looking for a PowerPoint template that covers nearly every aspect of law and justice, Freedom is well worth checking out. It has thirty slides, three pre-made color schemes, free fonts, and a 16:9 widescreen ratio. When it comes to the best legal ppt templates, Freedom stands at the top of the league.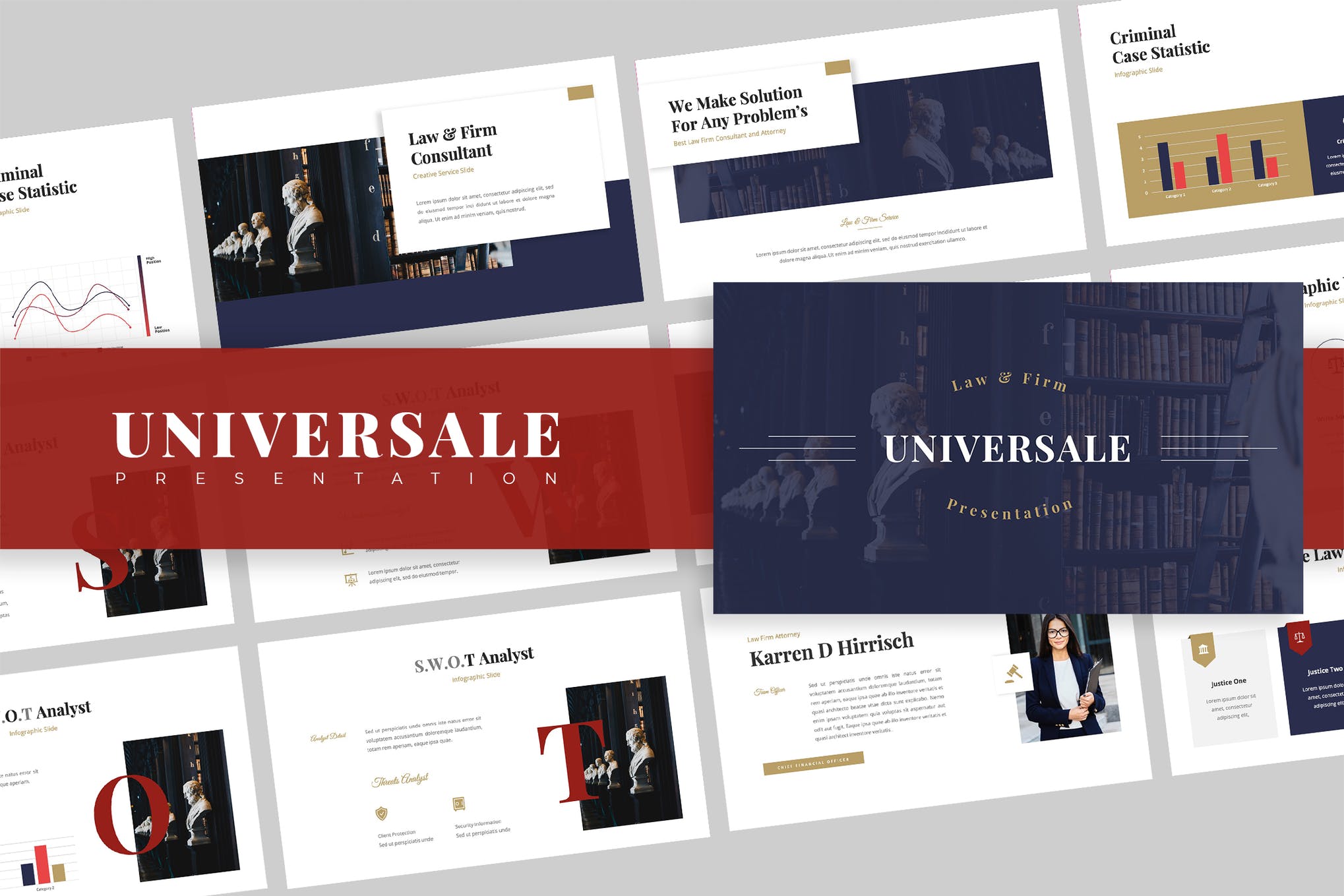 Universale is a clean, and modern PowerPoint template that caters to any firm that's even remotely related to law and order. It features 30 carefully crafted slides, infographics, free fonts, vector icons, and more. If you are on the hunt for the best law ppt templates, Universale is a solid choice.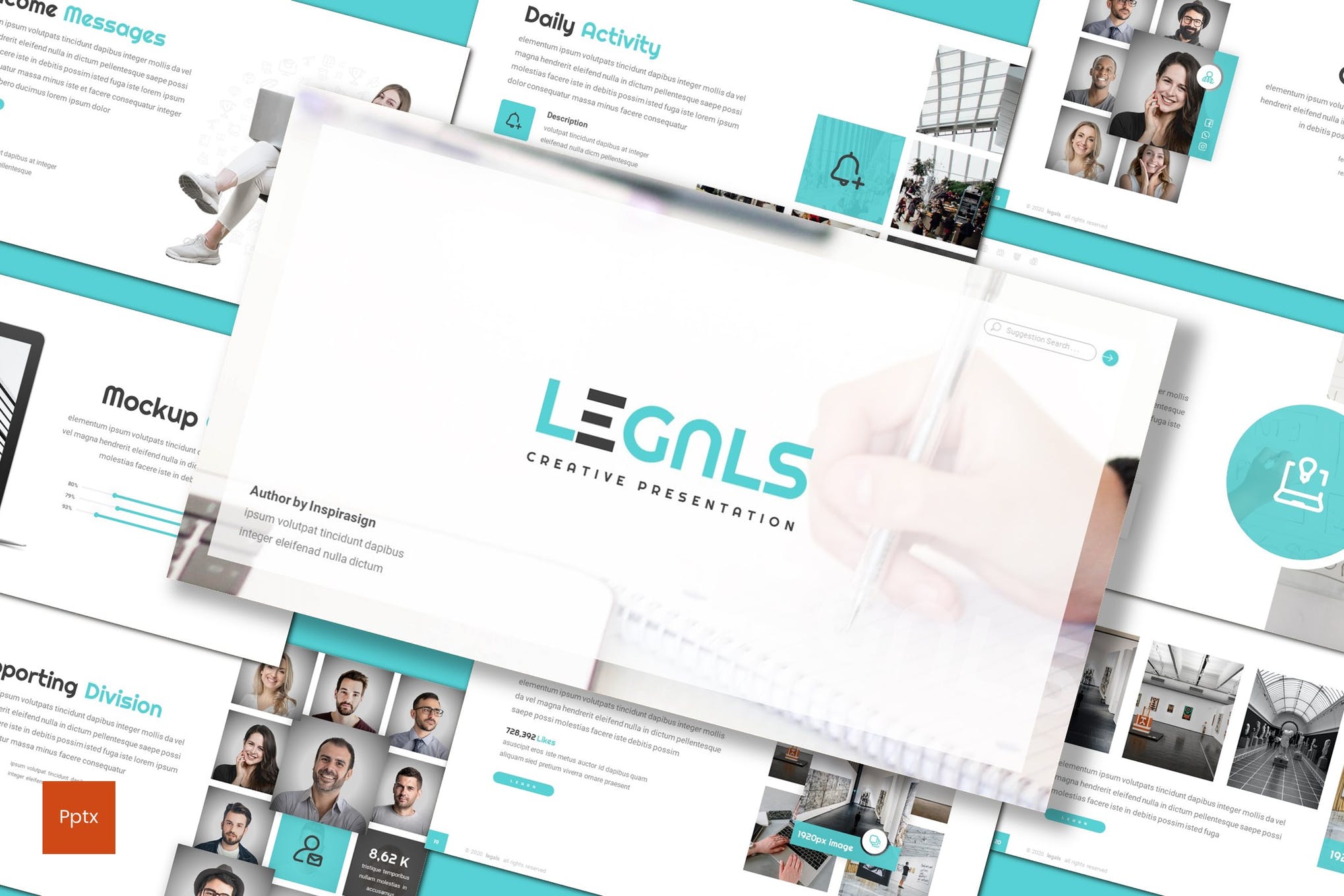 Legals is a fantastic foundation for any legal presentation. Providing you with a sleek and professional range of slide designs, and a multipurpose range of slide applications. The template provides thirty different custom slides, five themes, image placeholders, and much more!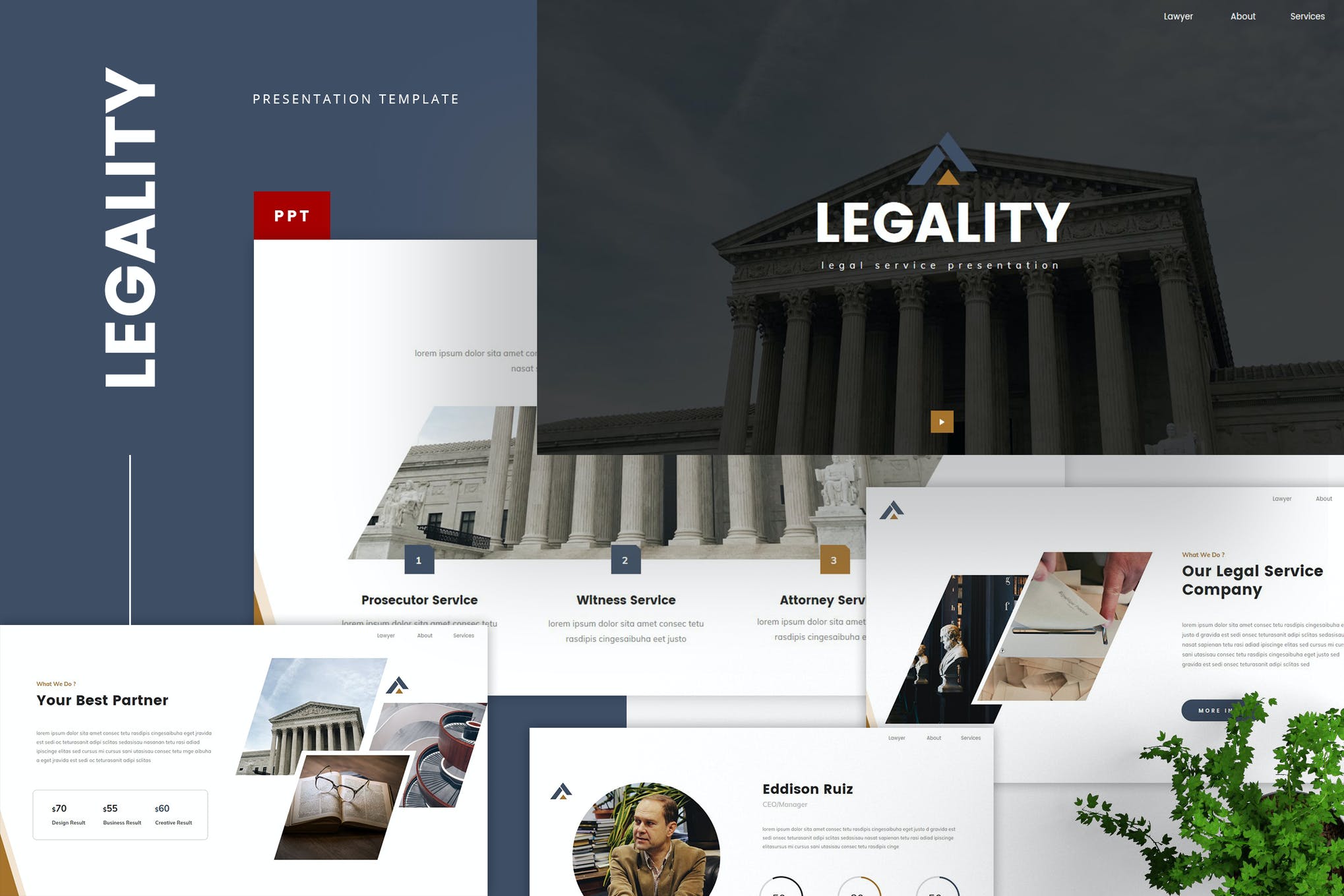 The Legal Service PowerPoint template is a gold standard in the world of legal presentations. It comes with an ultra-modern aesthetic and consists of thirty custom slides that are great for corporate pitches, business portfolios, or general legal presentations. A perfect choice for a professional context.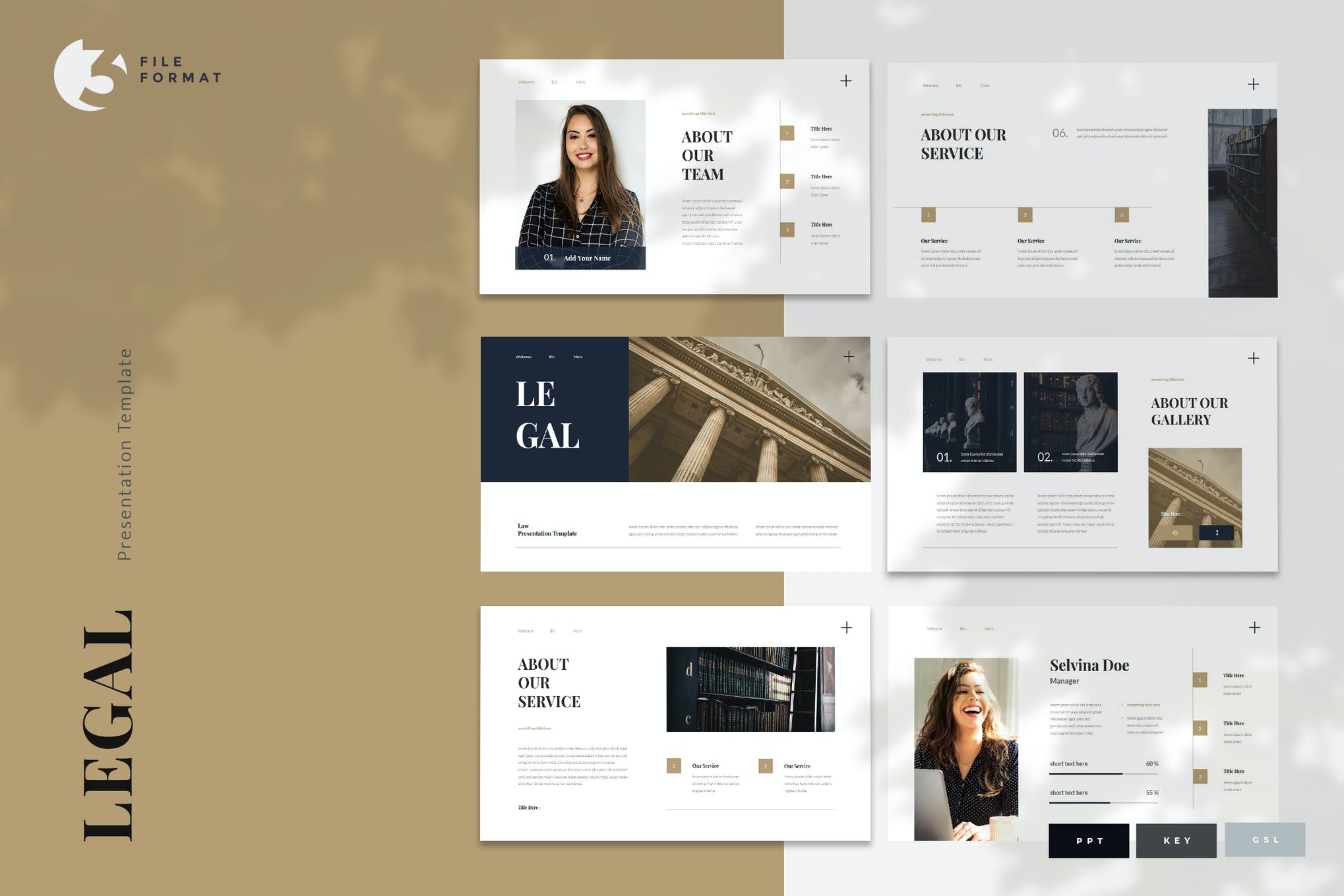 Bring a touch of elegance to your legal presentation with the Legal Law Presentation Template. A regal styled legal template that has no shortage of style. The template provides thirty custom slides, a range of vector icons, a free font pack, and more!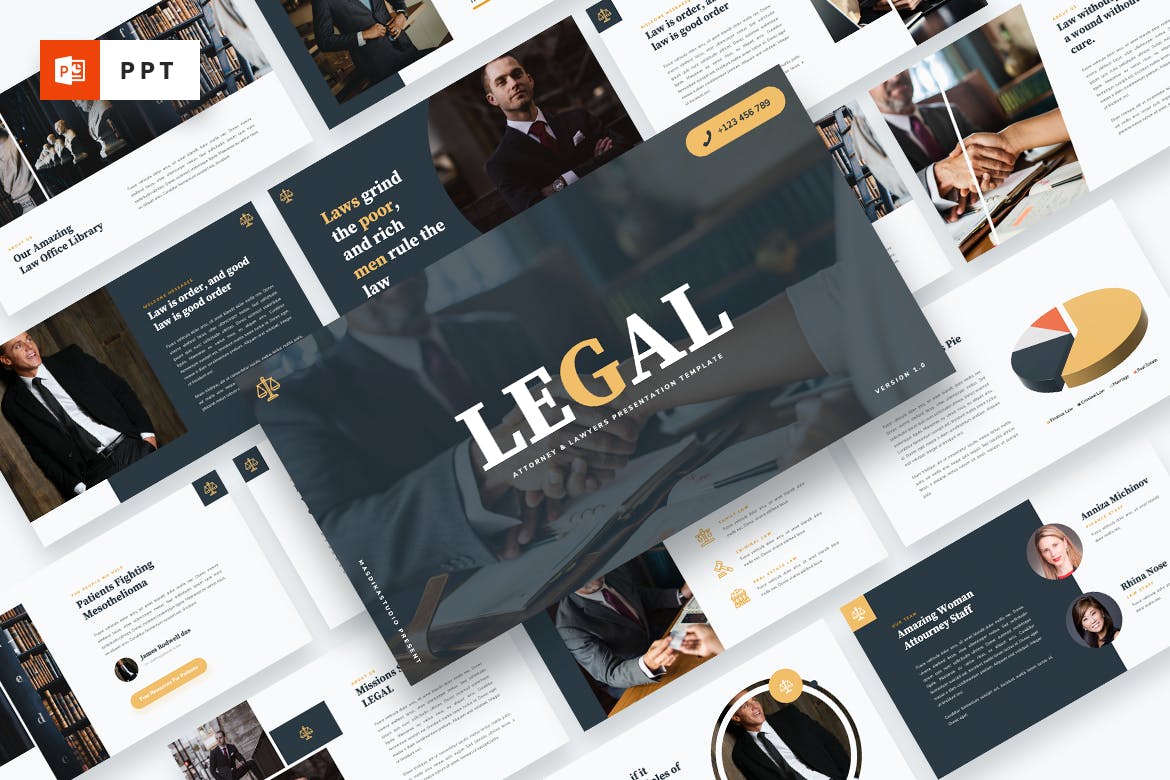 Prime Legal is an ultra-modern and unique legal presentation template. Providing you with the sleek professionalism that helps to set legal presentations apart from the rest. The template comes loaded with options, including fifty custom slides, a range of themes, image placeholders, a free font, and a selection of master slides.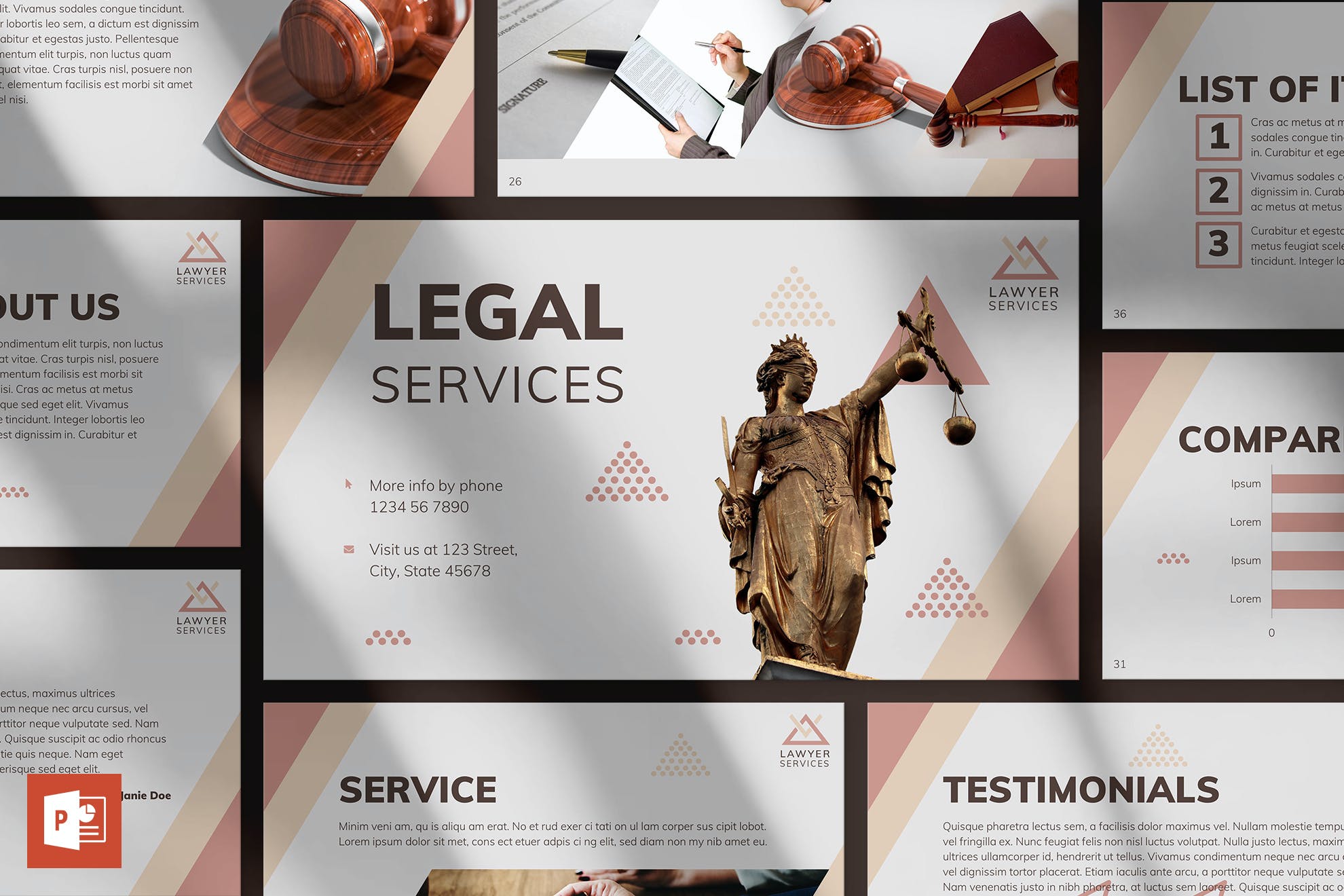 This Legal Servers PowerPoint Presentation Template takes a more trendy and unique aesthetic approach to their slide designs, providing a great style that is sure to impress. The template includes fifty unique slides, a range of themes and animation options, as well as much more for you to enjoy.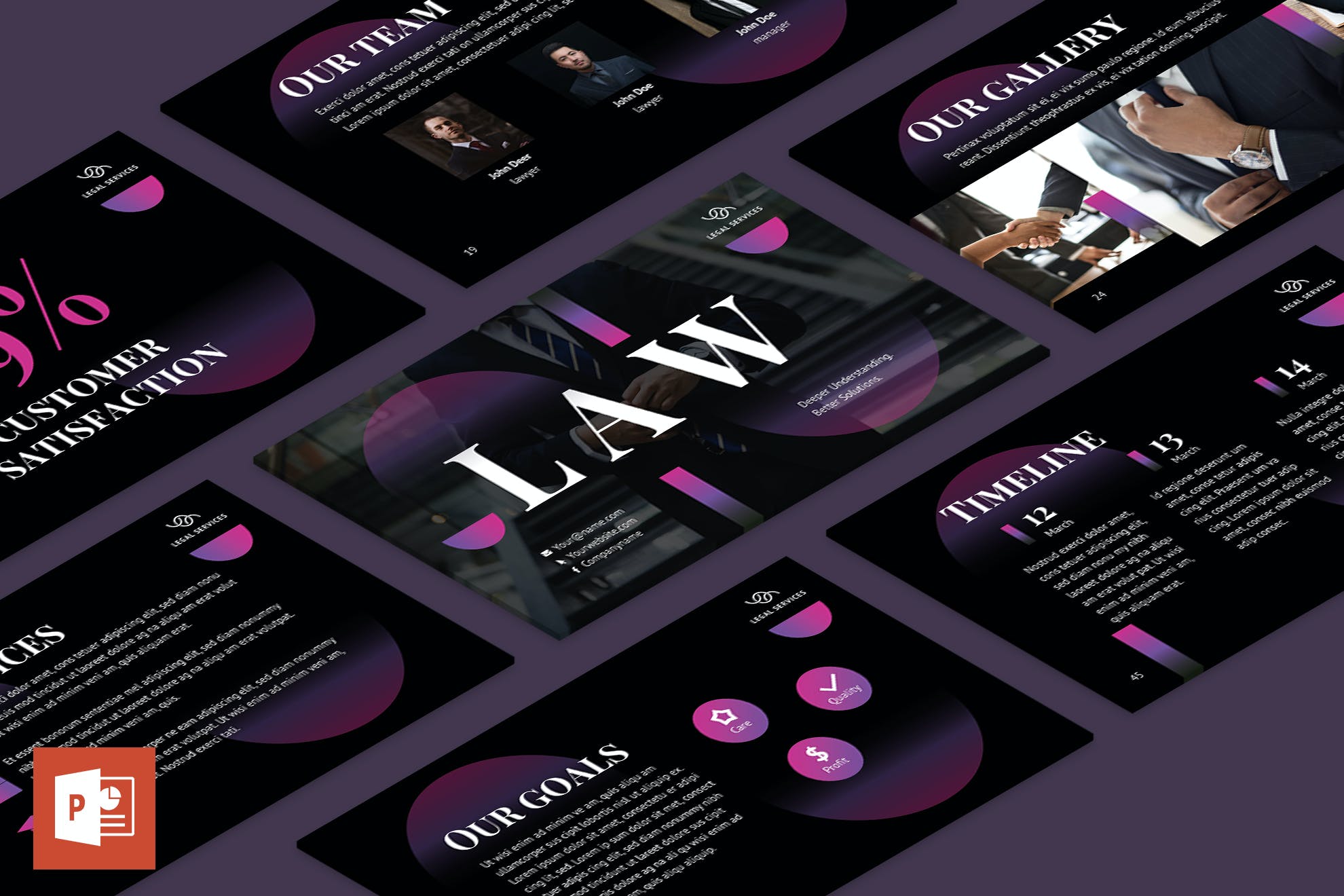 Here we have a creatively designed law PowerPoint template featuring 50 slides, totally customizable to fit all of your requirements. If your aim is to create a presentation that instantly grabs your audience's attention, this product is the right choice.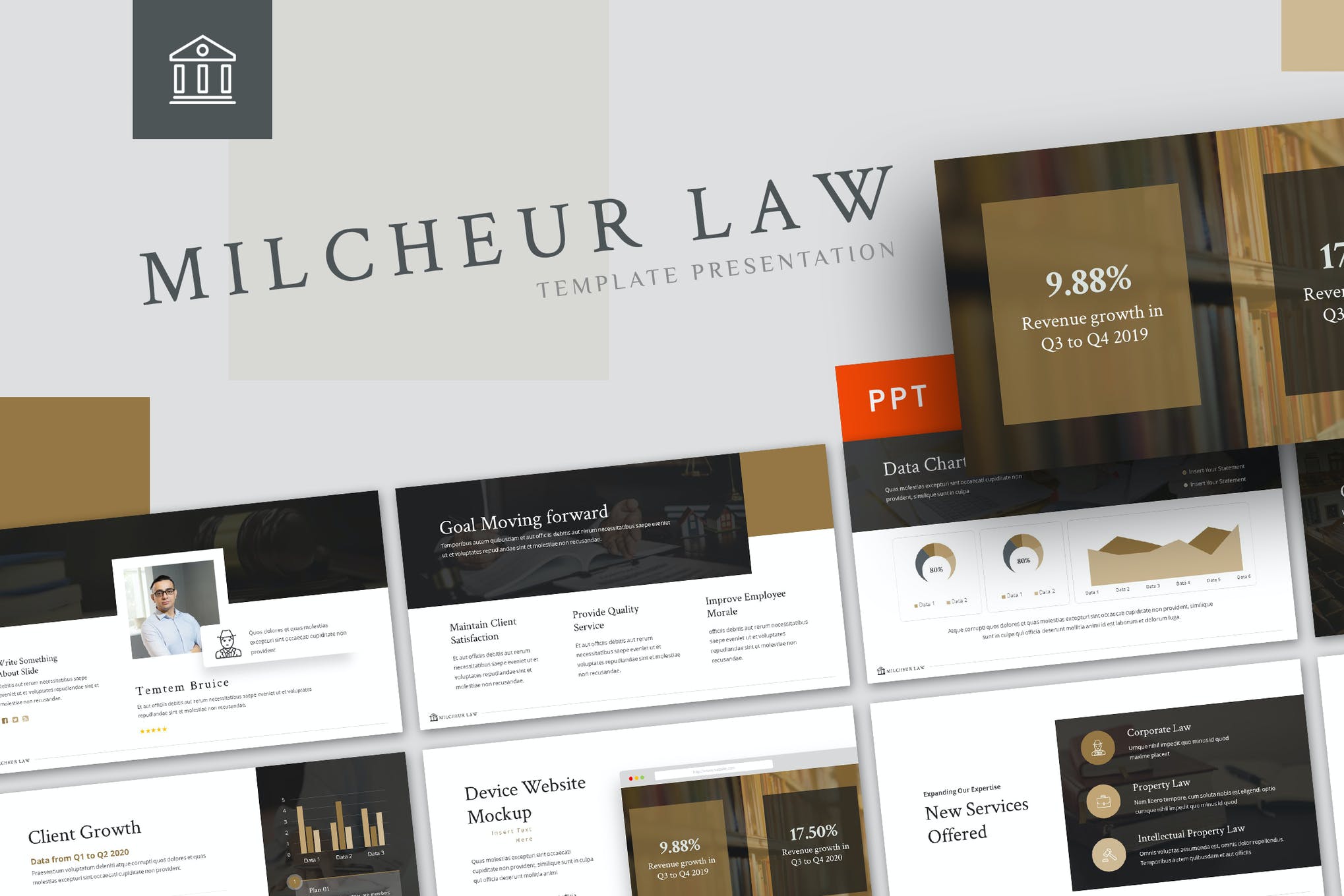 Milcheur is a gorgeously designed law PowerPoint template, using a wooden aesthetic and a professional cream slide design. A gold standard in the world of professional legal template designs. It provides you with thirty custom slides, and a range of customization options to keep you busy.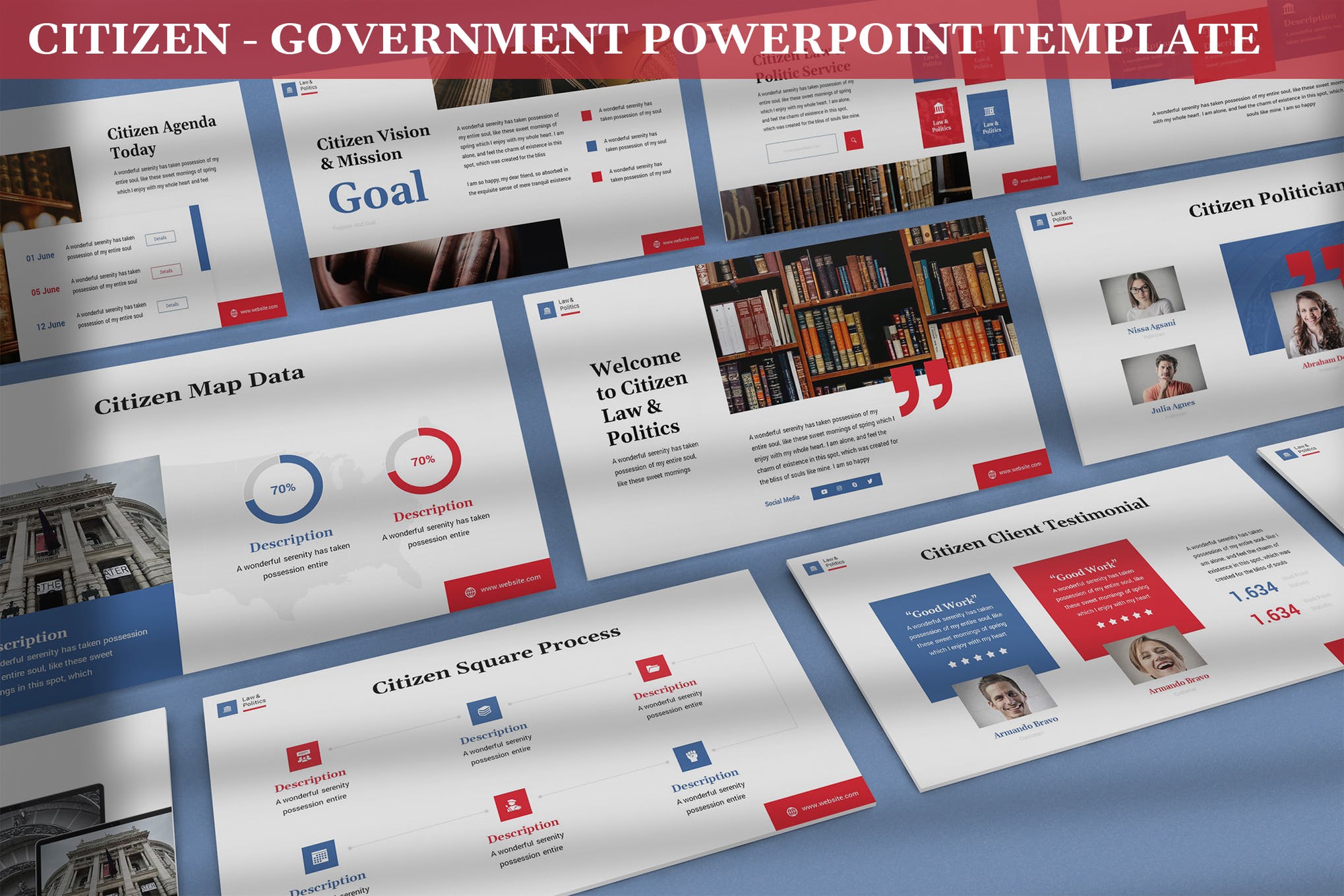 If you're creating a legal presentation for Government use, then look no further than Citizen. A simple, yet effective, government style legal presentation format. It provides you with thirty custom slide designs, a range of master slides, as well as much more!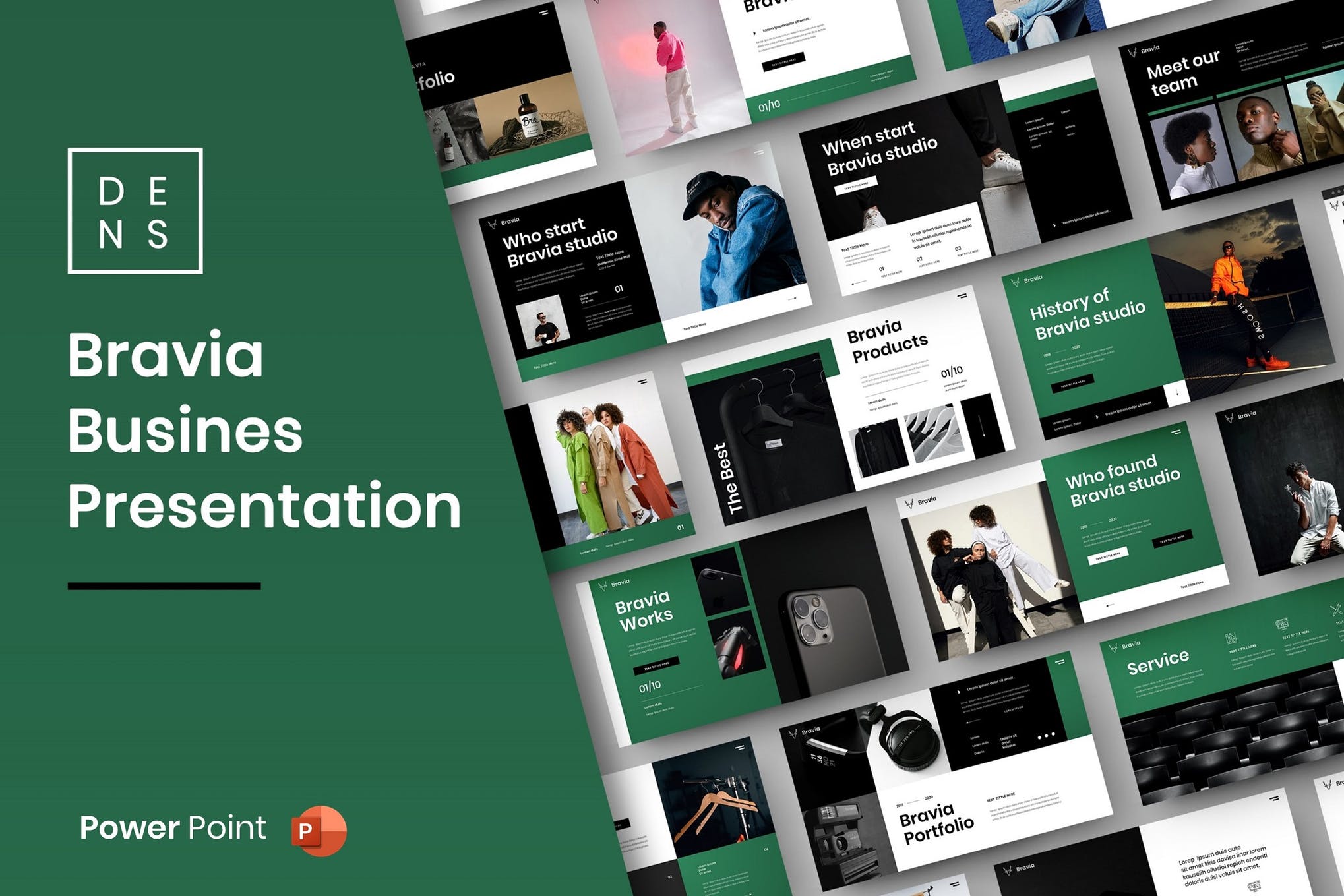 Whilst Bravia is traditionally a business PowerPoint template, it is based on a multipurpose foundation. Allowing it to be an incredibly useful template for legal applications. It uses a sleek and modern black, white, and green slide aesthetic which is truly impressive to look at.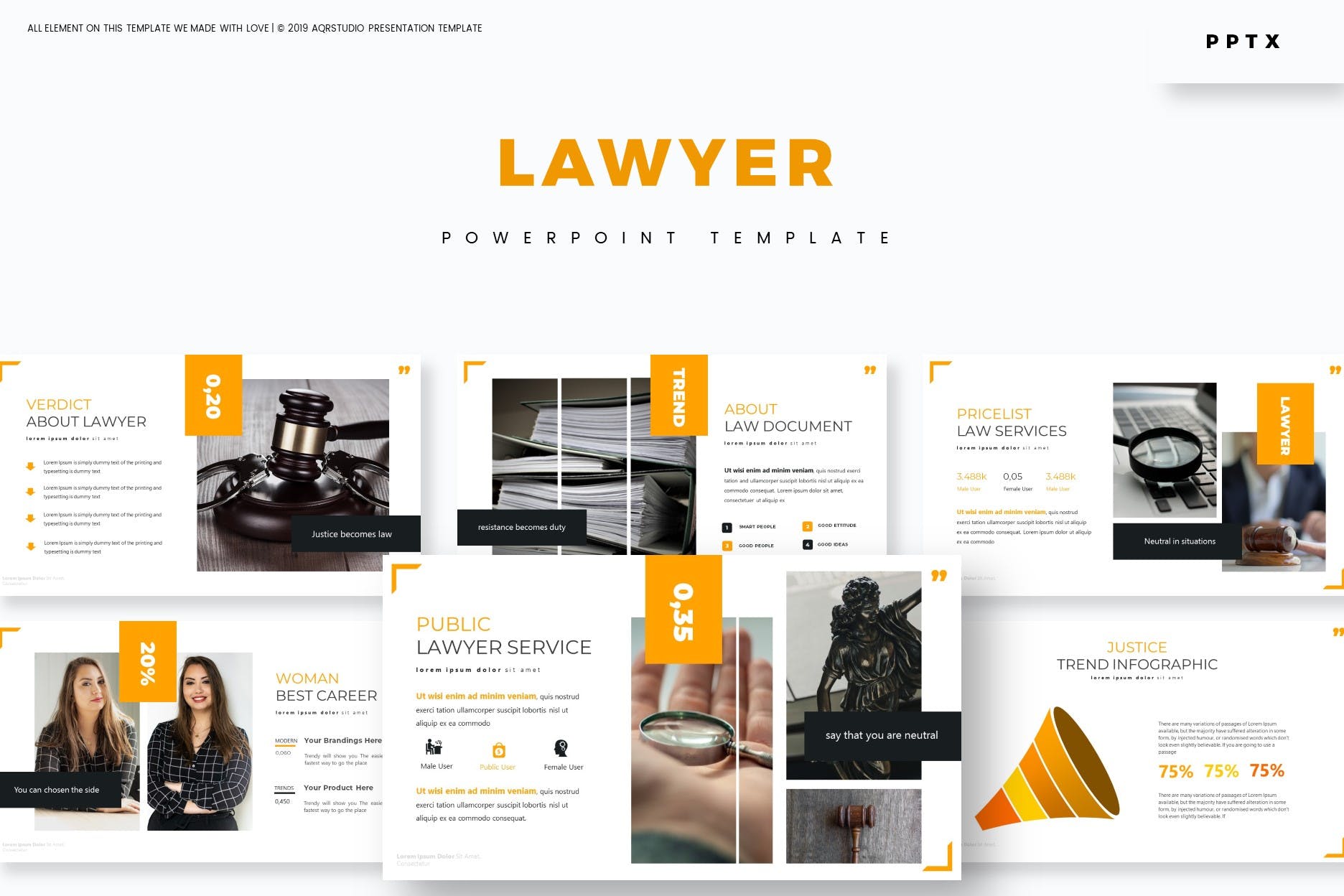 The Lawyer PowerPoint template is a simple, minimalistic template design that provides you with a solid foundation to create a stunning legal presentation with ease. The template provides you with over one hundred and fifty slide designs, spread across five iconic themes.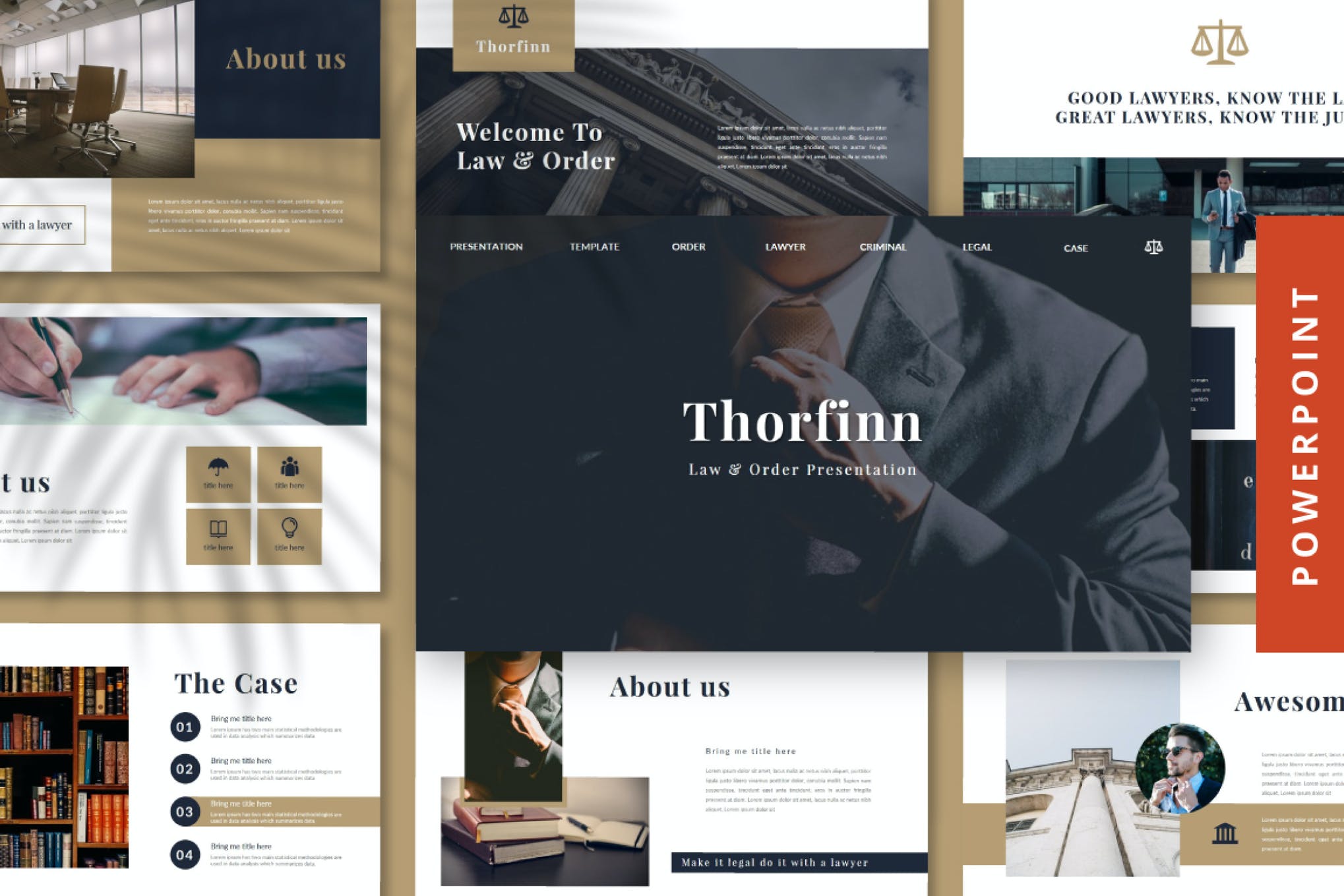 Thorfinn is one of those template designs that is simply captivating to look at. Using an ultra-modern design, mixed with a sleek and professional slide aesthetic, this template is sure to impress any group you put it in front of. The template provides you with thirty custom slides, a range of master slides, and customization options to keep you busy.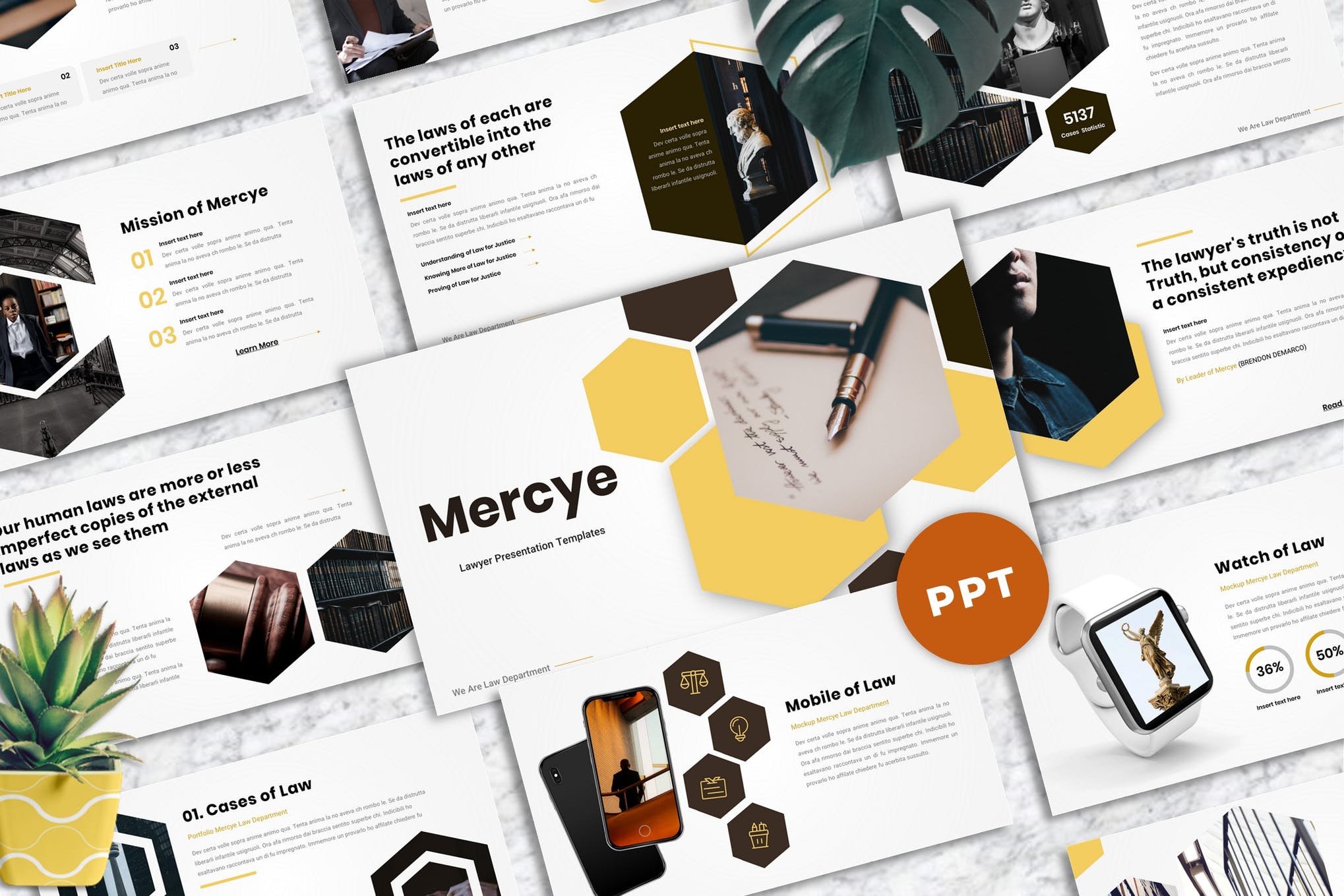 Mercye is a fantastically tailored multipurpose legal PowerPoint template. The slides use a simple professional design, and comes with a range of graphics and icons that compliment the style perfectly. There are forty master slides, a range of image placeholders, and custom icons for you to enjoy.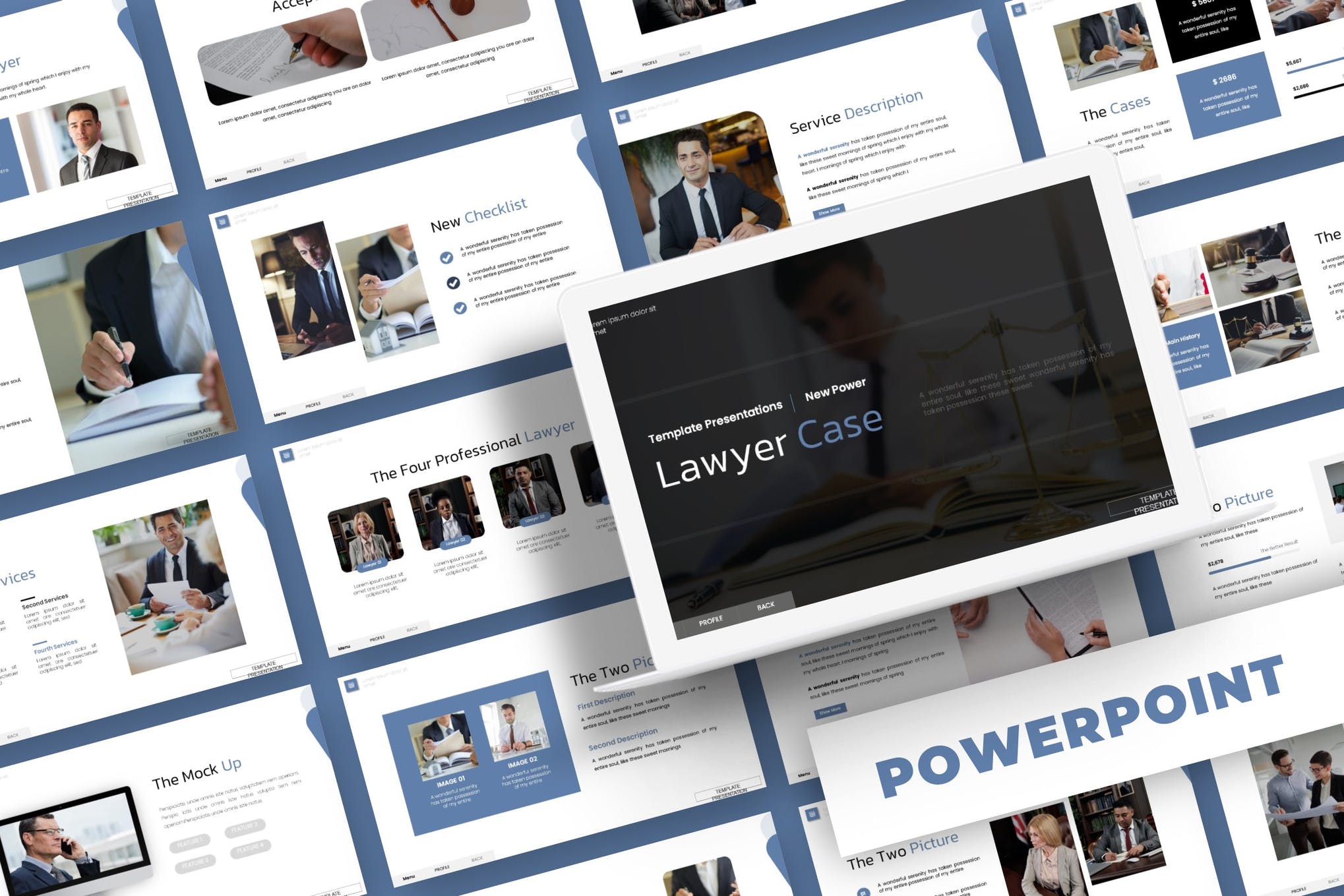 Lawyer Case is a versatile legal PowerPoint template that uses a simple minimalistic design, perfect for professional applications. The template itself excels at portfolio use, internal pitch meetings, and client presentations. There is a massive range of one hundred and fifty slides to choose from, with many customization options to keep you busy.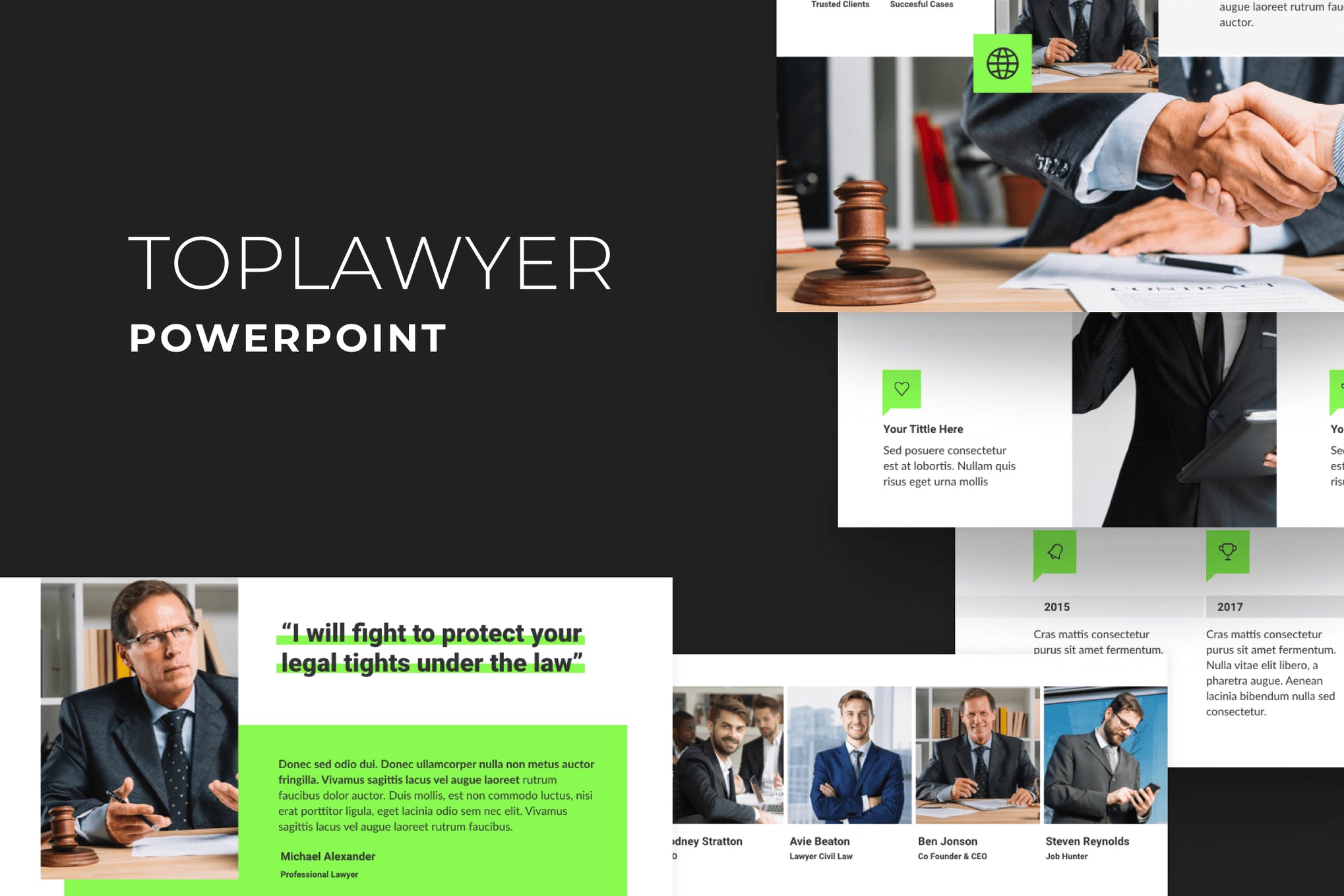 TopLawyer is an extensive legal PowerPoint template, striving to provide all of the custom slide options you'd ever need in the legal field. There are over two hundred different slides, each tailored with the same clean and professional design.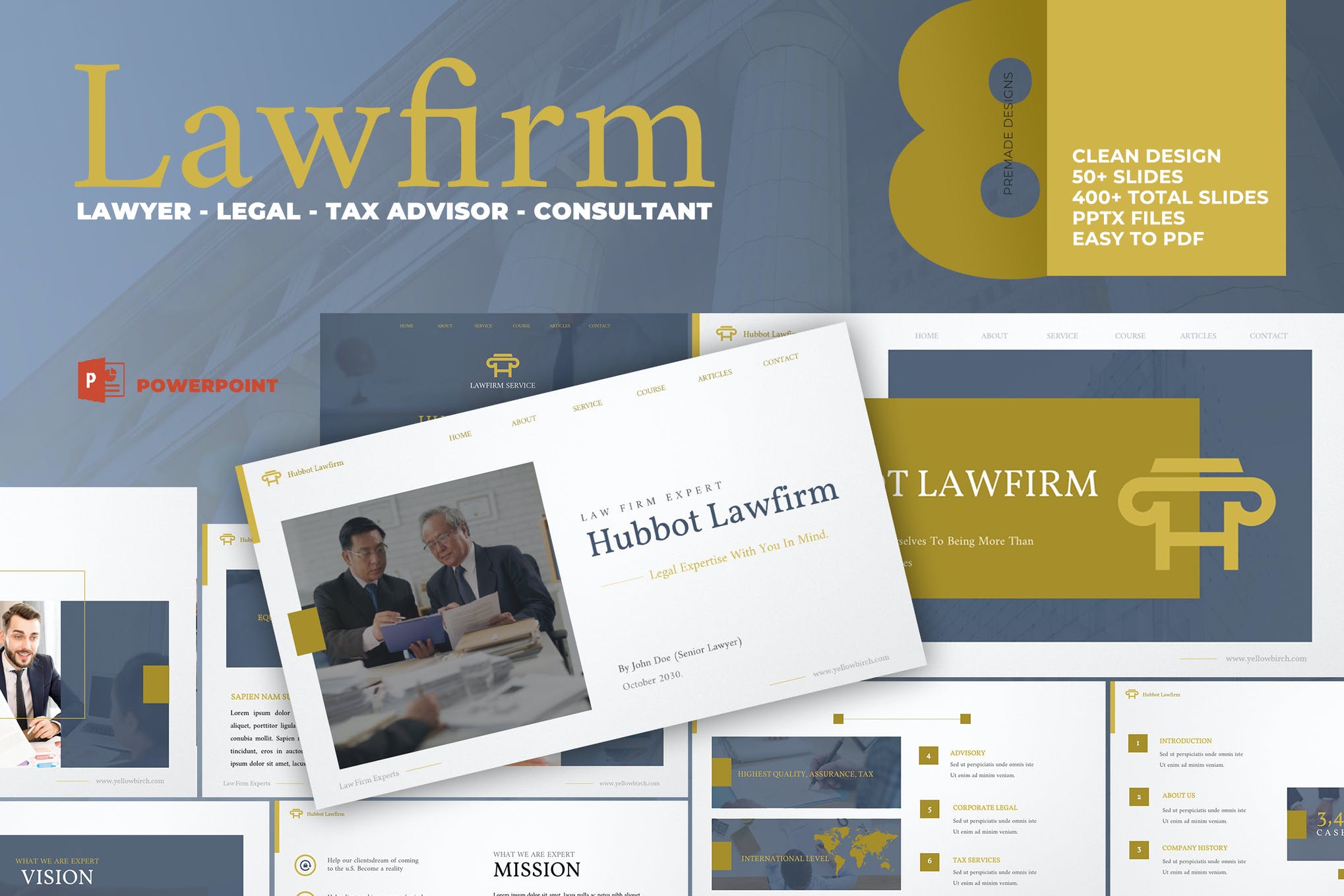 Lawfirm is a professionally designed attorney presentation template, designed for high-end professional applications. It comes with a fully editable template structure, fifty custom master slides, and over four hundred slide template designs for you to enjoy.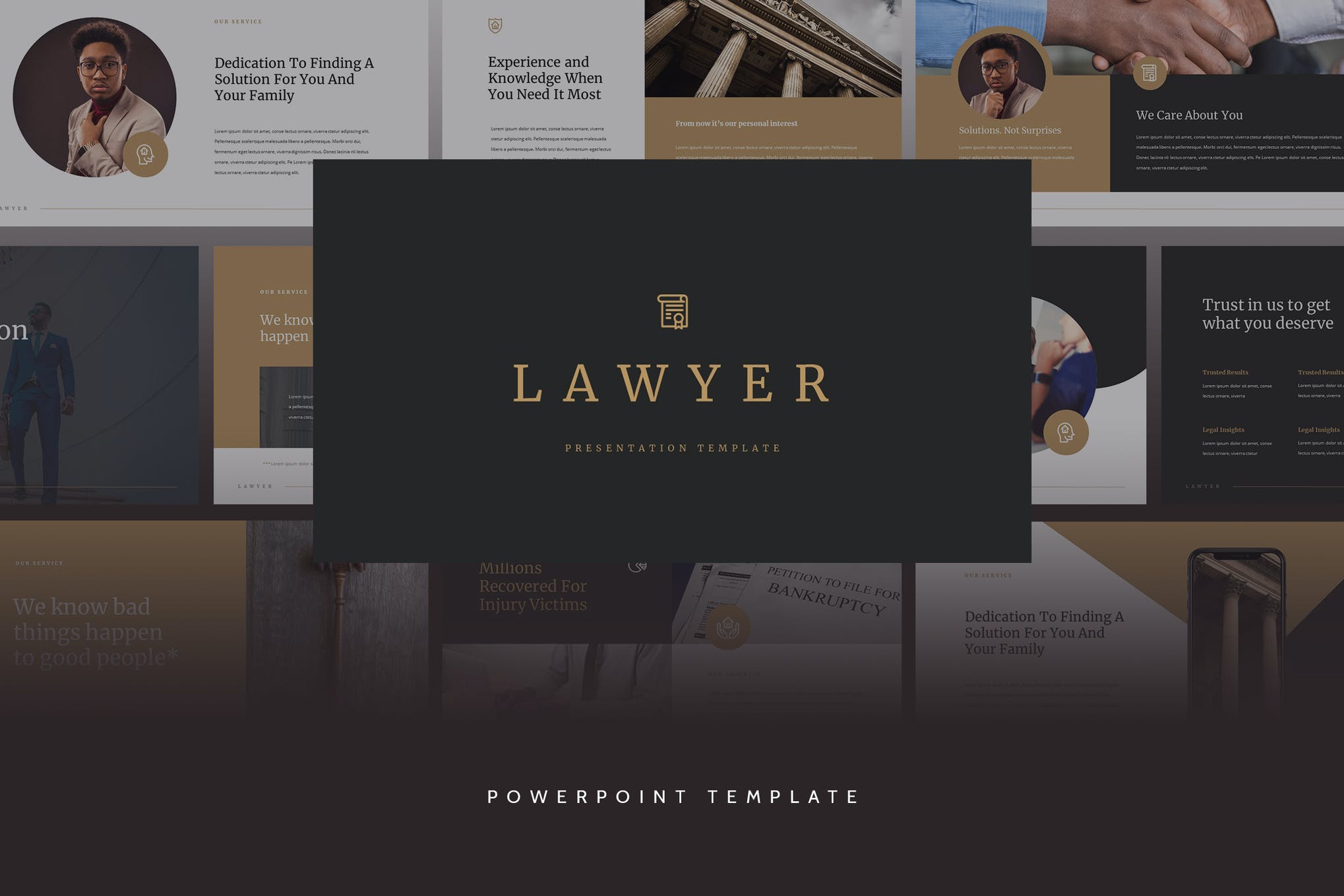 Bring a touch of elegance to your legal presentations with this Lawyer presentation template. Each slide comes with a clean and sleek ultra-modern design, with slides tailored towards strictly presentation use.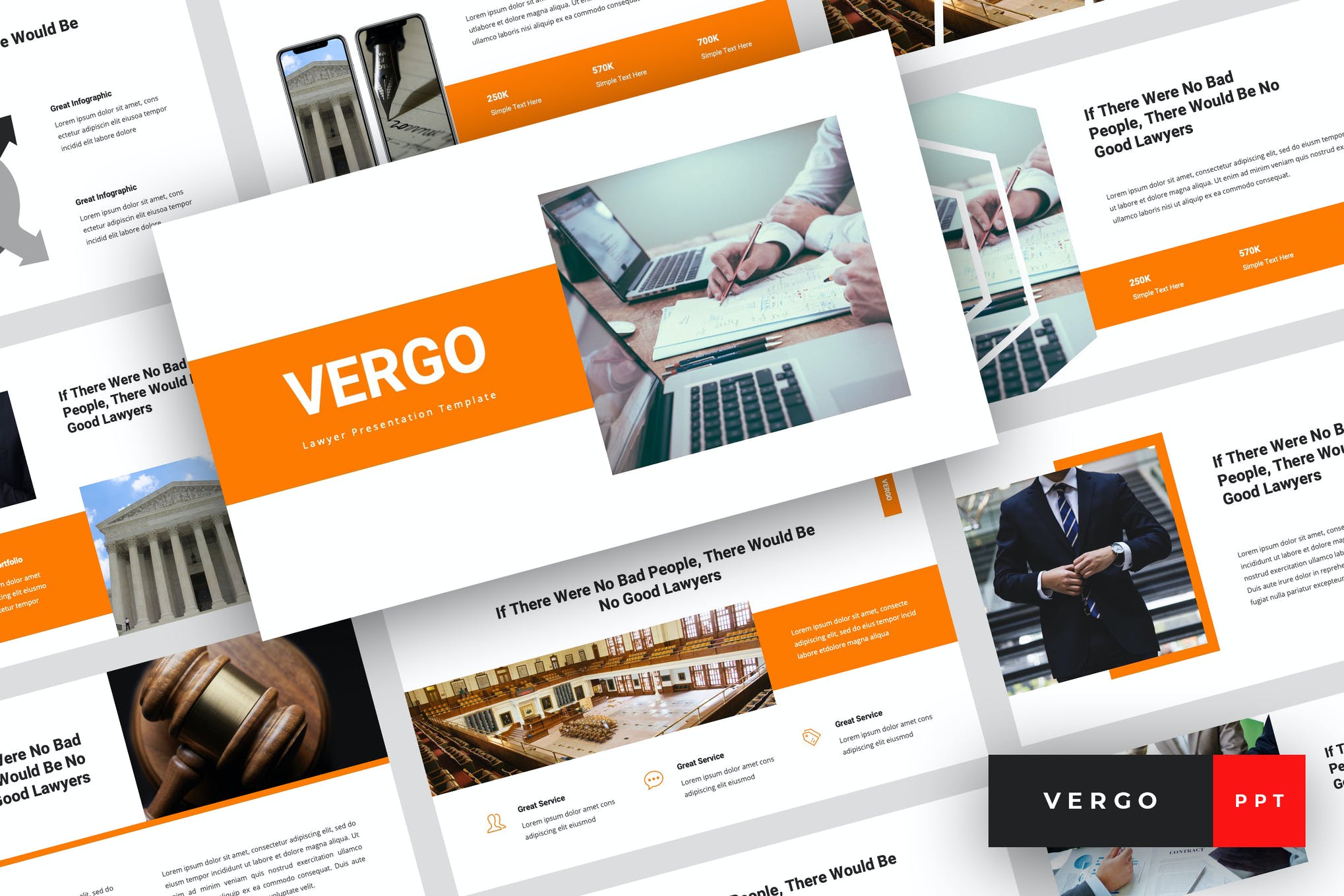 Vergo is a much more traditional office-style presentation format, providing you with a versatile template that can meet almost any professional application need. The template itself consists of thirty-six slides, a range of image placeholders, and a fully editable foundation for you to work with.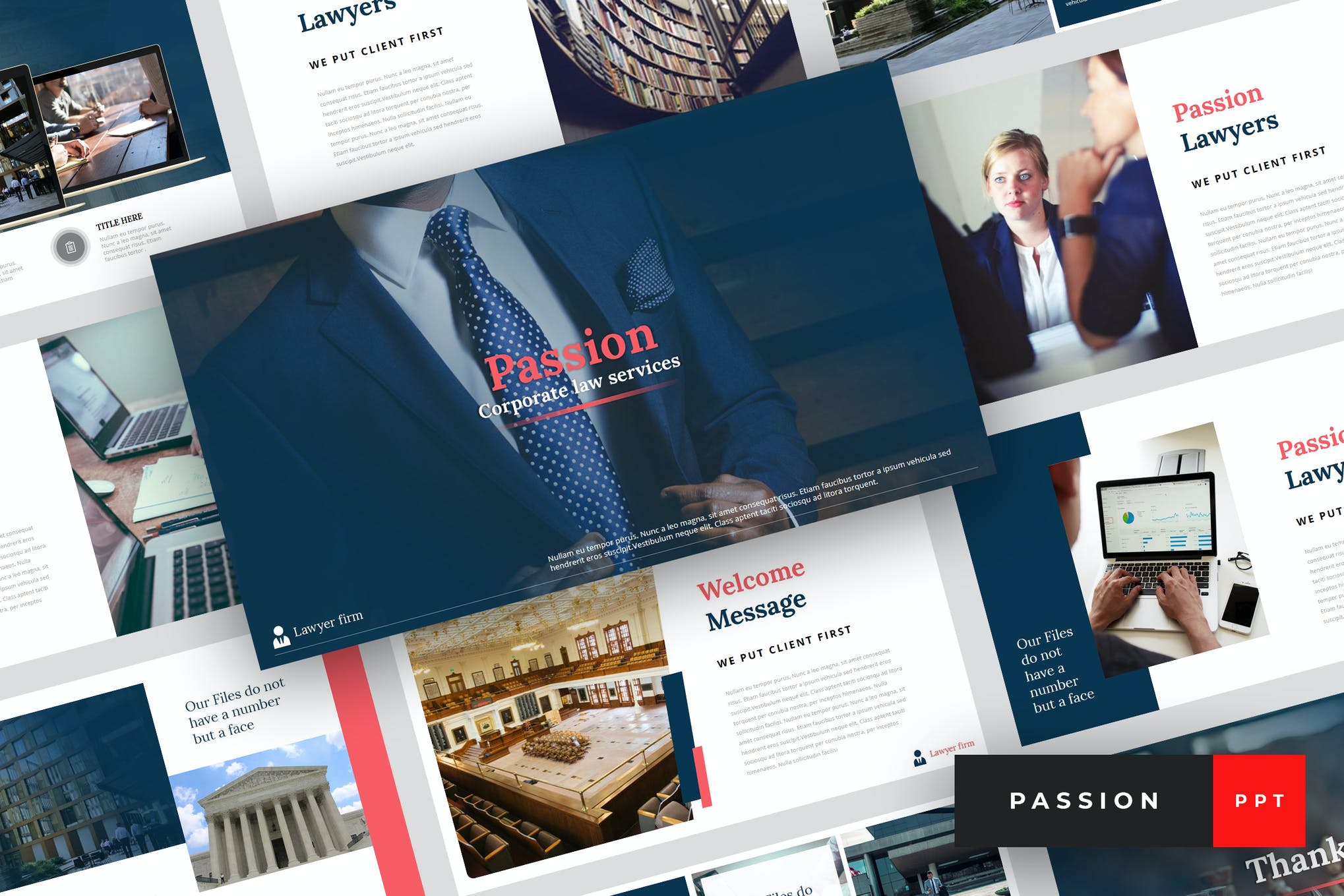 Show off a little with the Passion template, a gorgeously designed ultra-modern and clean legal presentation template. Each slide uses a 50:50 image to text ratio and comes with a range of customization options to help you tailor the template to your own applications.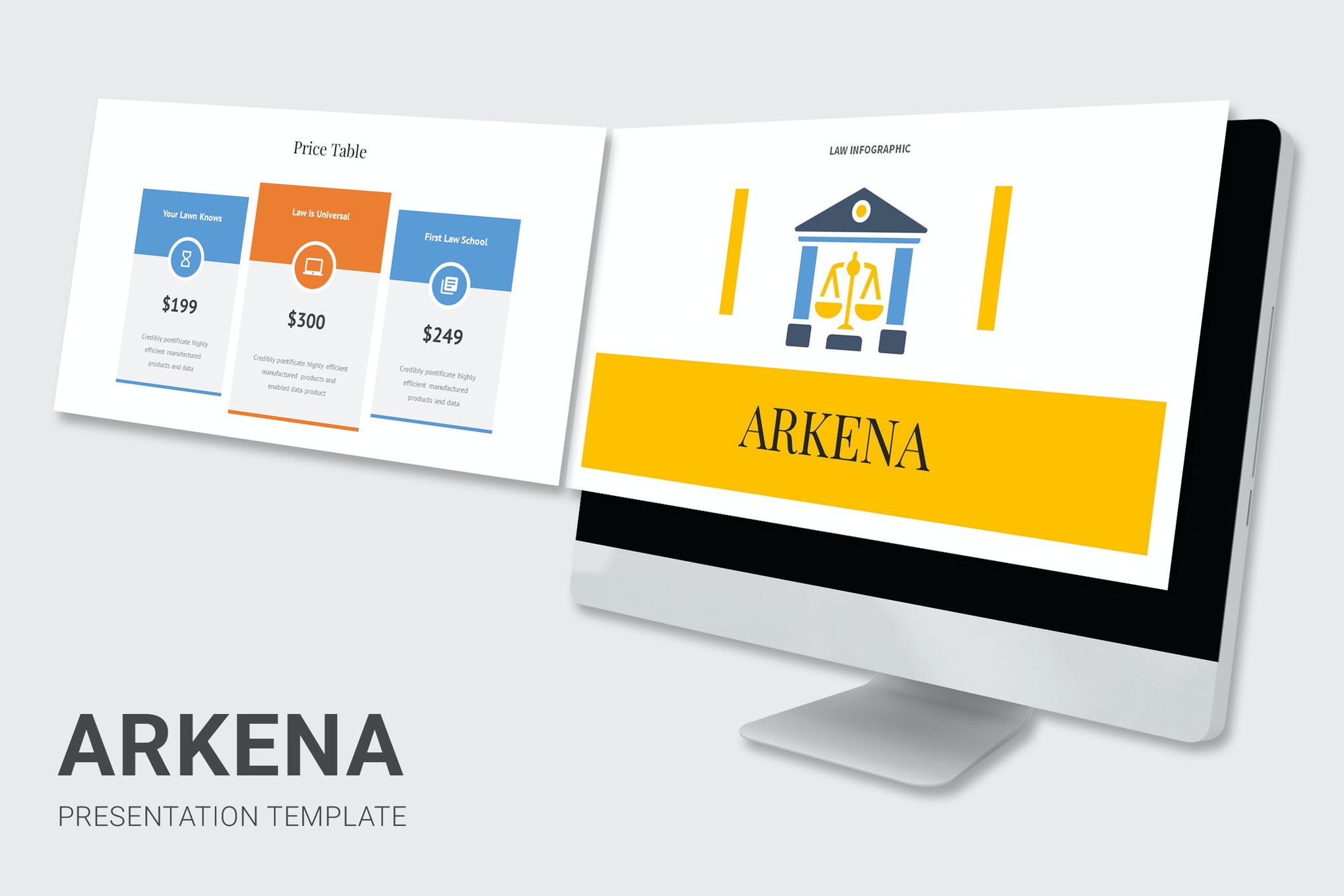 This presentation slides can help you reduce the anxiety involved with giving a presentation. Well-designed slides not only build your own confidence, but they also make your key points clearer to the audience.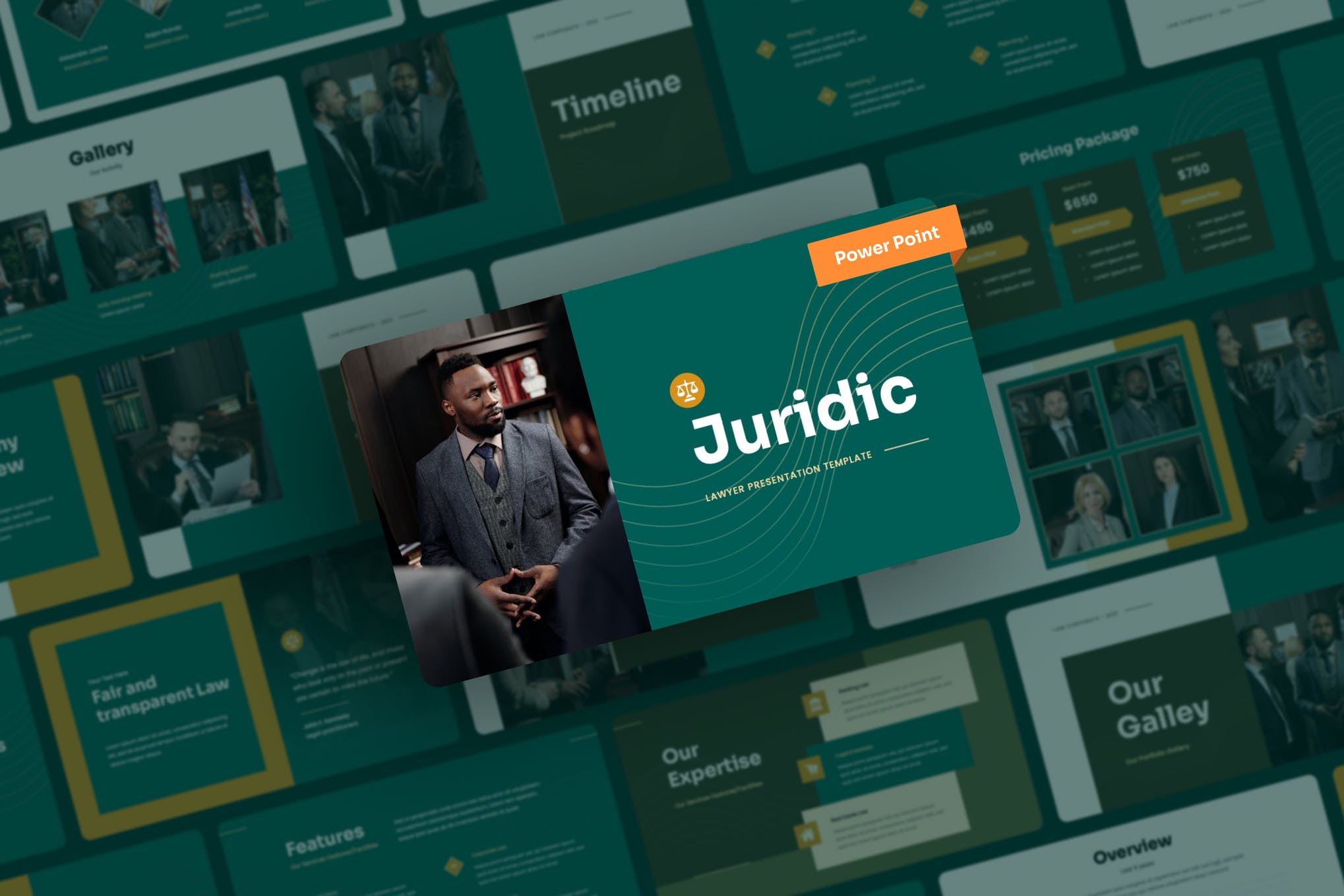 Juridic is a clean and professional presentation template that can be used for law & legal needs.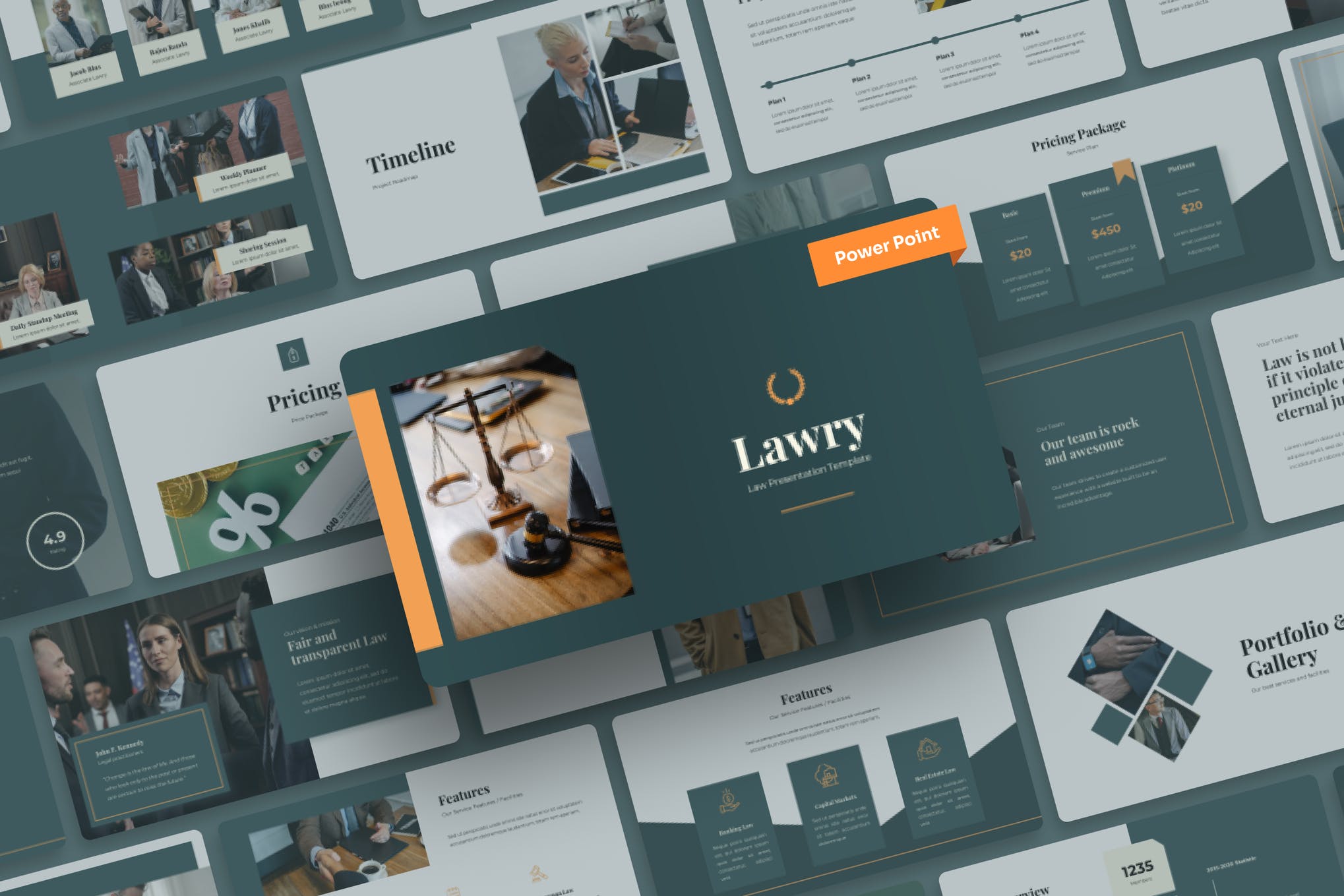 Lawry is a presentation template that can be used for a law firm. This template can also be used for various purposes, such as consultants, pitch deck investors, and other businesses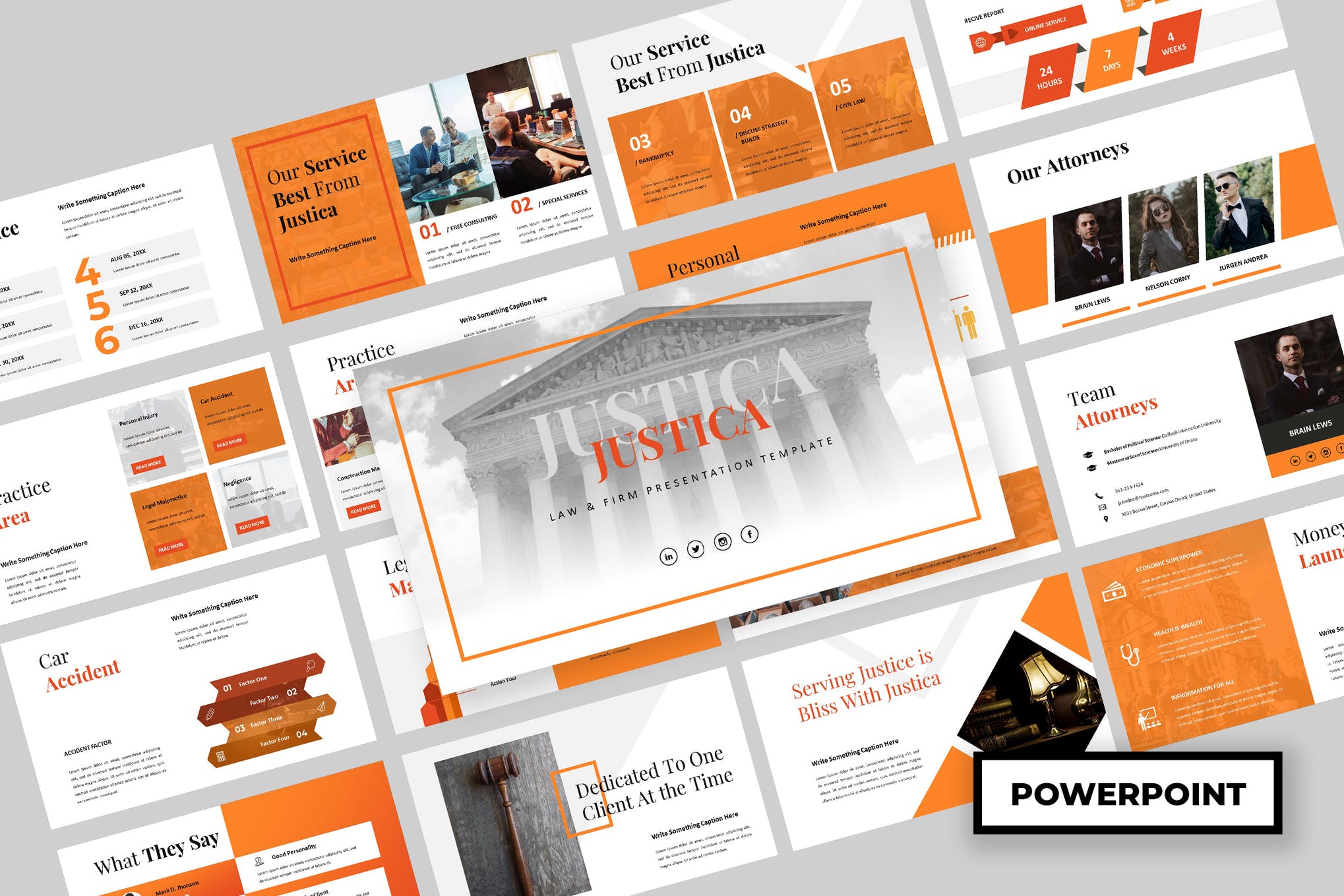 This clean and creative layout gives you many possibilities for creativity. There is no need to use any additional software. You can edit easily this presentation. It's 100% customizable, all shapes are resizable, with no quality loss, removable and editable.
Free Legal PowerPoint Templates
You don't have to spend a pretty penny to get your hands on some great legal PowerPoint templates. Let's take a look at some free options that stand out among the crowd.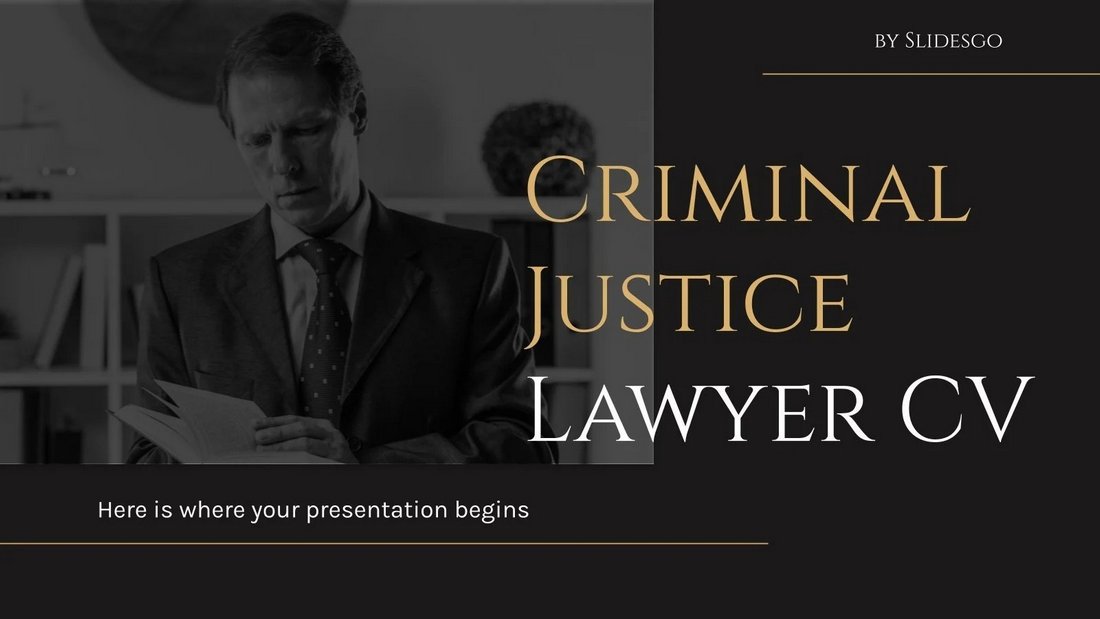 You can use this free PowerPoint template to design a professional CV presentation for lawyers. It has 22 unique slide layouts featuring dark and creative content designs. The template is available in Google Slides format too.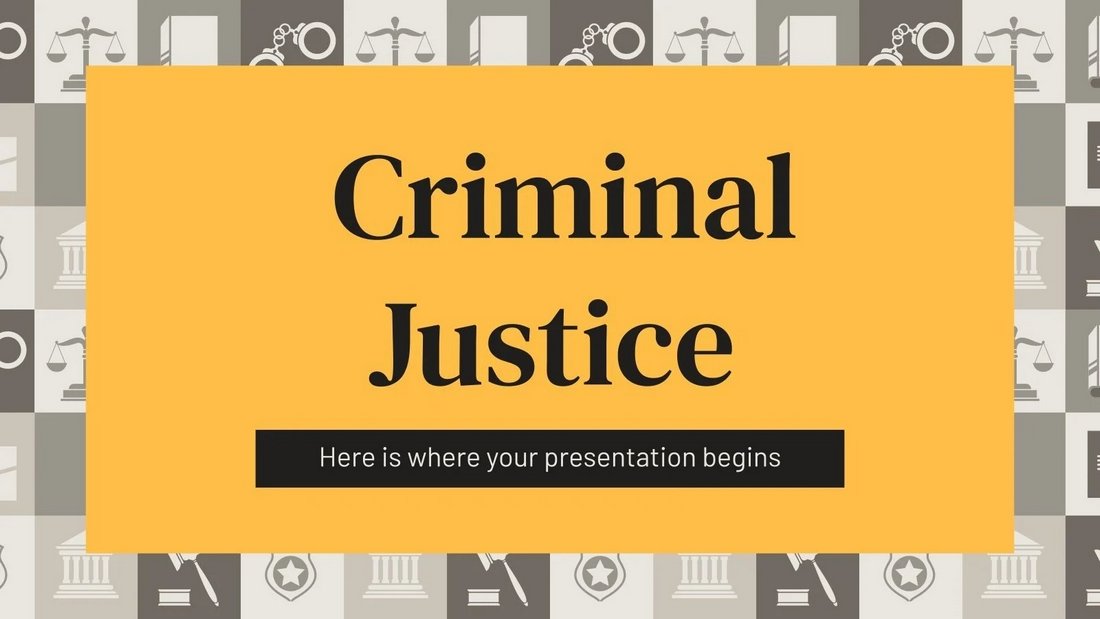 This free PowerPoint template comes with a creative and attractive slide design. It's perfect for designing slideshow for a speech or event related to criminal justice. There are 36 different slides in the template.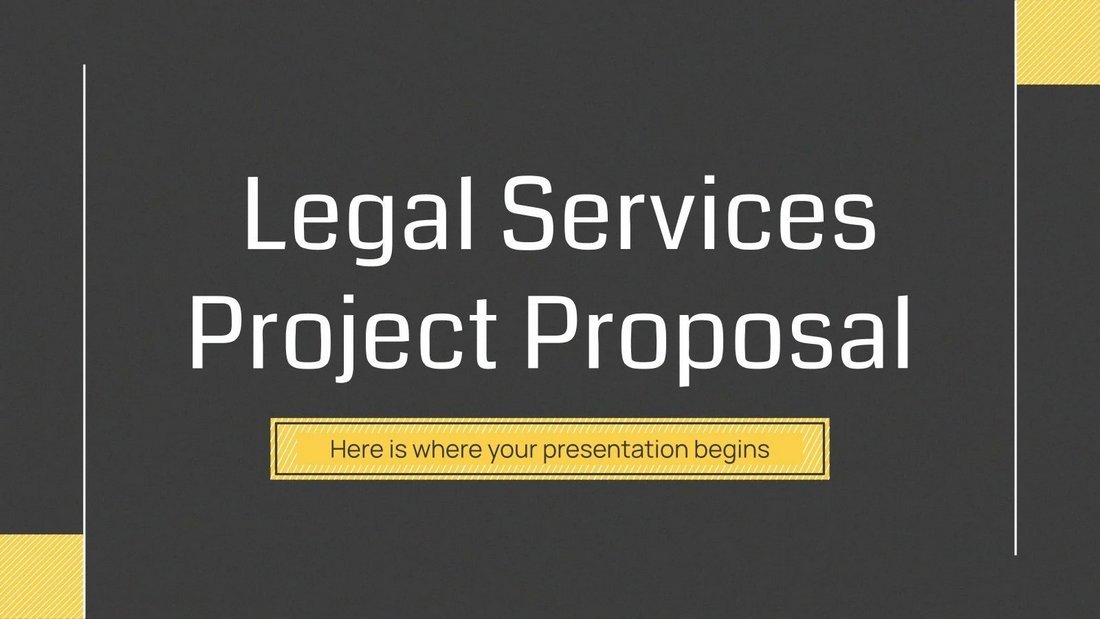 Craft a simple presentation to showcase your proposal for legal services using this free PowerPoint template. It has simple and clean slide layouts with professional content designs. The template includes a total of 29 slides.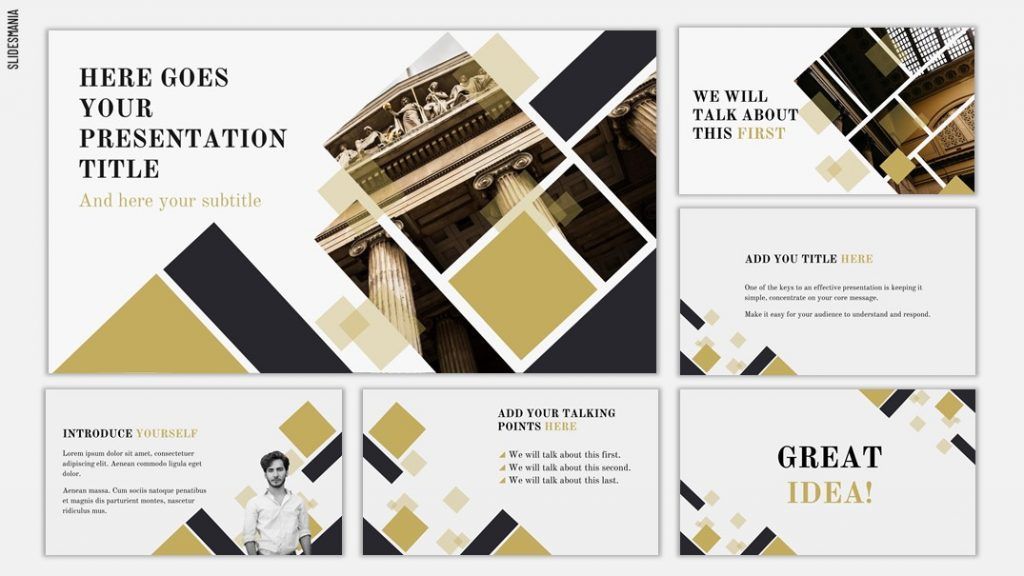 Whether you need a PowerPoint template for a legal firm or a lecture about law and order, Spelman can be of great help. It contains a range of simple yet eye-catching slides that can be tweaked as much and as little as you'd like. Grab it today!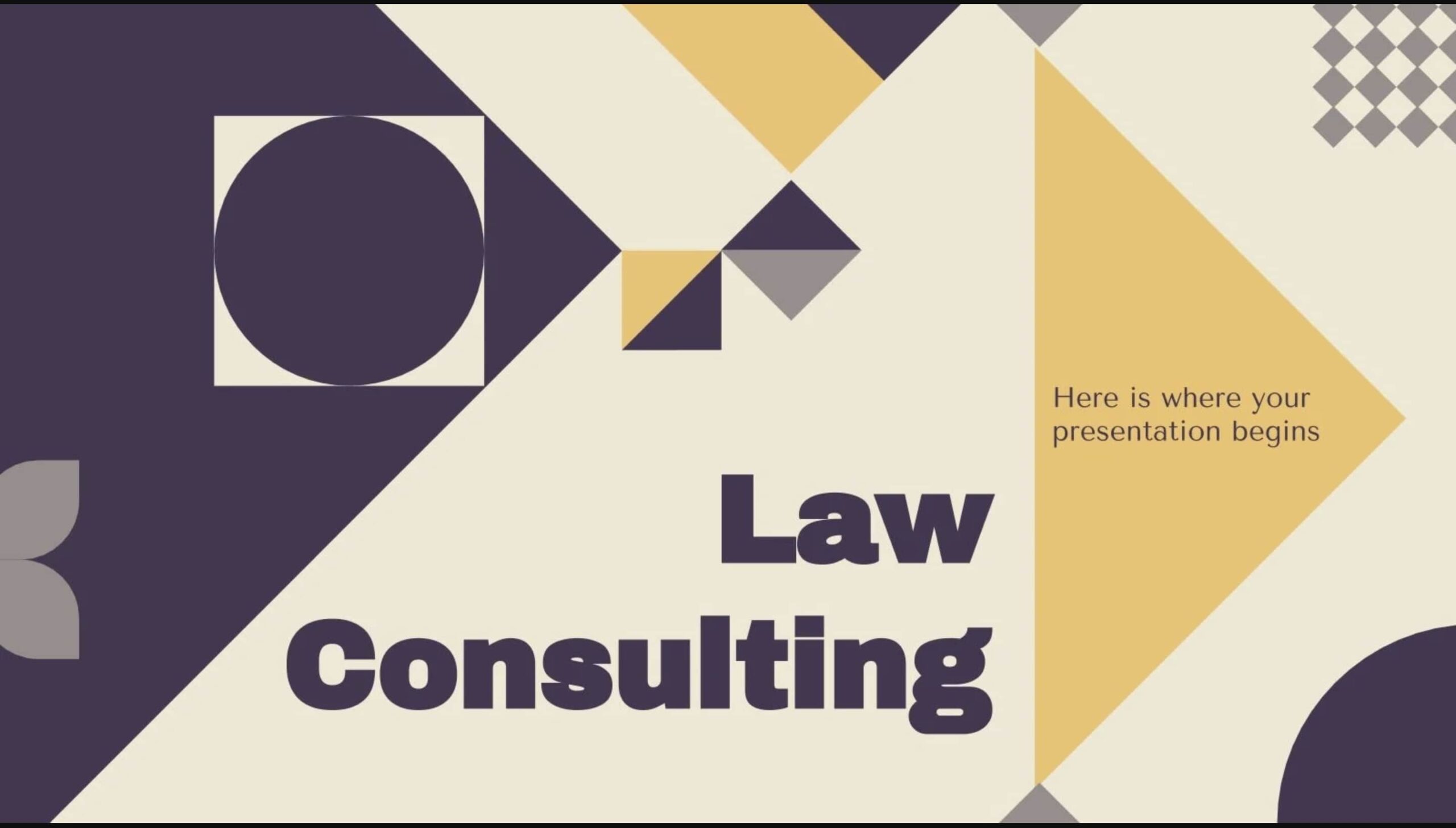 If you want to deliver a successful sales pitch presentation, this free legal PowerPoint template is what you need to get your hands on. It features 100% editable slides, thousand of icons, infographics, and free fonts. A must-have resource in any legal company's PowerPoint toolkit!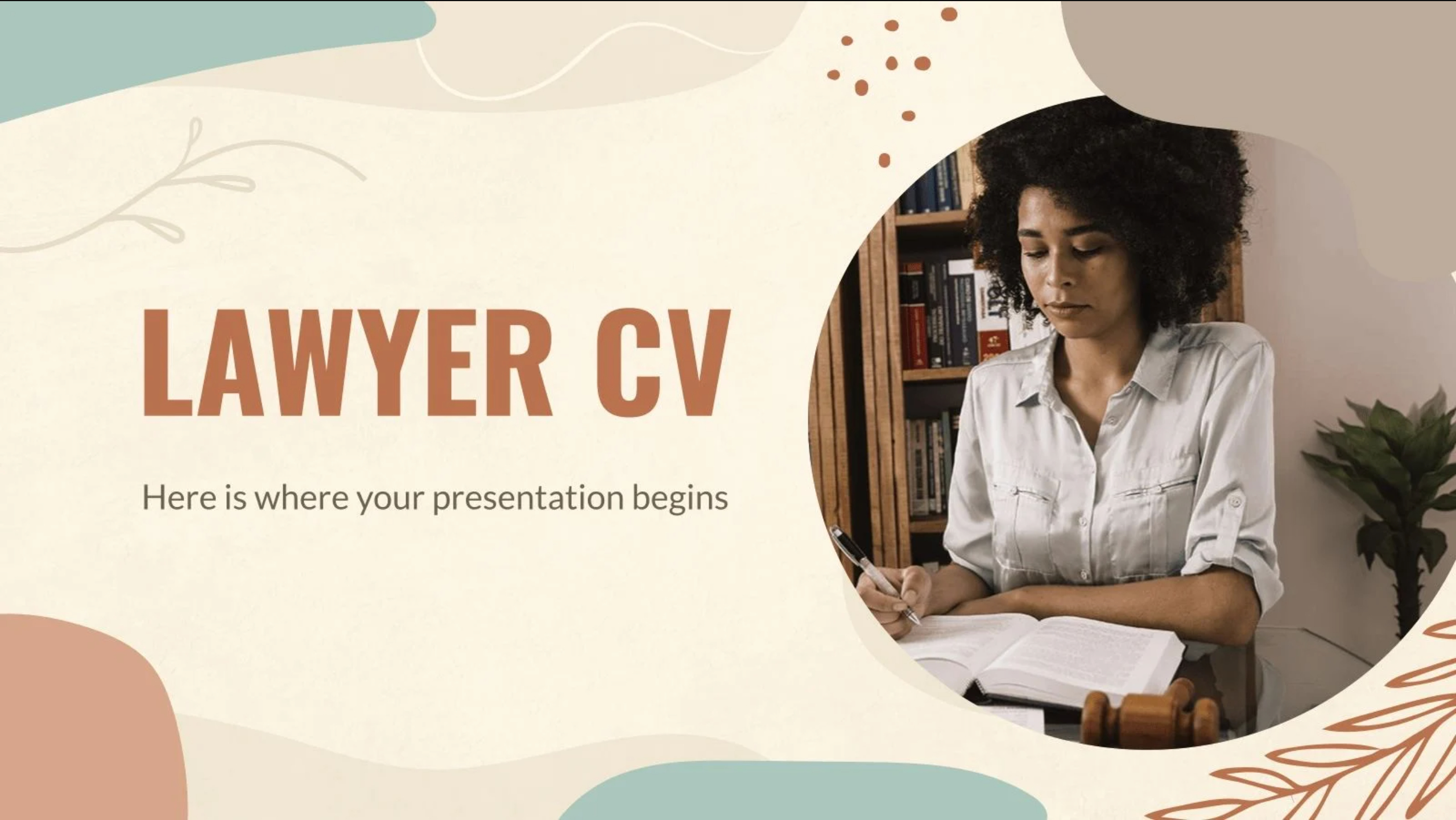 This PowerPoint template will help you create an amazing legal CV with ease. Providing you with a range of presentation slide designs that work to show off your best qualities, and leave a lasting impression.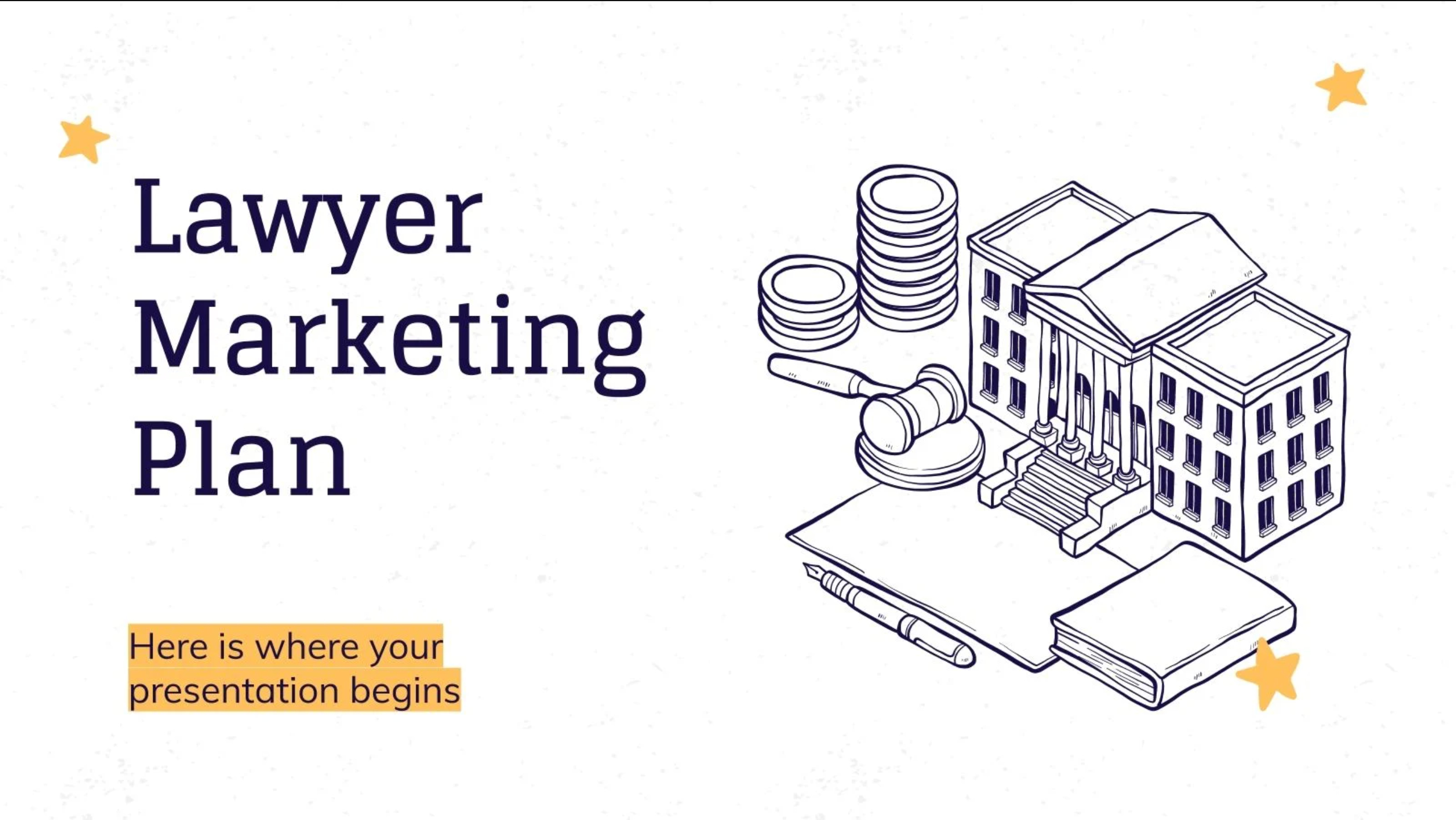 Looking to create a comprehensive marketing plan for your firm? Then you need this Lawyer Marketing Plan PowerPoint template. A simple, yet professionally tailored presentation template that will have you up to speed with your marketing strategy with ease.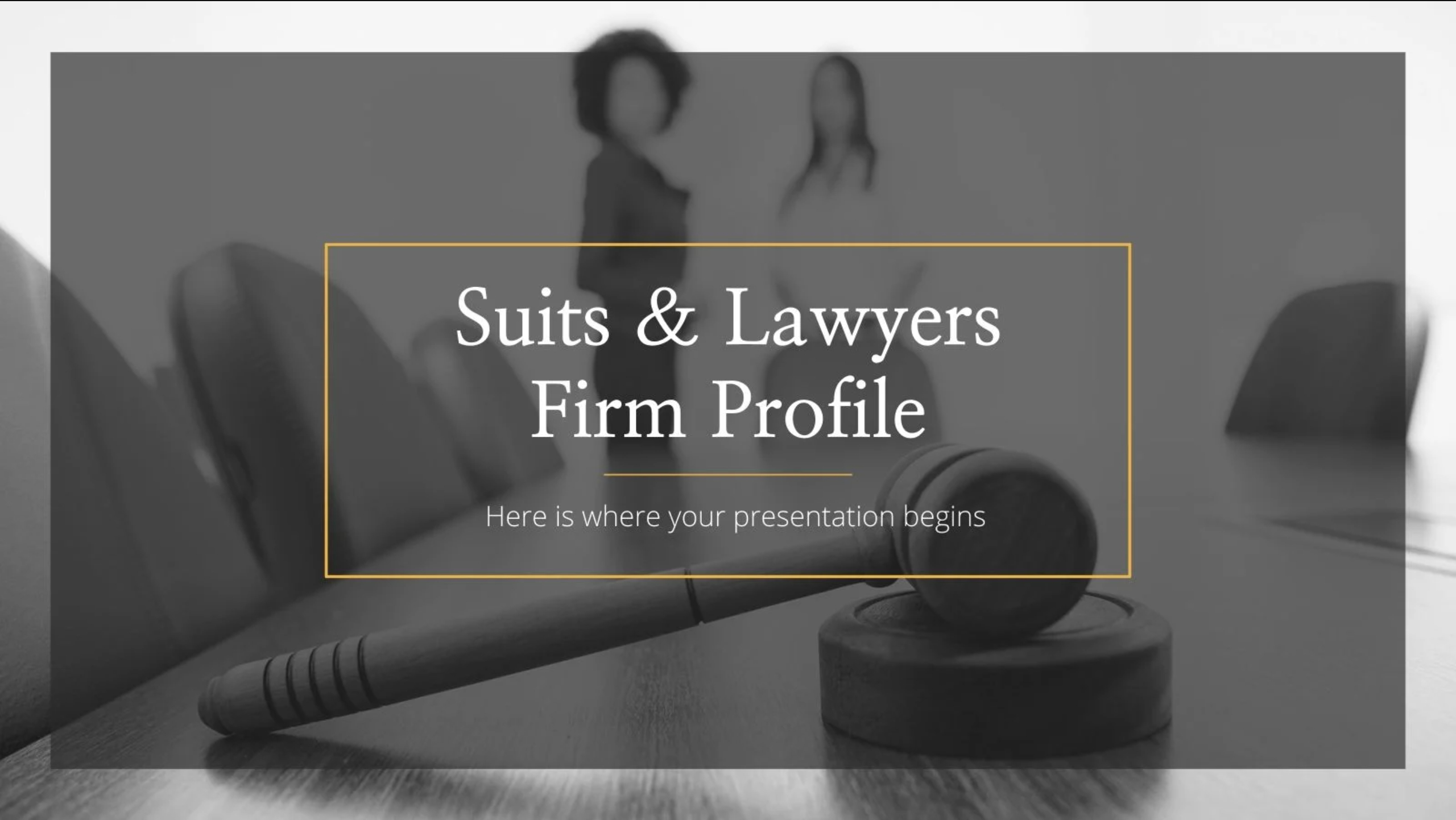 Show off the best qualities of your firm with the Suits and Lawyers Firm Profile PowerPoint template. An elegantly tailored template style, using an ultra-modern aesthetic mixed with a professional finish. A great option for those looking to pitch their services to new clients.
Create an Amazing Legal Presentation with These Templates!
Whilst there is nothing easy about the legal field, that doesn't mean finding a great legal presentation template has to be difficult as well. With these templates under your belt, you'll have everything you need to create an amazing legal presentation with ease.