20+ Best Interactive PowerPoint Templates (How to Make an Interactive PPT) 2022
PowerPoint presentations now play a key role in many different aspects of business and educational projects. With schools switching to online learning and businesses adopting remote work, PPTs have become a very useful medium of communication.
One of the best uses of PowerPoint is its ability to create interactive presentations. They allow you to create more engaging and user-friendly slideshows that are easier to consume.
Designing interactive presentations, however, takes a lot of work. But, with the help of a great PowerPoint template, you can make that process much simpler.
We've found the perfect set of interactive PowerPoint templates for you to download. Grab a template from the list and jump to the end of the post to find a quick tutorial on how to create interactive PPTs.
Get everything you need to give the perfect presentation. From just $16, get unlimited access to thousands of PowerPoint presentation templates, graphics, fonts, and photos.
What is an Interactive PowerPoint?
Before we get to the templates, we wanted to clarify a few things about interactive presentations. Interactive presentations are not just about adding animations or links to your slideshows. They are mainly about creating an experience for the users.
For example, if you want to create a slideshow about global warming for your students, you can create an interactive PPT that explores multiple subtopics under this subject. You can create a main menu with links that starts the slides for each subtopic. And create a streamlined learning experience.
The same strategy can be applied to business-related presentations like sales meetings, product timelines, portfolio presentations, and more. You can also use interactive slideshows to create activity-based presentations like quizzes, games, and infographics.
See the interactive PowerPoint templates below for inspiration.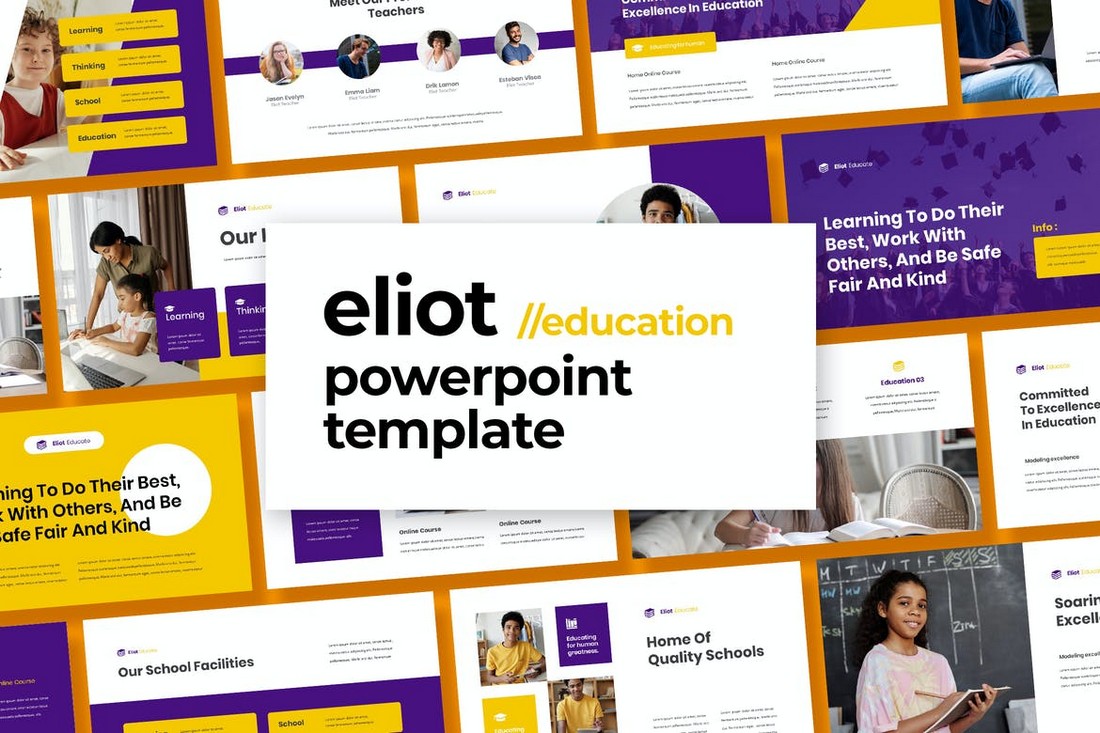 Whether you're preparing a presentation to showcase your educational establishment to students or potential investors, this template will allow you to create an interactive experience that wins them over. It includes 30 unique slide layouts that you can customize to add hyperlinks and interactive elements.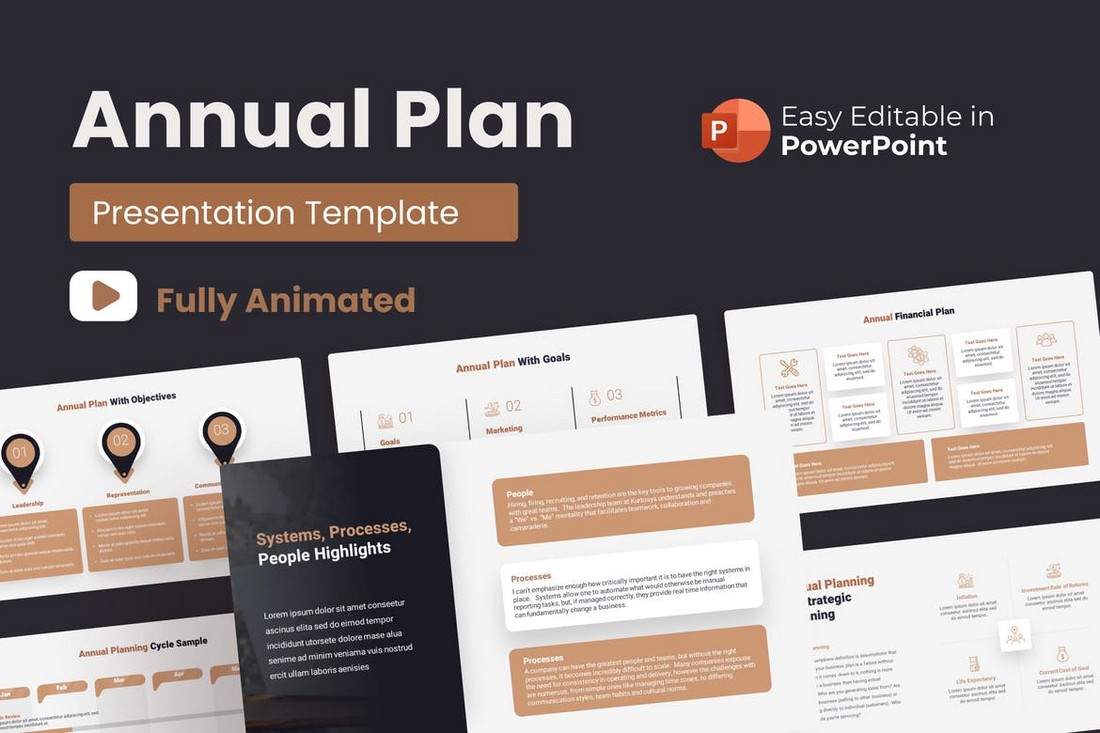 Explaining your business plans during meetings can be a tough process. But, with this interactive PowerPoint template, it'll be much easier. You can use this PPT to divide different parts of your annual plan, sales goals, financial projections into categories and design an interactive presentation that your team can easily understand.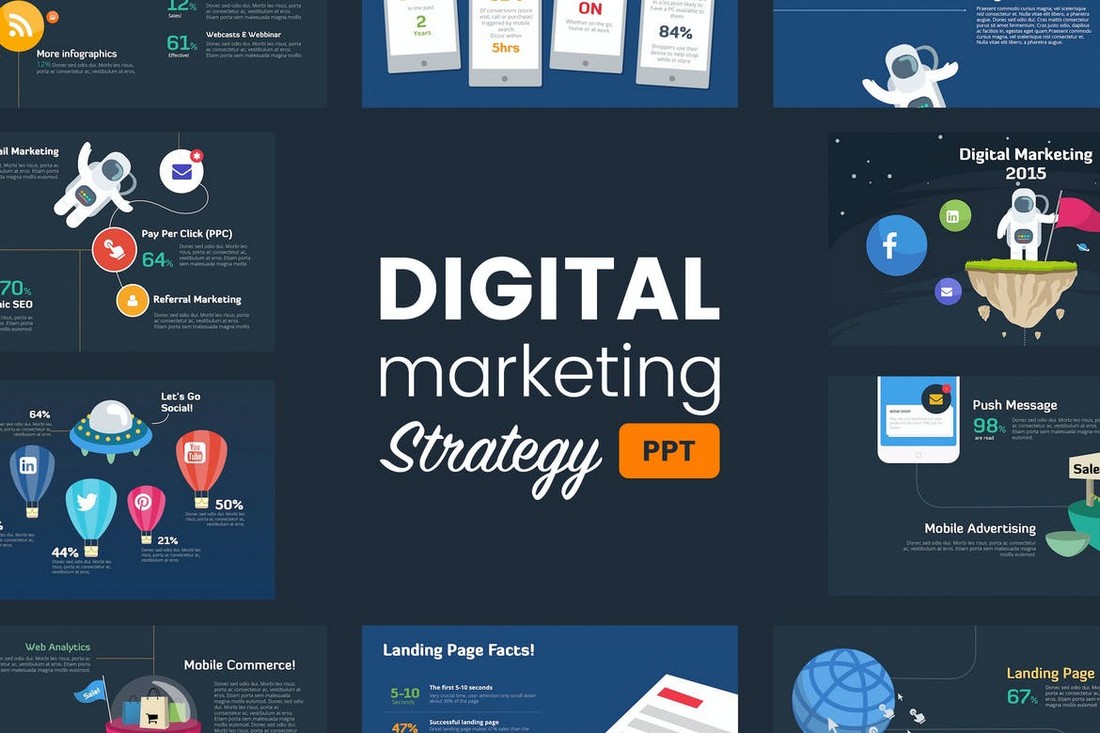 Streamline the entire digital marketing strategy for your brand and business using this PowerPoint template. It includes 40 unique slide layouts and you can easily design an interactive presentation with animations using this template to offer a more engaging experience.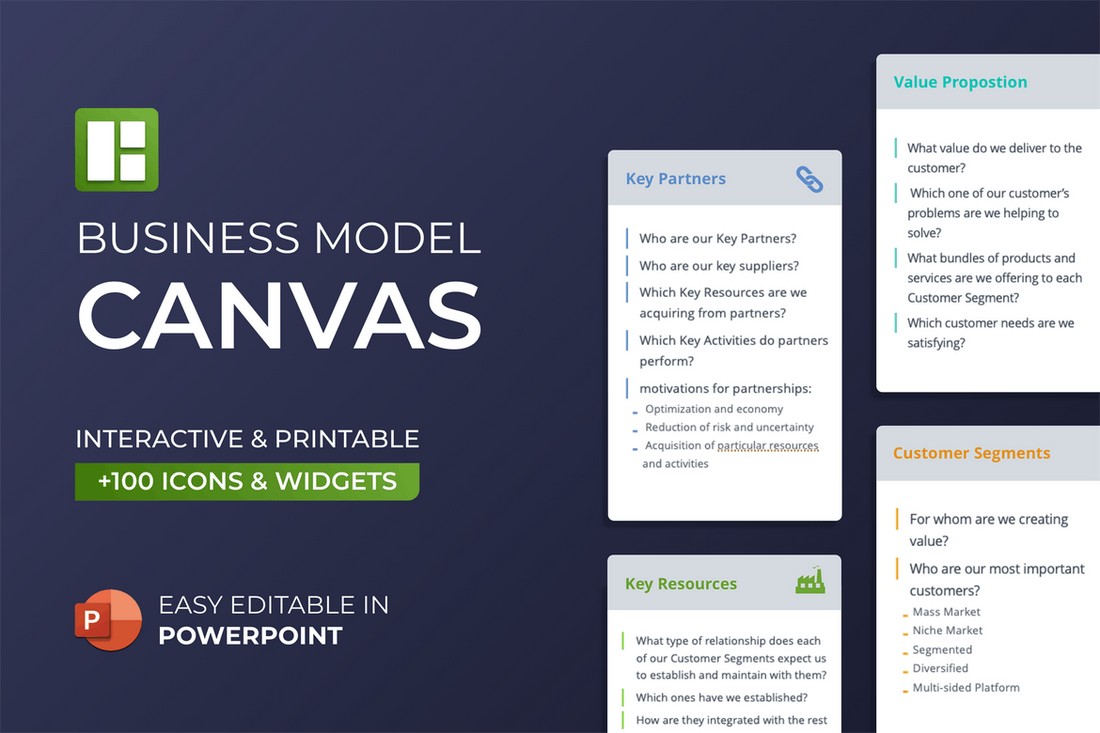 This is the perfect PowerPoint template you can use to present your business model. It features fully interactive slides that can be easily customized to add your own details. The slides are also print-ready and include lots of infographics, charts, and vector graphics as well.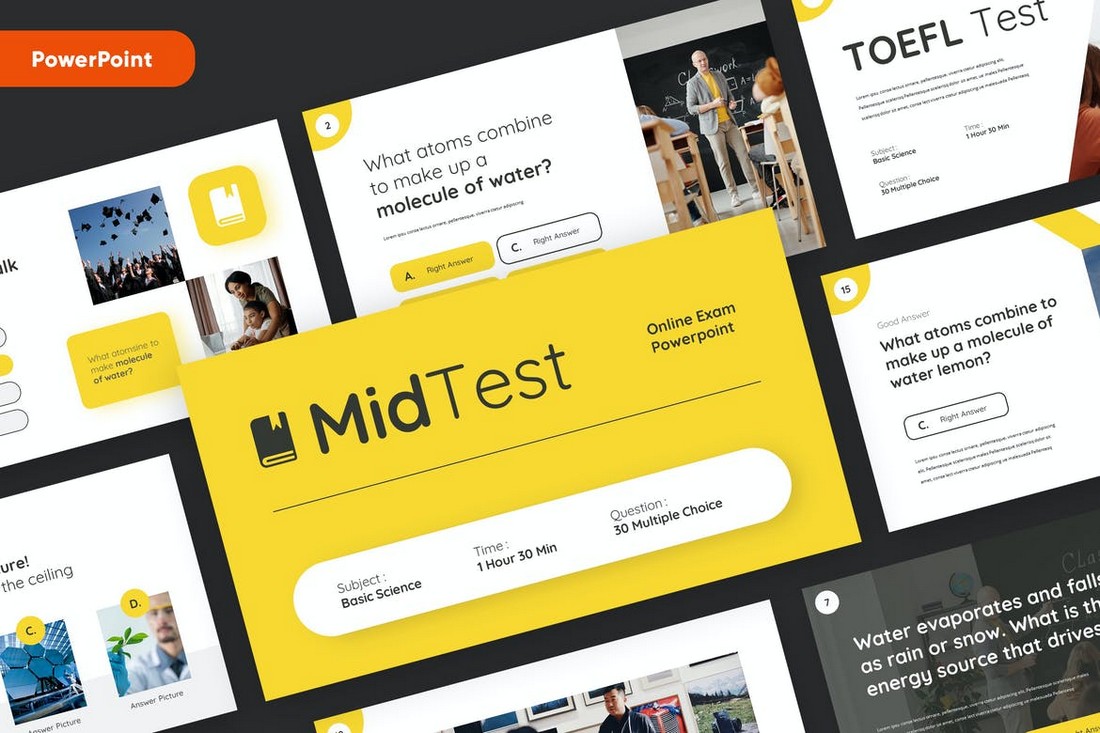 Planning quiz or a test for your students? Then download this PowerPoint template to create an entertaining and interactive quiz. It features 30 different slides with very clean and modern designs. You can use them to easily create interactive lessons and quizzes.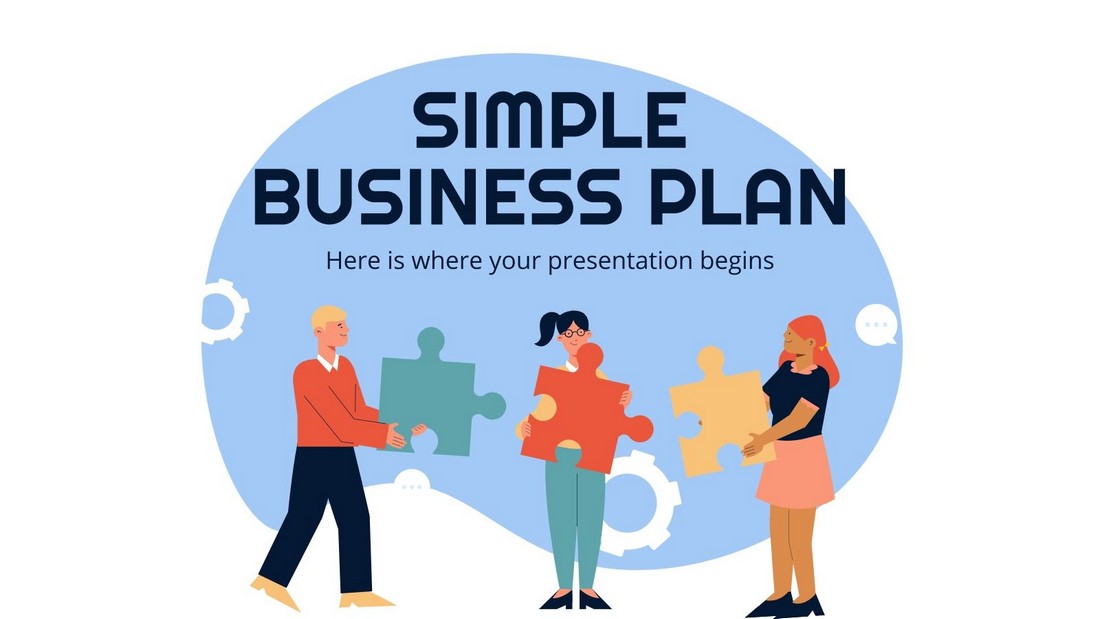 This is a free PowerPoint template featuring a simple and clean set of slides. You can use it to design various business-related presentations while adding interactive elements. The template includes a total of 34 slide designs.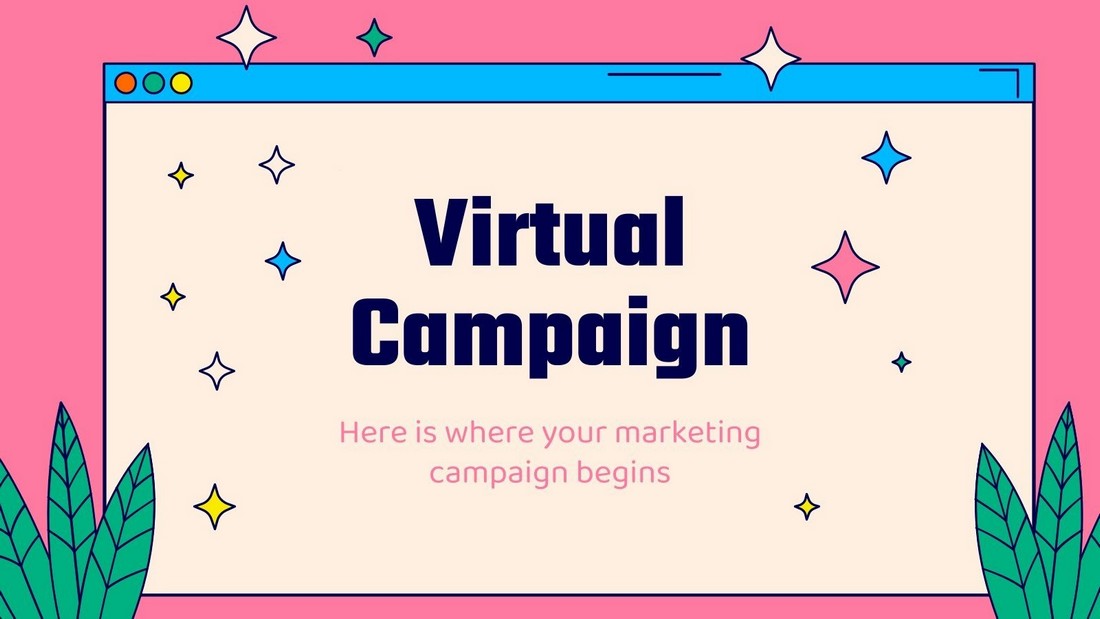 You can create presentations for your virtual product and marketing campaigns using this colorful PowerPoint template. It comes with 30 unique slides in 5 different color schemes to choose from.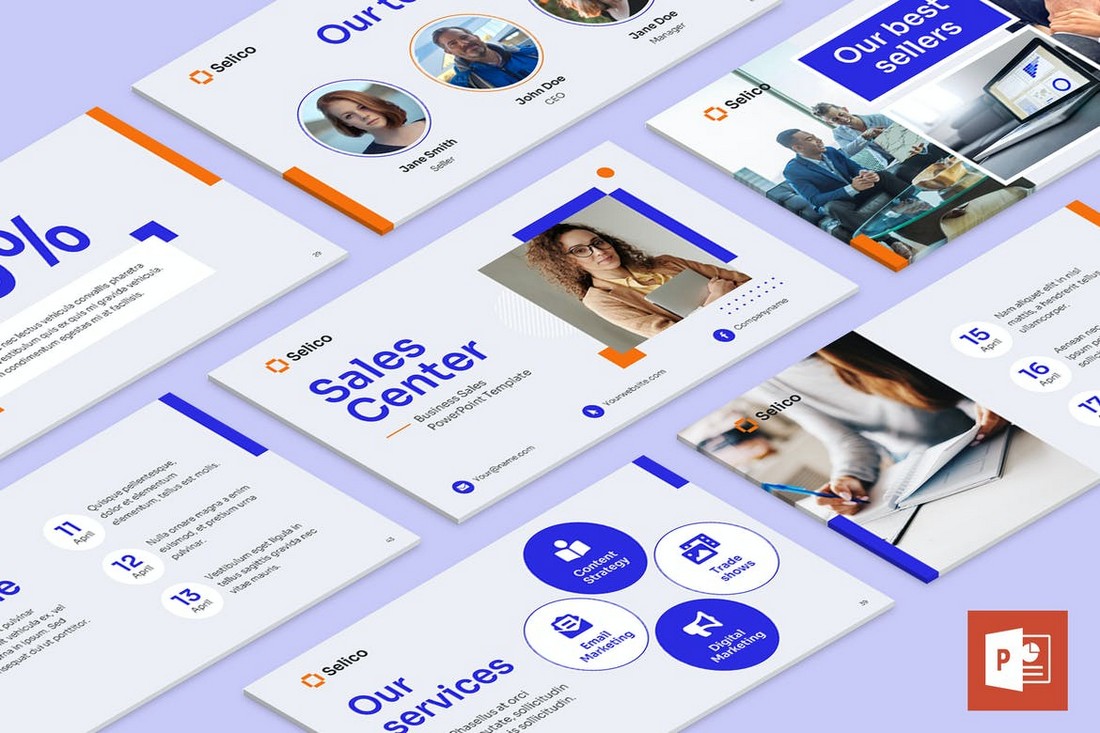 Turn your online sales meetings into an interactive experience with this PowerPoint template. It features a set of modern and creative slide layouts you can use to add interactive elements. There are more than 50 unique slides with fully editable layouts in this template.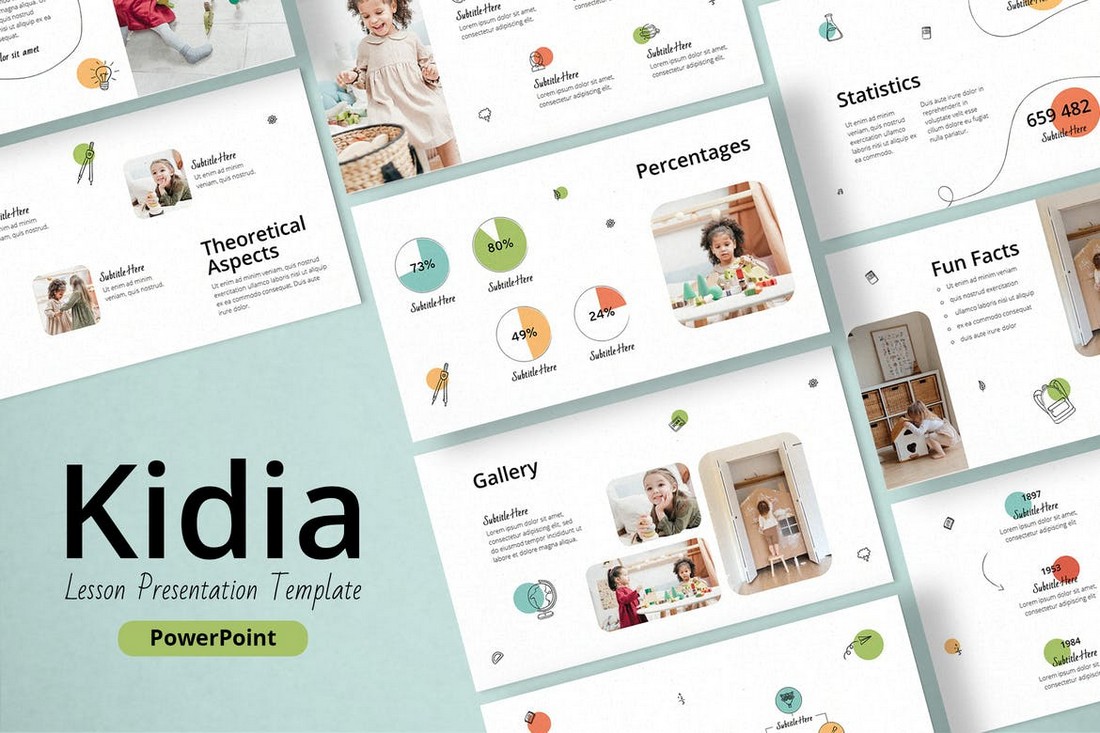 With this PowerPoint template, you can create engaging interactive lessons for kids and classes. The template comes with 30 unique slides with beautiful and colorful designs. You can add interactive elements to the slides and create attractive experiences for children.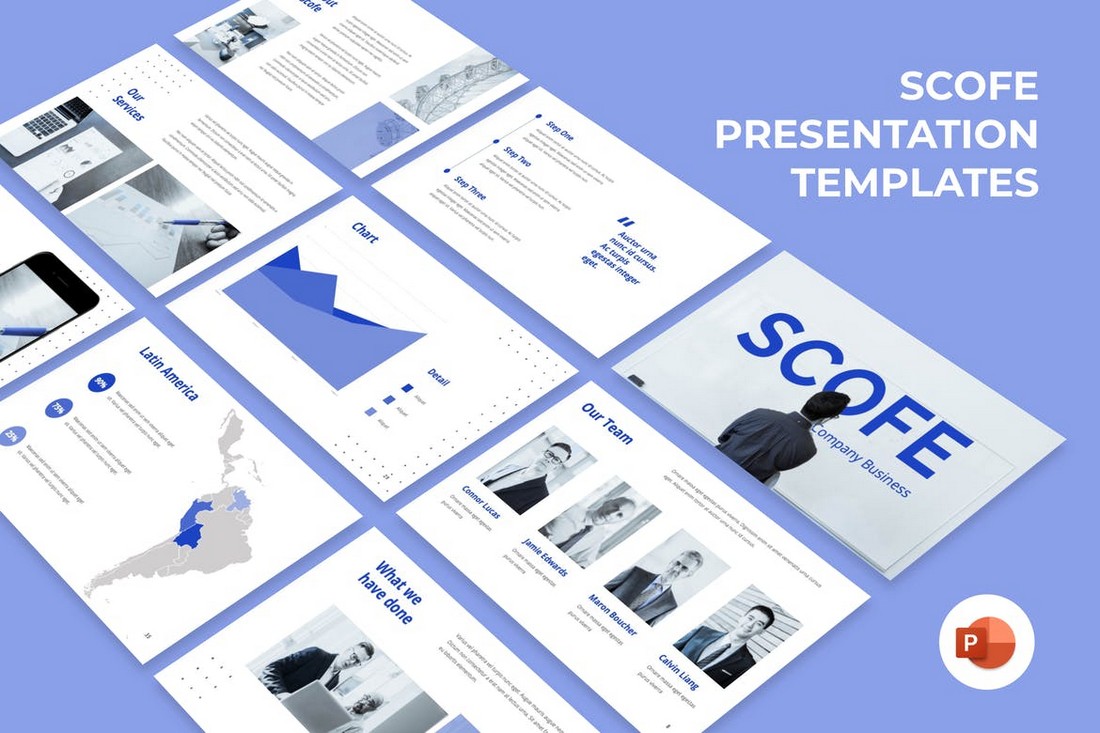 This is a pitch deck template you can use to pitch and present your business ideas, startups, and projects to clients. It includes 45 unique slides in 3 different color schemes. You can easily edit the slides to add interactive components to this presentation.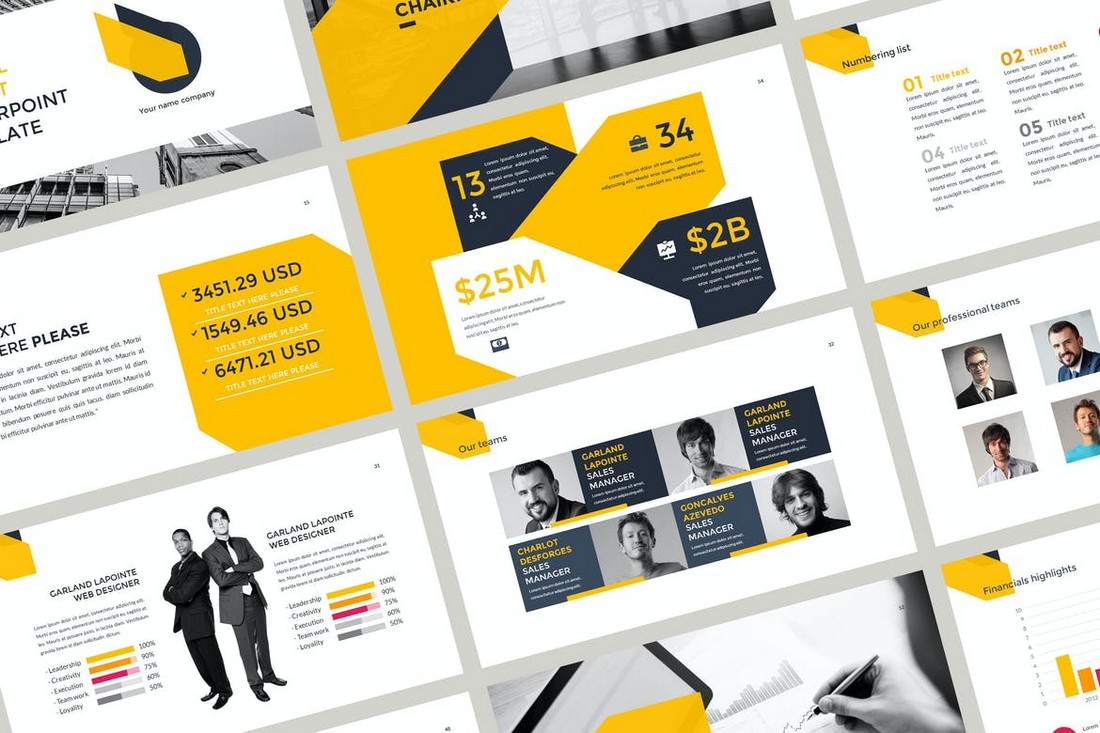 Use this PowerPoint template to design effective annual report presentations with interactive elements. This template lets you choose from 40 unique slides and it features very clean layouts as well.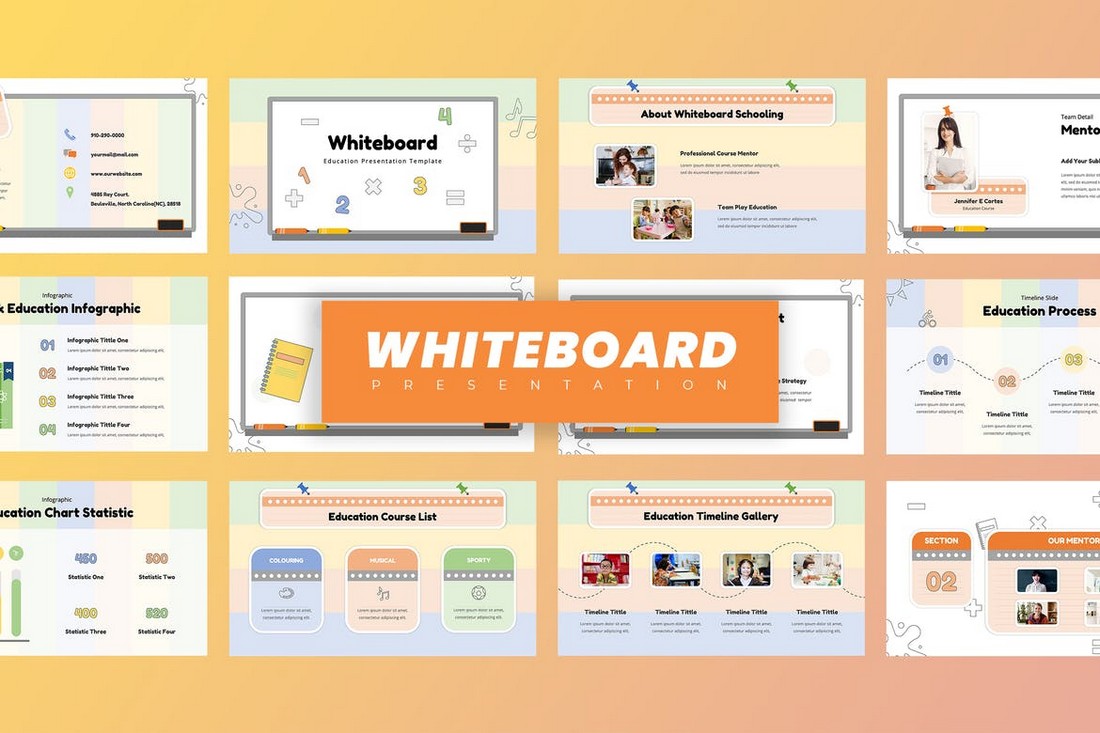 If you're planning a quiz or an interactive lesson for kids, this PowerPoint template will make your job much easier. It features a very colorful and creative slide layout that will instantly attract the attention of children. There are 30 unique slides in this template.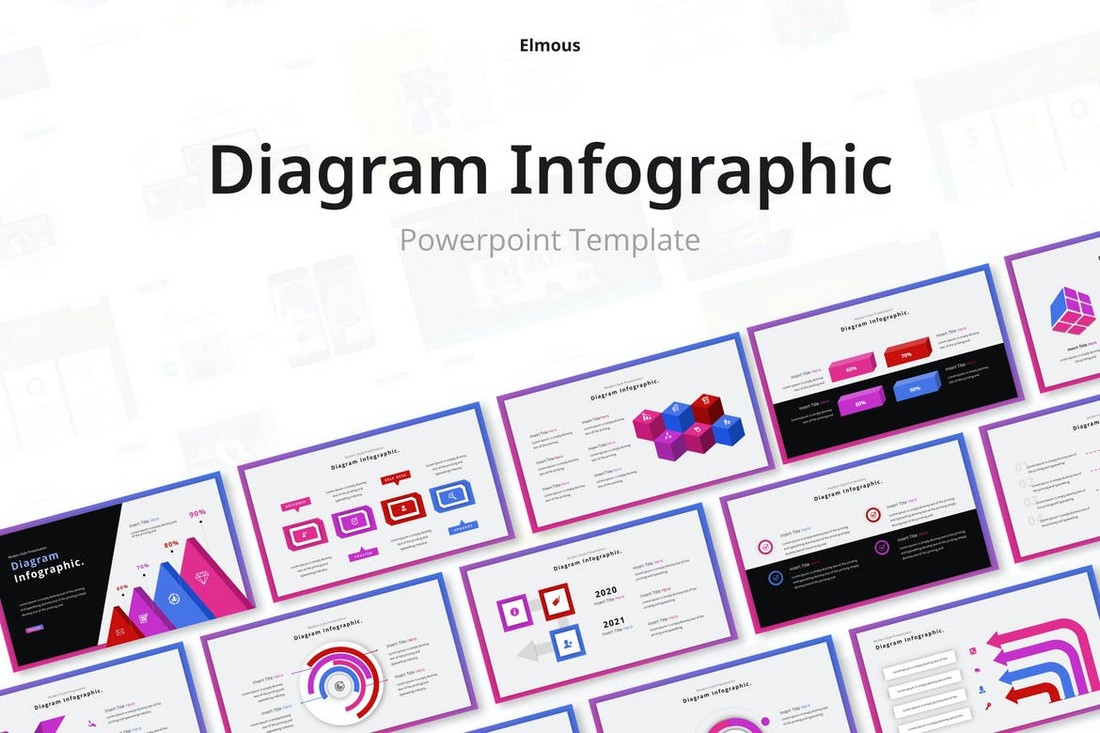 Charts and diagrams are an important part of almost every presentation. They are a great way of visualizing data in an attractive way. With this PowerPoint template, you get access to 30 various styles of diagram slides. You can add interactive elements and create unique presentations with them.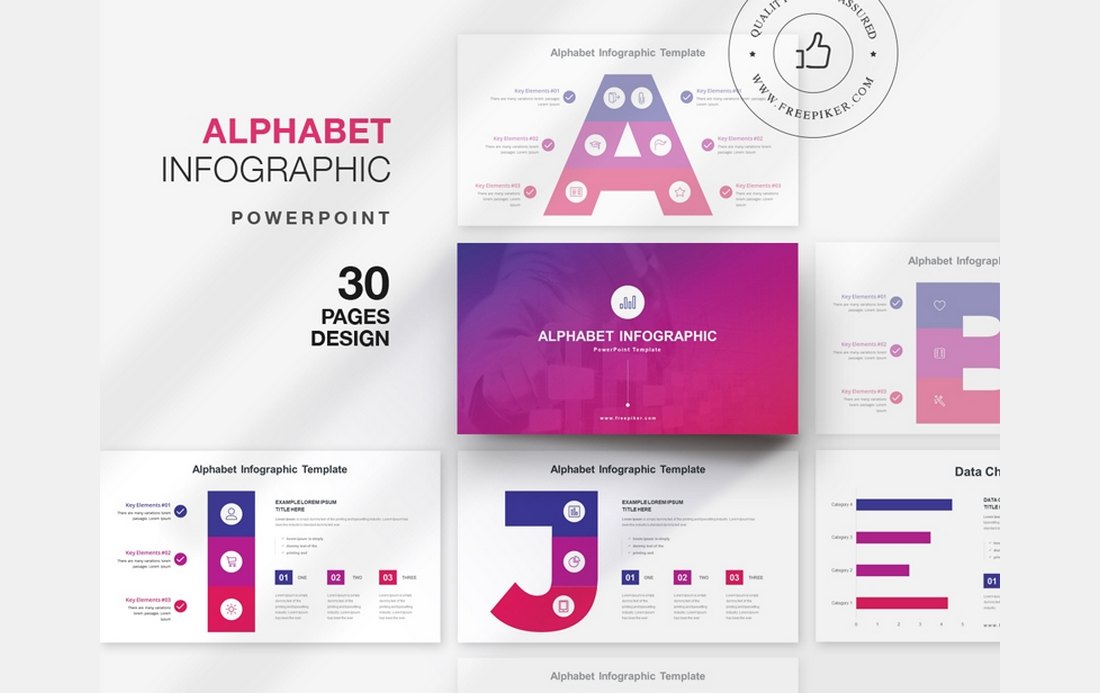 This is a unique PowerPoint template you can use to create business and marketing presentations. It includes 30 slides featuring infographics designs in the style of all the letters in the alphabet.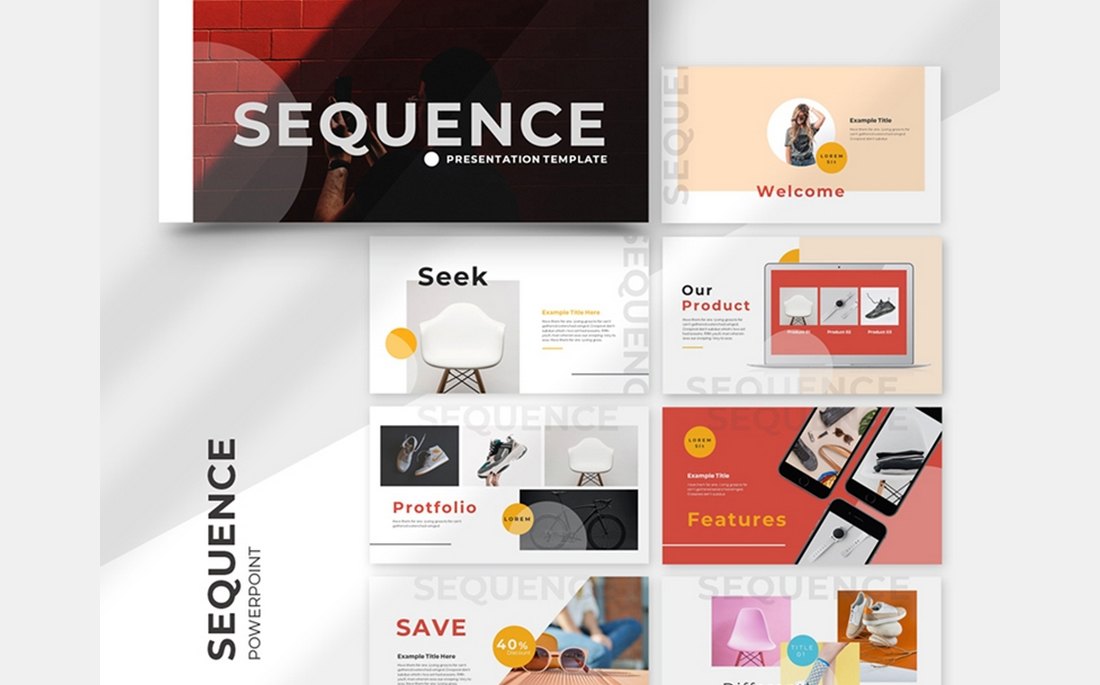 Download this PowerPoint template for free to create all kinds of business and creative presentations. The template has 27 unique slide layouts with animations. You can add your own interactive elements as well.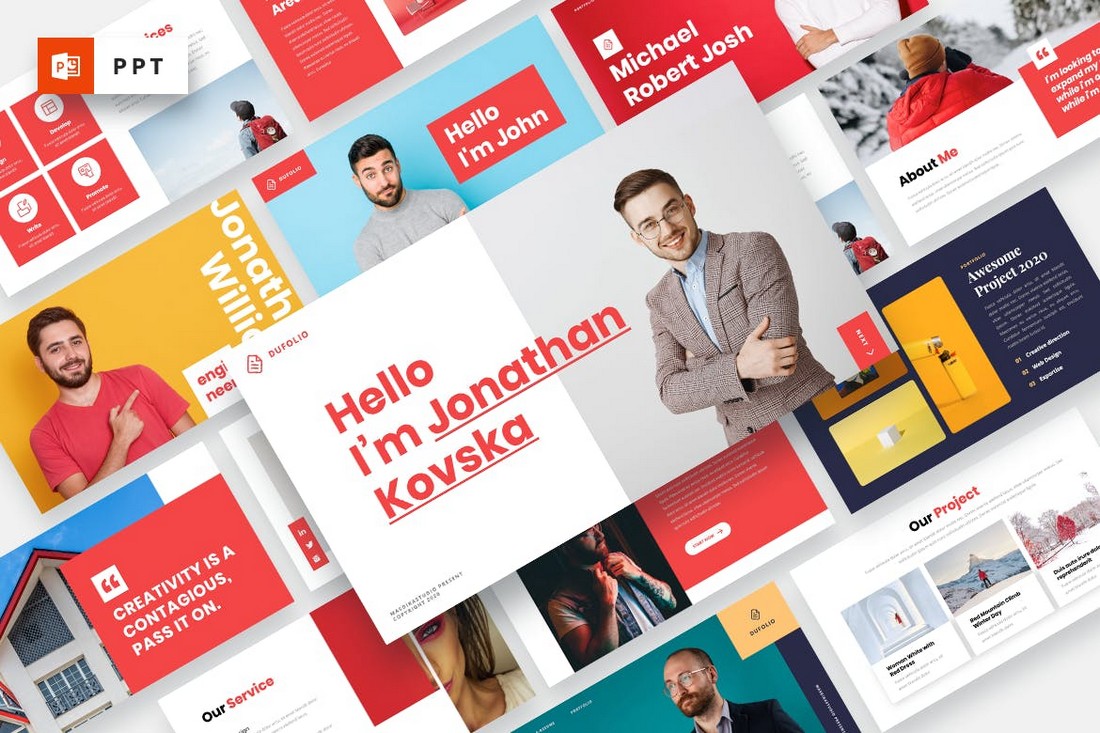 With this PowerPoint template, you can create a beautiful portfolio presentation to showcase your best work to clients. Not only that, you can even add interactive elements to create a simpler way to learn more about your skills and experience.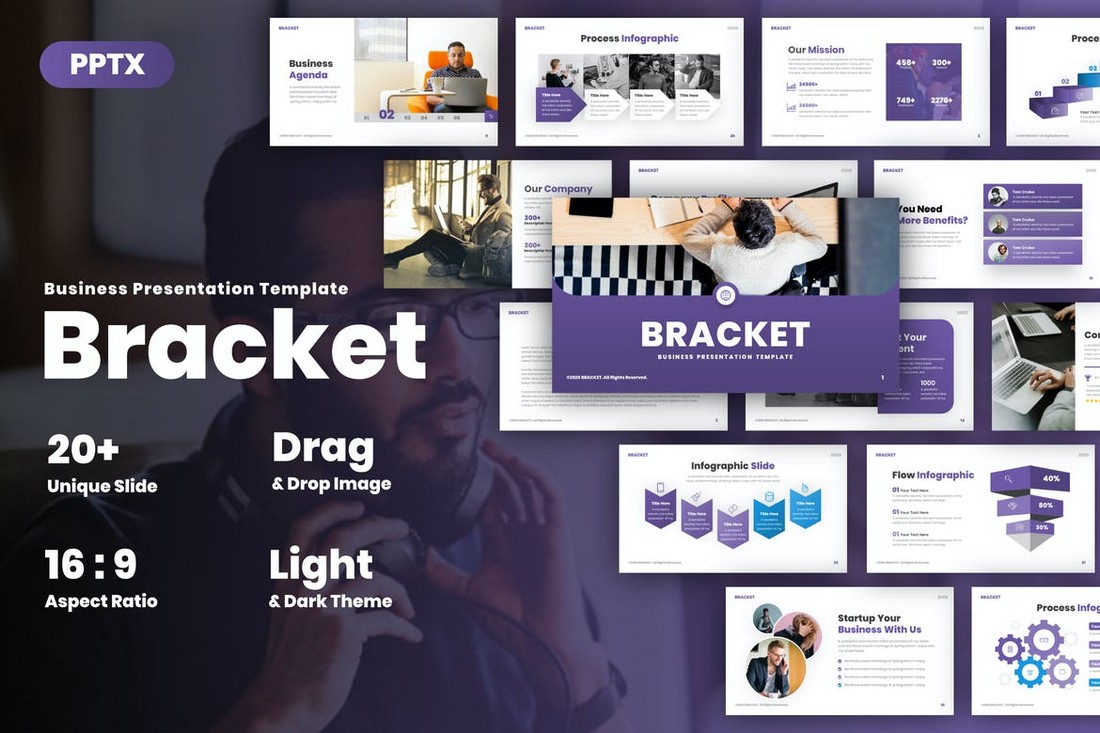 This is a multipurpose PowerPoint template you can use to design different types of business presentations. It comes with 30 unique slides with fully editable layouts that you can take advantage of to create engaging presentations.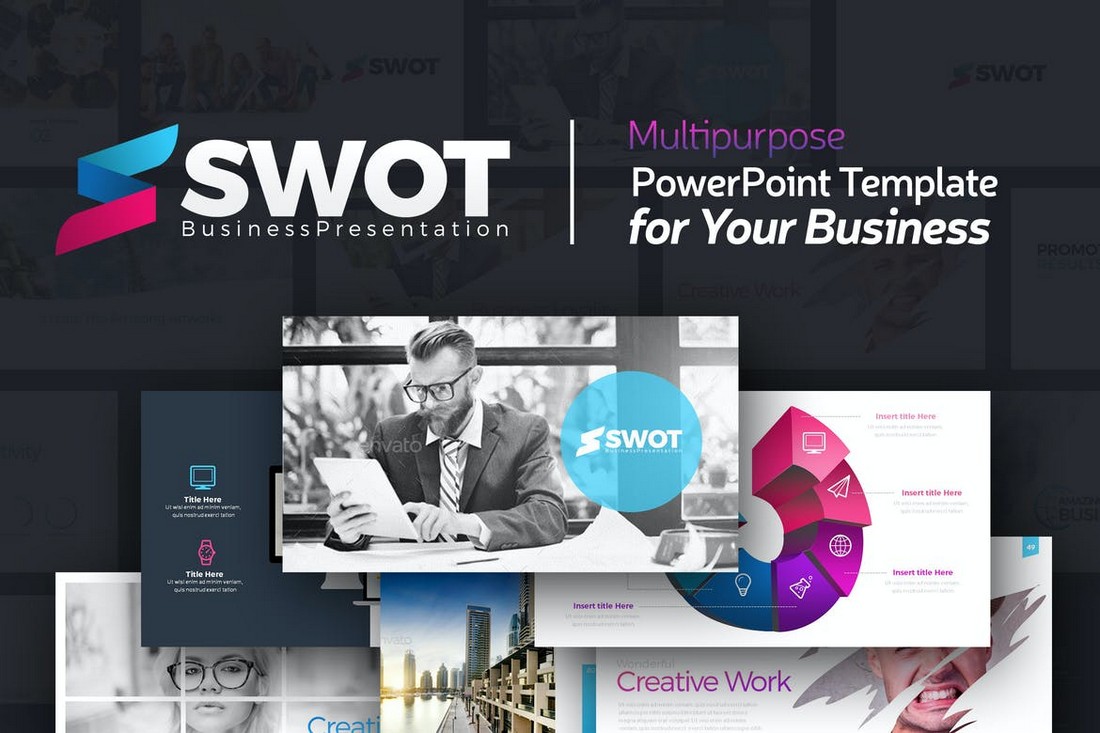 The SWOT analysis is a popular concept used in analyzing businesses. With this PPT, you can design an effective presentation analyzing businesses and competitors based on the SWOT concepts. It includes more than 100 slides.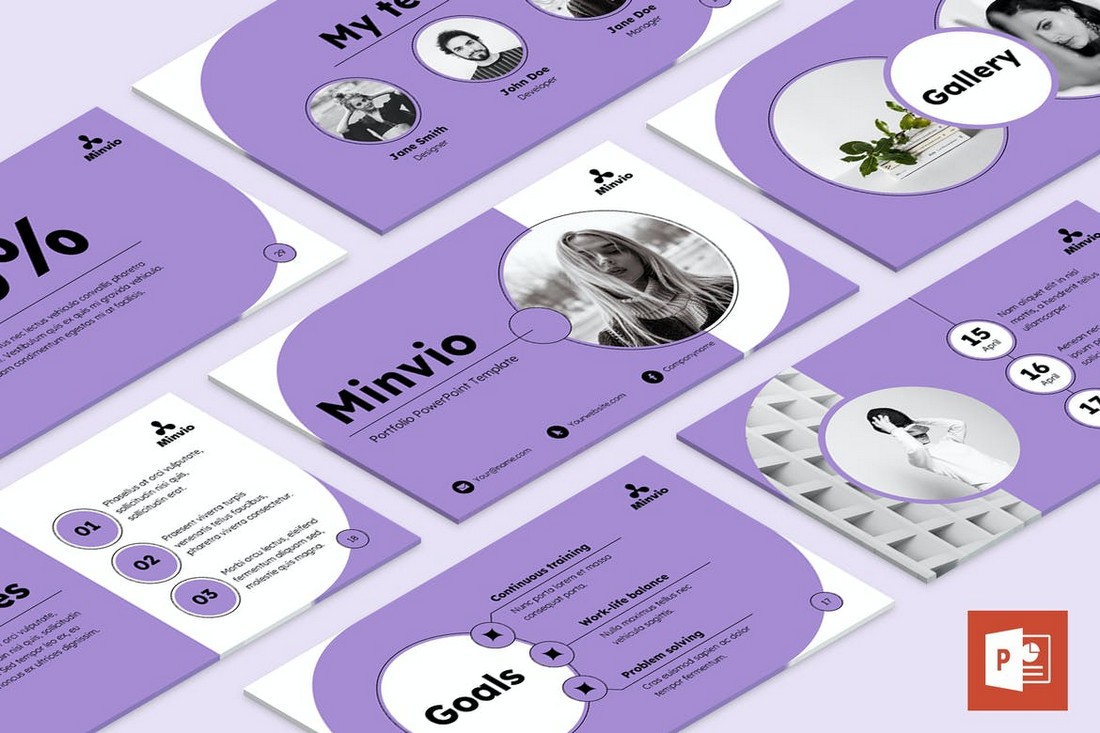 Another creative portfolio presentation template for PowerPoint. This template can be easily customized to create portfolio slideshows for both agencies and freelancers. There are over 50 unique slides included in the template.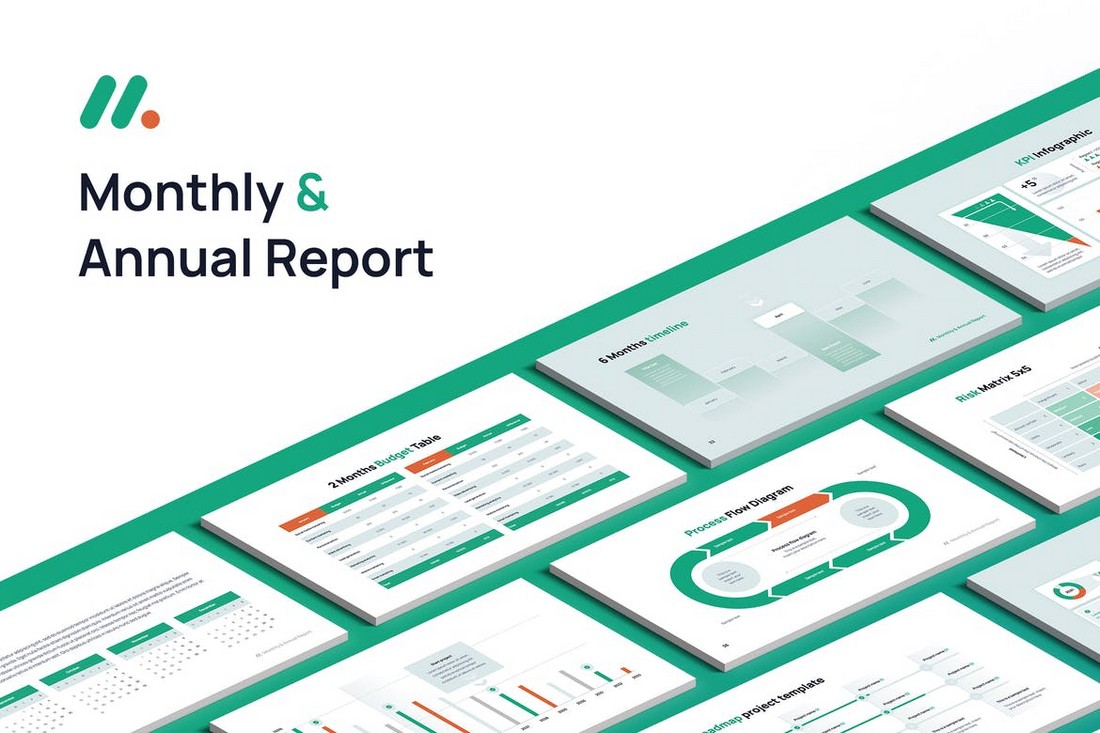 You can use this PowerPoint template to create monthly and annual reports for your business meetings. With just a bit of extra work, you can even turn them into interactive experiences. The template comes with 57 slides with fully editable layouts.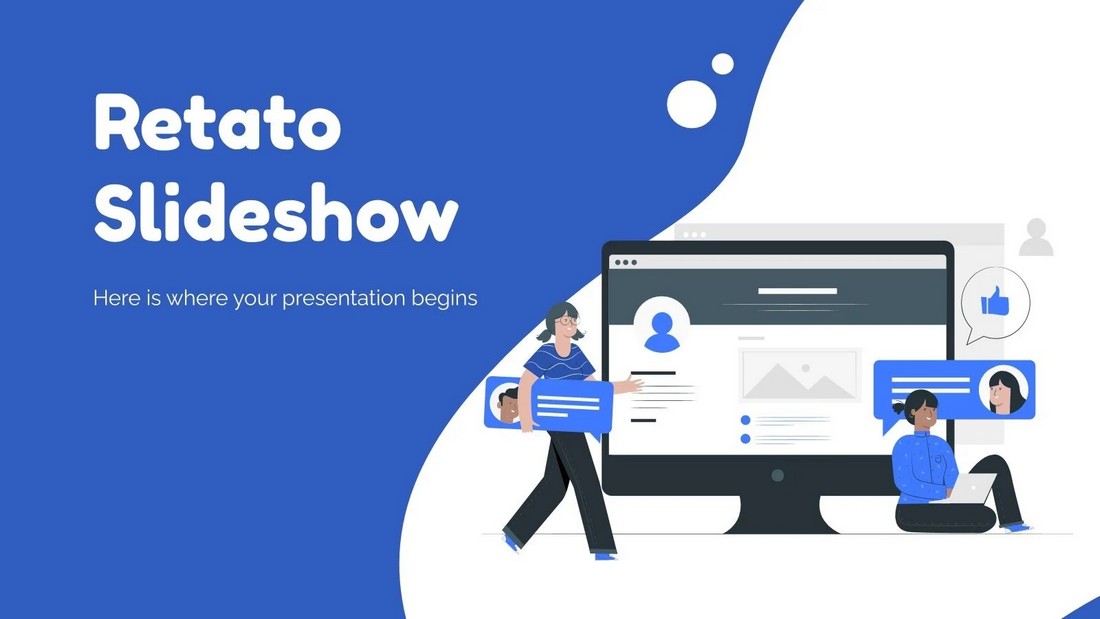 Grab this free and creative PowerPoint template to design modern and stylish presentations for business and educational purposes. The template includes 33 unique slides with editable charts and graphics.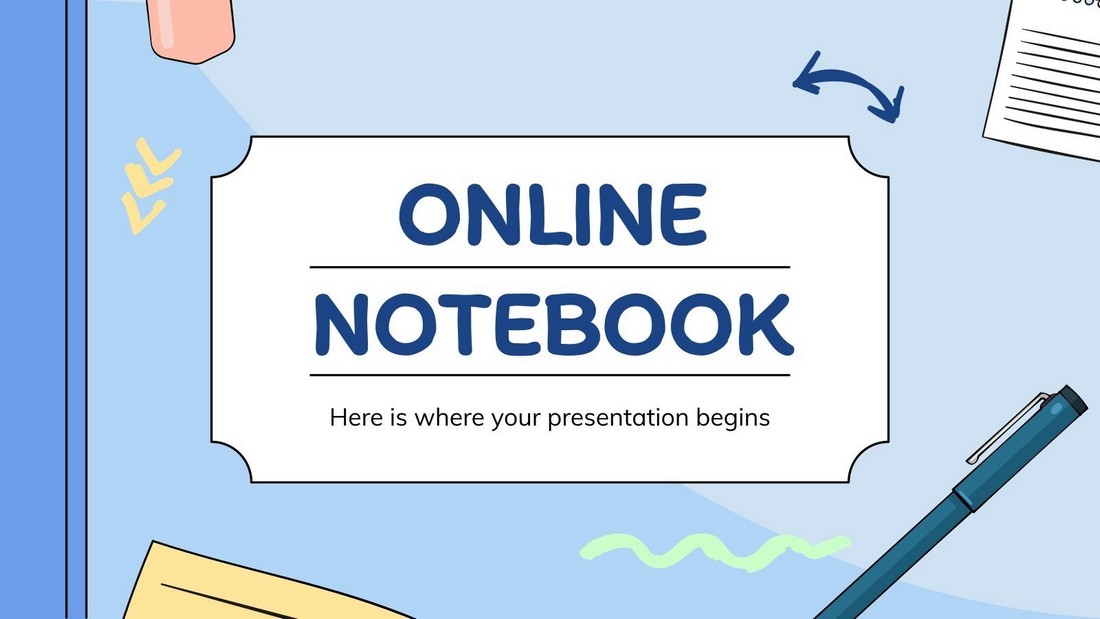 This free PowerPoint template is perfect for creating interactive lessons for your online classes. It lets you choose from 30 different slides and you can customize them however you like. The template is available in Google Slides version as well.
How to Make an Interactive PowerPoint
Creating an interactive PowerPoint presentation is all about planning the structure and the flow of your content. Once you have that sorted, follow these steps to add the interactive elements into your PPT.
Step 1: Use a Great Template
Finding a great PowerPoint template that comes with beautiful slides is an important step in this process. It will help you save a lot of time that goes into designing each slide and adding components one by one.
So make sure to download a great template and customize the design to fit your brand and the topic you're discussing.
Step 2: Add Hyperlinks
The next step is to add hyperlinks to your interactive elements. For example, you can add a button to your slides to let users quickly go back to the main menu or the beginning of the slideshow.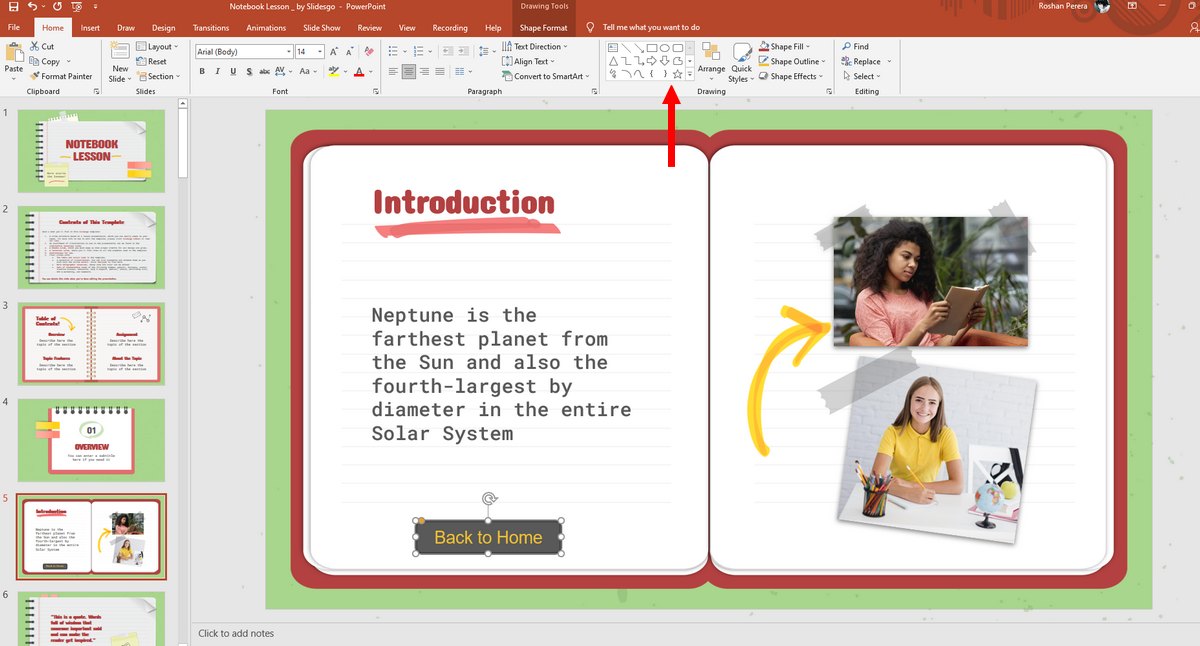 You can do this by adding a hyperlink to an existing element on the slide. Or you can create a simple shape and adding a link to it.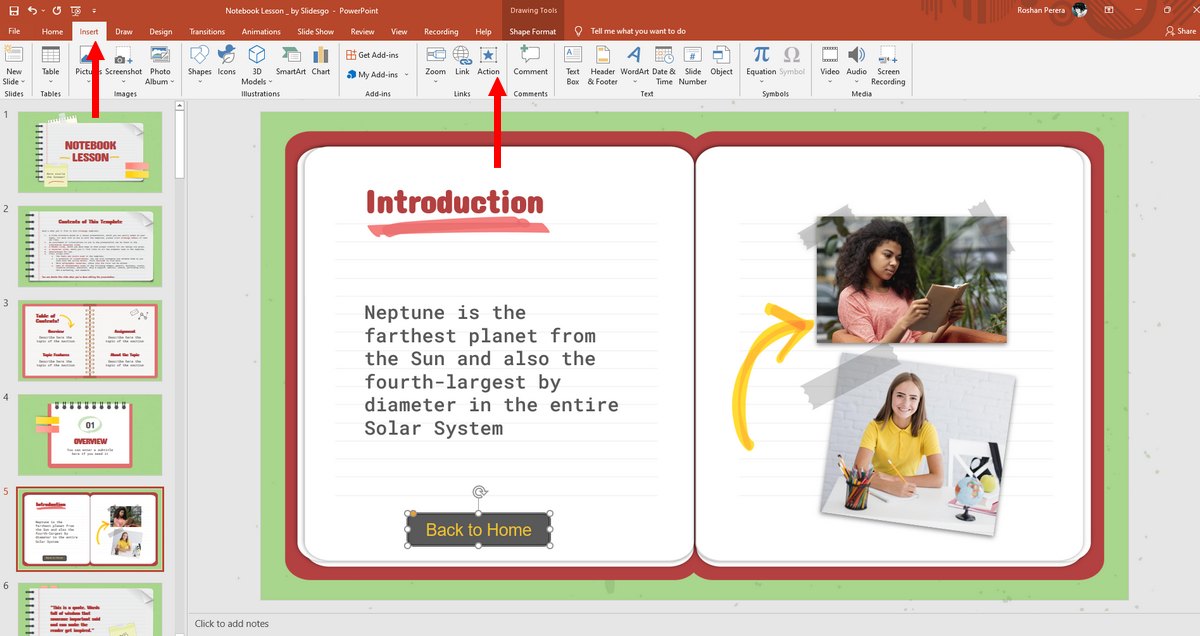 To add the hyperlink to the selected object, go to the Insert Menu and select Action.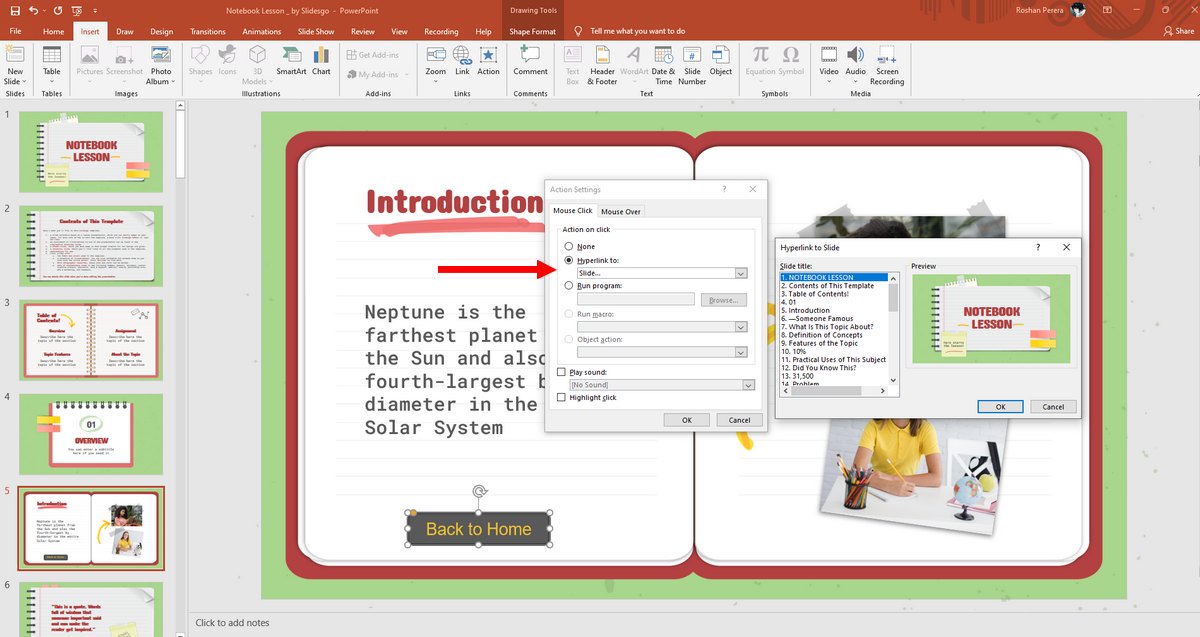 From here, you can select Slide.. from the Hyperlink To menu and pick any slide in your presentation to link to it.
Now, when a user clicks on the object, it will send them to the linked slide.
Additionally, you can also add animations to the object. If you're using a PowerPoint template that comes with animations, you won't have to manually add the animations.
If you prefer a visual tutorial, check out this YouTube video on how to create interactive PowerPoints.