How To Research Domain Names Using InstantDomains
Buying a domain name is one of the first steps of making any type of website. Whether it's an online business, blog, or a company website, finding the right domain name is also the most important part of the website setup process.
Since the domain name is the digital address of your website, it has to match with your brand, be memorable, and look professional at the same time. However, with thousands of new websites being made every day, finding the right domain name is now more like a herculean task.
Thankfully, there are many great tools and tricks you can use to get better results. InstantDomains is one of them. In this post, we'll show you how this tool can be useful when searching for domain names.
Why Use Domain Research Tools?
When talking about domain names, only a few extensions come to your mind like .com, .net, and .org. But, did you know that there are over 1,000 top-level domains (TLD) in the world right now?
In fact, many new businesses prefer using other more relevant domain names for their websites, like .blog for blogging sites and .shop for online stores. It's the best approach to take, especially with most of the good .com domain names already taken.
But, what if you wanted to check and see what kind of domain name extensions are available for your business name? Or find premium domains on sale that have names similar to your business?
This is where domain research tools come to help. With a domain name generator tool, you can instantly find great domain names and check their availability without having to spend hours searching on domain registrar websites.
What is InstantDomains?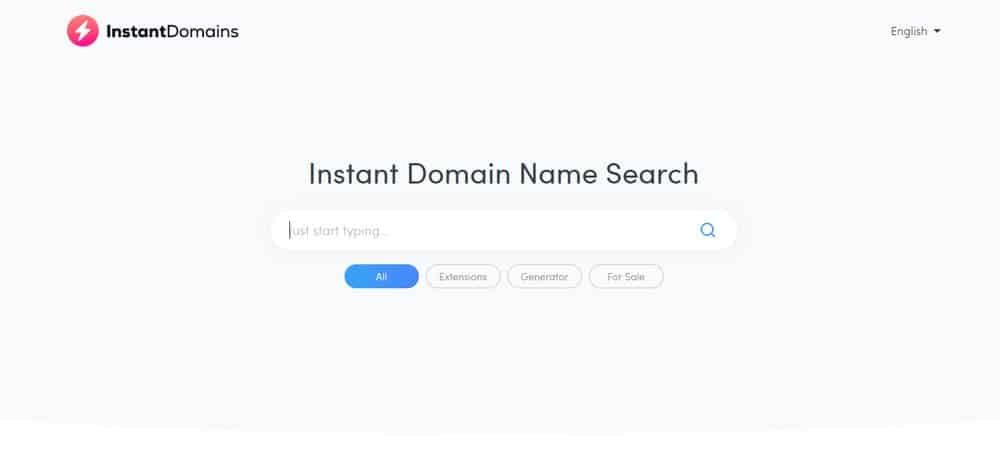 InstantDomains is a powerful domain name researching and domain generator tool that allows you to search for domain names instantly and very easily.
Sure, there are many different domain name generators out there, but InstantDomains has a few great features that make it stand out from the crowd.
For example, InstantDomains works in 32 different languages. It's also one of the fastest domain name generators we've seen that loads results within milliseconds.
Main Features of InstantDomains
Here are some of the other great features of InstantDomains.
More Than 500 Domain Name Extensions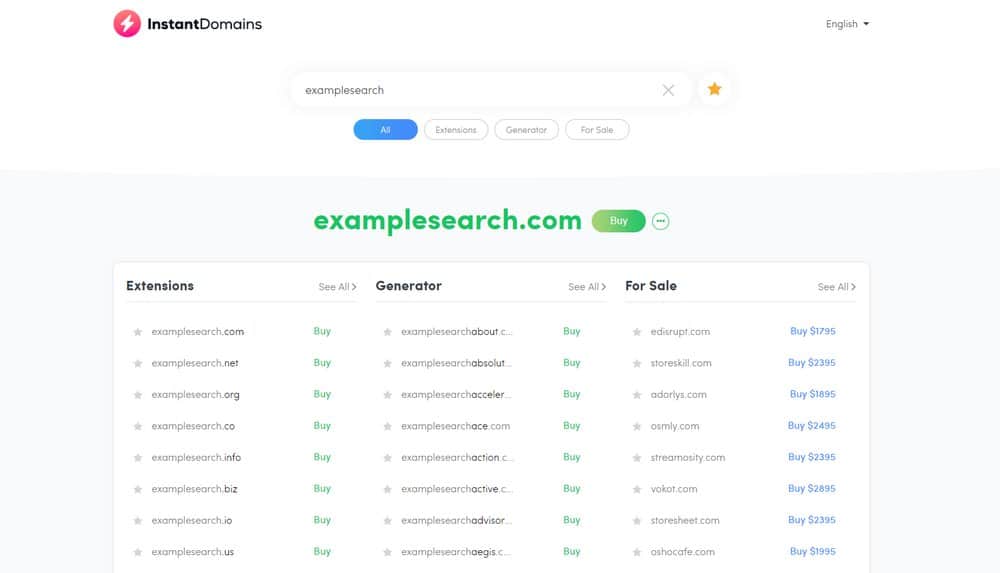 There are a few domain name generator tools that support up to 280 and 300 domain name extensions, but InstantDomains supports more than 500 domain name extensions. Meaning you can search for a wide variety of domain names to find the availability of the right extension for your website.
Generate Unique Domain Names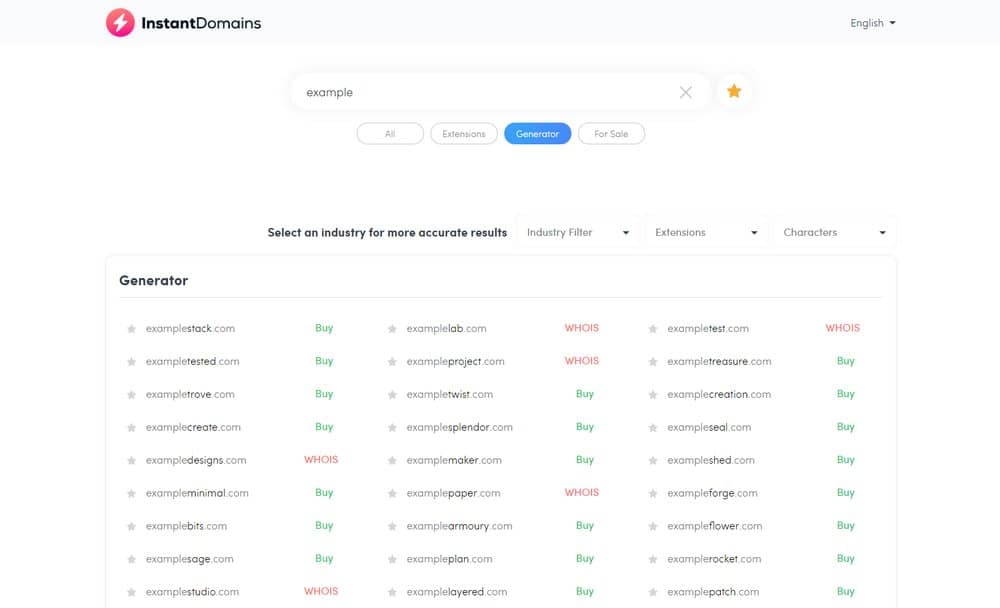 Can't figure out the right domain name for your website? This tool has got you covered. Using its generator tool, you can easily generate a great domain name for your website by simply entering a few keywords. This is more useful if you want to find a domain name with a popular extension like .com and .net.
Filter by Industry and Length
InstantDomains also provides you with dozens of different filters to generate domain names that are relevant to specific industries. You can also narrow your search by choosing the minimum and maximum character length for your domain name.
Find Premium Domains On Sale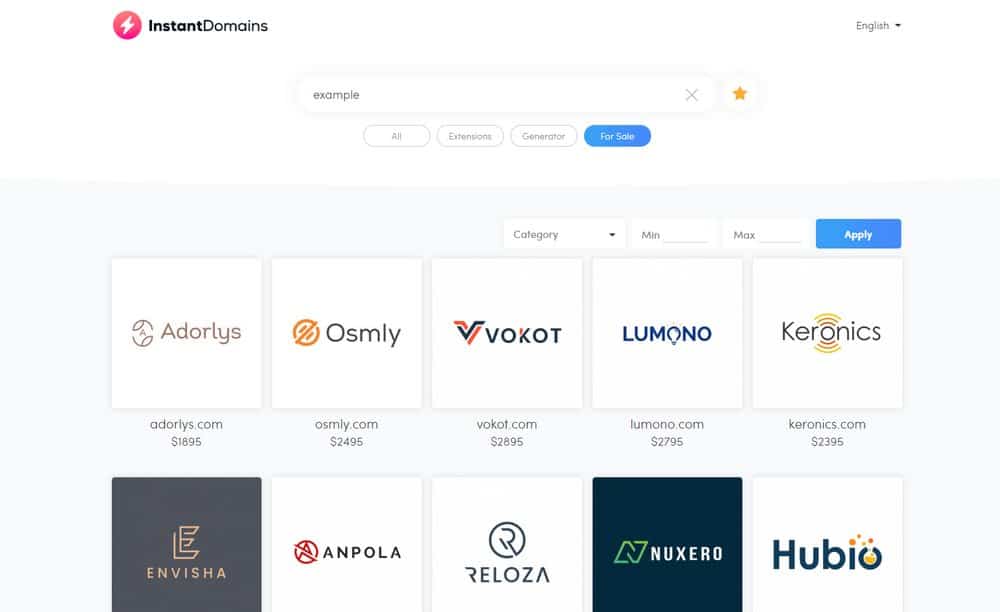 If you're looking to upgrade to a premium domain name, InstantDomains also has a great tool that lets you check for premium domain names on sale so that you can quickly grab a unique premium domain for a good deal.
Easily Check WHOIS Records
The WHOIS records for domain names allows you to find out who owns domain names. If you come across a great domain name that's already owned by someone, you can use WHOIS records to contact the owner and maybe negotiate a deal. With InstantDomains, you can easily check for WHOIS records for domains that are already taken by someone else as well.
How to Use InstantDomains
Using InstantDomains to search for domain names is very easy. Here's how it works.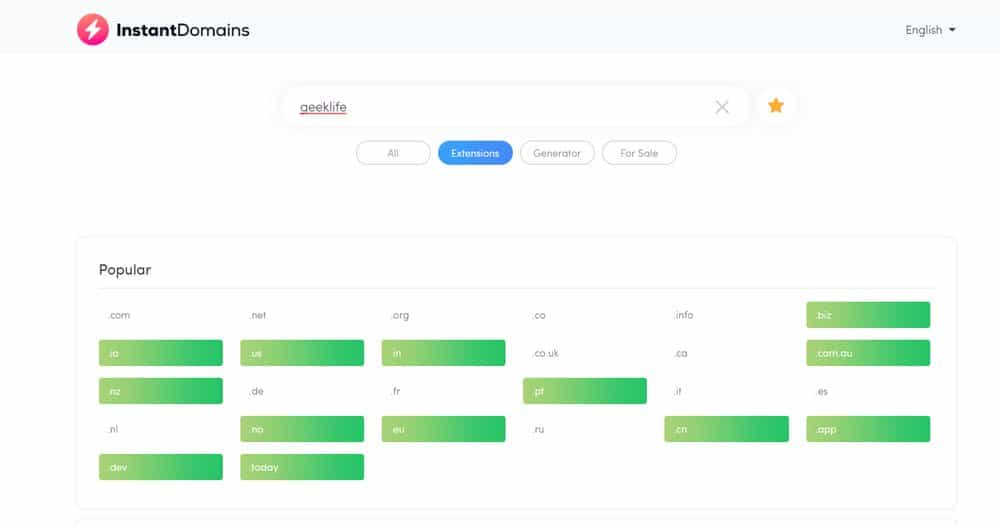 If you're looking for the availability of a domain name. Simply switch to the Extensions tab and search for your business name. Then the tool will show you which extensions are available by highlighting them with a color.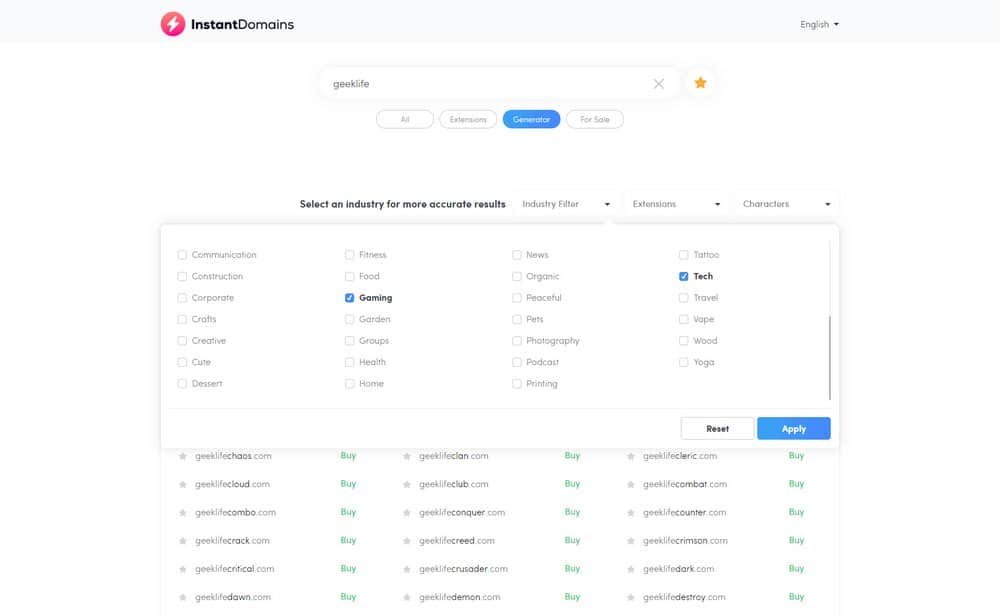 To generate a unique domain name, switch to the Generator tab and enter a couple of keywords into the search bar. Then you can use Industry filters and set a character count to generate a great domain name for your business.
Conclusion
With a tool like InstantDomains, you'll be able to save a lot of time that goes into researching domains and find the right domain name extension for your website almost instantly.
This is a great tool worth keeping bookmarked, especially if you're a freelance web designer or an agency.
Thanks to InstantDomains for sponsoring this post!