How to Build a Classified Directory With WordPress
If you're planning on starting a small classified site with local listings, or a directory site with multiple categories, you can use WordPress to build a feature-packed site that can rival Craigslist or Gumtree.
The best part is that you can build the site all by yourself, with some smart research, a high-quality WordPress theme, and a few relevant plugins. No coding or web design experience required.
Let's take a look at what building a classified or directory site involves, find out about advanced features like user submissions and payment processing, and share tips on how to get started!
Get everything you need to build your next website with one simple subscription. From $16 per month, get unlimited access to nearly 2 million WordPress themes, web templates, fonts, graphics, and photos.
Different Types Of Classified Sites You Can Build With WordPress
Classified ads were a big hit in the newspaper era. In fact, back in the day, those ads helped newspaper publishers run their companies. However, with the introduction of the Internet, things changed. Now, people use classified listing sites such as Craigslist, OLX, and Gumtree to find what they want quickly and efficiently without getting their hands dirty with ink.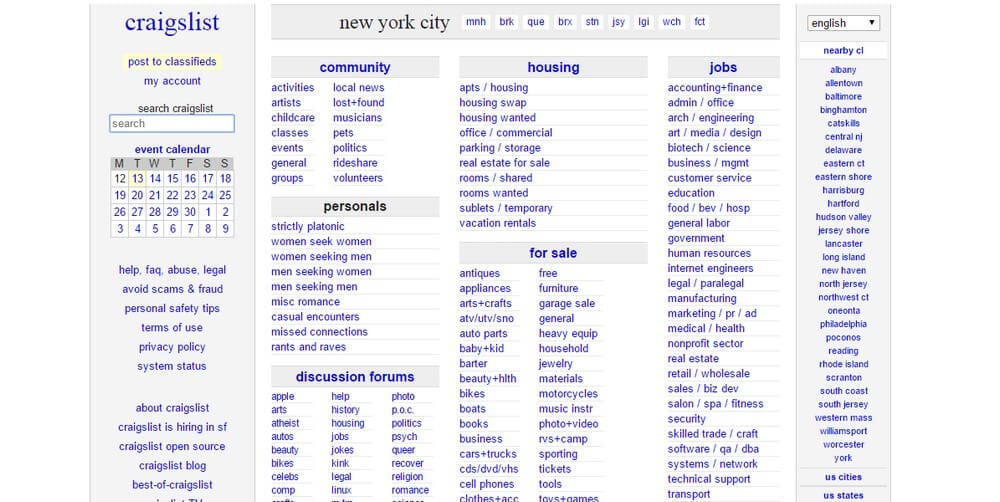 There are several different types of classified sites you can find online. Craigslist, for example, is a site that covers all types of categories from housing to jobs, automotive, personals, and so much more. Then there are niche classified sites that target specific audiences, like sites that focus solely on real estate classifieds or automotive ads.
No matter what type of a classified site you plan on building, WordPress can handle it. You just have to find the right theme for your site.
Find The Perfect Theme
Once you've purchased a domain name and web hosting to host your classified site, the next challenge is to find the perfect theme with the right design for your directory.
While you have the option to choose from thousands of WordPress themes, most of them won't fit your directory website type. For example, a directory WordPress theme that's been designed for a real estate website won't be appropriate for a job listing directory site.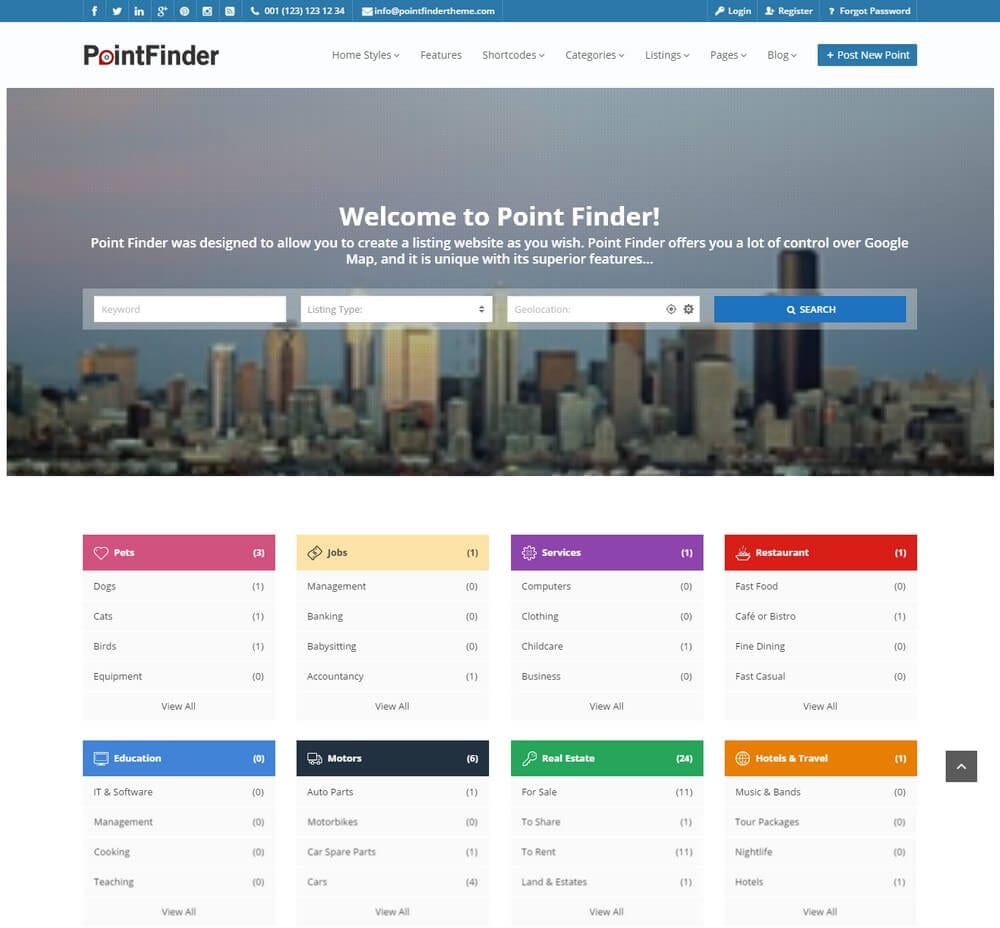 (Example: Point Finder WordPress theme)
Things To Look For In A Classified WordPress Theme
You have to keep an eye out for certain features when you're looking for a theme for your classified site. Remember that these features may differ depending on the type of directory site you're building.
Support for Maps: This is a must-have feature if you're building a housing or real estate related classified site. Support for Google Maps would be a bonus feature as well.
Different Ad Types: If your classified site covers multiple categories, you'll have to make sure your site can support different types of ads and banners. Most directory WordPress themes often come with support for several types of ads.
Easy to Browse: A directory site is a place that your visitors spend a lot of time searching for their ideal solution. You must make sure your site offers a great user experience to keep your visitors coming back to your site over and over again.
Powerful Search Engine: Search is probably the most important function of a classified website. Your visitors should be able to filter their searches by location, item, and categories to easily narrow their search.
A Members Area Or User Submissions: The best way to populate and monetize a classified site is to let users submit their own ads. You can't achieve that without allowing visitors to submit ads.
Space for Advertising: If you plan on creating a free classifieds site and monetizing it with third-party ads, you should look for a theme that comes with space for banner ad slots.
If you're not sure where to begin your search, start with our handpicked collection of best classified and directory WordPress themes and see if you can find a design that fits your directory site.
Install The Best Plugins
A great thing about using WordPress to build a website is that you'll always have options to extend and improve the functions of your website. There will always be a WordPress plugin for adding new features to your directory site.
For example, let's imagine that you've found the perfect theme for your site. It has a great search engine, a user area, and a brilliantly designed ad page, but you're not satisfied with its homepage layout. You can fix this by using the Visual Composer plugin, which will allow you to customize the design of your website without coding.

Or if your classified theme doesn't have a members area, you can add that function with a plugin like Another WordPress Classifieds Plugin.
The important thing to remember is when you're building a professional website, always aim for premium quality plugins and avoid free plugins as much as you can.
Accept User Submissions
It's not required to have a members area for a classifieds site, you can accept and curate ads on your own. But, it would make your job easier if you allow users to submit their own ads.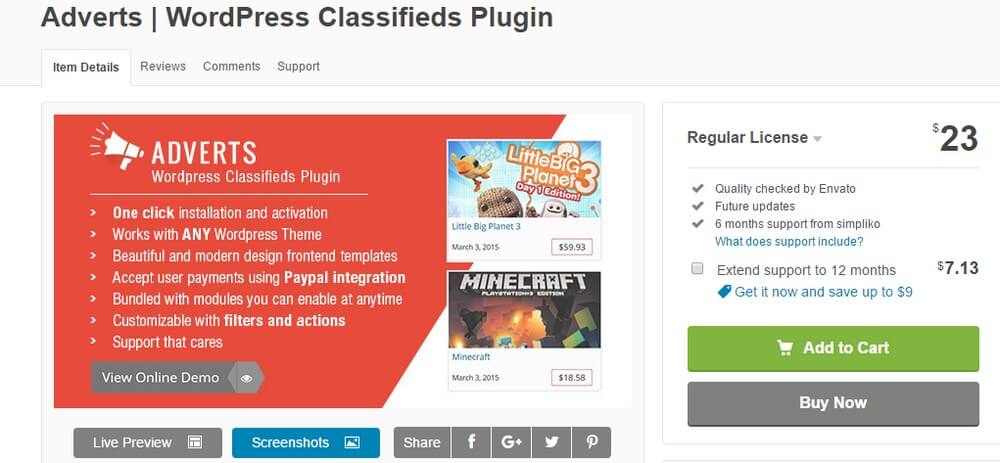 A plugin like Adverts will make this process a whole lot easier for your users. This premium plugin lets your users create and publish ads on their own. And you get to decide whether to let users post ads on your directory for free or for a price.
The Adverts plugin can be integrated with PayPal for accepting payments. It comes with lots of customizable filters, actions, and more. It also supports multiple categories as well.
Of course, this isn't the only plugin you can use to setup a user area for your classifieds website. You can find plenty of premium plugins to get that job done, like Classified Ads Script or LaraClassified.
You can also try a free plugin (ideal for a small free directory site) like Classifieds WP or Advanced Classifieds & Directory. Even though the free plugins aren't as great as premium plugins, they offer enough features for setting up a small directory site on a budget.
Conclusion
Building a classifieds directory website is not something you can accomplish overnight, it takes time, hard work, and lots of promotion. However, WordPress does make the job much easier thanks to its easy-to-use content management system and the plugins.
As long as you have the right classified directory theme installed on your WordPress website, you won't have a problem attracting new visitors and generating a profitable income with your directory site.
Looking for WordPress hosting? We use Kinsta. They offer world-class WordPress hosting, built to keep your website fast, secure, and always online.