30+ Best Figma Instagram & Social Media Templates
In this day and age, businesses simply can't survive without good social media engagement. There are even entire career paths built around social media, and people around the world who earn a living solely through their social network channels! But if you're already trying to run a business, how are you meant to find the time to create meaningful and appealing content?
Fear not – there are countless social media templates for effective and engaging profiles, posts, and stories available, and we've saved you even more time by finding the best ones! From specific businesses such as gyms and coffee shops to general content templates that can be customized to fit literally any kind of profile, there's a range of Figma templates that are sure to suit you.
Let's check them out.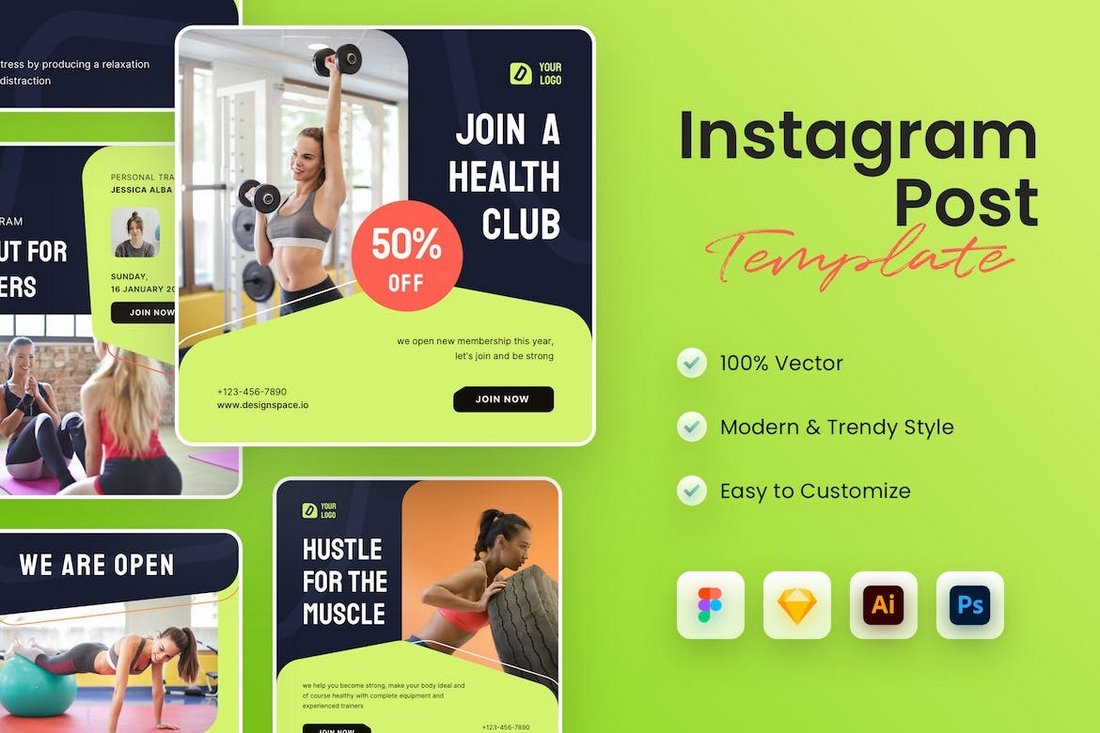 This template kit includes fully customizable Instagram post templates you can use to promote fitness and gym businesses. It comes with easily editable designs featuring free fonts, image placeholders, and more. The templates are available in Figma, Sketch, Photoshop, and Illustrator formats.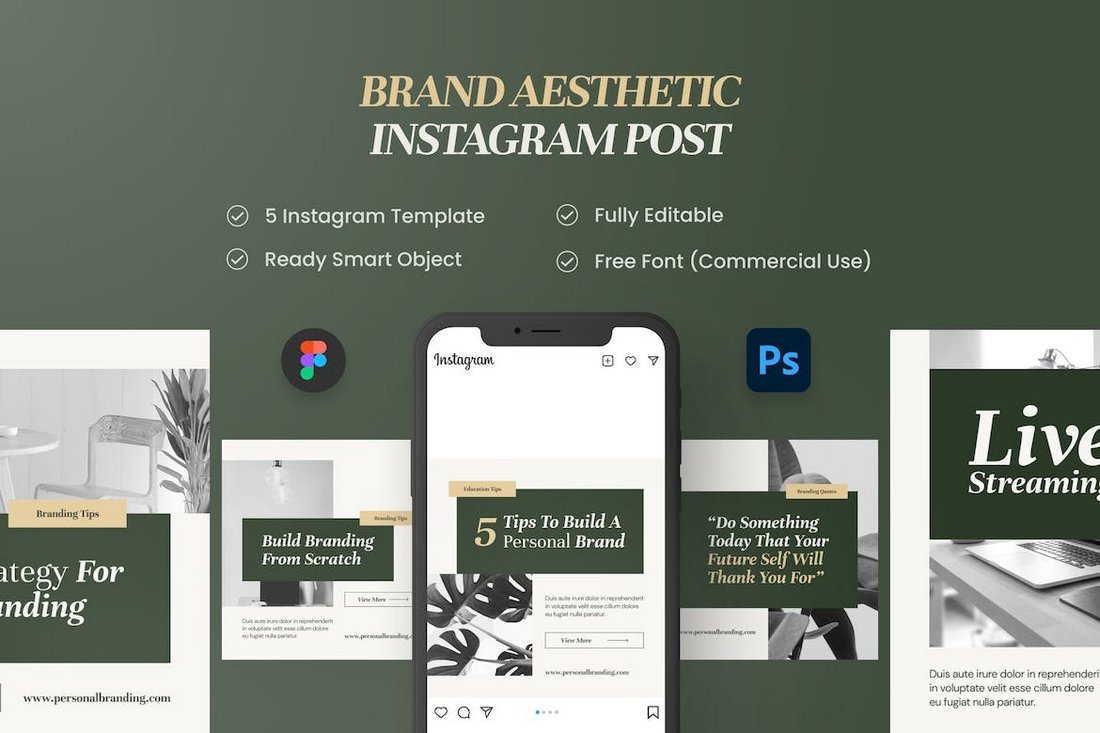 You can use these Instagram templates to promote high-end and luxury brands in a stylish and elegant way. It includes 5 stylish post templates with easily editable designs. They are available in Figma and Photoshop formats.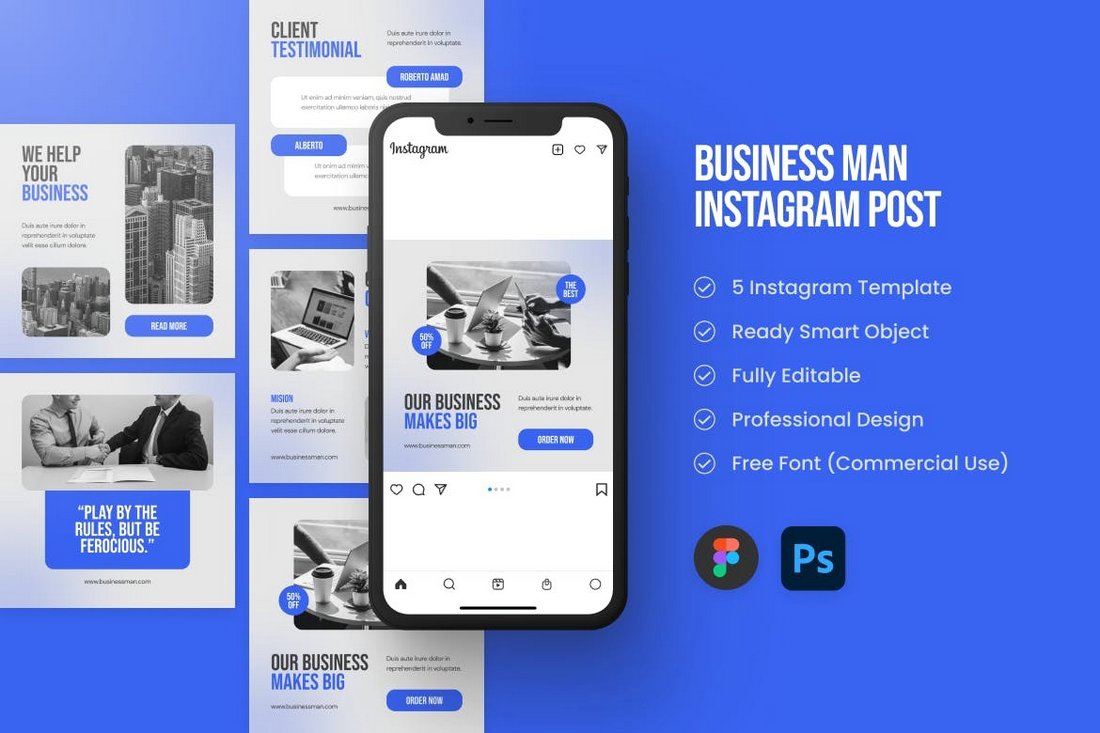 Make your business stand out on social media with this bundle of Figma templates. This pack comes with 5 professional Instagram post layouts with clean and customizable designs.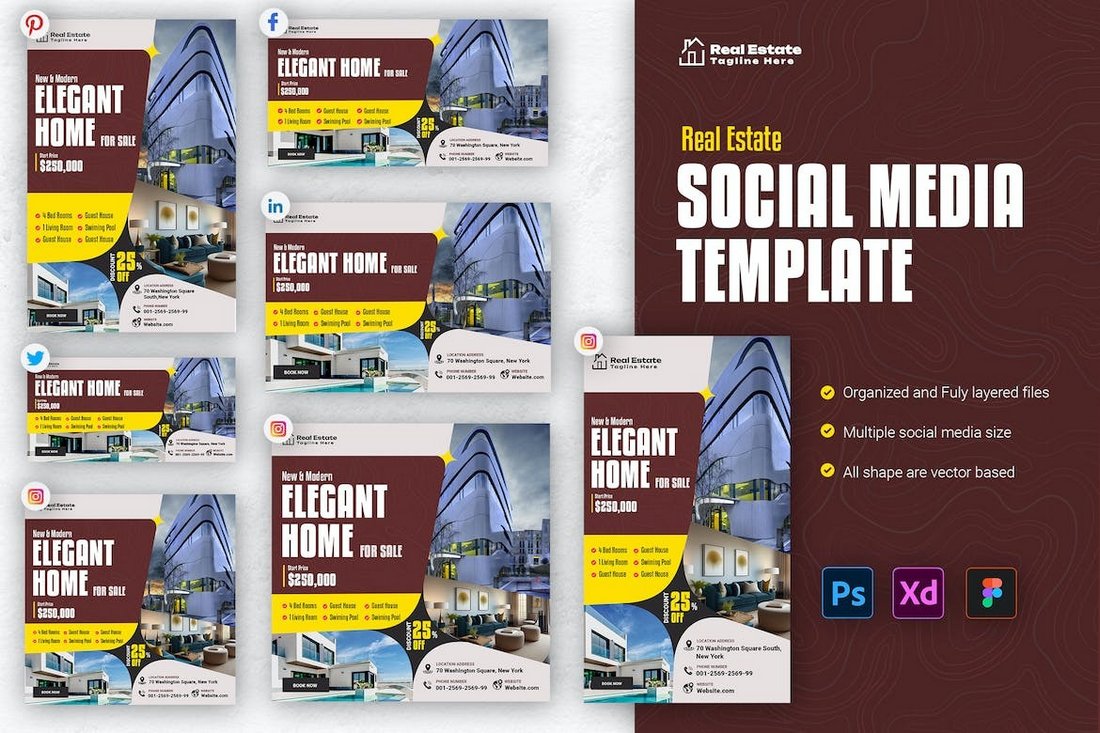 This is a multipurpose social media template kit for Figma and Photoshop. It has a professional design for promoting real estate businesses and properties across multiple social media channels. The template comes in Instagram post, story, Facebook, Twitter, Pinterest, and LinkedIn sizes.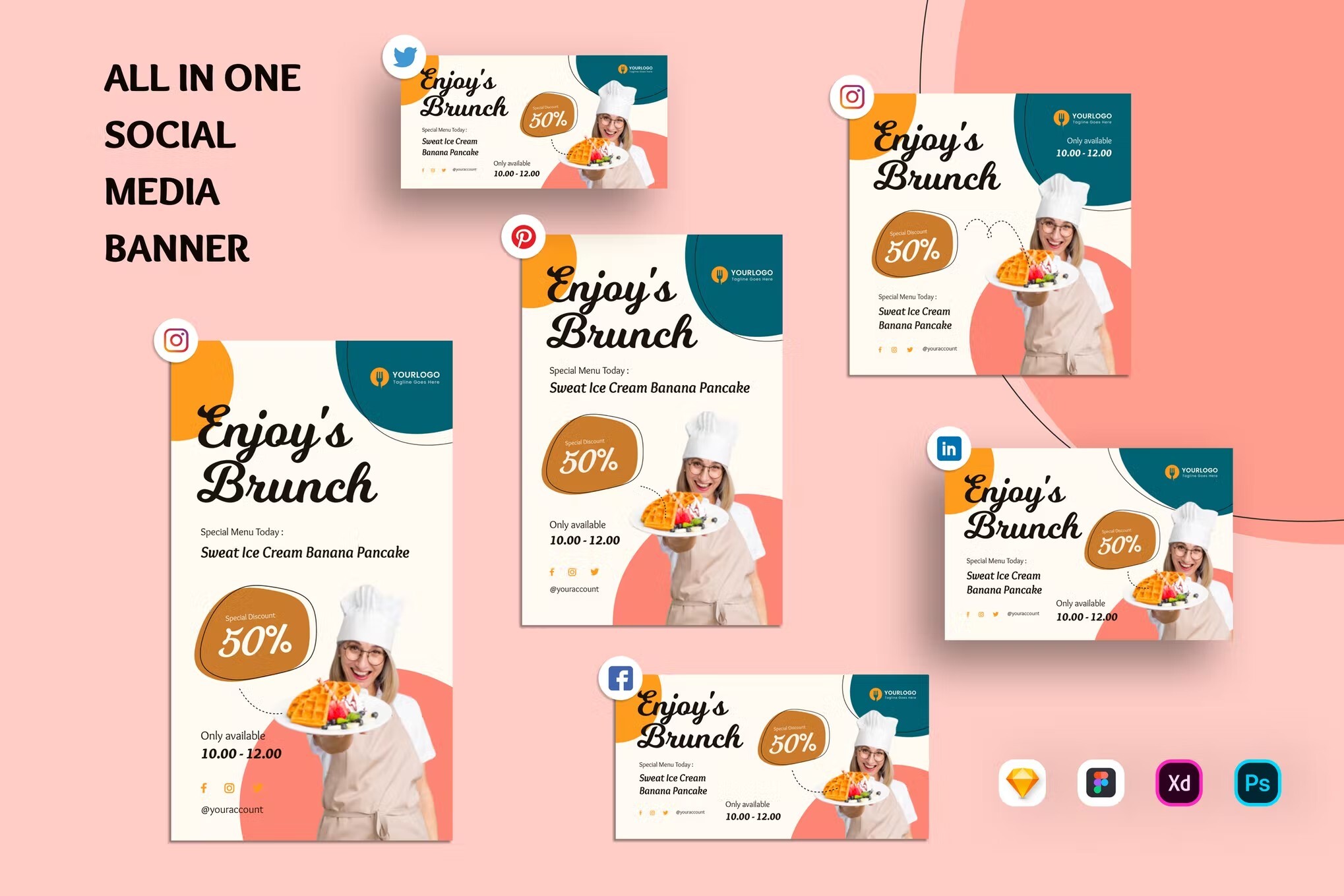 Whether you are a designer, blogger, or entrepreneur, this gorgeous Figma template will impress your audience and up your social media marketing game. The pack includes 9 minimal and eye-catching designs.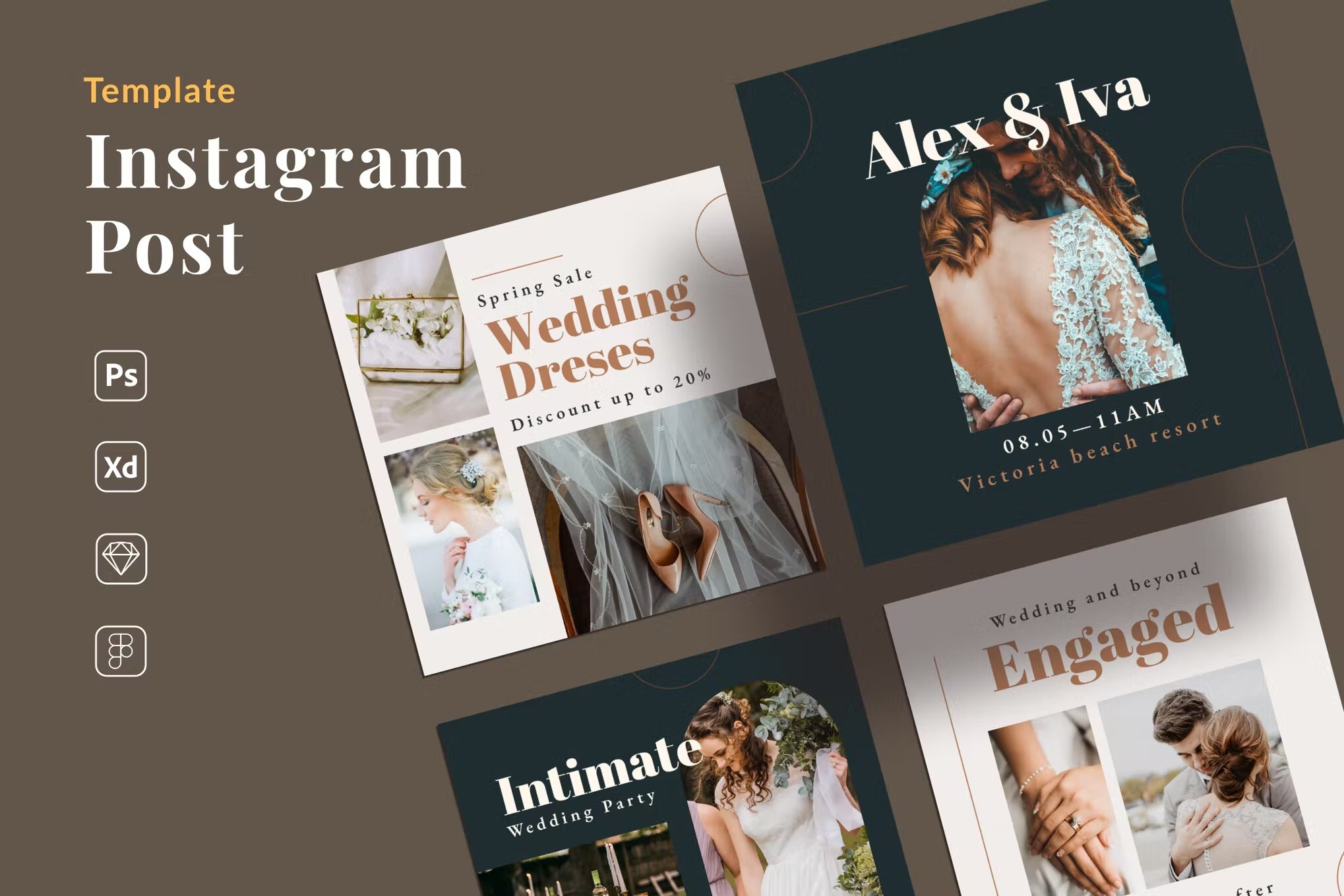 This product is a beautiful, puzzle-style set of post templates designed to add a sense of style and cohesion to your Instagram feed. Each file is fully customizable and compatible with Figma and incorporates smart objects, vector shapes, and full layering for a high-quality finish.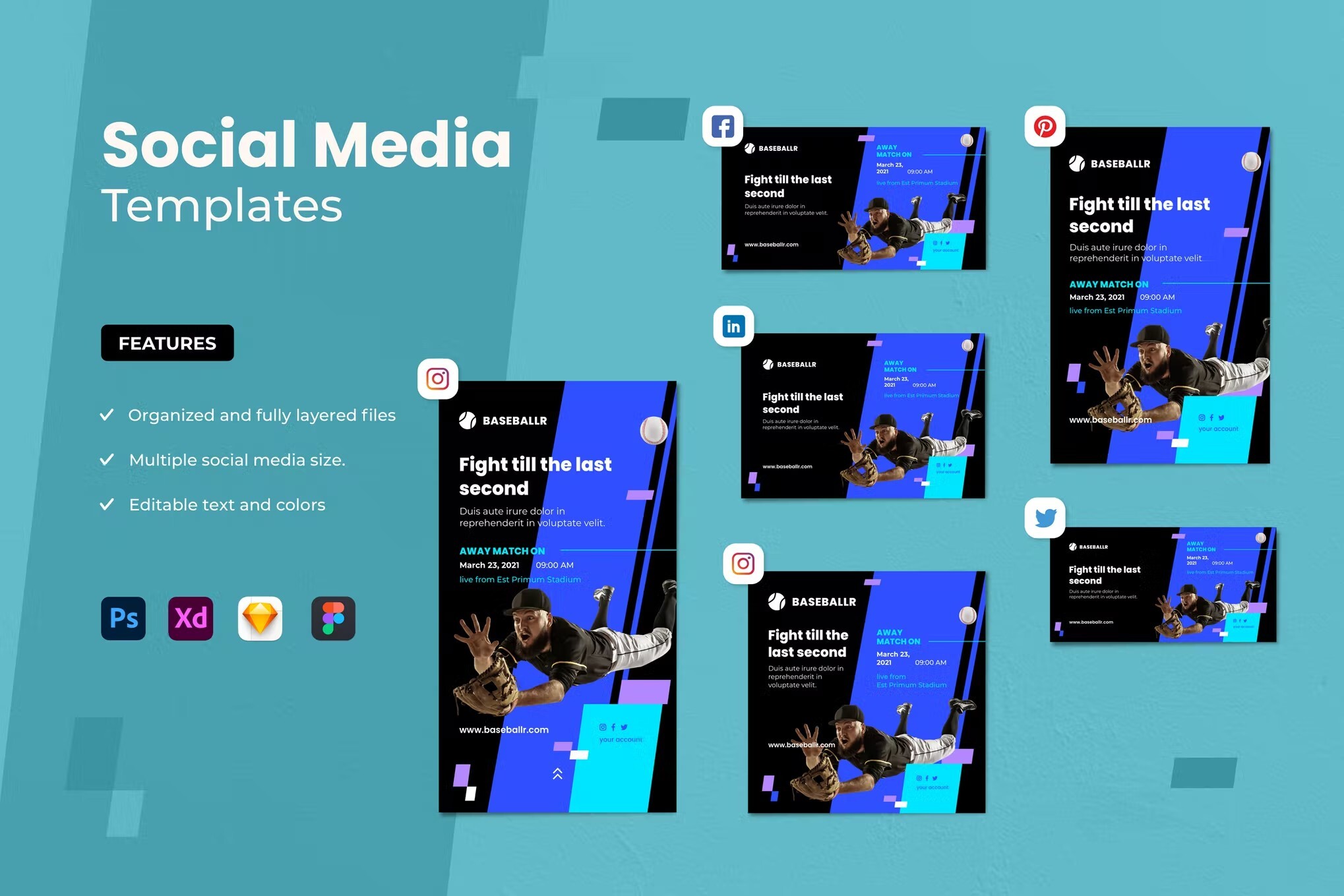 This bundle of six creative social media templates will save you heaps of time in creating catchy and engaging content to help grow your follower base and connect with your audience. It includes free fonts, smart objects, and vector shapes, and the design features bold and thin typography and beautiful solid colors.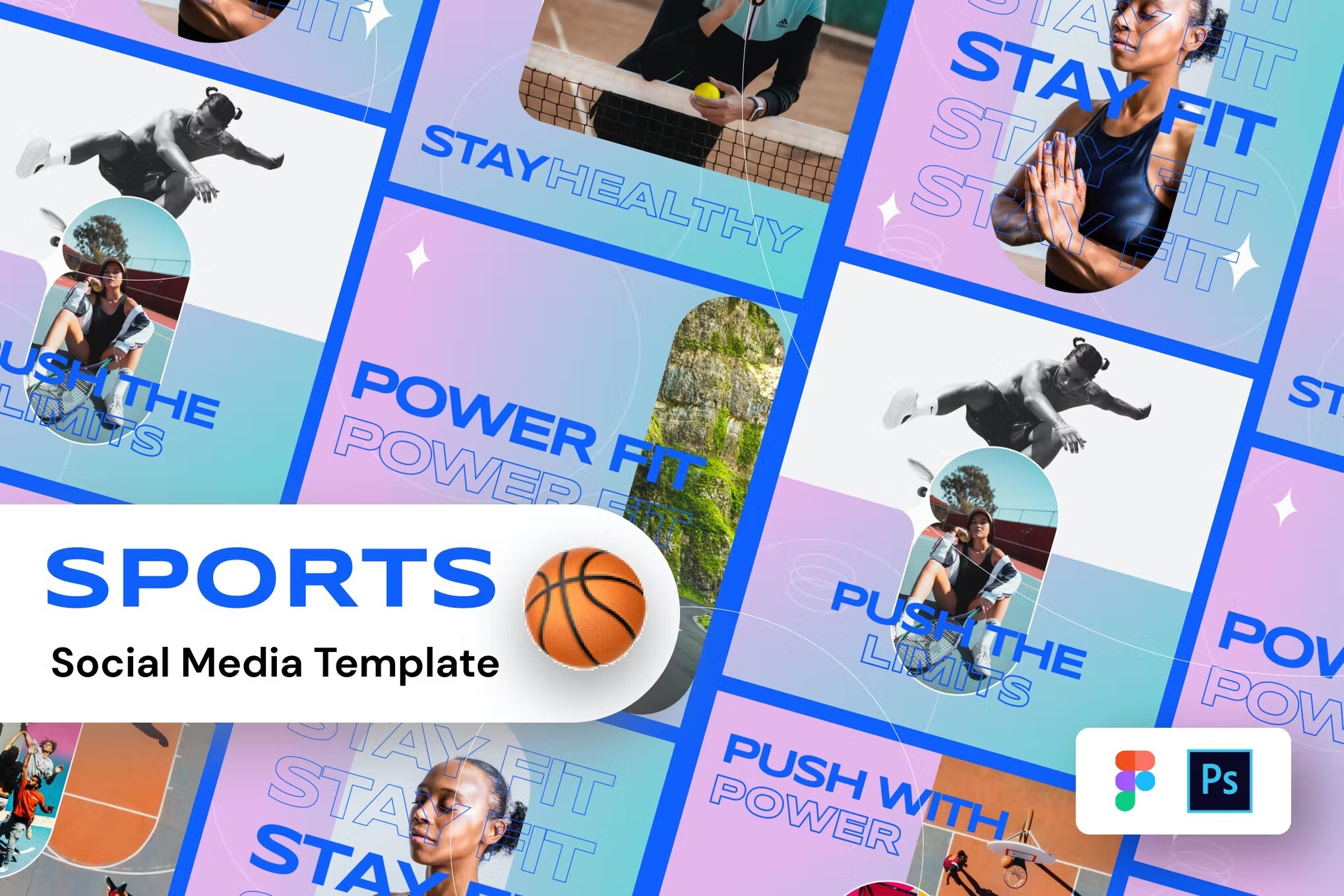 This is a social media template with an aesthetic style ready to make your posts more stunning and boost your insight. This template kit is suitable for Instagram, Facebook, Twitter, Pinterest, and many more social media platforms.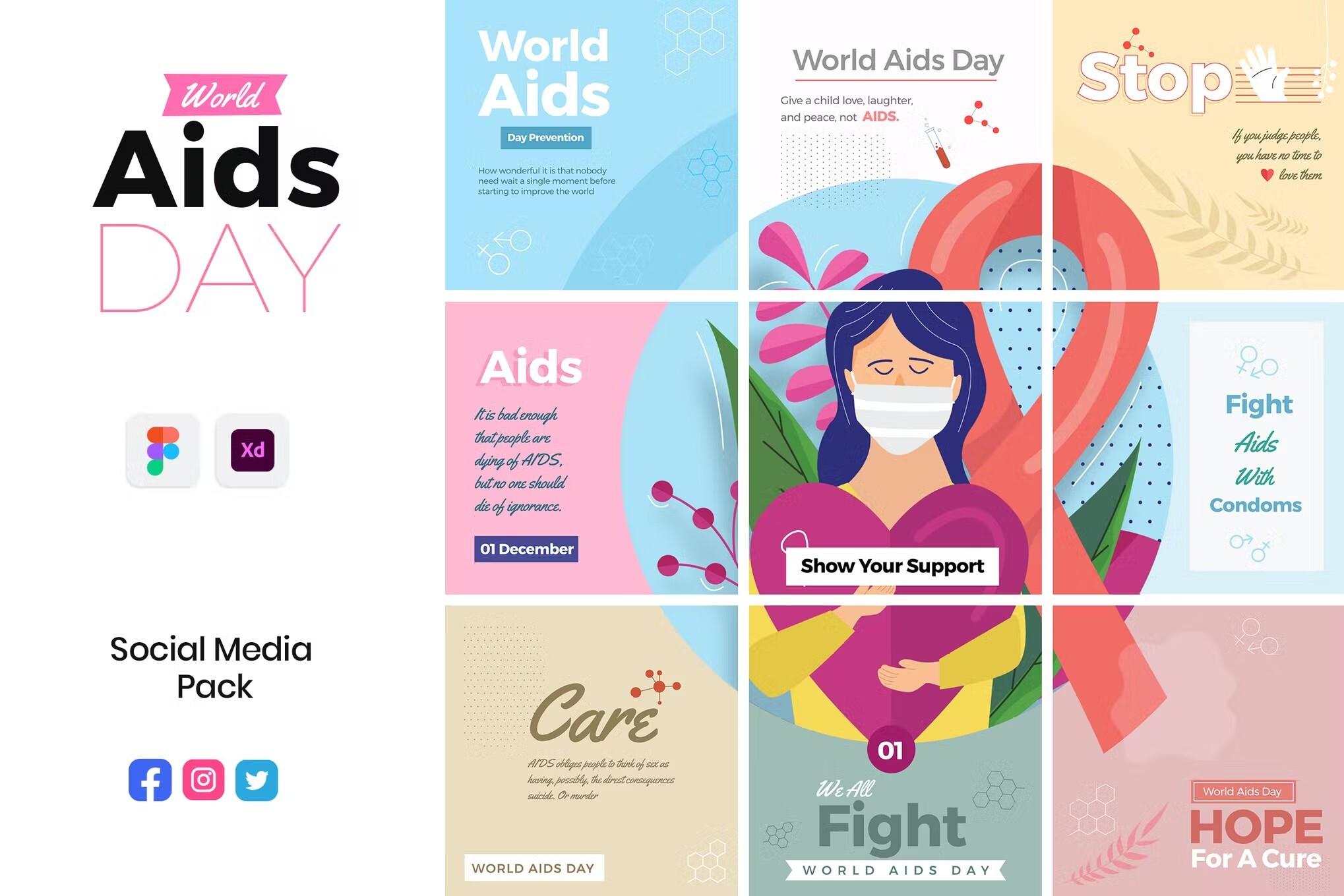 This is a modern and versatile collection of six social media templates that are ideal for an AIDS awareness program, or even for use with your own personal social media. Designed natively for Instagram, each template features fully editable text, colors, and graphic elements.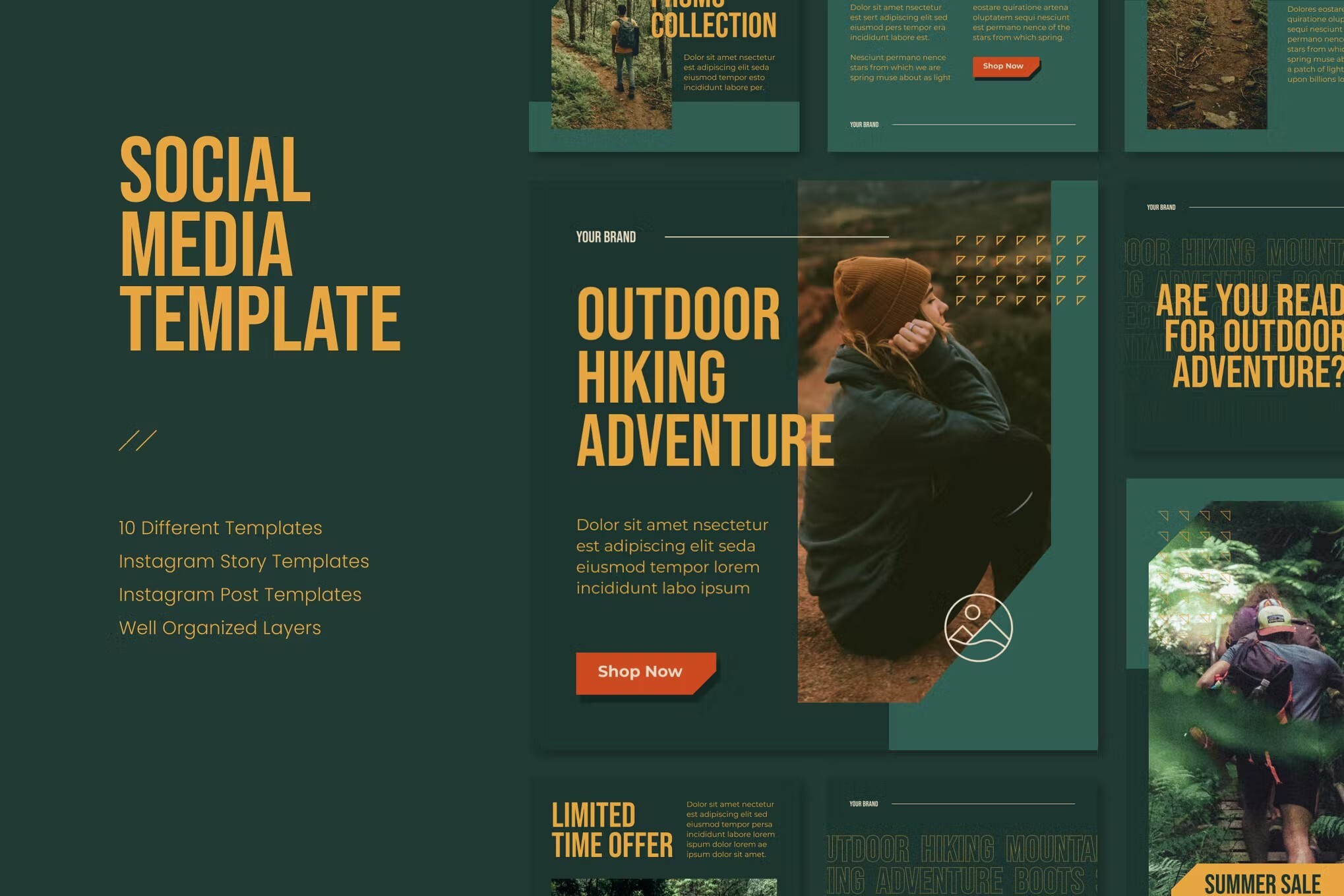 Artemo is a beautiful set of social media templates that are fully customizable using Figma, and feature fully layered elements, vector based shapes, smart object image placement, and editable fonts and colors. It's a particularly good option for small businesses and creative professionals that want to make an impact!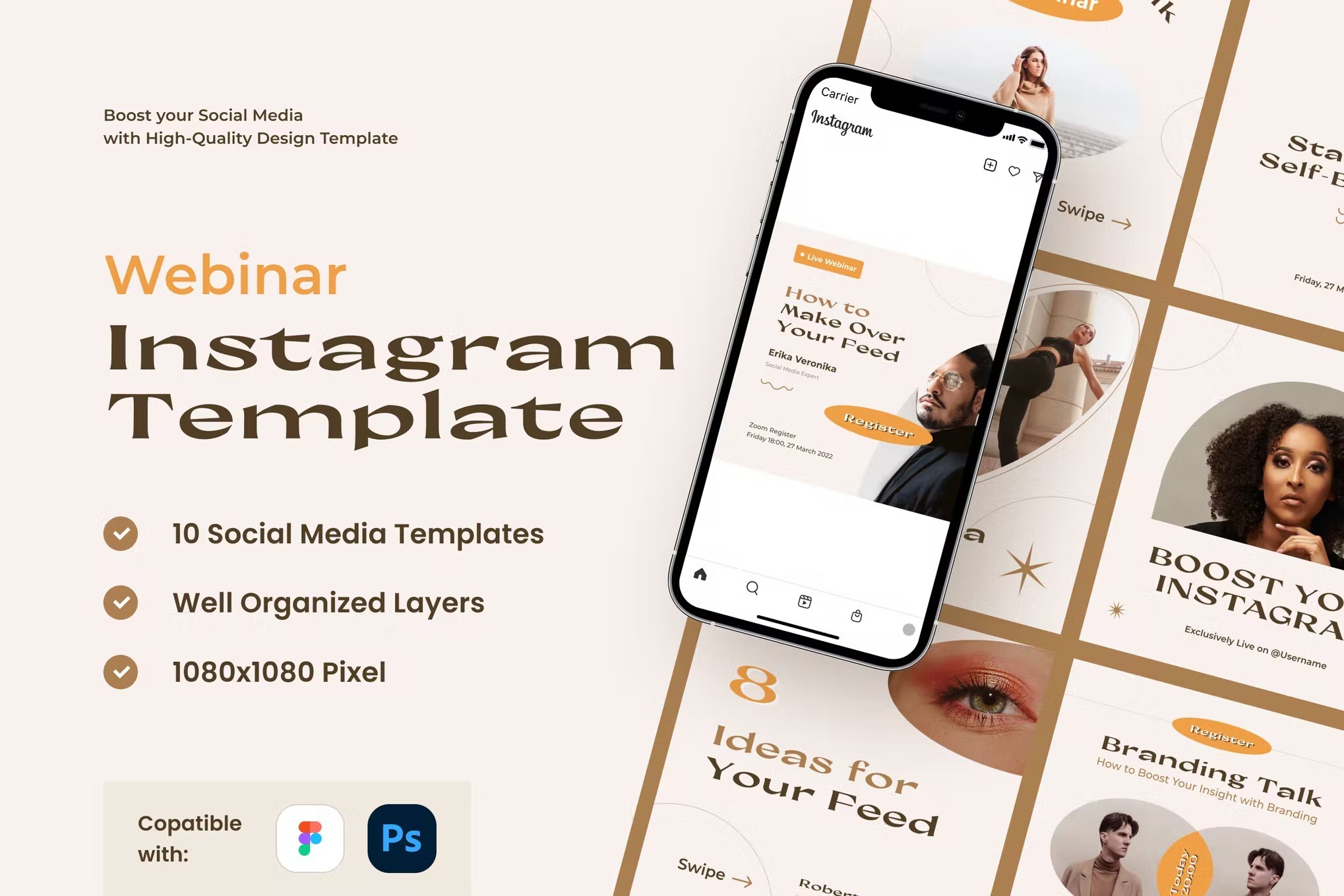 Another elegant and subtle option, this social media template package, includes a range of ready-to-use post layouts featuring bold fonts, eye-catching hues, and state-of-the-art graphics such as smart objects and vector shapes for seamless editing. It's also fully layered and well organized and comes with supporting documentation.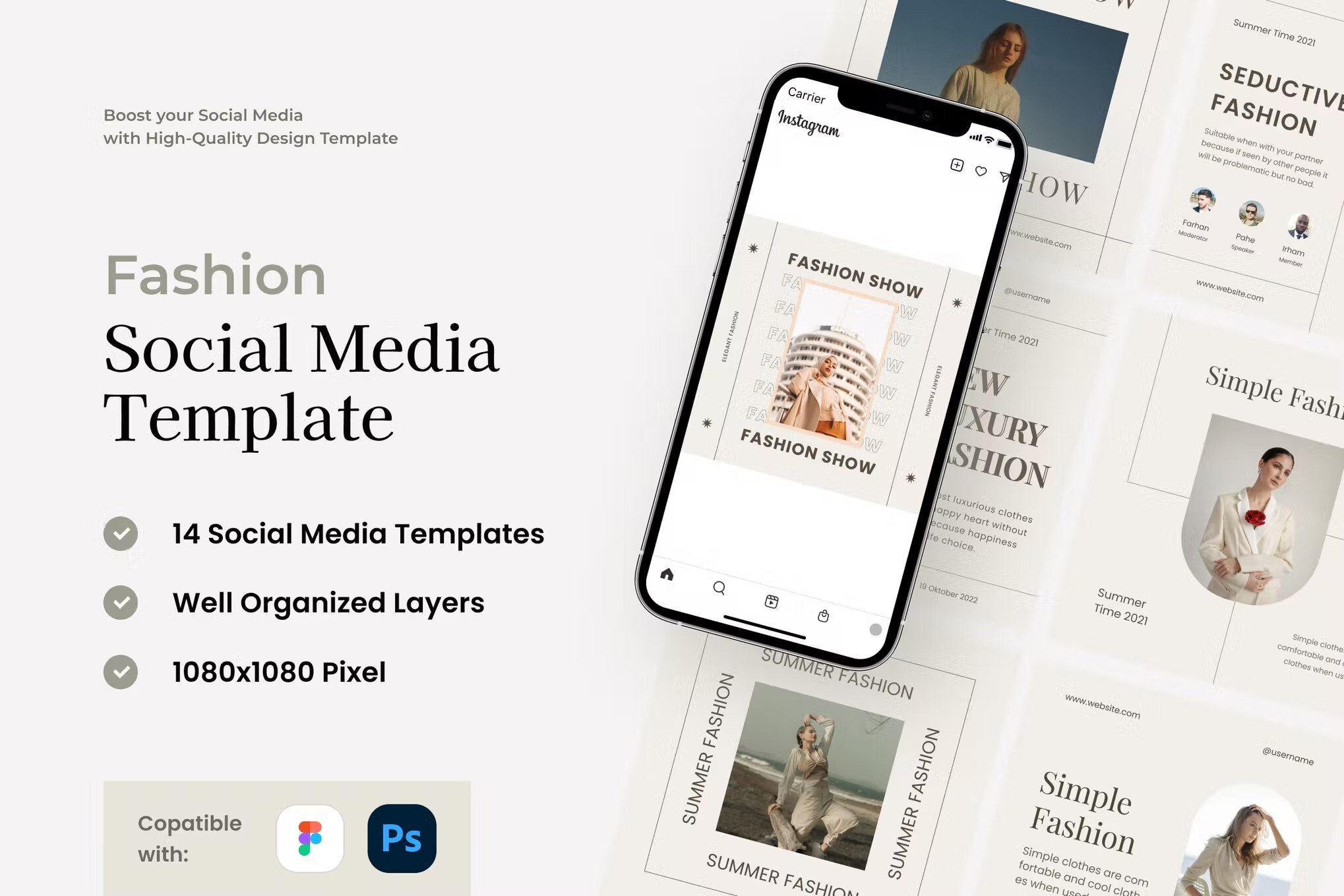 Next up we have this set of nine duo tone fashion-themed social media templates with well-organized layers, high-quality vector-based shapes, and easy image placement through smart object functionality, plus fully customizable text and colors.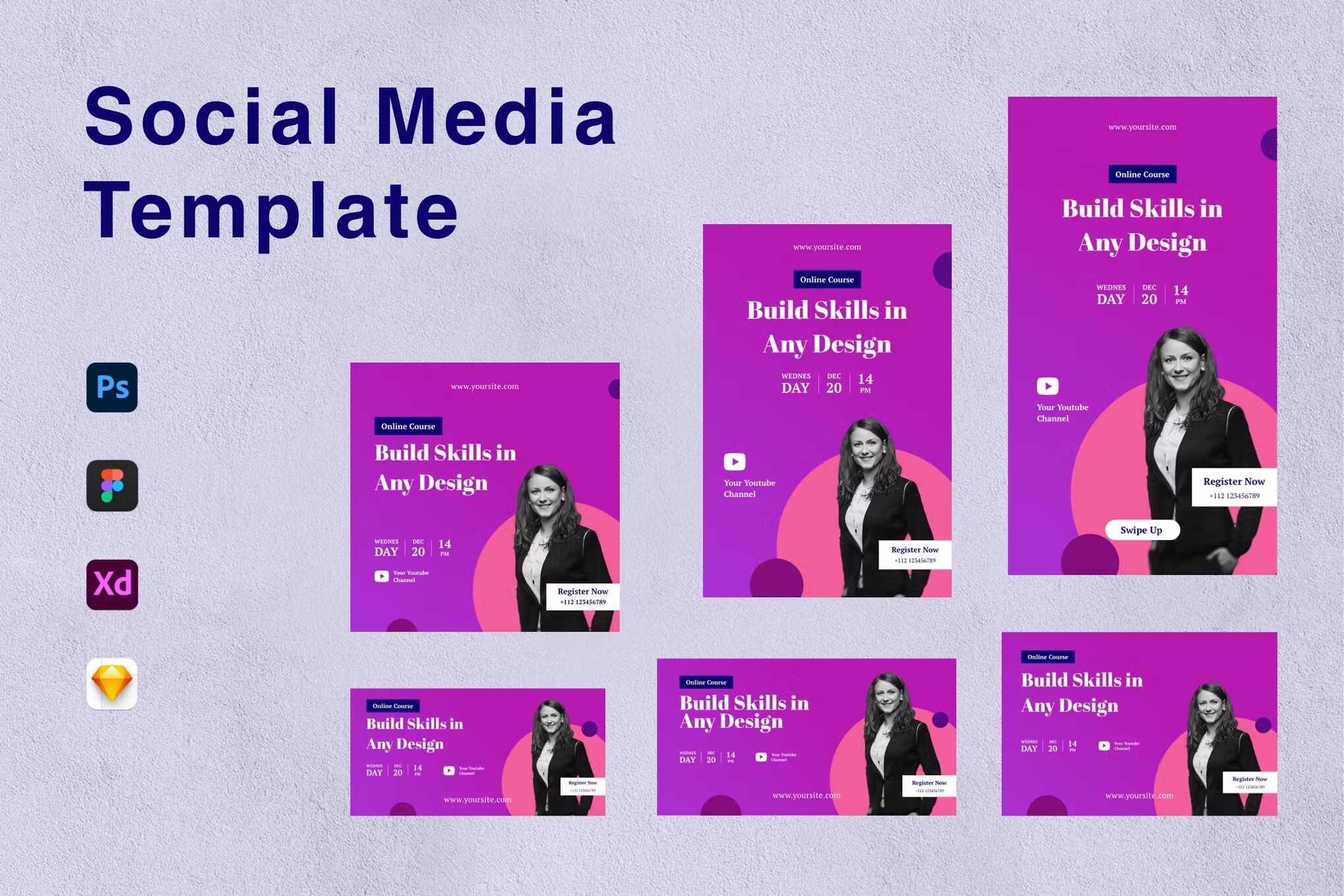 Have you ever wanted to create graphics that look professional? With this social media template, that ability is now within reach. These social media design templates make creating social media graphics easier than ever. Even if you don't always know exactly what you want, these templates can get you started on the right path and help you create something you can be proud of.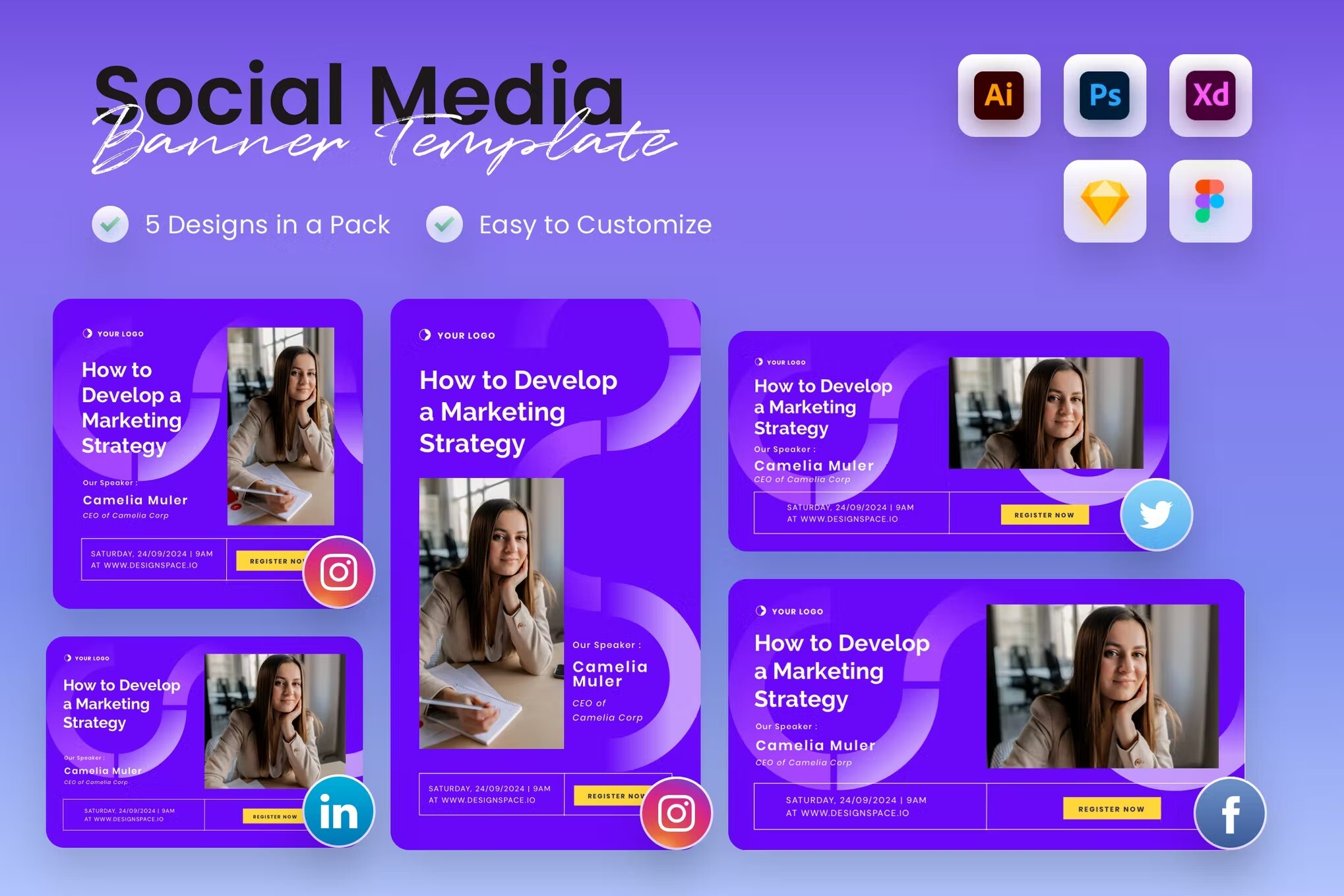 Here we have a gorgeous social media template bundle featuring layouts for stories and posts with a modern creative theme that's perfect for virtually any business. It features a total of 24 unique templates with free fonts and full supporting documentation.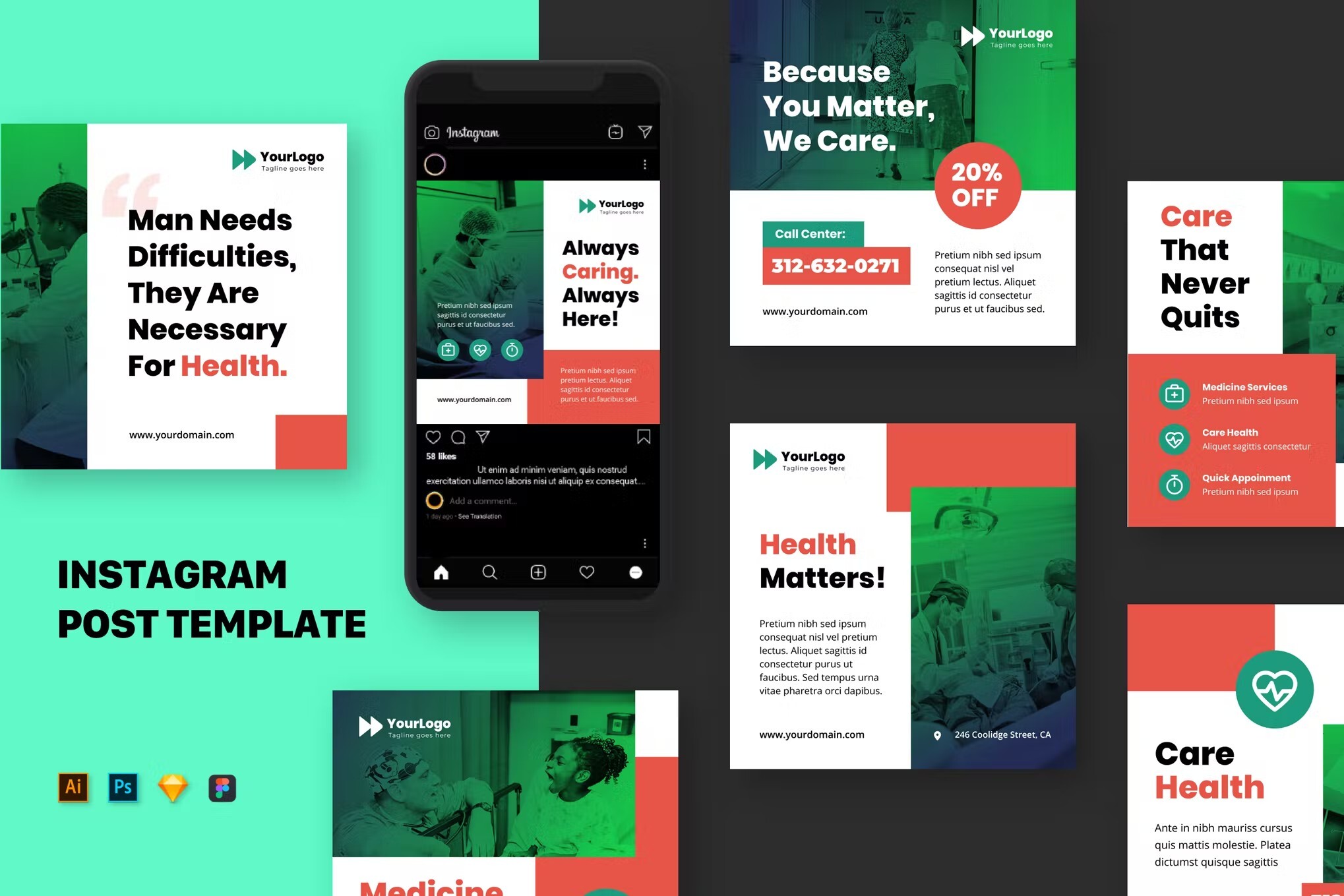 This bright and eye-catching set of social media banner templates has been specifically developed to help you create engaging content for your business on social media and includes a range of high-resolution layouts in Figma file format with well organized and labeled layers for easy customization.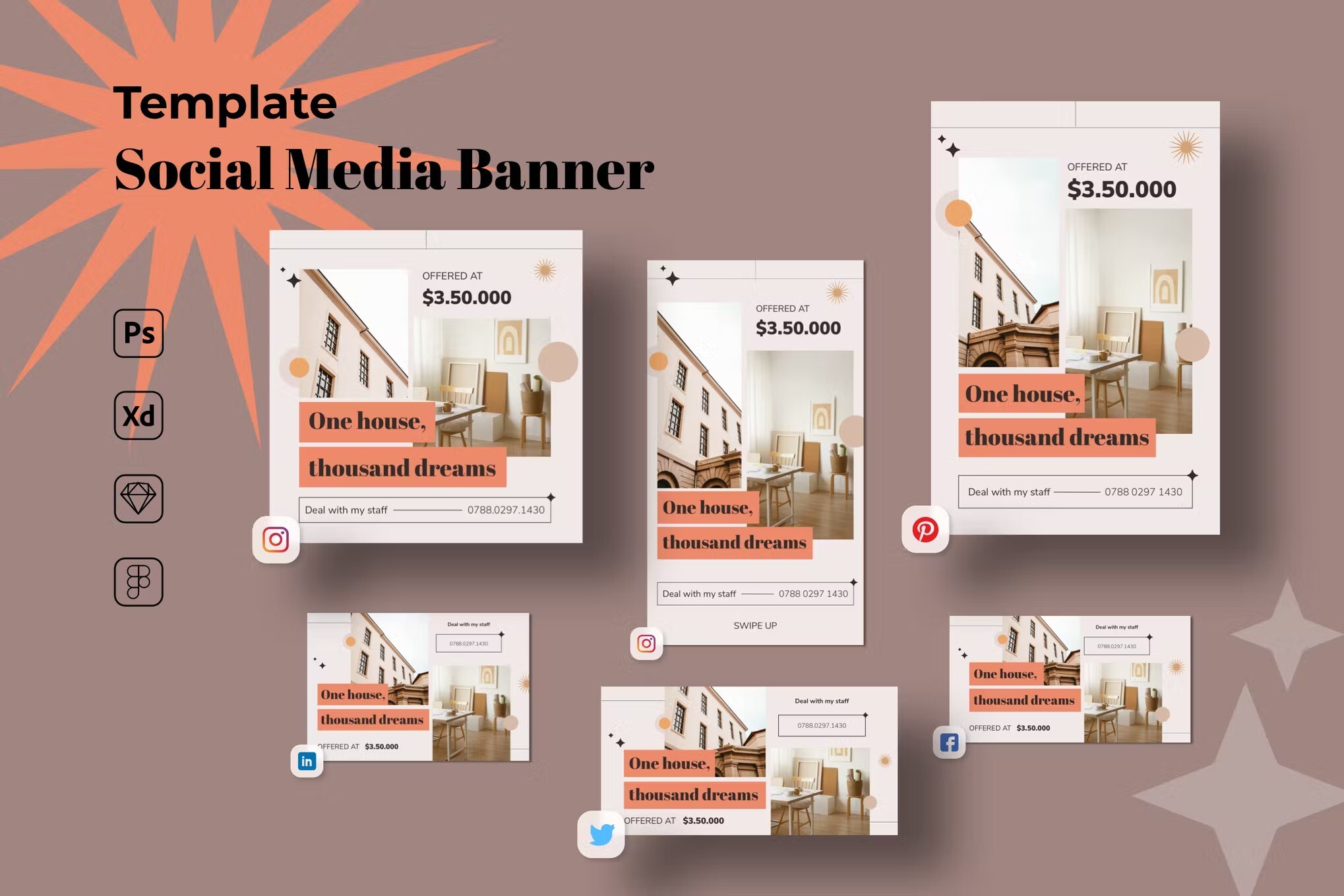 The next Figma template in our list provides a range of eye-catching, layered templates featuring stylish solid colors, bold, thin typography, and a range of smart objects and vector shapes to allow for instant customization. It's compatible with all new device screen resolutions and can be edited using Figma.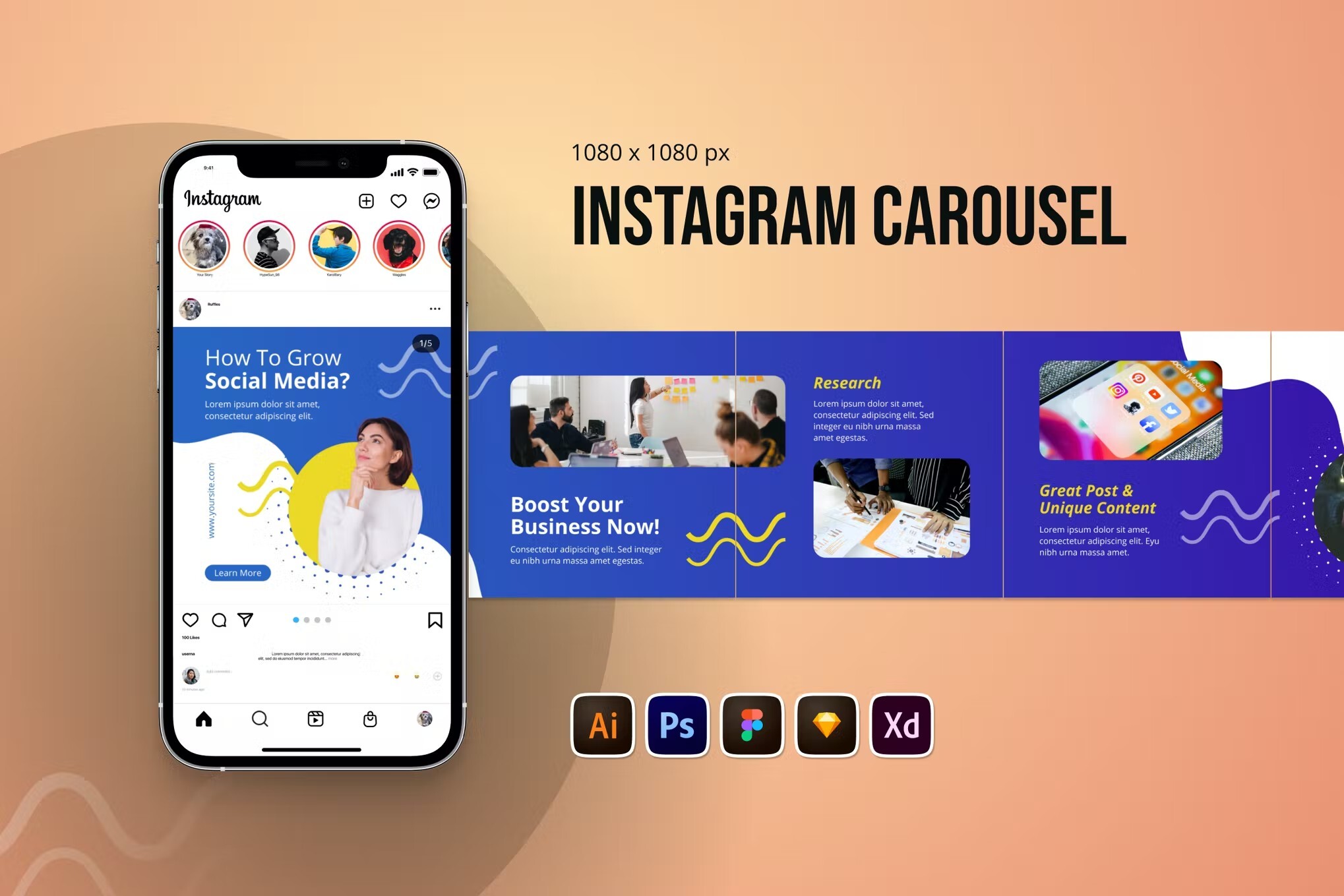 Highly versatile, modern, and bright, this fun set of Instagram carousel templates provides both Figma and Photoshop files featuring layered graphic elements, interchangeable color themes, and a range of free Google fonts. While it comes in an Instagram post size, it can also be adjusted to fit the size of other social media platforms.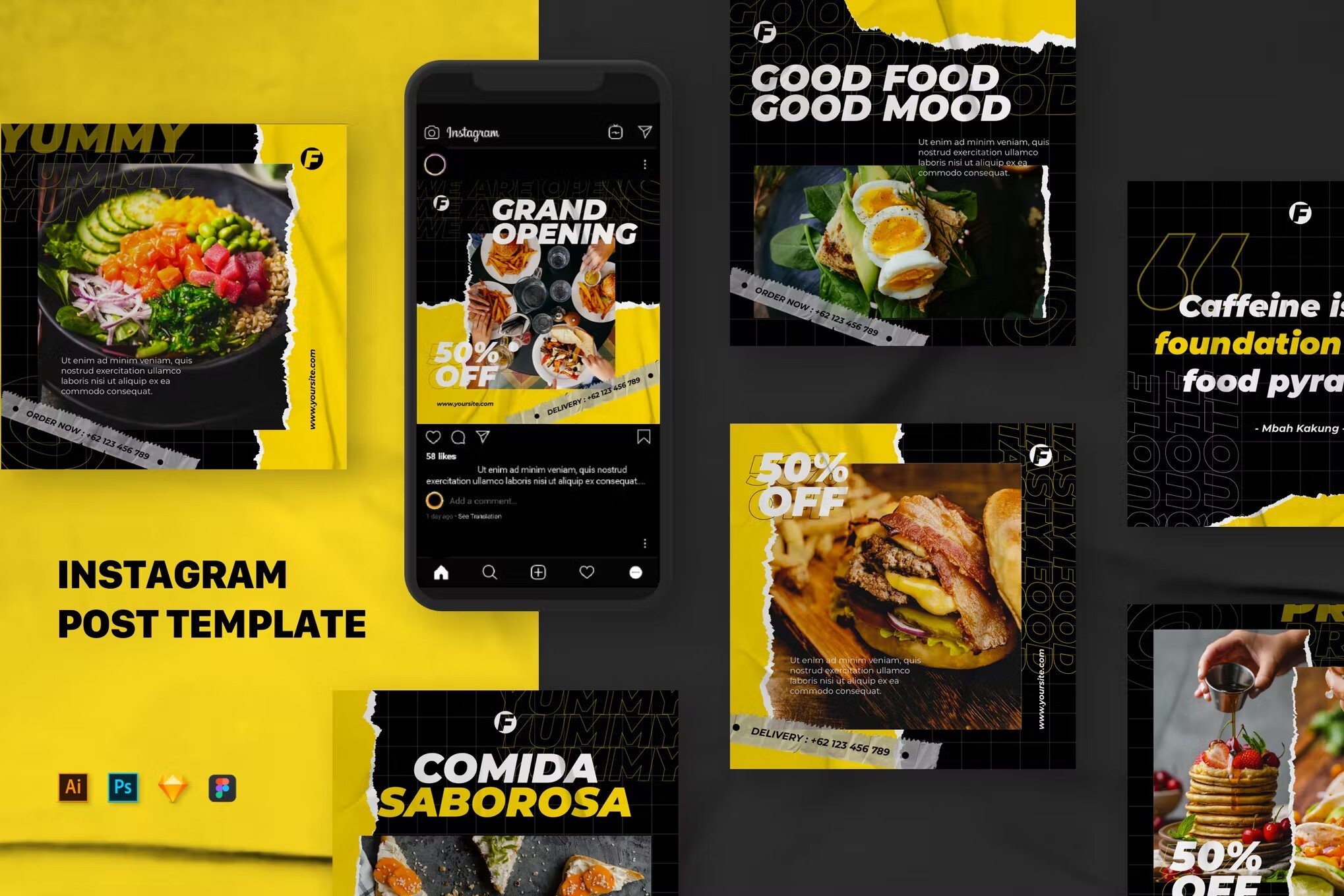 Our next Instagram post template is a creative abstract design that's perfect for new businesses that want to engage new and existing followers using a funky yet professional-looking feed. It's compatible with Photoshop, Illustrator, Sketch, and Figma, allowing for easy editing regardless of which program you use.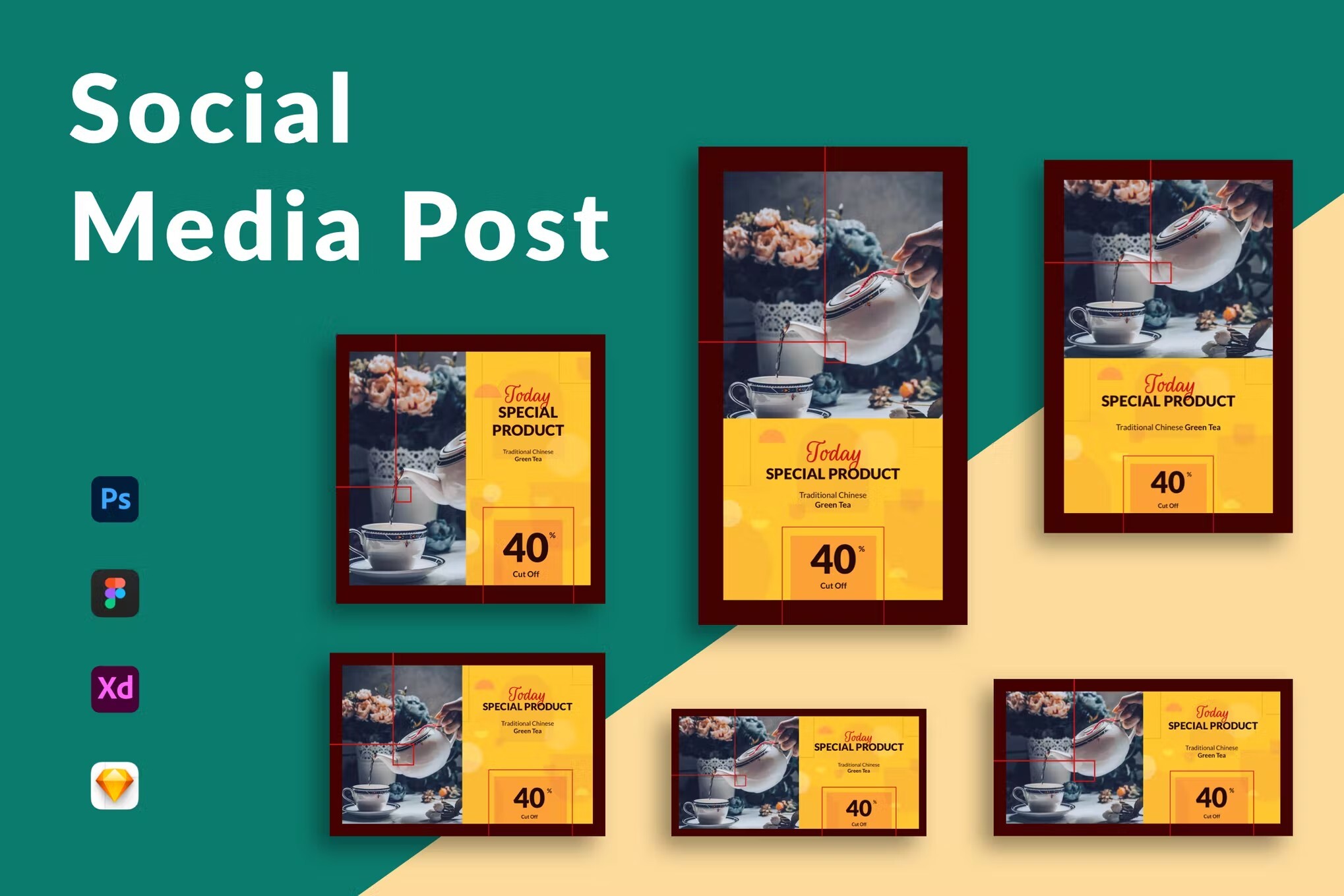 This is a clean, elegant set of social media post layouts that features beautiful contrasting typefaces, a stylish monochromatic color theme, and a minimalist design that's perfect for any personal or business feed with an eye for fashion and sophistication.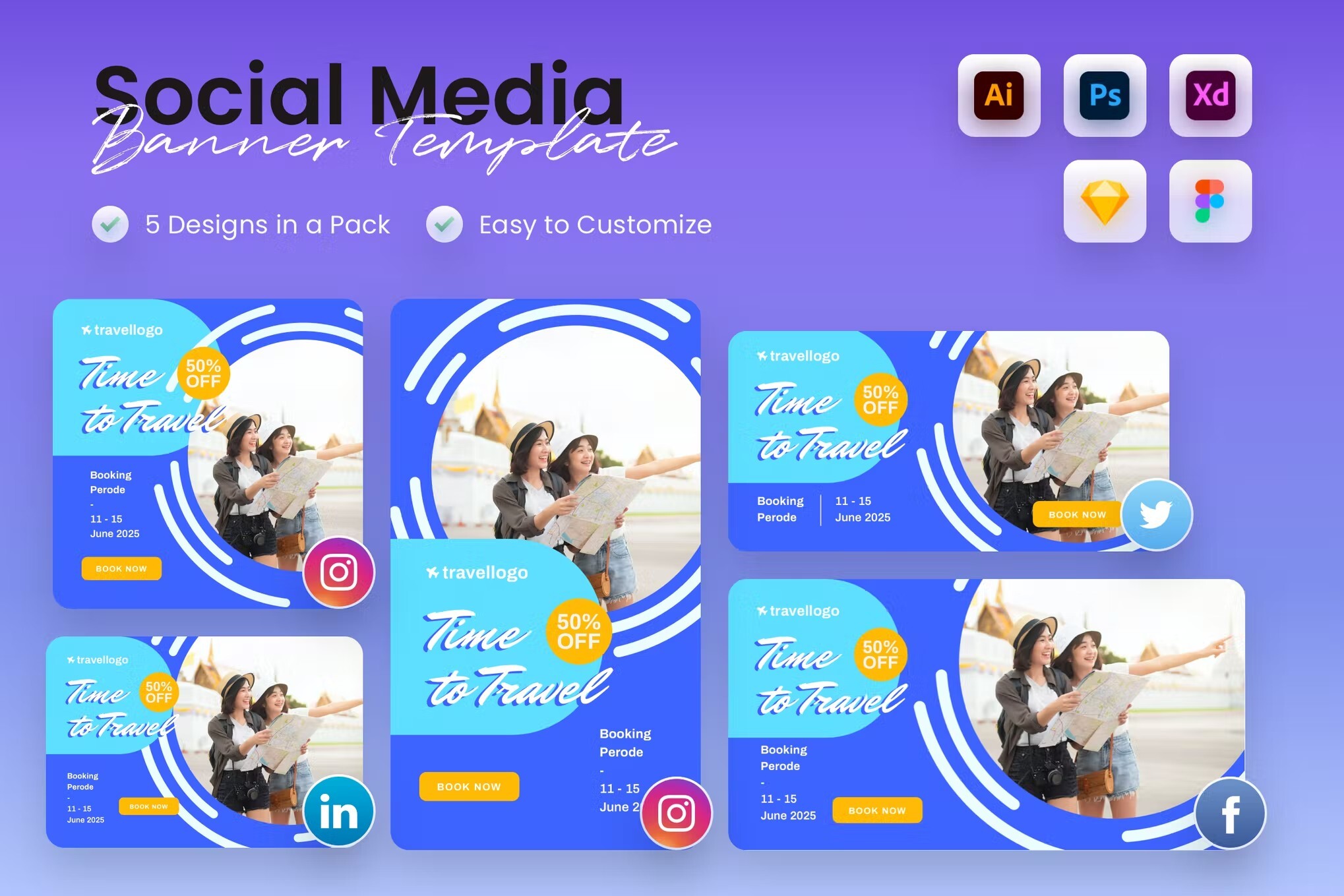 Check out this stunning social media banner template that you'll be hard-pressed to pass up. The designs are simple and professional, and the pack contains a range of features for you to play with and make the template your own.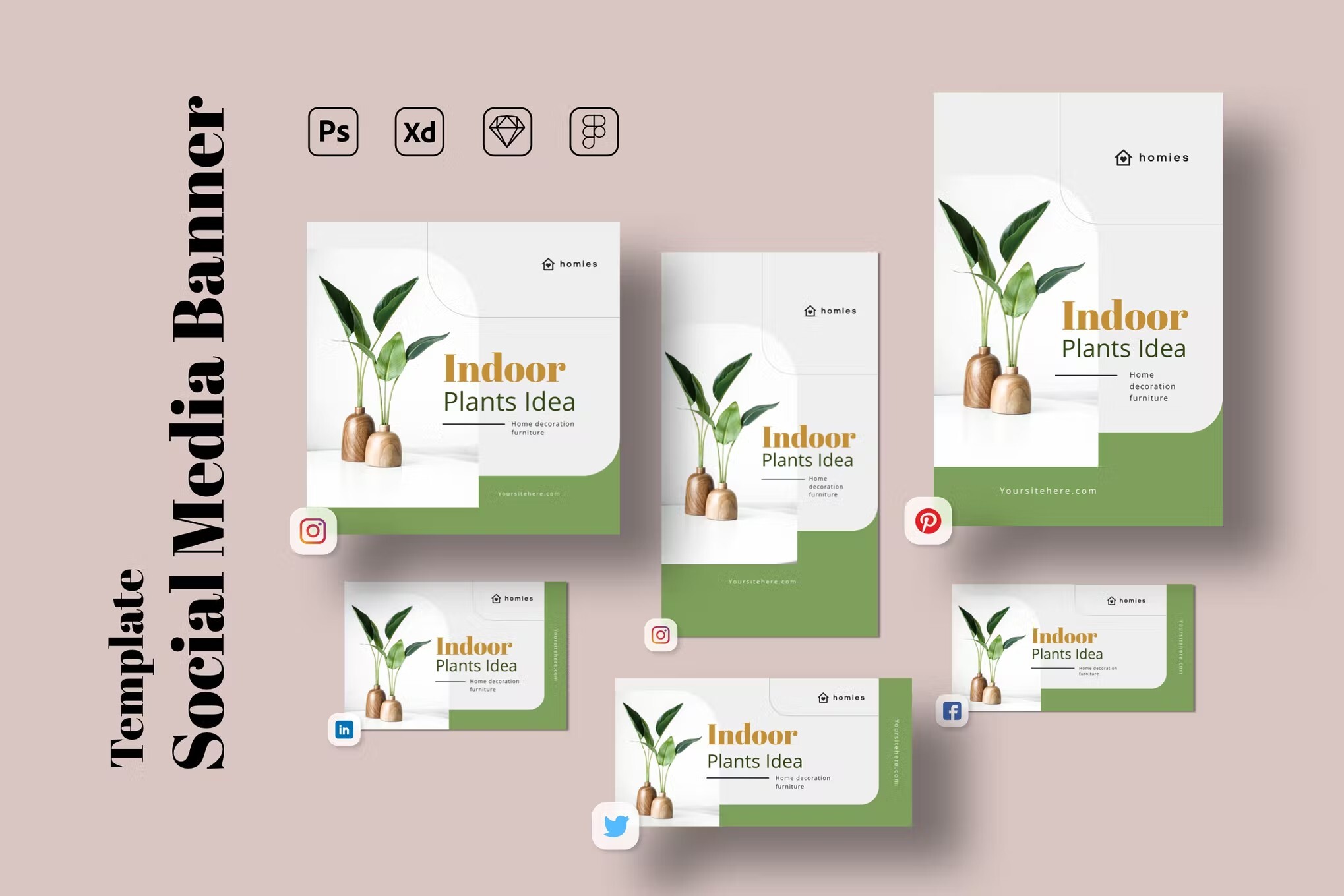 This simple and modern Instagram profile template includes a wide range of multipurpose layouts, including purpose, built-in Instagram story, and post designs, and is compatible with both Figma and Photoshop. It's a great way to add a touch of black and white sophistication to your feed.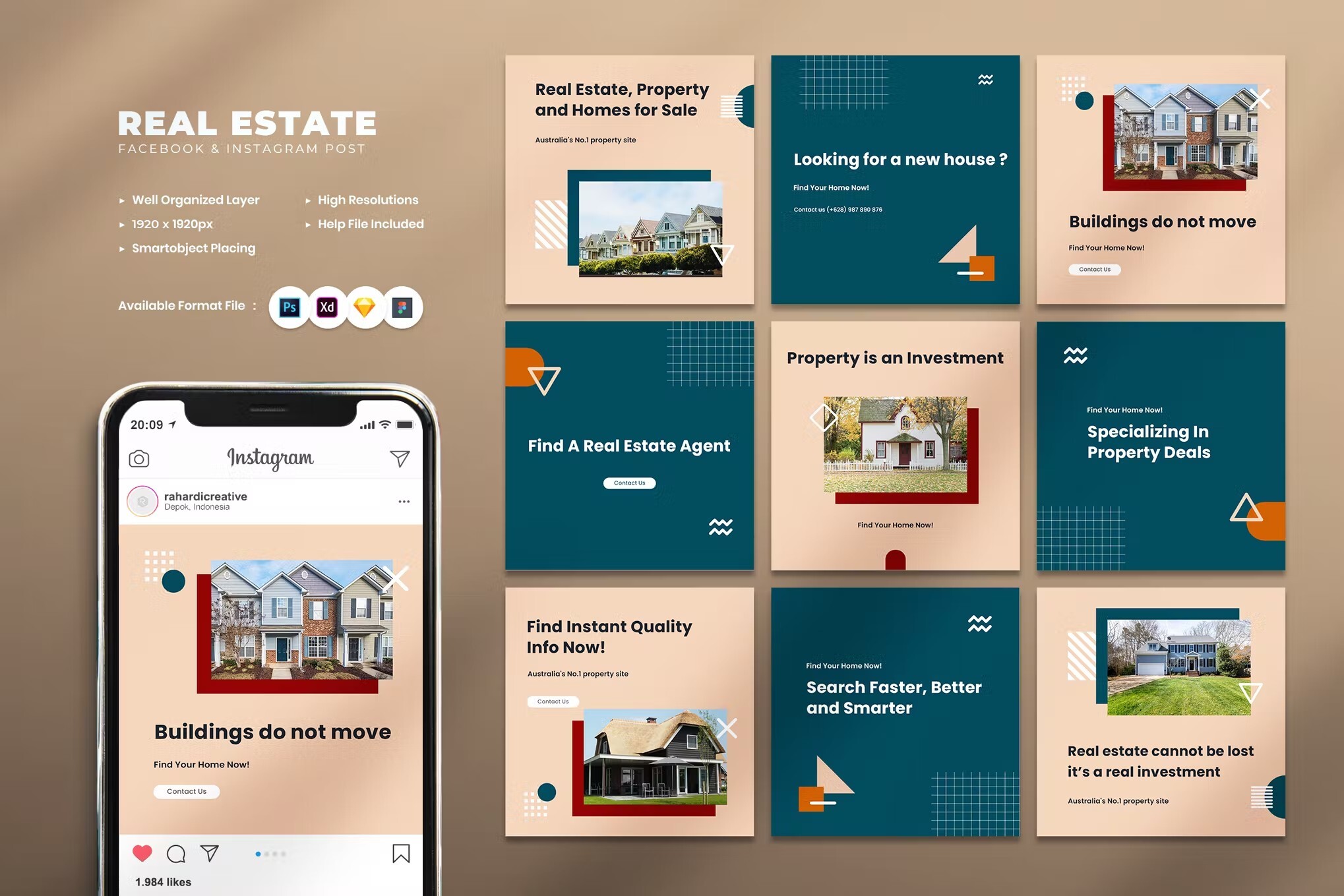 The Lunar Instagram story template is a series of fully editable story layouts that are suitable for a wide range of purposes, from shops and real estate agencies to creative professionals and bloggers. You can customize each template easily in Figma using layered elements and drag and drop functionality.
This Instagram profile template is perfect for a podcast! It includes layouts for both posts and stories, is compatible with both Figma and Photoshop, and features fully layered and vector-based graphics for a professional look.
Best Free Figma Social Media Templates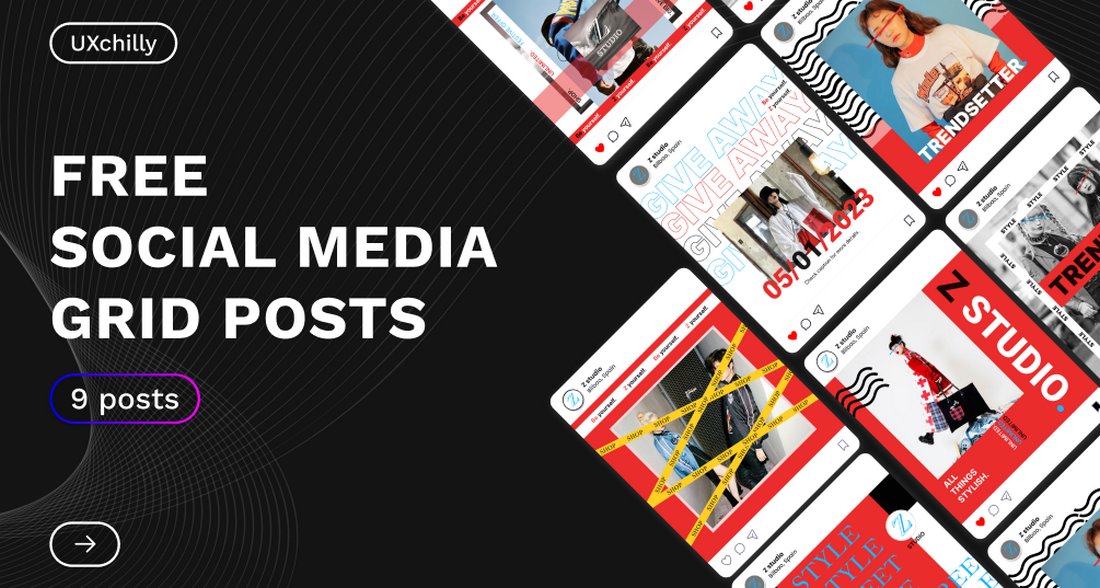 You can grab this bundle of Figma social media templates for free and edit it directly on Figma. There are 9 modern and trendy social media post templates included in this template kit.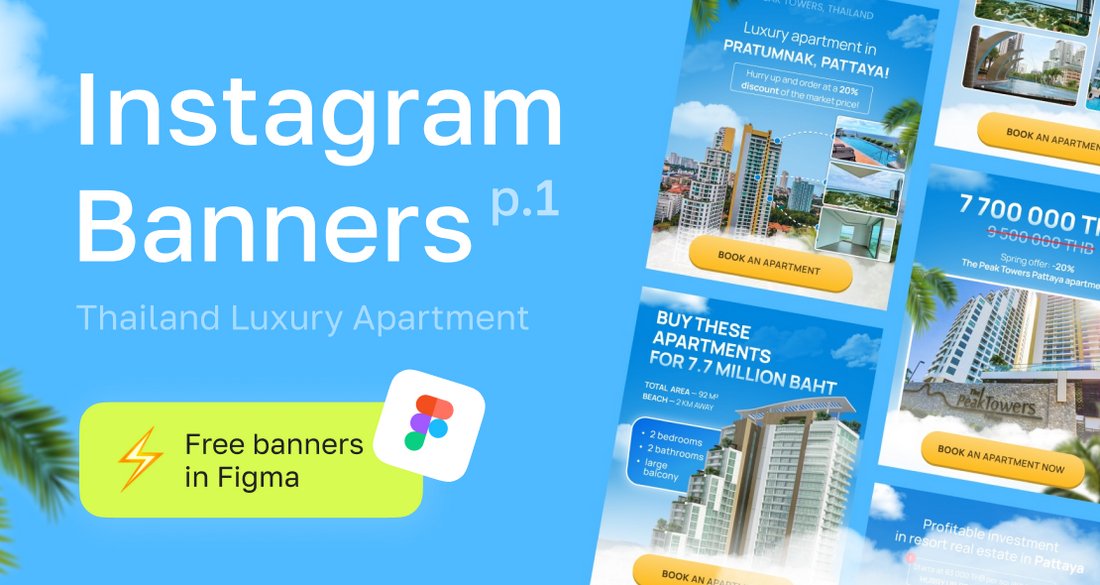 This Instagram banner template kit for Figma is also free to use. It includes several attractive post layouts for promoting real estate agencies and properties. The templates are easily customizable as well.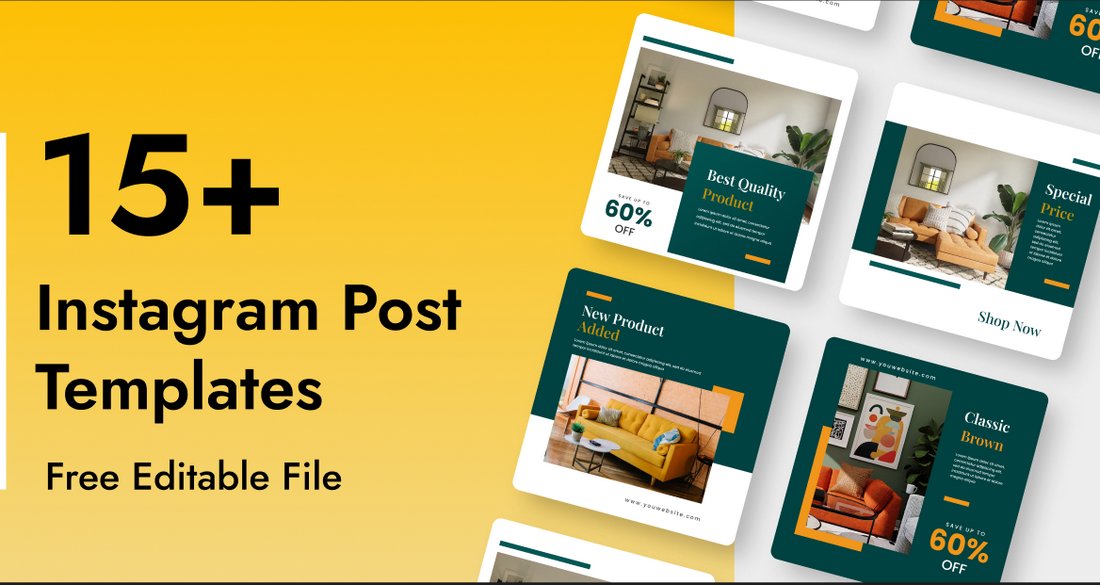 There are 15 different social media post templates in this collection with gorgeous designs. They are ideal for promoting interior design, fashion, and lifestyle brands. You can use them in Figma for free.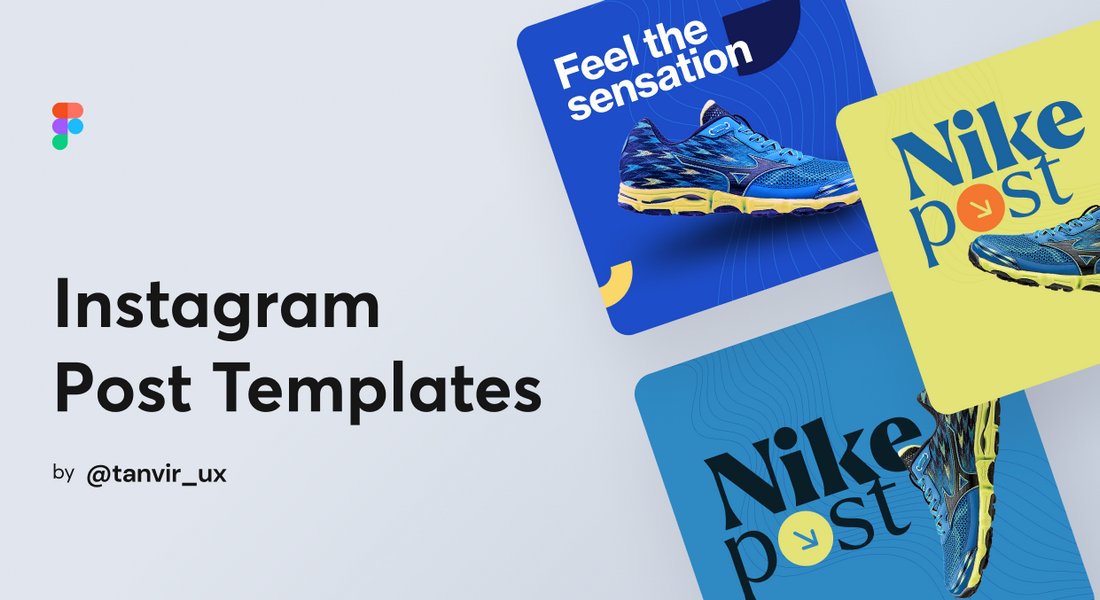 Make your product promotions stand out with this set of free Instagram post templates. It includes a modern and minimal post design to highlight single products and sales.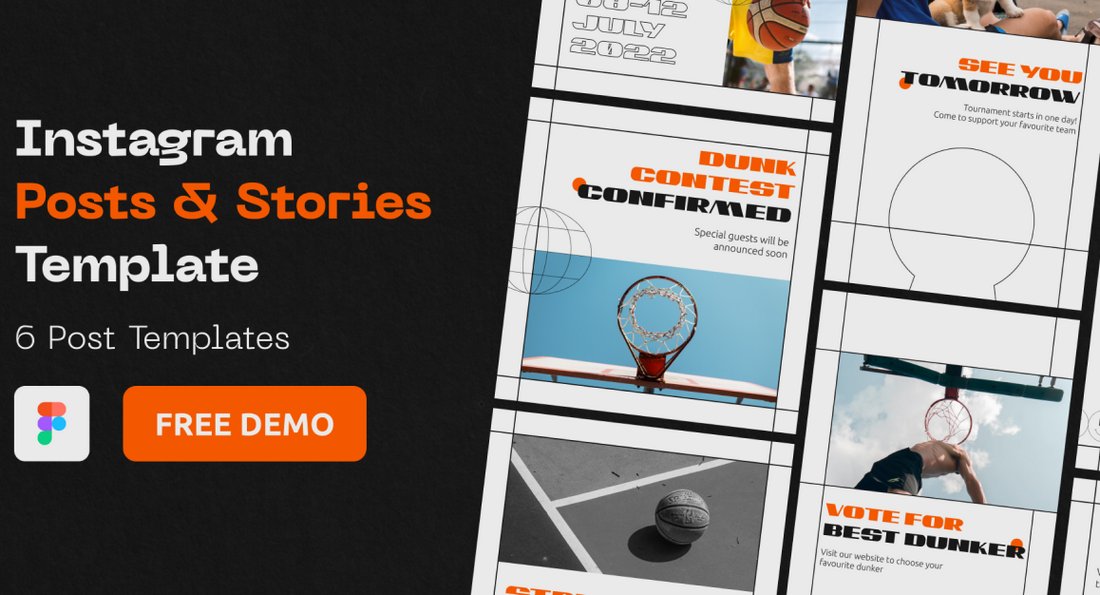 A collection of Instagram posts and story templates for Figma. There are 6 banner designs in this collection featuring designs for sports and fitness-related content. You can edit them for free.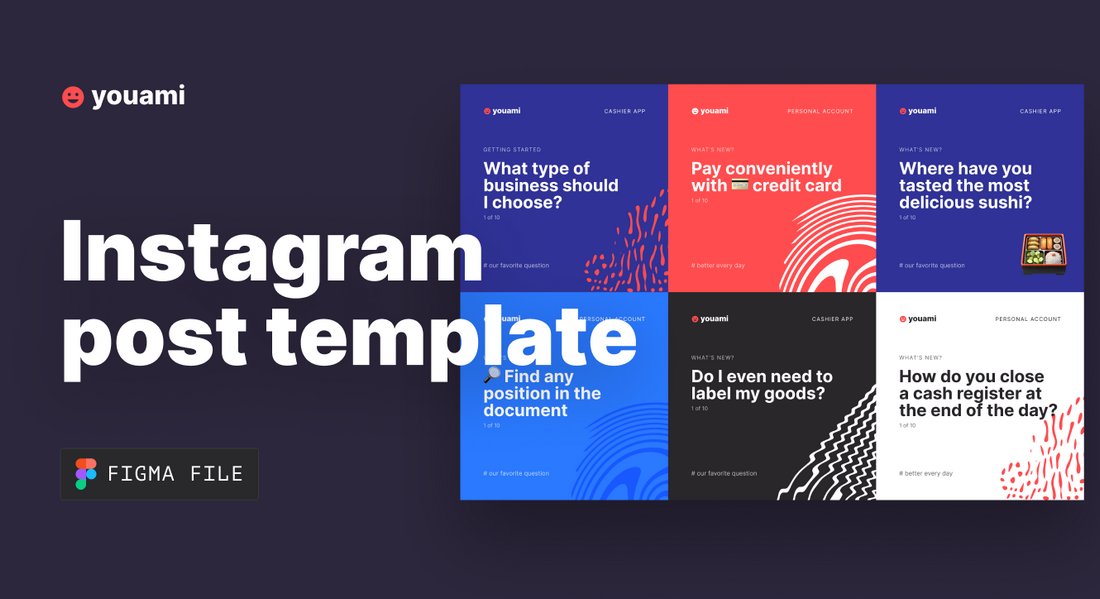 This Figma social media template kit comes with minimalist designs for showcasing your business and services on Instagram. It has multiple styles of layouts with different colors and backgrounds.