How to Embed a PowerPoint Presentation in WordPress (3 Easy Methods)
PowerPoint is one of the most effective tools you can use to present new ideas, showcase products, or tell stories. If you're selling a product or service, embedding a PowerPoint presentation in your landing pages could even help boost sales.
There are a few simple ways you can embed a PowerPoint slideshow in WordPress.
In this guide, we'll show you how it's done with step-by-step instructions.
Let's get started.
Get everything you need to give the perfect presentation. From just $16, get unlimited access to thousands of PowerPoint presentation templates, graphics, fonts, and photos.
Why Embed PowerPoint Slideshows in WordPress?
Before we get to the tutorial, let's explore the many benefits of embedding PowerPoint presentations in WordPress websites.
Improve Interaction: To view slideshows, users will have to interact with your website. This not only improves engagement with your website but will also help keep them on your site longer
Better Storytelling: Presentations are a great medium for telling stories. Use them to share your stories in a more entertaining way
Repurpose Old Content: Don't let your old presentations or webinar slideshows go to waste. Repurpose them by embedding your old slideshows on pages
New Content Format: You can also create slideshows to summarize long-form articles. Embed the slideshow in long blog posts to help users skim content more efficiently
Boost Sales: Use slideshows to show the best features of your products to convince users to buy more products
4 Best WordPress PowerPoint Plugins
One of the easiest ways to embed PowerPoint slideshows in WordPress is to use a plugin. These are some of the best plugins you can use to get that job done.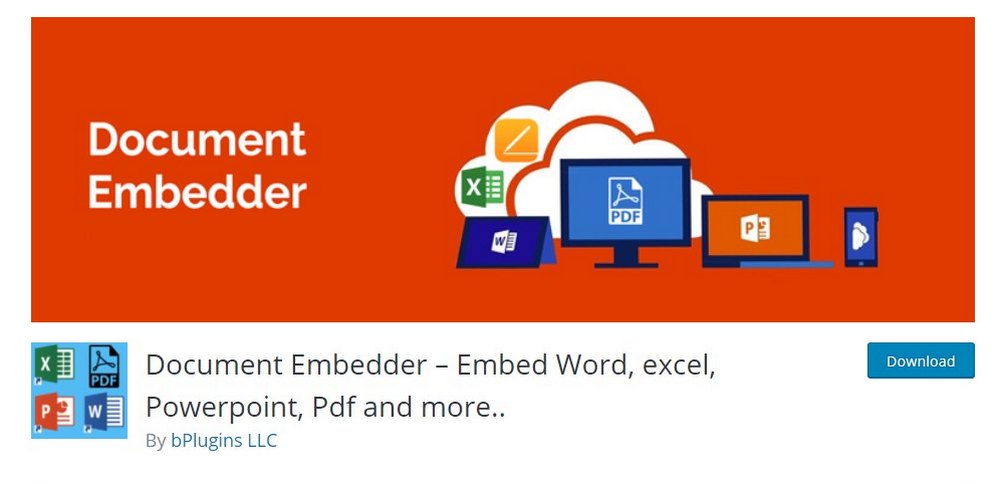 Document Embedder is a free WordPress plugin. It's quite easy to use as well. Using this plugin, you can embed all kinds of Microsoft Office Documents, including PowerPoint files, Word files, PDF files, and much more.
This plugin is beginner-friendly and supports a wide range of file formats. The only downside is that you can only upload files of up to 20MB size.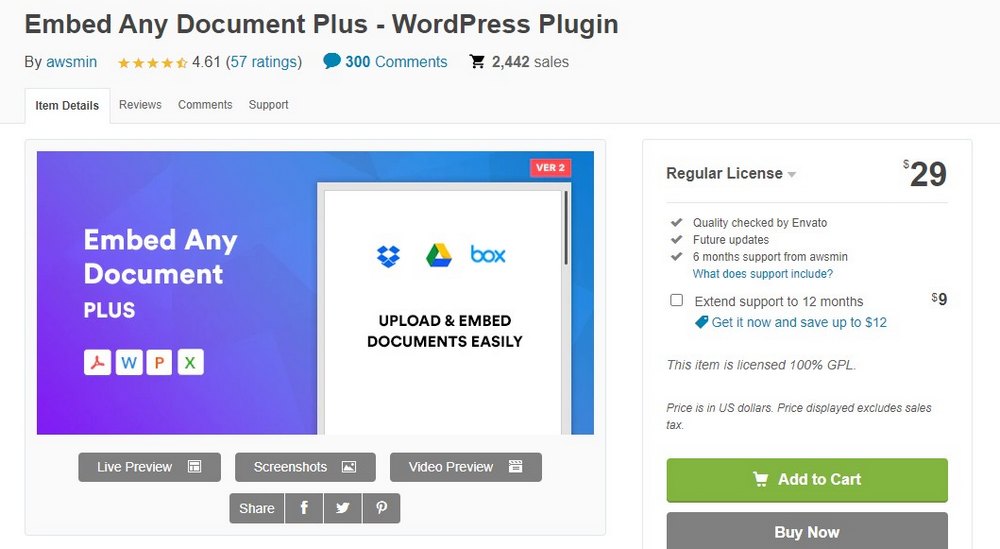 This WordPress plugin is perfect for uploading and embedding big PowerPoint slideshows. The plugin supports integration with Google Drive, Dropbox, and Box.
If you have a large presentation to embed in a WordPress site, you can upload it to your cloud storage. And then connect it with the plugin to embed the slideshow on your website. It's that easy.
There's also a free version of this plugin you can test out. But it has limited features.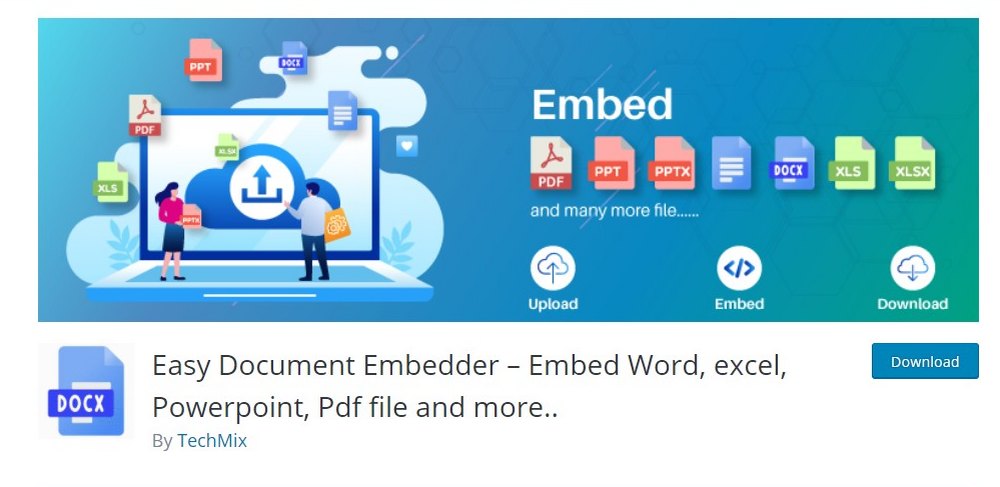 Easy Document Embedder is another multipurpose WordPress plugin that allows you to embed many different types of files, including PowerPoint, Word, Excel, and PDF.
This plugin promises to help you embed files more easily and without affecting the page loading times.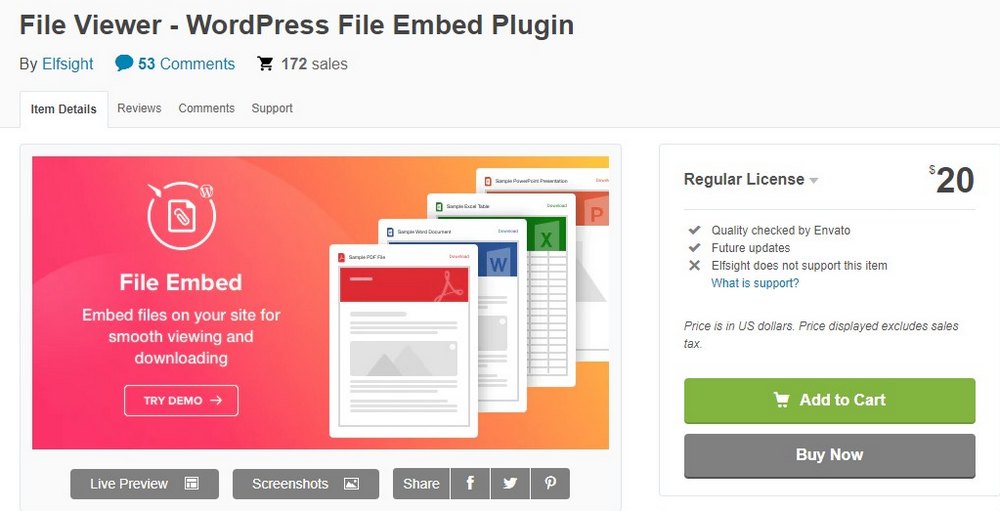 File Viewer is another advanced WordPress plugin that supports over 20 different file formats. This plugin also features a much smoother file viewer for showcasing PPTX presentations.
The plugin is very easy to use and allows you to embed multiple files on the same page as a grid or list. Along with download links.
How To Embed PowerPoint In WordPress
Now it's time for the tutorial. There are 3 different methods you can use to embed PowerPoint slideshows in WordPress. Feel free to follow whichever method you feel comfortable with.
Method 1: Use Document Embedder Plugin
For the first method, we're using the Document Embedder free plugin. Of course, you can use any other plugin you like as well.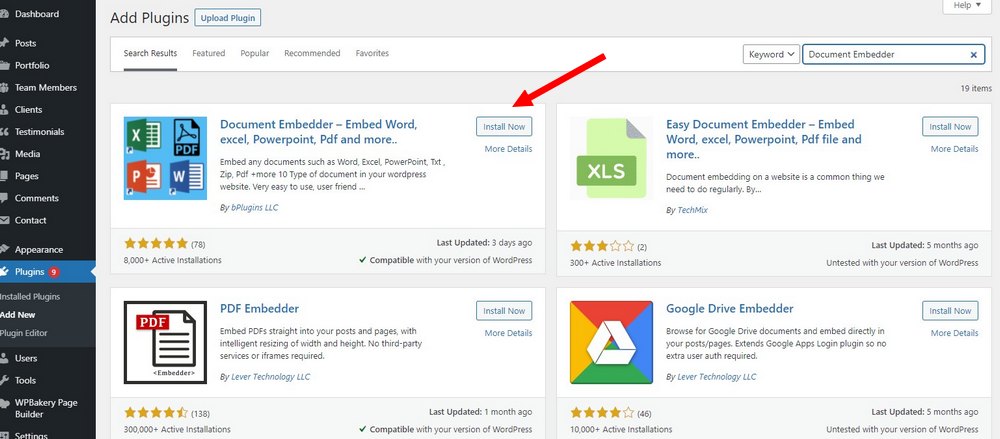 Login to your WordPress dashboard and go to Plugins >> Add New page. Search for the Document Embedder plugin. Then click Install and Activate.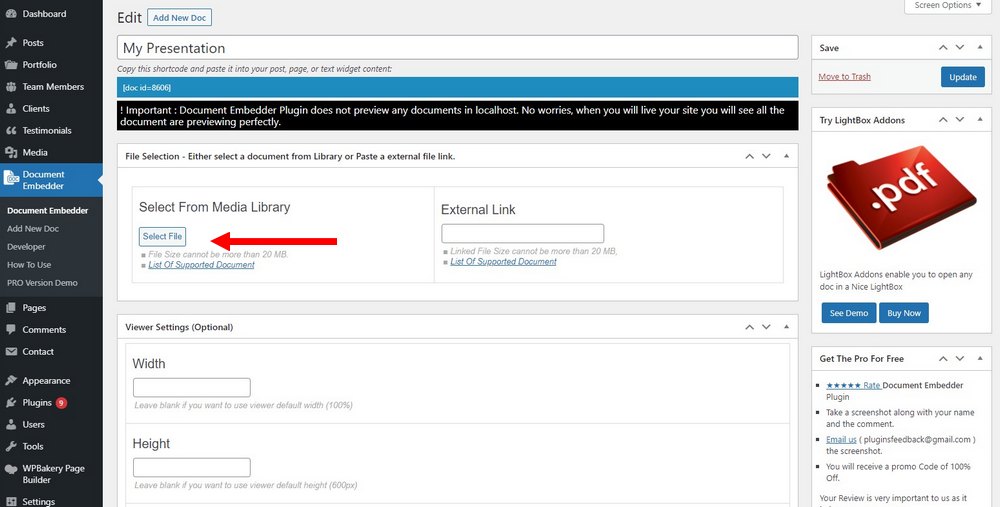 Now go to Document Embedder >> Add New Doc page.
Give your new document a title, upload and select the PowerPoint slideshow you want to embed and add an external link for downloading the file (optional). You can also add custom sizes for the document preview but those are optional. Click the Save button to save the changes.

Now copy the Shortcode assigned for this document.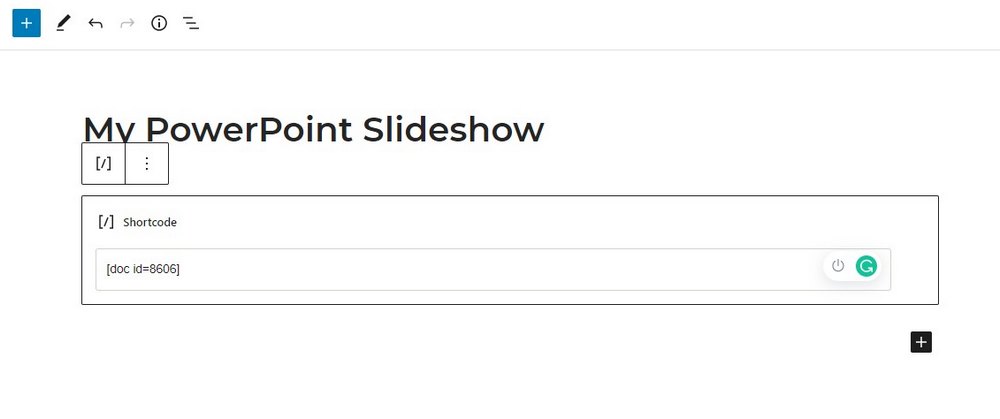 And then paste the code anywhere on a page or post to embed the PowerPoint presentation. That's it! The presentation will appear after publishing the post or page.
Method 2: Use Google Slides
Another easy way to embed a PowerPoint in WordPress is to use Google Slides. This involves converting your PowerPoint file into Google Slides. But don't worry, it won't affect the quality of your presentation.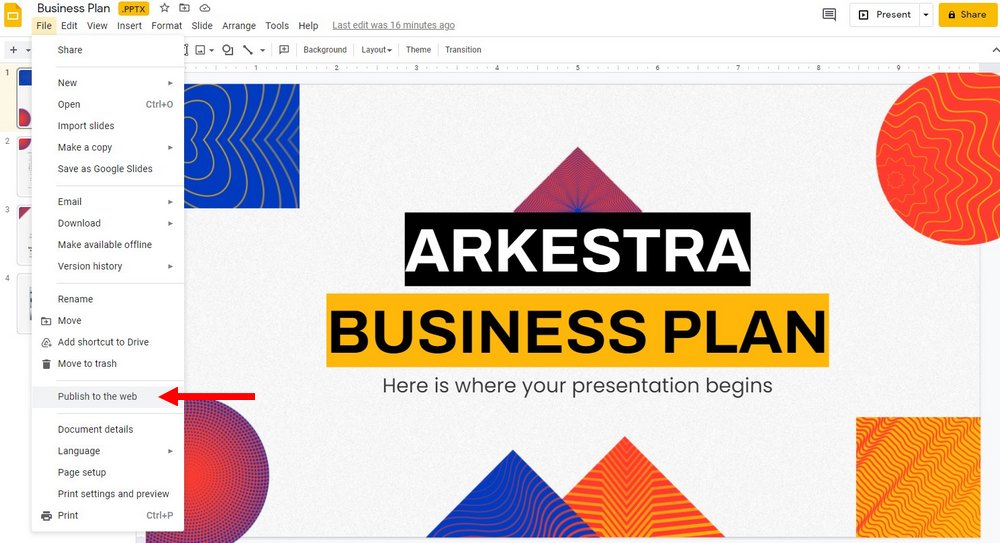 First, upload your PowerPoint file to Google Drive. And then open the presentation in Google Slides (simply double click on the PPT file).
Then go to the File menu and select Publish to the Web.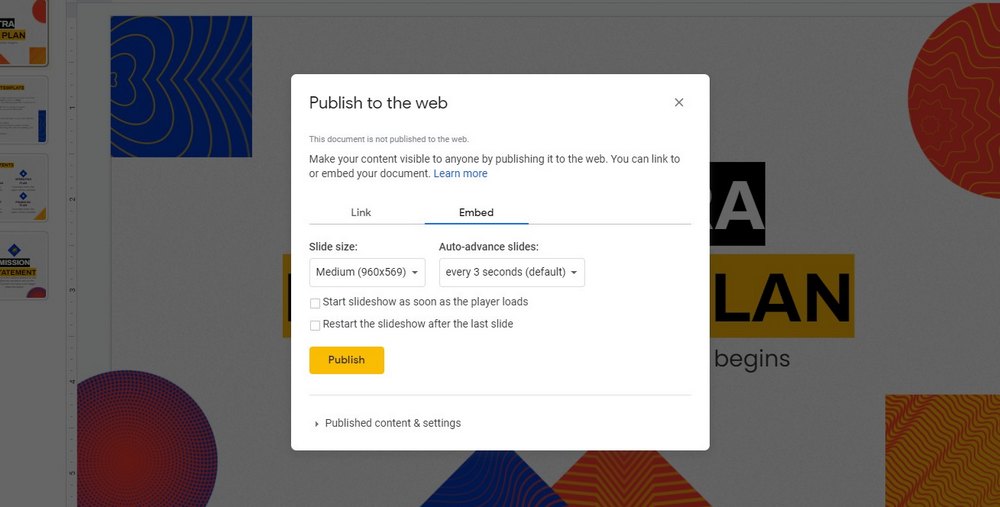 Select the Embed option and customize how you want to show the presentation.
Click on the Publish button and copy the embed code.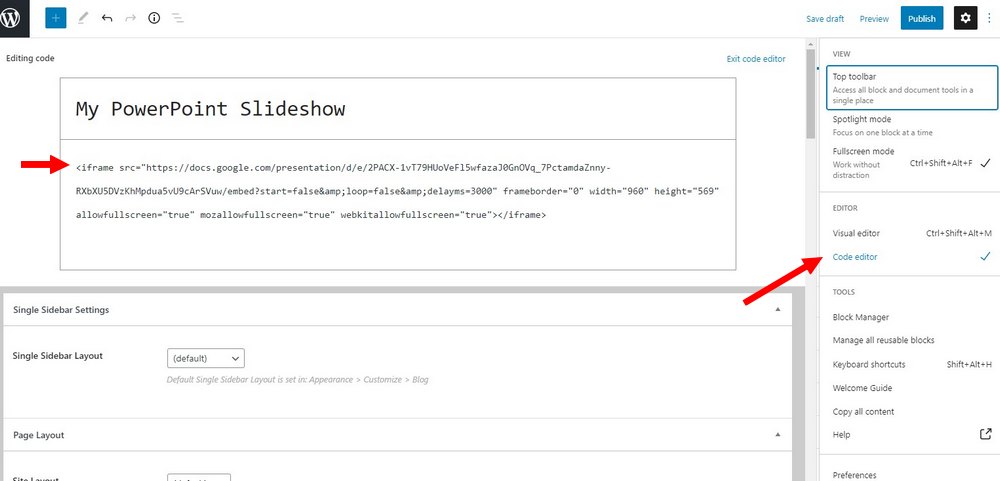 Go back to your WordPress editor and switch over to the Code Editor. Then paste the embed code anywhere on the post. You're all set. Click Publish whenever you're ready.
Method 3: Use SlideShare
You can also use SlideShare to embed your PowerPoint files. SlideShare is a platform for sharing presentations. And it includes an embed option as well.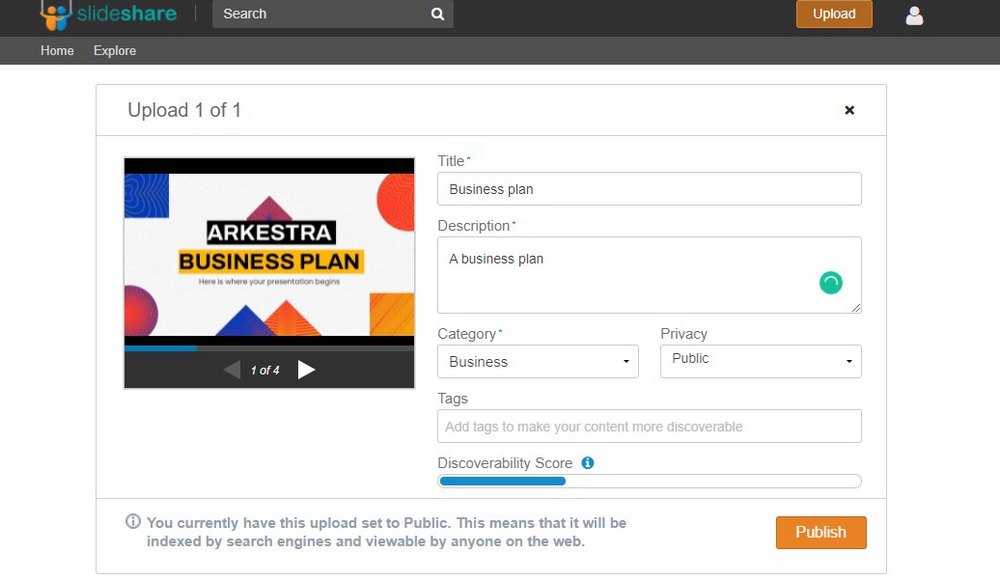 You can create a SlideShare account for free. And then upload your PowerPoint file to the platform.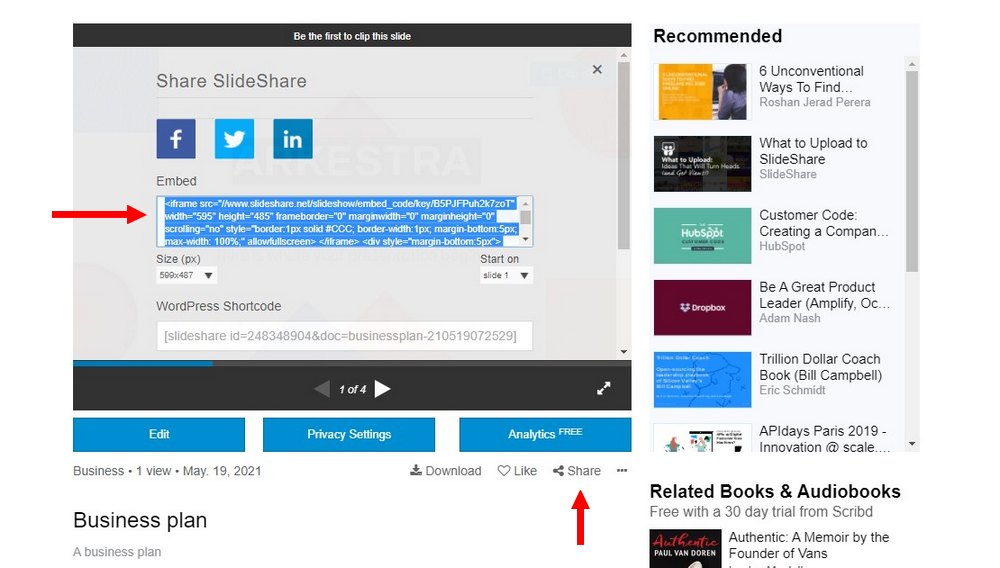 After publishing the presentation, click on the Share button and then copy the embed code.
Go back to your WordPress editor, switch to the Code Editor, and paste the embed code.
You can also use the SlideShare WordPress plugin to easily embed presentations without having to copy the embed codes.
Bonus: Create Slideshows in WordPress
If you hate the process of uploading and converting PowerPoint files, you can avoid them altogether and create original interactive slideshows in WordPress.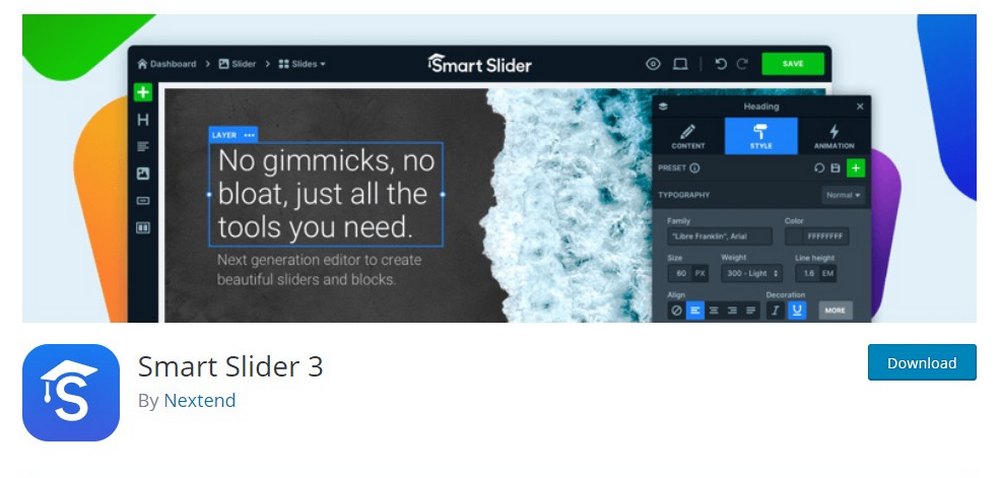 Plugins like Smart Slider 3 and Slider Revolution are great for creating more interactive and unique slideshows directly from the WordPress dashboard. And then you can embed them on pages and posts using a simple shortcode.
This method requires more effort but it will make your slideshows look more attractive.
Conclusion
WordPress is more than just about publishing articles and blog posts. You can also leverage it to promote products, services, and your content more effectively. As well as to generate more sales, grow email subscribers, and even get more social media followers.
Be sure to read our guide on how to embed Instagram feeds in WordPress to learn more.
If you're in the market for a new theme design, you can check out our exclusive WordPress themes bundle. It includes over 60 unique themes for the price of one.