Blog
Tips and advice for using WordPress, customising themes, working with plugins, and much more.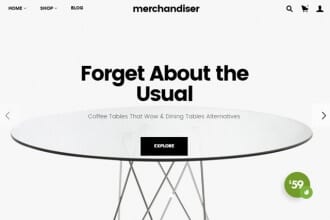 In this Merchandiser review, we'll be looking at the latest ecommerce WordPress theme from the GetBowtied team. GetBowtied specializes in creating stylish and elegant ecommerce themes to help your build successful online shops with WordPress.
Merchandiser aims to buck the current trend of feature packed multipurpose WordPress themes. Instead, Merchandiser is a bloat-free theme that offers just enough to help you create a beautiful online store and nothing more. Merchandiser is all about minimalistic design, fast performance, and effortless maintenance.
But does it succeed in these goals without compromising on essential features? Should you use Merchandiser for your WordPress ecommerce store?
To find out, read on for our hands-on Merchandiser review to discover if this really is the best WordPress ecommerce theme for your business.
Read More