10+ Best Review Plugins for WordPress Websites in 2022
Reviews are social proof. It's an important part of the process that influences people to commit and purchase products. That's why almost every business website has a section showcasing reviews.
If you have a WordPress website, showing off your product and customer reviews is much easier. All you need is the right plugin and you can set it all up with just a few clicks.
In this post, we take a look at some of the best WordPress review plugins for creating various types of review sections.
Whether you're making a product review website, want to show Google reviews on a business website, or allow customers to leave reviews for WooCommerce products, these plugins will help you boost sales, land more clients, and even rank higher on Google. Have a look.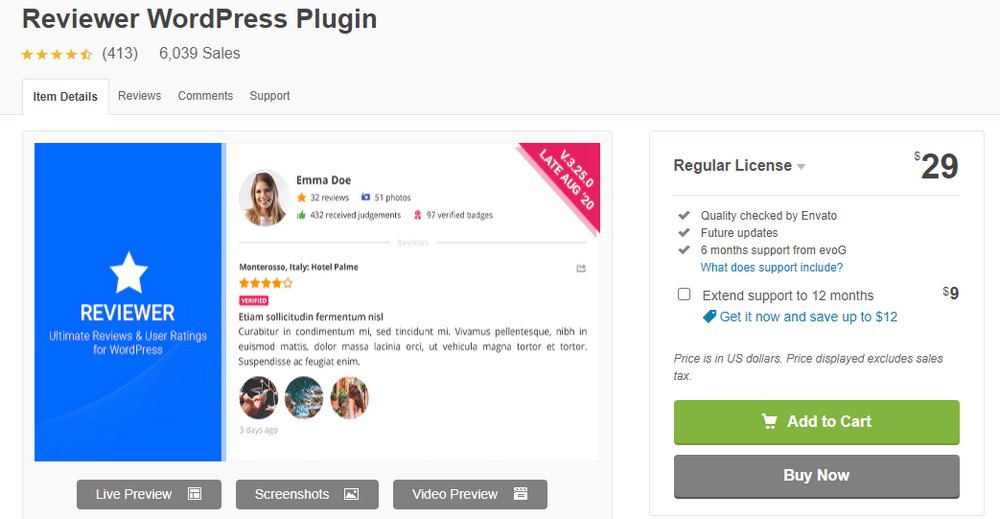 Reviewer is a plugin that features multiple features. It allows you to add a review box to your product pages and articles, add comparison tables, and it even supports user ratings.
Using the plugin you can add a review section to your review posts and products showing a rating as well as pros and cons. Then you can include a user rating score by letting your audience leave ratings and reviews for your products.
Main Features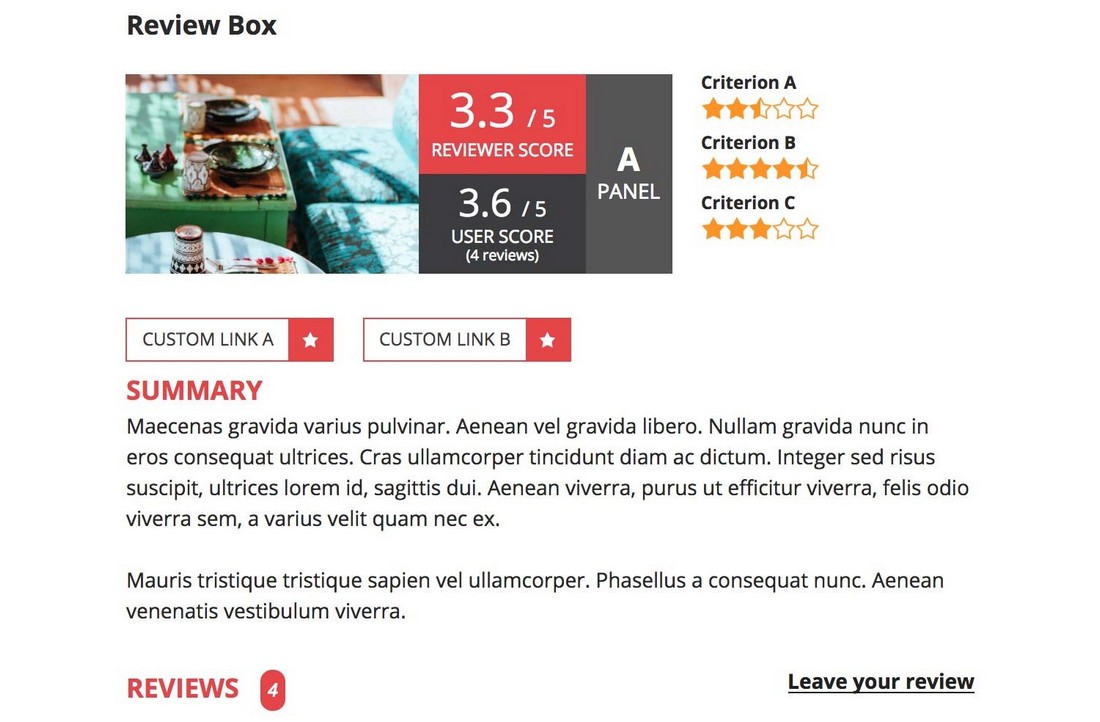 Add a flexible review box to posts, pages, and custom post styles
Allow users to leave ratings and reviews directly on your website
Choose from multiple review styles, including five stars and bars
Add product comparison tables to compare review scores
Customize the design of the review box and comparison table to your preference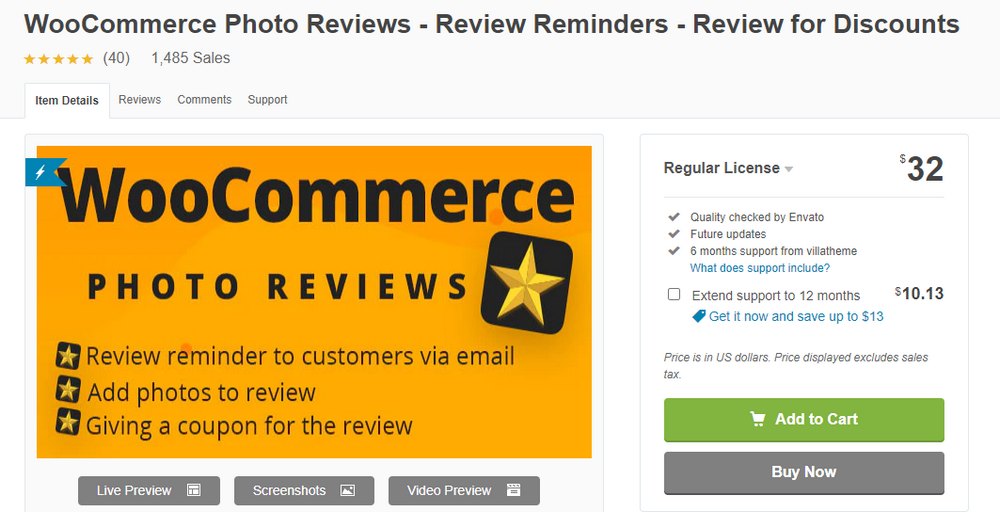 WooCommerce Photo Reviews is a useful plugin that every WooCommerce shop should have. It allows you to setup a system to allow customers to review and rate your products. Not only that but it also lets you send an email notification to customers to ask for them to leave a review.
Another important feature of the plugin is that you can reward your customers with a coupon code for leaving a review. That's a powerful incentive that will encourage more people to leave reviews for your products and help boost sales at the same time.
Main Features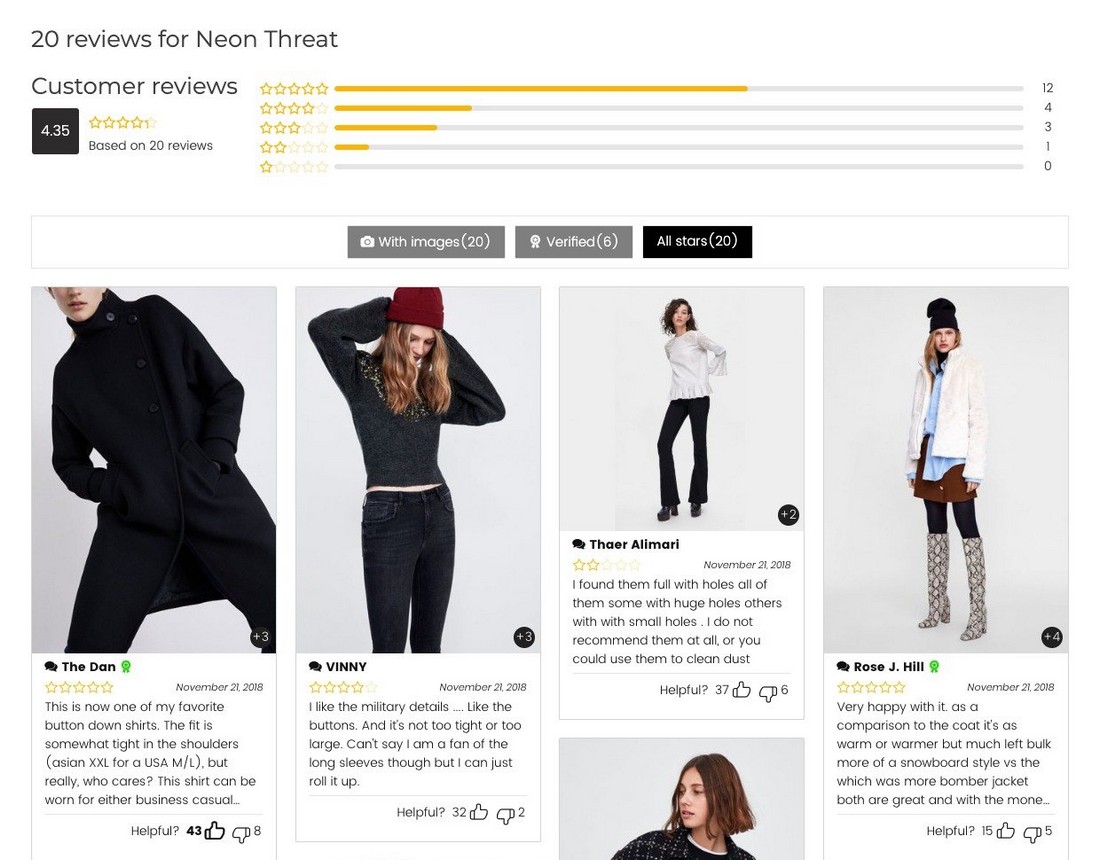 Easily add a product review system with star ratings for WooCommerce
You can also create and edit reviews
Send email reminders to customers to ask for reviews
Reward customers with a coupon for each review
Import reviews from AliExpress for dropshipping & affiliate sites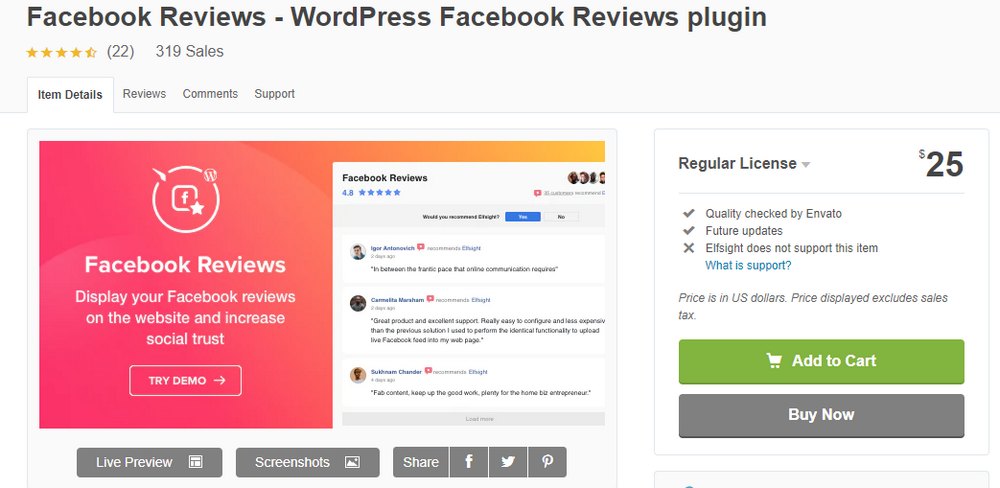 Facebook is a great platform for promoting products. And if you mainly promote your business on Facebook, it makes sense to ask your customers to leave a review on the business page. Thanks to this WordPress plugin, you can show those reviews on your website.
The plugin lets you choose from multiple styles of designs to show off Facebook reviews on your website and it fully integrates with your existing theme design as well.
Main Features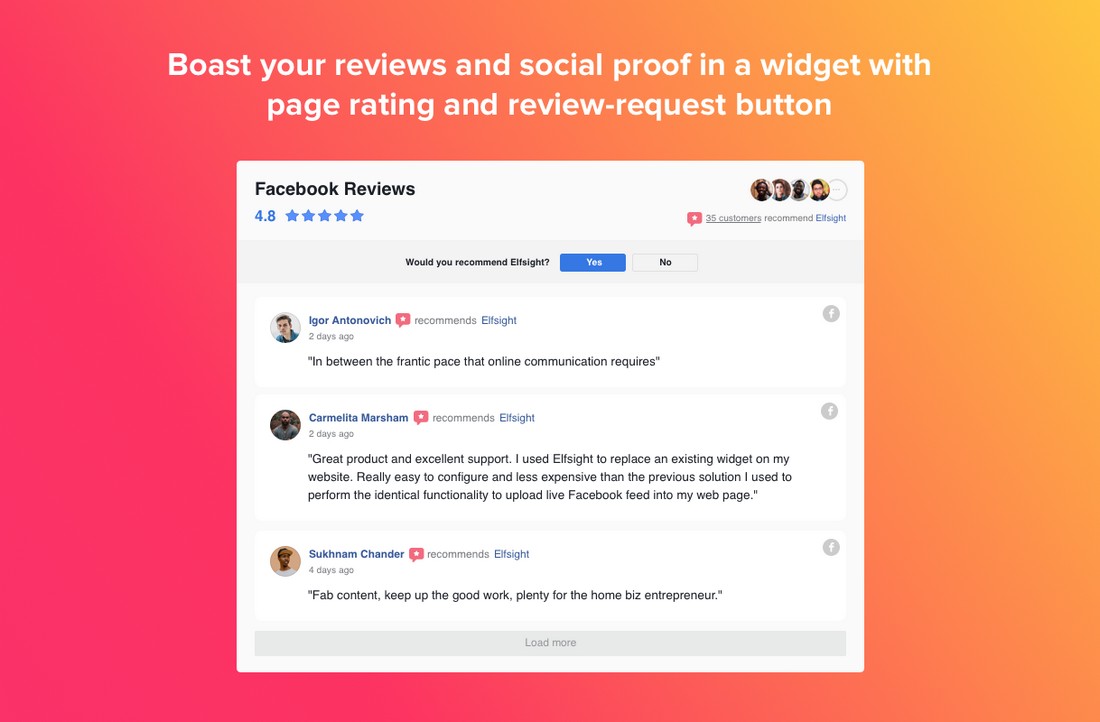 Display reviews from Facebook on your website
Multiple design styles to display reviews
Customize the design with different colors and font size to match your website
Encourage people to leave reviews with a CTA button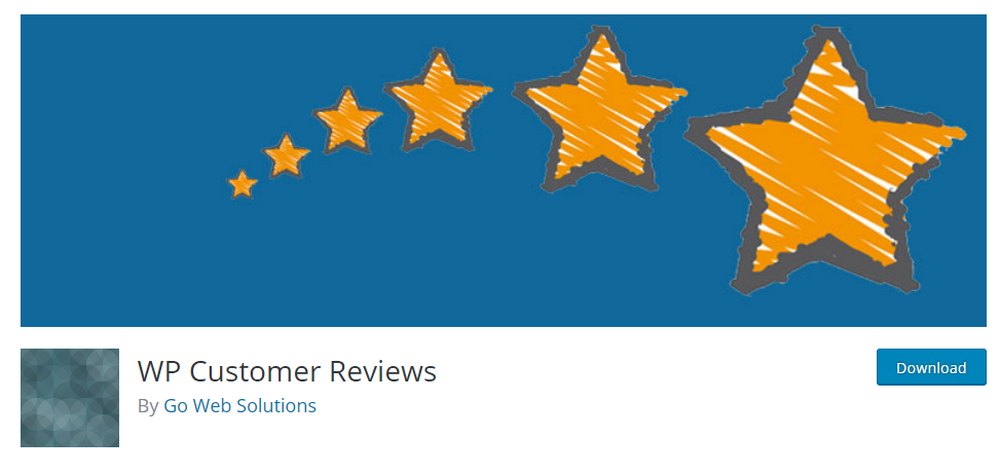 Just as its name suggests, WP Customer Reviews is a simple and lightweight plugin that allows you to showcase customer and product reviews on a specific page on your website.
The plugin lets users easily submit their reviews using a front-end interface. And then you can edit them if necessary and show off all the reviews on a separate page on your website.
While it's not a perfect solution, it's more than enough to setup a customer success stories page on your business website.
Main Features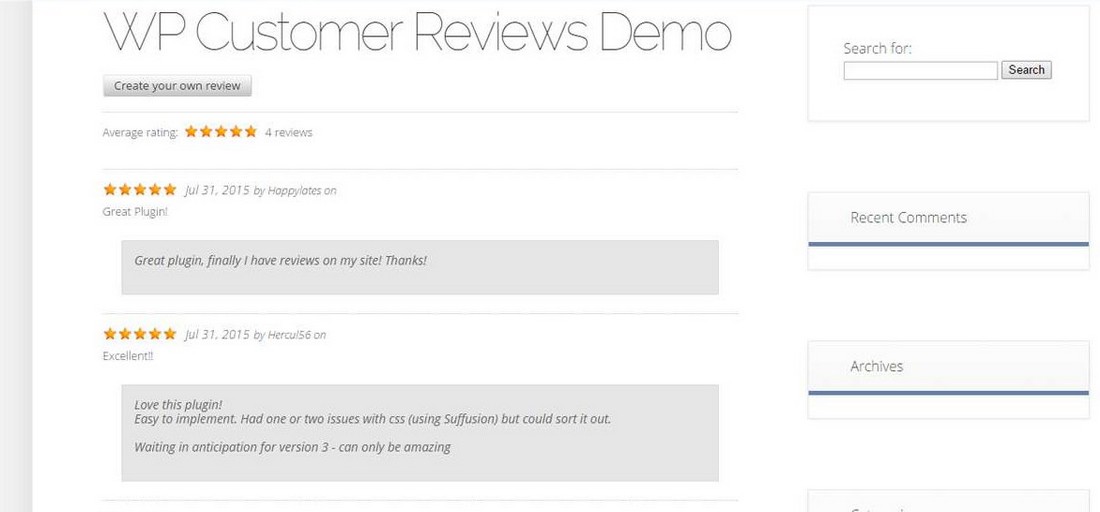 Display your customer and product reviews on your website
Let customers leave reviews and star ratings directly from your site
Includes anti-spam systems to prevent spam reviews
Ability to use shortcodes to embed reviews anywhere on the website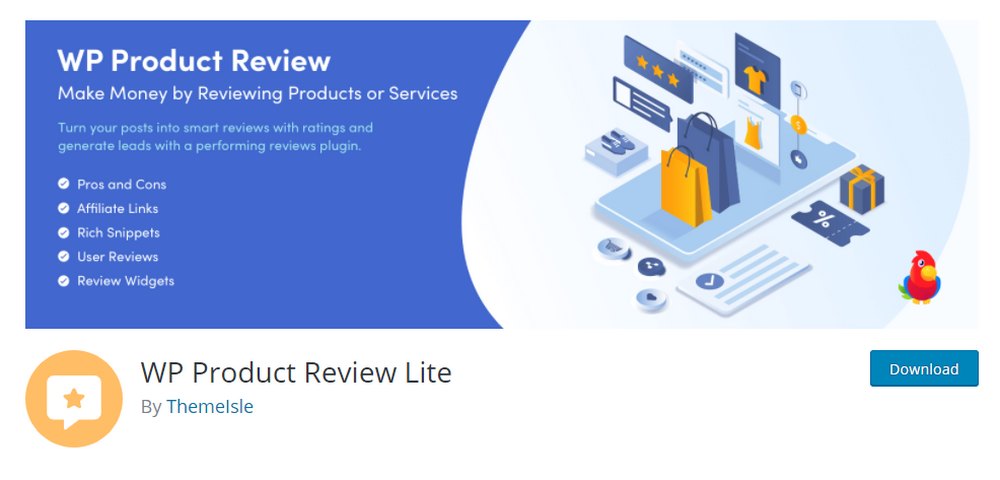 This free plugin is most suitable for blogs and magazine websites for adding a review widget to product review articles. It includes a star rating system with a section for highlighting the pros and cons of products.
The plugin even allows you to add schema markup to your posts to help them rank higher on Google. It's also worth noting that the premium version of the plugin has been retired so you'll have to make the most of this lite version of the plugin.
Main Features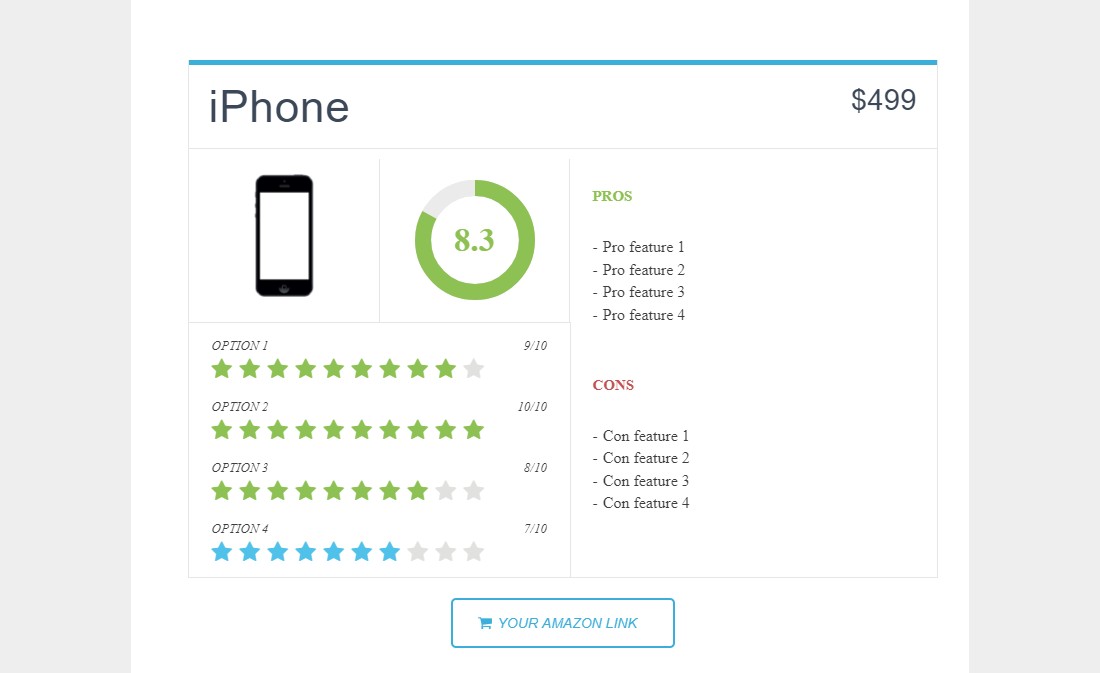 Add a review block to your review articles and pages
Supports star ratings and lets you add "buy" buttons to the review block
Add user review options to comments
Ability to add rich snippets to review articles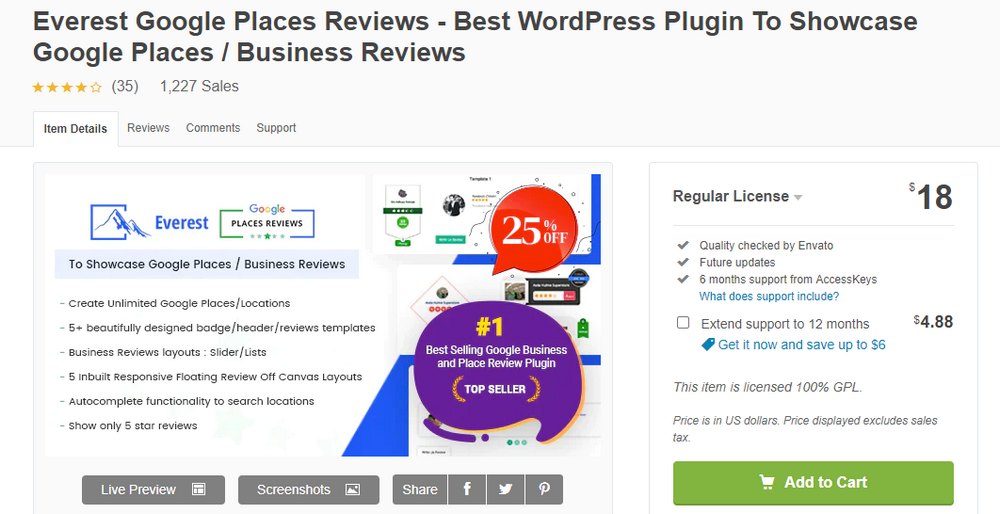 Google business reviews are crucial to promoting your business on Google and attracting more customers. You can also use them as social proof on your website as well.
Using this plugin, you can show your Google Places Reviews on your website. If you have a website for a hotel, restaurant, resort, or even a retail shop, the plugin will help build more trust for your business.
Main Features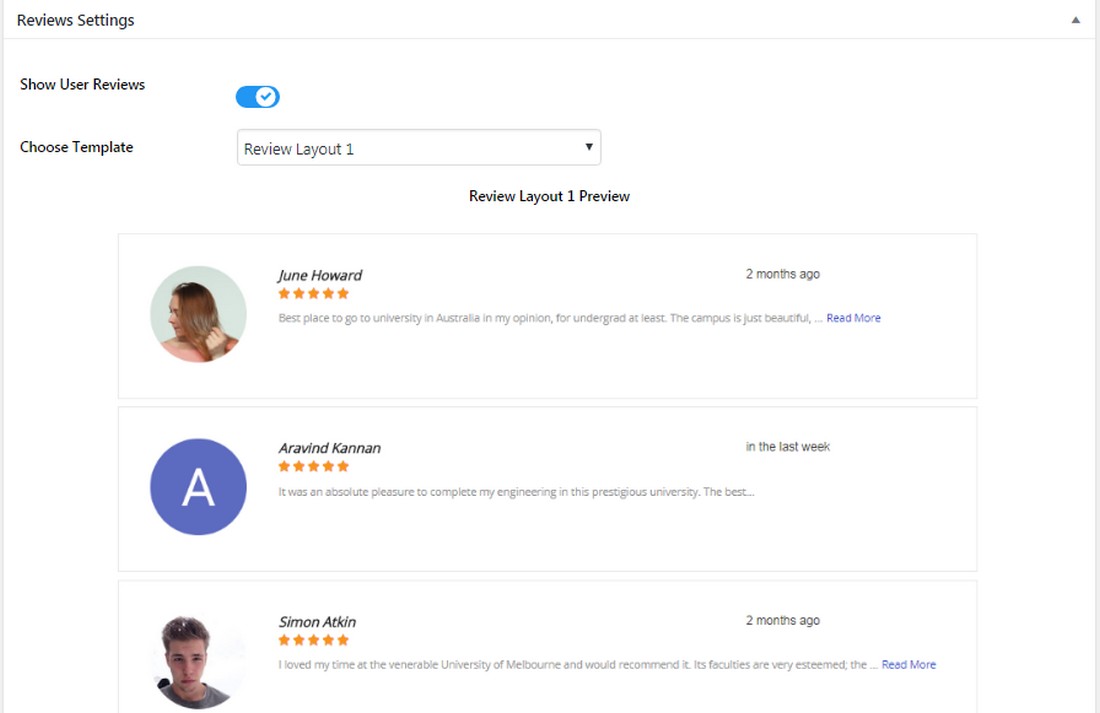 Easily showcase Google places and business reviews on your website
Lets you choose from 5 different styles of designs
Customize the settings to your preference
Curate and show only the five-star reviews
Comes with a review widget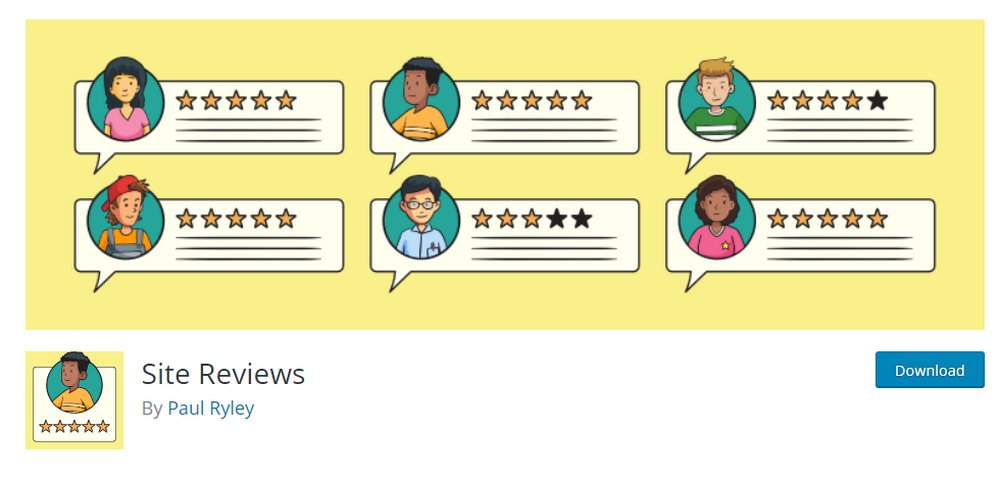 Site Revies is a simple and free review plugin for WordPress that comes with a set of advanced features to create a successful review system for your website.
With the plugin, you can show five-star reviews anywhere on your website, including using Gutenberg blocks, pages, WooCommerce products, and more. It even lets you blacklist words to block specific reviews and assign reviews to users registered on your website.
Main Features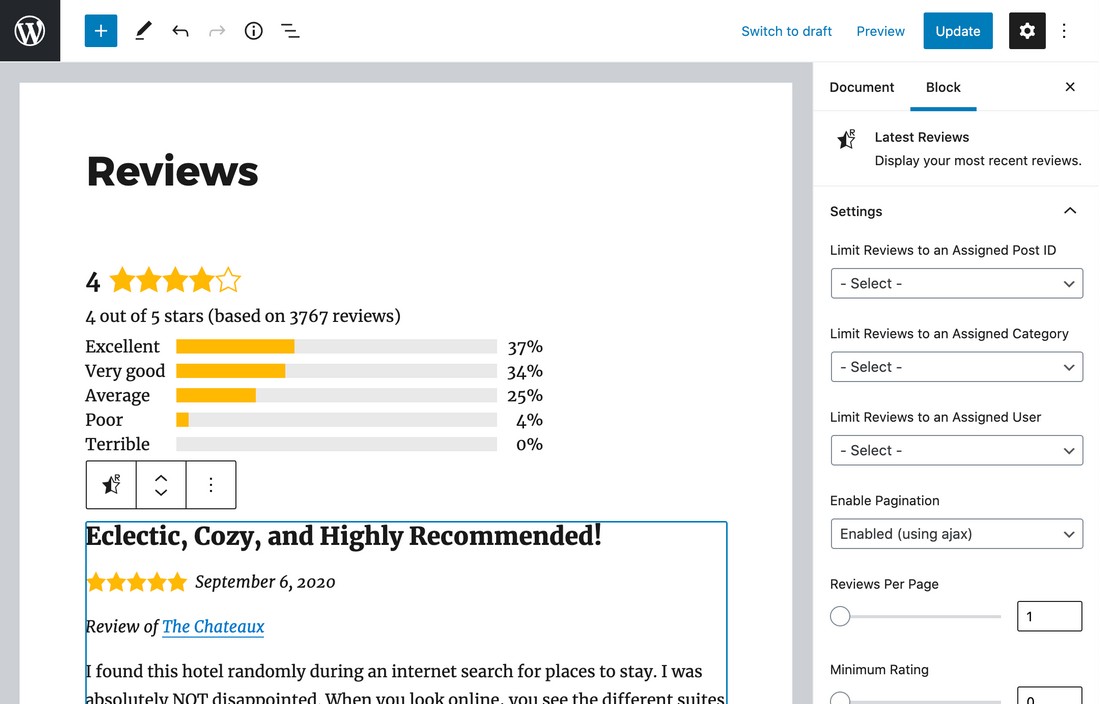 Assign reviews to categories, posts, pages, and even to users
Blacklist reviews that contain specific words, IP addresses, and emails
Compatible with Polylang and WPML for multilingual support
Includes review widget and Gutenberg blocks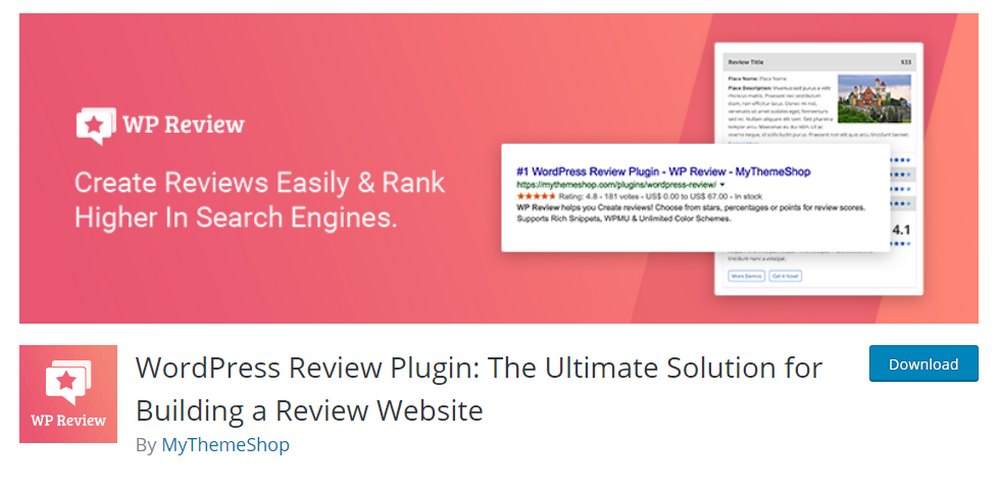 This plugin offers a complete solution for adding a review system to your website. It's most suitable for product review and comparison websites, but the plugin has many benefits for other types of websites as well.
WordPress Review Plugin lets you add ratings to your review posts and product pages with a star rating, point rating, or percentage rating systems.
Main Features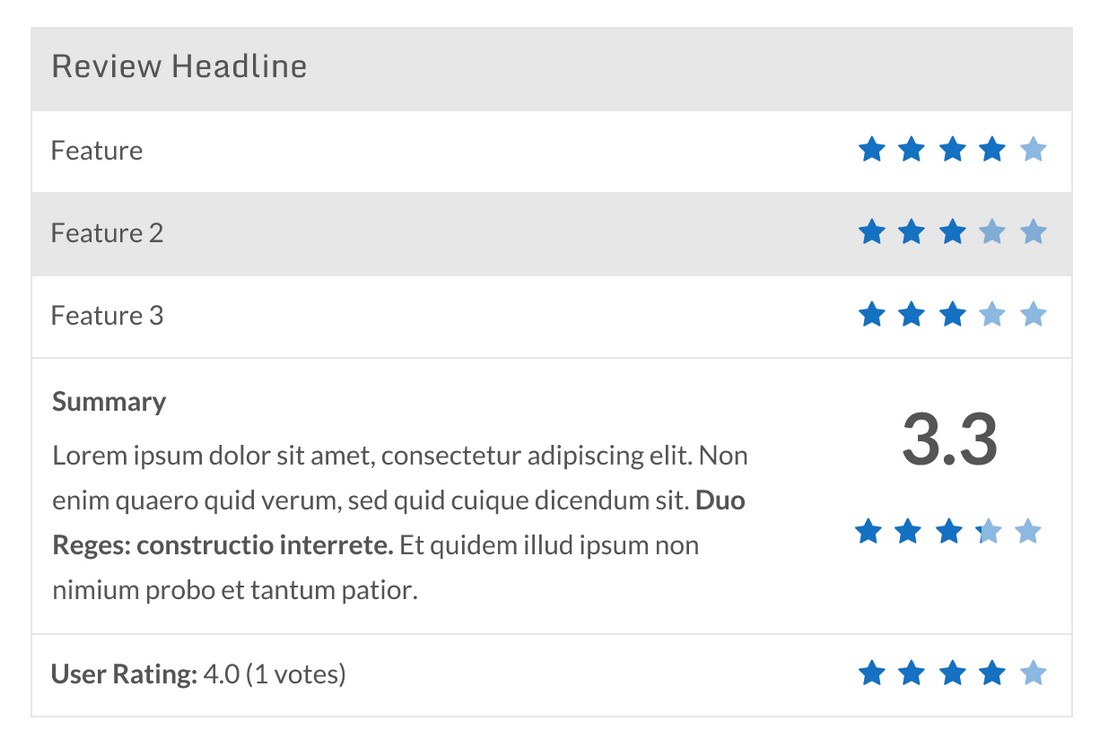 Add rating and reviews to your posts and products
Add rich snippets to boost SEO
Customize the design of the review block to match your theme
Include visitor ratings for reviews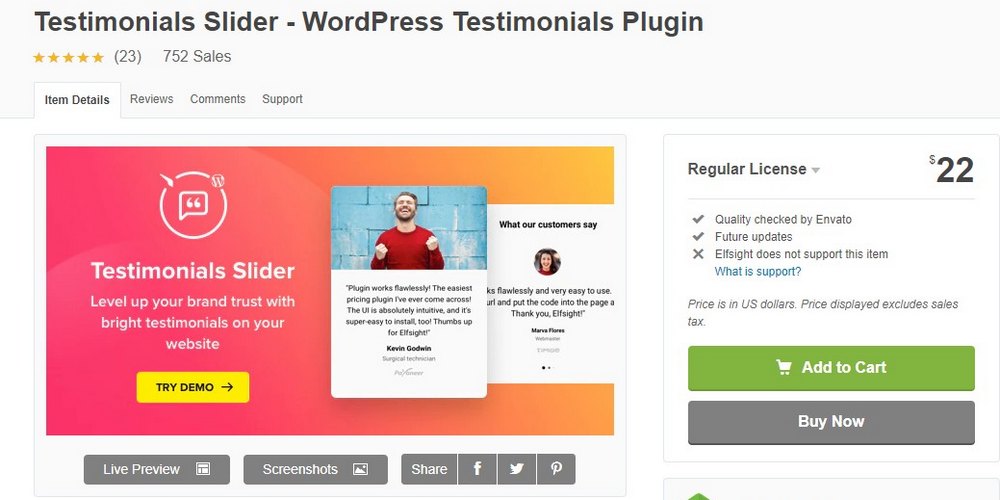 Testimonials are another type of review that is useful for businesses and agencies that sell a service. With the help of this plugin, you can show off the testimonials from your previous clients on your website to build trust and social proof.
The plugin allows you to create a professional testimonial section where you can add social links, company logo, and profile picture for each testimonial in the slider.
Main Features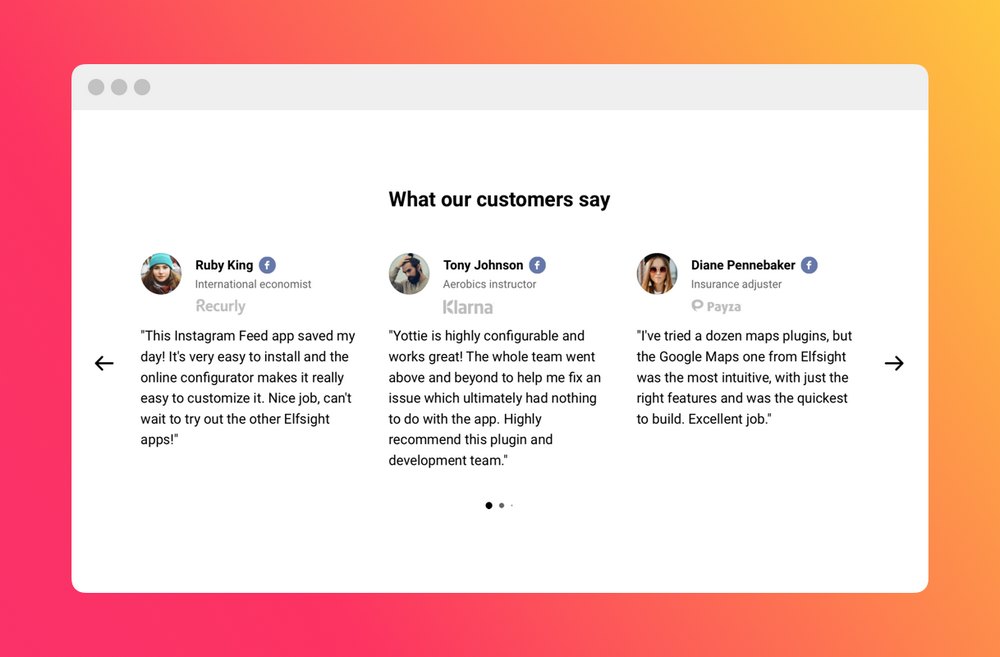 Choose from 6 different template designs for testimonials
Customizable slider and grid layouts
Add testimonials anywhere on your website using shortcodes
Includes a sidebar widget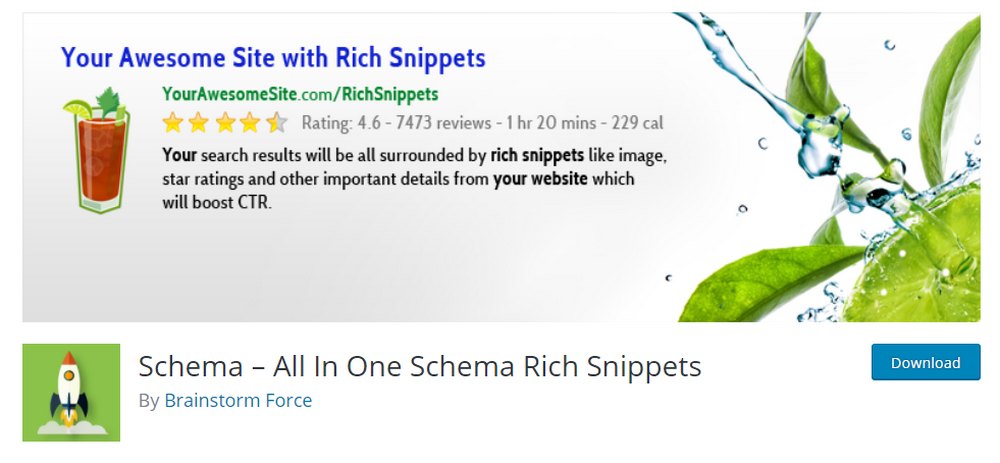 Rich Snippets, or Schema markup, is a microdata system that allows you to improve your product pages and articles for SEO by showing review and rating scores on Google search results pages.
With this free WordPress plugin, you can easily add rich snippets for your blog posts and pages to make them stand out on Google to drive more clicks and views to your website.
Main Features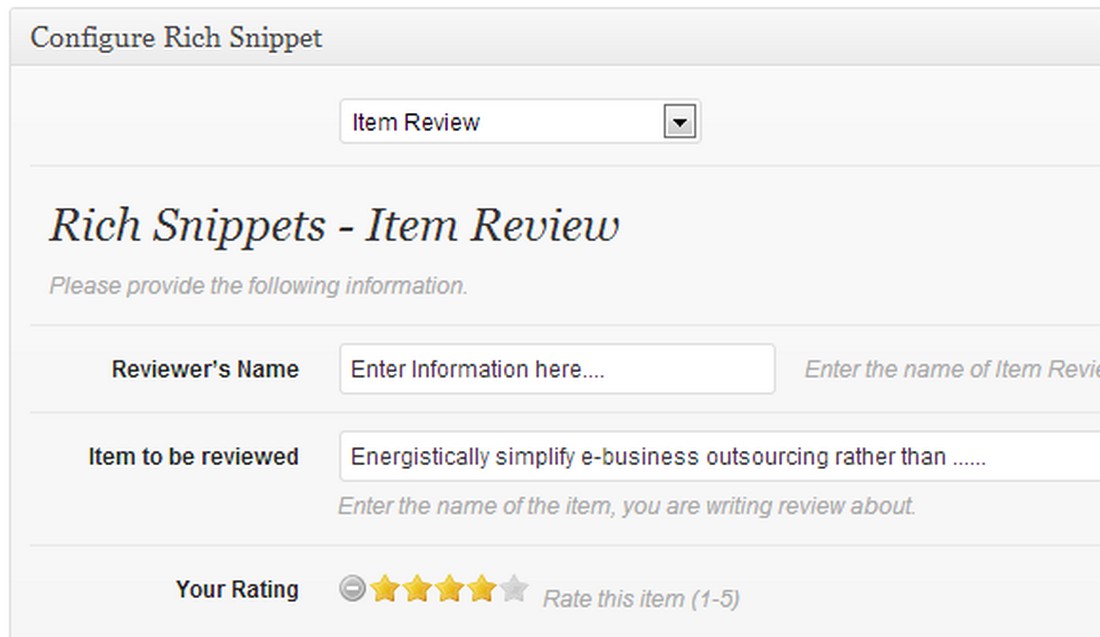 Easily add rich snippets for reviews, recipes, products, and articles
Add photos, star rating, price, and more details to the snippet
Supports Google, Bing, Yahoo, and Facebook
Conclusion
For best results, you should use a combination of review plugins on your website, depending on the type of business or service you're promoting. Also, make sure to pick the right review theme for your website.
If you're thinking of starting a review blog, get our ReviewMax theme. It comes with a built-in review system. ReviewMax is part of our exclusive themes bundle, which includes 60+ themes for the price of one.
Looking for WordPress hosting? We use Kinsta. They offer world-class WordPress hosting, built to keep your website fast, secure, and always online.