What Is the Best Forum Plugin for WordPress? Head to Head
Forums are an effective tool small business websites can use to engaging with audiences as well as creating communities and discussions around brand and products.
While social media channels offer many different solutions for creating groups and communities around brands, building your own forum where you're in control of the content is the best way to build a loyal audience around your business.
WordPress makes this process much easier with the help of forum plugins. With the right plugin, you can create a forum directly alongside your existing website to let users discuss and connect with your brand.
Today, we take a look at some of the best forum plugins for WordPress to help you find the right option for your business website.
What is a WordPress Forum Plugin?
A forum is a place where people can create an account and discuss specific topics and leave messages. In a way, it's like a social gathering place for audiences for sharing their interests.
You can use forums in many different ways. Brand and businesses use forums to build audiences, offer customer support, and create discussions around products and programs. The support forum for WordPress itself is a good example.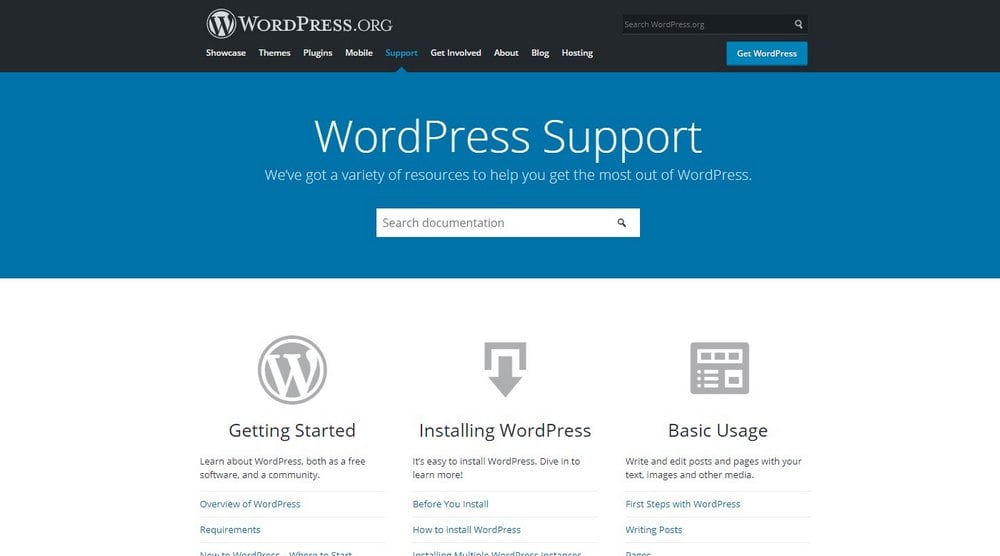 Others use them for entertainment purposes to creating discussion boards around interests like films and video games, like the Angry Birds Nest forum website.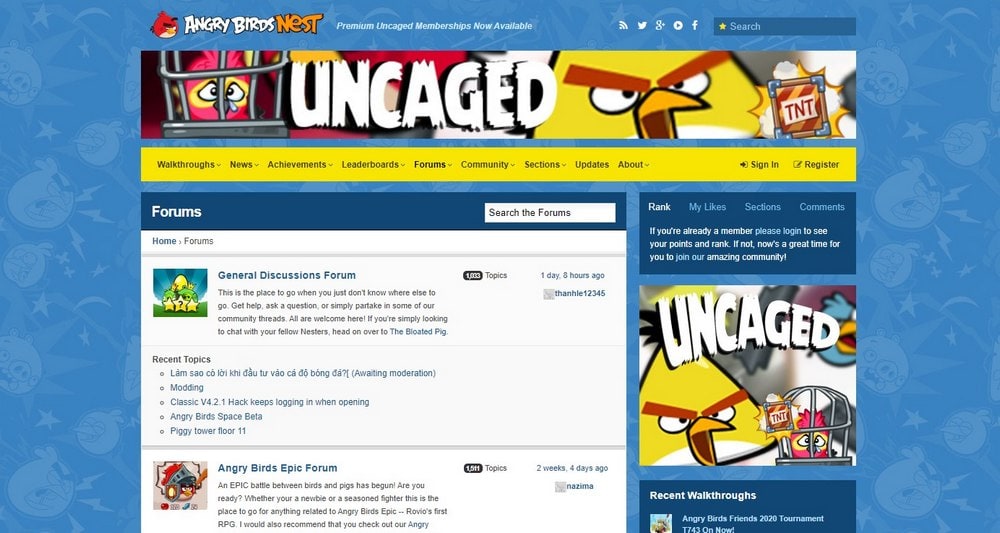 When using WordPress, you can easily create such a forum using a plugin. In fact, both the example forum websites above are built with WordPress and using the popular bbPress forum plugin.
When using a forum plugin, you don't have to worry about coding or hiring developers. You can easily setup a forum all by yourself. And there are many different options to choose from as well.
What to Look For in a Forum Plugin
When looking for a forum plugin, you need to make sure it's the one that serves your needs and fits your website. Look for these features to pick the right forum plugin.
Ease of Use: A forum plugin should be easy to install and setup. As well as have a beginner-friendly back-end for managing the forum easily
User Account Creation: The forum plugin should have a system in place to let users register accounts and easily post discussions without a hassle
Compatibility: Ensure the forum plugin you choose is compatible with the other plugins you use on the website
Theme Support: One of the important things to check before installing a forum plugin is making sure it works well with your WordPress theme
Add-Ons: Pick a plugin that includes add-ons and extension plugins for adding more features to your forum and discussion boards
Best Forum Plugins Compared
There aren't many forum plugins available on WordPress. Most of them are outdated and haven't been optimized for the latest versions of WordPress. Thankfully, there are still a few reliable plugins you can use.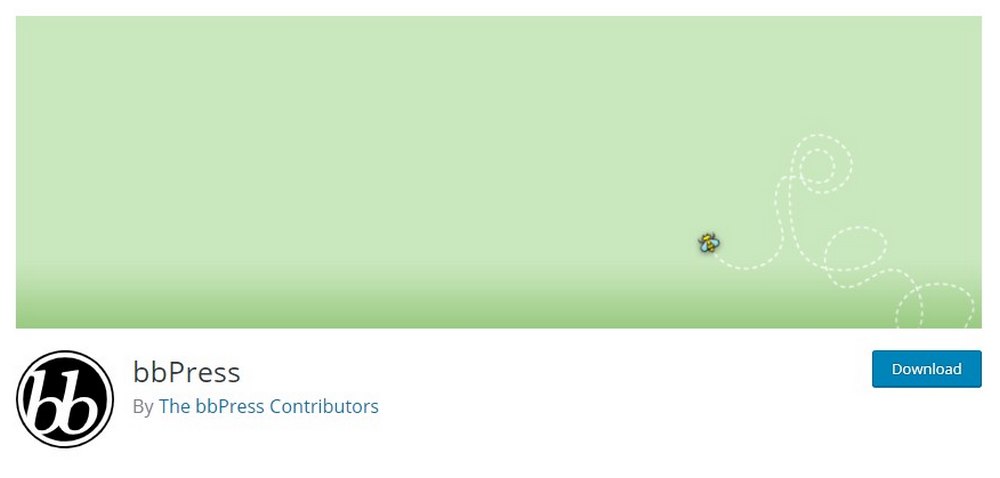 bbPress is one of the most popular and commonly used forum plugins on WordPress with over 300,000 active installations. Since this plugin is developed and maintained by the official WordPress developers, it receives updates and new features more often.
bbPress is also one of the most supported plugins on WordPress. It works well with almost any WordPress theme you have. And it features a simple and streamlined process for using the plugin for setting up any kind of forum as well.
Main Features
Simple and beginner-friendly setup process
Easily moderate and organize discussion threads
Let users sign in and create their own content
Plenty of free add-ons and extensions for adding more features
Supports all themes and third-party plugins
It's completely free to use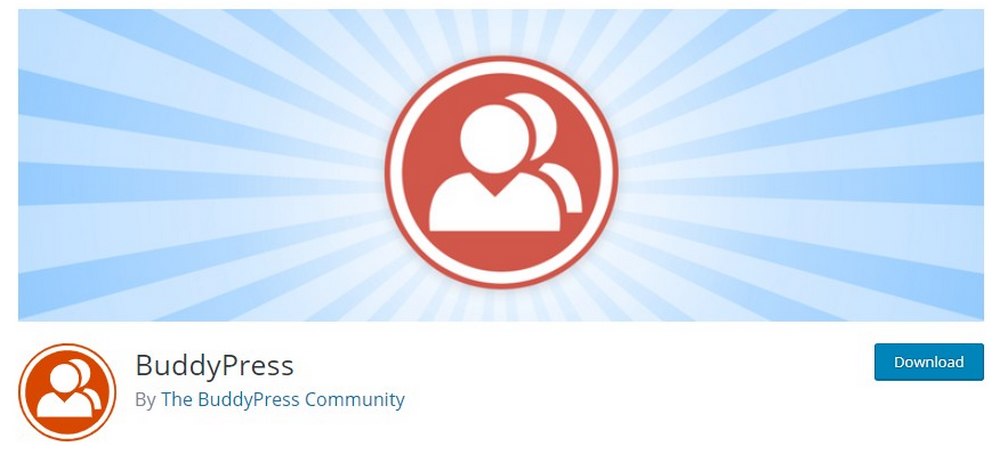 BuddyPress is another popular free plugin for creating community websites. BuddyPress is commonly used to create social network-style community websites and membership platforms. But, you can use it to create sophisticated discussion boards and forums as well.
The plugin is most suitable for creating Reddit-style interest-based forums with advanced features like user content creation, networking, user profiles, news feeds, and more.
Main Features
Create a complete discussion board or community website
Let users post content, manage profiles, and news feeds
Easily create groups inside the community to manage discussions easier
Add notifications and instant messaging to allow users to connect with each other
Thousands of supported themes and plugins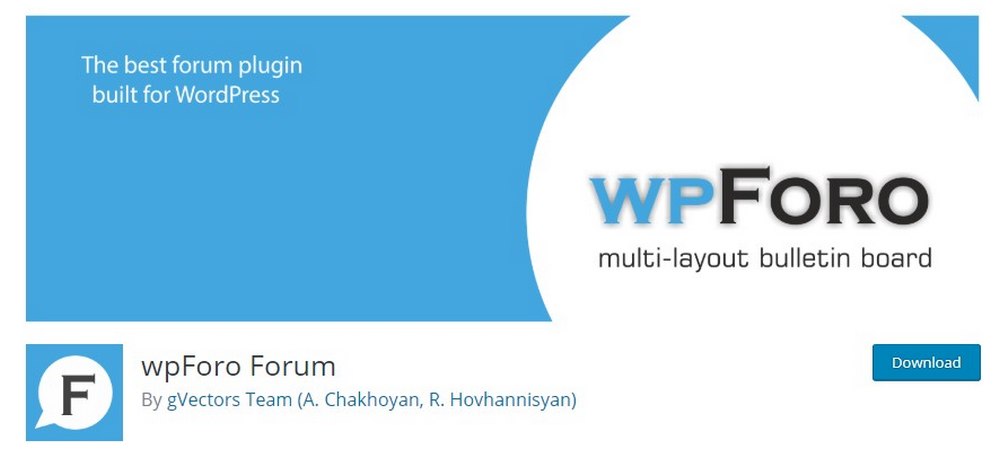 wpForo is another popular and multipurpose forum plugin that can be used to create small to medium-sized forums with ease. This plugin is most suitable for creating support forums and small discussion forums.
The plugin is completely free to use but includes paid add-ons you can use to extend its functions and features. With 4 different theme designs and a simple drag and drop forum system, this plugin is more than enough to setup a basic forum for a business website.
Main Features
Choose from 4 different forum designs with 6 color styles
Features built-in caching system, anti-spam system, and sitemap
Easily manage and moderate the forum using the drag and drop editor
Lots of premium add-ons and supports integration with BuddyPress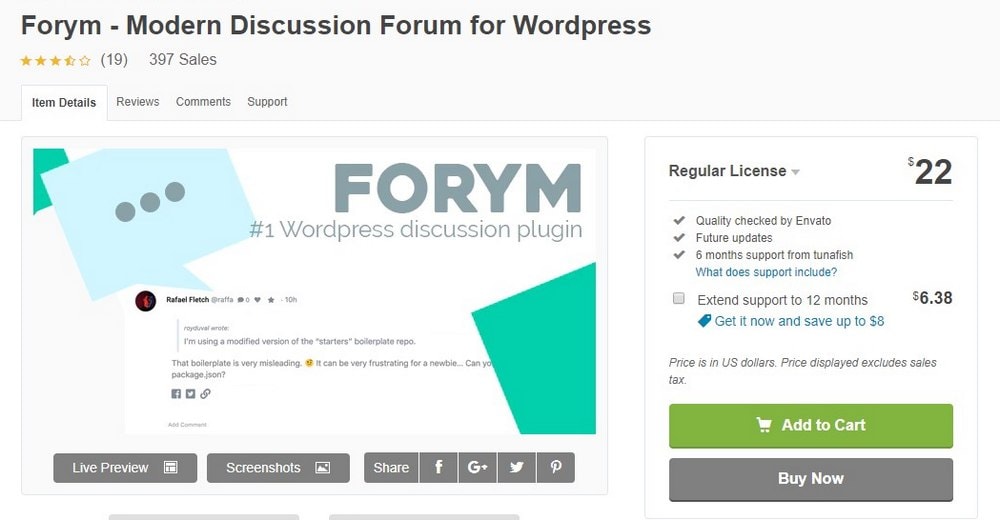 Forym is a premium and a very affordable forum plugin that comes with plenty of great features packed into one useful forum system. This plugin is perfect for businesses, brands, startups, and even for bloggers looking to build a modern forum.
One of the best features that make this plugin better than a free option is its forum design. It features a very sleek and modern design that will appeal to all audiences. And makes it a great choice for creating a forum that stands out from the crowd.
Main Features
Beautiful modern design appeals to all types of audiences
Lets you create support, helpdesk, and community forums with ease
Can be used as a comments system for WordPress blogs
Manage roles for moderators
Reddit-style voting system lets you prioritize and highlight specific posts
Ability to set replies as "best answer"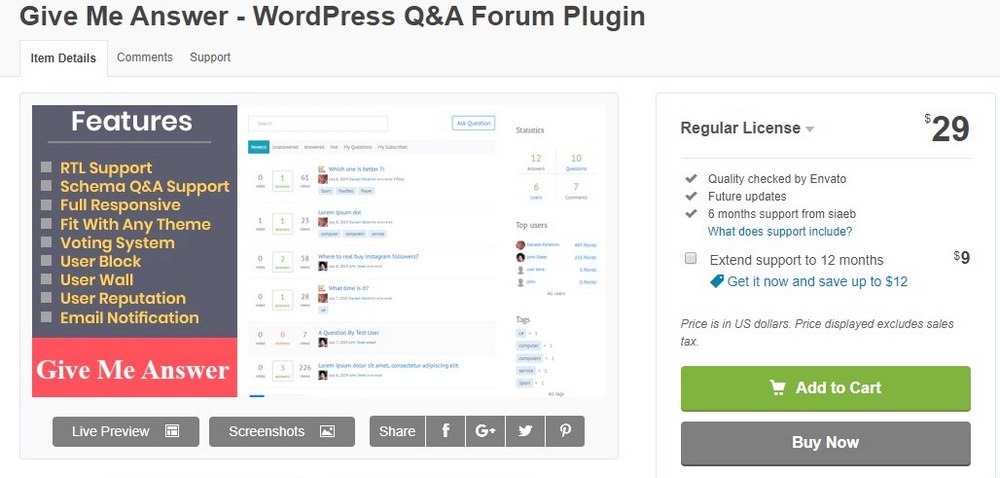 Give Me Answer is another premium forum plugin that's made specifically for setting up questions and answer forums. Using this plugin, you can create forums that work and looks just like Stack Overflow.
Give Me Answer plugin is most suitable for startups and brands for creating a discussion and Q&A sections to let customers learn more about your products. The plugin provides you with all the necessary tools including a voting system and a user reputation system as well.
Main Features
Create a modern Q&A forum with schema support
Manage user reputation, wall feeds, ability to block users, and more
Responsive design looks great on mobile devices
Supports RTL language layouts
Voting systems for questions and replies
Works with any WordPress theme and multisite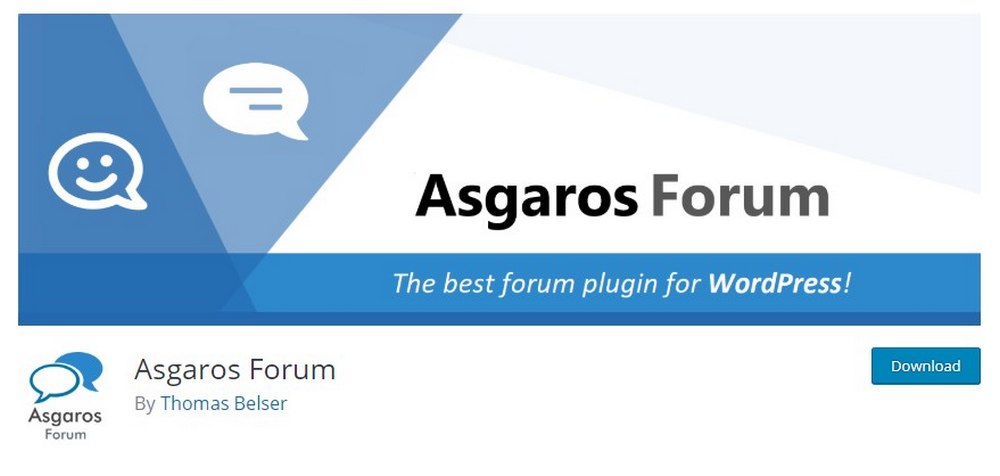 Asgaros is a free forum plugin featuring a lightweight design and a beginner-friendly management system. Despite being lightweight, the plugin includes many useful features that make it quite an effective option for making all kinds of forums.
Asgaros Forum lets you easily manage users and allow them to create profiles and user feeds. It even lets visitors create posts and replies as guests without having to create accounts. What makes it even better is its simplified user and post moderation system.
Main Features
Create a modern forum with user profiles, feeds, and more
Supports uploads as well as reactions, polls, and notifications
Let users post and reply as guests without requiring an account
Easily moderate discussions and users with the simple dashboard
Integrates with myCred plugin for gamifying the forum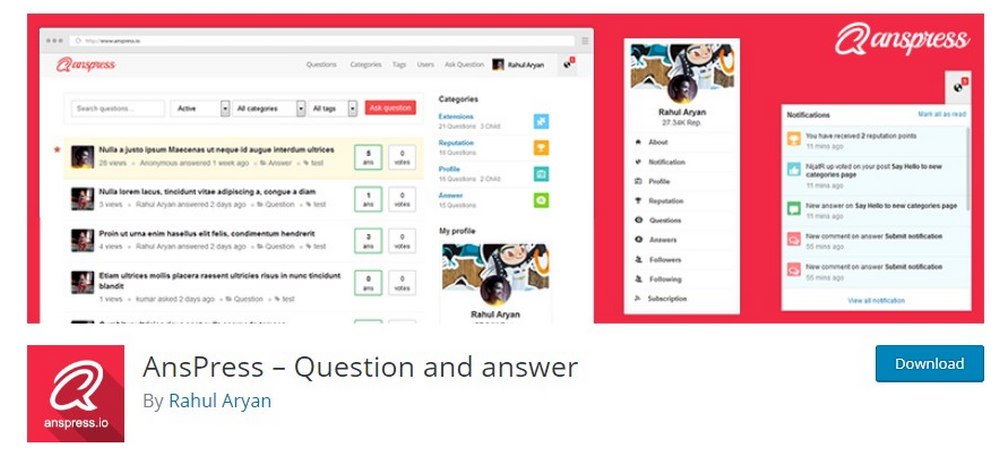 AnsPress is a free and open-source WordPress plugin for creating simple Q&A forums. This plugin is made with developers and startups in mind, especially for creating forums for tracking bugs in software and for creating helpdesk systems.
The plugin comes with plenty of useful features such as support for more than 10 different languages and reCaptcha system for weeding out spam posts and comments.
Main Features
Easily setup a Q&A forum with the ability to create private and public posts
Let users follow questions and vote to highlight threads
Ability to choose and set a best answer for questions
Use reCaptcha to protect the forum from spam posts
Includes useful free add-ons for extending features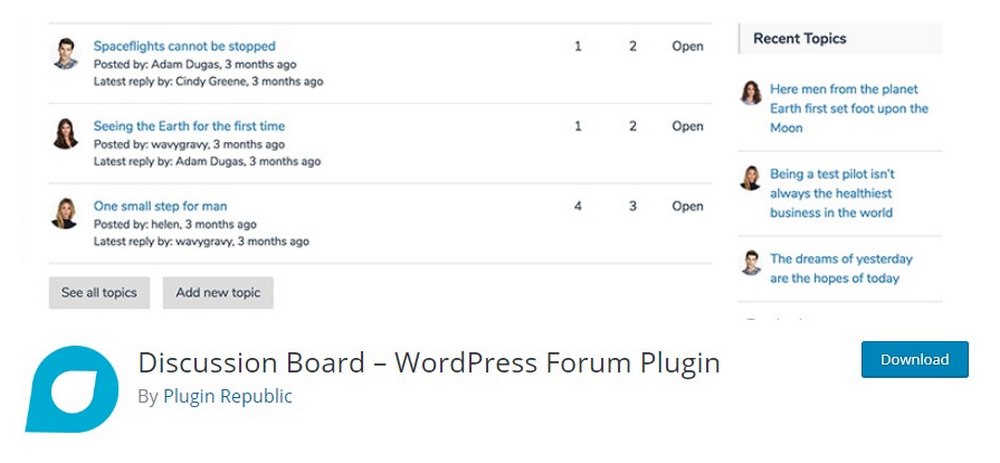 Just as the name suggests, the Discussion Board is a great free plugin you can use to create discussion forums. This plugin is easy to setup and works seamlessly with any theme.
Discussion Board plugin is most suitable for small businesses and bloggers with coaching and training programs. Using the plugin you can create a discussion forum to let your customers and students discuss things related to your products and programs.
Main Features
Easy to setup the forum with one-click installation
Let users register accounts using front-end forms
Simple post creation for users and offers moderation to protect from spam
Easily customize the design of the forum to match your theme
Has a premium version with added benefits
Which Forum Plugin is Best For You?
bbPress is arguably the best forum plugin, especially because of the incredible amount of support it has. Finding a theme that supports bbPress is much easier than any other plugin on the list. And it works seamlessly with other extensions and plugins as well. BuddyPress would be another good alternative.
The best way to use bbPress is to get a theme that supports the plugin. These themes often include beautiful forum page designs. It works the same for BuddyPress themes.
Looking for WordPress hosting? We use Kinsta. They offer world-class WordPress hosting, built to keep your website fast, secure, and always online.