Hello Everyone! We've very glad to announce that a brand new version of our popular theme Newswire (v2.0) has been released. During the last two months we've put a lot of time and work on upgrading this theme, brought to you tons of new features. The most exciting feature is that Newswire v2.0 works great on any resolution on desktop and mobile devices such as iPad, iPhone, Android, and Blackberry.
Click here to see how the Newswire v2.0 theme looks across mobile devices.
What's new in the new version?
Completely code rewritten – Built with best practices in mind (High efficiency HTML/CSS , SEO Optimized Semantic Code)
Fully Responsive Layout & Mobile Ready (check it)
A brand new Theme Options Panel (check it)
3 Color Schemas (Green, Blue and Red)
Added Social Share function on posts (Retweet, Facebook Like and Google +1 buttons)
Added Custom Widgets – Sidebar is now fully widgetized (Category Posts, Video, Twitter, Flickr, Social Icons, Email Subscription, Adsense widgets, etc.)
Unlimited Ad Spaces on sidebar widget areas
Added Shortcodes
Added Page Templates (Archives, Contact Form, Redirect, Sitemap)
Added Related Posts on single posts
Added WP Featured Image option
Removed TimThumb Image Resizing
And much more…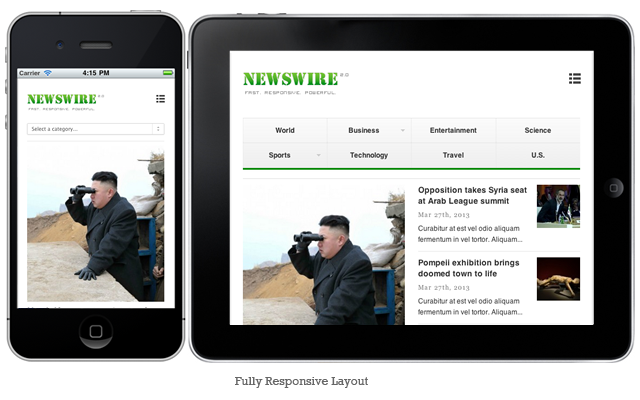 We are offering 30% discount for this new theme. Use the coupon code NEWSWIRE for a 30% discount off this theme until April 10, 2013.
As always, please let us know if you have any comments